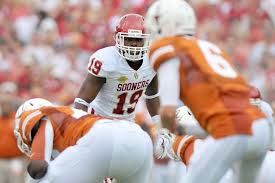 How Many Sooners Are You Expecting To Be Preseason All-Big 12?
Posted on: May 13, 2014
Image via tampabay.com
While the two are not entirely related per se, with the NFL Draft this past weekend and the Big 12's (as well as OU) poor performance I got to thinking about this coming year and the preseason All-Big 12 team. It is always somewhat of an inherently flawed process to begin with as the media tasked with compiling the team are rarely familiar with each team's respective depth chart and often times seem to rely on 'seniority' to fill out some positions (looking at you, offensive line).
Ultimately, the preseason All-Big 12 team is even more meaningless than your typical preseason Top 25 and yet every year it's something that will get people, both fans and media alike, talking. And with the Sooners almost universally considered to be the preseason conference favorite, as well as all the excitement surrounding the program (thinking specifically to the defensive side of the ball), I wanted to take a stab at predicting just how many players they might place on this soon to be announced* preseason All-Big 12 team.
(* In the past, the team has typically been announced in July. So I took a little liberty with the term 'soon', but I'm sure you won't hold it against me.)
I, like I assume you will be as well, was fairly surprised with my results. Just thinking about it off the top of my head, before sitting down and digging into things, I certainly thought I'd come up with more names than the five I ultimately decided on.
Yes, just five. Now maybe that number won't surprise you. Maybe five is a reasonable number to you. But for a team so many are picking to win yet another Big 12 Championship, five seemed pretty low to me. And even somewhat more surprising in that I don't have a single offensive skill position player listed, which I suppose when you think about it shouldn't be that big of a shock (they didn't have one last year either). But it's just one of those things we assume OU does so well in that you kind of expect at least one to be front of mind.
But in reality maybe the 'surprise' on my part is unfair. If you look back at last year, no team finished with more than five players selected (heck, OU only had two). And that team was K-State who only finished with that many because they had two specialists chosen at PR and KR.
So maybe five is a perfectly reasonable number after all. For whatever reason, I just had a higher number in my head before I sat down to put this together.
After criticizing the media earlier, I'll admit it's May and I am still learning the rosters of the Big 12. So if some of my "analysis" in terms of who I have included or excluded comes off as misinformed, my apologies. I will also admit to relying on this from ESPN, which may or may not have been a good idea but it was useful in terms of covering the league as a whole.
It is also important to remember for the preseason there is no 'second team' designation. Whereas following the season they'll award first team, second team, and honorable mention, in the preseason it's simply your 22 position players as well as the four specialty positions (K, KR, P, PR).
Okay, enough with the build up. Here is what I came up with and my prediction for which Sooners will find themselves on the preseason All-Big 12 team.
Most Likely Candidates:
DE Charles Tapper – The Big 12 does not distinguish between DE and DT with respect to their selections, rather those compiling the teams are only asked to select four "defensive linemen." And while DE isn't necessarily a loaded position for the league this year, there are a number of candidates to fill these, theoretically, two spots. Devonte Fields is back with TCU and a very likely candidate, while I expect Texas' Cedric Reed and Kansas State's Ryan Mueller to draw some consideration as well. But with everything Tapper was able to accomplish last year and the impact he made, especially late in the season, I just don't see a scenario (assuming health and no off-the-field issues of course, which goes without saying for all of these "predictions") in which he fails to garner enough votes to earn one of the DL spots.
LB Eric Striker – This is about as big of a no-brainer as I can possibly imagine. Both because of Striker's ability and the absolute terror he was for opposing offenses last year, but also because the Big 12 isn't exactly full of elite linebackers.And even if it were, Striker would be among them and still almost assuredly guaranteed a spot on this preseason team regardless.
OL Daryl Williams – As I alluded to above, unless you're a surefire NFL Draft pick the media has shown a tendency to rely on seniority when it comes to their selections along the offensive line. And with Williams entering his (wait for it) senior season, he's an obvious candidate for their laziness. But he also happens to be one of the more talented offensive linemen in the conference and thus well deserving of a spot on this team. If I had to guess, I'd say Texas Tech's Le'Raven Clark probably gets the spot opposite Williams but there are a couple other candidates, including OU's Tyrus Thompson.
K Michael Hunnicutt – Maybe I'm just completely oblivious to another equally as worthy candidate (only guy I can even think of is TCU's Jaden Oberkrom), but in my own humble opinion this one is almost as much a no-brainer as Striker. He has earned the nickname "Moneycutt" for a reason, right?
DB Zack Sanchez – If I'm honest, at first I was a little hesitant on this one. Not because Sanchez is undeserving, anyone who witnessed what he did as a redshirt freshman last year would know that's not the case. I just wasn't sure he would get the benefit of the doubt as I believe he deserves. But then I spent some time going through that ESPN article I referenced above and came to realize this league appears to be void of big-name corners this year. If you're looking at a year where, in my opinion, Quandre Diggs is your only other clear cut candidate for a CB spot then you know just how bad things are.
Other Possible Candidates:
LB Dom Alexander – As I stated above, this isn't a league full of great linebackers and Alexander is obviously coming off a season in which he was named the Defensive Freshman of the Year. Maybe that helps to earn him enough votes for a spot on the team.
WR Sterling Shepard – If I had to guess, I'd say this was the guy most of you are surprised to not see listed up above. And I would agree with you. But the Big 12 typically selects just two WRs for this preseason team, so I expect Shepard to be a victim to the numbers. Because, in my opinion, Baylor's Antwan Goodley is a lock for one spot (and deservedly so) and I think K-State's Tyler Lockett is just as likely.
DL Jordan Phillips – Were he healthy, there is very little doubt in my mind he'd make the cut. But he's not and as a result I do not expect him to be included. Obviously no one will care just so long as he's able to return this season.
QB Trevor Knight – If for no other reason than his game against Alabama and that he's QB1 for Oklahoma, Knight warrants consideration. But I think even the biggest OU homer would concede that Baylor's Bryce Petty is going to be given this spot (at least in the preseason).
S Quentin Hayes – Even in a league without a ton of great safeties, I'm not sure Hayes' work to date is worthy of him being considered here. But he's a name most of the media guys will know because he's been around for a couple years, so if laziness wins out Hayes may as well.
DL Geneo Grissom – It seems almost criminal to not include Grissom considering our most recent memory of his play in that Sugar Bowl game. But, at the same time, it was just one game and he still needs to prove he can consistently perform at something at least close to that same level.
LB Frank Shannon – Ignoring his off-the-field issues — whatever they may eventually prove to be and, to date, are still obviously unresolved — Shannon would almost surely be considered for one of the three LB spots.
C Ty Darlington – I'm not sure if there is a 'Gabe Ikard' type center on another Big 12 roster, which in and of itself could land Darlington on the team almost by default. I think Texas and KSU have candidates much more likely to earn the center spot though.
FB Aaron Ripkowski – No disrespect but if Trey Millard can't make a preseason All-Big 12 team, then I don't think Mr. Ripkowski should get his hopes nope (nor do I think he could care in the slightest).
RB Keith Ford – I'm really only including Ford to avoid the comment below of "Why no Keith Ford?" Could I see him as a first team All-Big 12 guy at the end of the year? Absolutely. But heading into the season, he's much too unproven and there several other candidates (Shock Linwood, Dreamius Smith, Malcolm Brown, and Desmond Roland are the obvious names) much more likely to earn votes.
—-
So there you have it. Anyone you think I missed or disagree with my reasoning on? Hit me up with your thoughts in the comments.