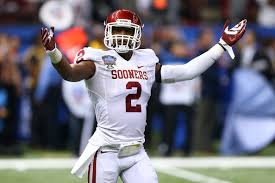 Julian Wilson Note
Posted on: April 17, 2014
Image via zimbio.com
During last Saturday's spring game, one of the most obvious positions still up for grabs was the starting CB spot opposite Zach Sanchez. And to that point, if you'll recall a couple weeks ago we mentioned that Julian Wilson is expected to compete for that outside CB spot once he returns from a shoulder injury. As many of you know, to this point Wilson has played primarily at the nickel back spot.
After speaking with some people close to the situation, I now have further confirmation on Wilson's move to corner. I've been told he (Wilson) is working hard — within whatever capacity he is able to given his injury — and there are definitely those who believe strongly he can win that starting job.
Honestly, Julian winning the other CB spot would be excellent if he ends up have success. Because 1) he has the kind of size (OU lists him at 6'2″) that would put him on the radar of NFL teams, which can only help Oklahoma's reputation/recruiting, and 2) he would be a senior which means OU's recruiting pitch to guys like PJ Mbanasor and Jaylon Lane gets that much better because a spot will come open in their first year.
Now, obviously, even with Wilson gone next year you would have the same guys battling for starting job now in Dakota Austin, Stanvon Taylor, and Cortez Johnson all still expected to be on campus. So it's not as though it would be an unimpeded path to a starting job for kids like Mbanasor and/or Lane, but your pitch would be genuine in that they could come in and compete for a starting job immediately.
Back back to Wilson and this 2014 defense. His size alone on the outside makes this an intriguing and potentially exciting move. He already has the experience helping in run support from his time at nickel back, something Mike Stoops has also always asked of his corners. Whereas with undersized guys like Austin and Taylor, there are some natural concerns with their ability to hold up while doing so.
With the front seven Oklahoma is expected to put on the field, even they are able to also field a lockdown secondary who can match up with Big 12 offenses then 2014 could prove to be a special year. And not just for the defense, but for the team as a whole. But a weakness at corner, where opposing offenses know they pick on you, it could make the job of the entire defense more difficult.
It will be interesting to see how this eventually plays out, but as we first reported the plan is still definitely for Wilson to make the move to corner and try to earn that starting gig.