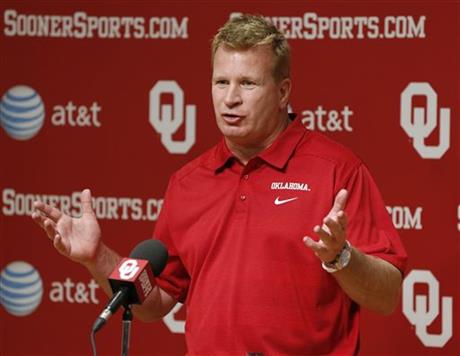 Defensive Notes
Posted on: April 1, 2014
Image via collegefootball.ap.org
Had a few random notes about the defense that I figured we could just bullet point in one post:
– First, I wanted to briefly address the reason we stopped posting our spring practice notes. It isn't necessary that we divulge everything, but I'll just say that we didn't believe anything we posted would compromise Oklahoma's chances on the field or in recruiting. We still feel that way.
In fact, we feel, since fans don't see what goes on in practice, our practice notes were a way of bringing the fans closer to the team. However, someone (we don't know who) complained to people inside the athletic department which led them to speak to us. And while we thought everything was initially fine, apparently that wasn't the case. The way the "complaint" was made to the athletic department, and then communicated to the coaches, created a misunderstanding that we are working to clear up.
We understand Oklahoma's position and certainly aren't upset with anyone. We always want to be on good terms with our readers, our university, and the coaches. Unfortunately, we're going to have to disappoint y'all by no longer bringing you our practice notes feature. However, when we hear information we will try to let you know how things are looking in general. Hopefully that won't prompt any more "complaints" to the athletic department.
– I wanted to talk a little bit about the nickel position, and in doing so I'm going to use OLB and nickel interchangeably. We all know that Julian Wilson was Oklahoma's nickel last year. We also know that players like Eric Striker and Ahmad Thomas have been playing some nickel in spring practice (yes, we reported this a couple weeks back but it has also since been confirmed by the coaches in post-practice pressers).
A lot of folks, including ourselves, assumed that Julian would be back at nickel once he recovered from injury. However, I was talking to a friend and I was told that Julian actually wants to play outside at cornerback. It remains to be seen whether or not that actually happens, but what I'm hearing is he wants to compete for the open cornerback spot opposite Zack Sanchez. It's hard to blame him because with his height and speed, if he was able to win that spot and excel at it, he would get a long hard look from NFL teams.
– To follow up on the previous point, let's imagine the defense under a scenario where Wilson does win the other cornerback spot and Striker plays nickel/OLB. The first down (and potentially second down) defense goes from being an undersized defense with limited ability to play the run near the line of scrimmage or change the pressure point, to a much bigger defense with a lot versatility. You've got a very big corner (Wilson) and you've got Striker who you can blitz off the edge and get help from in run support – something that wasn't necessarily Wilson's forte.
Then, on passing downs, you bring the heat and can shift more of a true cover corner to the nickel spot. As I sit here and think of all the different personnel groupings and all the variations of players we've got coming in…..man, I get giddy. Coach Mike Stoops has got to be having fun!
– From the little bit we've heard about the scrimmage this past weekend, it sounds as though the defense was nasty. We heard the offense didn't necessarily look bad or anything, but the defense definitely won the day. The offense did manage to break a few runs, but the defense was everywhere. Heard that the front six/seven looked fantastic and were playing on the other side of the line of scrimmage quite a bit.