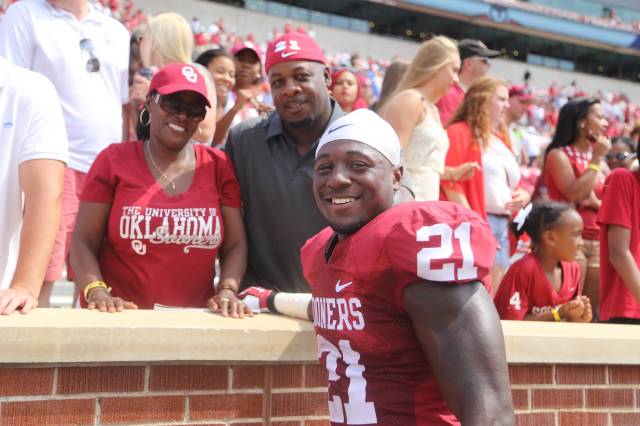 Top Five OU Offensive Players To Watch In 2014
Posted on: February 18, 2014
Image via Sooner Sports
Expectations will be at an all time for the start of the 2014 OU football season. Offensively it was an up and down season last year, but ended with a bang with the Sugar Bowl with that victory over Alabama. So with spring practices rapidly approaching, I thought it would be cool to have a Top 5 list of players to watch on offense and defense. Ace will be doing the defense later this week, but for now here are my Top 5 OU offensive players to watch in 2014.
5. Durron Neal: Just to avoid any confusion before I even start, Sterling Shepard will be the main target for Trevor Knight going forward. However, one of the reasons for Shepard's success thus far is because he has played with another threat to draw attention. Shepard's first year he had Kenny Stills and this past year he had one of my all-time favorite receivers at OU, Jalen Saunders. With the latter heading to the NFL  and the former already playing on Sundays, someone will have to step up and play a bigger role in the passing game.
I think that guy will be Durron Neal.
in spite of being OU's fourth receiver this past season, he has shown the ability to make big plays when given the opportunity. Now that Saunders and Lacoltan Bester are gone, Neal will probably be the No. 2 guy — depending on spring and fall camp. He has the ability to be a quality second option and a complimentary part of the offense to what Shepard does out of the slot.
Neal has good hands and can make a move after the catch to gain more yardage. He is also a physical wide out who isn't afraid to lower his shoulder and get that first down. He needs to clean up on some route running and use this off-season to really work on the timing between himself and Knight. Neal has all the abilities to be a big part of this offense and a great option for Knight in the passing game.
4. Joe Mixon: We already know he is a heck of a recruiter for OU, but will the five-star back come in and make an impact right away? OU lost three RBs in Brennan Clay, Roy Finch, and Damien Williams that played a lot of snaps. Replacing all three will not be an easy task and while the Sooners return plenty of talent, the backs they have (or will have) on campus do not possess a ton of experience. For that reason, running back is a position with a big ole question mark on it.
Mixon is a guy obviously coming in with a ton of hype, but there is always the chance the pressure is too much for any true freshman. That said, the expectation is he will have opportunities to be a part of this offense both in the run and pass game. The primary question being, as it is with all true freshman, is how he'll adjust to the speed of defenses in college football. We won't know until he arrives in Norman this summer, but I expect him to be a guy you're going to want to keep an eye on.
3. Blake Bell: So far one of the biggest stories this off-season has been Blake Bell switching from QB to TE. While he has always had the build of a tight end, the two positions are obviously VERY different.
Will he be physical enough to block big D-ends? Will he have the footwork to run clean routes? What kind of hands does he have? These are questions I had once I heard the news of him making the switch and I'm sure y'all did too.
The simple fact of the matter is we won't know the answer to any of those questions until they put the pads on this spring/summer. However, I'm excited to see what he has to bring to the table and if he'll be able to compete for the starting job. Things are about as wide open as they could be at the tight end position, so there should be plenty of competition there during spring practices and fall camp.
2. Trevor Knight: This guy alone has people thinking National Championship next year. He had OU fans smiling from ear-to-ear after that whooping he gave Alabama and Nick Saban. Not just because he played amazing and helped his team get the victory, but also for the fact we have him for another two or three years. He went from the guy that lost his job to the guy who is our savior.
With all that being said, he still has a lot to prove. In the end, this is still Oklahoma and the expectation was/is/always will be that we demand championships. A big question for me is whether or not Knight can play consistent football for a whole season? We saw a lot of inconsistency with both he and Blake Bell last year. A win over Alabama definitely helps with confidence, but we need to find out if he can throw the way he did against Bama AND without two of his main targets in Bester and Saunders.
He has all the leadership qualities you want in your QB, but Knight will need help from those young guys to find that same success he found in the Sugar Bowl.
1. Keith Ford: Built Ford tough. This guy is a beast! And we all know he loves to truck people like it's no one's business.
I was sad to see Clay and Finch go, but I got over that quickly because of the thought that Ford will have more carries now that they're gone. Even in limited carries last year, he showed us the ability to make big plays and gain a lot of yards after contact. It seemed like he was always falling forward no matter who was in front of him.
A solid running game, even with the inexperience OU returns at the position, will only help Trevor Knight and his similarly inexperienced (aside from Shepard, of course) receivers. You have to think Ford will be the guy OU coaches are counting on to carry a lot of that load going into next season.
In the past, Coach Stoops and Coach Gundy loved to use a bunch of running backs throughout the year. But in most cases there was always one guy who seemed to get the majority of carries. For example: DeMarco Murray carried the ball more than Mossis Madu and Chris Brown, even though they all played important minutes.
I believe Ford will share carries with Mixon and Alex Ross, but ultimately Ford will be the main guy for sure. Can't wait to see what he does this spring!