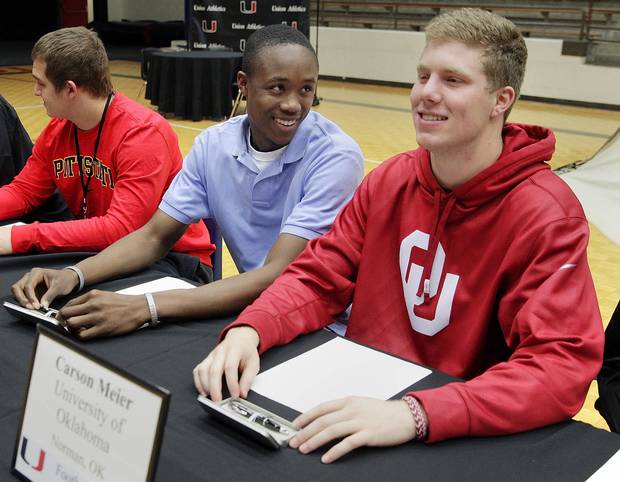 Open Post | Wednesday, July 9th (UPDATE 3:45 pm)
Posted on: July 9, 2014
Image of Carson Meier (and Jeffrey Mead) via NewsOK
– Garrett Thomas: As most of you know by now OU 2015 OT target Garrett Thomas from Many, Louisiana will be announcing his commitment at around 11 am today. He tweeted out that he will be making his choice from the following list of schools: South Carolina, Michigan, Ole Miss, Oklahoma and Texas.
After talking to some of our sources in Louisiana, we got a good sense of where Thomas is likely headed. We certainly won't ruin his announcement, but we'll just say that unless something has changed, or the information we received was incorrect, it's not looking great for OU. But we should know for certain in a few hours.
– Isaiah Langley and the Cali CBs: Yesterday OU CB offer Isaiah Langley announced his commitment to USC. As we noted back on May 30th, he seemed to be a USC lean. There was a point in the spring where OU was making an impression on Langley and his family, but towards the end of May we heard it was likely going to be USC.
Talking to a source in California, we've been told that USC is looking to take 2-3 CBs. With Isaiah Langley and Taeon Mason, USC now has two commits. And we've been told that Iman Marshall is likely to end up at USC as well. So the question I'm sure many of you are asking is whether this will make room for OU to pick up a CB out of California. The problem is that these aren't the days where USC was the only major player out west. UCLA and Stanford are recruiting forces as well now.
UCLA took three corners last year so one would guess they'll take at two CBs this year. And they picked up a recent CB/ATH commit from Stephen Johnson III. In talking to OU offer DeChaun Holiday, we get the sense that he's a UCLA lean and never really got the sense that OU was a strong player in his recruitment. In fact that last time we caught up with Holiday he didn't really give a strong indication that he'd even take an official to OU.
Another OU offer, Frank Buncom IV, is a heavy Stanford lean. So really that only leaves Ykili Ross and Stanley Norman. As we noted in a recent update on Stanley (here), OU seems to want him as a WR though a number of schools are looking at him as a CB. So it'll be interesting to see if OU does the same. Especially if they pick up a WR commitment from Humphrey. Back on April 5th we reported that Ykili Ross would be making an official visit to OU (though that exact date has still yet to be set), so clearly there is a chance with Ross. But we've spoken to his father a number of times and get the sense it's not going to be easy to get Ykili out of California. However, the two other local schools he's considering are USC and UCLA, and as they fill up it may help OU.
– Summer Note: "We're gonna have tight ends again!" That was a quote from a source we talked to earlier this week. We've already mentioned that Carson Meier has been standing out in summer workouts and 7-on-7. We've heard that now from multiple sources. We do think that Meier may see the field a little this year and should certainly see it a lot later in his career. But there seems to be a lot of excitement about the depth and potential at the TE position as a whole.
We heard great things about Blake Bell and his development throughout the spring and into the summer. But we also recently heard that Isaac Ijalana really looks the part and is a very strong guy that may end up being quite the blocker. We thought he actually looked more athletic than we expected in the spring game. Taylor McNamara had one reception in the Sugar Bowl for a key first down, so we'll be excited to see how he has continued to develop as well. We haven't heard much about him in the offseason, but that certainly doesnt mean he has failed to make progress. We gather notes about different players from different sources and it's obviously impossible to get input on every single guy. In general though, we get the sense there is optimism about the TE position and it should be a featured position this season.
Coach Stoops was pretty vocal last year during press conferences that using a TE was important to him and there has been a concerted effort to continue to develop that position. And we've heard that this year the TE position should be a strength in a way that it has not necessarily been in the past 2-3 years.
– Big 12 Banding and Branding: This is an interesting article/video titled "Big 12 Conference Announces New Branding Initiatives." I personally like the logo but thought it was really interesting to see the Big 12 taking a very clear position to band together and start (or at least appear to) try and capitalize on their collective strength. Some of the language used by school administrators in the video sounds like messaging we've heard out of the SEC for a long time. The SEC messaging was born out of a more organic unification but was clearly taken to a new level by deliberate branding.
– UPDATE (9:15 am): Many of you are already aware of the recruiting event, The Opening (invite only, sponsored by Nike), that is taking place this week up in Oregon. OU commit PJ Mbanasor is there taking part (and performed very well yesterday) as are a number of other OU offers/targets. Just wanted to post a quick link to the results of yesterday's workouts in case you hadn't seen some of the numbers already. If you have any specific questions, be they about an individual player or whatever, feel free to post them in the comments and we'll do our best to answer.
– UPDATE (11:15 am): Garrett Thomas has committed to Texas.
– UPDATE (3:45 pm): I (Jordan) figured you all would enjoy watching this. Here is some 1-on-1 tape of the WRs vs. DBs from yesterday's action at The Opening. I'd suspect K will be along with his thoughts at some point as DB play is really more his forte. Knowing the football junkies that many of you are, I'd expect a lot of you will watch the entire thing. But for those who don't have that kind of time, I'll list the times you can skip to for those players more specific to OU.
0:48 – Jaylon Lane, 1:29 & 5:06 – Will Sunderland, 2:39 & 3:21 – PJ Mbanasor.