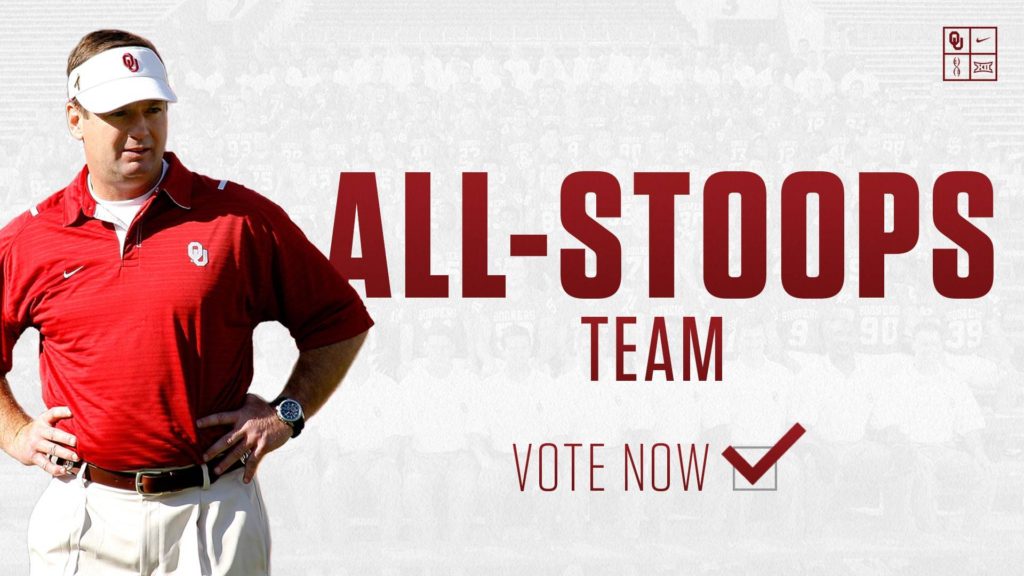 The Football Brainiacs: All-Stoops Team Results
Posted on: August 4, 2017
Image via SoonerSports.com
Earlier this week, we set up a voting post to find out who fans think are the best players of the Bob Stoops era, found here: TFB: All-Stoops Team Voting. The Stoops era at OU spanned almost decades and had some superstars, so there were plenty of options to choose from.
We have compiled the results and created two depth charts. Those with the most votes will be on the first team, with those behind them making up a second squad.
Note: I realize the offense isn't an 11 man team, but I wanted to create more opportunities to see each position.
Note: No current players were included in this voting. If we were to vote in a couple years after they graduate, they would be included. However, it seems unjust to vote in a player before their career is over, as our perception of them may rise or fall. 
All-Stoops Team: First Team
Offense
Quarterback: Sam Bradford
Running Back: Adrian Peterson
Running Back: Demarco Murray
Full Back: Trey Millard
Receiver: Sterling Shepard
Receiver: Mark Clayton
Tight End: Jermaine Gresham
Offensive Tackle: Trent Williams
Offensive Guard: Davin Joseph
Center: Vince Carter
Offensive Guard: Duke Robinson
Offensive Tackle: Jammal Brown
Defense
Defensive End: Dan Cody
Defensive Tackle: Tommie Harris
Defensive Tackle: Gerald McCoy
Defensive End: Jeremy Beal
Outside Linebacker: Rocky Calmus
Inside Linebacker: Curtis Lofton
Outside Linebacker: Teddy Lehman
Cornerback: Aaron Colvin
Free Safety: Tony Jefferson
Strong Safety: Roy Williams
Cornerback: Derrick Strait
Special Teams
Kicker: Garrett Hartley
Punter: Tress Way
Returner: Antonio Perkins
All-Stoops Team: Second Team
Offense
Quarterback: Jason White
Running Back: Samaje Perine
Running Back: Joe Mixon
Full Back: J.D. Runnels
Receiver: Ryan Broyles
Receiver: Dede Westbrook
Tight End: Trent Smith
Offensive Tackle: Phil Loadholt
Offensive Guard: Chris Chester
Center: Gabe Ikard
Offensive Guard: Wes Sims
Offensive Tackle: Lane Johnson
Defense
Defensive End: Jimmy Wilkerson
Defensive Tackle: Dusty Dvoracek
Defensive Tackle: Stacy McGee
Defensive End: Charles Tapper
Outside Linebacker: Rufus Alexander
Inside Linebacker: Torrance Marshall
Outside Linebacker: Eric Striker
Cornerback: Andre Woolfolk
Free Safety: Brandon Everage
Strong Safety: Donte Nicholson
Cornerback: Antonio Perkins
Special Teams
Kicker: Tim Duncan
Punter: Jeff Fergurson 
Returner: JT Thatcher
Recap
These are obviously some incredibly talented teams. It's amazing to look back at the stars that Stoops fielded. Below are a few final thoughts.
Most talented position: They're all amazing positions, so this is really a matter of opinion. If I have to choose, I'll go with the first team defensive line. That front is just spectacular.
Biggest surprise inclusion: I don't know if this counts as a "surprise," but I didn't expect to see Jason White get the nod over Josh Heupel. White was obviously a phenomenal quarterback, but Josh gets a lot of love for the national championship win (and deservedly so).
Biggest snub: Quentin Griffin. My heart hurts to not see him on this list. To me, he is one of the players to define the early career of Bob Stoops.
Funniest responses: As there was an option to input your own answer, I expected to see a few… interesting answers, and there were certainly a few.
– For running back, Baker Mayfield got a vote. This breaks the "no current player" stipulation and… well… he's not a running back.
– Also for running back, Billy Vessels got a vote. Whoever did this, please go see your doctor and have him or her tell you what year it is.
– Under punter, someone input the answer "honestly can't name a punter." I guess honesty was the policy there.
– For returner, there was one vote for "nobody." If this is a reference to the often seen "nobody return it, just sit back and fair catch it" policy we've seen over the past few years, then this is quite funny.
That's it! Thanks to all who voted. What stuck out to you?