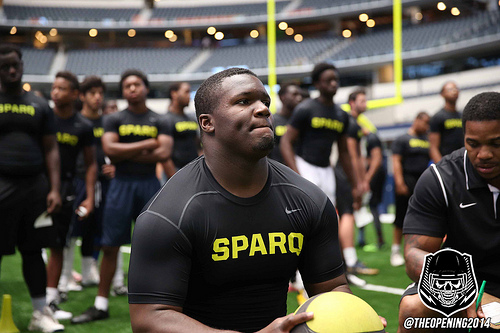 Daylon Mack Weighs in on TAMU's Recruiting Momentum
Posted on: June 25, 2014
Image via StudentSports.com
Last week, many OU fans were somewhat surprised when 2016 OT Greg Little decided to pull the trigger early and commit to TAMU. The decision wasn't a huge surprise. Most folks figured it would come down to TAMU or OU. I think for many it was the fact he committed so early. Lately, it seems every time TAMU gets a new commit (which has been happening a lot lately) fans ask what is causing this surge of momentum. SEC? Johnny Manziel? Kevin Sumlin? Everyone has a theory.
For the longest time OU fans were used to losing some Texas recruits to UT…which really wasn't a huge deal because, how many kids could one school take? But what OU fans weren't used to was losing many recruits to TAMU. In fact Texas has had to accept the idea that at least for the moment they don't necessarily get first dibs.
I'll be perfectly clear, I don't believe that TAMU getting any of the recruits they are getting is going to lead them to a better on-the-field product than OU; at least based on OU's current trajectory and development, which in my opinion is on the way up…way way up. I also don't really care if we get the first, second or third player we go after. In the end recruiting serves winning and the process by which that happens is so much bigger and broader than getting the first player you offer.
If I were buying stock in a team right now, OU would be at the top of "buy, buy, buy" list (no NSYNC pun/reference intended). I don't say that as a fan. I say that because I believe OU is on the brink of a major resurgence and I made that case even after the loss to Baylor. But this is just a fun post to talk about what's really at the heart of TAMU's recruiting momentum and whether it will last and less about where I personally see both programs.
Since it does seem that every time TAMU picks up a new recruit people from fan bases across the Big 12 ask why. So I thought, why not ask someone who might have some unique insight into TAMU's current recruiting momentum. The other night I spent some time talking to TAMU commit, Daylon Mack. For those of you not familiar with Daylon Mack, he's a very talented defensive lineman out of Gladewater, TX. While I'm sure other people will have different opinions, I thought Daylon's take on what has played in TAMU's current momentum was concise and insightful.
I've talked on an off to Daylon for a while and anyone who has spoken to him will tell you that the dude is a leader. He was an early commit for TAMU and one of the people pushing for the commitment of the Texas "fab 5", a group of standout players in TX that talked about playing together. At this point I believe 3 of the 5 are committed to TAMU with Malik Jefferson being the lone uncommitted player and JaMycal Hasty being the other who is currently committed to Baylor. Right from the beginning Daylon Mack set out to win over commits for TAMU. A few quick observations to note about Daylon:
– He's incredibly mature. When you talk to him you get the sense that you're talking to an insightful and intelligent dude. Those are two qualities of a leader.
– He has taken true ownership of TAMU's class. In fact when he talks about TAMU's recruiting, he says things like "well, we're after (so and so) and if we've got room we'll probably consider taking (so and so)". Or he'll say, "well there's a few guys that were gonna hold a spot for". He talks about TAMU as if he is a coach or a recruiter. It's pretty interesting actually listening to him. Like I said, you get this real sense that he's taken ownership of this class and decided to lead.
– I actually asked him about his leadership qualities and he said, "growing up my parents impressed that (leadership) on me and from experience I found that when I stepped up and took a leadership role, our team was successful and when I didn't, we weren't as successful"
– Daylon was so invested in TAMU's success that when I asked him if he was concerned about the defense he responded in a very open and honest way. He didn't try to mask the defensive issues TAMU has. In fact he addressed them head on. But then he talked about some of the reasons he believes they existed and talked about how "we are addressing all the issues." Again, he takes ownership of the team's failures and the team's prospects for success as if it was his own team.
– Simply put, TAMU probably couldn't have asked for a better ambassador and they brought him into the fold early and he's been on the recruiting trail for them ever since.
So while Daylon didn't say it, I'm saying it – I think some of TAMU's current recruiting success has a lot to do with current class leadership. Daylon is recruiting guys like Kendall Sheffield and Malik Jefferson and he made it clear that Kyler Murrary played a key role in bringing DaMarkus Lodge into the fold.
So I'll stop here for a moment and say that while Mack and Murray have done a tremendous job for TAMU, I wouldn't think TAMU is going to get a Daylon Mack type leader every year. So at least in terms of this element that is contributing to their recruiting success, it seems as though it's probably more isolated. Unless of course, the TAMU coaches are making it a point to find early leaders for their class, in which case perhaps it can carry on for them in the future.
Which brings me to Daylon Mack's thoughts on what's driving TAMU's success despite the fact that there have been a lot of on-the-field struggles that he himself admitted to.
If you thought his answer would be Kevin Sumlin, you're partly right I suppose. Daylon had an interesting way of describing Sumlin. He said that "everyone wants a players coach…someone who can be laid back…but at the same time understands that he has to have a seriousness about him to make sure the team is ready." Daylon feels that's what Kevin Sumlin is and does. He said "Coach Sumlin is like coach Kingsbury (in that he's cool/smooth) mixed with coach Saban (in that he's serious about success)."
As a side note, I'm offering Daylon's points up to y'all without my own thoughts on Sumlin, Saban, Kingsbury, TAMU or much of anything else. What I think doesn't matter as much as what one of their leading recruits thinks when it comes to their recruiting.
But the primary reason for TAMU's recruiting success that Daylon cited wasn't really about coach Sumlin. If you thought the reason, was the move to the SEC then you're getting warmer.
Daylon told me that he emphasizes to other recruits that, "sure we can have a relationship and go off and find the best opportunity for each of us individually…but why not do it together?"
But, what is "it"?
"It", in Daylon's mind, is representing the state of Texas and Texas football to the rest of the country. It's about pride. So where does the SEC come into all this? I mean, if it's simply about state pride, why not represent at UT or Texas Tech or TCU? Daylon said that, outside a certain few regions, the best football is played in states like Alabama, Georgia, and other "SEC" states. So to show the country that Texas football is the best football, they have to play the best and in his mind and perhaps the minds of most, the best football is played in the SEC. As such for him and the players around him, they feel their best opportunity to represent the state of Texas on the biggest stage is at TAMU.
What Daylon says makes perfect sense to me and if TAMU goes on to have great success in the SEC this year then perhaps that momentum will continue. But what if it doesn't? At the end of the day, if TAMU can't take that next step then the sales pitch gets that much harder. Especially when you have regional teams like Oklahoma playing the best (Alabama) and beating the best. At a certain point the young people recognize that they aren't in a position to control the outcome of things so the vision they may have is limited by the implementation of people who might not be able to realize that vision. And that's when substance matters. That's when winning and success matter. Most young people recognize that the best thing they can do is put themselves in a position to be successful and most of the time that means connecting themselves with proven winners.
Right now, TAMU still has hope to sell. But in my estimation, the clock is ticking and people will come so long as they believe there is something to believe in…some grand achievement to be had. But I suspect that if Oklahoma is in playoffs next year and TAMU is playing in one of the same type bowl games they played in while they were in the Big 12, the optimism within the optimistic Dallas youth, for example, starts to wane and the thought process starts to shift to "I can go 2.5 hours south and play for a team that might do it or I can go 2.5 hours north and play for a teams that's done it and is doing it".
Is it football season yet?