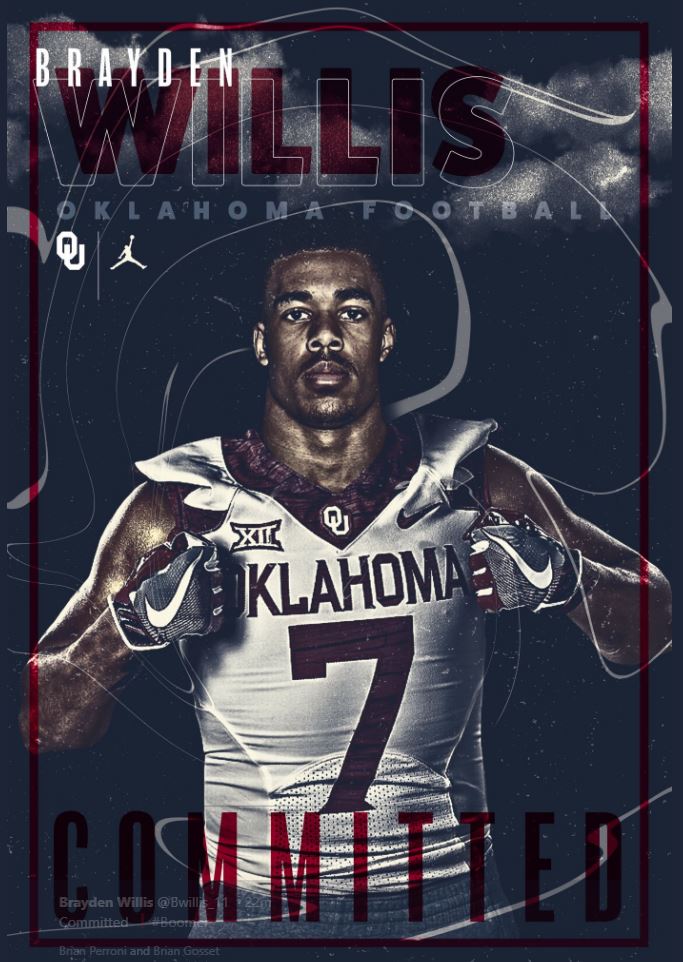 BOOM News: 2018 TE Brayden Willis Commits to Oklahoma
Posted on: January 29, 2018
Image via Willis Twitter
2018 TE Brayden Willis has committed to Oklahoma.
Committed ❗️#Boomer pic.twitter.com/TusnQiRRyd

— Brayden Willis (@Bwillis_11) January 29, 2018
Willis had few offers until late in the recruiting process, but heated up quickly. An offer was extended just over a week ago.
Blessed and very excited to receive an offer from The University of Oklahoma ‼️ #BOOMERSOONER pic.twitter.com/aUiKjyn6SQ

— Brayden Willis (@Bwillis_11) January 21, 2018
TFB's own Alex King had this to say in a post last week (TFB Open Post: January 24th):
Willis let me know he comes from a family of athletes and that plays into his ability on the field. Like I mentioned the other day when his offer broke some of the things that stand out about his film are not only his speed and ability to create YAC but how versatile he is. Lines up in the slot, inline, at wildcat, etc. Turns out, Head Coach Lincoln Riley and Co-Oc Cale Gundy let him know his versatility was something that really stood out to them when they watched his film which included on special teams. Can tell you at this time TE is where they see him in this offense. Know with his size H-Back may be an option but not the case currently.
Our own Super K also mentioned his physicality as a huge asset.
With the Mackey Award winner departing for the NFL, Willis will have a chance at early playing time.
The Sooners got themselves a good one.