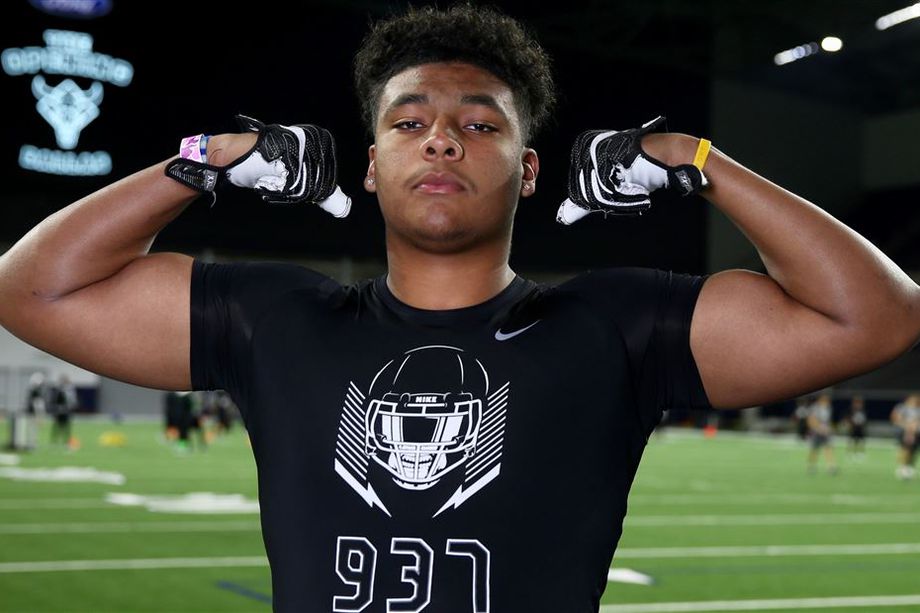 BOOM News: 2018 DE Ron Tatum Flips from Texas to Oklahoma
Posted on: June 12, 2017
Image via 247
I think it's safe to say that this can be called a "good start" to the Lincoln Riley era at Oklahoma. OU has received a commitment from 2018 DE, and previous Texas commit, Ron Tatum.
I'm coming back home……‼️⭕️🙌🏽 pic.twitter.com/7F4YmfVsAL

— Ron Tatum III‼️🎯 (@rontatum3_) June 12, 2017
Tatum is a highly ranked defensive lineman out of the Oklahoma City metro – check out what the Sooners are getting in his film.
Tatum visited OU back in January for their Junior day. He came away from that visit feeling positive, having heard a plan. The following is a note TFB posted from his visit (January 30 Open Post):
The Sooners let Tatum know that they see him as a 5 technique in their 4-man front and a 4i in their 3-man front but I don't know if Tatum doesn't end up outgrowing play outside the tackle. As a jr he's already almost 6'5 and a skinny 260 lbs. It'll be hard to keep him shy of 290 and that spells a super athletic B gap player in my mind.
TFB's own Alex King was able to see him in March, and confirmed how talented the young man is. Oklahoma recruits like Jordan Kelley and Patrick Fields continued to recruit Tatum consistently. In early April, TFB began to receive word that a commitment was happening soon, and that OU was the current leader. Then, closer to the end of April, TFB began to hear that OU was not holding the lead as well as previously thought. This continued for several days leading up to his commitment, until OU fans heard the news.
BREAKING: Putnam City (OK) DE Ron Tatum (@rontatum3_) has committed to #Texas over #OU. Another huge win for Herman. https://t.co/c6qXPEM1FL

— Andrew King (@Andrew_TFB) April 26, 2017
From what TFB gathered shortly after the commitment, a clear plan for using Tatum seemed to help Texas to land him. Although the OU staff was continuing communication, the path seemed closed for some time.
Then, in early June, Tatum visited OU. TFB noted that there was a lot going on with Tatum's recruitment, and that this was still something to keep an eye on (TFB: Open Post | Weekend (June 2-4)). 
With the news that Coach Stoops was stepping down and Coach Riley was stepping up, many wondered if this would have a negative effect on recruiting. It seems that the OU staff has done a great job of communicating well and showing a unified front, as this commitment shows faith in the staff. And the staff seems quite pleased about it
Welcome back home young man! Great day to be a Sooner! 405 stays in the 405! #ST2K18 taking off🔥🔥🔥#OUDNA #ChampU

— Lincoln Riley (@LincolnRiley) June 12, 2017
OU landed a stud.