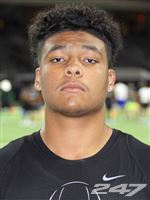 Open Post | Weekend, June 2nd – 4th (Version 2.0)
Posted on: June 3, 2017
Image via 247
– Ron Tatum: Okay, lets start off by saying that this has been in the works for quite some time now with OU and Tatum. When 2018 OK DE Tatum recently committed to Texas, people wondered if OU defensive line coach Calvin Thibodeaux would continue to pursue the star 2018 DL from Putnam City High School. It seems the persistence of Thibodeaux is paying off, as Tatum visited Saturday with his mother and was joined by 2018 Sooners defensive back commit, Patrick Fields. Tatum's dad is well known to be wanting Ron at Texas, but his mom has been pushing for OU for sometime.
There is a lot going on behind the scenes with Tatum's recruitment – a lot of which we won't go into detail about, but TFB can tell you that this thing is far from over. I spoke with Tatum earlier today about the visit; he said, "visit was great. Really liked the new facilities." Tatum also added that he has no plans on any other visits right now, but that he had stated from the beginning that he was open to looking around; that is almost exactly what numerous sources told us earlier today as well. Things just couldn't have gone better for OU.
While a flip isn't happening at this very moment, I can tell you that OU is feeling much better about their position with Tatum and that just having Tatum come on a visit was a huge step in the right direction for the Sooners and Tatum moving forward. – (Brandon)
– Dillon Faamatua: With Tatum already on campus, you'd think that the recruit I was hinting at in the weekend OP was him, right? Well, it wasn't. It was 2018 JUCO DL Dillon Faamatua. Faamatua was originally at Arizona State before going the JUCO route. On April 30th, Faamatua committed to USC. The only problem with that is, with him being at Arizona State originally, he would have to sit out two years playing at USC. Add some other academic hurdles and the OU staff jumped at the opportunity to get Faamatua on campus. From everything we have been told so far, the visit is going great and OU seems to be in a real good spot to have the star JUCO DL sign with Oklahoma at some point very soon. That's right. You read that right. SIGN. That is because Faamatua will be a part of the 2017 class and will be able to contribute, potentially, this year.
With the visit still on going, we will definitely have more as we check around and possibly speak with Faamatua after he has left Norman. That said, Faamatua being a Sooner is looking to be more and more of a possibility. – (Brandon)
– Raymond Scott: USC commit Raymond Scott made it to campus this weekend for an unofficial visit. We will have more on him later this week, but wanted to put it out there that he was indeed in Norman. – (Brandon)