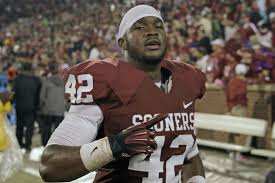 A Little OU Football Roster Spring Cleaning
Posted on: March 6, 2014
Image via Bleacher Report
If you missed it, last week we went over some of the changes in OU's online roster with respect to player's height and weight. Now we have some more changes, primarily jersey numbers, as the Sooners have once again updated their roster with spring practices kicking off this weekend.
First, there was one position change. Sam Grant who had previously been a tight end has made what many felt was the inevitable move to offensive tackle. As such, his number has changed from #81 to #76.
Other jersey number changes:
QB Justice Hansen will be #4
LB Devante Bond will be #5
FB Dimitri Flowers will be #36
TE Isaac Ijalana will be #80
QB Baker Mayfield will be #6
LB Dominique Alexander was #42, will now be #1
WR K.J. Young was #85, will now be #1
WR Dannon Cavil was #6, will now be #7
WR Austin Bennett was #83, will now be #8
WR Jordan Smallwood was #80, will now be #17
I believe that is most of them, or at least those that are the most relevant (no offense intended to any less heralded and/or walk-on guys I missed). But if you see any omissions, hit me up in the comments and I'll update the post.