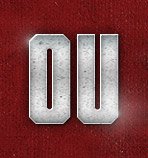 Film Review | OU QB Commit Chris Robison
Posted on: December 22, 2016
Chris Robison – 6'2" 192 – Mesquite Horn High School – Mesquite, Texas
Pocket Accuracy — In his film, the vast majority of Robison's throws are from the pocket. There are no plays with him under center, which will serve him well in Lincoln Riley's offense. The aspect of his ability in this area that stands out initially is Robison's feet and shoulders. He gets his feet set very quickly and has his shoulders/torso pointed precisely where it is needed to deliver a quick and accurate ball.
There are a few plays on film, which show his ability to float a pass to a fade route on the sidelines, leading his receivers perfectly and leaving defenders in good position left scratching their heads. Robison also was impressive with his ability to quickly set, read, and deliver a slant route from middle of the field to hash. Of course, on film, you only see the best plays, but Robison exhibits superior pocket accuracy.
Rollout Accuracy — On film, there were not many of what appeared to be designed rollouts. For the purpose of this evaluation, I'll take a few liberties and take observations from other areas to put this into perspective.
With the way he gets everything "square" when delivering a ball from the pocket, it is probably a safe bet to say his mechanics in this area are solid. There are not many instances in the current Sooners scheme that will require him to actually roll out, so I am not concerned this was not visible on film.
Flushed Accuracy — A couple of times on film, Robison is shown evading a collapsing pocket and delivering a pass downfield. As I mentioned in another quarterback evaluation, one of the things that sets apart great high school quarterbacks from the really good ones is keeping eyes downfield and not immediately putting your forehead to the ground and looking for a place to run. Robison displays a unique ability to side step rushers, plant his foot and head toward the line of scrimmage (LOS) and, just before crossing the LOS, delivering strikes to receivers who have worked their way open.
It is easy for young quarterbacks to get happy feet when they are scrambling. My definition of "happy feet" is a lot of foot movement while going nowhere. Robison has purpose in his escape steps and that is a great quality in a young signal caller. What this means is, Robison leaves open the threat of throwing an accurate ball until the very last second. This puts a lot of stress on a defense. If they do not spread the field in coverage, Robison will beat them with his feet. If they come up and force, Robison can flick a pass over them.
Escapability — What I liked most about watching Robison's film was his tendency to hold the football high when moving around in the pocket. This gives him the opportunity to deliver the football as soon as he gets his feet underneath and gathered. It appears he would much rather try and sling the football downfield than tuck and run but he does possess good ability to evade and escape. If I had to pick one "disappointing" aspect of his film it would be this but simply because there just are not many examples of him being required to escape.
Open Speed — Robison was timed at The Opening at a 4.59 40-yard dash. I know there are some who will look at this and wish it were faster, but that is a legitimate time, meaning you can trust it and that is plenty fast enough for what he will be asked to do with his feet during his time at OU. Just as was mentioned earlier, Robison seems to always have purpose in his steps and this is also true when he passes the LOS. He has a large frame and possess really good speed for his size. He will not ever be the quarterback who can take one "88 and out the gate" but he will always be able to keep a defense honest with his legs.  
Arm Strength — When you watch a high school quarterback throw accurate lasers from the hash to the opposite sideline, you know you are watching a guy with a very good arm. He does not look like the kind of guy who will launch one 60-plus yards (but let's get real…when do you really ever see that in a game) but he can make the throws required in any kind of offense.
Release — This is where I was/am most impressed with Robison. His release is very, very quick. He holds the ball high and seems to have it out of his hand in a millisecond. If you watch a lot of football, which I know many of you do, you will discover there really are not a ton college quarterbacks that have a truly fast release. Some load up and deliver. Others simply just seem to have the ball in their hands for a long time. Robison is definitely not in either category. Watch his film. You will be impressed.
Touch — As a former quarterback, and coach, I get really excited when I see a guy who can make all the throws. Can Robison split defenders with a fastball? Yes. Can he throw it to the perfect open space before the defender comes out of his break? Yes. Can he float it over the heads of defenders in good position? Yes. Can he throw it into the clouds and pull the string on a fade route? Yes. If Robison's release is strength 1A, his touch is 1B.
Overall — After I watched his film, I shot a text to a buddy and just said "Chris Robison is awesome". Pretty simple, but his film is impressive. He is very mechanical but does not play that way. What I mean by that is just about everything he does is exactly like you coach it. Elbow in the proper position. Ball placement is correct. Feet are always where they are supposed to be. Hips are lined up. It is a rare thing to watch a high school quarterback who has all of those tools already polished. He is mechanical in the fact he plays like how a quarterback is coached to play, but he is not rigid. There are guys who have perfect drop backs, but poor releases. Or sloppy mechanics on rollouts but a rocket arm that helps make up for that against subpar competition.
Robison is a multi-tool quarterback and there is not much debate about that. He is not what I would call a "gun slinger", meaning he does not seem to take too many risks. The advantage he has is he seems to possess good field vision, grasp of route concepts, and a quick and accurate release.  
If he signs with Oklahoma, the Sooners will have an excellent quarterback for the 2017 class.