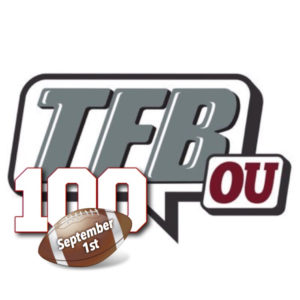 100 Days to Football Time in Oklahoma: #56 Creed Humphrey
Posted on: July 7, 2019
The Path to Norman
Humphrey had offers from many top programs; Alabama, Texas A&M, Oklahoma, and others all wanted him to play for their programs. OU and Humphrey circled each other for a while, with Humphrey taking two visits to Norman in early June, 2016. Additionally, with a brother at OU, growing up in an OU household, and being an in-state player, Oklahoma seemed to have a high chance of landing the lineman. However, the Shawnee, Oklahoma product decided that Texas A&M was the right place for him in the summer of 2016. It looked like OU might move on. Then, about a month later, Humphrey realized that he wanted to be in Norman instead. TFB's own JY marked Creed as one of his favorite players in the class, and had this eval of the lineman: TFB: Creed Humphrey Eval.
Career so Far
There was plenty of talk in Humphrey's first year on campus that he may start. He ended up redshirting that season, but he was ready for action the next year.
2018 saw Humphrey start in almost every game of the season. He was a force on the line, a second-team All-Big 12 selection, and a freshman All-American by both the FWAA and The Athletic. Additionally, the OU offensive line won the Joe Moore Trophy for the season, showing how well Coach Bedenbaugh leads and how excellent the level of play was for the year.
Current Profile
Position: Center
Height: 6'5"
Weight: 315
Year: Redshirt Sophomore
2019 Season
Humphrey knows this is the season for him to be a leader on offense, as he's the only returning starter. According to James Hale, OU ended the spring with sophomores Creed Humphrey at center, Marquise Hayes and Tyrese Robinson at guard, and junior Erik Swenson and sophomore Adrian Ealy at tackle. With a year of experience and a high-powered offense around him, look for Humphrey to have an All-Big 12, and maybe even All-American, level season.