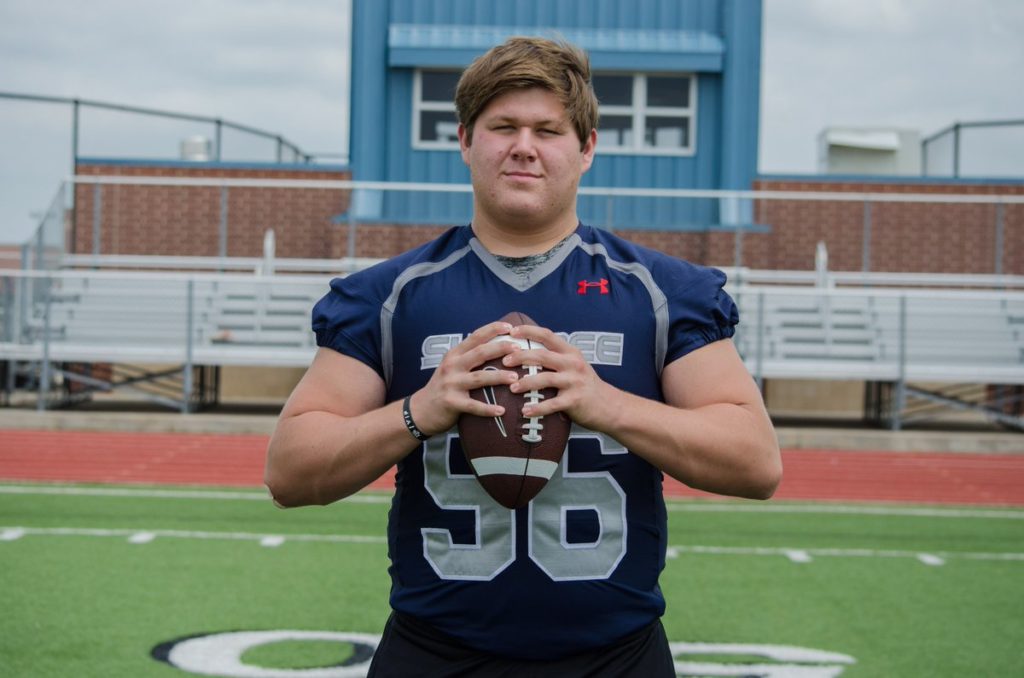 2017 EVAL: OL Creed Humphrey
Posted on: June 23, 2016
Image via @creed_humphrey
One of my favorite players in this 2017 class, and top OU offensive line target, happens to be none other than Shawnee, Oklahoma's own Creed Humphrey. As you may know by now, Humphrey is looking to announce his commitment in the coming weeks and understandably many are hoping the OK Preps standout stays close to home.
You've heard me say it a hundred times throughout the past few years; you never know how a guy is going to develop or how hard a guy is prepared to work. A year ago Humphrey was 6'3″ 310, then showed up earlier this year at a regional Nike 'Opening' event checking in at 6'5″ 297. To my original point, when you see the difference between what he looked like a year ago as compared to now it's abundantly clear just how much work he has put in to develop physically.
While it doesn't necessarily happen often, it's certainly not unheard of for a guy to grow a couple of inches his senior year, or even into his freshman year in college. In fact, the exact same thing happened with myself during my freshman year. At any rate, you can really tell Humphrey has put in the work to become a top flight prospect that a number of elite programs in the country are all after.
The reason they're after him is that he's just flat-out nasty. Watching his junior film, heck even his sophomore film when we first got tipped off about him, you could tell he was a hard worker. I tend to gauge a prospect's work ethic based on how they finish a play. Are they willing to put in that extra effort, or simply coast if given the opportunity. And with Humphrey, there are very few plays on his film where you don't see him blocking a guy five or ten yards downfield and/or burying them altogether.
I often frustrated when people send me film, or a kid hits me up, I watch it, and they're not finishing people off when given the chance. They're just content getting in someone's way or making that initial contact. Humphrey is the exact opposite of that.
The film I've seen has him out at tackle for the Wolves, but I'm of the opinion he projects as an interior player at the next level. That said, he's athletic enough to bump outside to tackle in spot duty if need be. But I believe Humphrey most likely going to be a 'jumbo' center in college.
Being able to play center at 6'5″ is no small feat either, because a lot of the time you're going to face those shorter (6'2″, 6'3″) defensive tackles who have a natural low point/center-of-gravity advantage. I know you've heard the saying "low man wins in football many times," so for a guy to be able to come in and be 2 to 3 inches taller yet still possess the ability to win the pad level war speaks a lot to his hip flexibility and athleticism.
Going into the 'Opening" event in New Orleans, I was naturally interested in how Humphrey would show out with guys like Alex Leatherwood and Saadiq Charles,  Alabama and LSU commits respectively, also in attendance. Well, Humphrey certainly did not disappoint, stoning virtually everyone he went up against.
Humphrey is a talented, gritty, hard-working kid willing to do what it takes to get it done. Whatever school earns his commitment in the coming weeks will be getting a good one, that's for sure.