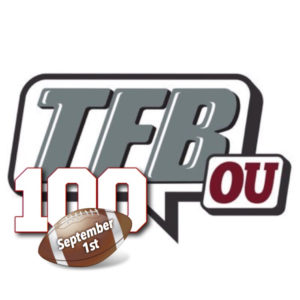 100 Days to Football Time in Oklahoma: #54 Marquis Hayes
Posted on: July 9, 2019
The Path to Norman
Marquis Hayes knew that Norman was the right place for him very quickly. He was offered in July, 2016 and committed within the week. TFB's own JY wrote a spotlight on the Missouri native shortly after the commitment: TFB: Marquis Hayes Spotlight. Hayes played a big part in the recruitment of fellow Missouri native Ronnie Perkins.
Career so Far
Hayes took a redshirt season in 2017. In 2018, he appeared in 3 games in a reserve role at guard.
Current Profile
Position: OL
Height: 6'5"
Weight: 332
Year: Redshirt Sophomore
Highlights
2019 Season
Hayes got leaner this offseason, coming in 15 pounds lighter than last spring. He got reps all over the line this spring (besides center), with praise for his good feet and pass-blocking ability. Eventually, he settled into the guard spot with Tyrese Robinson as the two presumed starters. They can't get too comfortable, however, as there is plenty of competition across the line. This unit, while all new starters outside of Creed Humphrey, is ultra-talented, big, and versatile. While it will be tough to live up to last year's unit, Coach Bedenbaugh has created a pipeline of reloading on the offensive line at OU; Hayes gets to be part of that this season.