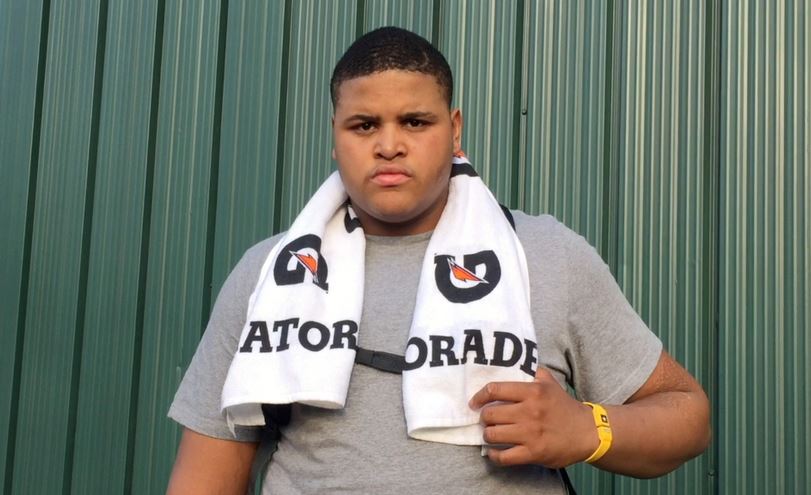 Commitment Spotlight: 2017 OL Marquis Hayes Jr.
Posted on: July 25, 2016
Image via Scout
As you are certainly aware by now, Oklahoma picked up a commitment from versatile 2017 OL Marquis Hayes Jr. this past week. This was someone I had my eye on for a while now, so when news broke OU had offered and Hayes' commitment followed shortly thereafter it was exciting news.
In large part because, in my opinion, you need guys like Hayes in order to build an elite offensive line. If for no other reason than an attribute mentioned above that Hayes possesses, versatility.
Most of the time there are guys who are either interior players OR tackles. Very rarely do you find a guy who can be a big time difference maker at both guard and/or tackle. However, Hayes very much has the look of the latter.
Around 6'5" and in the neighborhood of 320 pounds, Hayes has the size to play either inside or outside. After watching just a couple of plays from his tape, there's no doubt in my mind he has the power to play inside and root out those smaller 3-techniques/A-gap players he'll face in the Big 12. He also has not only the length to be able to handle the rangy, quick defenders on the outside, but the nimble feet as well to adjust and handle guys coming off the edge.
With the nature and prevalence of injuries today, having someone like Hayes who you can move around along the line is invaluable. If you'll allow me to channel my inner Bob Stoops and harken back to the Sugar Bowl just a couple of years ago. Coming into that game against Alabama, Derek Farniok had really struggled at LT in the Bedlam game. And somewhat understandably a number of OU fans were concerned with how the Sooners would field a line that could handle Bama's stout defensive front.
Bedenbaugh, being the savant and master architect that he is, slid Daryl Williams over from RT to LT, put Dionte Savage in at LG, played Nila Kasitati at RG, and bumped veteran Bronson Irwin out to RT. The versatility of not just Irwin, but a number of those guys was essential to the success of the offense that night and even now several years after the fact a underrated storyline from that game.
And while I think it's fairly obvious Hayes is more athletic than Irwin was, my point is that having 'team guys' who necessarily don't care where they line up and will bring the nasty on every play is a huge deal for any team.
Watching Hayes' film, personally I really like him at RT. I don't doubt he could play LT if asked, but the mere fact we're having the discussion about a kid who will most likely start out at guard even has the ability to play either tackle spot speaks volumes to his game. And if Hayes does stay inside at the next level, his athleticism and length will be critical when facing the more dynamic defensive fronts OU teams tend to face outside of the Big 12.
And that length specifically is something that is far too underrated for football teams. It was a considerable disadvantage on OU's part and played a significant role in their ultimate undoing against Clemson this past year in the Orange Bowl.
So I'm thrilled at the prospect of bringing in someone with Hayes' ability and very eager to see his nasty streak manifest itself once Bedenbaugh is able to really get his hands on him.
I really believe this OU offensive line is ready to move into a new era. Whether it's Cody Ford, Ben Powers or Jonathan Alvarez, any of the three are the definition of competitive, strong & nasty. And Hayes fits that same mold perfectly.
The depth OU looks to have heading into not only this season but several to follow is arguably as good as any time in the Stoops era. I've said it many times now, but the Bedenbaugh hire is one of the best Bob Stoops has ever made.
In my estimation Marquis Hayes has an elite skillset, and under the guidance of people like Bedenbaugh, Jerry Schmidt, and Coach Tiff, it's simply a matter of how good Hayes wants to be.