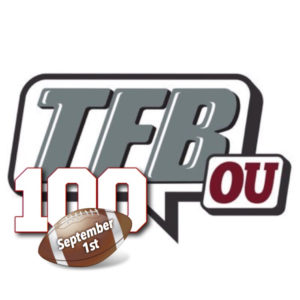 100 Days to Football Time in Oklahoma: #52 Tyrese Robinson
Posted on: July 11, 2019
The Path to Norman
Tyrese Robinson was one of the early commitments for the 2017 class. Despite offers from schools including Miami, Kansas State, and missouri, he committed almost a year before signing with the 2017 class.
Blessed to say I have committed to the university of Oklahoma! #OUDNA #BoomerSooner ⭕️🙌🏾 pic.twitter.com/jvhI4mMc94

— Tyrese Robinson (@tyrese_robinson) January 30, 2016
He had received his offer almost a year before that, with OU being one of his first offers, and was in constant contact with the Sooners after that. Robinson made it to Norman for several visits and started to develop a bond with the program and staff early.
"2017 OU offensive line commit Tyrese Robinson was also in Norman this past Saturday and from all accounts had a great time. Robinson had the chance to see the Sooners scrimmage, but also stayed after for several hours watching film with OL coach Bill Bedenbaugh. Another thing Robinson got to do on his visit, which speaks to the type of player he is, was ask Bedenbaugh questions on what exactly he needs to be working on to help himself be prepared to get on the field as a freshman. " TFB: Scrimmage Notes 3/26/2016
Career so Far
Tyrese took a redshirt year in 2017. In 2018, Robinson saw action in six games in a backup role at guard.
Current Profile
Position: Offensive Line
Height: 6'3"
Weight: 326
Year: Redshirt Sophomore
Highlights
2019 Season
With four starters departing the line, there is plenty of opportunity to step in. This spring, Robinson settled into the guard spot alongside Marquis Hayes as the presumed starters. There is plenty of competition across the line, so Robinson will be in a constant battle to fight for that job, especially with RJ Proctor joining the team. However, Robinson has long been a fan favorite from his recruiting days and Sooner fans are excited to see him earn his chance to start this fall.