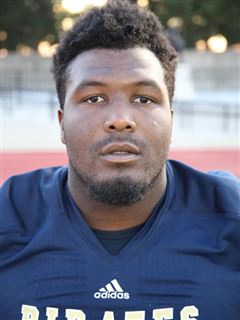 Weekend Open Post | July 7th-9th
Posted on: July 7, 2017
Image via 247
– Emmit Gooden: If you have a twitter account and follow Sooners recruits, you probably noticed how much 2018 Independence CC defensive lineman, Emmit Gooden, has been tweeting pro-OU tweets. Gooden's openness to tweet about his conversations with Sooners head coach Lincoln Riley, and defensive line coach Calvin Thibodeaux, has to give Oklahoma fans some confidence, despite his commitment to Arkansas. Gooden posted that he is 100 percent committed to the hogs a week ago, but when I spoke with him late last night he made no qualms about his interest in Oklahoma. Gooden made it known that Sooners 2018 commit – and Gooden's teammate at Independence – Tramonda Moore is pushing him to, at the very least, take a visit to Oklahoma at some point during the season. My guess is that if the visit is to happen, it will be on the same week as Moore's visit. Gooden added that Sooners defensive back Justin Broiles was also recruiting him hard to join them at OU.
Gooden's recruitment is going to be a close one to watch. The thing that will make it the most interesting is the fact that OU is probably only taking one more defensive tackle. With that said, Oklahoma could find room for a guy like Gooden because, to my understanding, he has 3 years to play 3 and would be a guy that most feel could be an instant impact guy. Still, it is a first come, first serve deal in recruiting; this raises the question of the timing of a potential decommittment from Arkansas and commitment to OU. Regardless, Oklahoma is working Gooden hard and hoping to have him on board come the December signing period. – (Brandon)
– Trey Dean: In case you missed it, Oklahoma offered 2018 Hampton (GA) defensive back on July 5th. Dean is highly regarded, and totes offers from Alabama, Michigan, Florida, Georgia, and Texas, to name a few. The elite safety has reportedly been high on Georgia and Texas for some time.
One note on this is the timing. With Oklahoma throwing out safety offers right now, one has to begin to wonder what Sunderland's status will be from here on out. Regardless, it would be huge for Kerry Cooks to get Dean to take an official visit to Norman. TFB will be checking in on more information regarding Dean and updating accordingly. – (Brandon)
– CJ Smith: Another name at the safety position is 2018 West Palm Beach (FL) safety CJ Smith. Though TFB has yet to talk with Smith, a source confirmed to TFB that OU feels confident that the Sooners will get a visit from the elite safety later this summer, or during the season. Smith decommitted from Florida on July 5th, with Louisville, Oklahoma, and a host of other schools pushing for his services.
TFB hopes to have full update on Smith at the beginning of next week, but wanted you all to know that this is a name that is really starting to show up on OU's radar. – (Brandon)
– Late July big visitor day: There will be a big event that Oklahoma is holding in late July. The date is something TFB is told the staff wants kept quiet until the date draws closer. Having said that, I have compiled a short list of players that I know will be there. This list will grow daily/weekly, so we will have a spot on the site for updates and obviously update in OP's when information in obtained. Here is who we have so far:
2018
Ron Tatum- PCO (OKC) DL – OU commit
TJ Pledger- IMG Academy (Bradenton, FL) RB – OU commit
Jordan Kelley- Tulsa Union (Tulsa, OK) DL – OU commit
Patrick Fields- Tulsa Union (Tulsa, OK) DB – OU commit
Brey Walker- Westmoore (Moore, OK) OL – OU commit
Kundarrius Taylor- Ridgeway HS ( Memphis, TN) WR – OU commit
2019
Noah Cain- IMG Academy (Bradenton, FL) RB – OU offer
Collin Clay- PCO (OKC) – DL