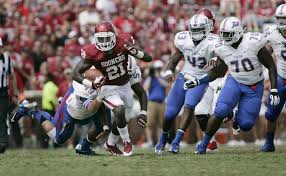 Week 1 Prediction Thread
Posted on: August 29, 2014
Image via zimbio.com
At the suggestion of loyal TFB reader Zack, I'm putting together a very simple prediction thread for everyone here to take part in should you like to participate. It can be a bold prediction, or a prediction for the OU game, or a prediction for how a particular OU player may perform and/or the stats they put up, a prediction on another Big 12 game, or pretty much whatever football related prediction you'd like to make.
Have some fun with it. I'll get us started.
* OU will have three guys go over the 100 yard mark on the ground (2 RBs & TK9).
* Alex Ross returns a kickoff for a TD.
* Jordan Evans will lead the team in tackles.
* OSU will be lucky to get into the teens vs. FSU.
* North Texas won't give the Longhorns the scare many seem to think they will.
* UCLA will struggle w/ Virginia
What else you got?