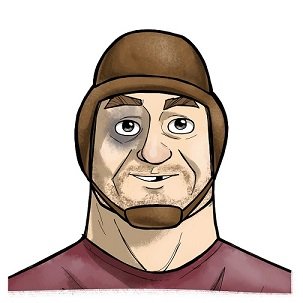 Upon Further Review…
Posted on: December 2, 2017
Man, that was a good win.  TCU is a dang good team.  I know people will downplay it, but TCU's defense was 1st in Red zone defense,  2nd in Rushing defense, 8th in scoring defense & 18th in Total defense in a league that really isn't conducive to that kind of production.
TCU played pretty well offensively, but it took them a couple of really great plays to score.  The pass to Reagor, was a borderline pushoff, and the catch Diarse made, you just have to tip your hat.  That was a heck of a play.
After it was 24-17 at half, the Sooners shut them out, while going on to score 17 more to make the final 41-17.  While Mike Stoops has been beaten on pretty good this year, he's been very consistent in making 2nd half adjustments that have either completely shut down an offense in the 2nd half or slowed them a great deal.
Oklahoma ran 41 times for 218 yards.  If you take out three kneel downs, it's 38 times for 221 yards at 5.82 yards a clip.  Considering that's against the 2nd ranked rushing defense in the country, it's not too bad.
Baker Mayfield, quietly threw four touchdowns.  Riley and his game plans are so unpredictable from week to week, that it makes it hard to figure out what he's going to do.
Mark Andrews is a weapon in the red zone.  He almost made a circus catch on a diving attempt to make it three touchdowns, but ended up with 7 catches for 58 yards.  If he doesn't win Oklahoma's 1st Mackey Award I'll be shocked.
I don't want to get too excited but we may be looking Oklahoma's 6th Heisman Trophy in the face come next Saturday night.  Baker is a savage.  He's consistent, accurate, tough, competitive and has all of the intangibles you want in a QB.  If I was an NFL GM in need of a QB he's a take all day long.
Defensively, the Sooners finished off only giving up 317 total yards.  That's quite an improvement from where they were midseason.  It seems like they get better every week.  It'll be interesting to see what recruits they get and if they have an immediate impact next year.
How about Georgia?!  I thought they'd play well today and give Auburn a run, but I figured it would be a close game.  The way things are shaping up tonight it looks like it'll be  Clemson at 1.  Oklahoma/Georgia at 2/3 or vice versa, doesn't really matter, and most likely Alabama or Ohio State at 4.  I like how the Sooners match up against Georgia.  Clemson makes me nervous.
I hope Wisconsin comes back and ends the Ohio State/Alabama debate.  That would force the powers that be to look at expanding to 8 teams.  Leaving both of those teams out would cause multiple heads to explode.  Since that would be so unacceptable we'd start taking bets on the over/under & how long it would take to expand the field.
I went back and looked at the 2015 team vs the team we have this year.  The offensive line wasn't on the same level of what this one is.  The defensive line wasn't either.  I'm not too worried about how the Sooners match up offensively with anyone.  The QB run game for Clemson really really concerns me, but I like how the guys match up against just about anyone else.
Baker's the Best QB in football and has a litany of weapons to throw to.  Given his accuracy, ability to protect the football and increased confidence from year to year I can't see a team shutting this offense down.  I can see the Sooners getting outscored in a game, but man I really really hope this is our year guys.
Boomer Sooner!  Time to start on some Trenchin!