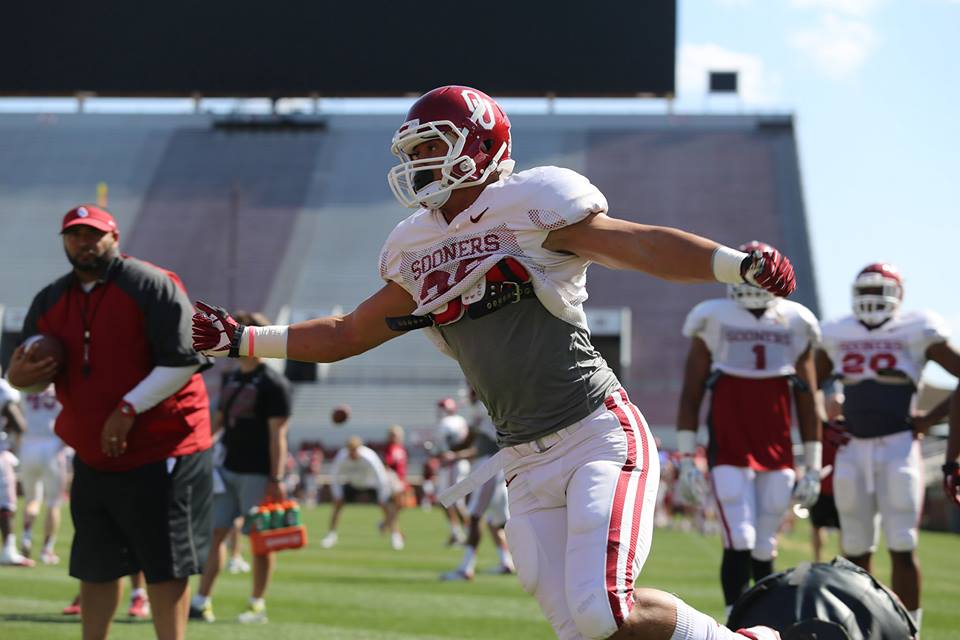 Updated Roster Review
Posted on: June 26, 2014
Image via Soonersports.com
We are getting closer and closer to the season and the freshman class is in. The Oklahoma roster has been updated so we wanted to take a closer look at a few players. In our experience we've found that OU is one of the schools that lists pretty accurate numbers and in talking to people and checking some of these numbers they are pretty darn close to what we are hearing.
Dwayne Orso – Almost two months ago (back on May 1st) we reported (here) that Dwayne had grown to 6'5 294 lbs. That was up from 6'5 250+ lbs last fall. According to the latest roster he's now up to 6'6 300 lbs! I was always told by folks around Orso that he had a lot of natural growing to do and clearly that is the case. Orso was recruited as a DE but it looks more and more like he's going to grow his way into a 320+ lb NG. And even if that didn't work out you'd have a big and ultra athletic OT prospect. I'd love to see him turn into a War Daddy though.
Carson Meier – We were all big fans of Tulsa TE Carson Meier. We loved his combination of athleticism and old school physicality. Meier is listed at 6'6 226 lbs. That's great length and good weight. We'll talk more about Carson another time but I'll just tell y'all that Carson is a name we are hearing really good things about. Though he was a little more known for his physicality, his athleticism is turning heads this summer.
Steven Parker – Parker may be perhaps the most important freshman on the team. He's incredibly talented and is vying for a spot at a position of great need. Parker reported to campus early in order to get going and word is he's looking good. Parker came in at over 200 lbs but with all the work he's dropped a little weight and is now coming in at 6'1 197 lbs.
Quentin Hayes – Hayes may be the best cover safety on the roster (though Parker is impressing in that department as well) and he's always been a smaller safety. Q is listed at 6'0 190 lbs which is a little bigger than he was last year. It's interesting when looking at the size of safeties OU is bringing in and recruiting with guys like Parker already nearly 200 lbs, Byrd at 201 lbs (though I've heard he's even bigger than that right now) and Sunderland and Haughton are long athletes that will easily carry 200 + lbs.
Julian Wilson – Wilson is listed at 6'2 201 lbs. That is impressive for a nickel/safety. But even more impressive for a CB which is where Julian is looking to start this coming year. And the word we are getting is Julian is looking good. Do not be surprised if he wins the starting spot. In fact right now I'm leaning that direction.
Dakota Austin – Another CB competing for that open spot is Dakota Austin. Austin has great feet and he's incredibly quick but one of the concerns that most have always had about him is his size. He's currently listed at 5'11 164 lbs. Austin certainly has some talent but he'll still need to put on a lot of weight this summer. To put it in perspective, consider that OU's current CB commit, PJ Mbanasor is already 6'1 + and over 180 lbs and hasn't even begun his sr season in high school. In fact, freshman Tito Winham is already 169 lbs at only 5'9.
Samaje Perine – Let's officially name this fella "the Hulk". He comes in at 5'11 243 lbs! We are talking about a muscular 243 lbs! We continue to hear great things about Samaje's lateral quickness, speed and size combination.
Ogbonnia Okoronkwo – When I set out to look at the roster Obo really didn't come to mind but I caught a glimpse of his current size and thought it was more than noteworthy. Full grown man, Devante Bond, comes in at 6'1 236 lbs. Obo is now listed at 6'1 and 240 lbs! Obo has great quickness off the edge and natural ability to turn the corner but it looks like he's also got some nice size to hold up in the run game.
Jordan Evans – Most folks will remember that once upon a time, early in his HS career, Evans was a CB. He showed off a lot of those cover skills as a freshman in the Texas Tech game and held up surprisingly well in the run game even though he only weighed 207 lbs as a 3-4 ILB. In the spring game Evans shined, showing not only great athleticism but physicality as well. He's now listed at 6'3 223 lbs. Would love to see him get to 230 lbs by the season. Either way with his length and the continued physical development, Evans is going to be the next great LB in OU's storied LB tradition.
Tay Evans – Now that OU is running a 3-4 (3-3-5) defense I've been a big proponent of finding longer HS OLBs and converting them to ILBs in our scheme. True 3-4 ILBs with size and strength coupled with the ability to, for example, drop in a Tamp 2 technique or cover an RB are hard to find. Coaches, particularly in Texas because of all the spread attacks, like to put their super athletic players at OLB as edge rushers but still want enough size to hold the edge. Current TAMU commit Riley Garner was exactly that kind of player that I'd hoped OU would have offered and converted to an ILB. While we don't have confirmation on where Tay Evans is going to play it's always been my guess that he'd be moved to inside LB despite playing OLB in HS. Evans has the length to add weight and it looks he's already carrying quite a bit of good weight for a freshman. He's listed at a 6'2 221 lbs.
Jordan Wade – Wade did an admirable job filling in for Jordan Phillips last year. Last year he was not only young but somewhat undersized for a 2 gap NG at a little under 300 lbs. He's now listed at 6'4 315 lbs which is a lot closer to where you'd like a 0 tech NG to be. OU has a great tandem of big athletic NGs with Phillips and Wade.
Mathew Romar – Thought Romar's numbers were noteworthy because they almost look like a typo. He's listed at only 6'0 287 lbs. Admittedly, I haven't seen Romar in person but I would have guessed he'd be at least 6'2. If he really is only 6'0 and still more 10 lbs away from 300 lbs then that might explain the JUCO NG offer that went out to Deonte Reynolds. Afterall, Jordan Phillips could very well be NFL ready by the end of this season and Torrea Peterson will have graduated.
Christian Daimler & Sam Grant – Daimler and Grant are intriguing because with OU losing both starting tackles after this season they are sort of under the radar type players that could be called upon in a year. Both of them have ideal tackle length listed at 6'7. Daimler was only around 270 lbs coming out of HS and Grant  was a 240 lb TE. These two have made some great physical gains. Daimler is now listed at 6'7 300 lbs…much closer to where he needs to be as a traditional tackle. And Sam Grant is now listed at 6'7 281 lbs.
Charles Tapper – Listed at 6'4 273 lbs, this man is a freak in the truest sense of the word. Tapper is not only turning into a stud on the field but I suspect he will test well once he hits the NFL combines. Don't be surprised if he ends up putting up the kind of numbers that launches him into 1st round draft discussion.
You can view the complete roster here.