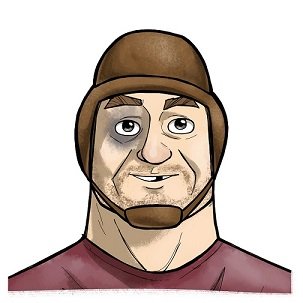 Trench Warfare | Spring Game (Third Quarter)
Posted on: August 24, 2014
Anatomy of a sack Exhibit A:
Look at St. Johns initial set (red arrow)  bending at the waist and dropping your hands while flat footed is not the way you want to handle Eric Striker…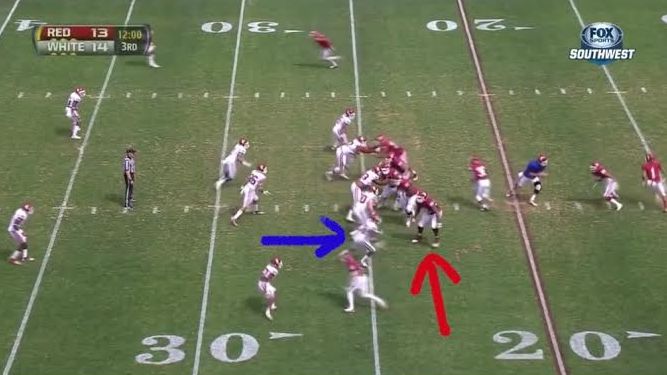 In the next frame we see the curved blue arrow that shows the edge that St. John has given Eric.  It's almost like St. John is a swinging gate with his right foot being the hinge.  Note that his hands are still down.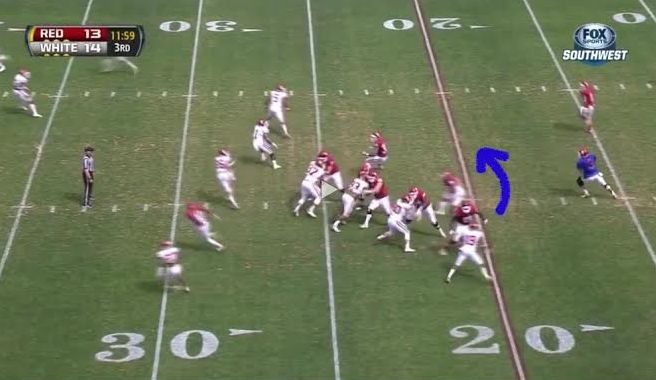 Strike completely has him turned, and just now St. John's hands come up.  Had they been cocked and he stays square on this while not lunging, he's able to punch and bury the rusher….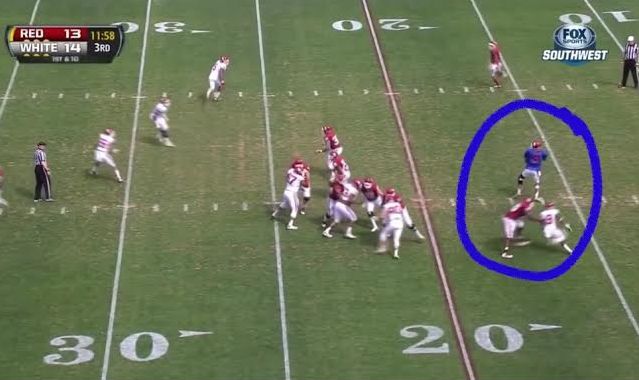 But due to poor technique against arguably the best pass rusher in the nation ends up with this being the result.  Striker is like a lion jumping on his prey.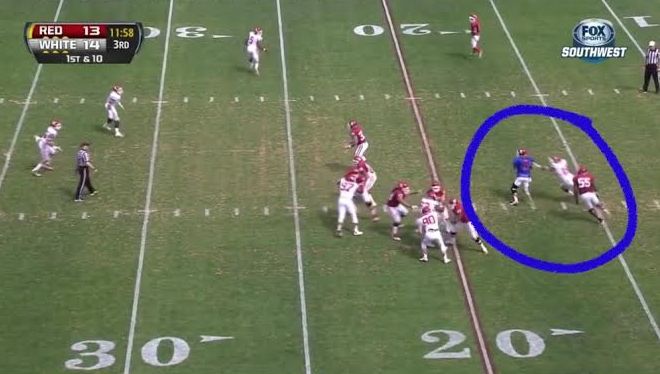 Anatomy of a sack Exhibit B:
Here just look at how much quicker Striker is than everyone else.  Note that Farniok's hands are too low.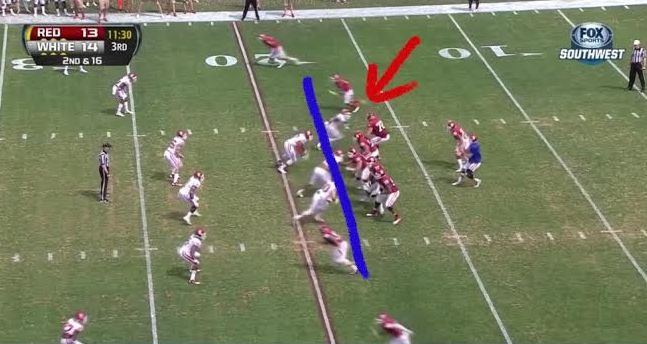 Eric's speed, combined with bad hand usage allows Striker to get inside that reach advantage that Farniok has.  Look at how deep he is compared to everyone else.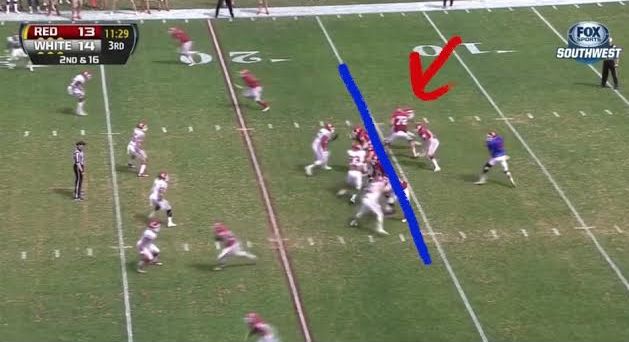 Just nowFarniok gets the hands on him but since they were hanging early, he can't punch.  Striker just has to get that low lean and run the hoop into the qb…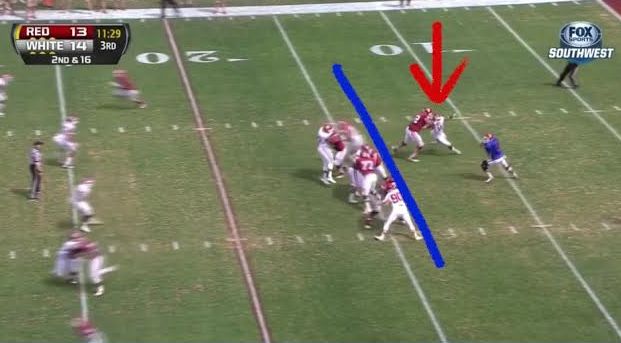 And back to back sacks on back to back plays are the results.  Striker's a special player that has the ability to make folks look silly.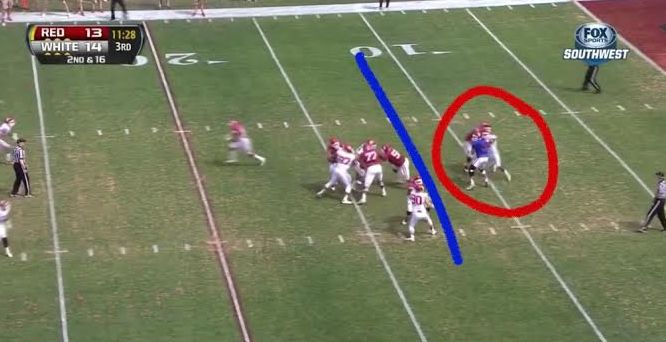 Nice play action set's up the good pocket for the Qb to step into…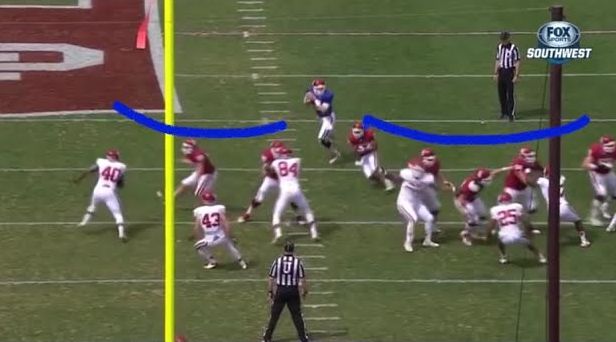 Then we have Smallwood taking advantage of the size mismatch on the outside.  He Catches the ball with his back turned to the goal line.  He rotates clockwise after looking over his left shoulder…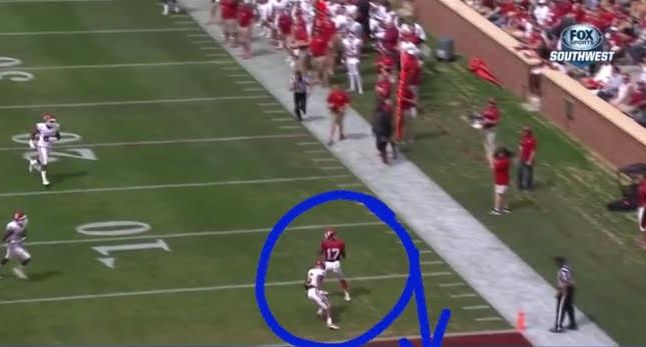 And he's just too strong to keep out of the endzone for Stanvon.  Smallwood is going to be a beast on the outside and reminds me a lot of Justin Brown a few years ago…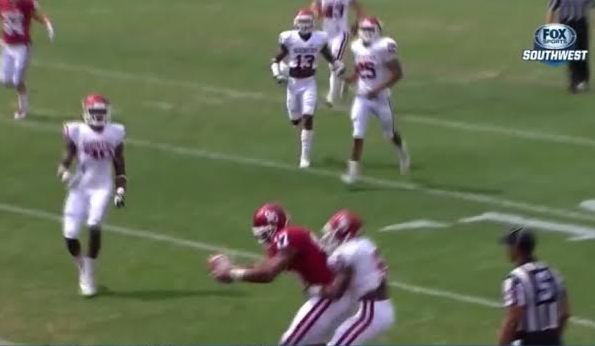 Here's another play action that Striker jumps inside on thinking it's run(blue arrow).  Notice that St. John is all crossed up and is lucky that Striker guessed wrong…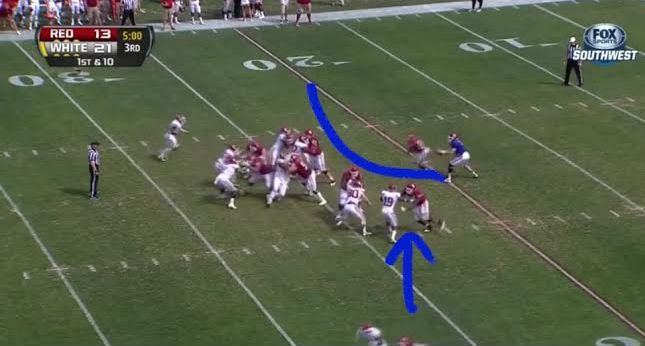 Then it's a dart outside to Derrick Woods.  Why I really like Derrick is that first he never drops anything.  Second he's so darn tough.  Derrick is a guy who will scrap and find his way onto the field because he's a fighter by nature.  Give me toughness, grit and effort.  Three things that you just can't teach…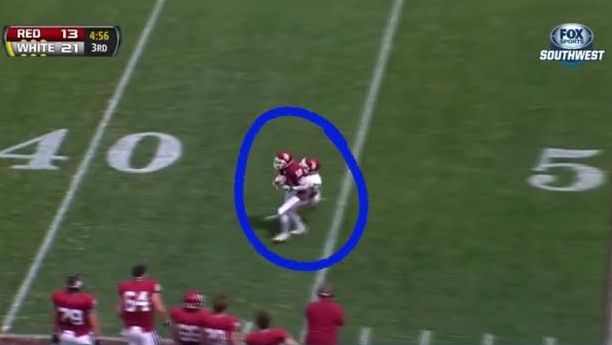 On the next play this is just great vision by Ford.  The point is overwhelmed playside, he sees the seam right off of the right hip of his center, and jumps in behind Tony Feo…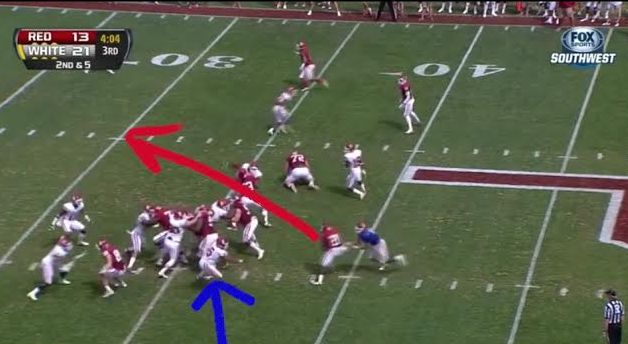 A step later you see the cavernous hole backside that Ford was able to decipher a step before.  Vision is something that is far too underrated when looking at a back's skillset.  Keith turns what looked to be a stuffed run into a nice gain by just getting upfield to daylight.
Striker is a player you have to account for all the time.  Like LeRoy Butler a few years ago.  Troy Polamalu in today's game, Striker is one of those guys who changes the game.  If he can translate his game to a nickel safety in the NFL he'll play a long time.  Tackles and Tight ends can't block him.  He's an instant mismatch .  Note again how deep he is off the snap.  That first step is lethal…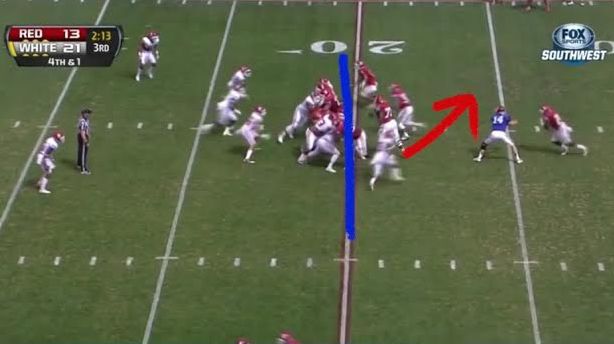 Then while everyone else is still getting out of their stances, he's four yards deep finishing it off.  It wouldn't shock me if Mike was able to match him up well this year that Eric won't be in the conversation for some Butkus stuff at the end of the year.