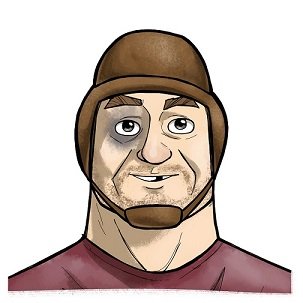 Trench Warfare…Oklahoma Vs. West Virginia…Part Two
Posted on: November 28, 2017
Picking up here in part two… this was an amazing catch and run by Lamb.  Most receivers would
A) Not make the catch
B) Catch it and go down
very few can C)  Catch it and then spin out and almost score.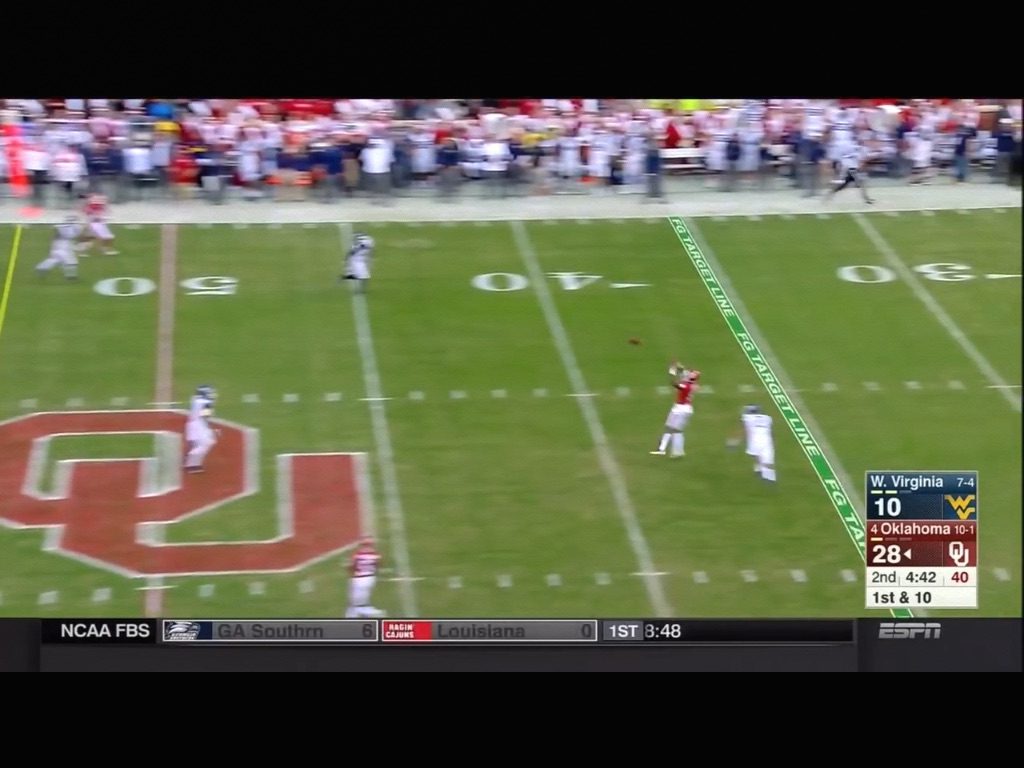 Lamb was really frustrated with himself because he basically tripped.  19 didn't tackle him, he just fell down.  I think 4 may have gotten to him, but not before he scored if he was able to stay on his feet.  Still, it was an awesome play.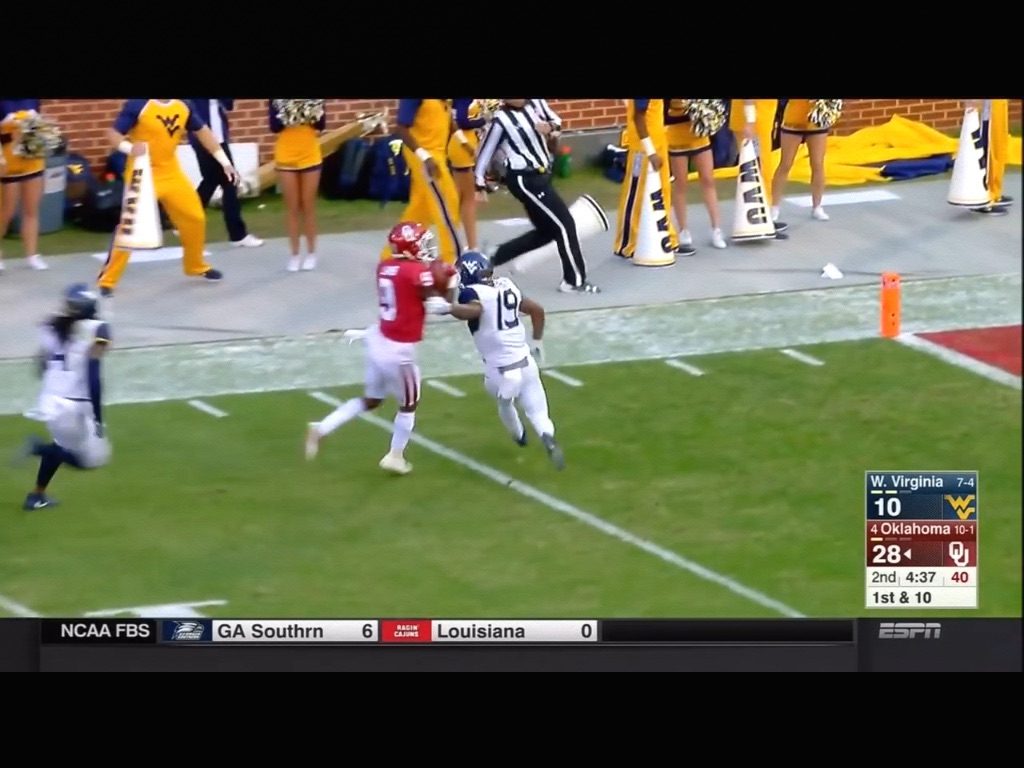 Bo over the top?!  Haven't seen a Sooner RB go airborne recently.  Nice push when you center is two yards deep.  I'm really pleased with the overall physicality of the OL.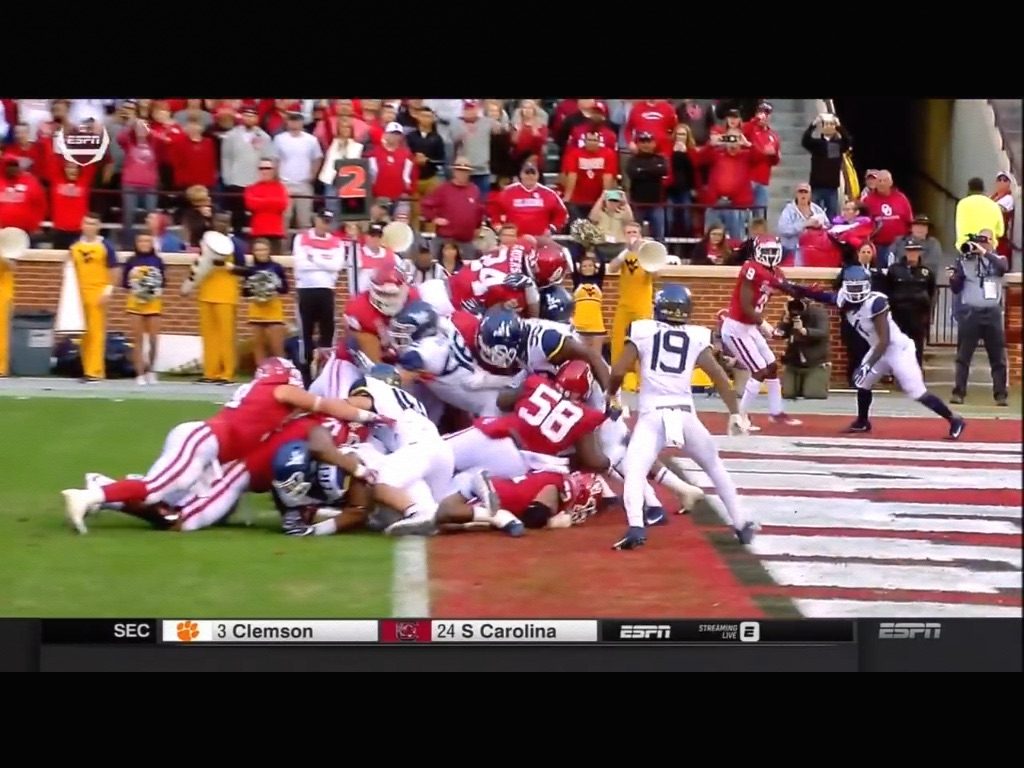 Here's a shot of it from the other side.  No white jerseys with any leverage or hope of stopping this play.  Rodney's really starting to get comfortable.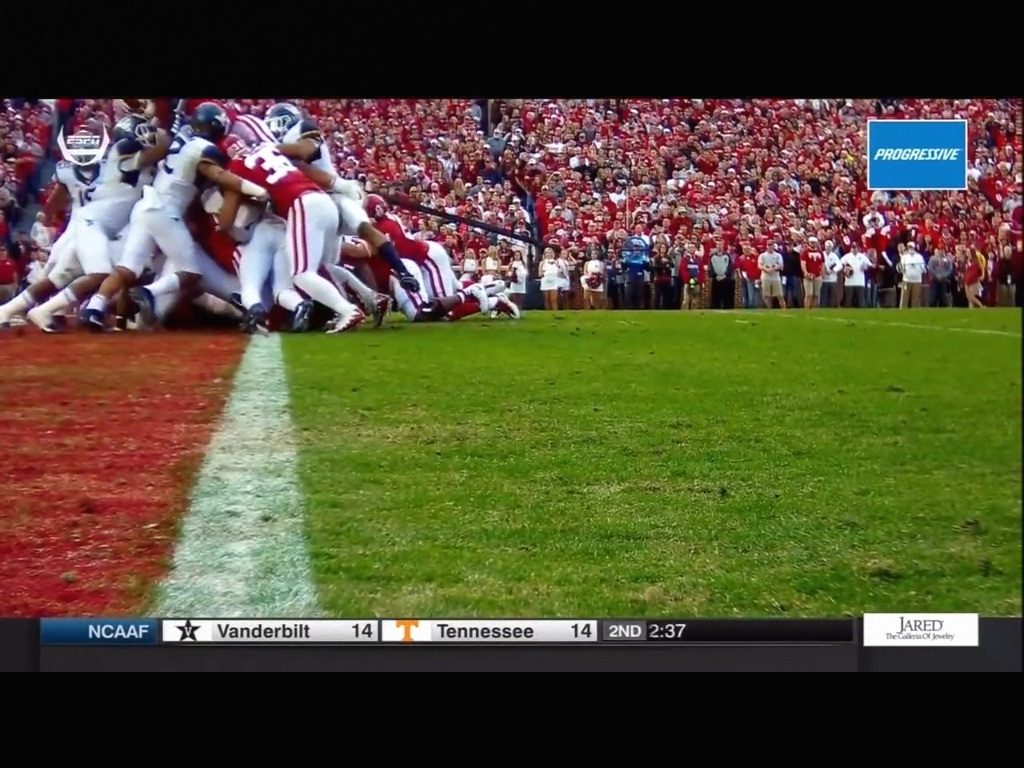 Like the counter play, nobody has been able to stop the play action to Flowers this year either.  Down the seam after the run game is clicking so well.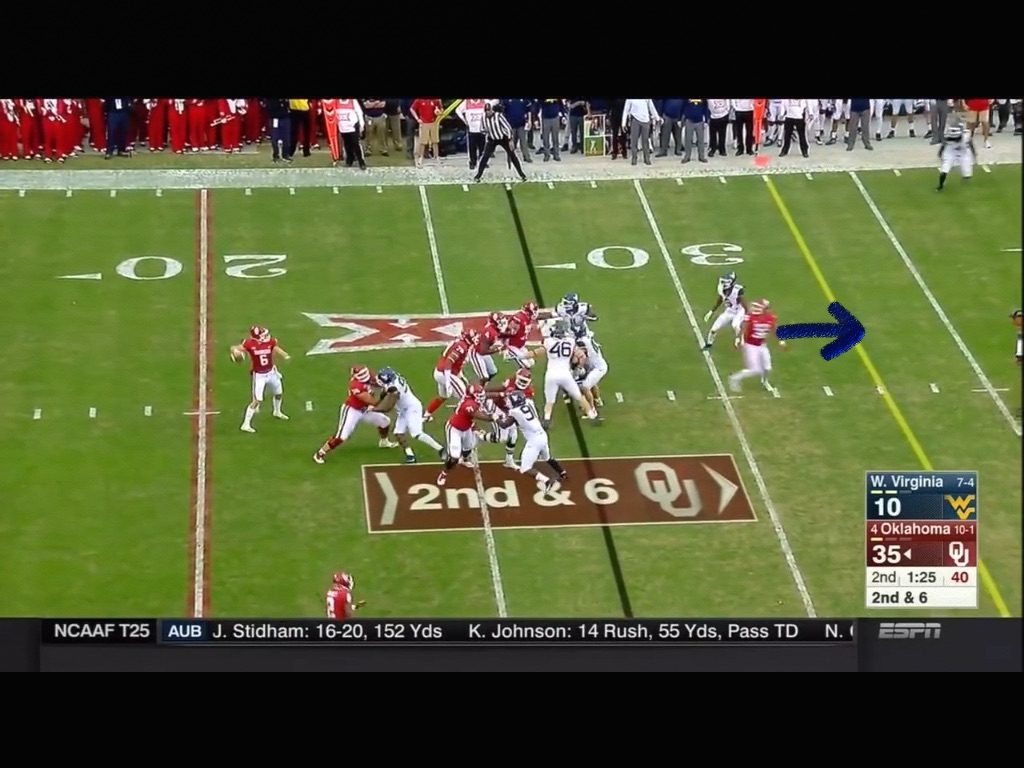 He's no slouch running either.  A simple pop pass turns into a 25 yard gain.  The guy is a player.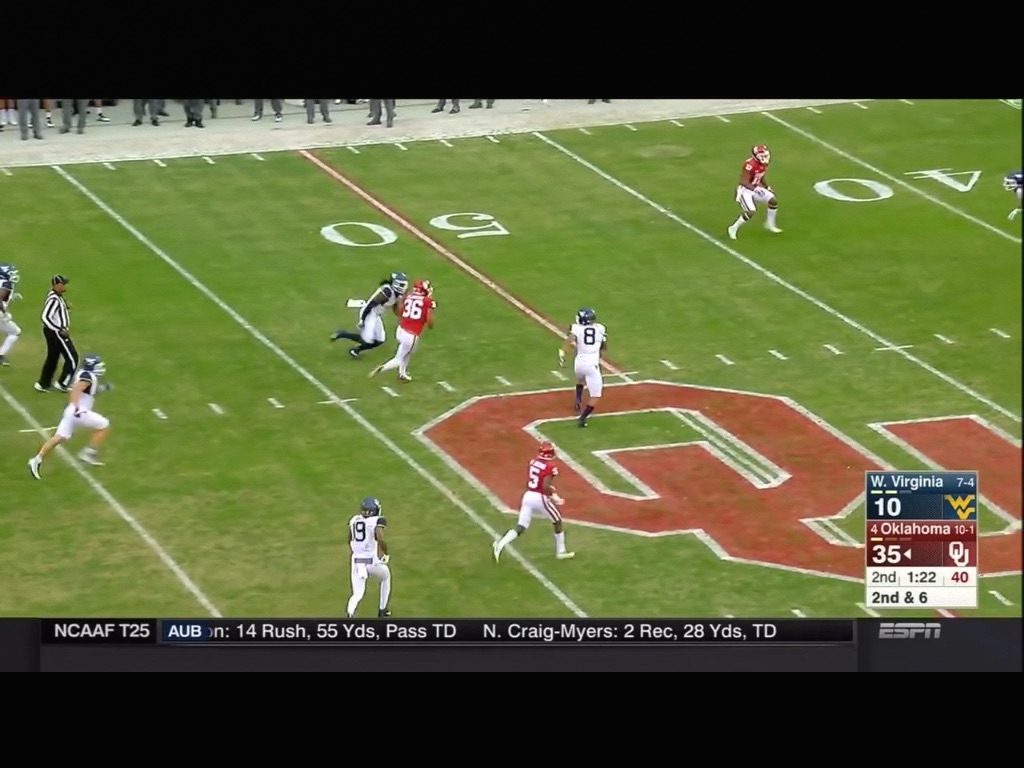 This was probably the prettiest throw Baker had all day.  In between two defenders, on time, etc.  Really nice laser beam to Andrews for 6.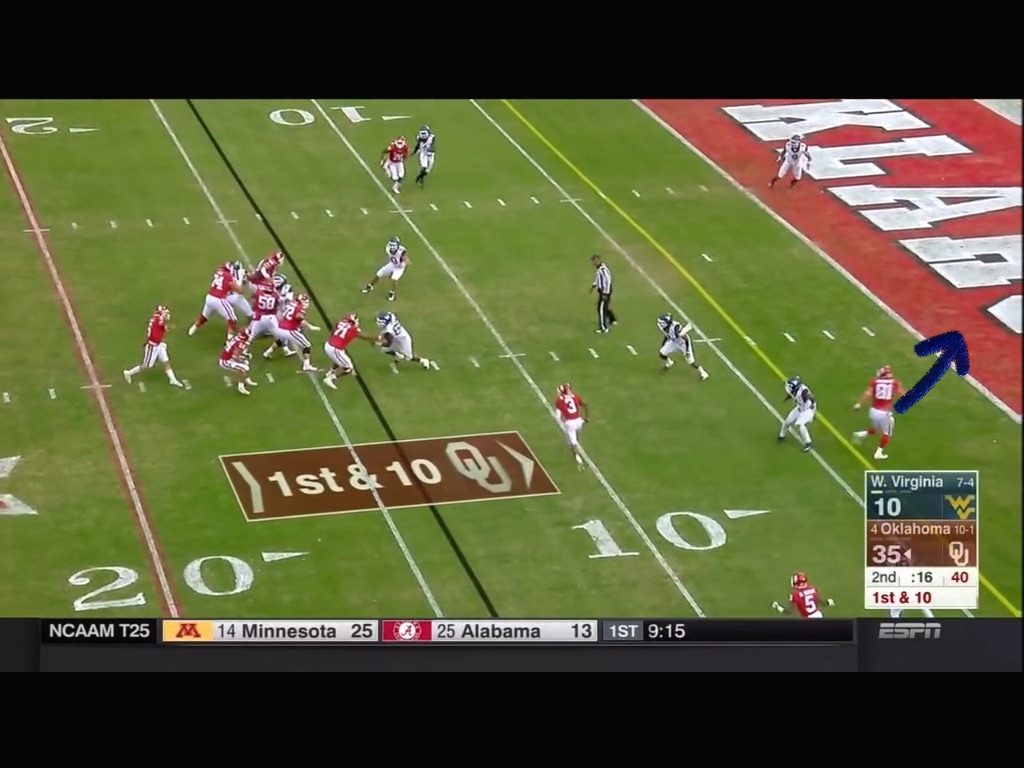 After WVA's sandlot chicanery, Seibert lined up and drilled a 51 yarder that would have probably been good from about two or three more yards.  In years past, there were a lot of things that stood out as weaknesses in tight games.  While the defense is getting better, I don't think we'll see offenses like what we've seen in the Big XII.  The QB run game concerns me, but I think we're in good shape.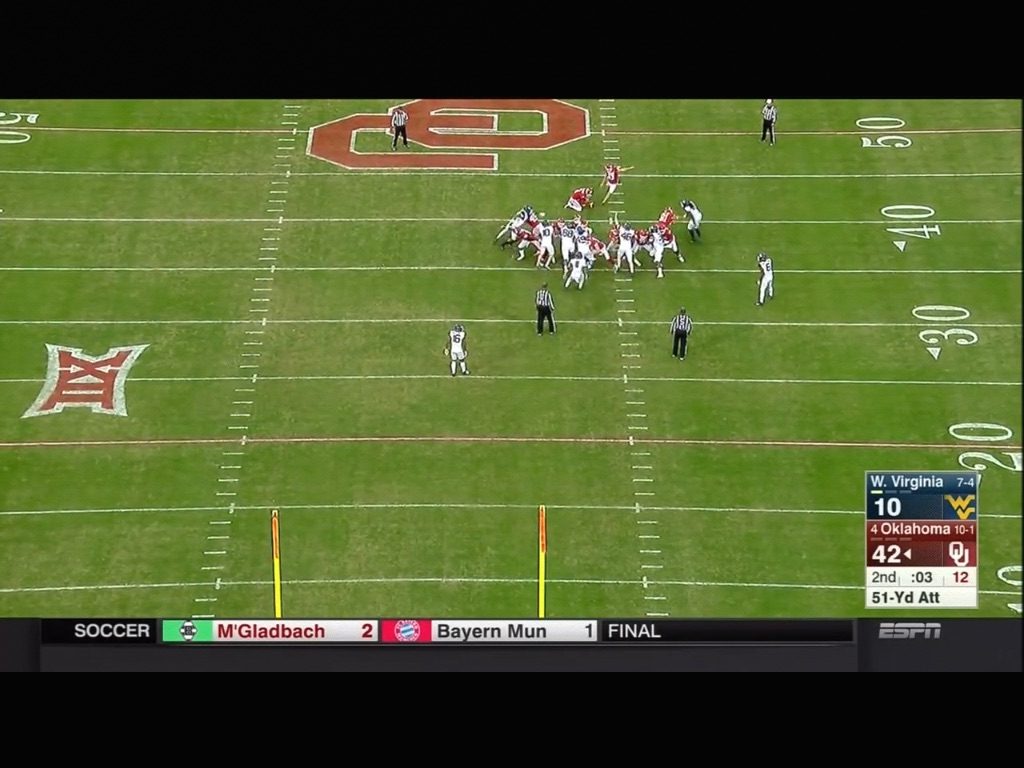 And this is why.  Starters, reserves, coaches, and all are mobbing Seibert like we just won the super bowl.  This team cares about each other, and is really a tight knit group.  You can't find a substitute for that.
This was great coverage.  Corner sank, and safety over the top.  This is what coverage is supposed to look like.  This was almost an int.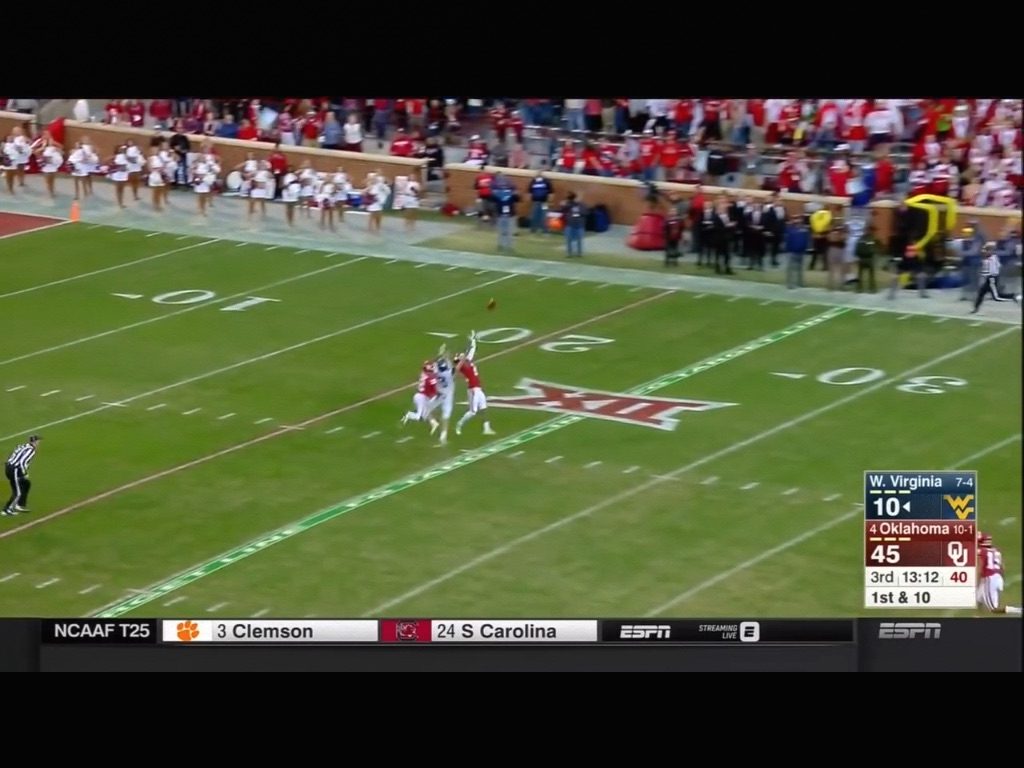 I'm excited to see what Sermon can do after an offseason with the S&C staff.  The guy is already powerful, but he is going to be an absolute load once he gets some grown man strength.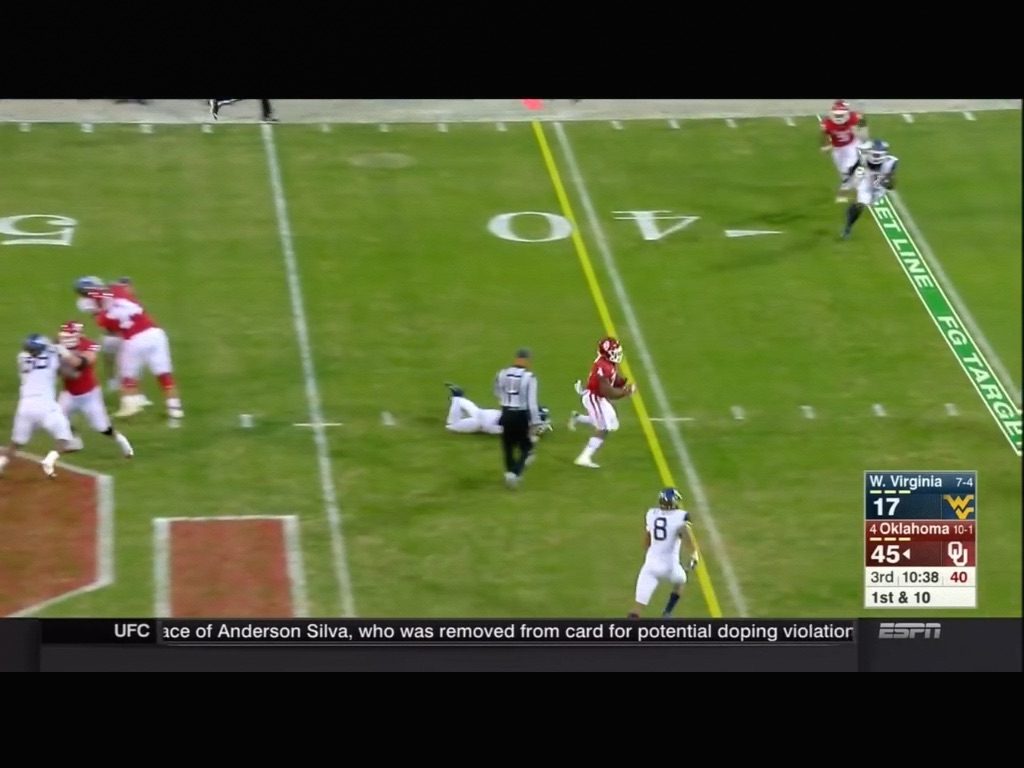 This was the play that Calcaterra dropped against Ohio State.  When the run game is clicking, the linebackers all on the red line shift to the right, creating space and a lane for Baker to step into and deliver a strike.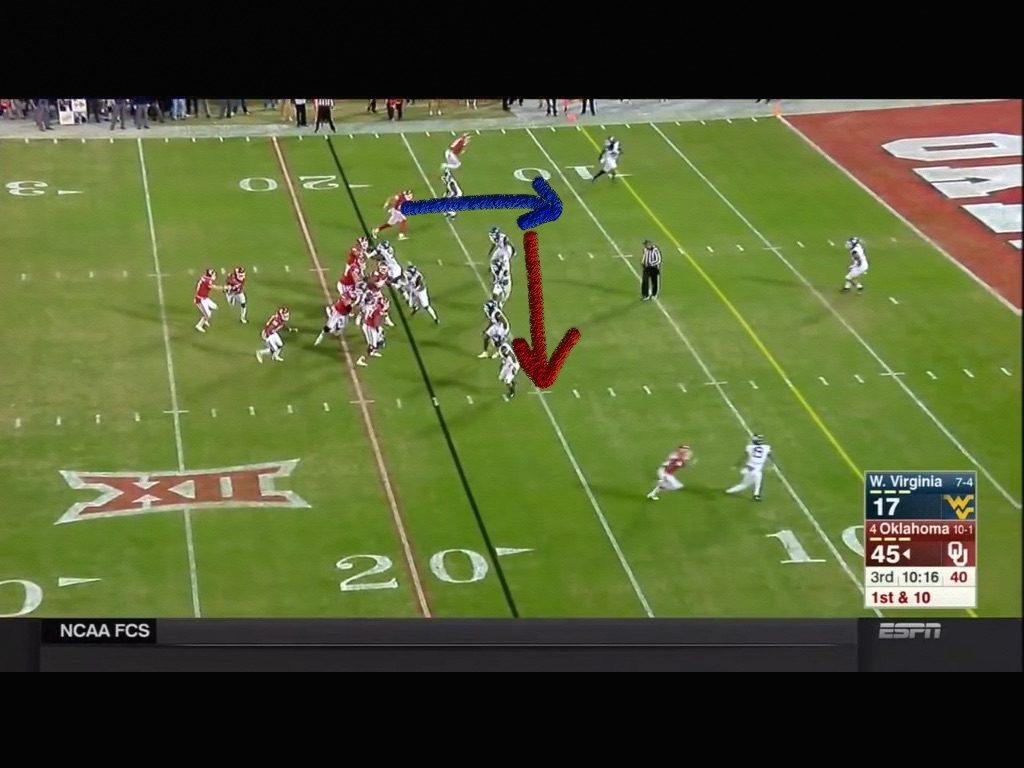 Then it's just an easy pitch and catch.  Calcaterra is really starting to come on.  It's one thing to have a Tight End like Andrews to account for defensively, but two of em?  That's really hard to stop.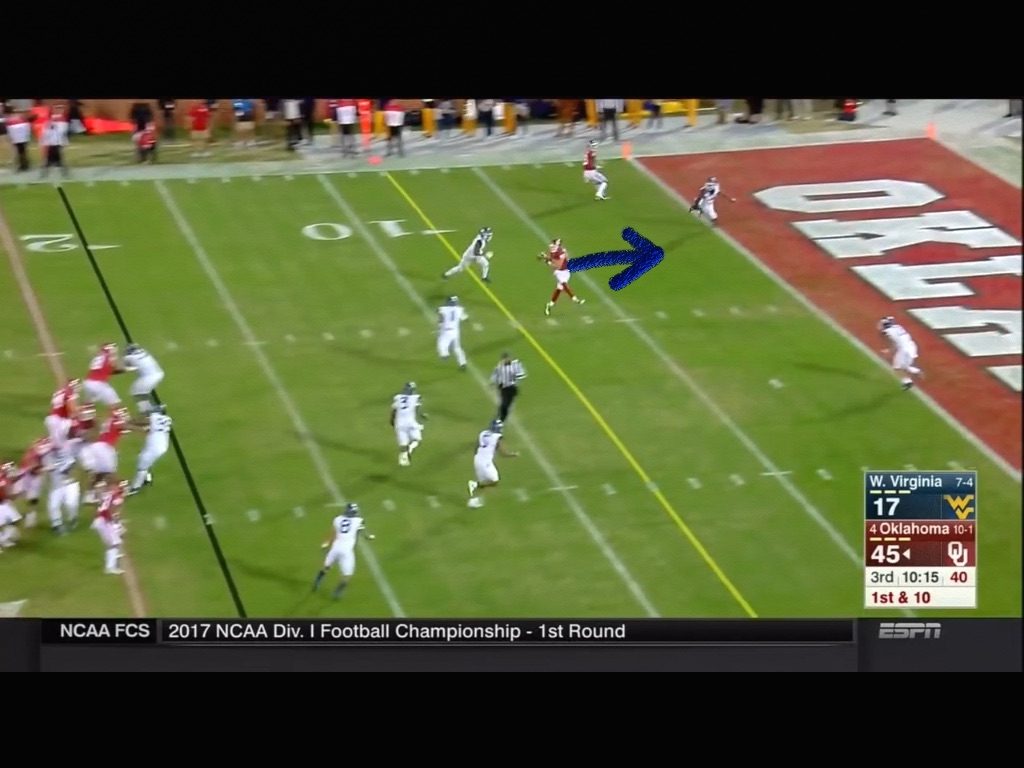 I really hope Saturday wasn't an aberration.  Everything the Sooners did worked.  Murray threw a nice ball, although a little low, to Myles Tease.  He spun out and shot down the sideline.  Eerily similar to TFB's own Ryan Broyles against Tech in 2008.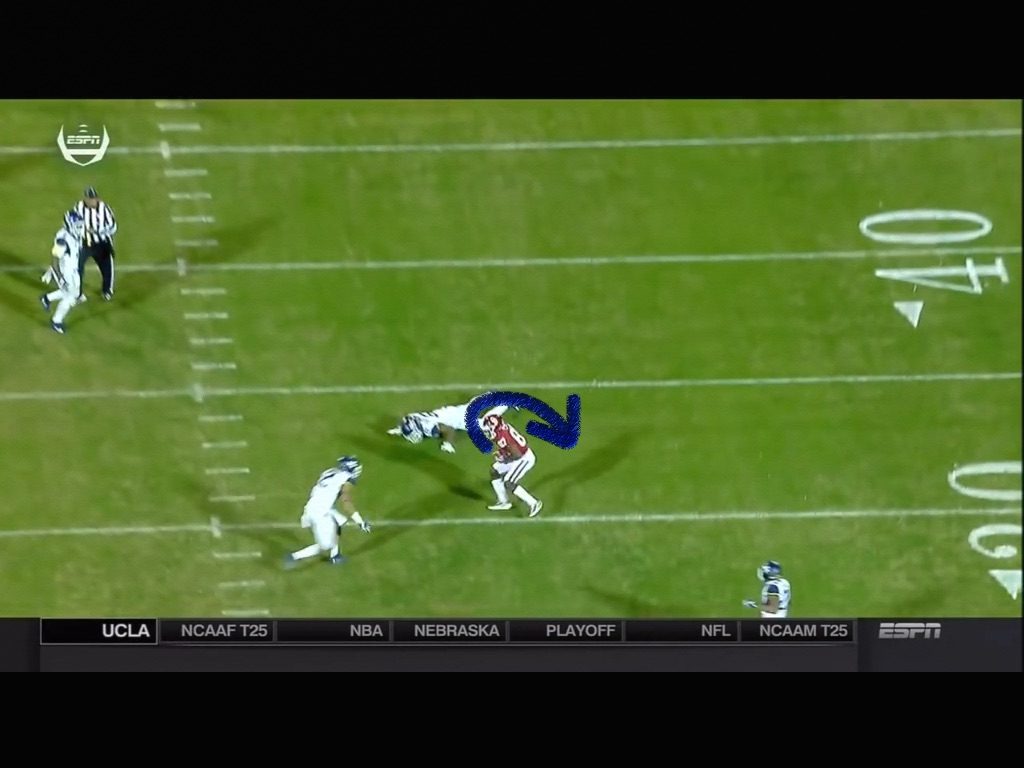 Myles showed nice strength and speed getting out of the tackle and then shooting down the sideline.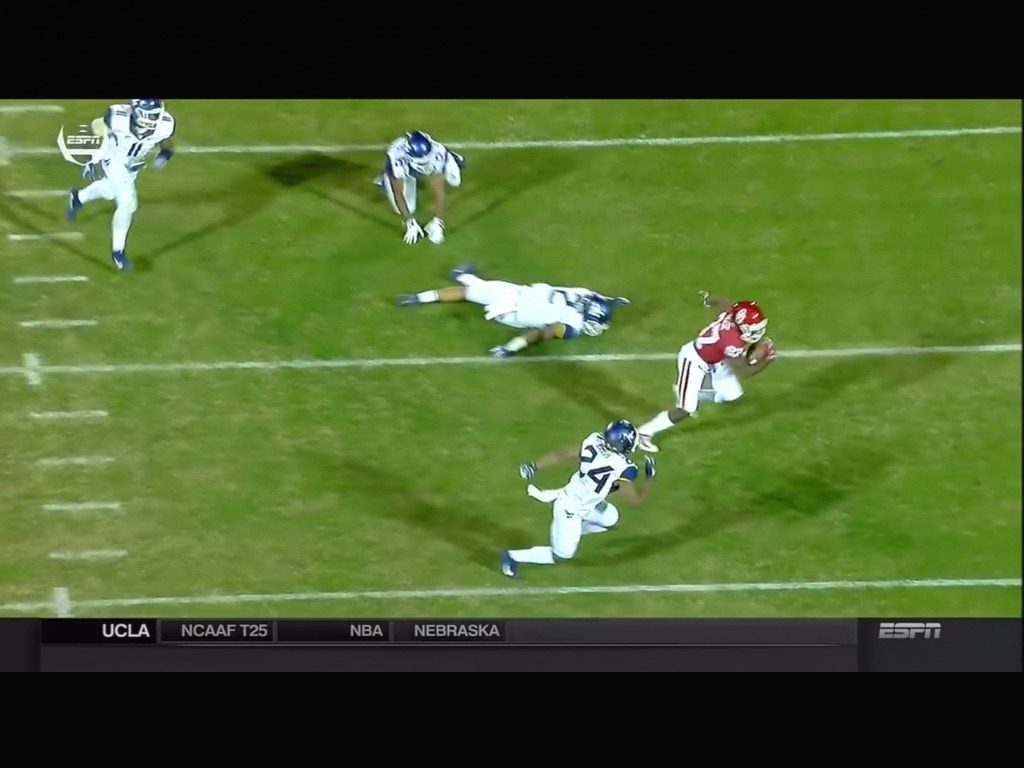 Pylon Cam, where have you been my whole life?  Really cool shot.
More great coverage from the secondary.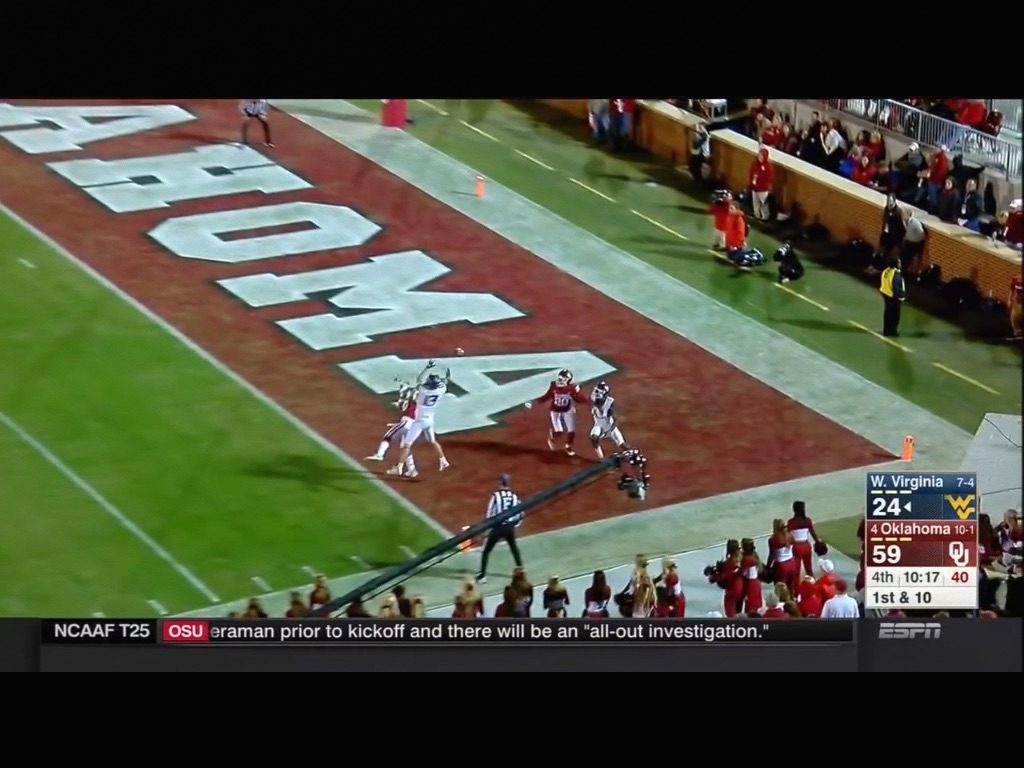 Is it a coincidence that Tre Brown was involved on both of these?  I don't think so.  Kid has big time ball skills.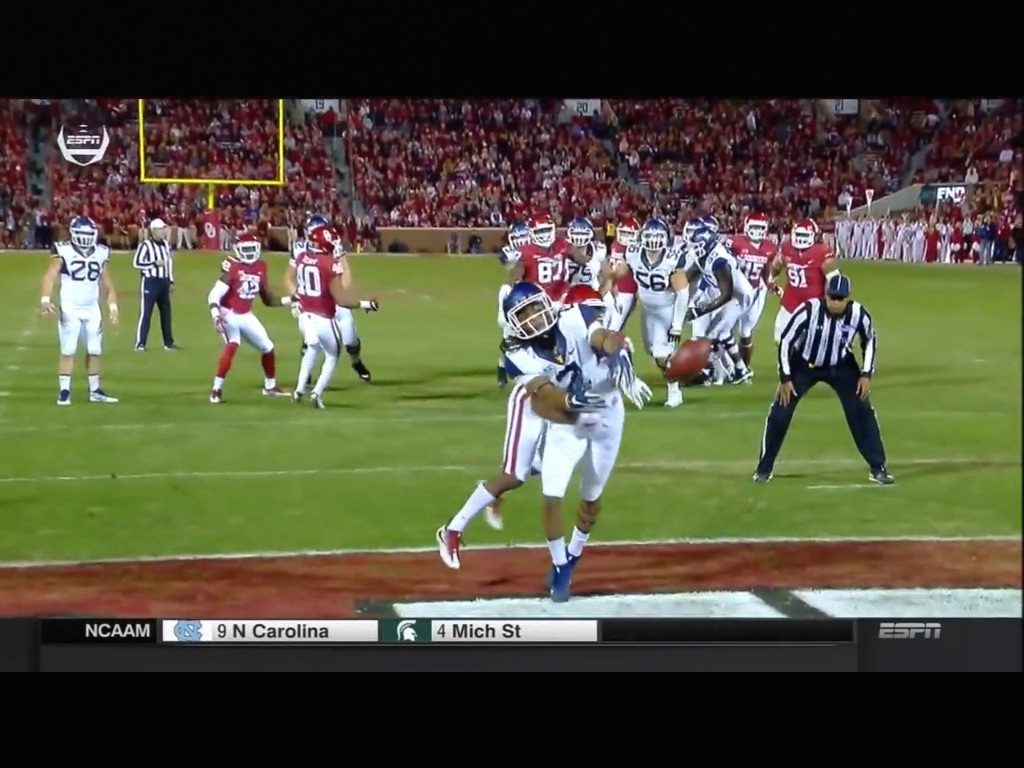 And then pushing the tight end out of the end zone to prevent a TD!  Kid can play!  It'll be interesting to see if the month between games helps him overtake some others or if the Sooners use him as a 3rd corner.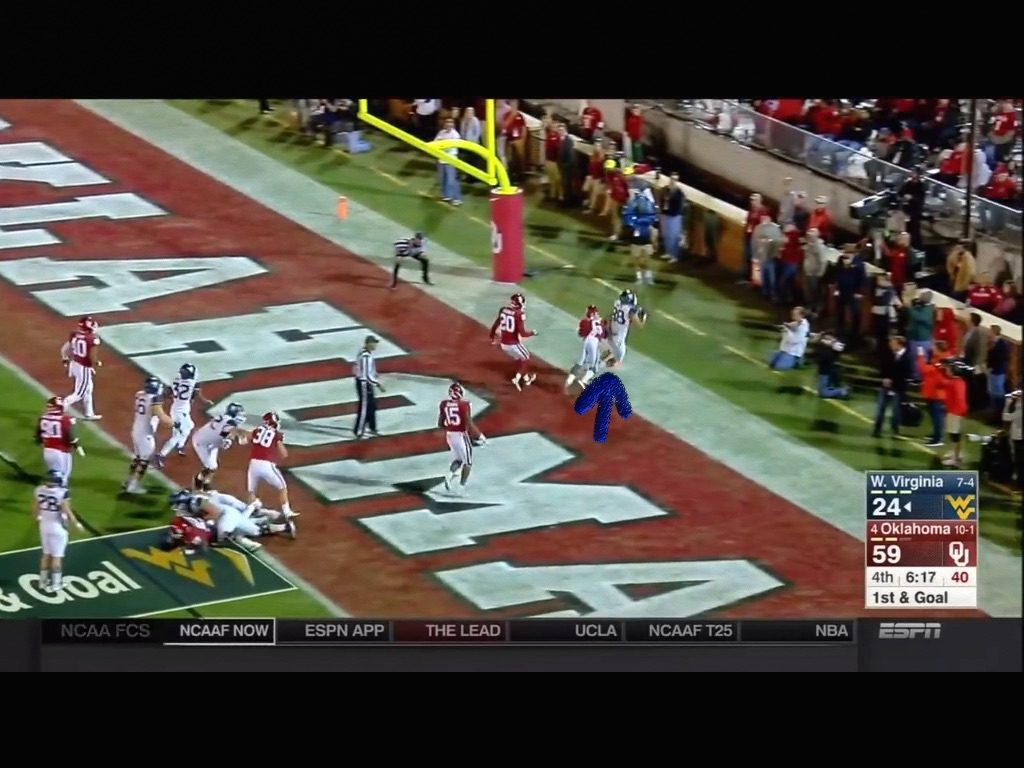 Adams took off down the sideline again.  His average per carry is 9.2 yards.  That's filthy.  Overall, the three main Sooner backs are at 6.83 yards per carry.  I don't know that I've seen anything like that post wishbone.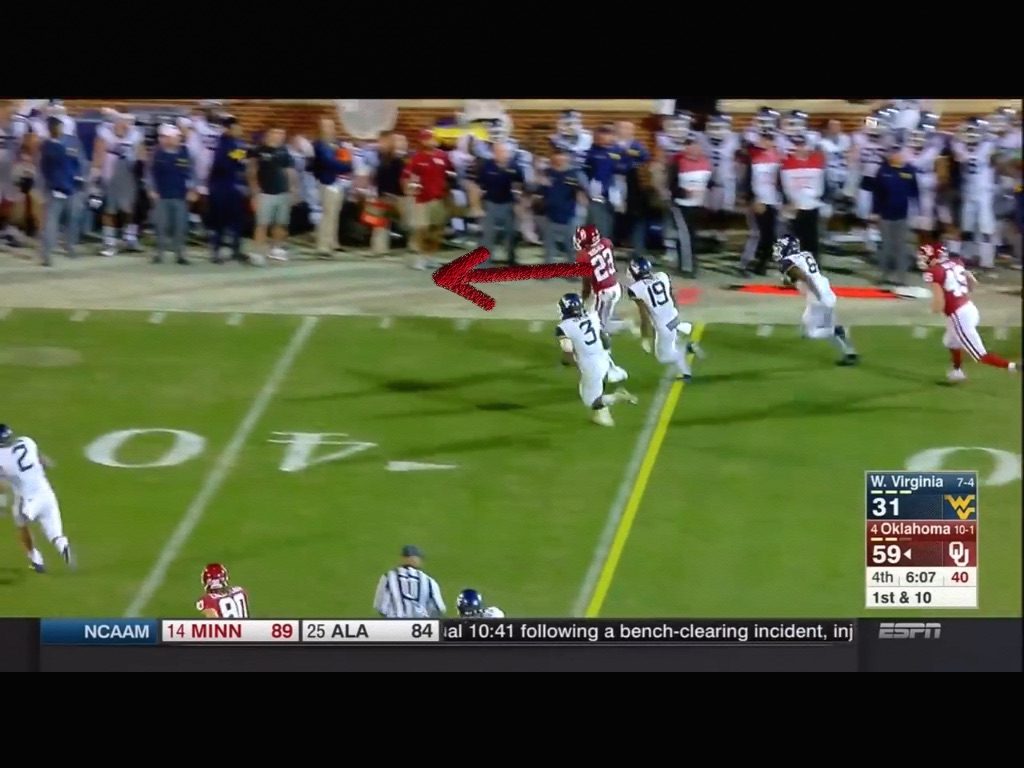 WVA showed nice speed in the secondary running people down, but it was still too late.  This probably should have been a facemask call.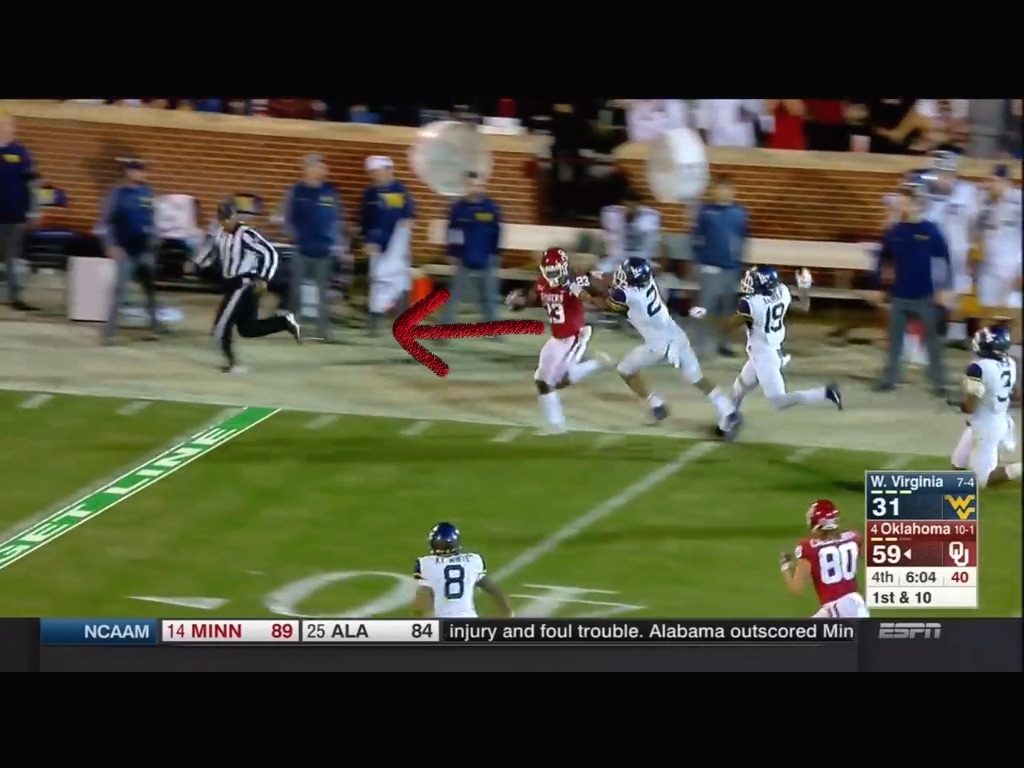 Abdul could have cut up in behind Meier here on the blue line or gotten outside like he did.  The Sooner receivers have been really good at blocking all year.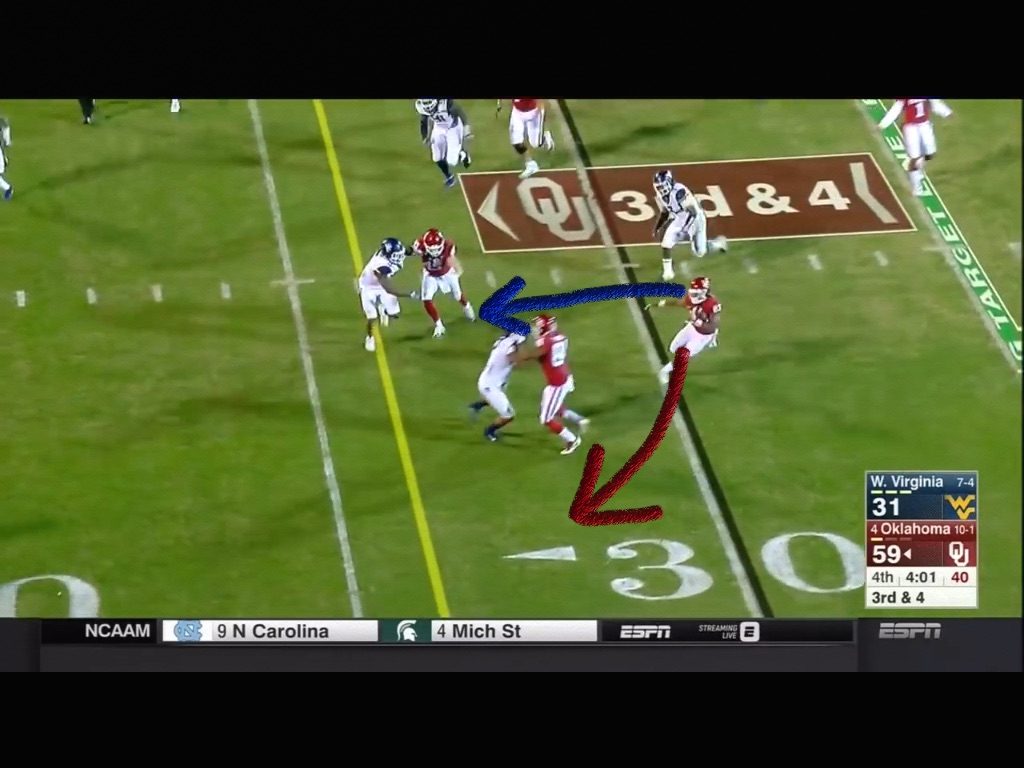 Kyler took off again and finished with 3 carries for 80 yards.  The Sooners ultimately finished with 313 yards on the ground off of 35 carries at 8.9 yards a pop.  Ultimately, the Sooners ran 54 plays on Saturday and finished with 59 points.  They could have scored more, but Riley's a much nicer person than I am.  So think about that.  59 points on 54 plays.  That's 1.09 points per play.  Absurd.