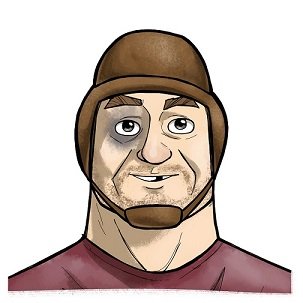 Trench Warfare…Oklahoma Vs. West Virginia…Part One
Posted on: November 27, 2017
I didn't expect OU to come out guns blazin', and be up 45-10 at halftime.  I'm not sure if I've ever seen offensive output like that since maybe 2008 Texas Tech.  The only other thing I've seen like it was TCU earlier this year…maybe.
What I also didn't expect was Kyler Murray to almost house it on the very first play from scrimmage.  We always hear about the next big thing, and I was hopeful that Kyler would be effective, but 66 yards on the 1st play?!  Here, the mike has to play Anderson going to the Middle, and Kyler is reading the D-End.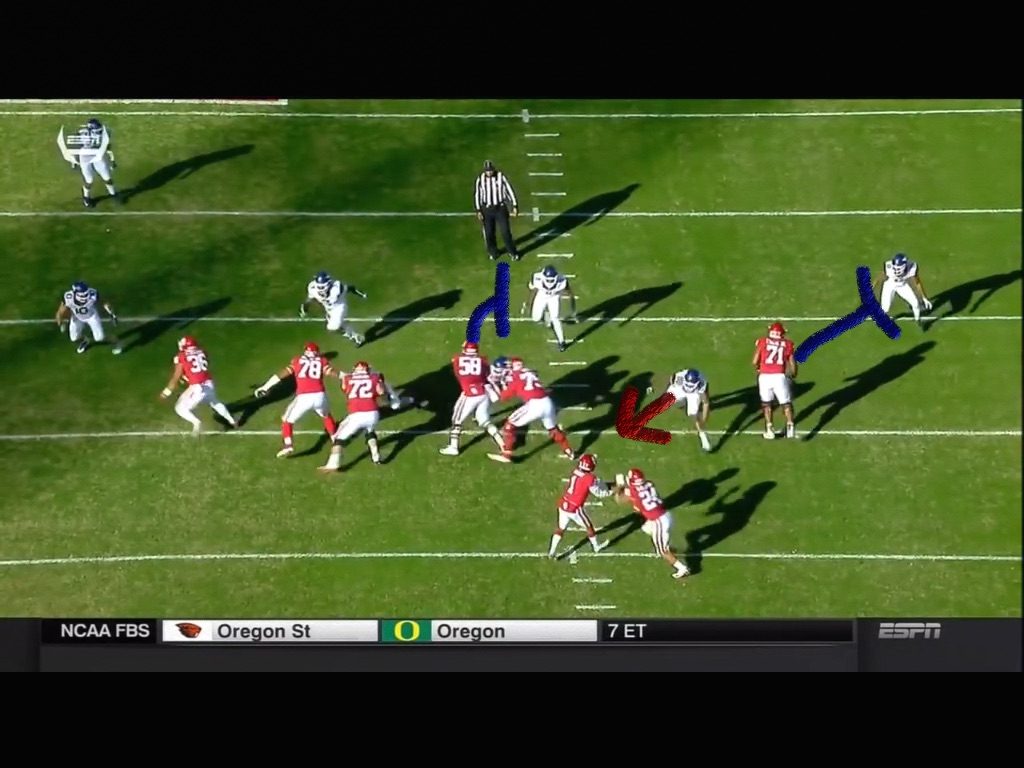 As the D-End crashed, and the Mike flowed to go toward's Anderson's path, There's a ton of green grass ahead for Murray.   This is another example of the play designed stress that Riley's offense puts on a defense.  There truly is no correct answer here.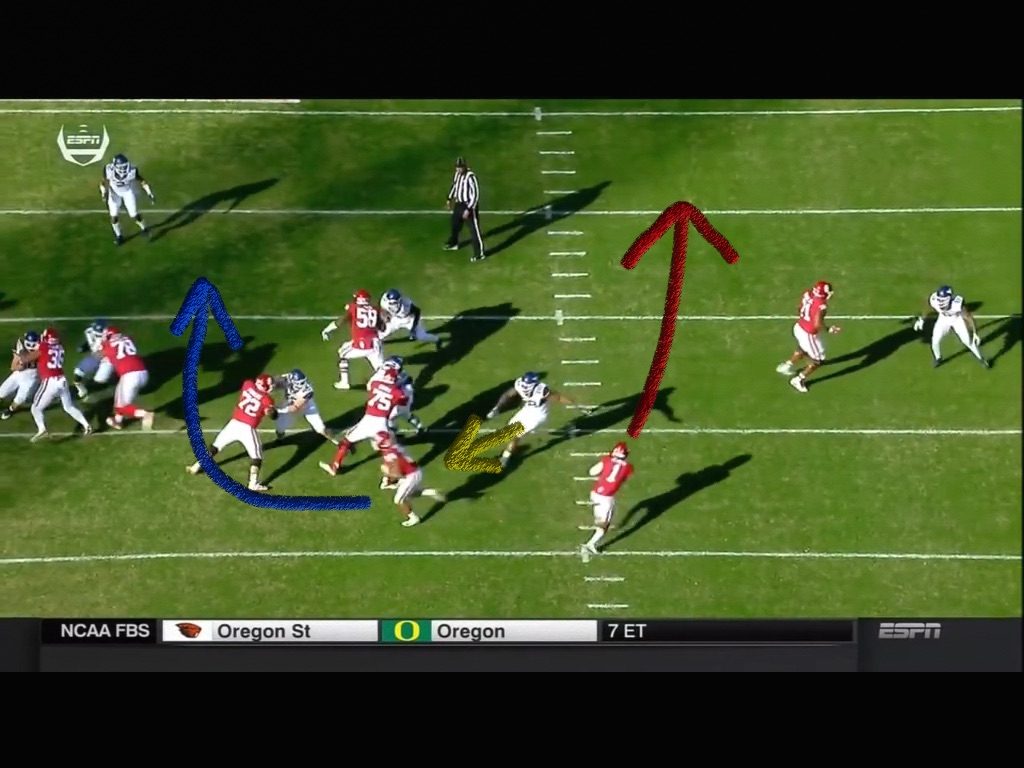 For most players, this is a 6 or 7 yard gain, but when you can outrun the scheme, it's a 66 or 70 yard gain.  If you get a chance, rewatch the game or the highlights and this play particularly.  Lord alive, this kid can fly.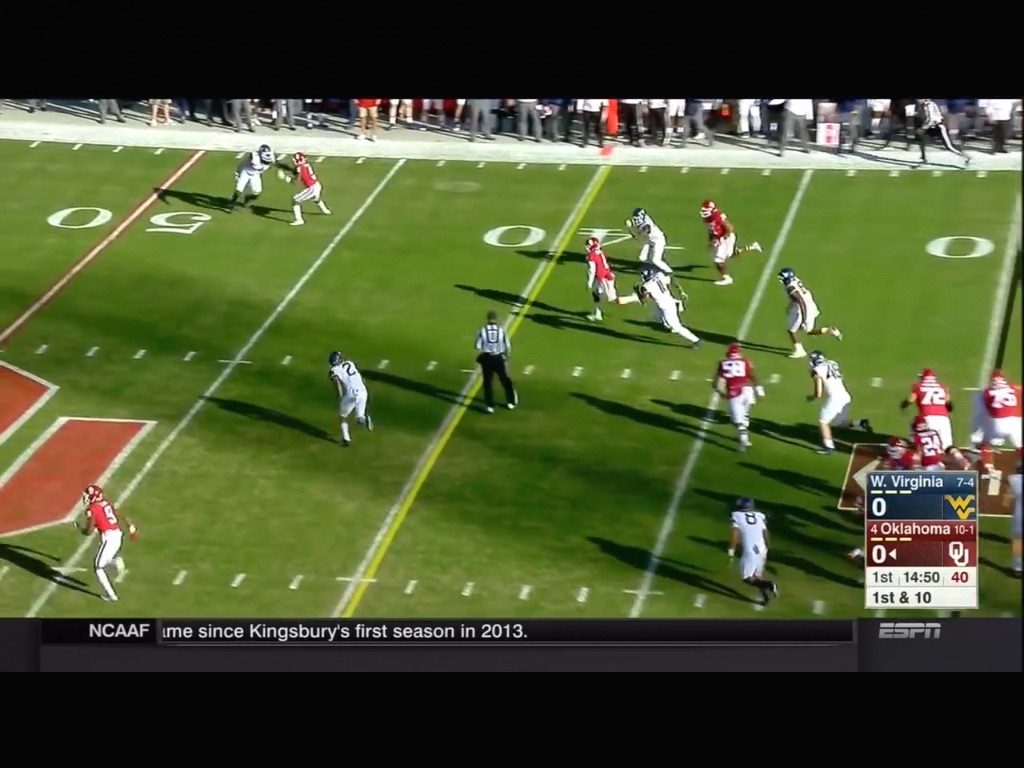 The player who came across and walked Kyler down can truly fly, but I think it's safe to assume the offense will be in capable hands next fall.  While losing Mayfield will be a tall order, it'll be fun watching Murray.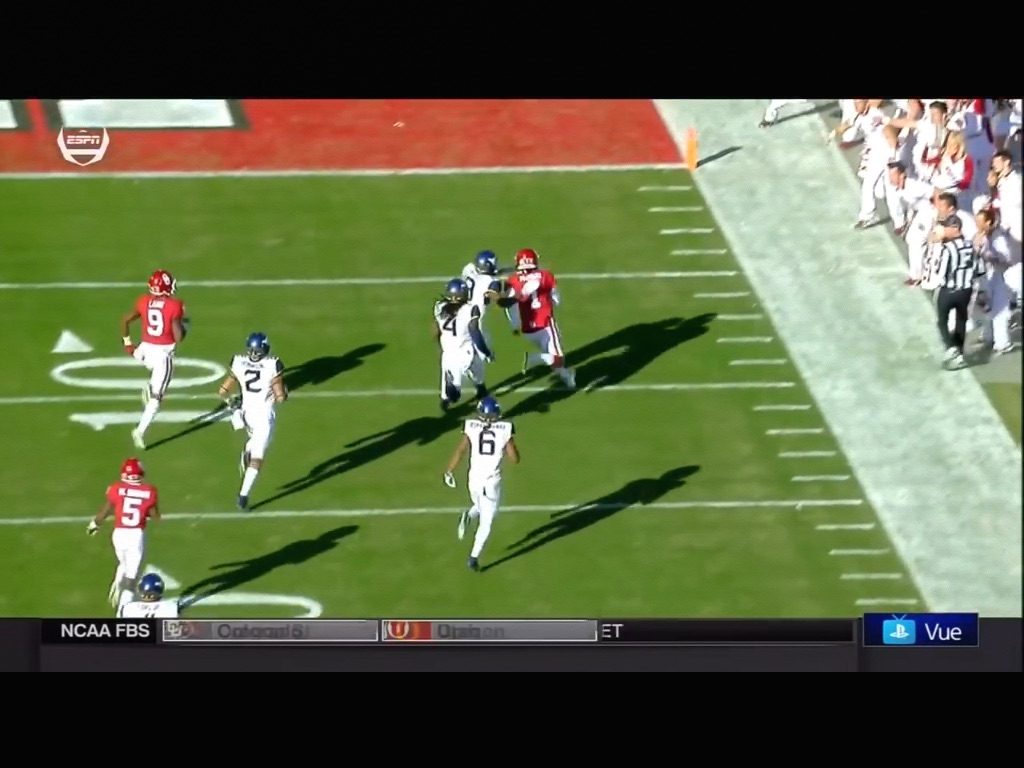 After that play, the linebackers were truly spooked by Murray.  They were frozen looking for the outside run, so Murray just gave it to Anderson.  By the time the linebackers realized what happened, Rodney was runnin over one of em into the end zone for TD #1.
This little counter play where O was pulling around was a huge play as well.  I've said it a hundred times, that the object of the run game is to get your back one on one with the safety…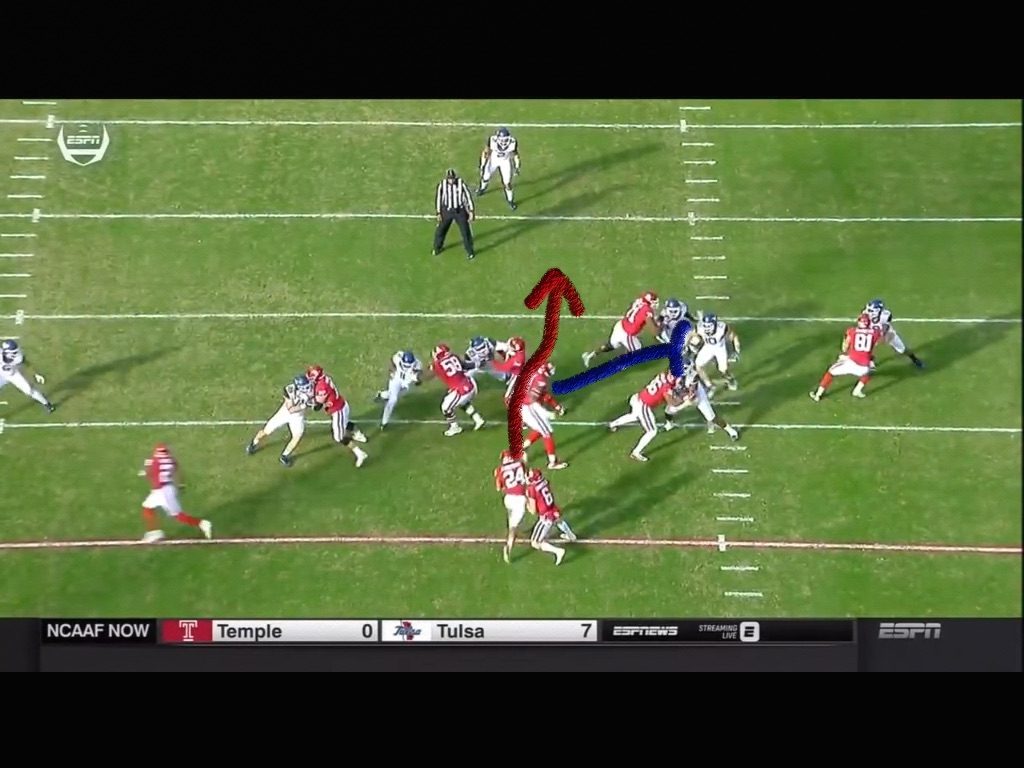 Fortunately for us, this cat is no Sean Taylor.  Rodney set em up and gave em a soft shoulder cut.  Look at that hole.  Geez.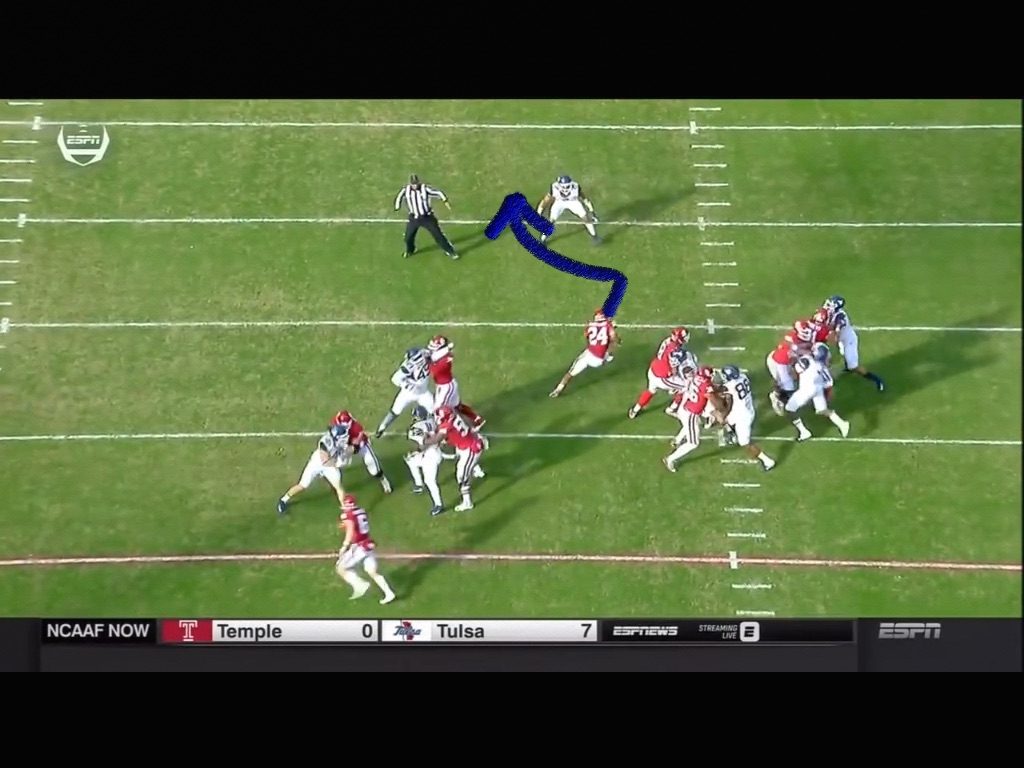 I thought Rodney was going to house this one too, but there were too many players deep in coverage.  Look at how all alone he is!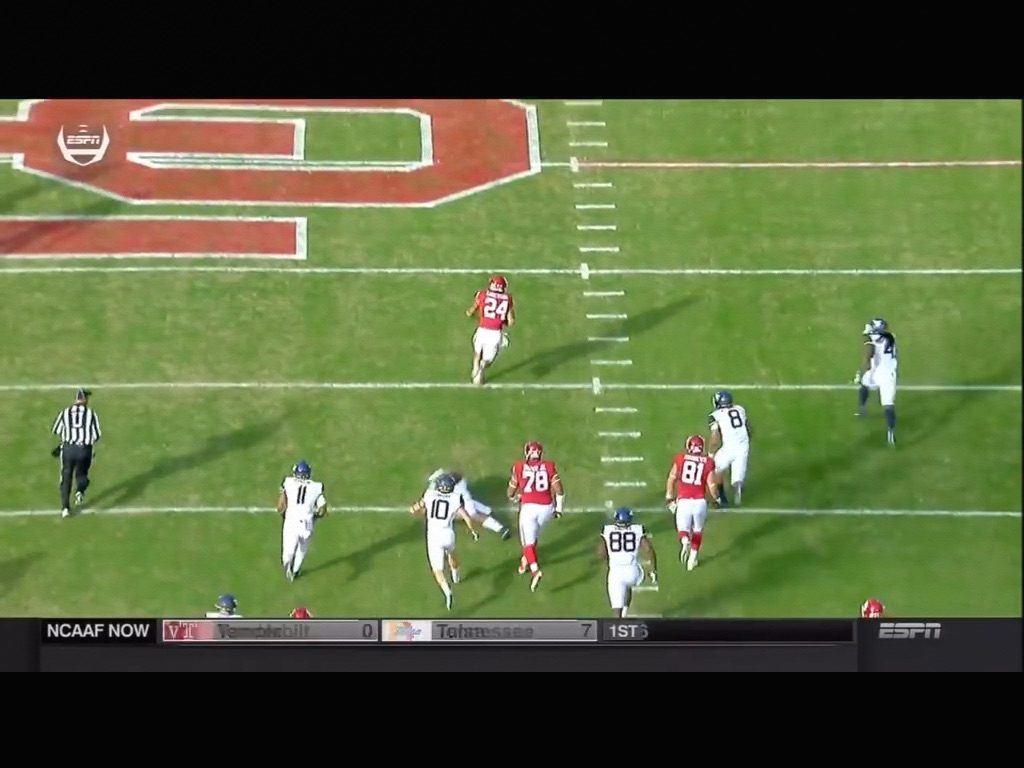 This is one of the reasons that Baker's teammates love em.  He's a football player first.  Not many heisman trophy candidate qb's are running this far downfield pancaking DB's.  I kept thinking to myself that this was the last time we'd see him at home.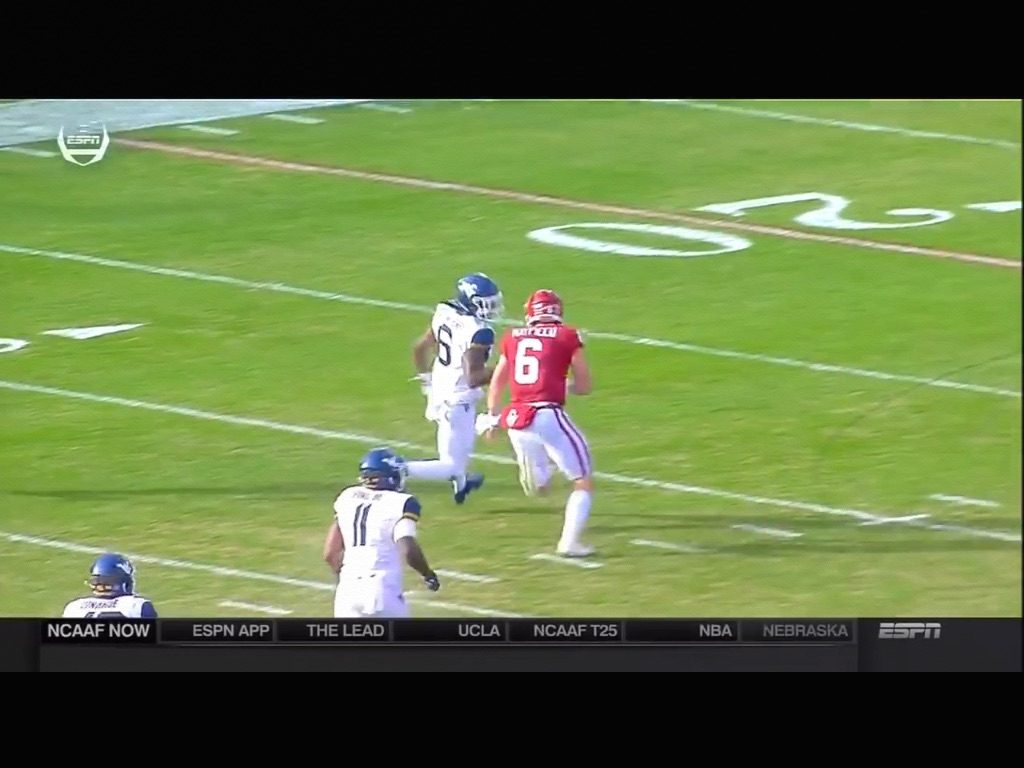 When the run game is clicking, the linebackers bite, and it creates huge throwing lanes for Baker and Co.  Lamb is a guy who doesn't need a lot of extra help, but in this offense a guy like him with his talent can be more than prolific.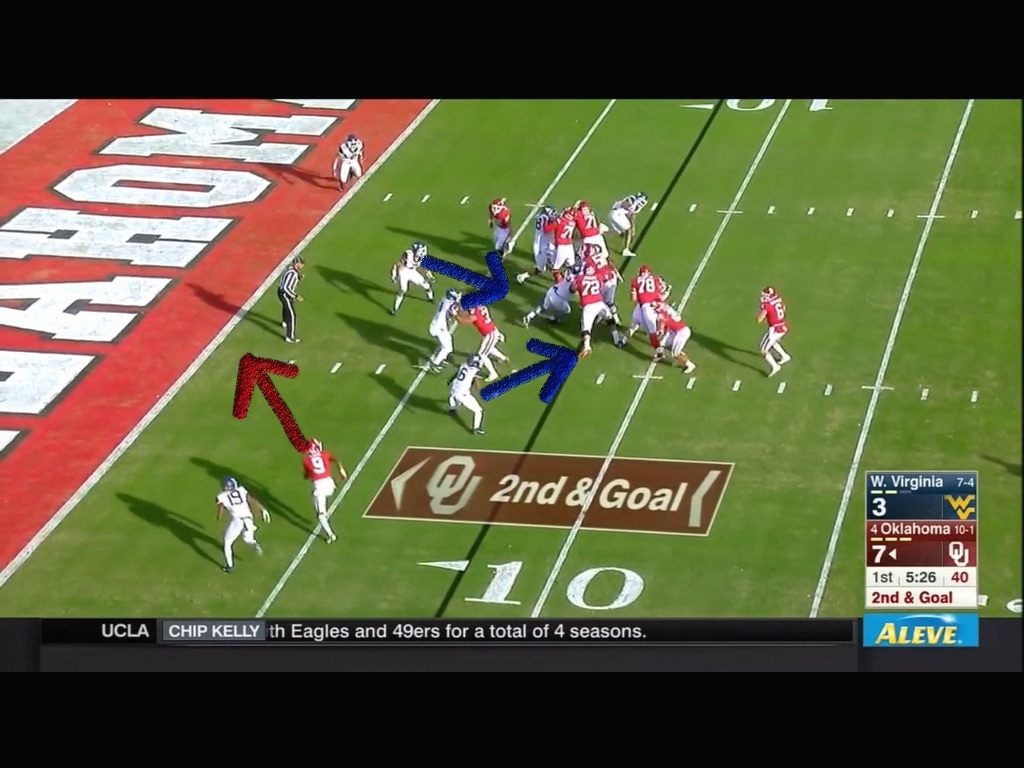 I plan on doing a separate post about wednesday or thursday about the wildcat woes to explain what happened in the run game.  Down a couple of scores, WVA got cute and it cost em.  They put the ball on the rug and the Sooners pounced.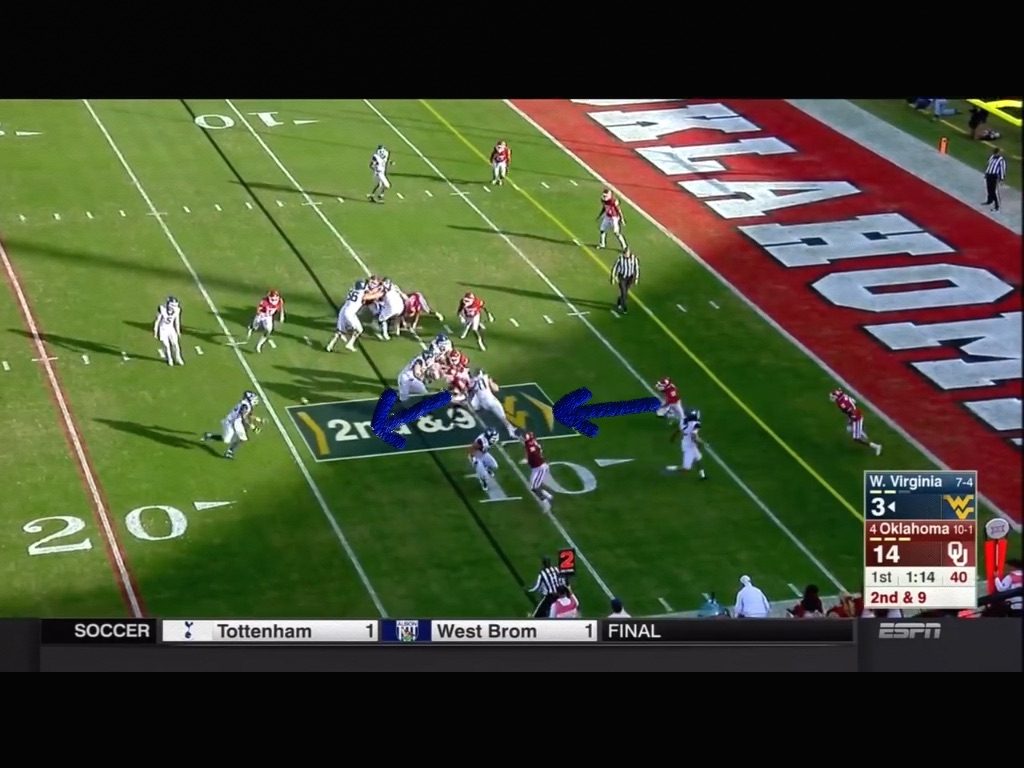 This was almost a replay of the earlier run Rodney had zig zagging everywhere.  He barely got tripped up for a gain of 9 or so, otherwise this may have been a touchdown since more players were up in the box.
I'm tellin' ya he barely got tripped up.  There wasn't a lot to pick at in the first half that the Sooners did wrong, even with a very vanilla game plan.  The mountaineers were just overmatched.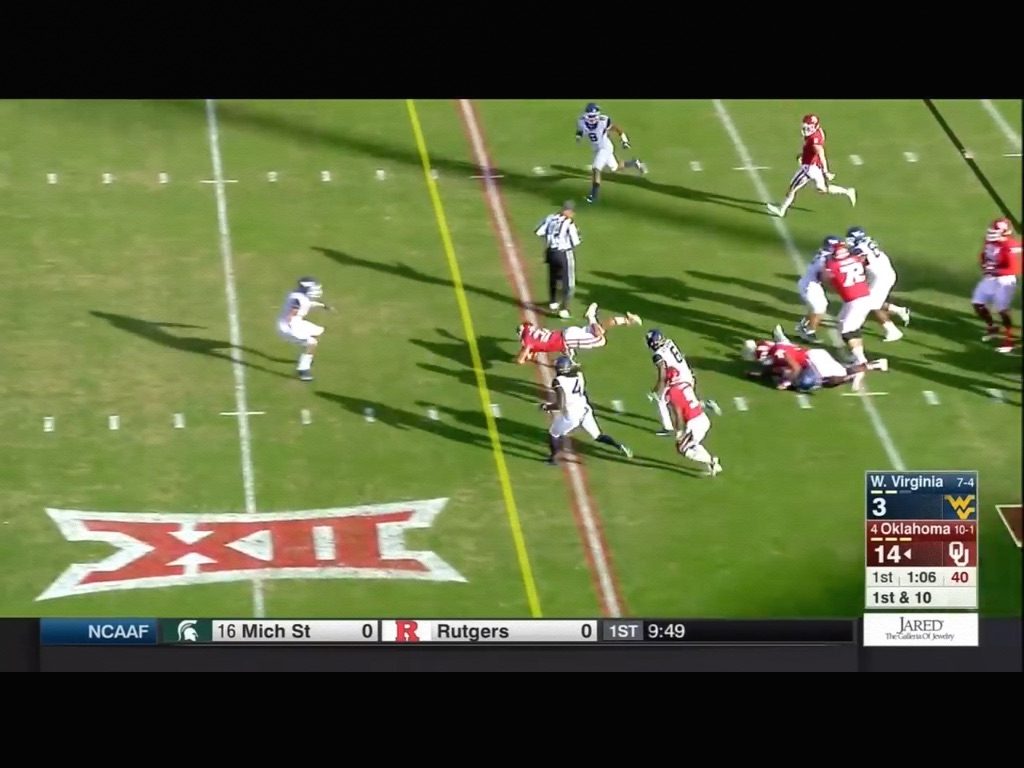 This was a pretty deep ball to Brown.  He had to slow down a step to get it, but I'd rather have the big completion than not.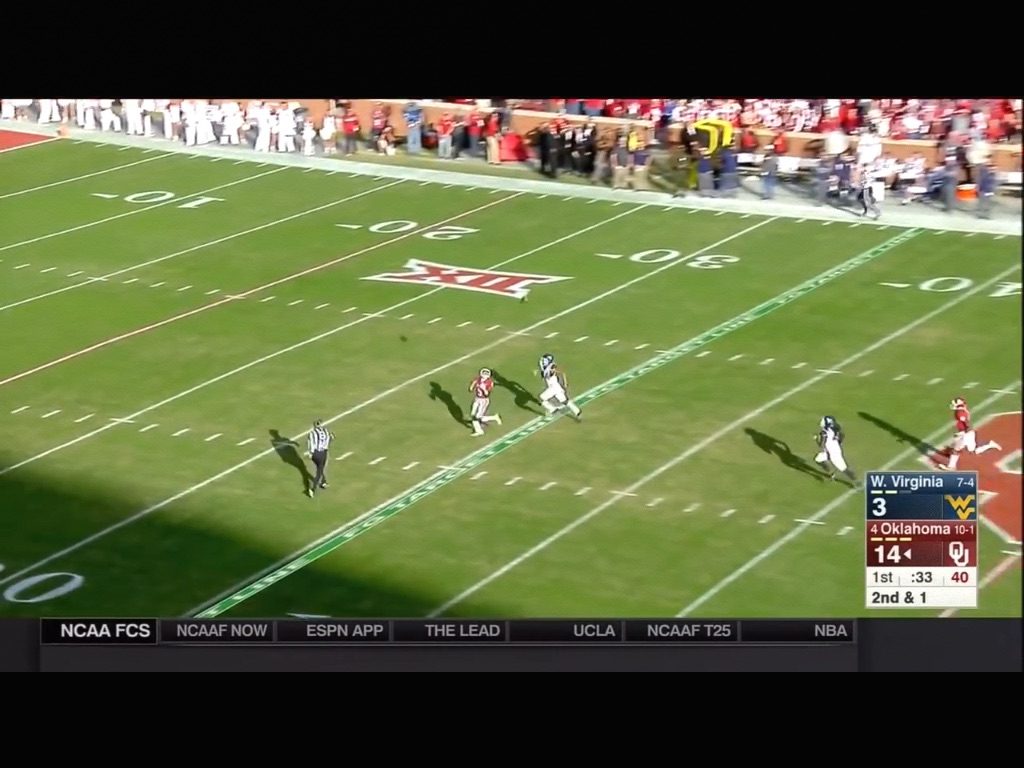 24 for WVA was going all out & brown was just walkin away from em.  Baker has gotten his deep ball in check from earlier in the year, and this was a nice gain to the speedster.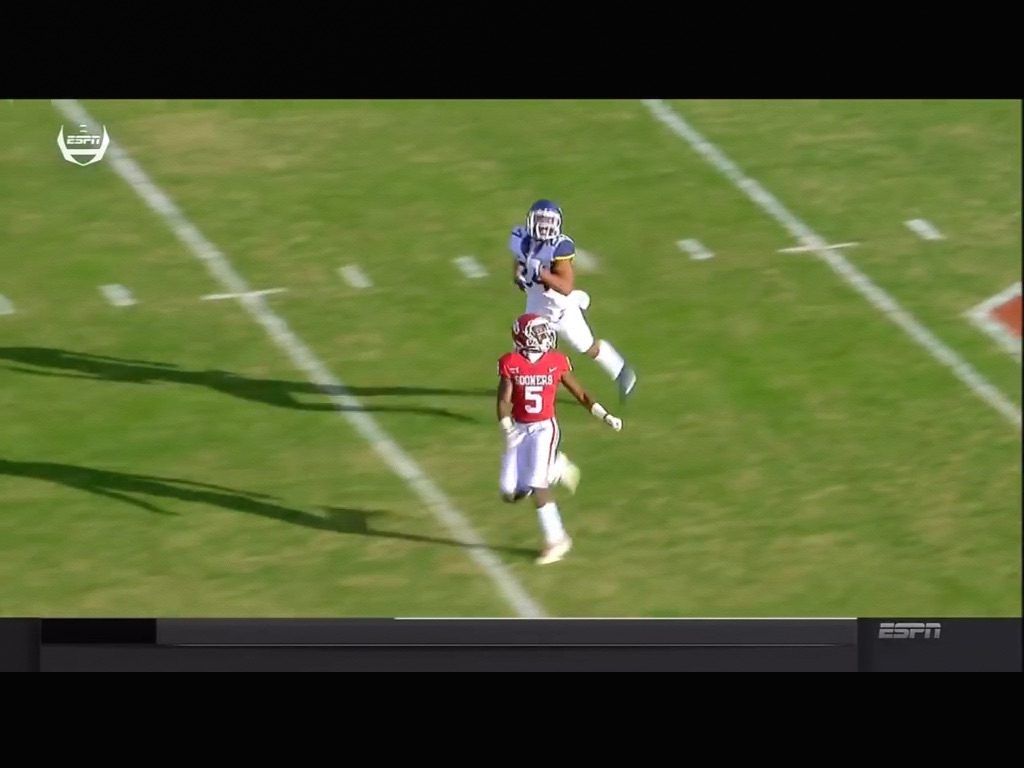 When the Sooners are clicking, there isn't a lot you can do to stop them other than out-physical them.  That's why I think this team has a chance to be special.  If they stay healthy & take care of business Saturday, they have the ability to beat anyone they'll see in the playoffs.  While Clemson and Auburn will present challenges, I think the Sooners can beat em.  I'm not saying it'll be easy, but it can be done.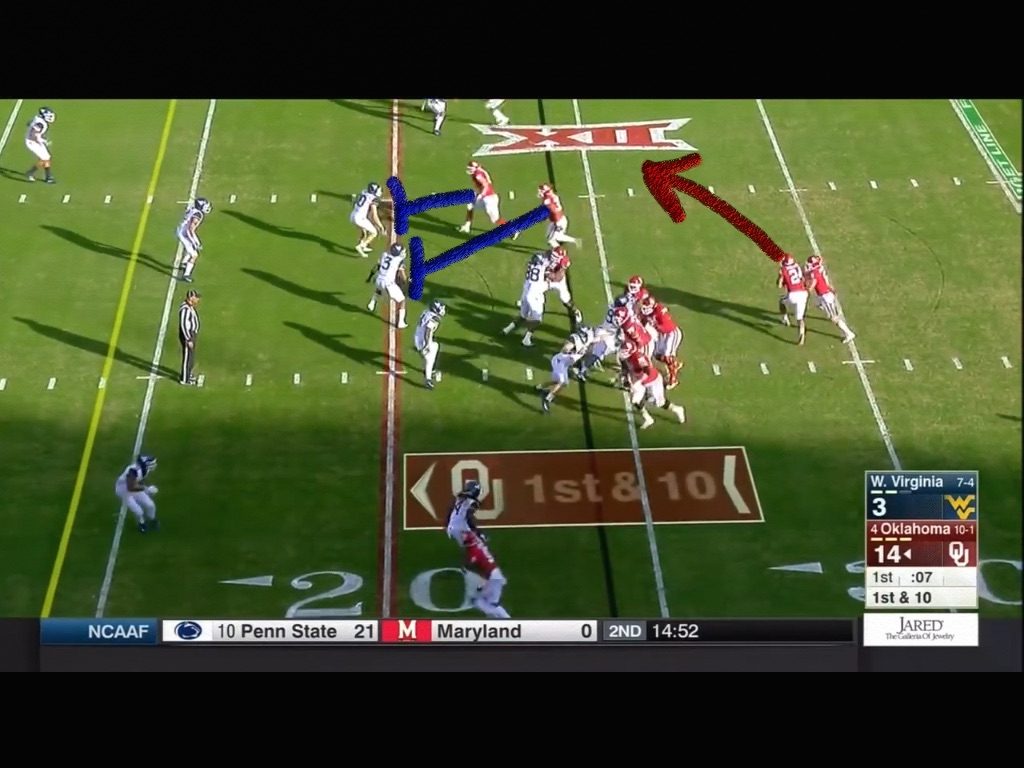 On this 4th down look, Smallwood goes in motion.  Defenses have to account for him now that he's scored a couple of times.  Is it me or does Baker look a little awkward under center?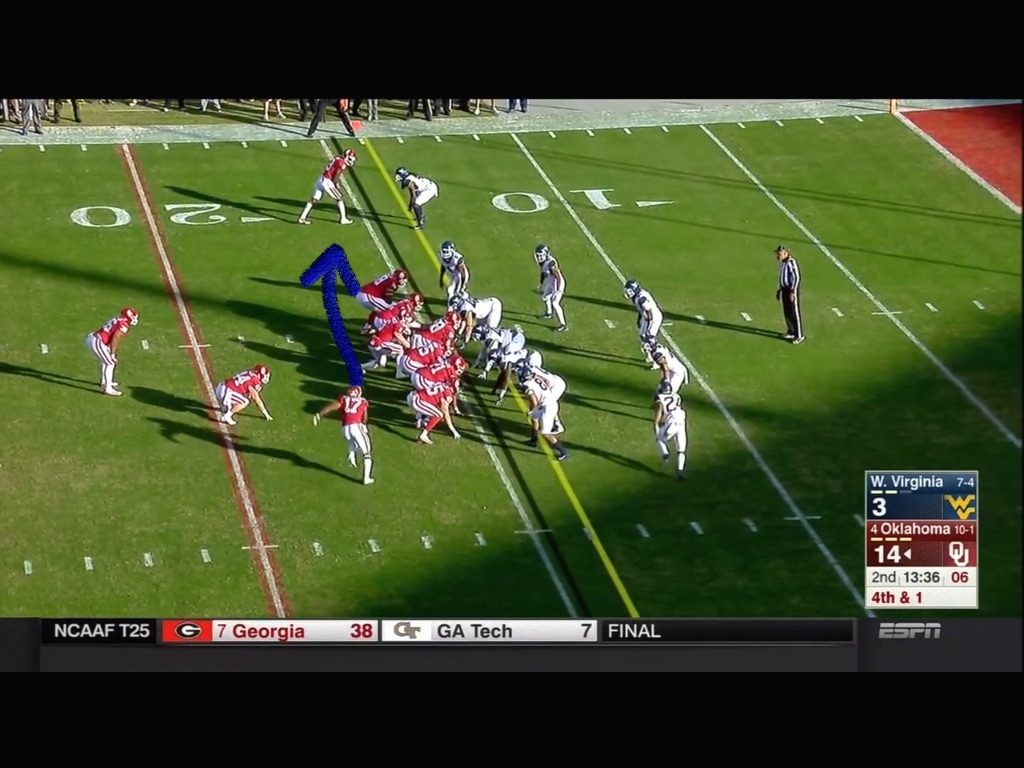 Now again, you're one on one with the safety.  Flowers coming downhill with a full head of steam is a tall order for anyone to stop.  The nice wrinkle of Smallwood's motion takes 24 out of there so it's not two on one for the defense.  Little things make a big difference.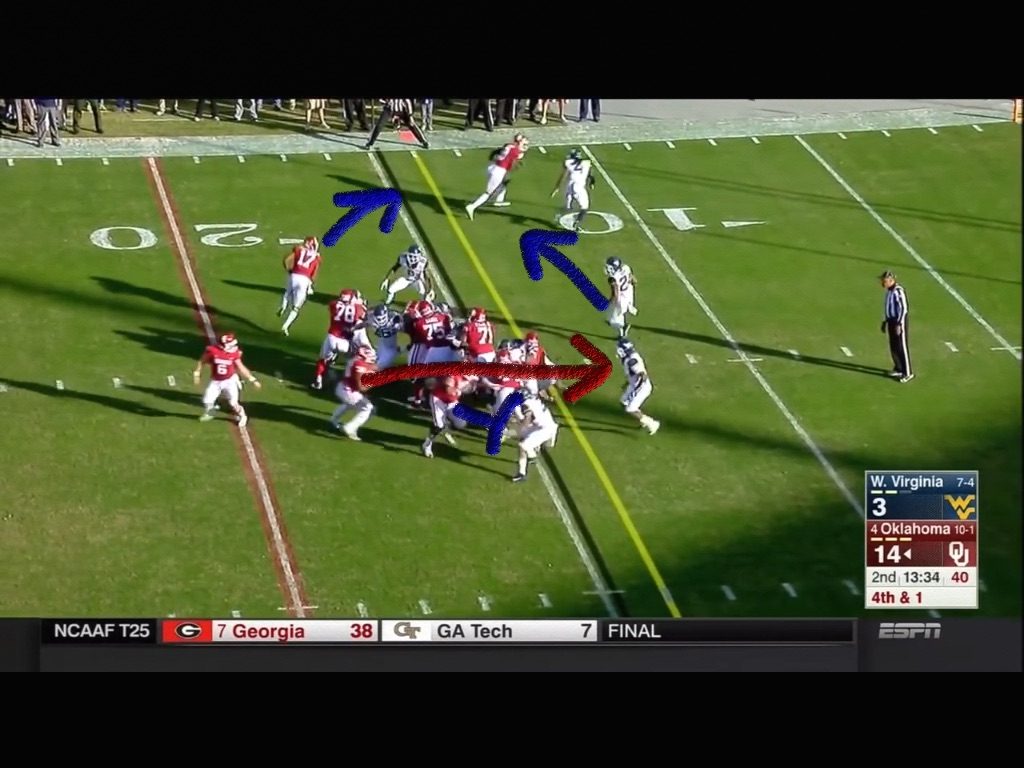 With the Sooners executing so cleanly, this was just a pretty play.  Samia led out on 6, while Evans was dipping his inside shoulder to face up 11.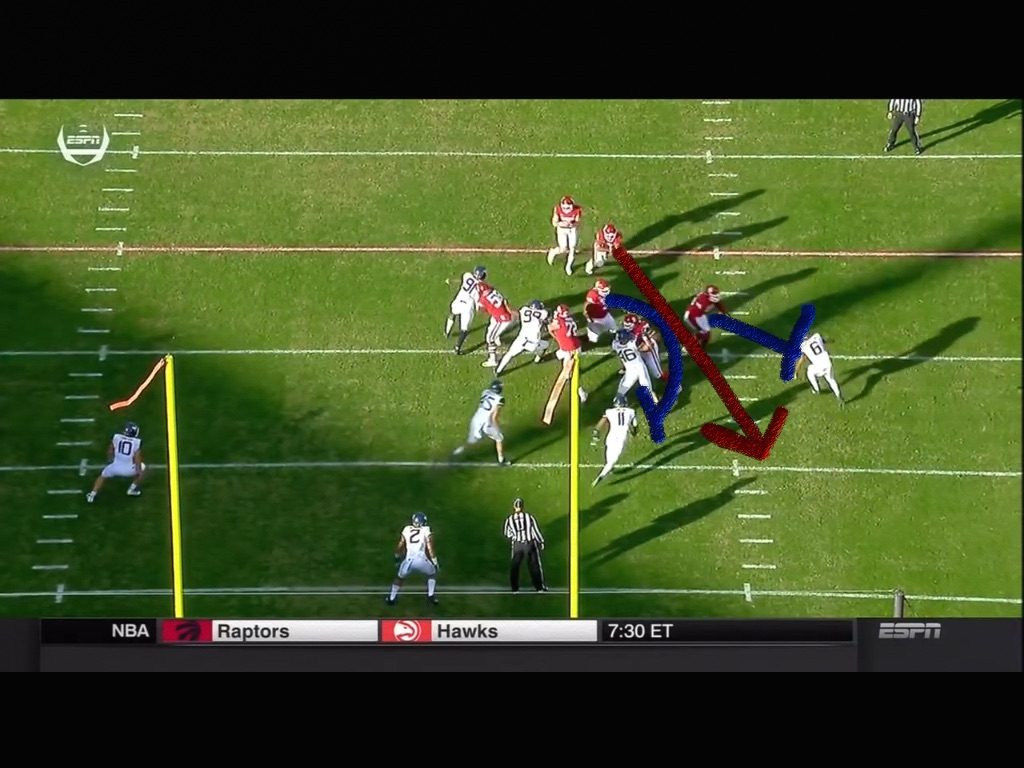 Evans almost whiffed, but just got enough to make the defender deal with him.  It sprung Anderson for another touchdown.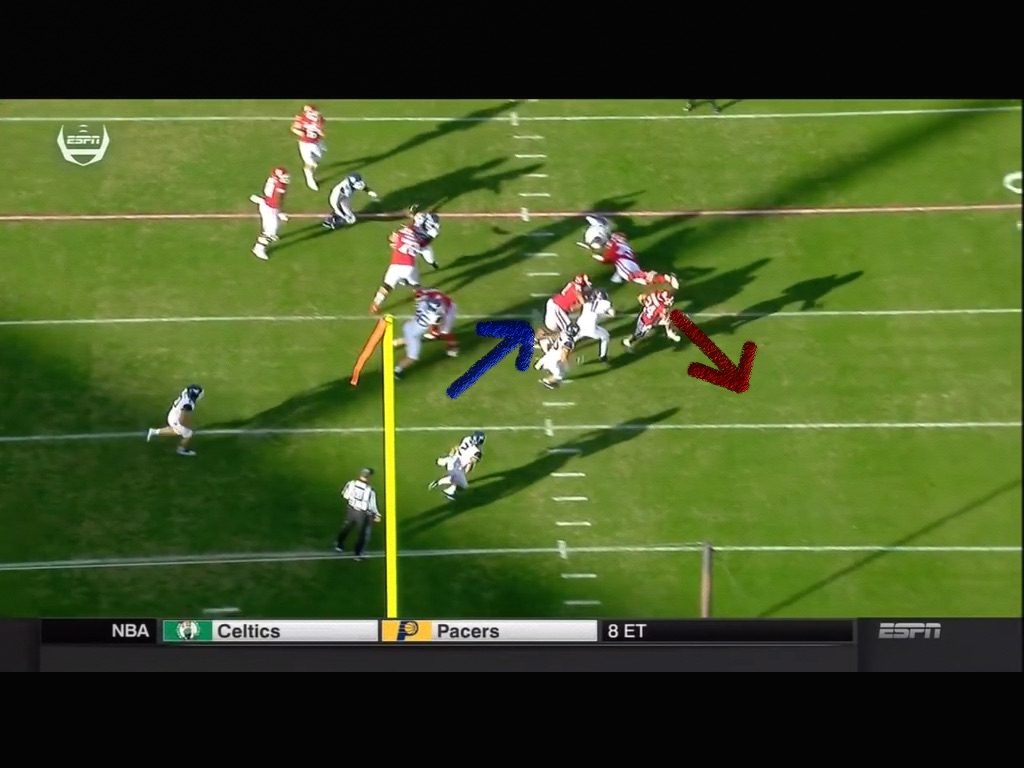 CeeDee Lamb did a great job blocking and allowing Rodney to walk in.  It almost seemed too easy for the Sooners in the 1st half.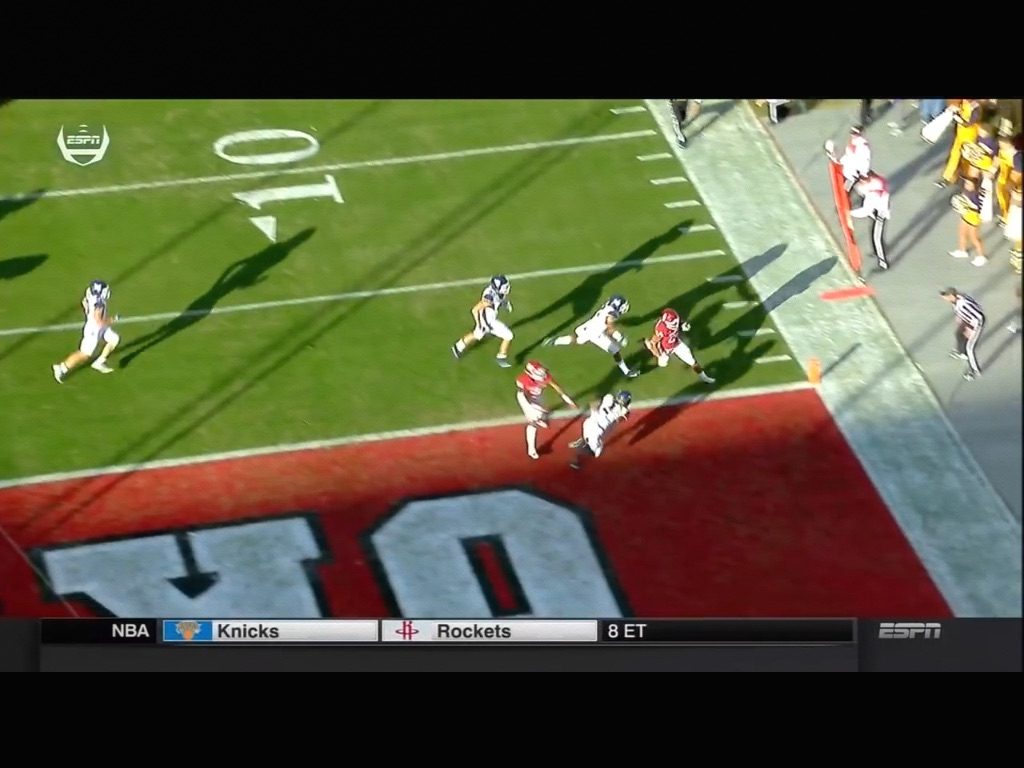 I'd like to see a little more interior push on the 4th down play, but Rodney was able to get the 1st down.  Pad level is a bit too high for the guys up the middle.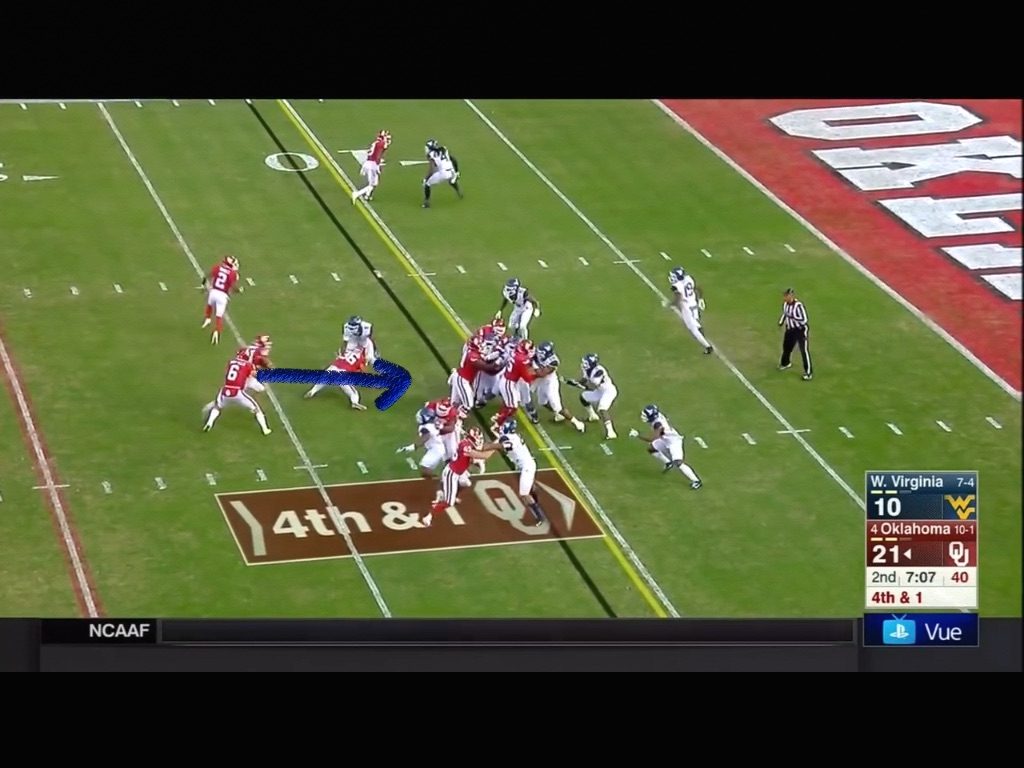 But hey I'll take a gain of 5 on 4th and 1 right?  Has anyone stepped up more in the 2nd half of the year than Anderson?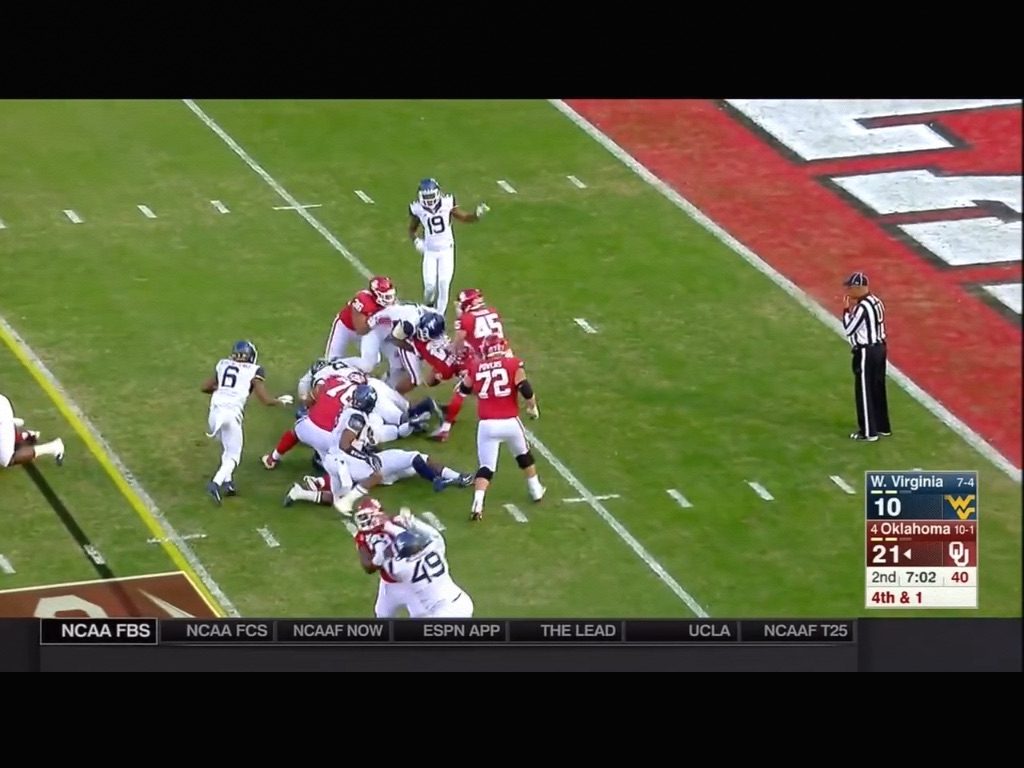 Off another counter play right here, Anderson gets outside.  Lamb is a great blocker again as he's abusing his guy up on the two.  There's a ton of space for Rodney between the hash and the sideline.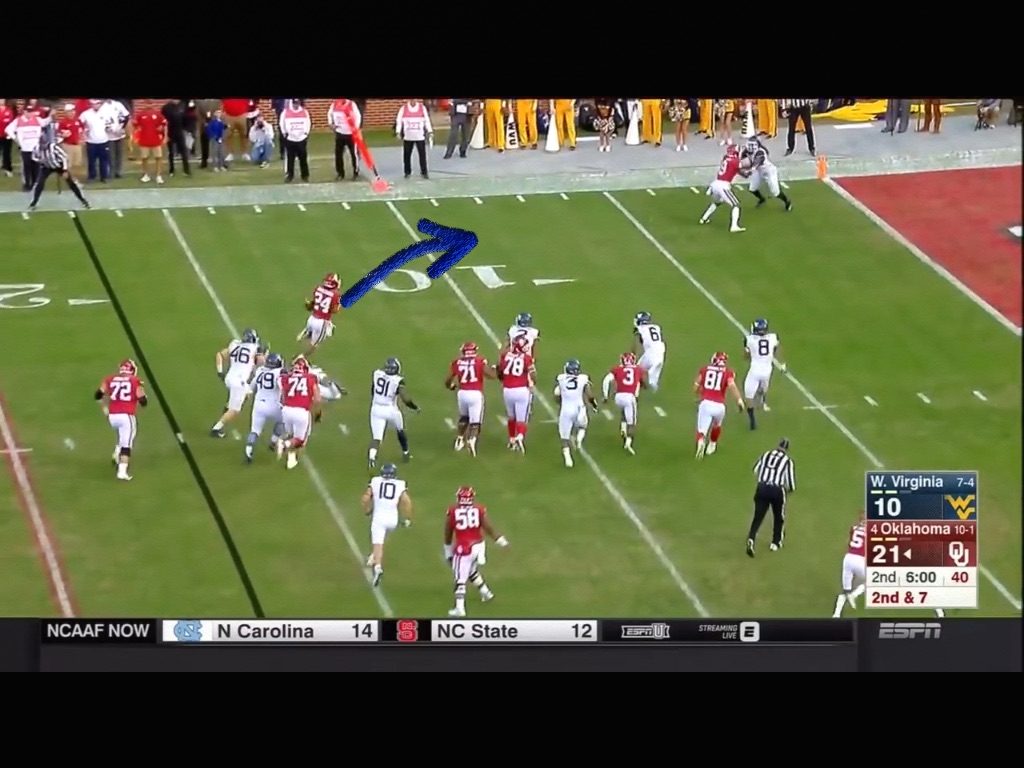 I liked how Rodney, stuck his foot in the ground and decided to run over 8 for the touchdown.  He's really physical and a nice skillset in this offense.  Nothing is scarier to a defense than a power back in a spread offense.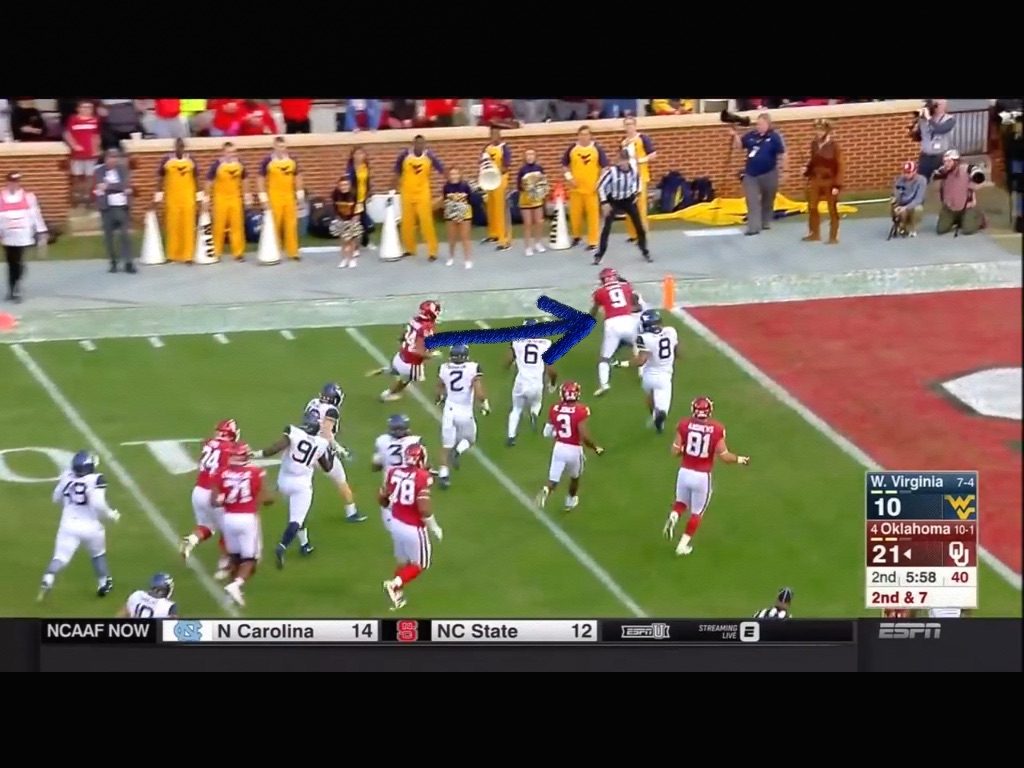 I'll have another post up tomorrow for the 2nd group of shots.  Hope everyone had a great thanksgiving!