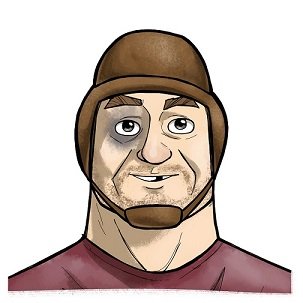 Trench Warfare | Oklahoma Vs. Texas Tech
Posted on: October 30, 2017
To open the game, the Sooners employed a three man front, and straight away the Red Raiders marched straight down the field behind their RB King.  While I understand that the logic behind this type of formation is getting as many athletes & DB's on the field as possible to combat the air raid, it doesn't dictate the tempo or the terms to the offense.  I think that's the biggest complaint a lot of fans, including myself, have about this defense.  We are Oklahoma dammit!  We don't allow other teams to dictate to us.  We do the shot calling.  When Mike tries to call his defense multiple, he's right; however, at some point, the Sooners have to stop trying to be all things to all people defensively.  Say this is who we are, and this is what we do.  Then allow your players to get comfortable within the scheme.  When a game plan is changed week after week after week, there's no way you can get comfortable in it.
For this play specifically, shimmy shimmonek, the QB for the Raiders, was able to scramble around and throw a TD in the back of the end zone.  The problem I have with the three man mush rush is that, against 5 OL, that's two double teams and one one on one.  If the offense keeps the back in, it's three DL against three double teams.  By adding a 4th man along the front, all of a sudden against 5 OL, you create three one on ones and only one potential double team.  Having 7 in coverage instead of 8 is still a ton.  5 db's is nickel and 6 is dime.  8 is prevent… and we all know what prevent prevents… absolutely nothing.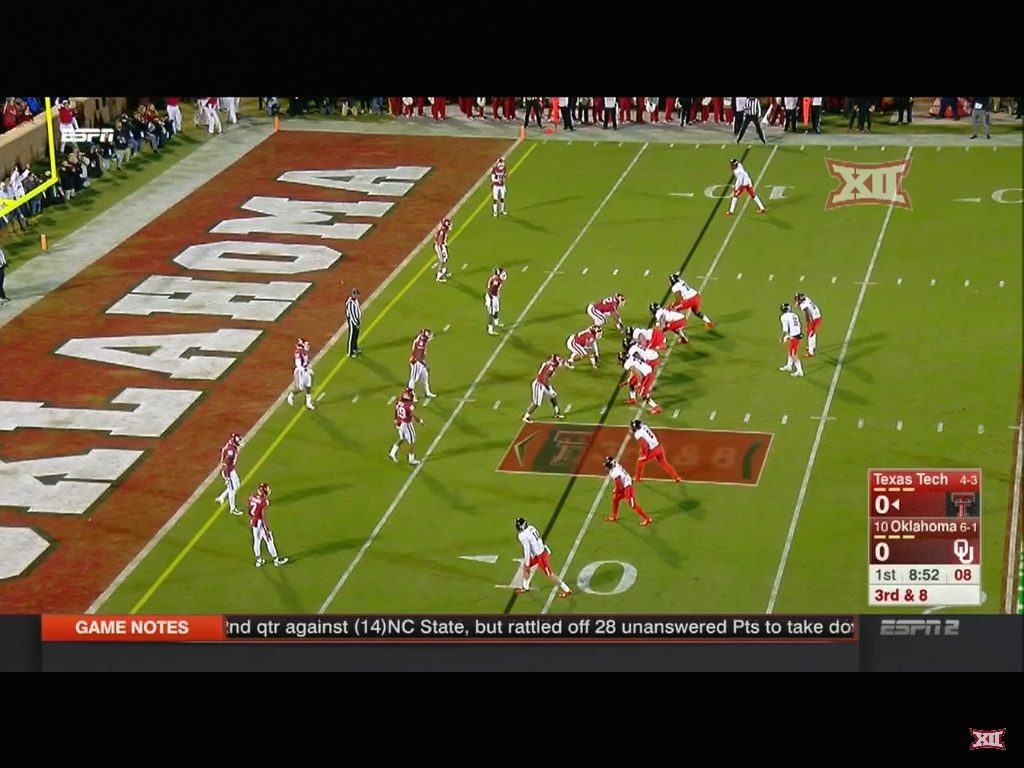 When the Sooners got the ball, they wasted no time getting down the field.  Adams & Anderson were both in the backfield here.  With the OL all going that way and a read option look on the back door, all of the LB's flow to their right towards Adams' lead block.  Baker's reading the bottom blue arrow while Evans is keeping the outside player from slamming the back door.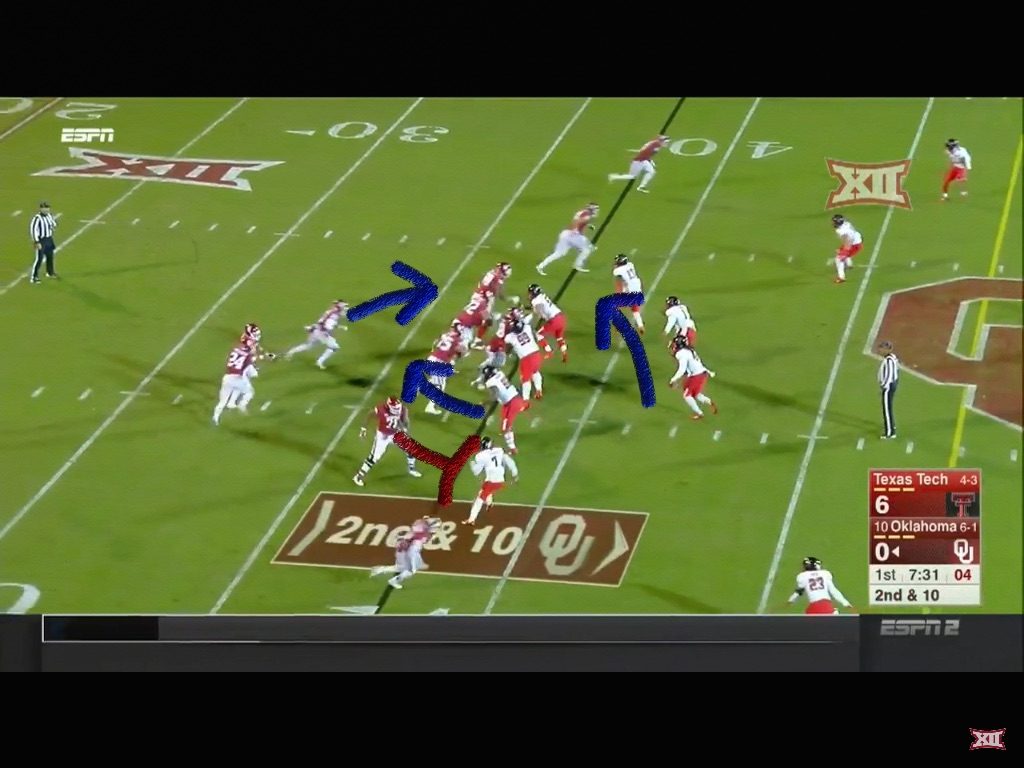 As the D end crashes on the fake to Anderson, Baker makes a great read pulling the ball and then getting outside of Evans for a big game.  In years past, there were weaknesses in the scheme; as this season has progressed, however, I can see Bedenbaugh's fingerprints on the run game since he's co-OC.  Accounting for backside players is essential against the athletes you face week in and week out.
In a nutshell, this is why Mayfield's teammates love him.  He lowers his shoulder into the defender after a huge gain and draws the personal foul.  He immediately jumps up and gets into the defender's face.  Besides Rambo, every one of the guys on the sideline there are defensive guys.  Parker's right there to protect his guy, and you can't help but want to follow a leader like Baker.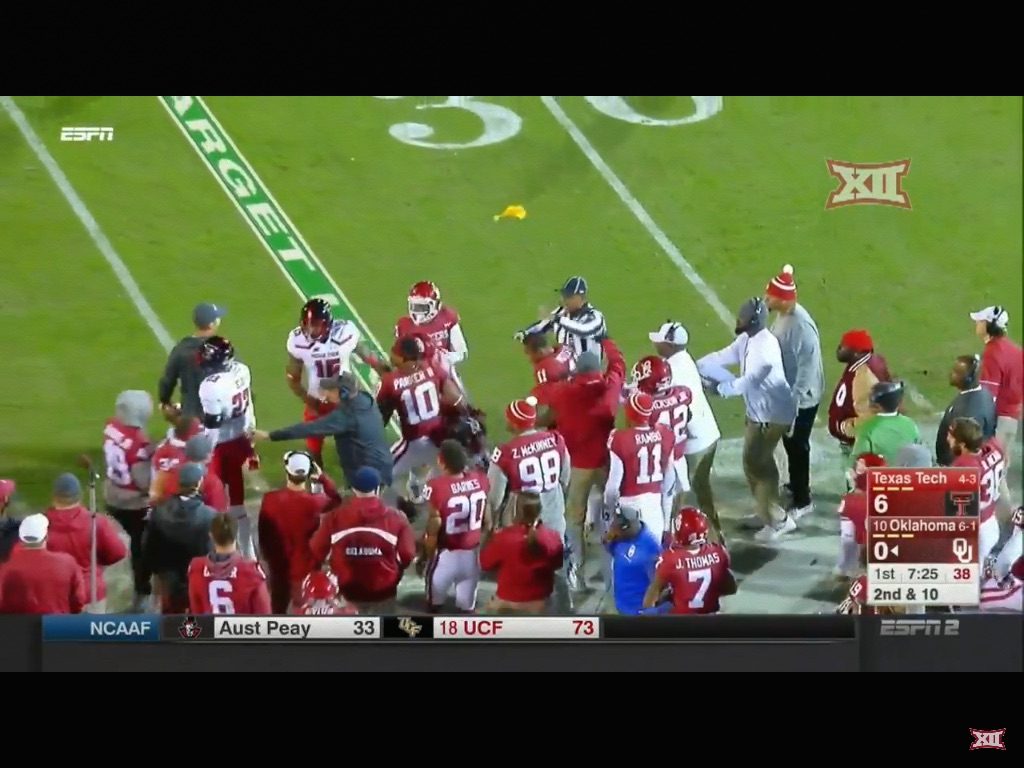 This is a brilliant play design.  Crossing routes galore, and a multiple choice quiz for safeties that leaves them wrong with every answer.  As Andrews crosses , the linebackers have to suck up on him.  Then, Brown crosses behind him, right in front of the safety forcing the safety in the middle of the field to take note of him.  Then Riley has Lamb running a deep route right behind that.  The brilliance of this is in it's simplicity as Baker is able to see all three of his routes straight in front of him.  If everyone bails deep go to Andrews on the cross etc.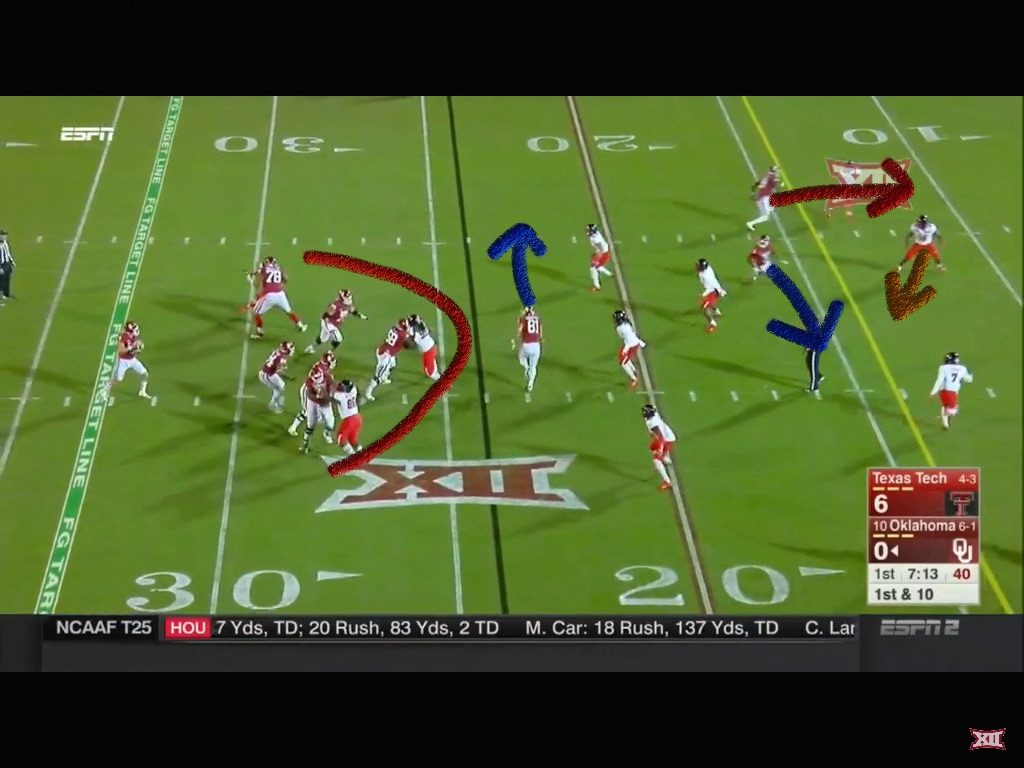 That deep safety steps up just enough to create space deep for Lamb to come open on the skinny post.  If the safety bails to go to Lamb early, then Mayfield will have to wait for Brown to clear at the bottom, and there's nobody home there either.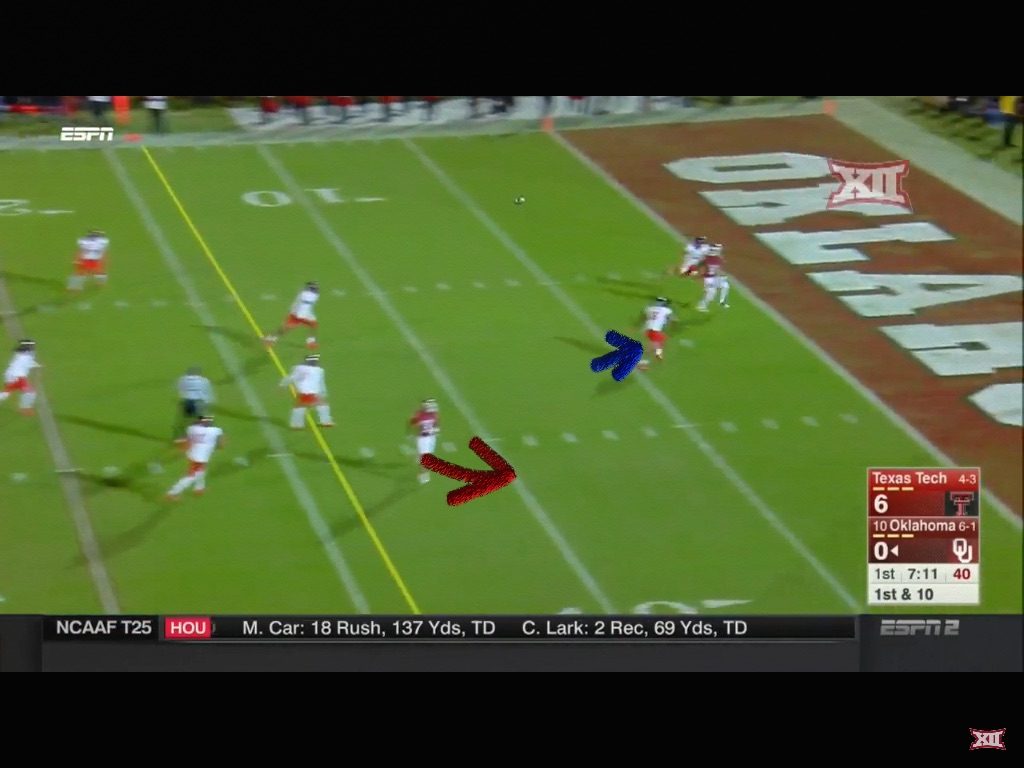 Early in the year, we said that there were going to be times that Murray made plays that made us say wow, and there were going to be times that he left us scratching our heads.  Here, the two players I have circled have deep responsibilities.  Kelly has released his guy to them.  Murray, needs to knock the heck out of this RB when he comes off of the line.  He can since it's within 5 yards.  He also doesn't get into his drop at all.  He's peeking into the backfield because Tre King at his point is averaging almost 6 yards a pop.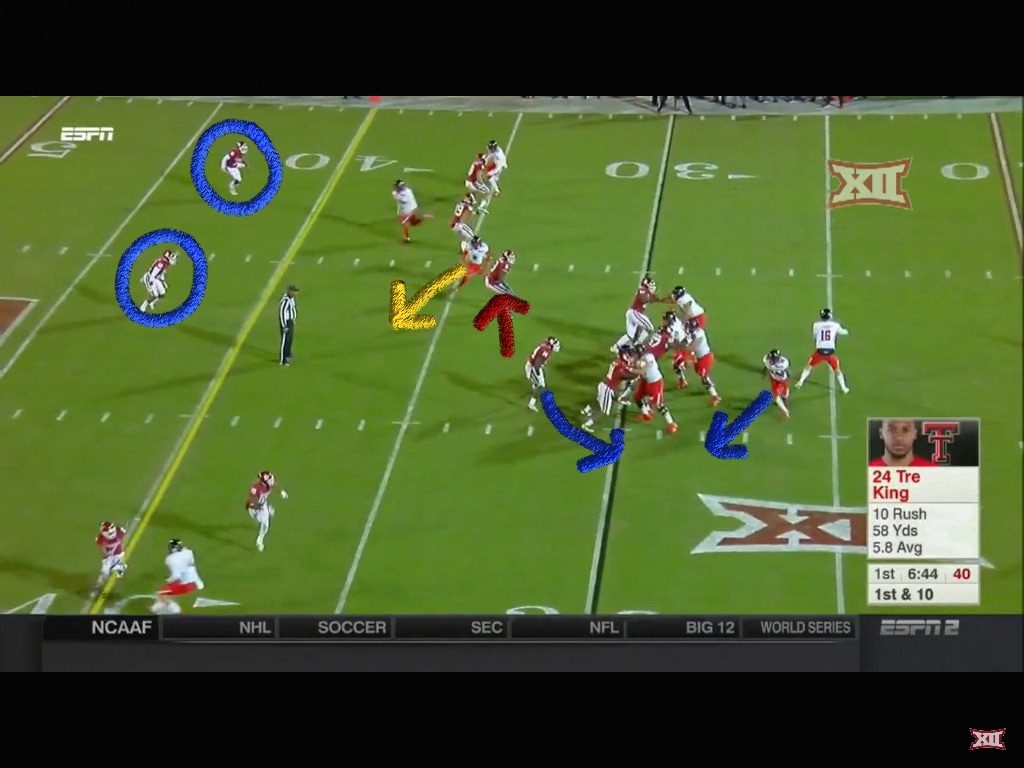 After Coutee gets the free release, it's just an easy pitch and catch.  Johnson is on an island, and that's too much distance for him and Parker to close against a guy like Coutee.  If Murray de-cleats him within 5, then everyone else is covered, or at the very least if he gets into his drop like he's supposed to, then this play is in front of him.  Coutee has to get flatter and most likely runs into Parker or Beal at the bottom.  None of that happened, and Keke housed it.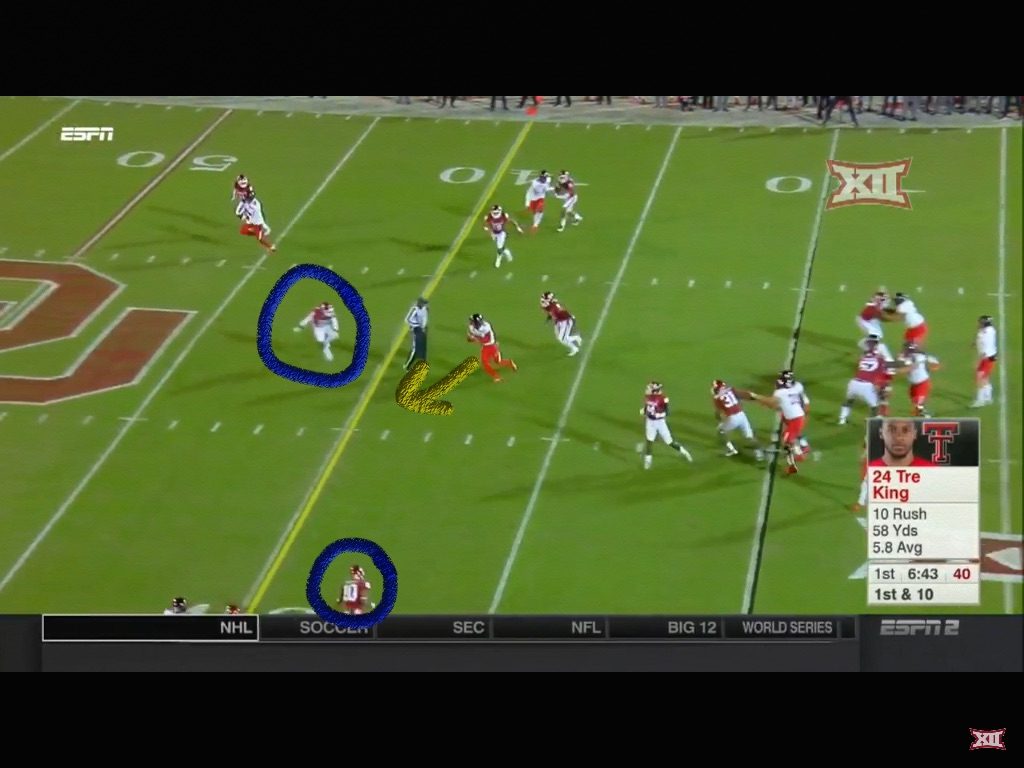 The Sooners had the run game going early and it lasted all night long.  Take away the two kneel downs at the end of the game, and the Sooners had 340 yards on 45 carries.  That's a hair over 7 1/2 yards per carry.  Not too shabby.  A lot of teams will run the reverse motion like the Sooners did to Badet on this play, but there's the threat of Oklahoma actually giving the ball to him or standing up and throwing a pass out to him.  This is a lead counter play.  Old school counter had the fullback blocking to the backside to seal it off.  Since Badet's motion takes the play away, Flowers can lead playside along with Powers & Brown.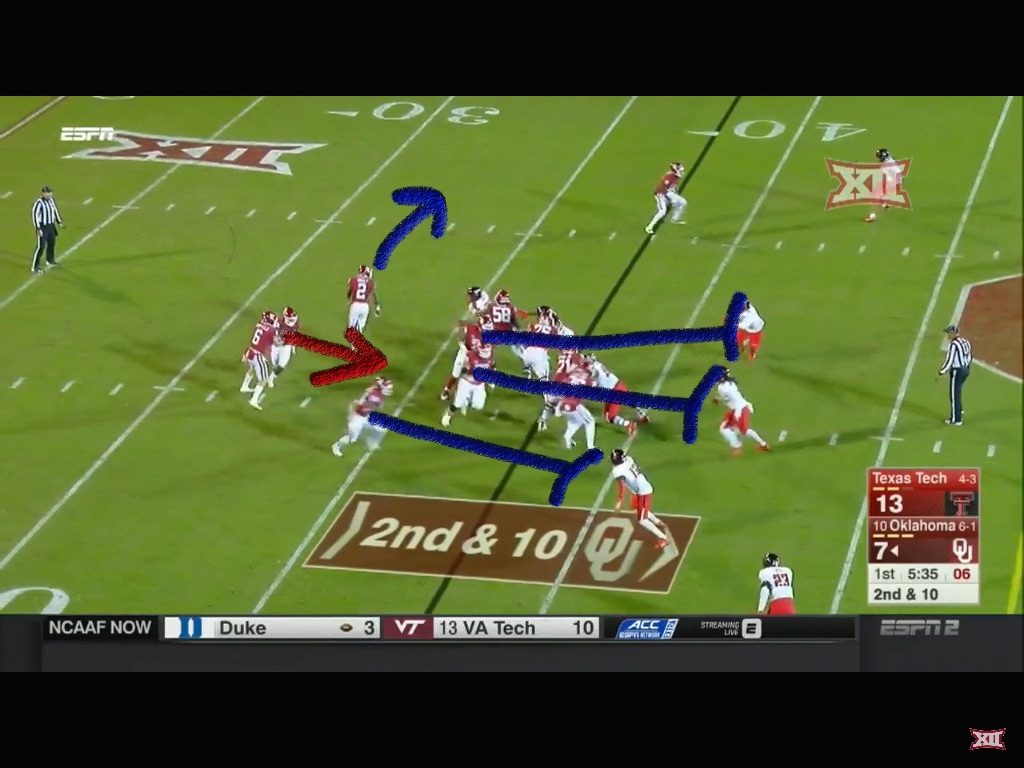 Abdul gets up in behind some really great blocking.  His vision is something that's really underrated, and I'm still of the opinion that he's the best Sooner back on the roster.  Rodney Anderson's making a push for that claim lately though; no matter who it is, it can't be bad that Oklahoma has three backs in Adams, Anderson, & Sermon that can keep each other fresh and top tier all season long.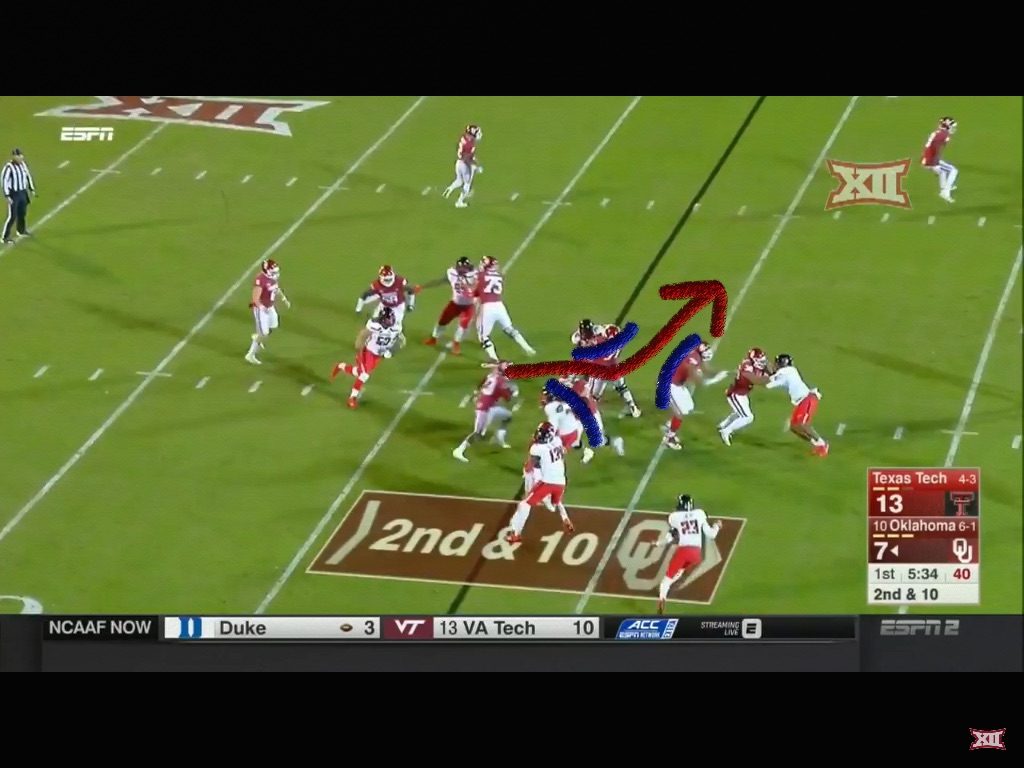 Adams cuts it outside and, if Badet comes down on #31 here, I bet that Abdul takes this one all the way.  As a lead blocker on a screen or a breakout run, you always have to be looking inside.  The player working his way inside out always makes the play defensively.  If you block the inside guy it gives a chance for your back to square up the guy in front of him and put a move on em.  You can't juke somebody coming at you from 4 or 5 o'clock low.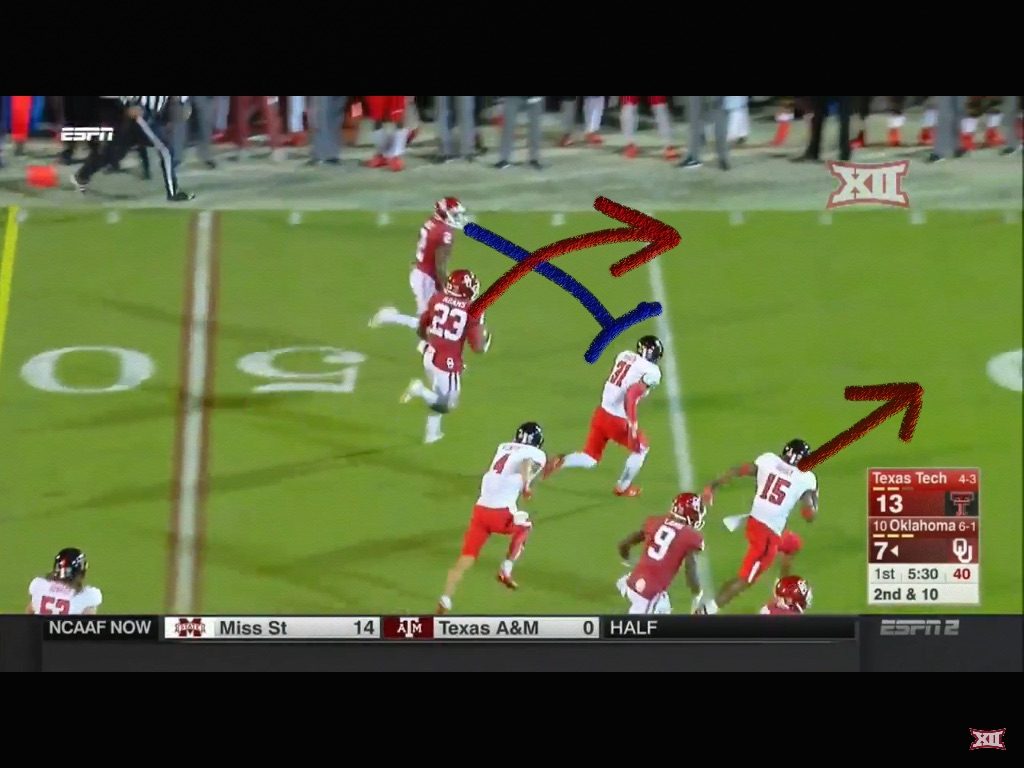 Badet though is doing his best Billy Bob impersonation.  Running around looking like he's lost, and ends up blocking nobody.  If Badet just gets something on 31, then 15 is the only guy who would have a shot at Abdul.  I'm not sure that he'd be able to close the distance before Adams gets home.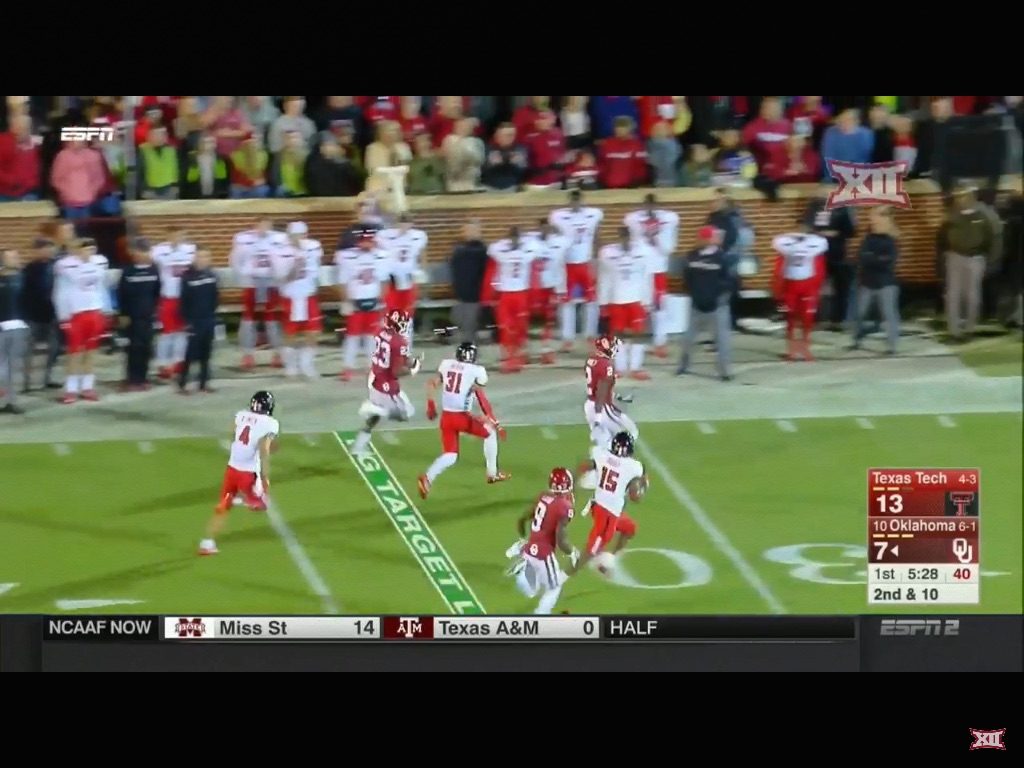 After seeing this formation a lot last week, I was praying the Sooners didn't shift to the Wildcat out of it.  Last week they did it 3 or 4 times and got stuffed on all of 'em.  Oklahoma goes old school offset I with Smallwood in the slot at the bottom.  Texas Tech plays it straight up, and if there is a numbers advantage anywhere it's back to the left.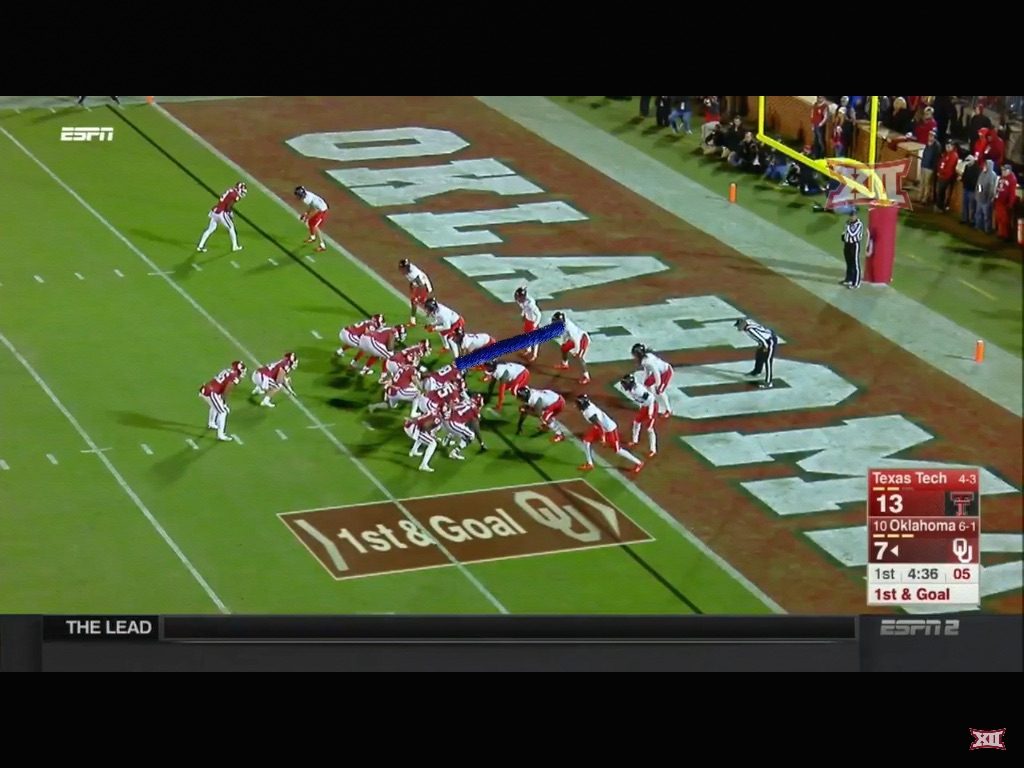 Plays like this are why Jaxon Uhles got put on scholarship.  This is perfect technique on a lead block.  Great pad level and his head is inside exactly where it needs to be.  Carson Meier does a great job caving that left side down along with Orlando Brown.  There is an unblocked player behind Meier's block, but he has no leverage on a 25o pound Flowers with a full head of steam.  Nice straight ahead smashmouth down by the goal line for six.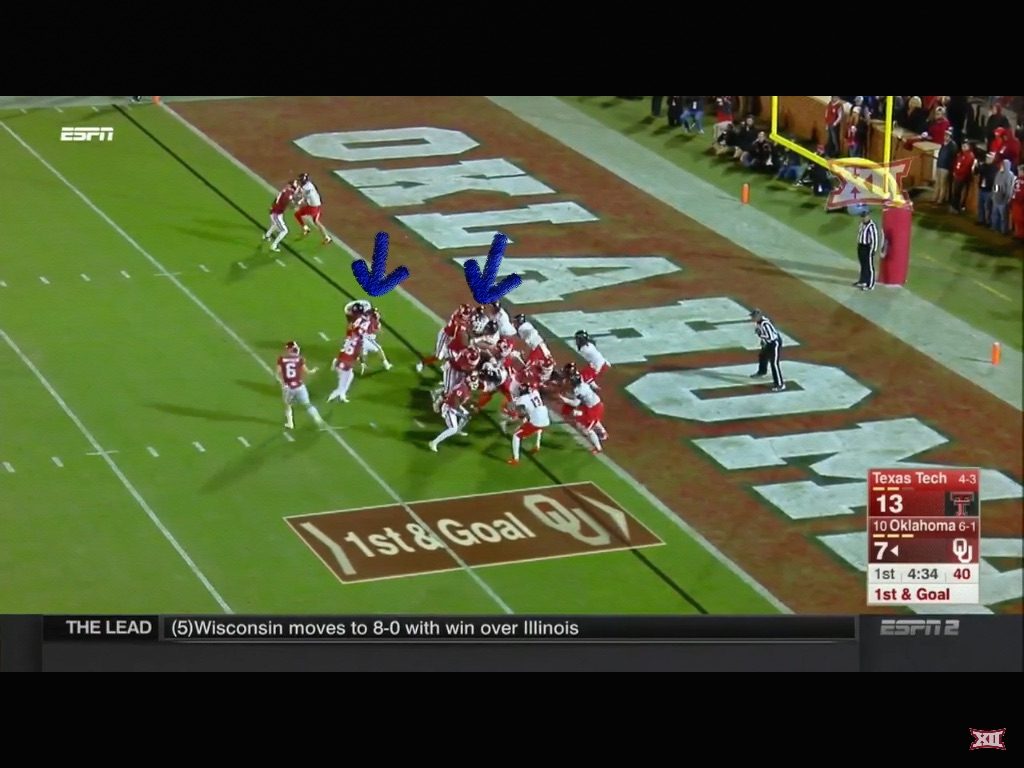 After getting the ball back, Texas Tech wasted no time getting right back down the field.  This is a bust by both teams as the Sooners had no one deep, and there's no way the route tree is going to have two guys deep this close together either.  This play and the bust to Coutee earlier yielded two of the three touchdowns in the 1st quarter.  To the Sooners credit, it was the 3rd quarter before they got anything going again after having a field day for the first 12: 16 of the game.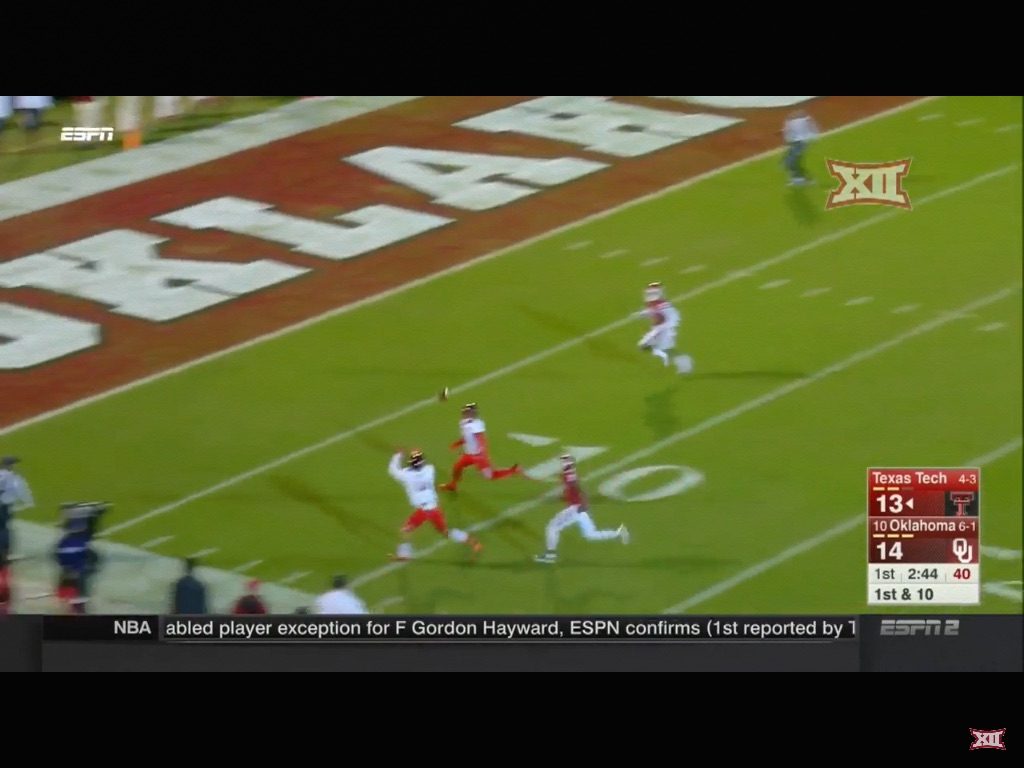 After another Sooner answer, Texas Tech went right back at it, but stalled at midfield.  True to form, they went for it on 4th down.  Mike called a delay corner blitz with Kelly filling in to cover the hot read for Shimmy shimmy ko ko bop.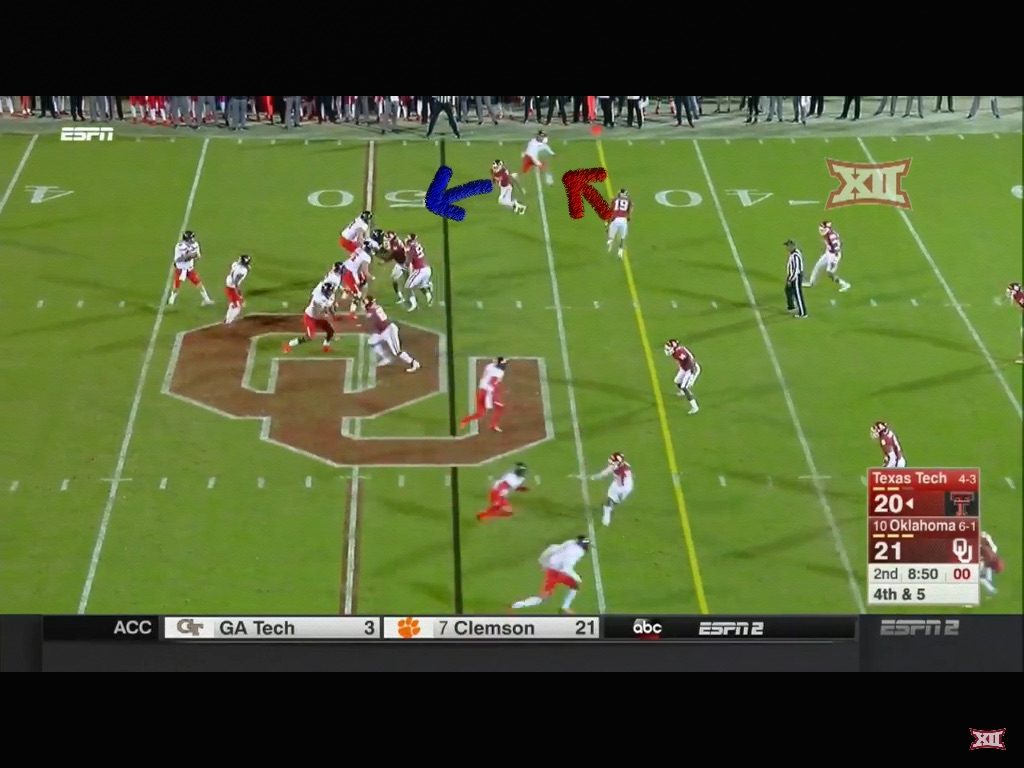 This was a big call and a big play in a big spot.  4th and 5 after both teams had traded punches for the entire game up to this point.  Caleb Kelly made a huge play and one that not many people can.  Gigantic and just what the doctor ordered.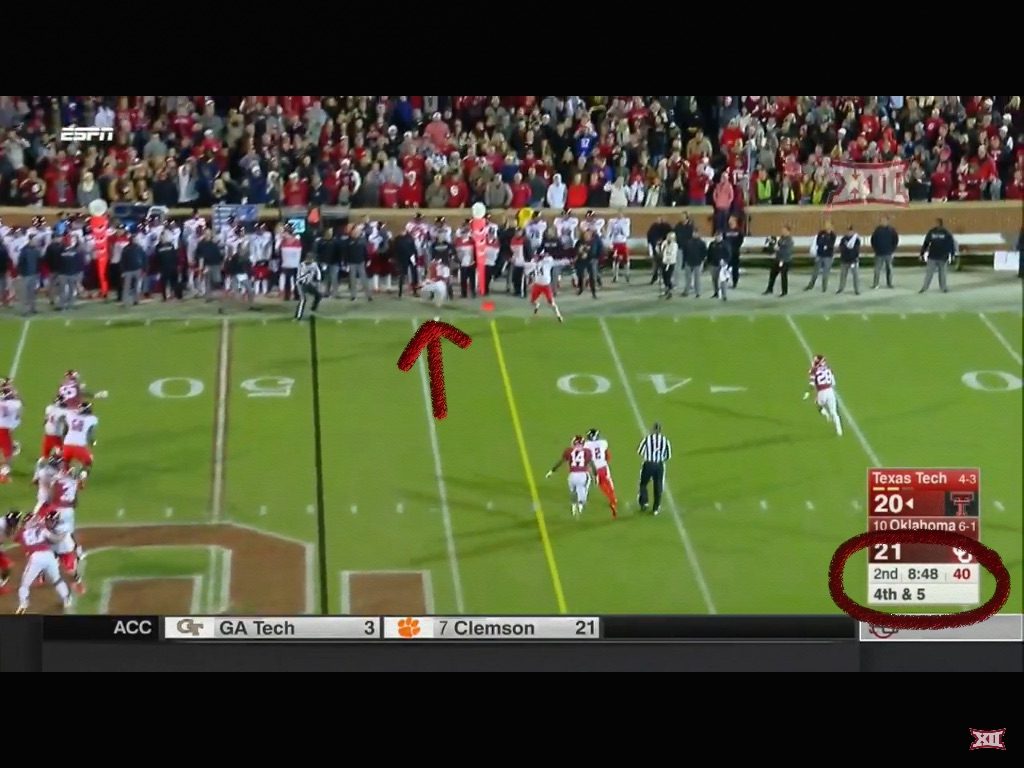 Earlier, the Sooners ran the DB ragged, getting Brown the quick out TD.  This is the same look the Sooners gave the Red Raiders on the Big run by Adams earlier too.  It's lead counter again out of a tight right formation…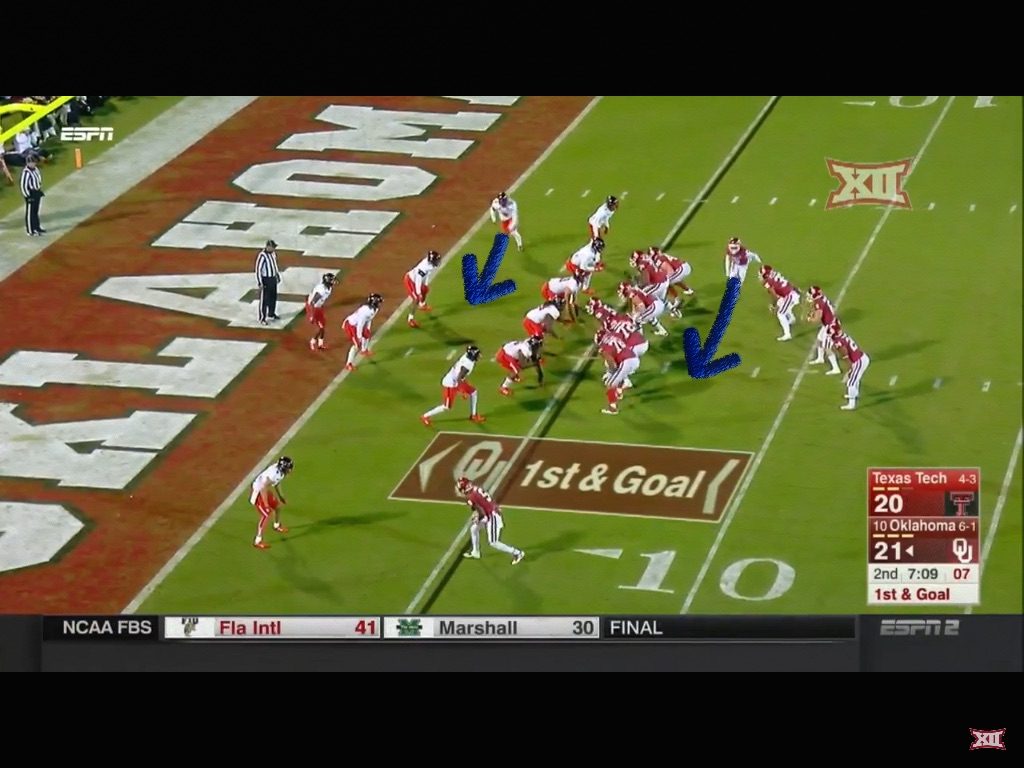 Imagine for a second that you're a defensive coordinator trying to stop this offense.  It's open to the backside meaning that there isn't a tight end back there.  You have to account for Badet's speed and the Jet sweep to the bottom.  This negates the D-end's ability to crash the play.  That is the reason you can run this play without anyone to cut off the backside.  Badet's speed and motion do that for you.  Doing that allows you to add a blocker to the scheme playside in Flowers.  1 blocks 1, 2 blocks 2 and 3 blocks 3.  Since Texas Tech is in man, it also runs another potential tackler out of the play.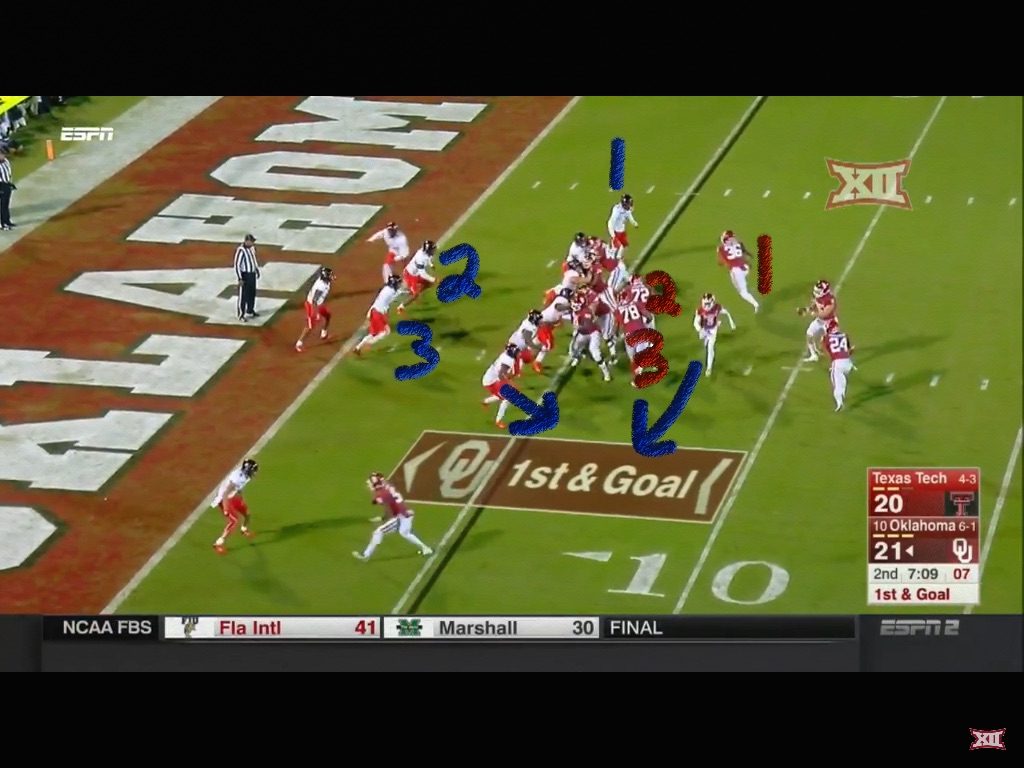 As Powers faces his guy up & Flowers is using Bronson Irwin's old tortilla maker, it's smooth sailing up in behind big Ben for the walk in TD.  Going back to what I said earlier, there's so much going on in this play that you're damned if you do and you're damned if you don't defensively.  The only way to beat this play is to out physical the offensive line.  At this point in the year no one has shown they can do that.  Not even the new media darling Ohio State Buckeyes.  Also, coming soon:  a fake to Anderson here and a dink pass out to the right into wide open spaces to Flowers off of the fake lead block…just another thing to account for defensively.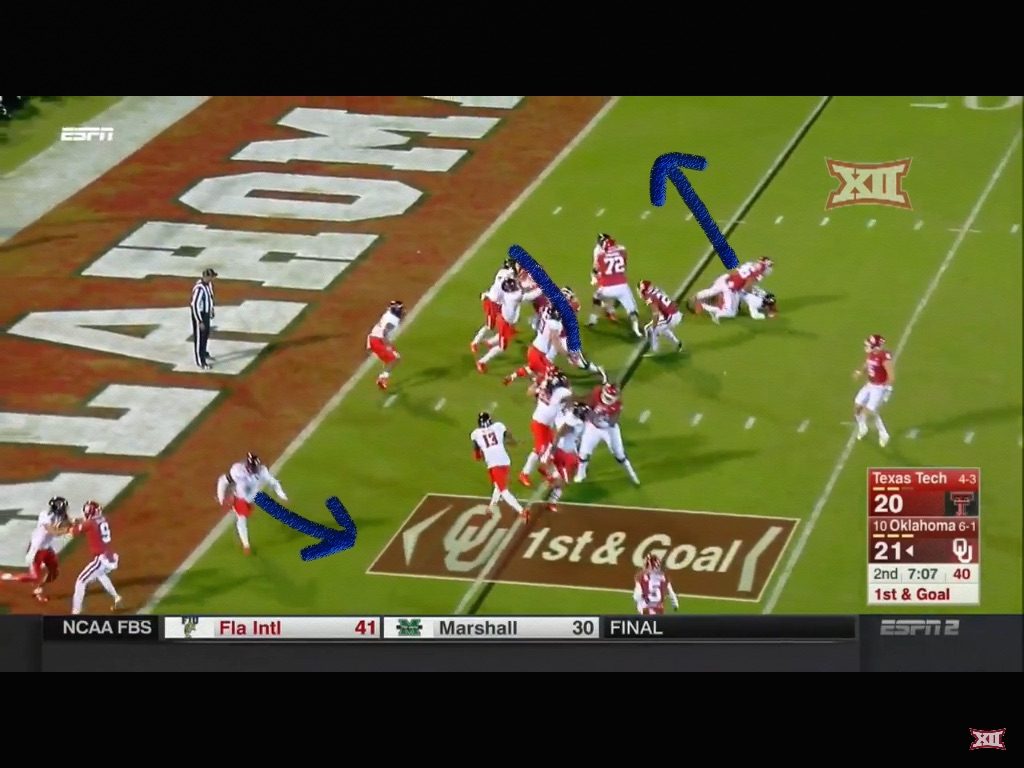 I was glad to see the Sooners stick with the run game.  I thought they could have ridden it a little bit further, but here Rodney Anderson made his case to submit his application as the Sooners starting RB.  Tech had zero answer for the Sooner run game all night, and Rodney took this one all the way down to the goal line to set up another Sooner score.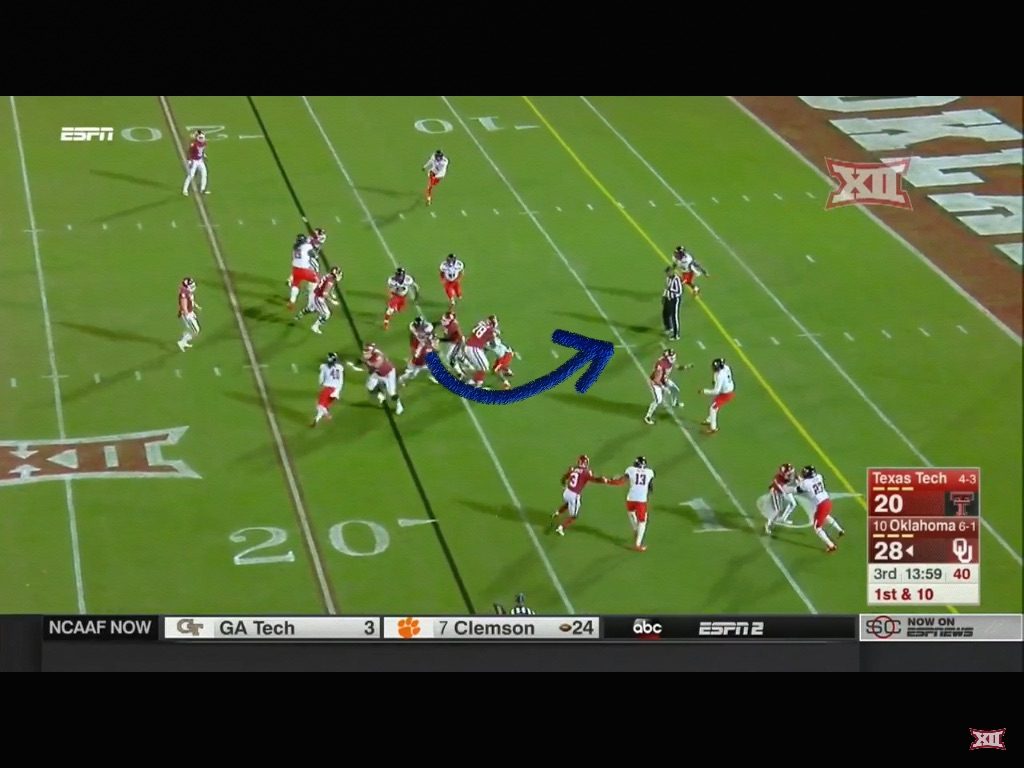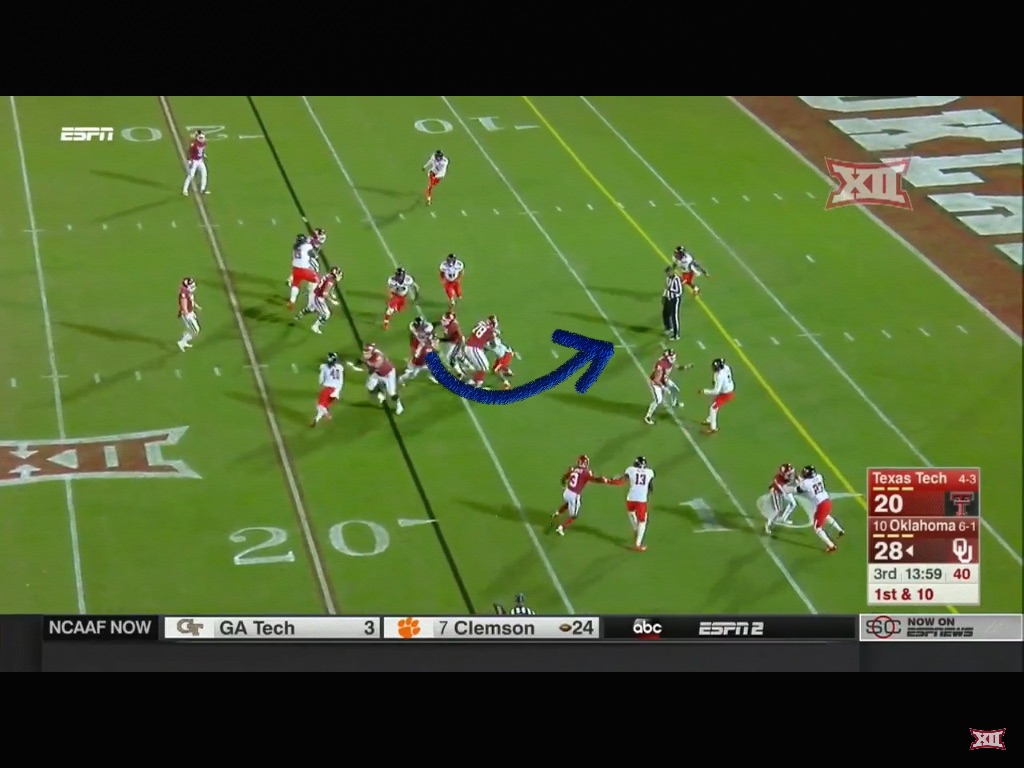 Eventually, Texas Tech had enough of it and decided to go jailbreak blitz with cover zero outside.  I noticed against Ohio State and again last night: that if you show blitz to Baker early, you're going to lose.  He's chippy, arrogant, and all of those things, but one thing that not many talk about is how smart he is.  He knows that he only has 6 blockers and there are 7 rushers.  The guy on the end is going to be unaccounted for if the guys up front pick it up correctly.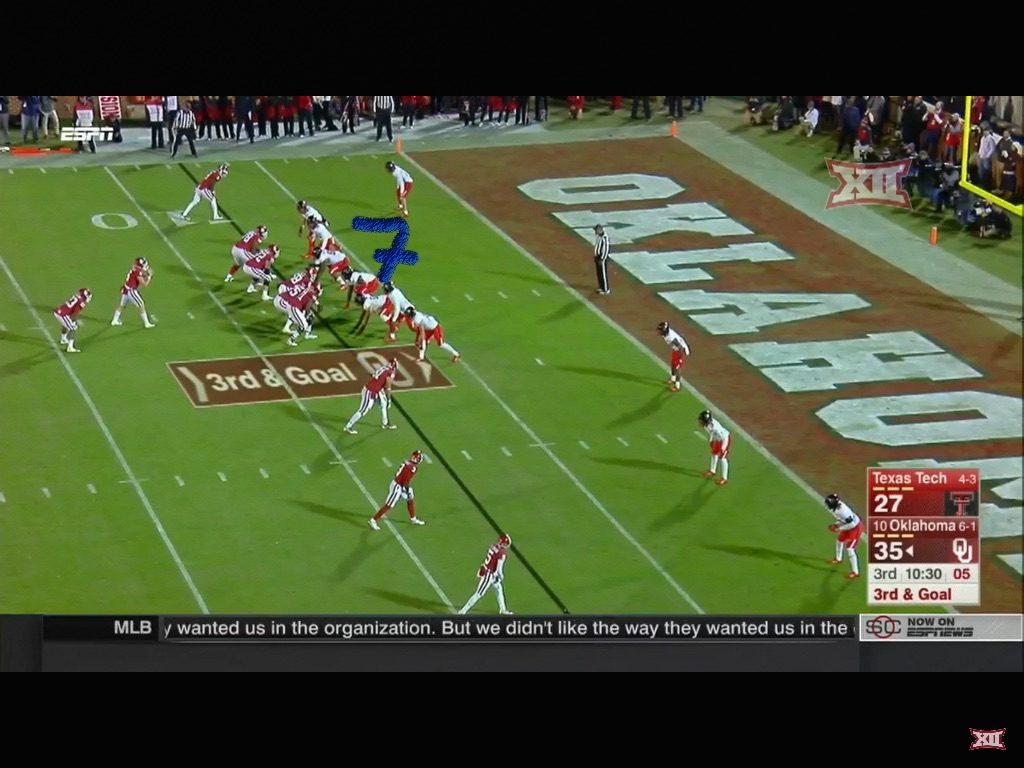 Baker has Lamb on a fade to the top, and since there's no safety (cover zero -meaning man to man everywhere), Baker knows there's a ton of space for Andrews to operate.  He knows it has to be a quick throw, and he delivered one on the money to the big tight end.  Andrews had a whale of a game catching 6 balls for 79 yards.  He had the one fumble and I would have liked to have seen him secure this one a bit better, but the guy's a player.  Nice execution here.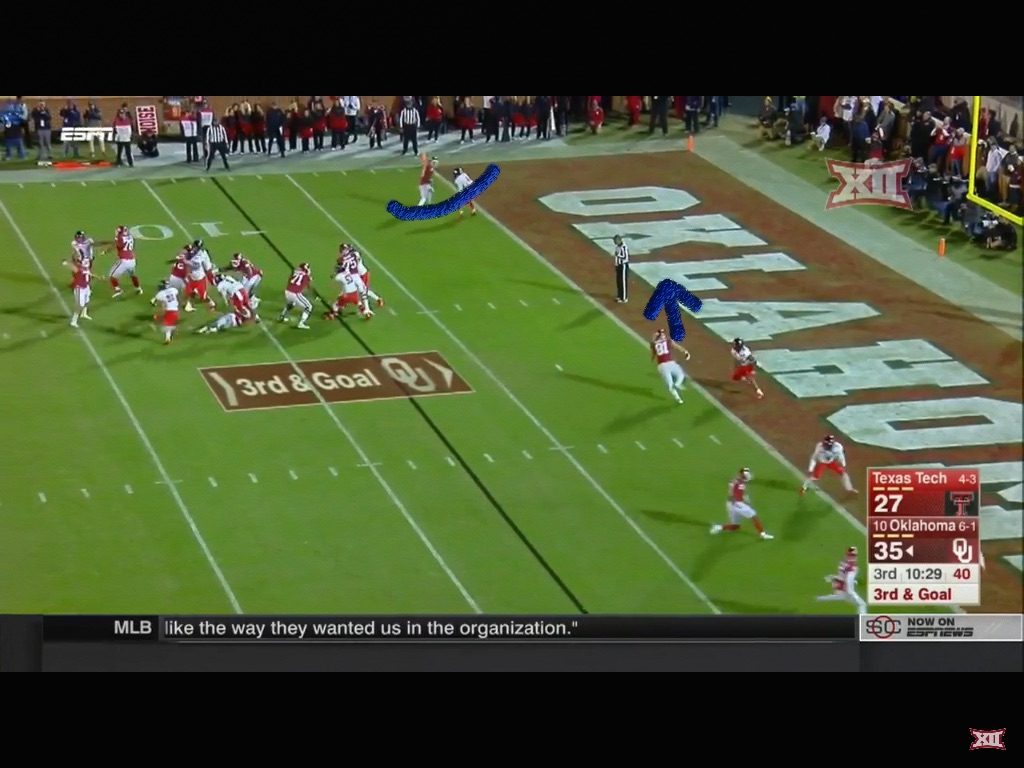 Up 42-27, I was hoping the Sooners would grind the Red Raiders to dust with the run game.  Baker ended up forcing this one down the seam swinging for the fences, and it ended up being picked off.  If there is a weakness to this offense, it's getting too greedy going for the home run sometimes.  This offense is virtually unstoppable when you run and run play action off of it.  Nobody has had answers for it all year.  If Riley can grow and develop his game planning to address this, the offense will be way more lethal than it already is.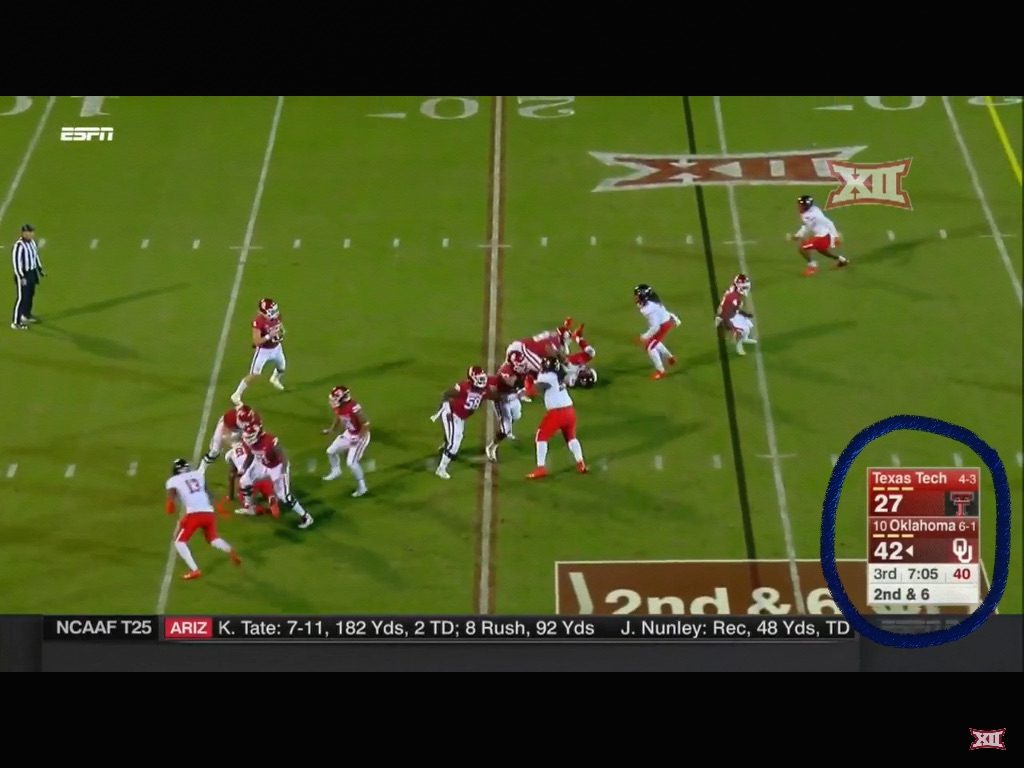 Barry Switzer is one of my heroes.  One of the best quotes ever is when he said, "It's not so much the X's and the O's as it is the Willie's and the Joe's."  He's right.  Having CeeDee Lamb back, who caught 9 balls for 147 yards and two scores, was big in this game.  He's a BIG TIME receiver.  I know for a fact that if he and Adams aren't hurt against Iowa State along with a couple of other key guys, then the Sooners are still undefeated.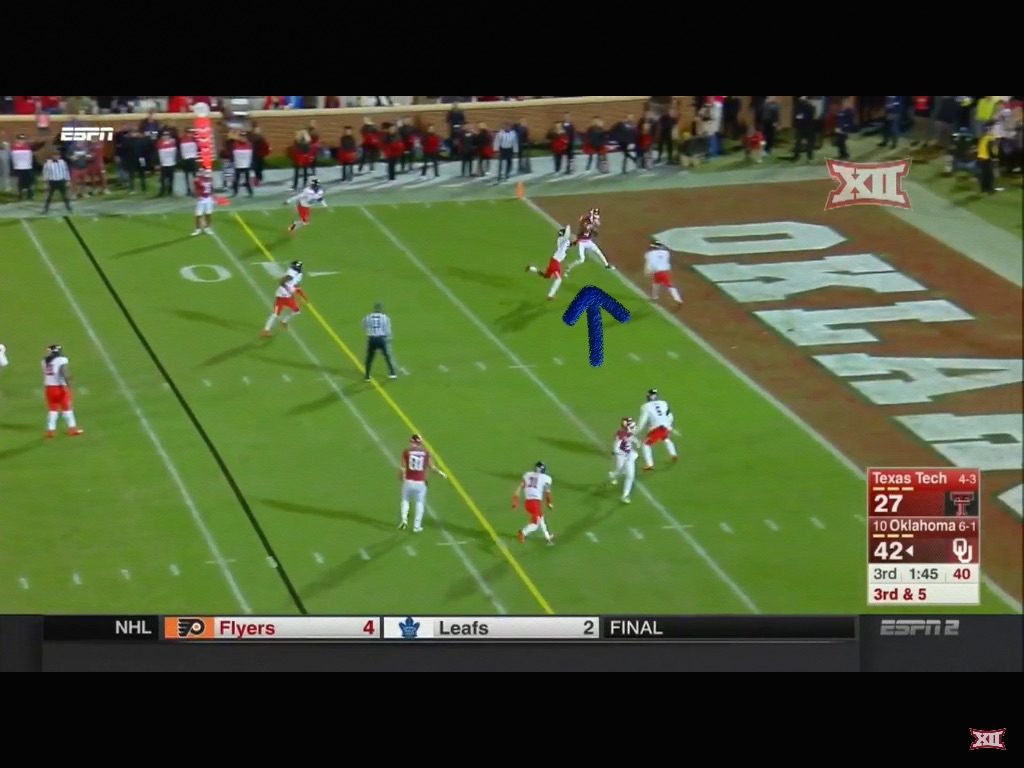 Oklahoma has 4 games left.  At Oklahoma State, TCU at home, at Kansas, & West Virginia at home.  If the Sooners win all four of those games, three of them will be against ranked opponents.  If the Cyclones win out, and they very well could, we could see an Oklahoma, Iowa State rematch on a neutral field in Dallas.  By then the Sooners and Cyclones would both be top ten and on the edge of top 5.  If the guys can get it together defensively (and that's a big if) down the stretch, the naysayers will be quieted.  They could potentially be winners of 8 straight, and 4 of the last 5 wins against really good ranked opponents.  If the Sooners embrace what opportunity is in front of them and play assignment sound and stay healthy, they'll be in the playoff.