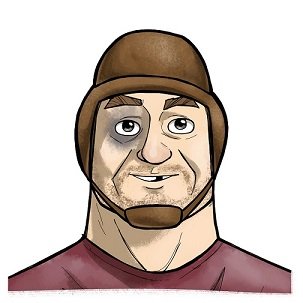 Trench Warfare | Oklahoma vs. TCU | Round 1
Posted on: November 13, 2017
Going into this game, I figured that Patterson was going to bring heat early, often, and all night.  He wasted no time doing that with this call, sending both linebackers.  This made for an easy read for Mayfield.  Man coverage with a single high safety.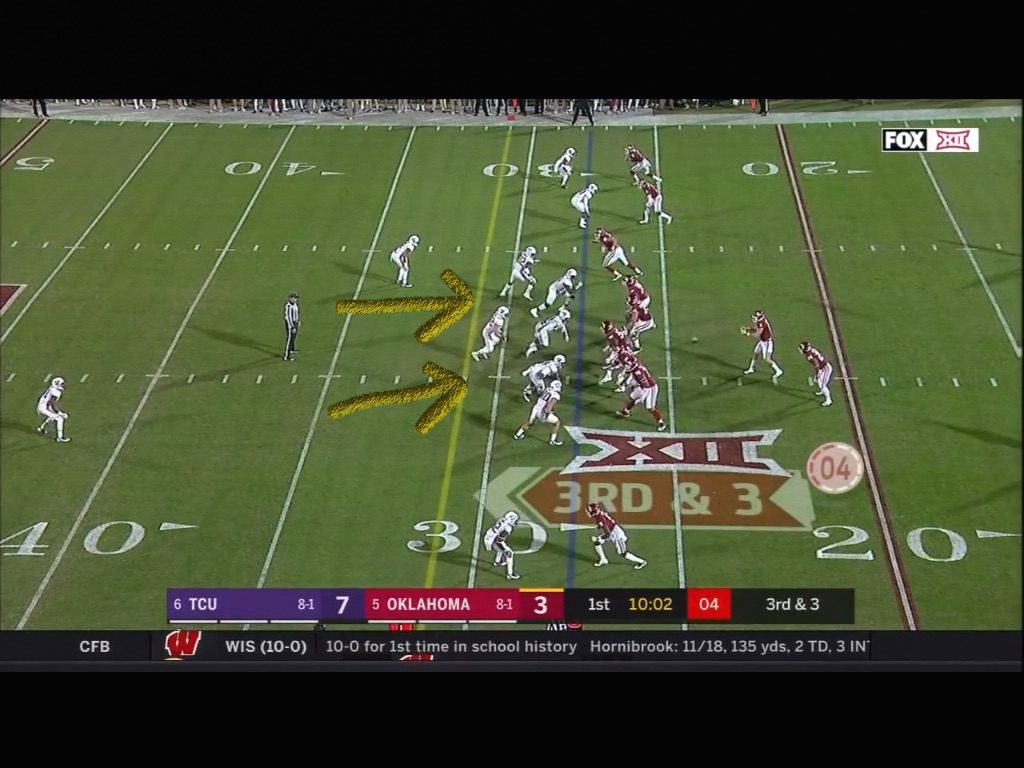 Baker's one of the best at understanding the route tree and knowing which receiver has space.  Andrews, on the top hash has some separation on his guy, but it's an easier throw and a more likely completion to Lamb here on the slant.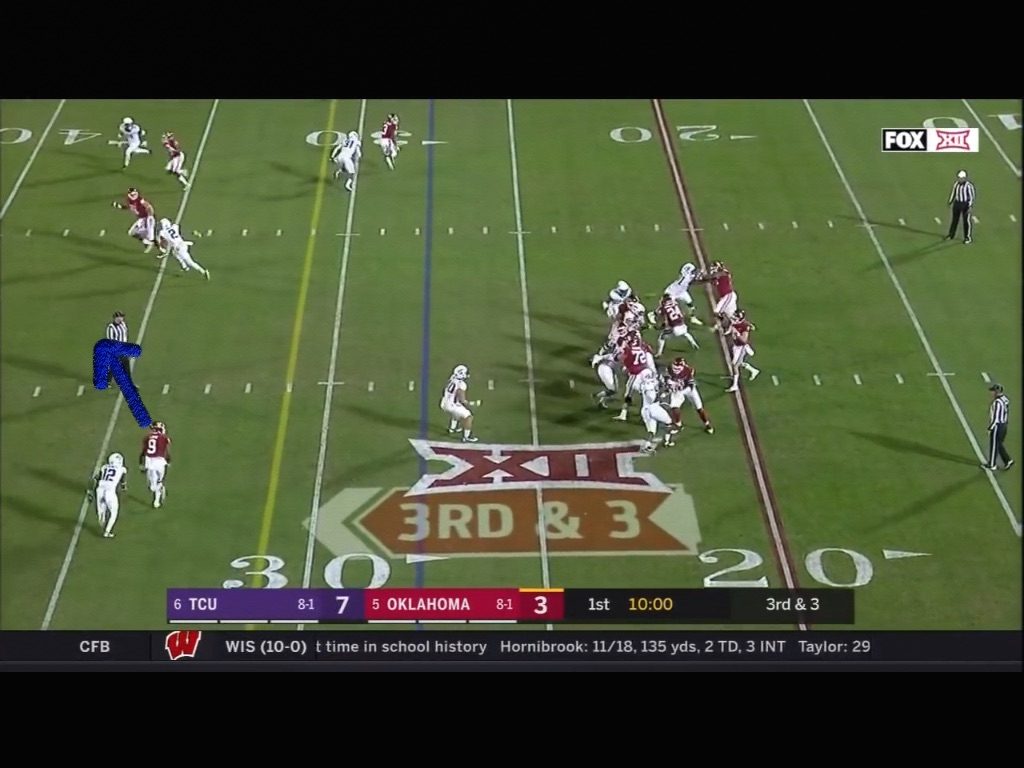 I remembered thinking to myself after this long catch and run how intelligent and composed CeeDee is for a true freshman.  If you notice, his right hand is up on the helmet of the TCU defender; it would have been really easy for a young guy running high on emotion to try to throw this defender to send a message.  Had he done that, he most likely would have gotten a roughness call, and I was really impressed at the restraint he showed right here.  A 46 yard catch and run didn't hurt either.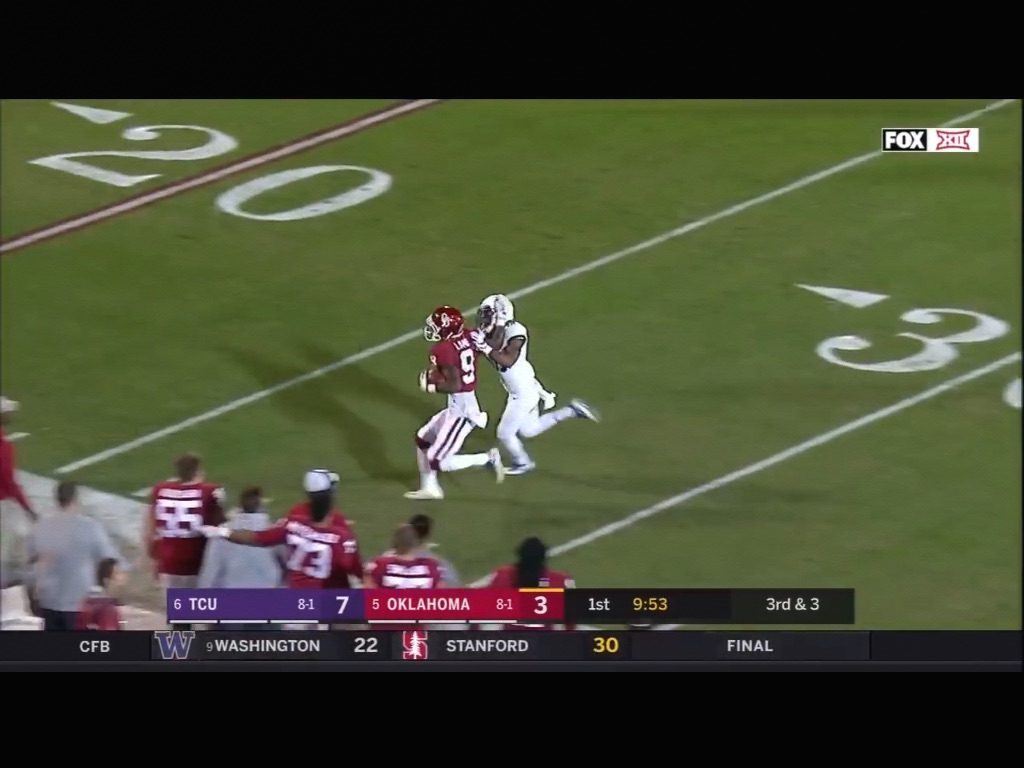 Last week we saw OSU have a ton of success stopping the run game by bringing backside pressure.  Riley loves to run the ball out of the open set, and this is an absolutely brilliant way to negate a backside blitzer.  Instead of keeping extra blockers in the backfield, Riley literally designed two plays within one.  Here, Baker is running a read option to the right.  If the end (gold arrow) crashes on Anderson, Baker pulls it and gets outside of Andrews.  Instead of your run of the mill dive play off of a read option look, Riley runs the counter back to the left.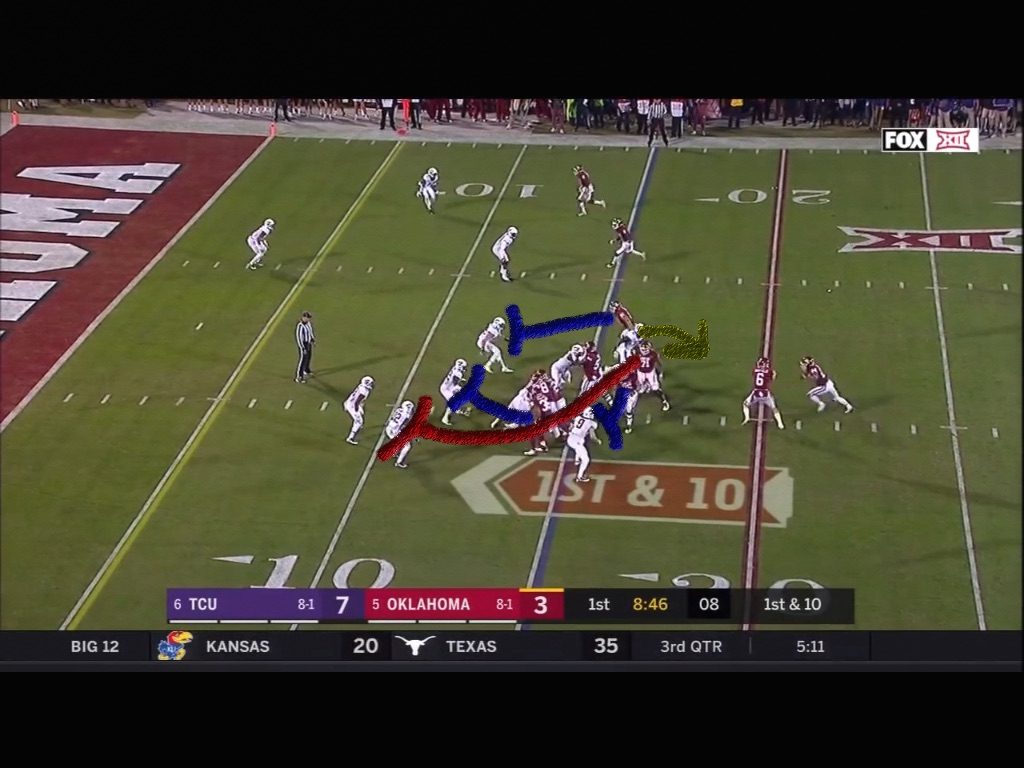 The end stayed out on Baker, so he gave the ball.  Initially, I thought it was a bad play by the backside defender, and that the Sooners just lucked out; however, as I watched it again, I realized the brilliance of this play design.  LR made a week to week adjustment to address the backside blitzer, and it worked to perfection.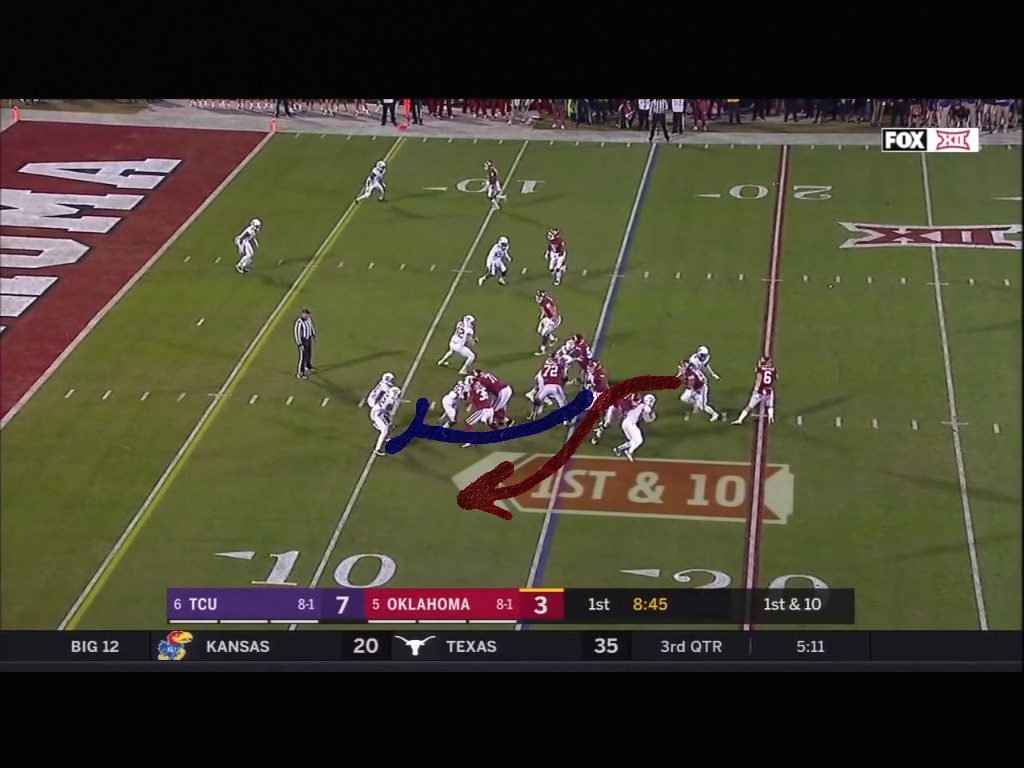 As Bobby Evans gets up to block a DB, there's no one home for Anderson to even talk to.  You can see how the play sets up backside had that end crashed down on Rodney.  Baker could pull it and get in behind Lamb and Andrews to the top.  It has to be absolutely maddening for defensive coordinators facing this offense.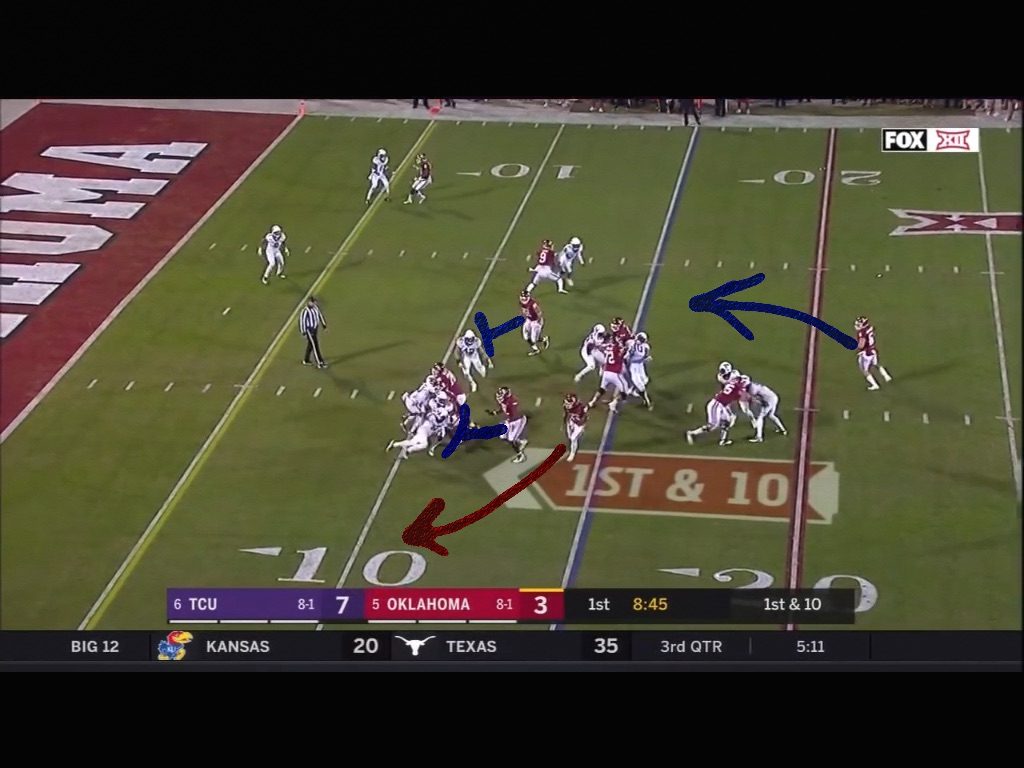 This is another brilliant play design.  Over by the hash to the top, Andrews is cutting outside.  Wren busted on this play, and should have left Samia one on one while picking up the blitzer up the middle.  Anderson is going up to block the outside blitzer…or is he?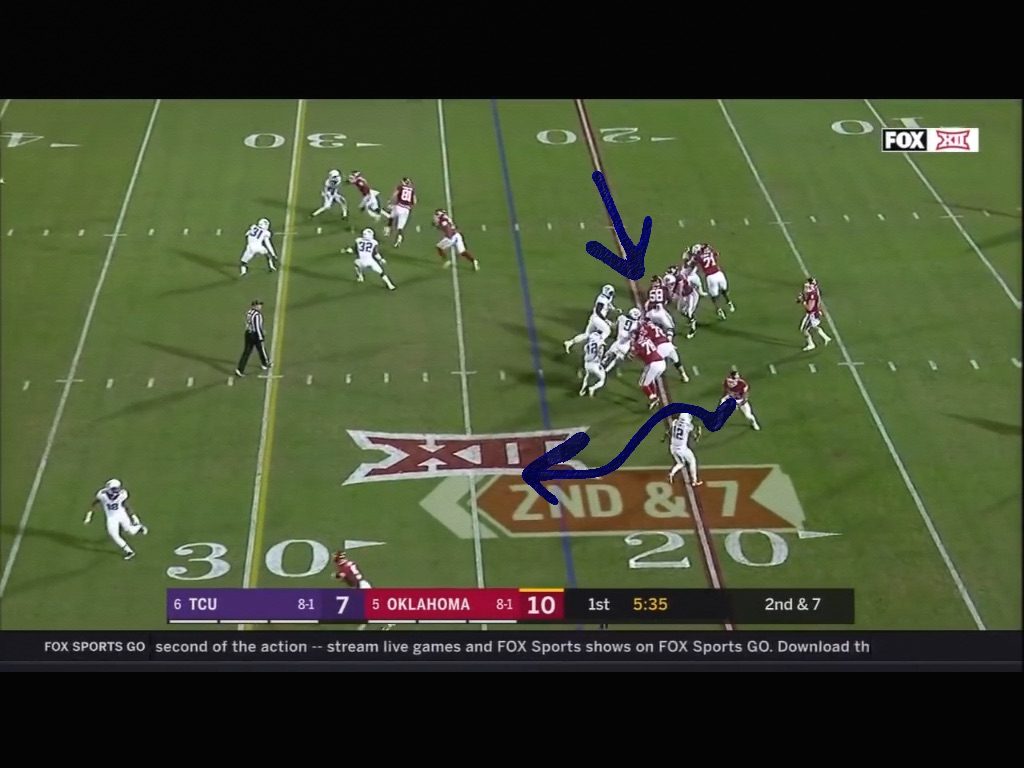 Right about the time that the middle blitzer starts squeezing past Wren, Anderson clears his fake.  Powers did a magnificent job driving his guy down to squeeze the two defenders and at least slow them down.  Again, Samia should be left alone here and Erick needs to be turned to his left picking up the linebacker on the blitz.  Back to the brilliance of the play design, all of the routes on the right are taking players outside of the right hash.  If the linebacker doesn't peel off to stay with the back, it's an automatic huge play.  That's exactly what it was for another 46 yard gain.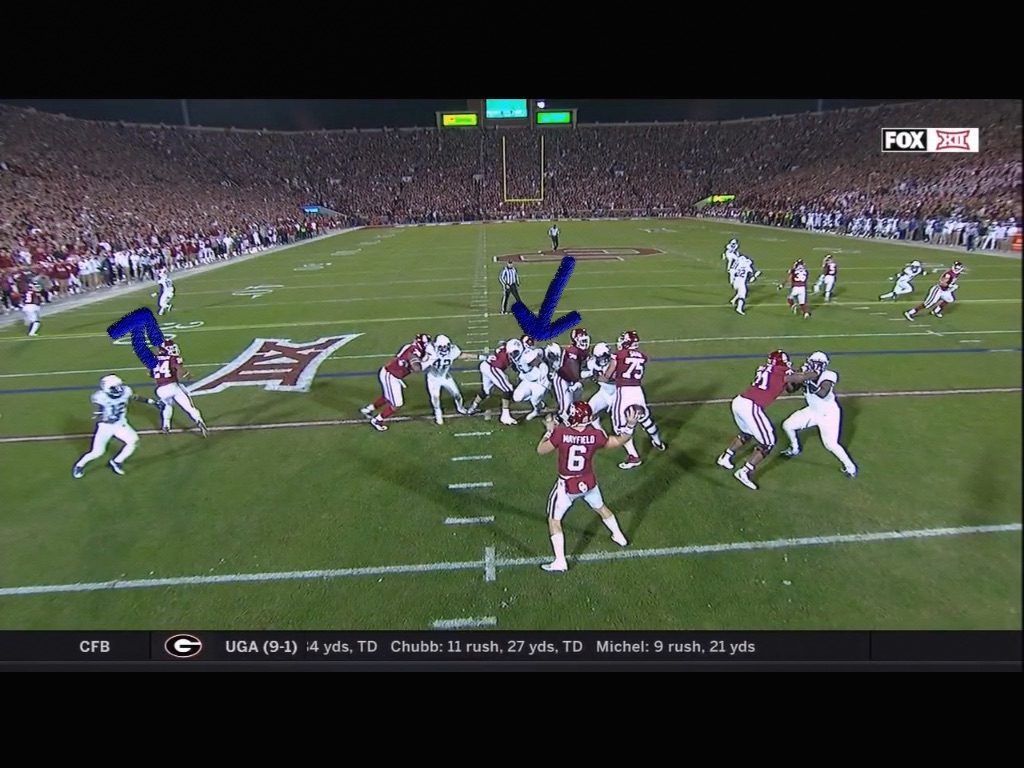 Two plays after that, Grant Calcaterra made one of the best catches of the year.  He's got this kind of talent, and if the Sooners are going to make a run at a National Championship, these are the kind of plays they'll need.  In a nutshell, this play spoke to the level of engagement the entire team had on Saturday night.  The guys were locked in and ready to go.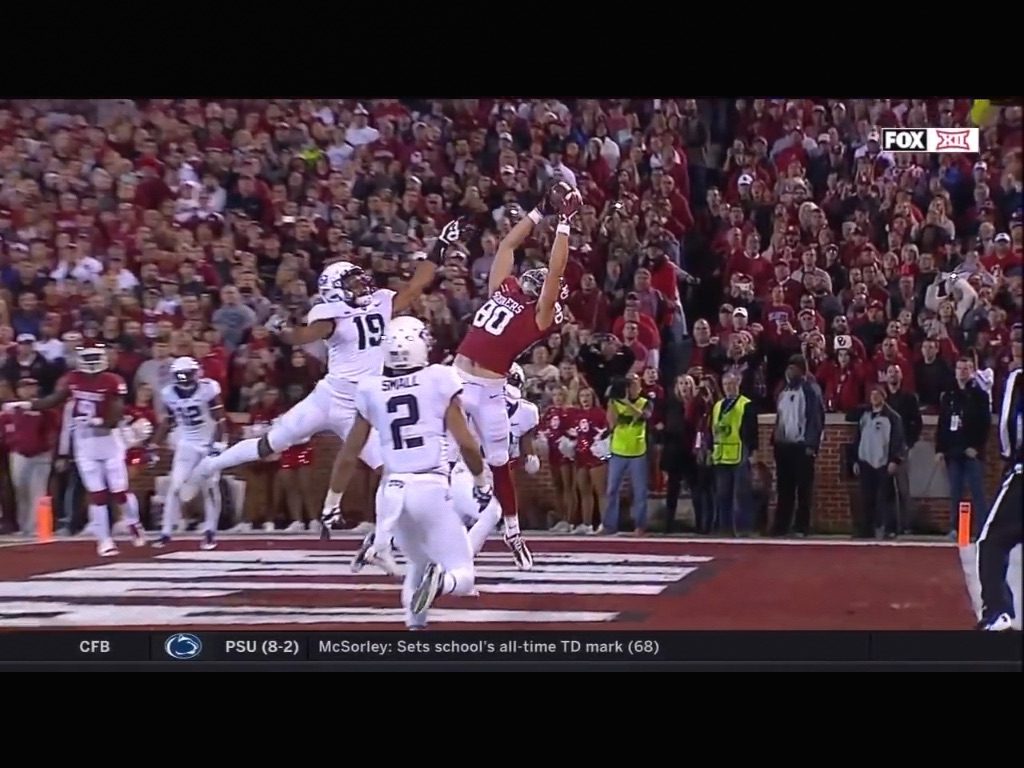 Speaking of locked in, look at this pursuit!  7 of 11 defenders around the ball for a big 4th down stop.  On 3rd and 10, this pass went for only 4 yards.  Guys were running to the ball and showed the best effort down in and down out they've shown since Ohio State.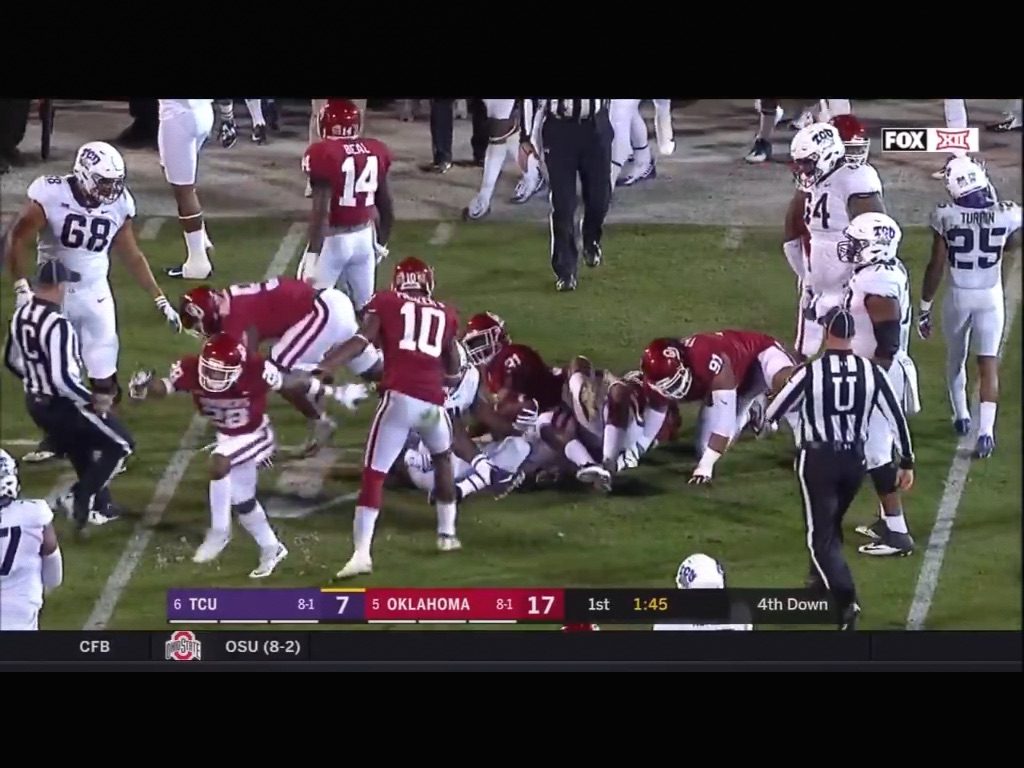 Tre Norwood is one of Super K's favorite players.  He loves how smooth he is.  I love how he drives on the ball.  Look at that forward lean that's got him on his horse and taking him to the ball.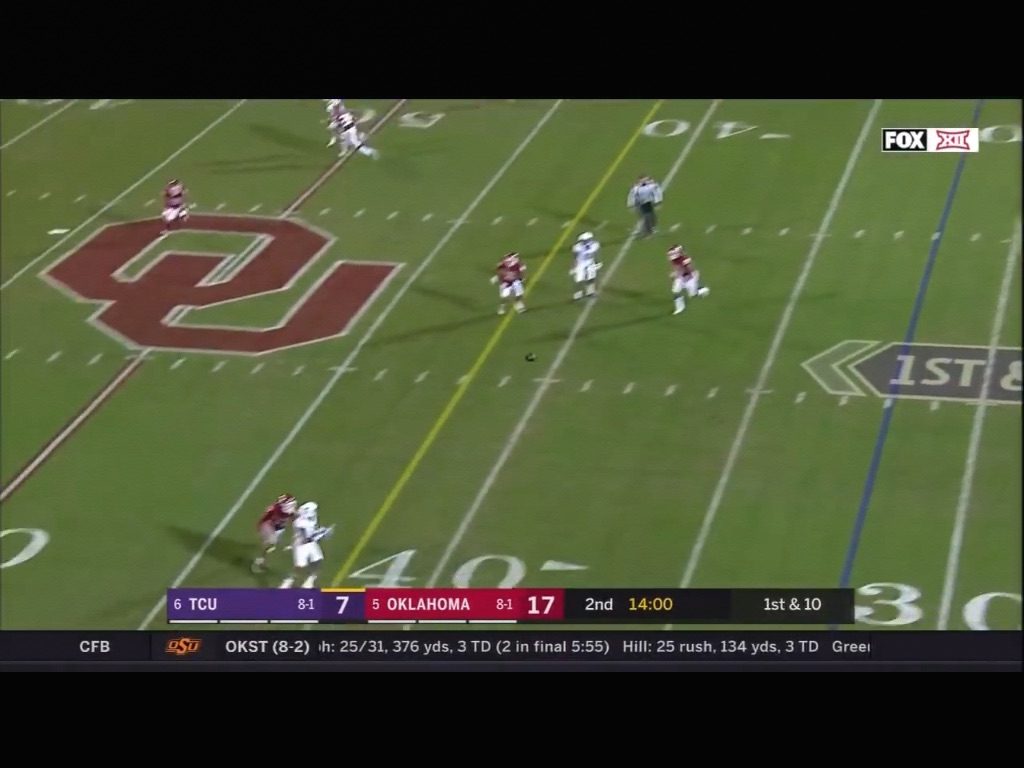 It made my heart happy to see a Sooner corner driving on the ball and breaking up a pass right at the sticks. Tre Norwood was one of my top five players Saturday night for sure.   I'm telling you, this team can be one for the ages if we get this type of cornerback play from here on out.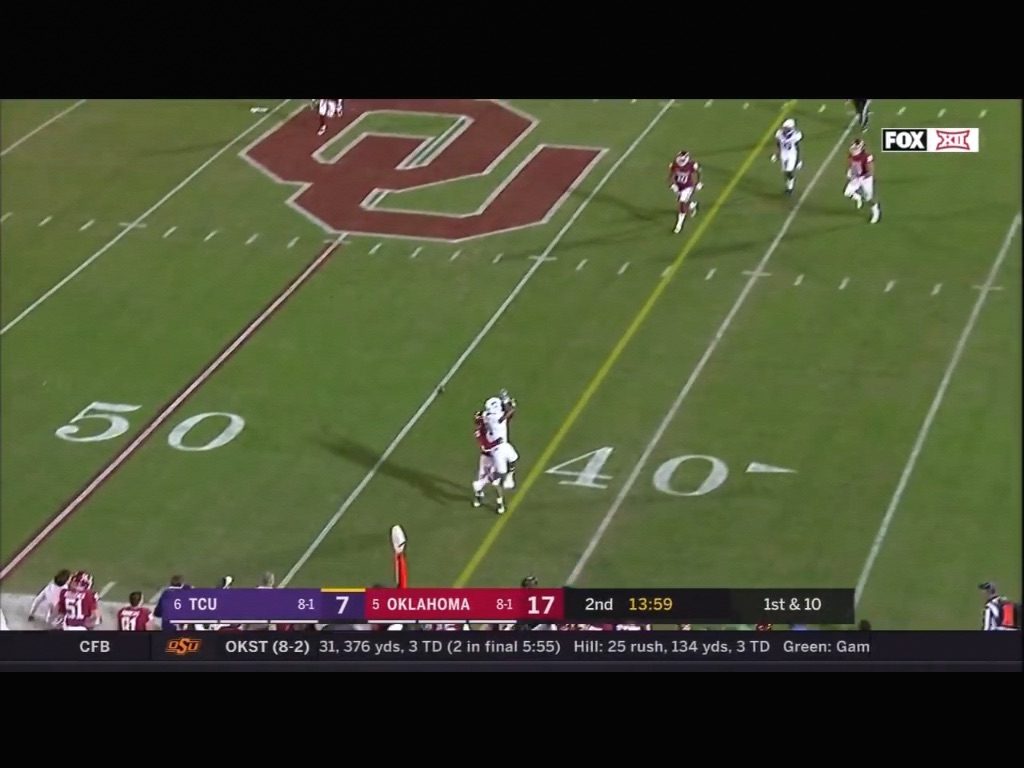 Speaking of Top 5 players, DuVonta Lampkin is my #2 right behind Rodney Anderson.  He set the tone all night in the interior.  Defensively, he gets my inaugural Grown Ass Man Award for the week.  Here, he's driving the center 8 yards deep and right on top of Trill Hill.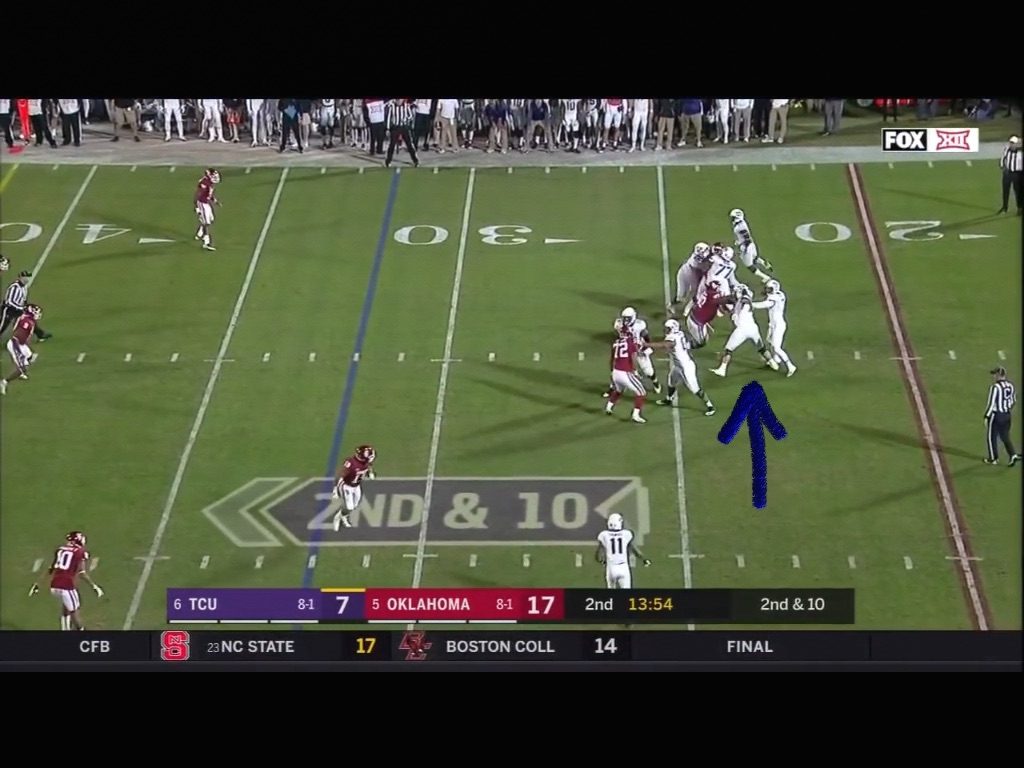 As Kenny tries to get away, all Lampkin can grab is his t shirt sleeve, and that's all it took.  All 6'4″ 335 of em was lit up and runnin' hot.  His hands are so strong to be able to grab a player like Hill at 6'1″ 212 and rag doll em.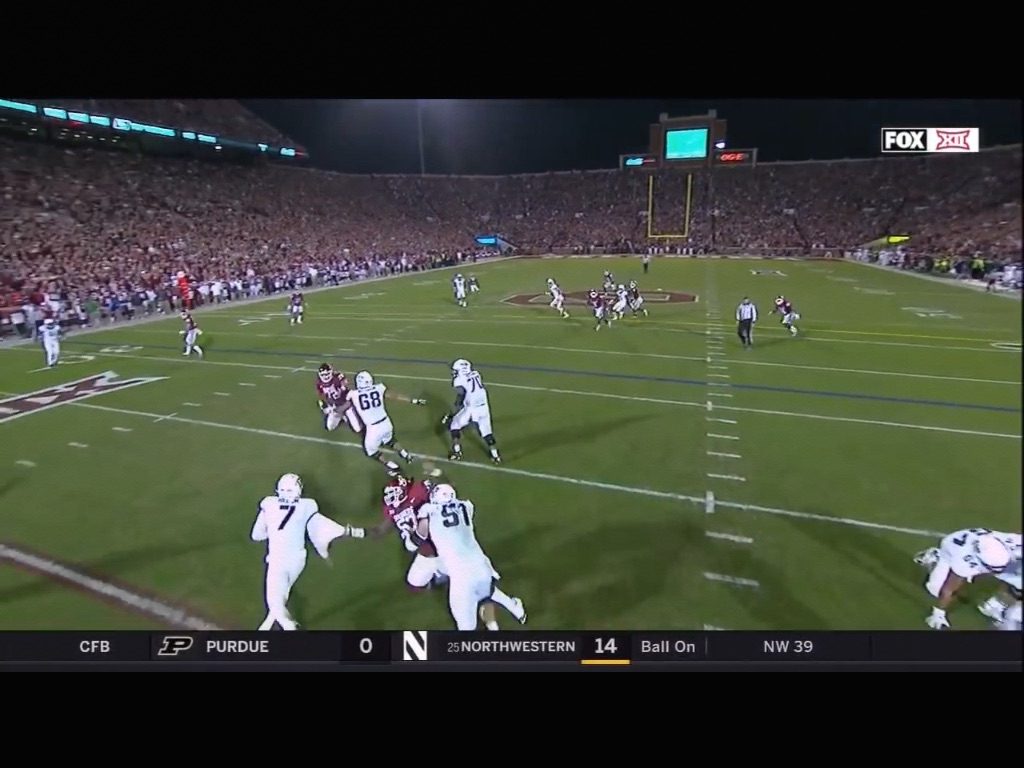 He literally takes him off of his feet with one hand to get the Horned Frogs to 3rd and 20.  When Lampkin plays with good pad level and stays fresh, I don't know that he's blockable.  Having Gallimore back Saturday night to spell him may have helped him more than anything.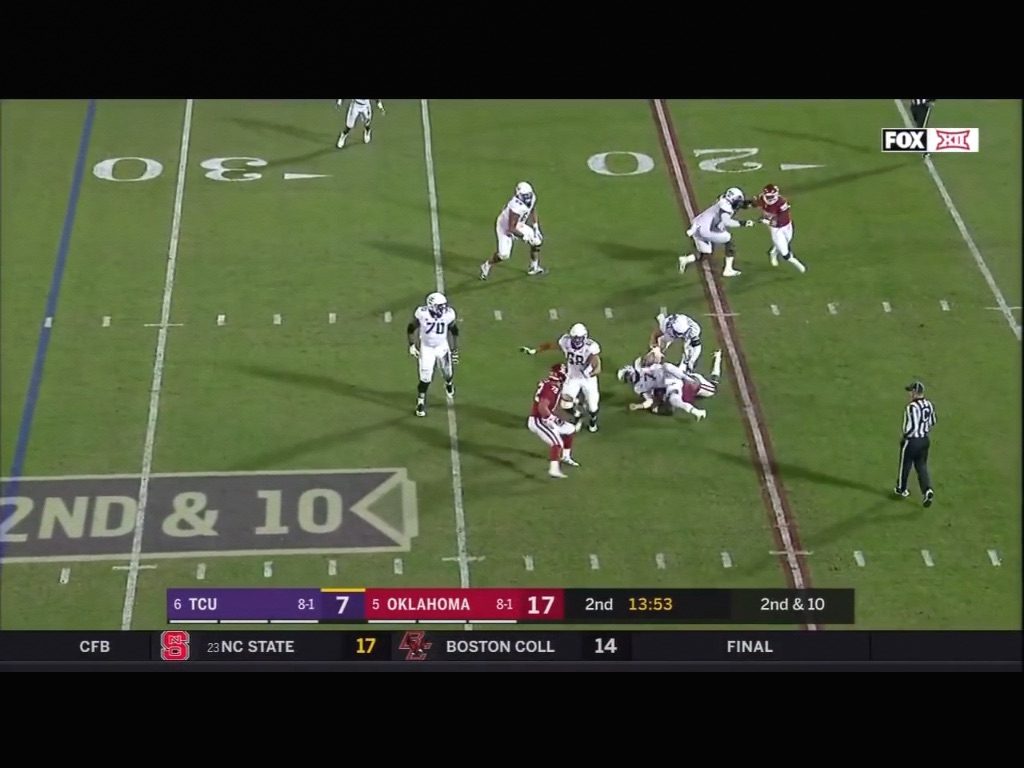 Here, we see Norwood (my #4 of top 5 performances Saturday night) driving on the ball.  Look at his legs, and look at the legs of the receiver.  Tre is covering way more ground than the receiver.  He's got his head around, and is ready to make a play on the ball.  This is textbook cornerback play.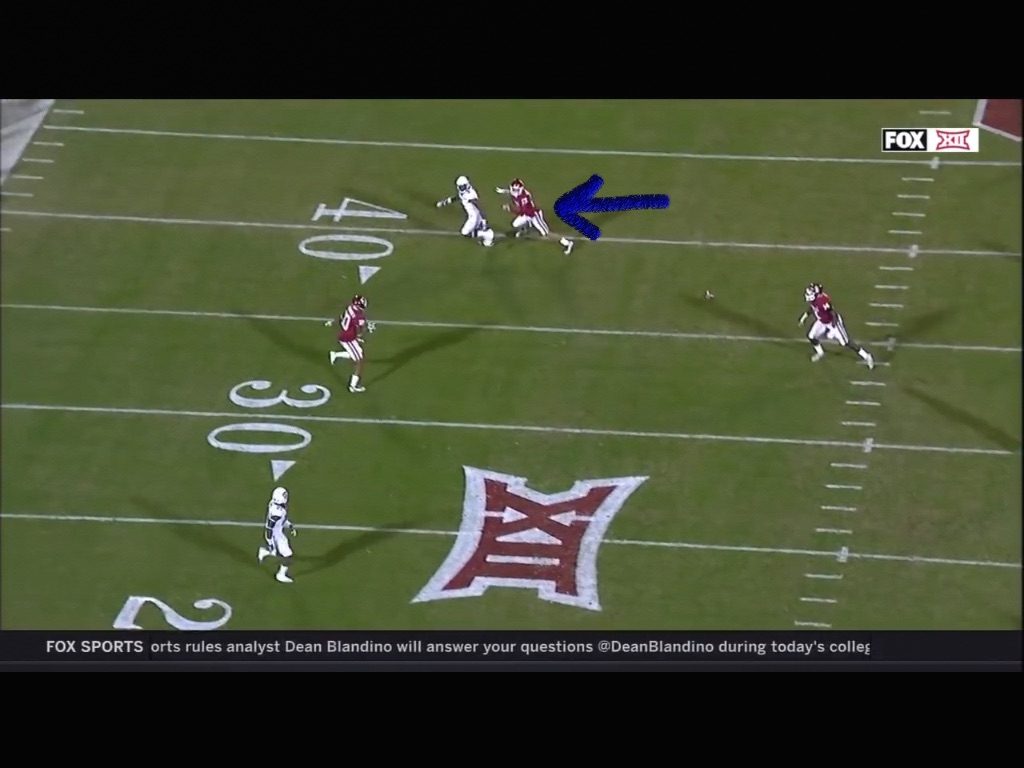 As the ball arrives, he goes up and almost gets a pick on the +40 yard line.  Look at the body language and level of engagement on the sideline.  You've got two Starters in Samia and Lamb up on their feet and Lamb is a couple of feet off the ground.  Tanner Schafer is going nuts and so is the guy to his left.  It was just a crazy atmosphere and, if anything was learned from Saturday night, I hope it was that playing with emotion is the great equalizer.  When the Sooners play like they did last weekend, anyone in the country will be hard pressed to beat em.  More to come in round two tomorrow!