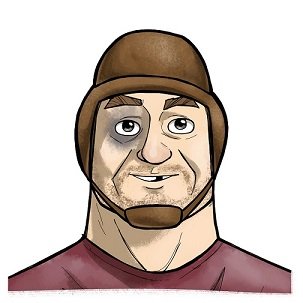 Trench Warfare | Oklahoma Vs. Oklahoma State | Part Two
Posted on: November 7, 2017
I was impressed with how well the defense adjusted in the 2nd half.  I love this goal line look by the Sooners.  With a 5 man front, you have the two linebackers in the middle and both safeties up in the box, shading outside.  From a pre-snap standpoint with the safeties in this position, it really takes away any quick slant options.  After the Sooners had gone up by a field goal, I was nervous that Oklahoma State was going to gain the lead.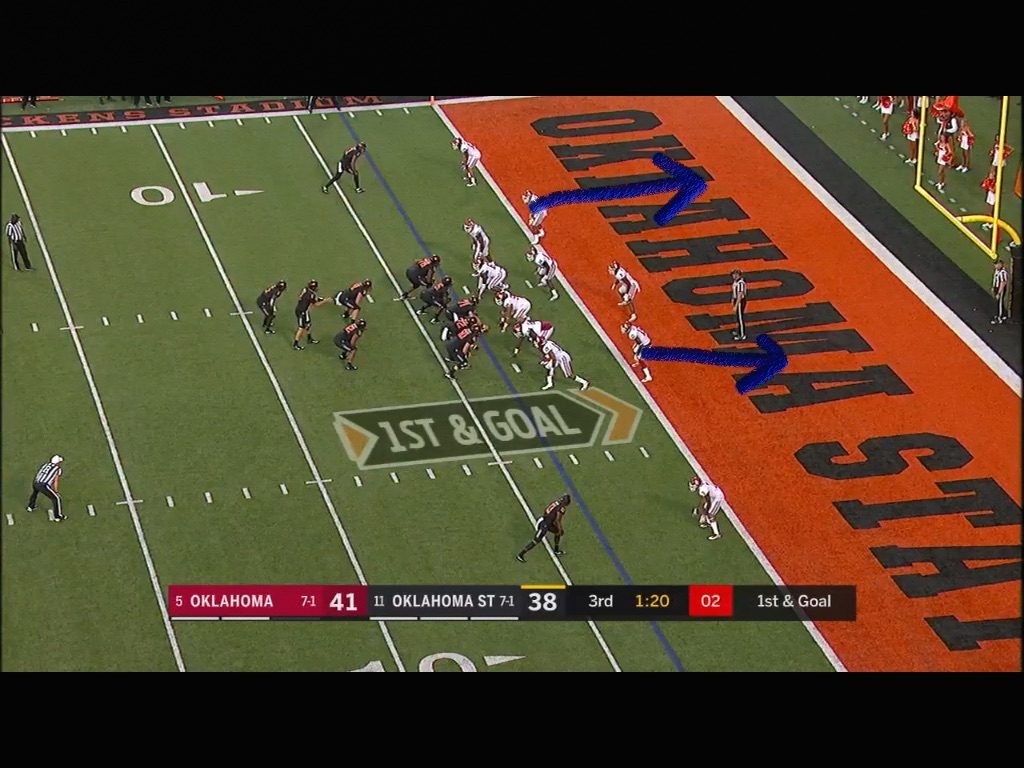 As designed, Will Johnson played that inside technique perfectly.  After Big Lampkin was able to penetrate and get upfield quickly, it forced Rudolph into a quick throw that may very well be one of the biggest plays of the year defensively when its all said and done.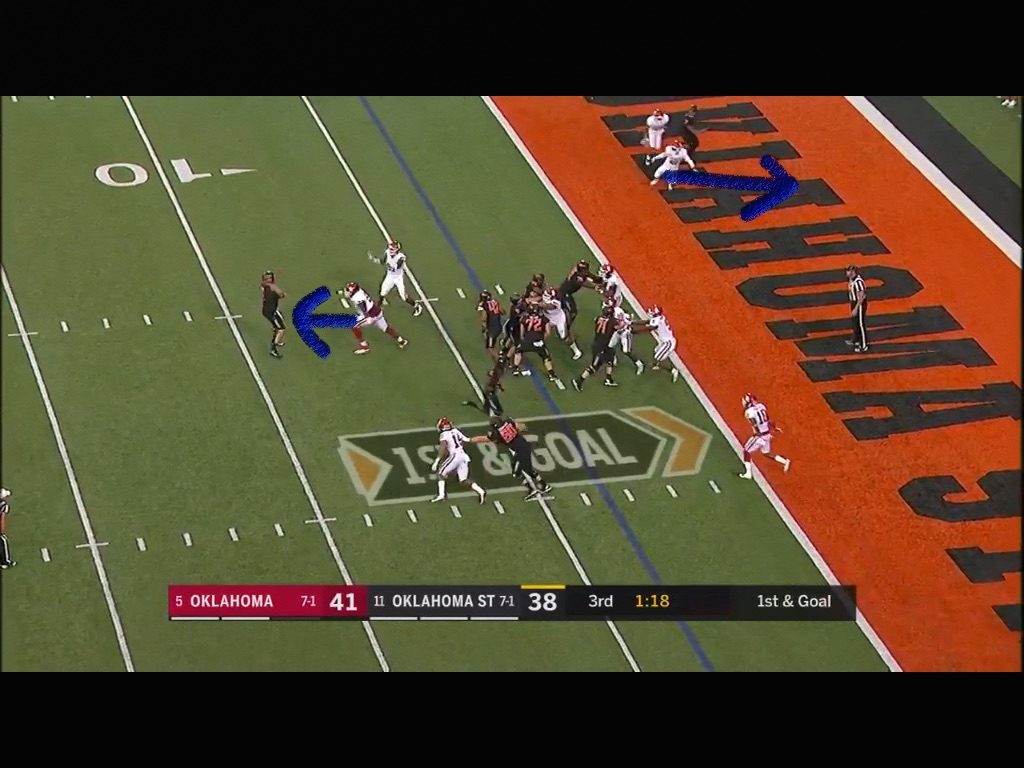 Just like OSU caught Oklahoma with the run right before halftime, the Sooners caught the Cowboys in a blitz.  Normally this linebacker would have coverage responsibility on Anderson, which is still a mismatch.  I've been asked a lot as to why Oklahoma's O line struggled in the 2nd half in the run game and on pass pro, and a lot of it was that OSU just attacked.  And they kept coming.  You gotta give em credit, they never let up.  They gave up big plays, but they forced the issue to 3rd and long and even a couple of field goals a few times.  Baker and co. just kept finding ways to get it done though.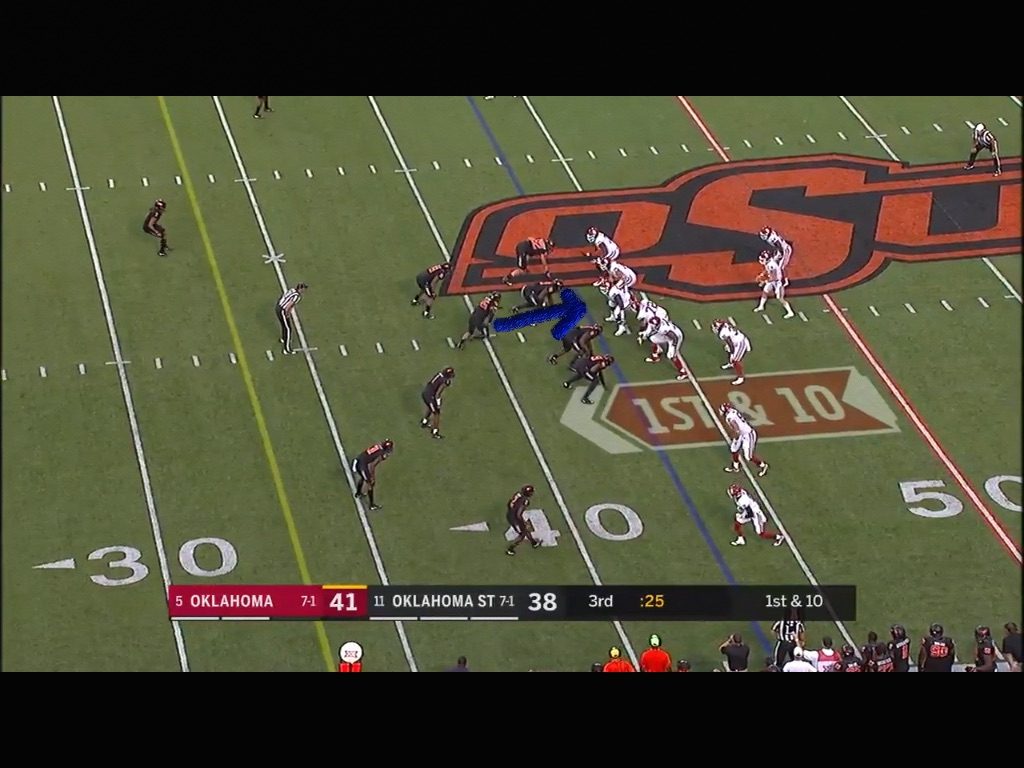 Samia really struggled with the blitzer here, and the guy almost got home on the blitz.  Pre-snap recognition is the biggest part of picking up blitzes.  From an interior standpoint, the Sooners didn't do as well as they have in past games, but you have to give credit to the defense of OSU.  They created a lot of one on one matchups along the interior by adding blitzers.  Gary Patterson is going to blitz their lights out this week and they need to be ready for it.  I remember thinking to myself when Anderson cleared on the fake that I wish that Baker had given it to him.  As Andrews went across, both the Safety and the linebacker went with him, leaving Anderson all alone.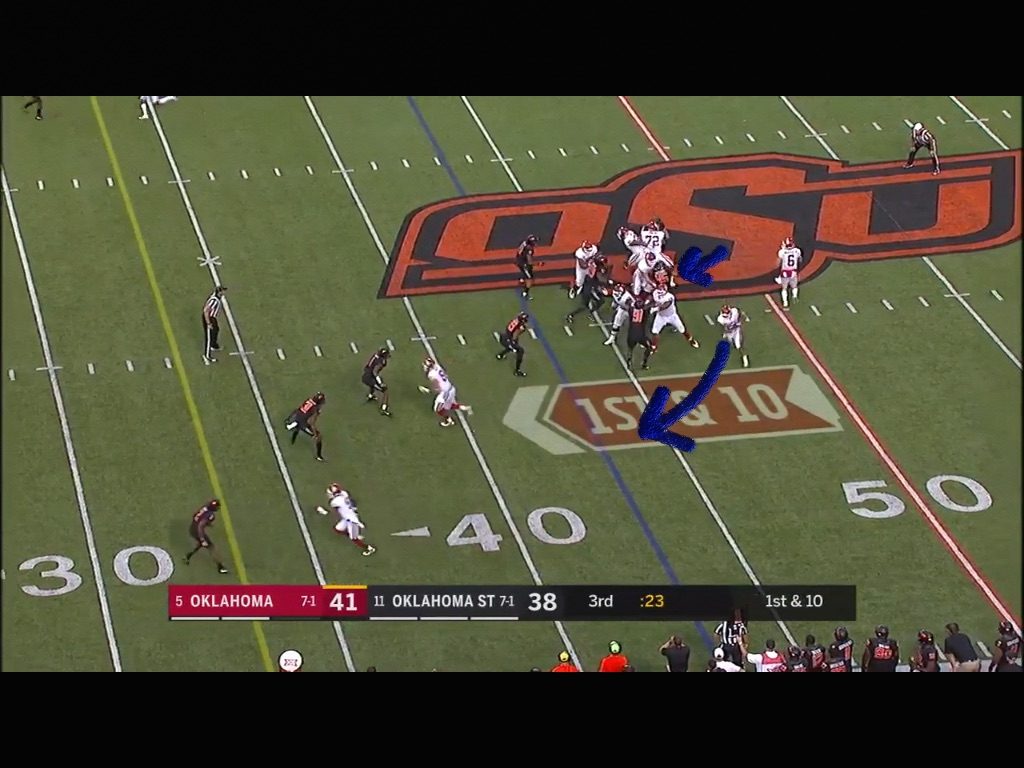 Last week, this is the exact same play that Baker missed coming off of the goal line.  It would have been about a 95 yard TD catch and run for Anderson.  In the face of pressure, Baker stepped up and delivered a good ball to Anderson who took it all the way home.  It's crazy that he went airborne from almost 5 yards out and landed well within the endzone.  Man that guy is explosive.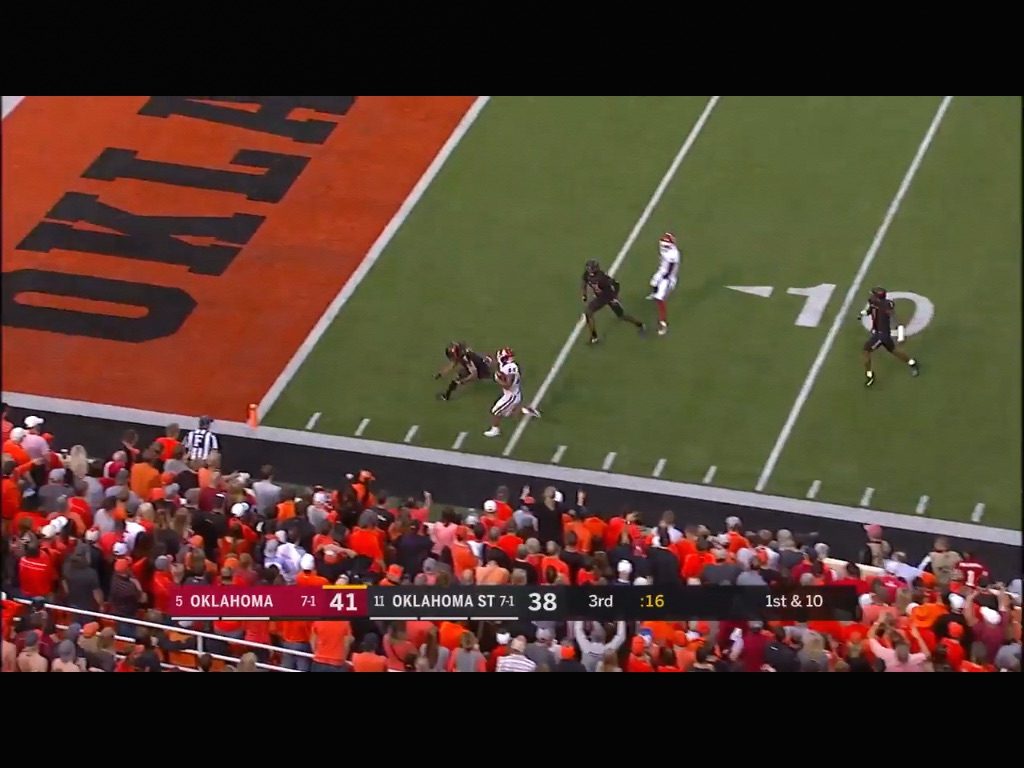 Look at where he landed?  Are you frigging kidding me?  I'd love to see more of the two back set with him and Sermon back there.  Both pass protect really well and catch the heck out of the ball.  Huge play.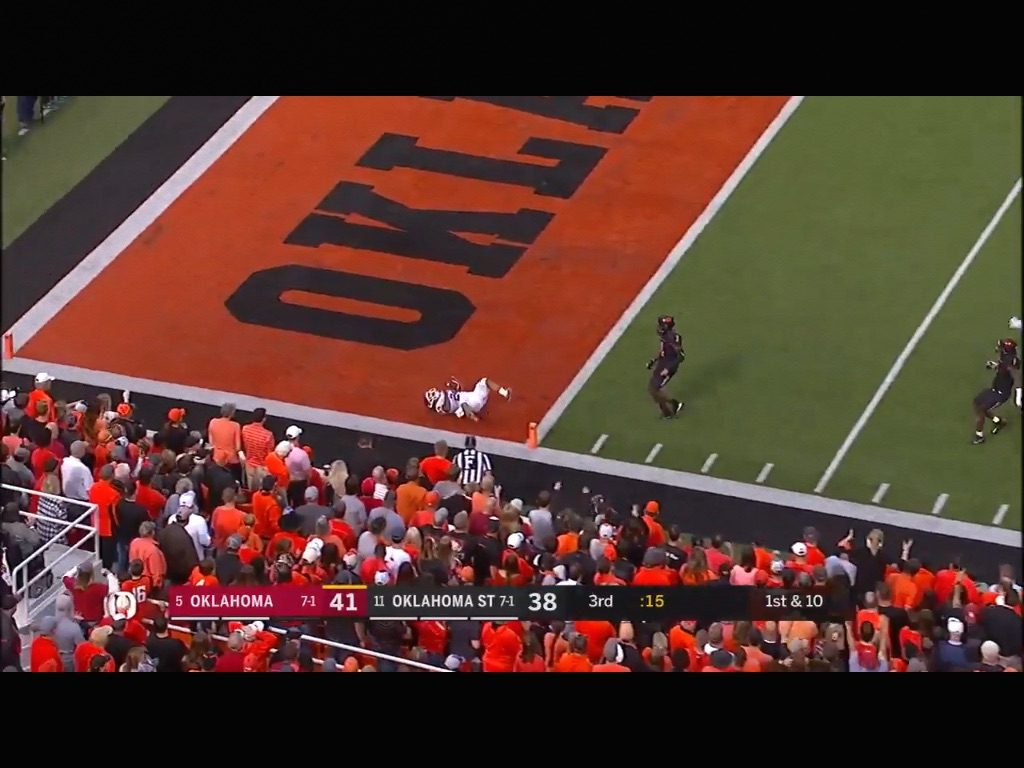 God I hope the Sooners figure this out.  I'm hoping to see more of Tre Brown this week along with Norwood.  That Jordan Parker injury early in the year is really coming back to haunt us.  Hearing rumors that JT isn't 100% and that explains a lot as to why he has had a rough time.  He closed the year crazy strong last year.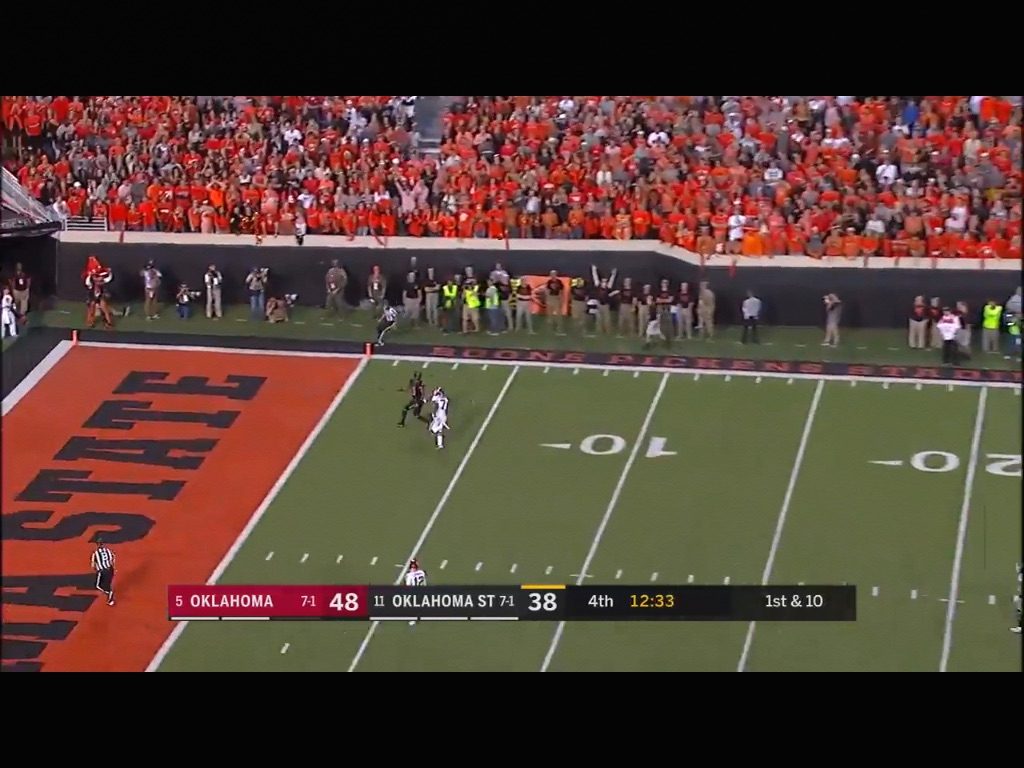 We're starting to see more max protect looks as the season wears on.  When you have speed like Badet, Brown & Lamb, why wouldn't you take people out of the pattern and give em more space to operate?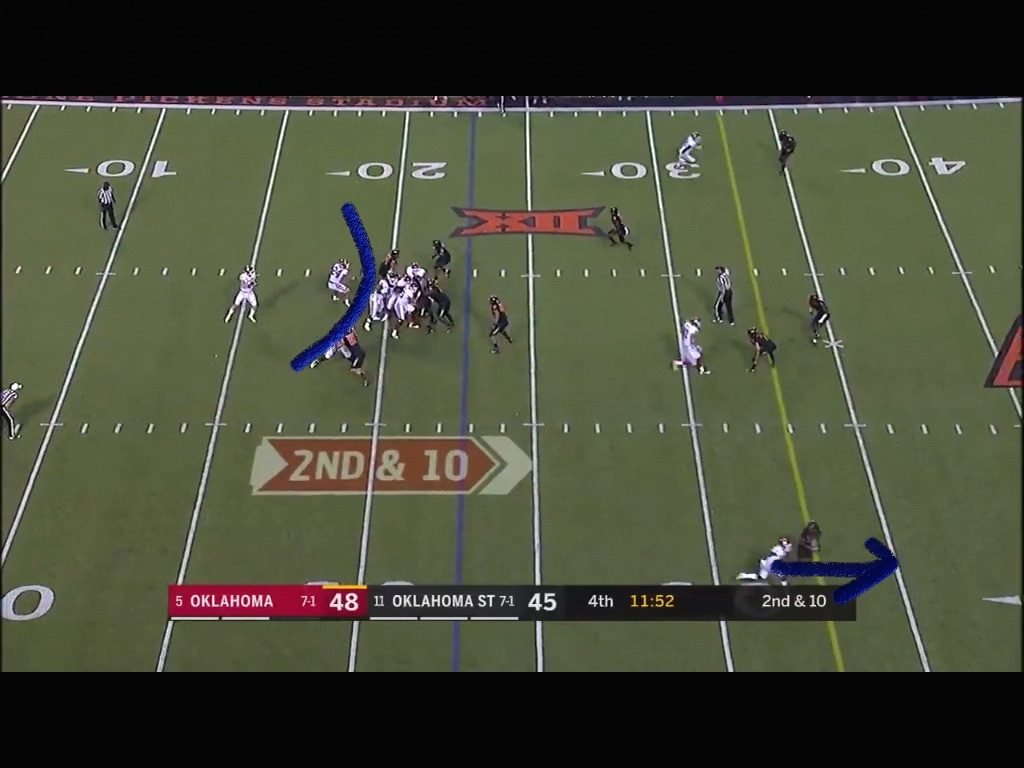 Brown is so fast.  He had to slow down a half step or so, but not much.  Even still, the 3 yards of separation he created – on a GO ROUTE – is insane.  It is so much fun to watch him play and it's so exciting to see the Sooners have speed like this.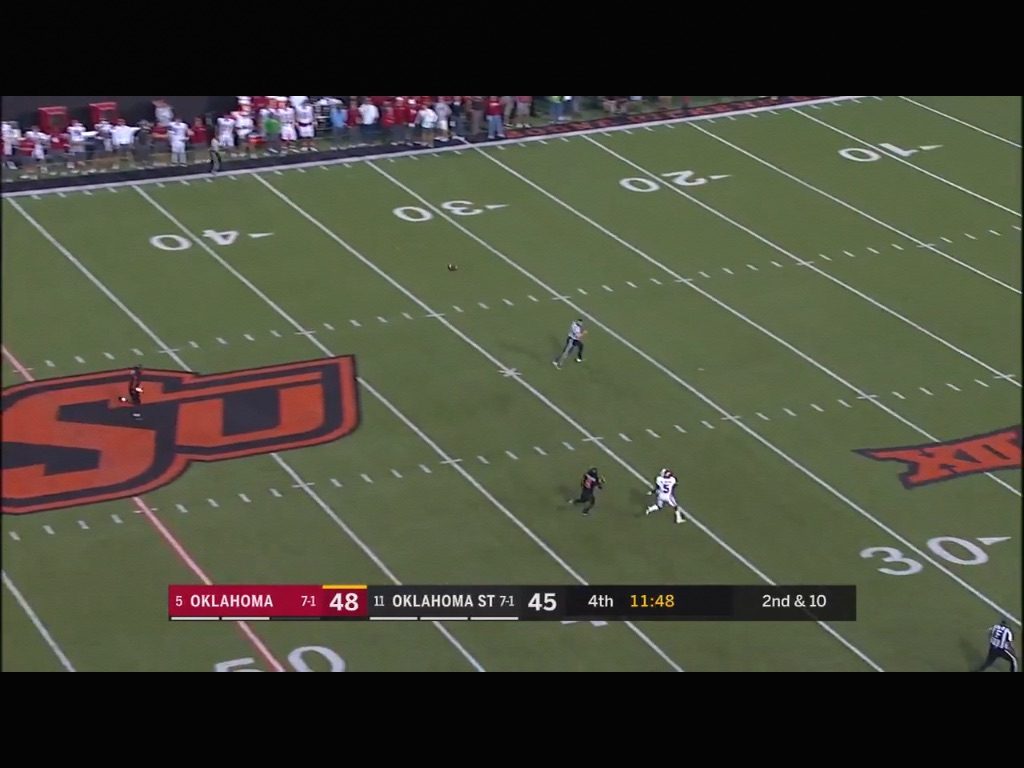 It's hard not to cuss on this.  Motley is too high.  He has to sink his hips and stay square on this.  This isn't Washington or Ateman running this route.  Parnell gets completely turned, and as 13 fakes outside, it's all but over.  With Rudolph being such a stationery guy, I would have like to have seen some LB pressure on this.  Both Beal and Murray could have come in on this leaving Kelly to cover the back.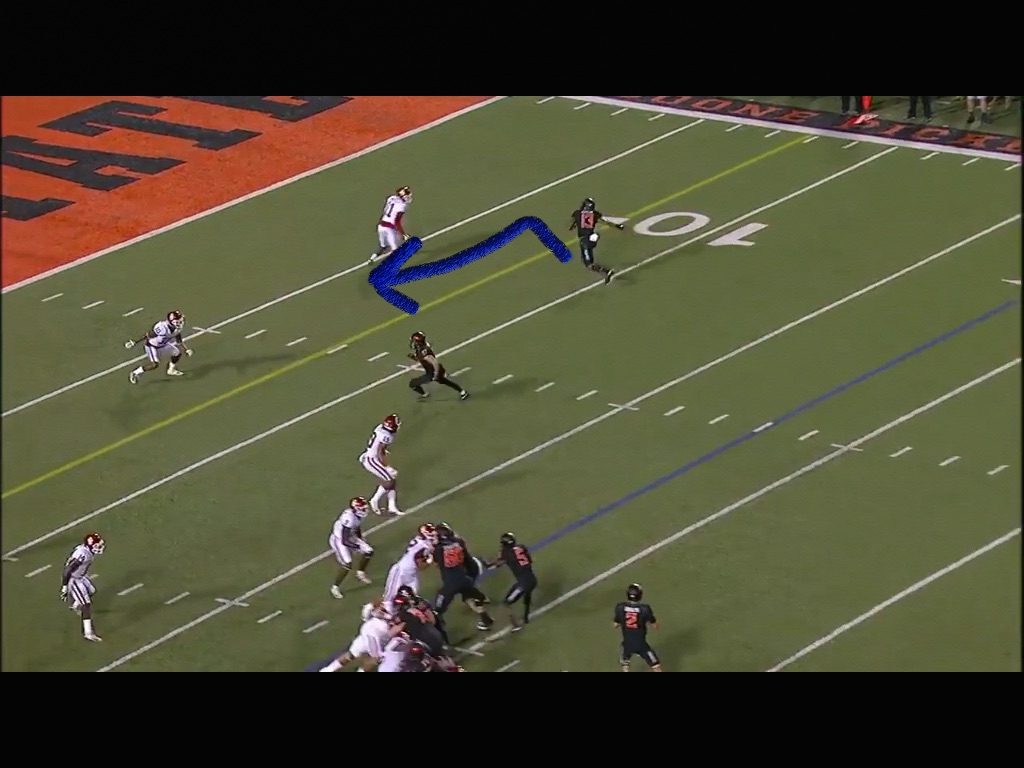 Why do I feel like Yosemite Sam?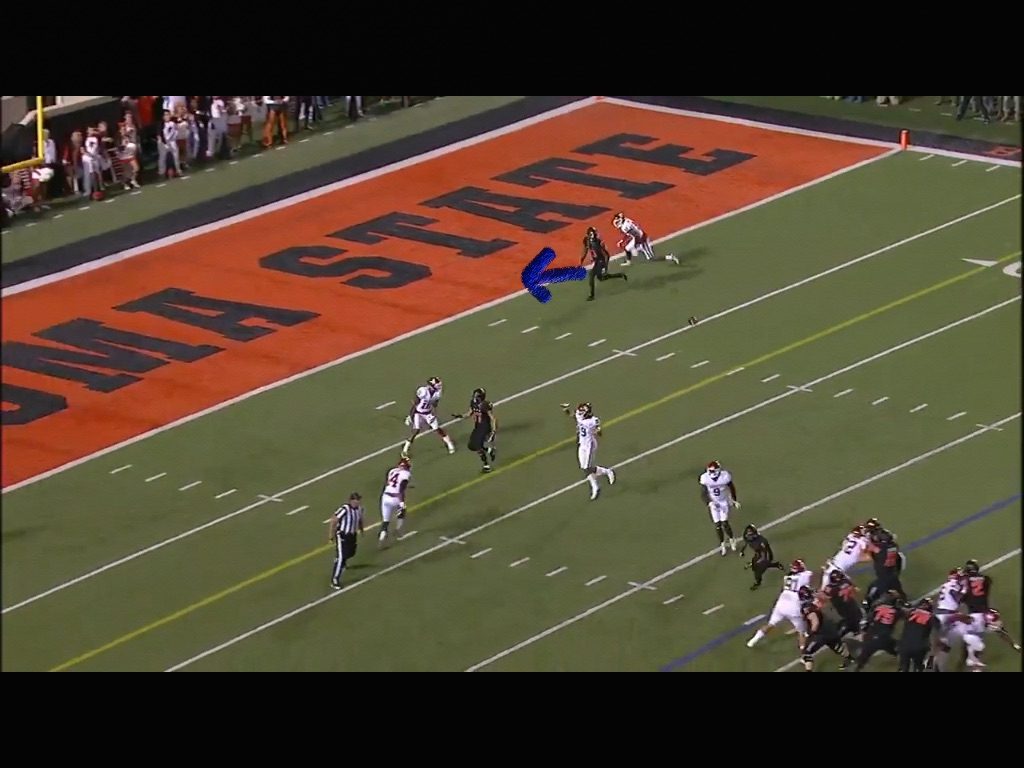 This is the play that Baker threw the pick going into the goal line.  This is only a 3 man front with kind of 1 line backer.  I was really, really hoping the Sooners would run the draw.  Just like at Baylor to close it out, this could have been very similar.  From right to left how you would block it: Brown take an inside out technique on the end.  Samia pause and then get up to the backer.  Wren and Powers execute what's called a fold block, meaning Powers blocks down on the nose while Wren keeps his shoulders square to the LOS and shuffles around and up to whomever shows.  In this case, the safety.  Then Brown and Flowers execute a twirl block, meaning Brown fires out to the outside end while Flowers comes inside a step and then up to the Backer.  If anyone's shown he can break tackles, it's Sermon, and I would have loved to have seen that call in this situation.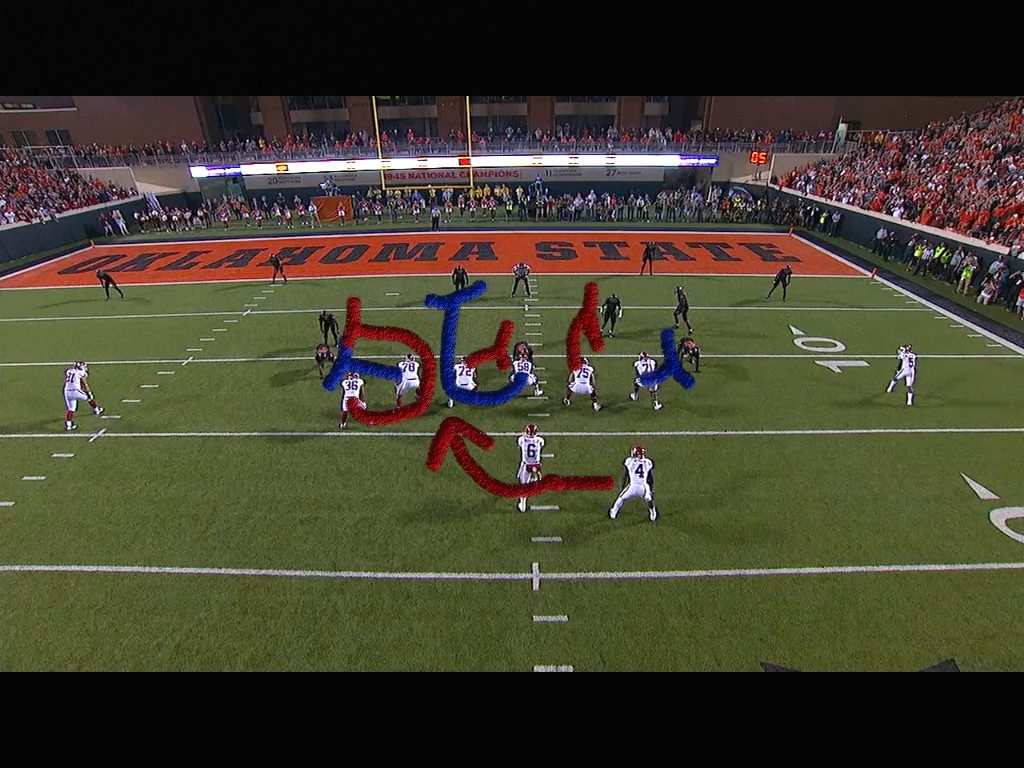 Here's how wide open it was if you give the draw.  The circled player is who makes the pick, and I get that Riley wanted to get the TD.  Still, if you dump it off to Sermon, I don't think anyone stops him.  Rather than a twirl block Flowers cleared his guy out too, so there's a couple of variations; still, with as good as the receivers are at blocking, this was a missed opportunity and there weren't many that Riley and Mayfield missed.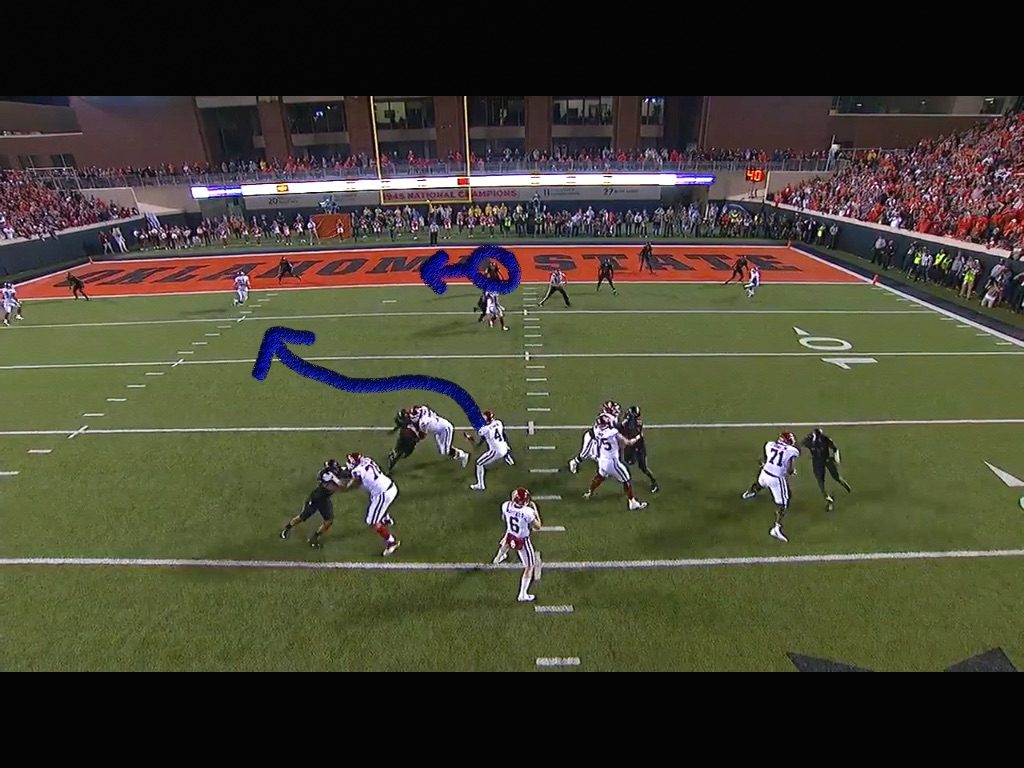 Tre Brown!  And a horsecrap call on the targeting on Will Johnson.  This was a key moment in the game on 3rd and 20, and I was nervous after the penalty gave Ok State new life and a fresh set of downs.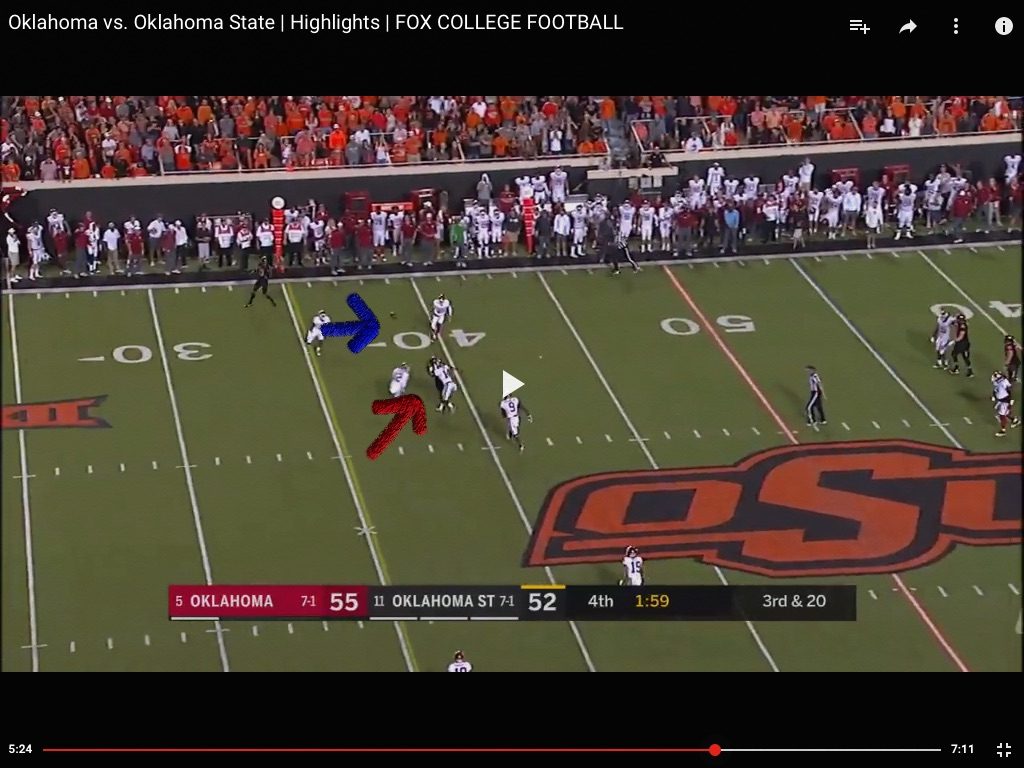 While the OL struggled a bit, the tailbacks still averaged 6.1 yards a pop and the uglies opened holes when they had to.  Again, this is the two back formation on 2nd and 1.  You get the 1st down and it's game over.  Everyone knew what was coming.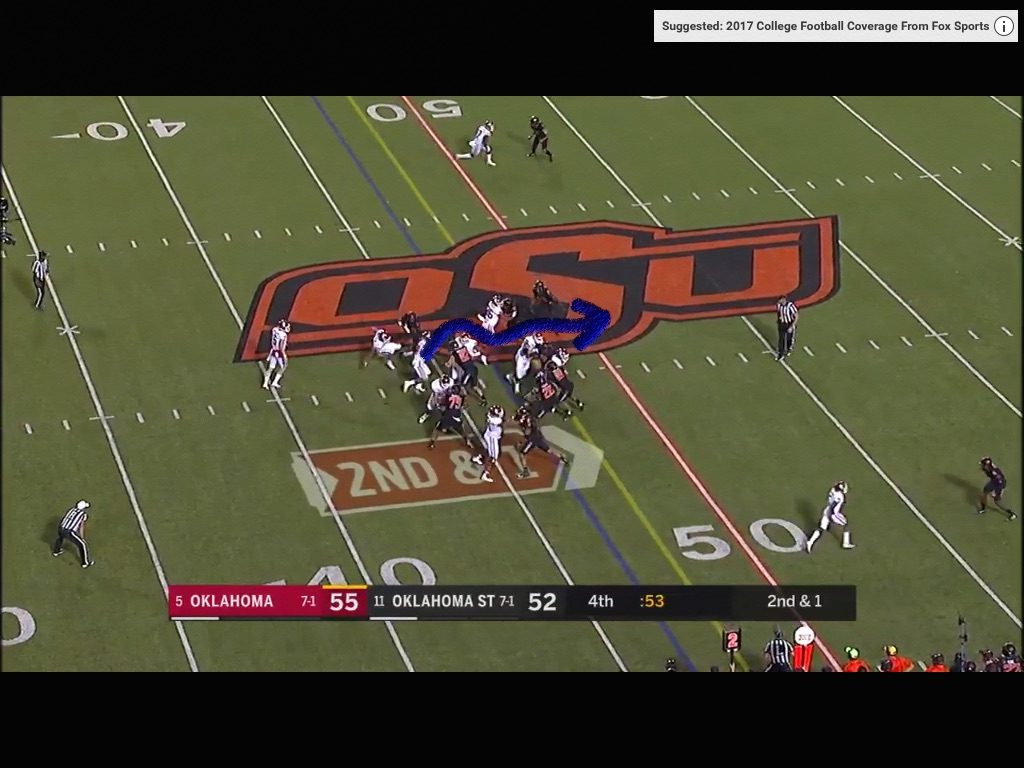 So 2nd and 1, 52 seconds to go, as Sermon squirts though there, look at Baker celebrating.  I'm not sure if he's celebrating the 1st down and game over or if he knew that Sermon was gonna house it.  Looking back at my grassy knoll, tinfoil hat, draw play call a few shots ago, man wouldn't that have been cool to put 69 up on em?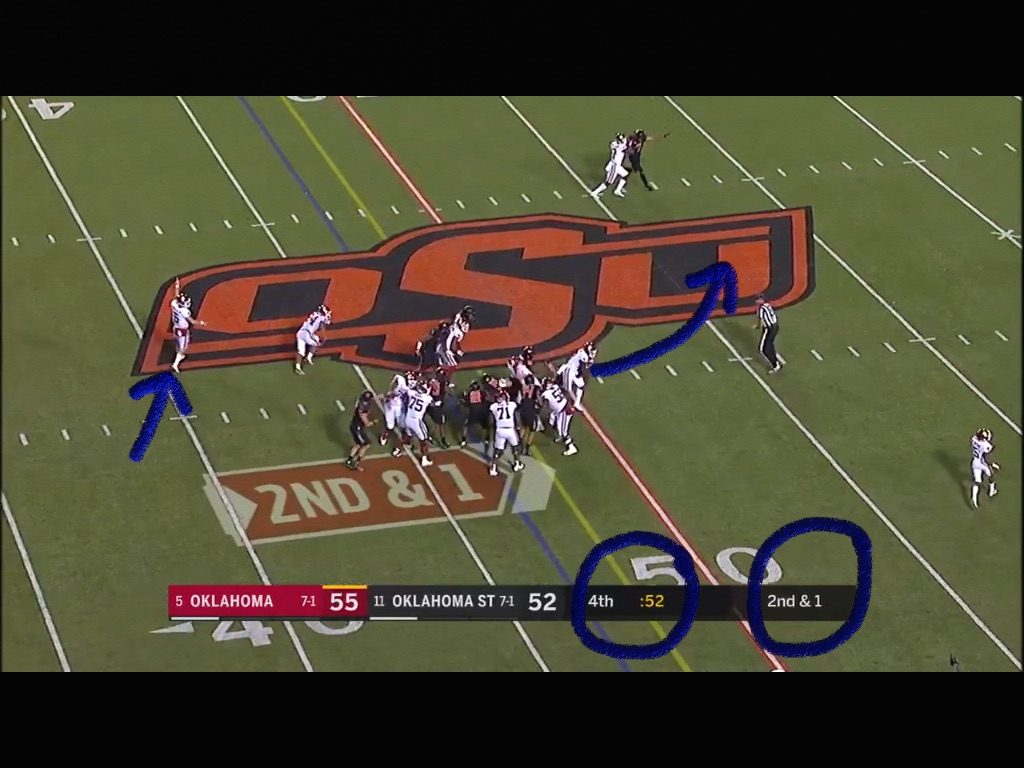 This tore the hearts and guts out of OSU.  The linebacker, if he's hustling, tackles Sermon right here as he cuts outside of Smallwood.  Jordan did an outstanding job being patient and not blocking the defender in the back.  Gotta see more Trey Sermon.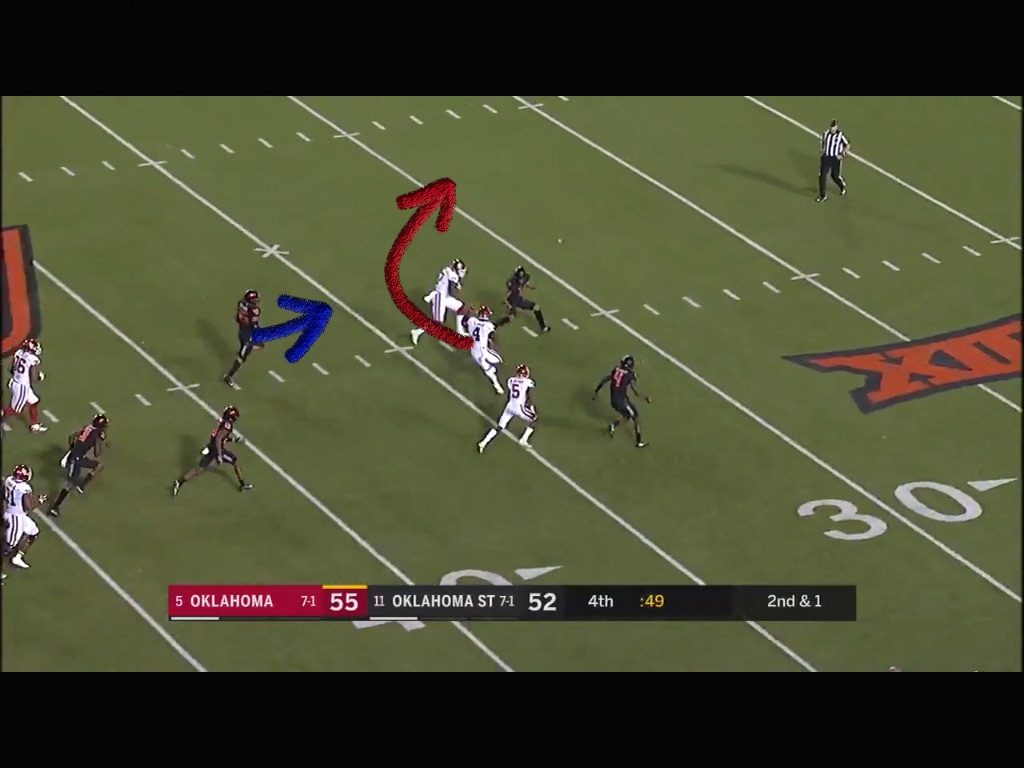 While Anderson has come on lately, this felt a lot like the other OSU game.  Adams comes in, has some ball security issues and then gets benched.  Then Sermon helps ice it late in the game.  The edge pressure and outside blitzes of Bundage were taking away the slow developing plays the Sooners like to run.  We didn't see a lot of counter, which has become the bread and butter of the offense, and I still have yet to see anyone stop it.  Still, I think we'll start seeing more two back set with Anderson and Sermon back there moving forward.  Look at Smallwood hustle!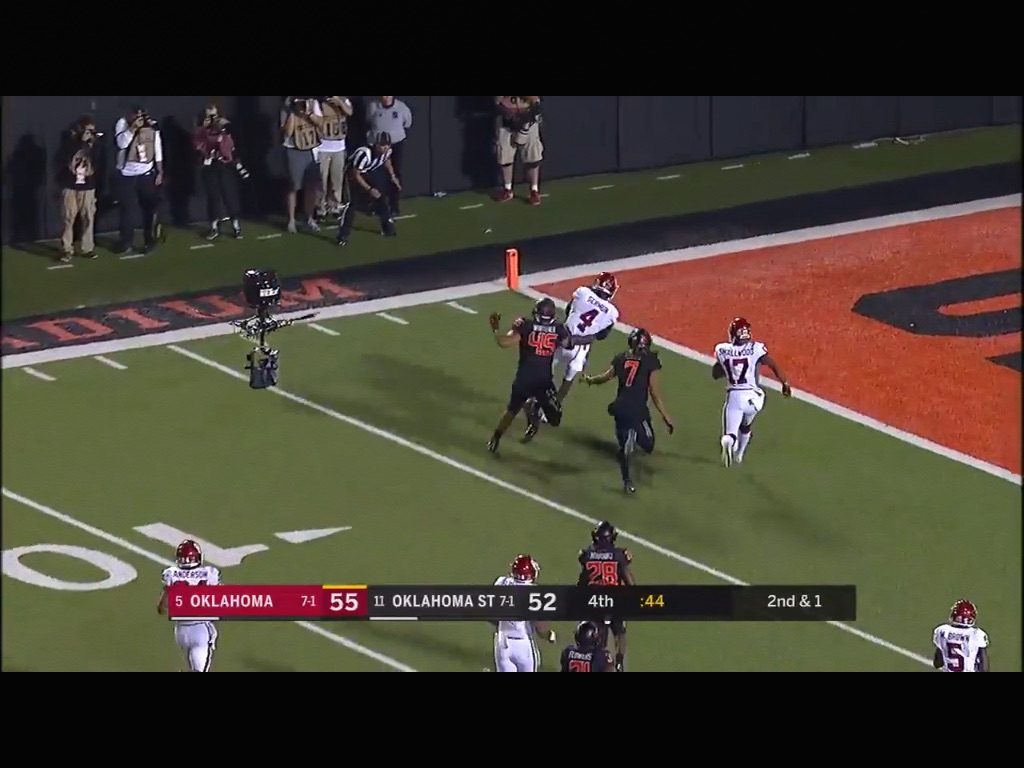 Look at the heads of the three Sooner defenders I circled.  None of them are looking for the ball.  I'm not a DB guru at all, but I'm glad Robert Barnes was looking for the ball.  I know you're up 10 points, but come on guys, find the ball!