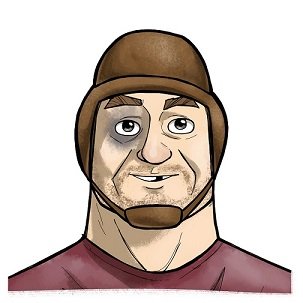 Trench Warfare | Oklahoma Vs. Oklahoma State | Part One
Posted on: November 6, 2017
Spitballin' earlier last week, I didn't know what to expect out of this game.  I didn't think that OSU could stop the Sooners, but I didn't expect a final score of 62-52 either.  I called 42-28 Sooners, and it was tied 38-38 at halftime.  I truly believed that Oklahoma was going to win the game, but admittedly, there were a couple of times my faith was shaken… this wasn't one of them…
After weathering what seemed like the first round of old school Nintendo Mike Tyson's Punchout, the Sooners found themselves at midfield.  Before this, there was a touchdown that was called back…the Sooners held the Cowboys to a field goal. Then, there was a drop by Abdul Adams on a screen that was initially called a fumble and returned for a TD… that was overturned, thank God. Austin Seibert then boomed a punt down to the 35.  After another Sooner defensive stop, I was feeling pretty good.  I figured that if the Offense ever got back on track, this would be a blowout.
Baker dropped back here and had Flowers getting down the hash.  Anderson & Andrews absolutely bodyslammed the defender coming on a blitz at bottom.  Flowers put a headfake on his cousin inside and then found himself all alone.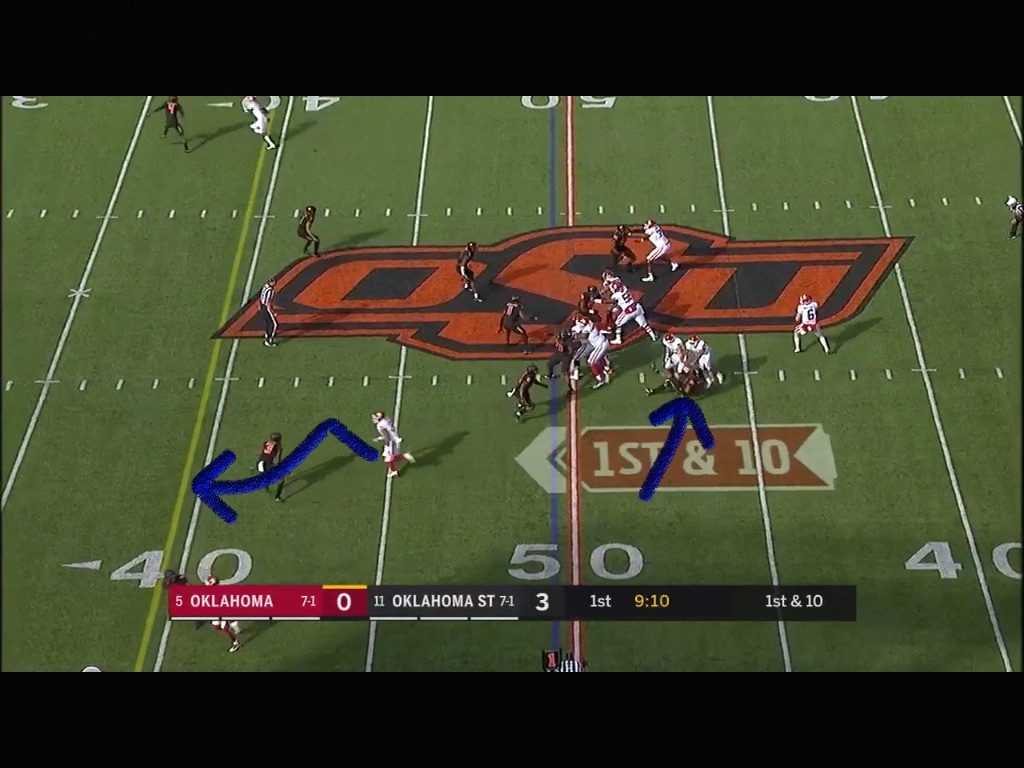 So many players on offense have come up clutch for the Sooners; however, outside of Mayfield himself, you could argue that none has been more clutch than Dimitri Flowers.  I know the Sooners are recruiting Micah Parsons to maybe be a replacement for Flowers, and man how is that not a huge draw for a jumbo athlete watching this guy get it every week.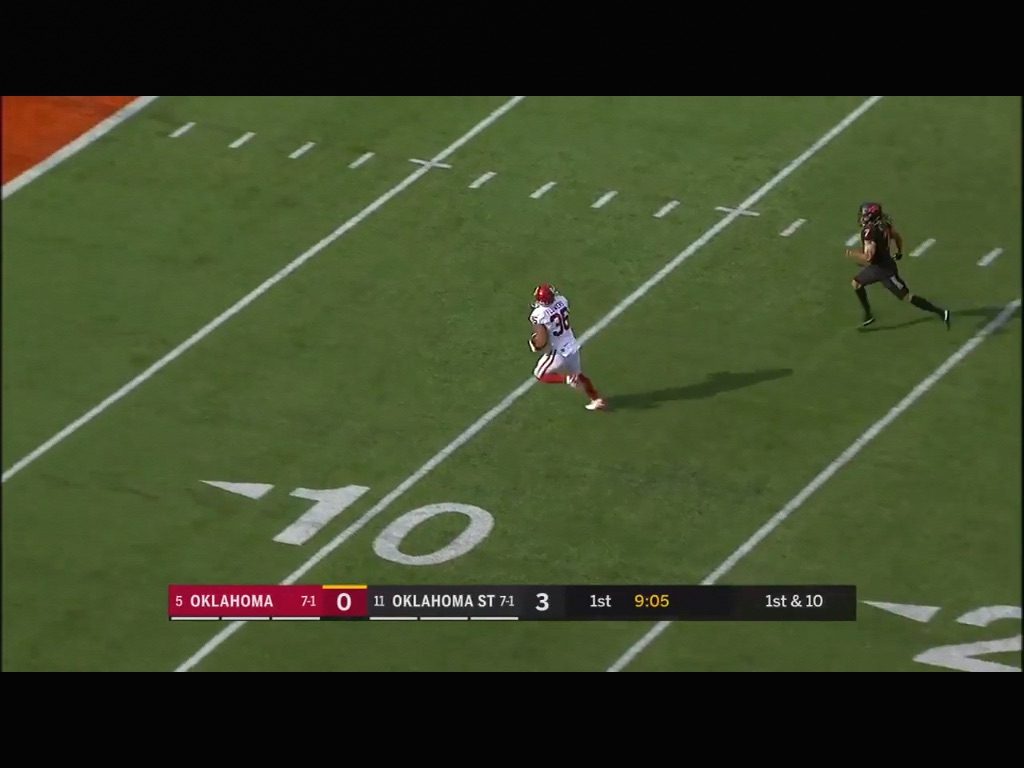 This has been arguably the fastest Oklahoma offense I can remember.  The Sooners fake the jet sweep several times a game, but once in a great while they'll give it.  The motion is also a great way to find out if the defense is in man or zone.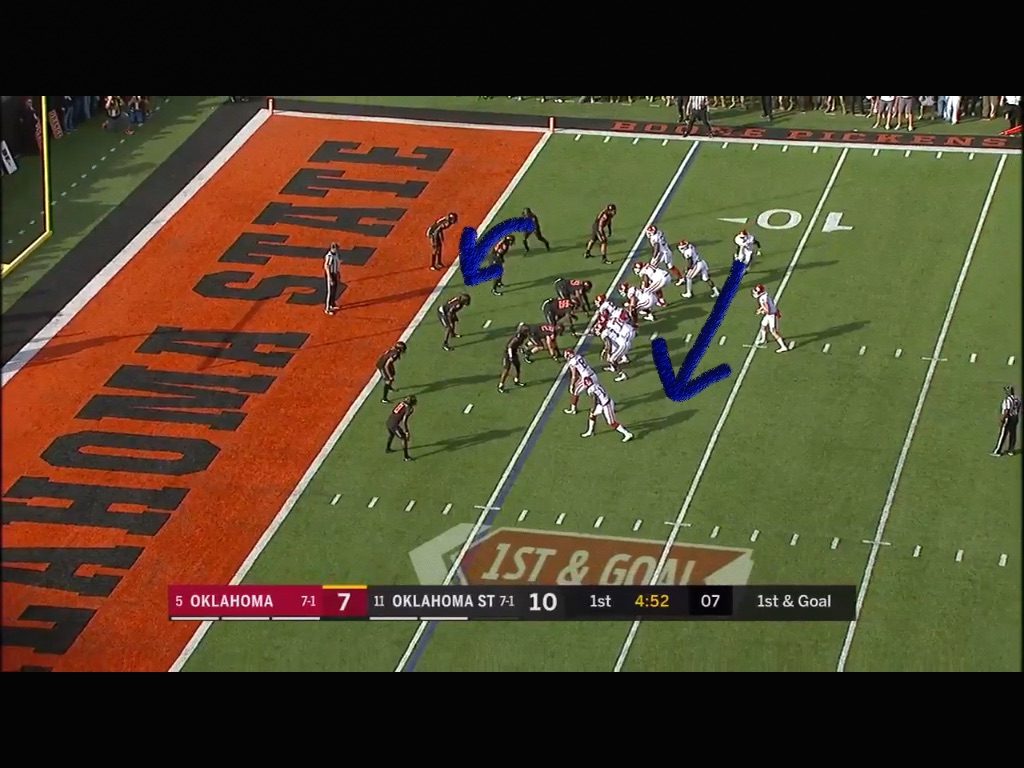 Baker tossed this forward to Badet, and this actually counted as one of the TD's Mayfield threw Saturday.  It's crazy to think that Badet outran everyone to the corner.  I'd love to see him and Marquise Brown in a footrace.  Badet scored the TD here, but we didn't see him the rest of the game.  I think he has a dinged up shoulder.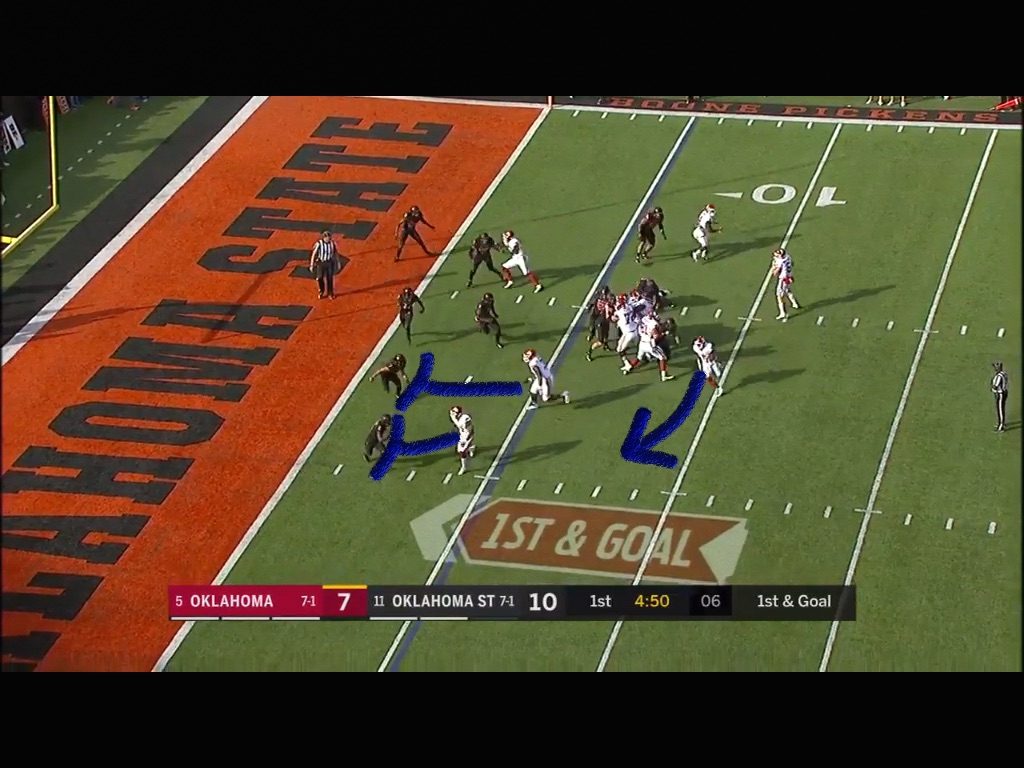 It seems every year, Baker has a rushing TD against Oklahoma State.  Two years ago down in the other endzone and again last year.  I thought he was dead to rights here, but he stiffarmed the defender and got the score.  A picture has been circulating today with him in the Heisman pose.  Hard to argue after Saturday's performance.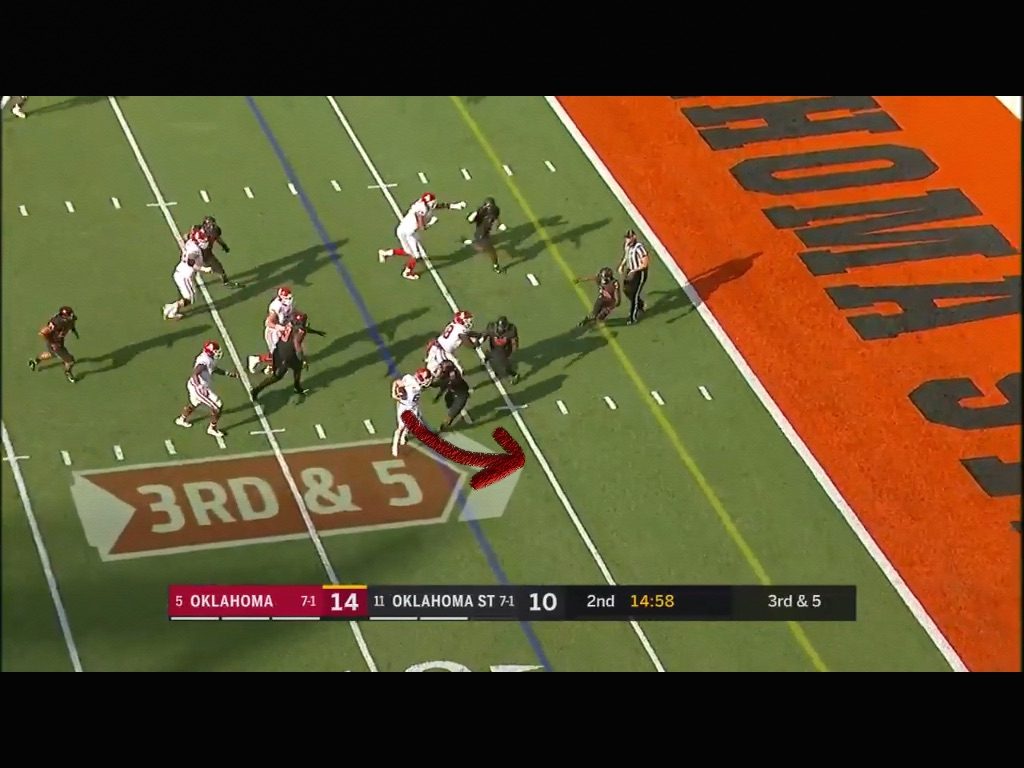 We're just going to leave this right here. pic.twitter.com/Z0vuEMVIp2

— Oklahoma Football (@OU_Football) November 6, 2017
I absolutely hate this defensive alignment with Lampkin in the B gap to the top.  I'd like to see him shaded on the tackle and everyone bumped over a gap… especially with the offset I to the right.  It would put a DT in the A gap playside and a more even look for the o-line to face.  Still, that A gap belongs to Kenneth Murray.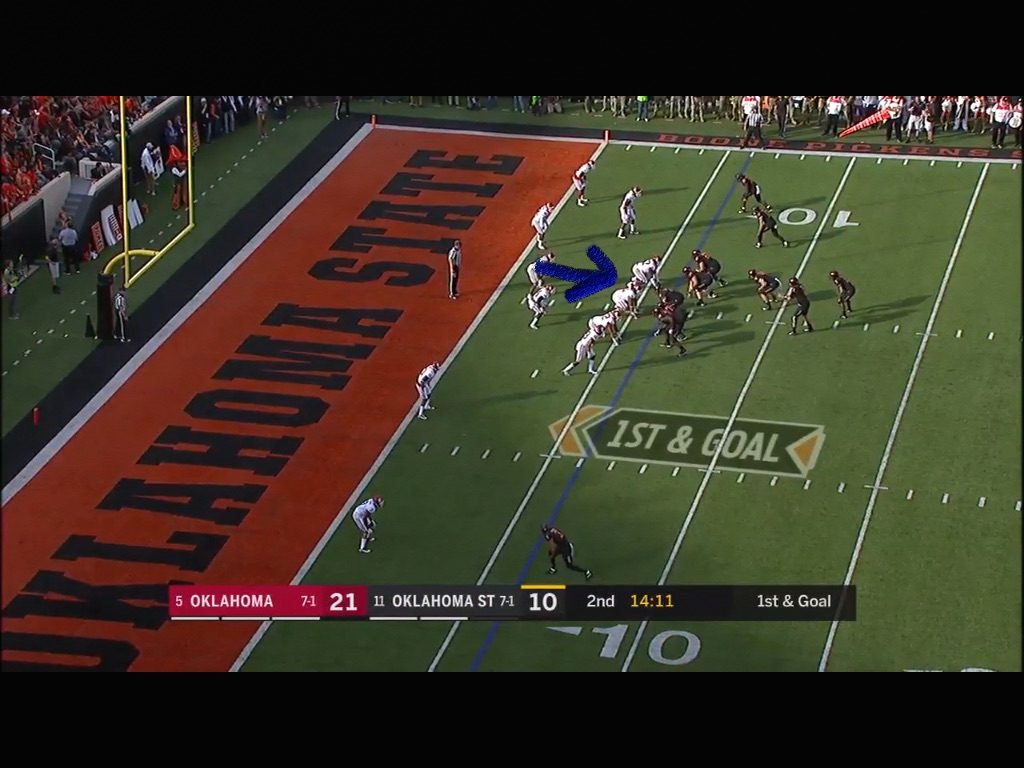 The blue dot represents where Murray should be vs where he ended up one gap over.  He overran this play, and Will Johnson has outside responsibilities and is kind of in no man's land waiting to see if this gets bounced out.  Had it been a screen outside, he has to get out there too.  Murray will get better, but this was just him overrunning the play and Hill walked in for 6.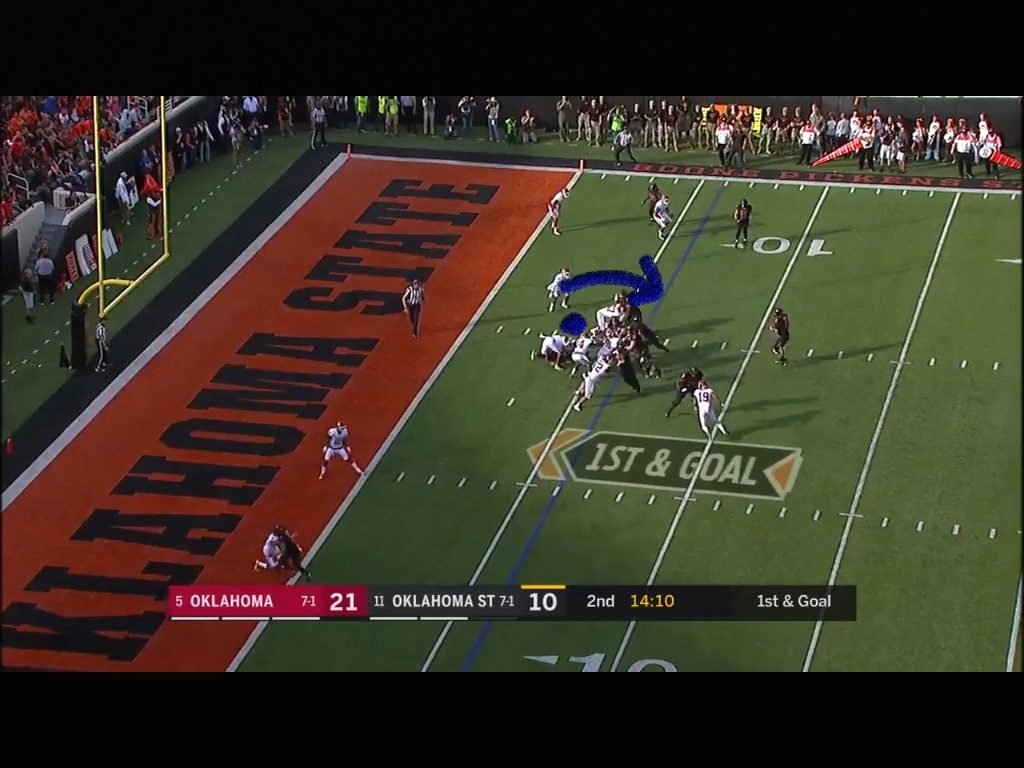 After Baker missed what would have been a long completion and possibly a TD to Andrews in the 1st quarter, he really settled in and had a stretch of completion after completion.  This was a little stop and go slant route for Marquise Brown.  Mayfield missed this throw last week, and this is eerily similar to the play that Keke Coutee housed it on the Sooners a week ago.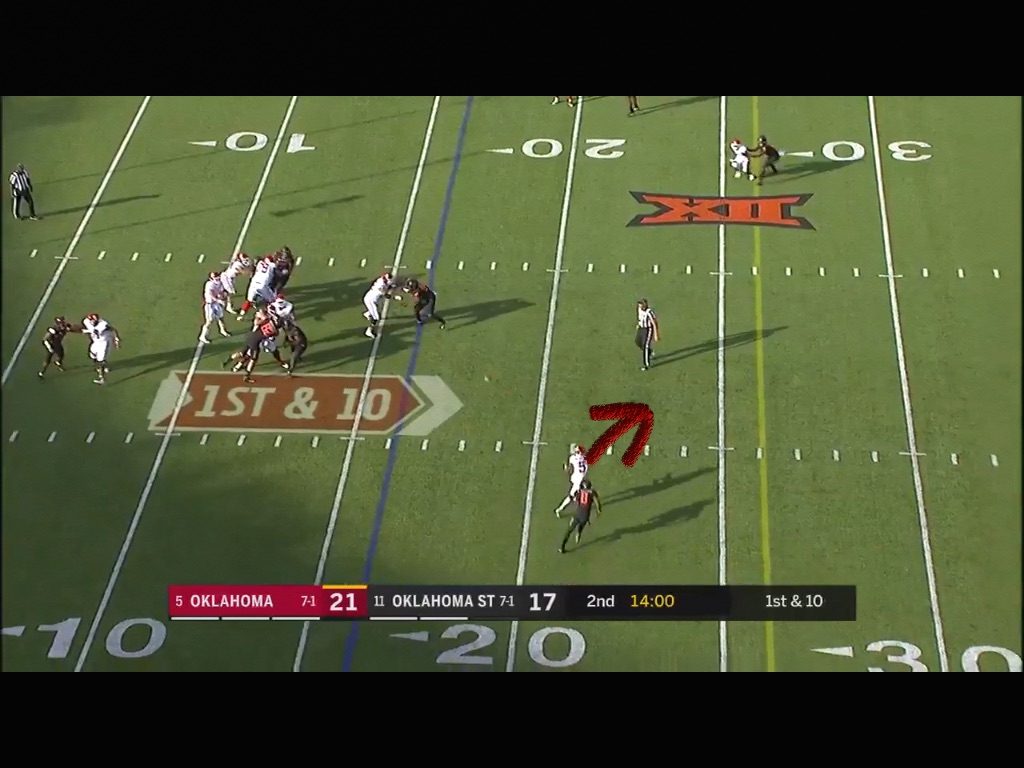 I marveled at how fast Marquise Brown looked on this play.  If I could have a superpower, it would be to be really, really fast.  "Hollywood" walked off and left everybody.  For such a small guy, he's a really long strider, and between him and Badet that's a couple of incredibly fast guys.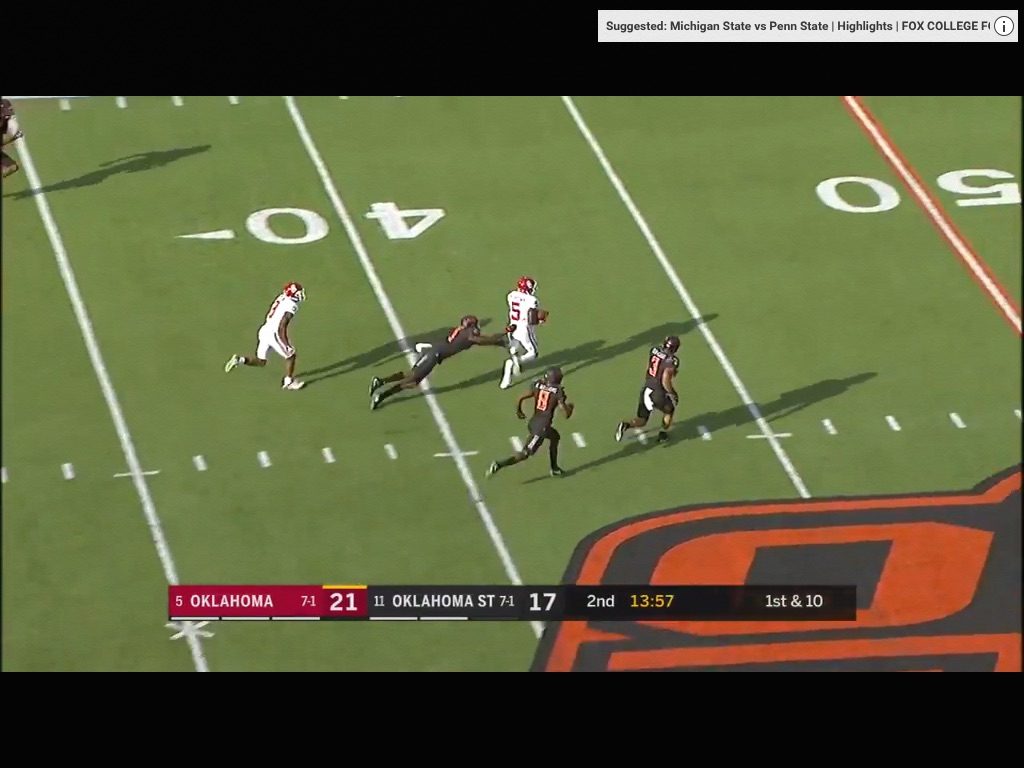 I was so frustrated here, as I believe most of you were too.  This was a 4th and goal play to Ateman, and I tell you what, Marcell Ate Thomas's lunch on this play.  The guys would play great goal line defense all day and then give up a 4th or 3rd down play like this.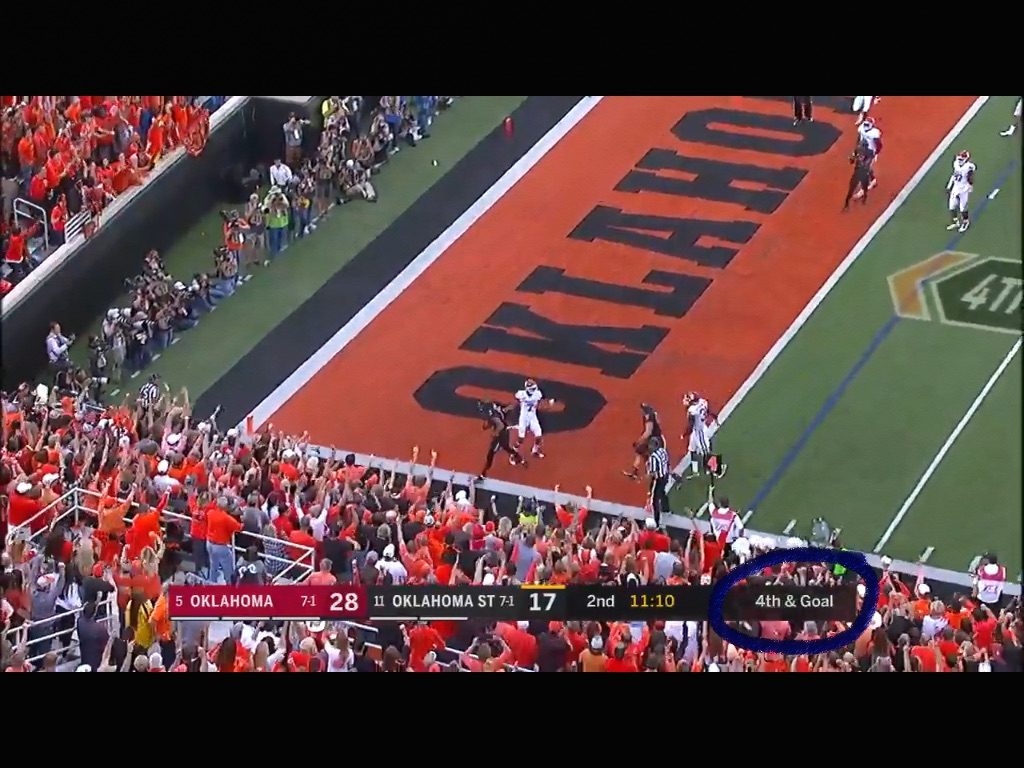 This is actually a 3-4 look by the defense.  This formation offensively has been one of the most successful we've seen Oklahoma have.  Whenever the Sooners go with two backs, they're hard to stop.  Having that extra blocker to either lead or cut off the backside is a big deal.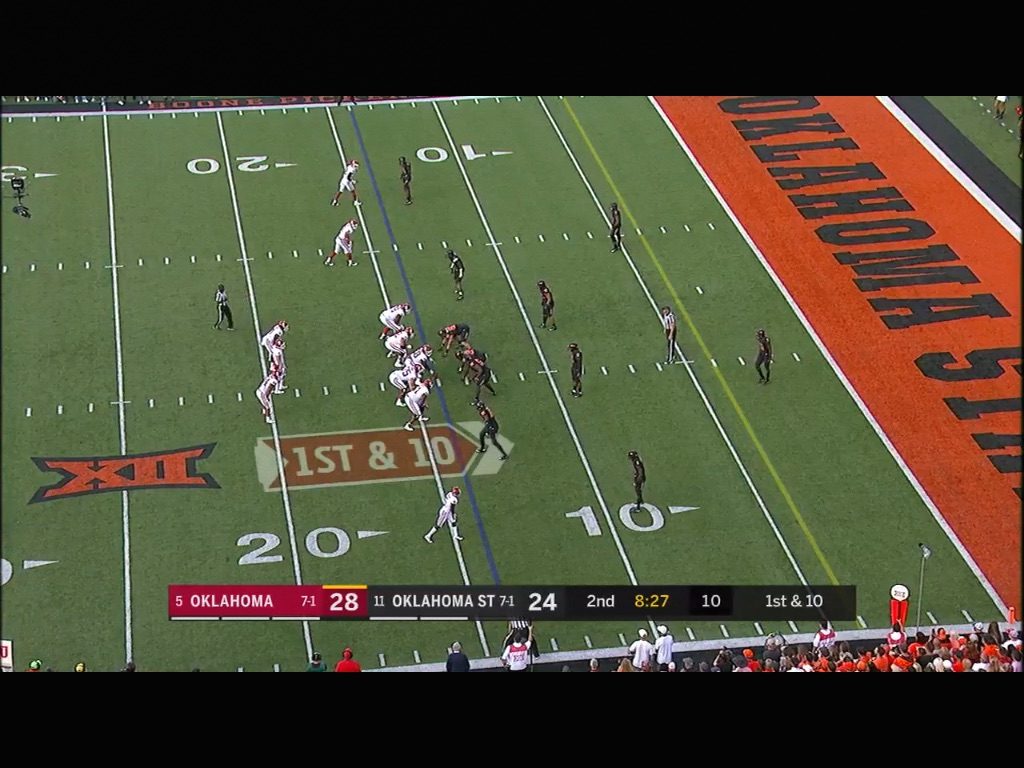 This was a tremendous lead block by Tre Sermon (blue arrow).  Anderson cut up behind Powers's block and inside Sermon.  This was a heck of a run by Rodney, and if he has a strength it's sticking with the play design.  He has faith in it and more often than not it pays off for him.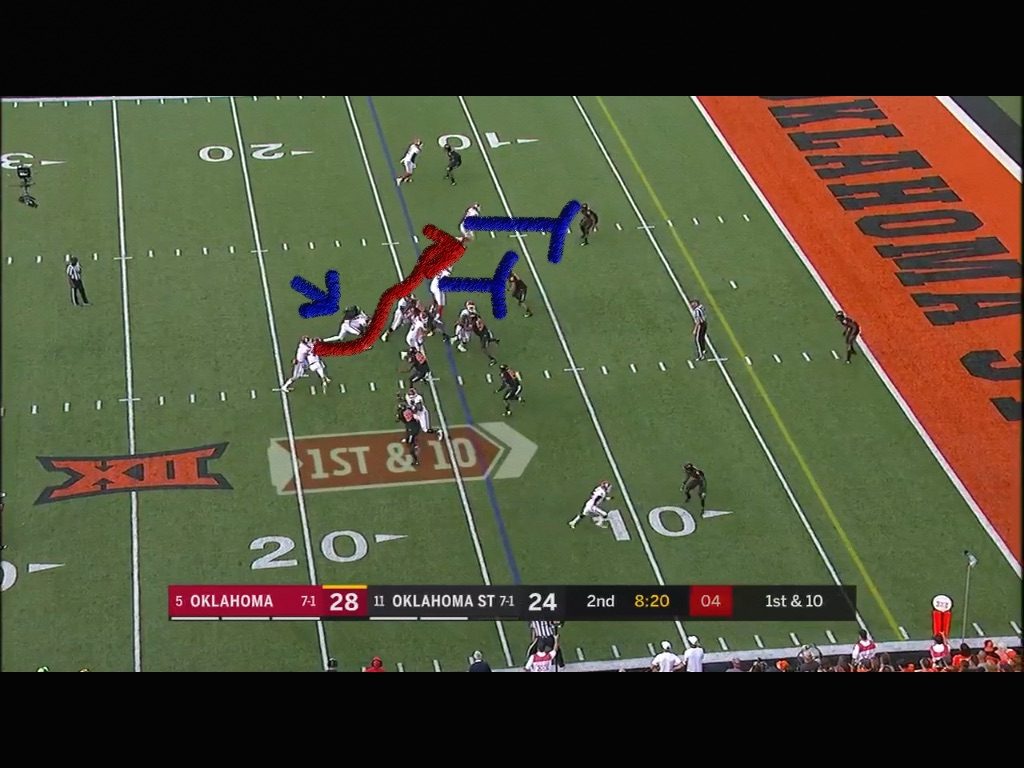 The guards, both Powers & Samia, struggled more Saturday than I recall in recent memory.  Anderson being the bull that he is just ran over the DT that Powers whiffed on.  Fortunately, once he got past him, Rodney was able to get up behind Orlando Brown 's block and get north and south.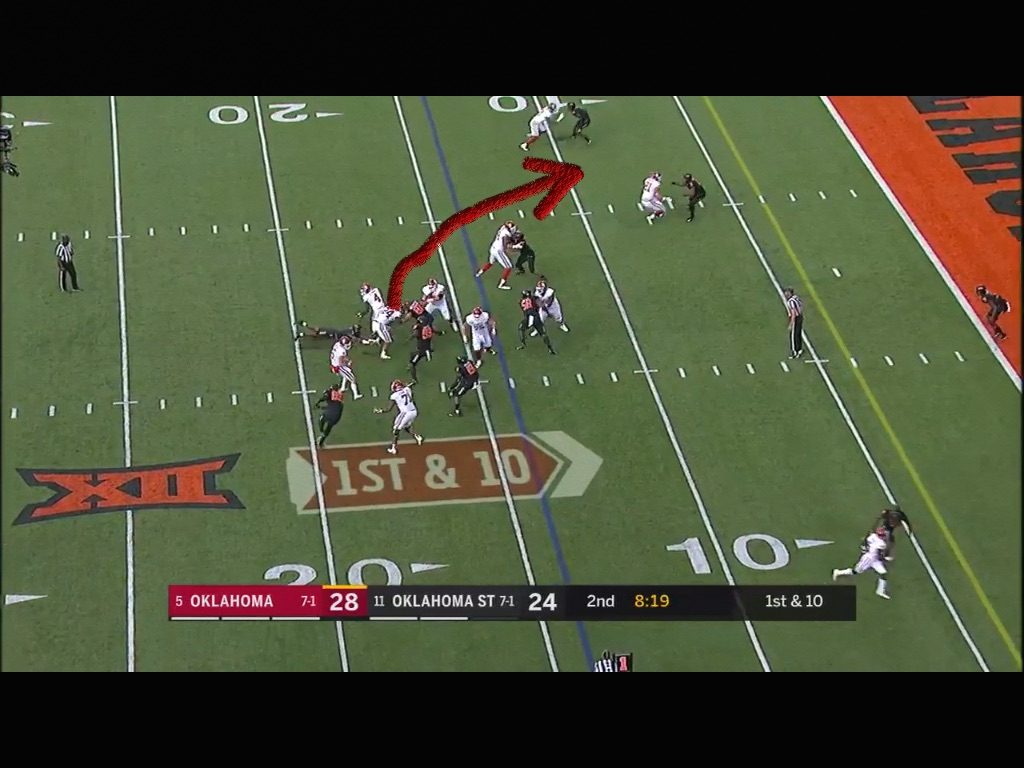 Once he puts his foot in the ground, he's pretty darn fast too.  There's no way in heck that 5 is going to keep him out of the endzone.  He's big, fast, and knows how to score the football.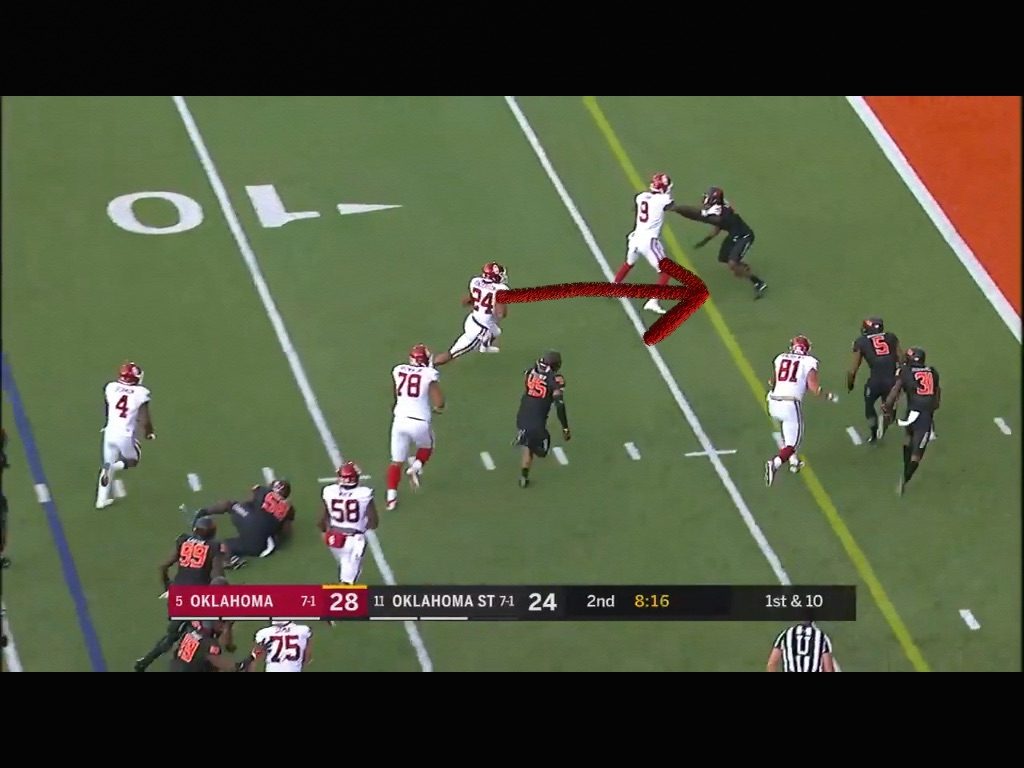 When the Sooners got up by 9, I was thinking that one more stop was all it would take to let the offense could go up by another TD and put it out of reach.  It would take pressure off of the run game defense and allow the defense to keep more DB's back.  Every time OSU went down a score, they just kept fighting back.  Man the corners had a rough day.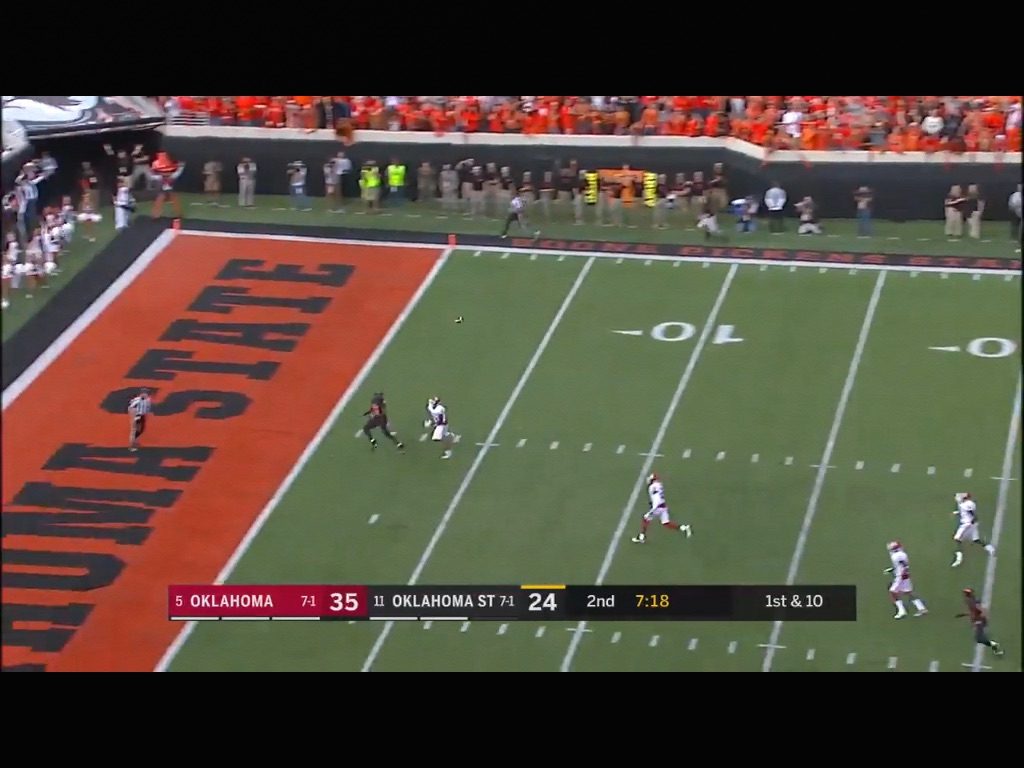 After the Sooners screwed up down by the goalline and had to kick a field goal, they let the Cowboys get right back down the field.  Just like the jet sweep to Badet earlier, OSU put Dillon Stoner in motion and Will Johnson goes with em.  It's 6 blockers vs 6 defenders, so somebody's gonna have to get unblocked.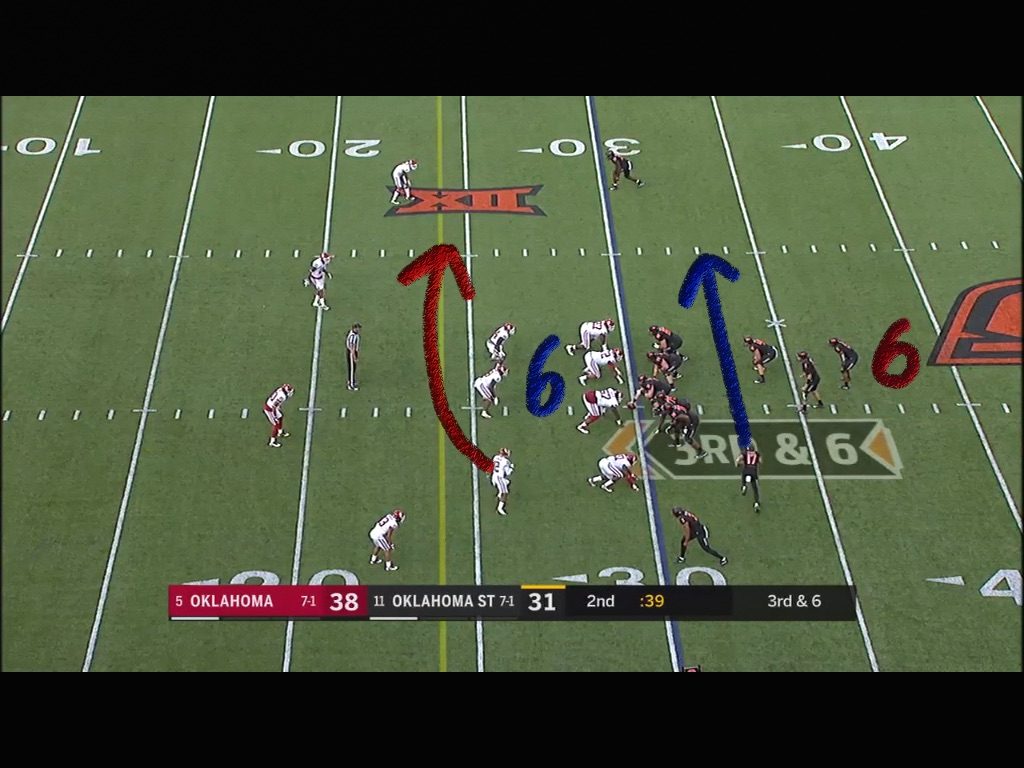 So there's a lot going on here.  First, Stoner's motion takes Johnson with him.  No doubt Obo is in that wide 9 technique to get upfield and get a sack to send the Sooners into halftime with a lead.  It's 3rd and 6, and nobody was thinking run.  By alignment, this is an easy combo on Lampkin to get up on Murray for the guard.  Parker has deep responsibilities to help with Norwood, and no doubt he's thinking about the true freshman at the bottom.  He also has run responsibilities in the alley here as well.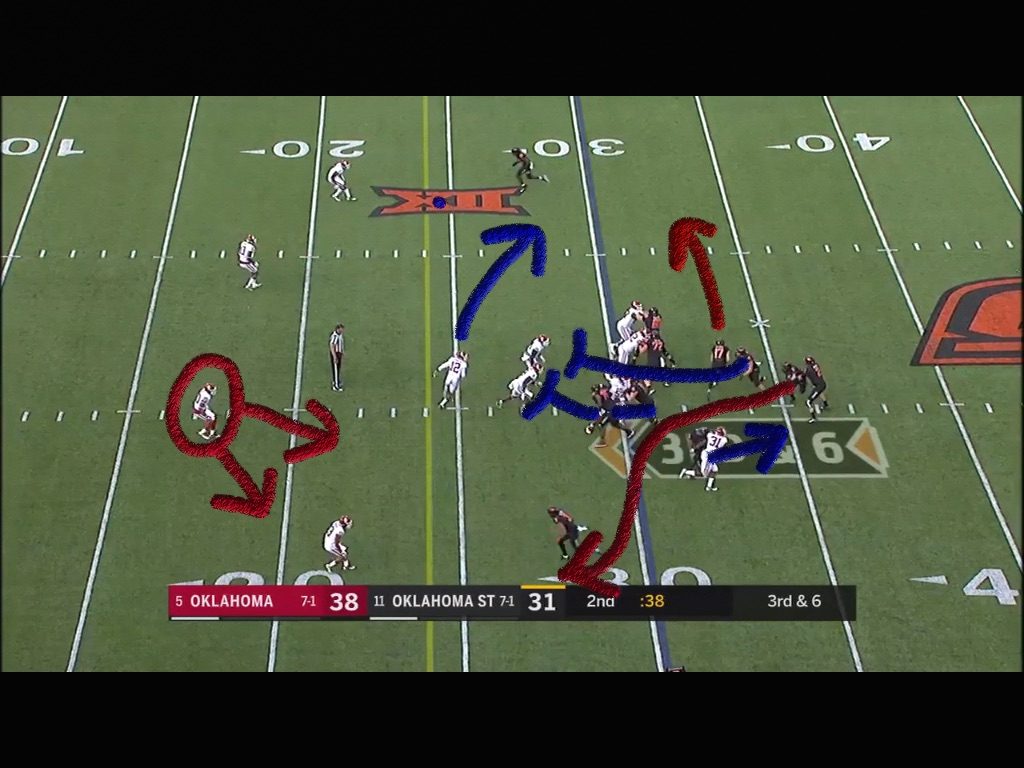 By the time Parker reads run, it's too late.  He can't get around Norwood being blocked to shut this down.  It was a perfect call at the perfect time by the Cowboys, and you'd hope that Murray could have come over the top of the combo or Norwood could have read run Sooner to get up there to stop this.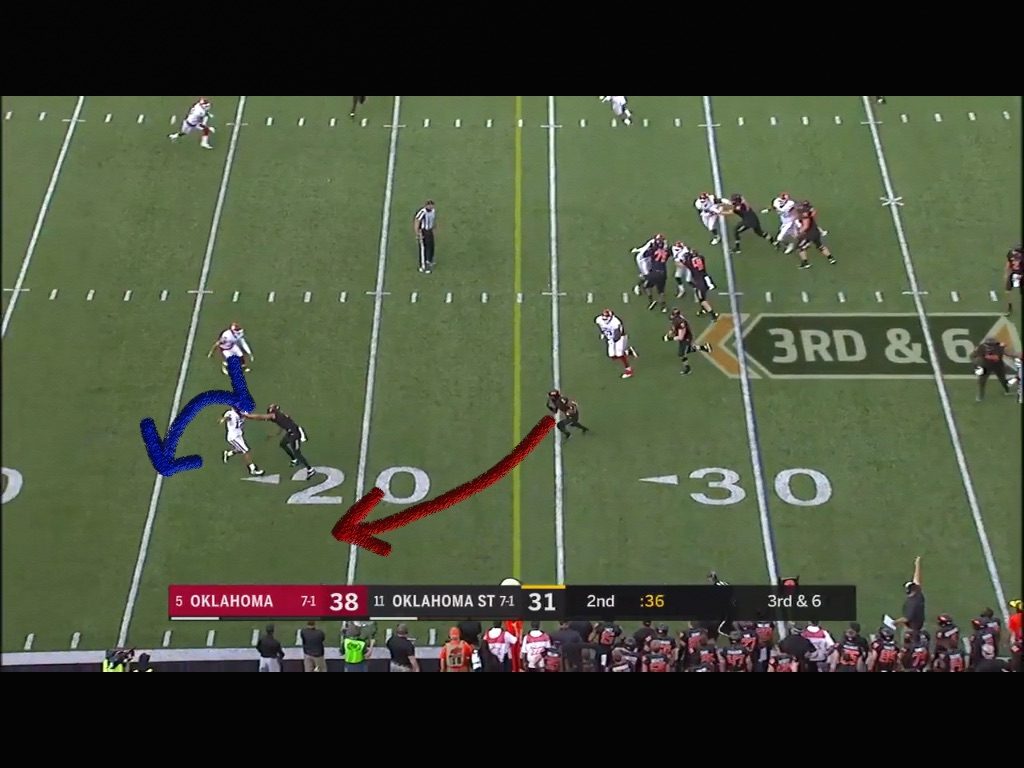 I knew the Cowboys were getting the ball coming out after halftime.  It made me nervous for sure.  The Sooners had shown no signs of slowing OSU down in the 1st half.  After a 3 and out, and then a stop by OSU, the Sooners had em backed up.  Kenneth Mann is somebody that has really come on lately and is a really good interior pass rusher.  After he and Obo really got upfield, he spun back up to hit Rudolph's arm and cause a fumble.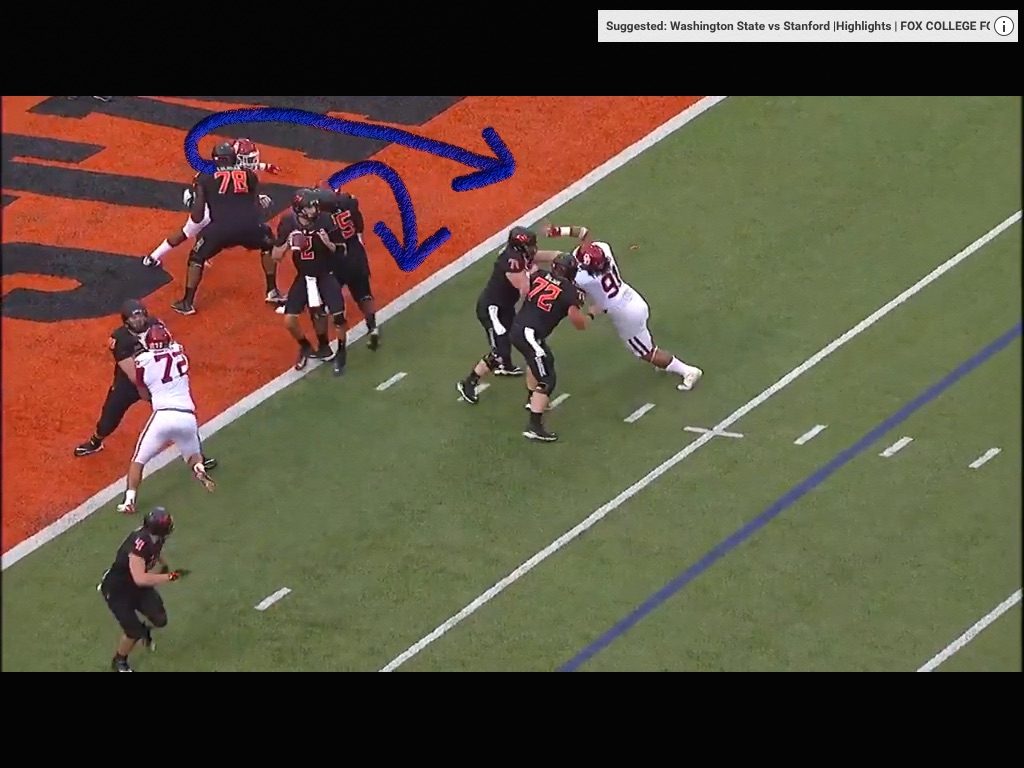 Mann absolutely body slammed Mason Rudolph.  No doubt a day of frustration was channeled into this hit and tackle by Mann.  Huge play and one that was sorely needed.
Kenneth Mann with the ? move and then finishes with authority. ? #Sooners pic.twitter.com/76KZHwhrgg

— Sooner Gridiron (@soonergridiron) November 6, 2017
Right about the time Rudolph's backside is getting introduced to the turf, the ball fluttered into Obo's waiting arms.  I've gotta get more PG with what I say watching these games.  As I screamed Holy $hat, so did Man-Cub.  Mama laid a hit on me to equal the one Mann put on Rudolph.  Grandpa always used to say… too soon old…too late smart…