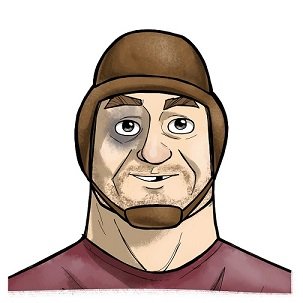 Trench Warfare…Oklahoma Vs. Ohio State…Defensive Edition
Posted on: September 11, 2017
Most everyone out there, if they're honest will say that one of the biggest concerns they had going into Saturday night's matchup was whether the defense had progressed enough to slow Ohio State down.  In the 45-24 shellacking that happened in Norman last year it seemed that the Buckeyes did just about whatever they wanted.  While they hit a few big plays that can be chalked up to just making a great play, there were quite a few things they did last year that the Sooners just gave them.  Personally I was ticked because after watching that game there were a ton of mistakes that made the Buckeyes look much better than they actually were.  I knew the Sooners had the personnel to hold up, but I wanted to see if they could line up correctly all night long and simply execute.
Against UTEP a week ago, it was a very vanilla attack.  Here early in the game, we see the front slant right & the backers go left to fill some gaps.  The sooners came out in an odd (3 man front) much to my surprise and stayed in it most of the night.  Some unsung heroes in this game defensively Kenneth Murray, Curtis Bolton & DJ Ward.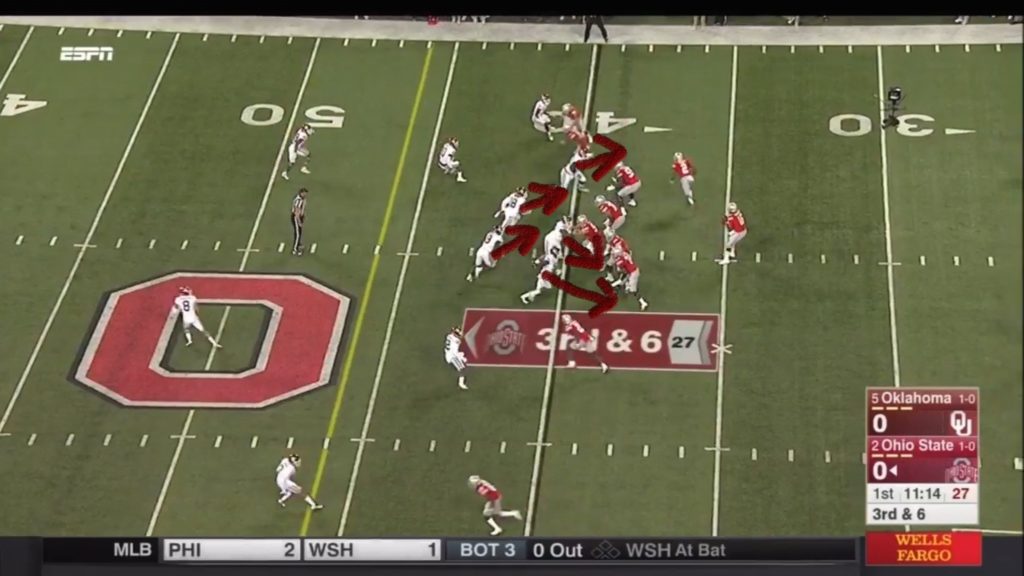 The Sooners did an amazing job playing TEAM defense.  Over the years, the Sooners developed the reputation of not being able to hold up against a running qb, or elite competition.  Neither was the case Saturday.  Here you see DJ Ward at the bottom keeping outside contain, and JT Barrett drifting into pressure by Emmanuel Beal who also played a whale of a game.  If Barrett Sets up on the Blue X he has a better chance, but he rolled right into the hit by Beal.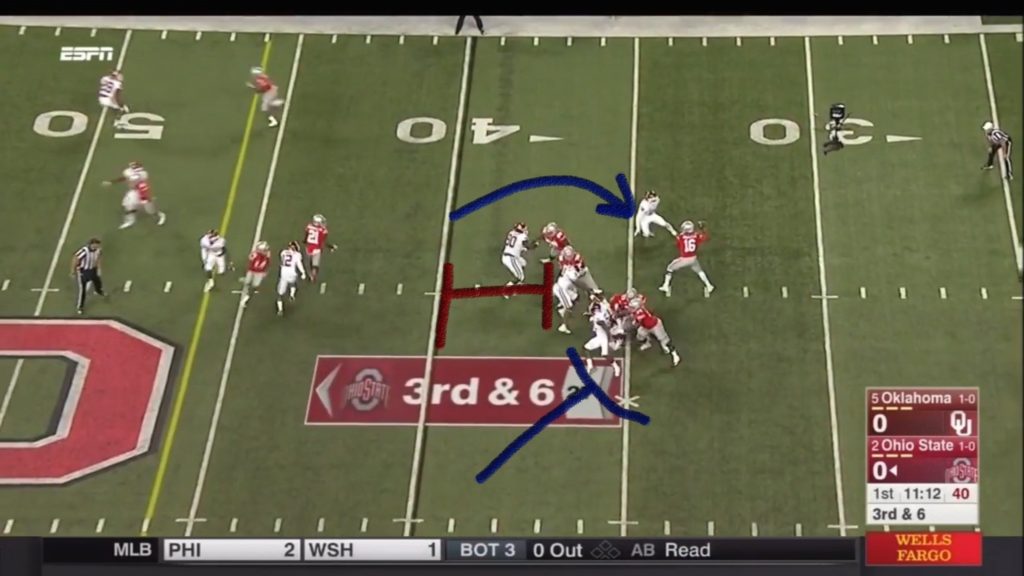 And immediately following that pressure, the Will Johnson makes a great tackle to force an Ohio State punt.  Barrett had a guy standing on the 50, but couldn't get to em due to the pressure.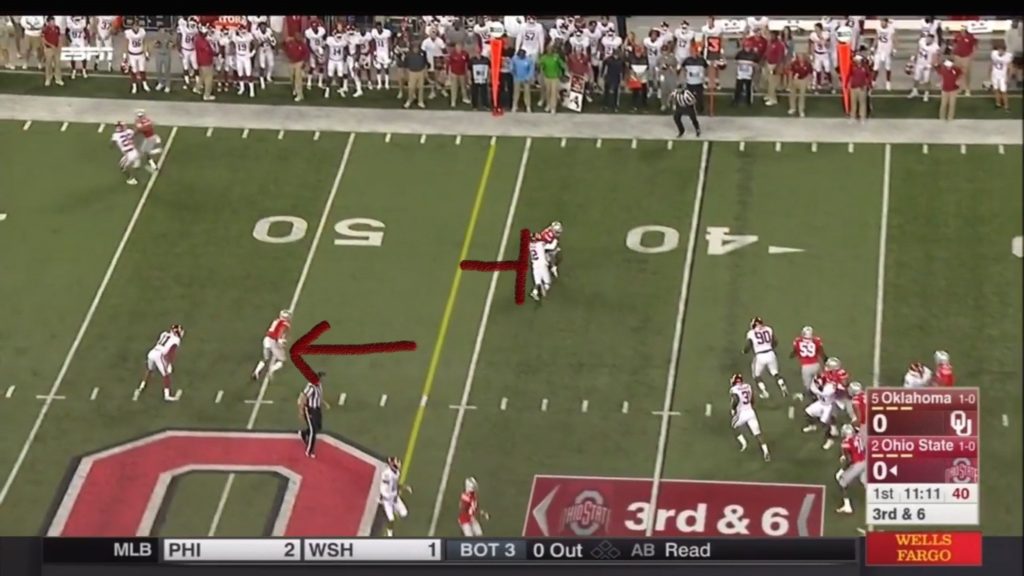 Obo has really come into his own over the last few games.  He's doing things that you "shouldn't be able to do as a defender," and here again we see Beal & Ward maintaining outside contain while Obo gets the sack in a big spot.  Beal wrapped Barrett up, and the Sooners looked more disciplined defensively than I've seen them in a lot of years.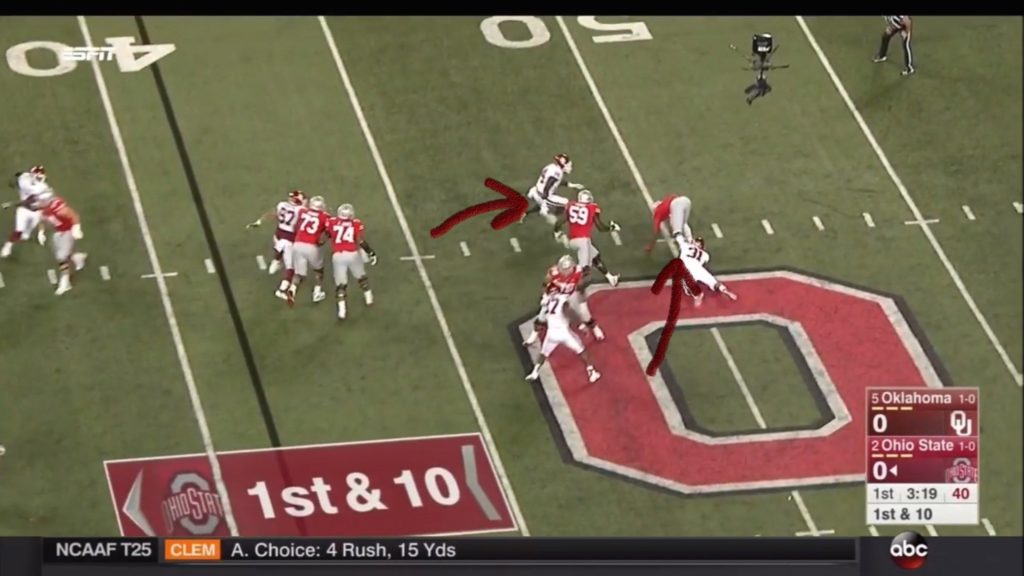 A lot of defense is leverage.  "Spilling" runners or forcing runners to go where your teammates are, are benchmarks of a good defensive team.  Here, Motley does a great job fighting outside and forcing Dobbins back in.  You can see Obo coming down the 50, and Stephen Parker's toe about 4 O'clock low on the Ohio State O, coming outside as well.  Will Johnson did a good job faking inside off of the blue arrow, and getting back outside to maintain that outside contain.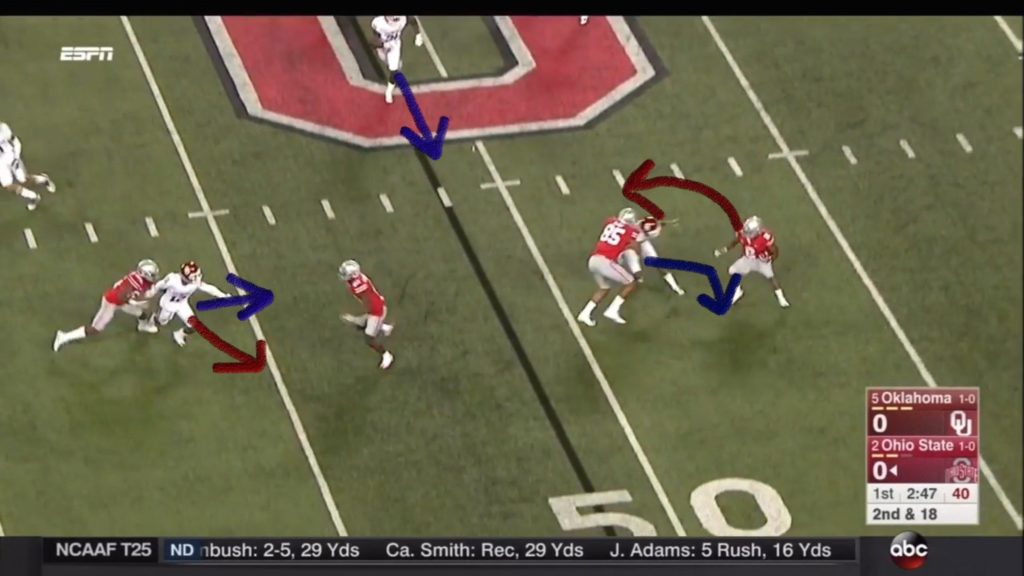 This gave Obo the freedom to fly outside, along with Parker.  The Sooners have a very elusive guy boxed up for virtually no gain.  There wasn't a lot of things that the Buckeyes did on Saturday that worked consistently.  They got a play here or there, and then the Sooners would adjust.  It was a really good game for the good guys defensively.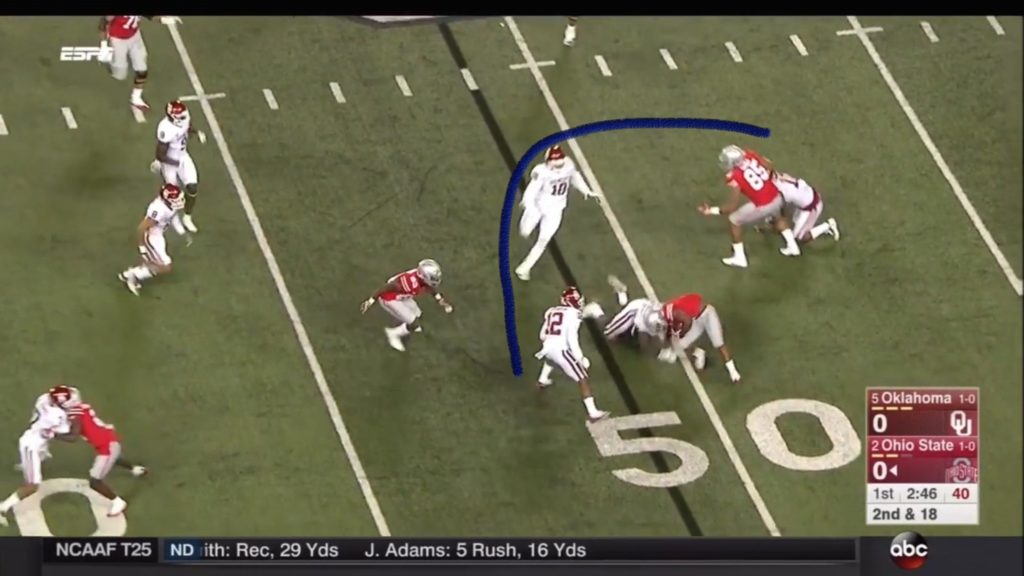 Squeezing the pocket is something you have to do against an elusive running QB.  Curtis Bolton does a good job keeping the back door close while Obo is bringing the heat.  The pocket's getting squeezed up the middle, and off of a 4 man rush, the Sooners were able to generate pressure without blitzing.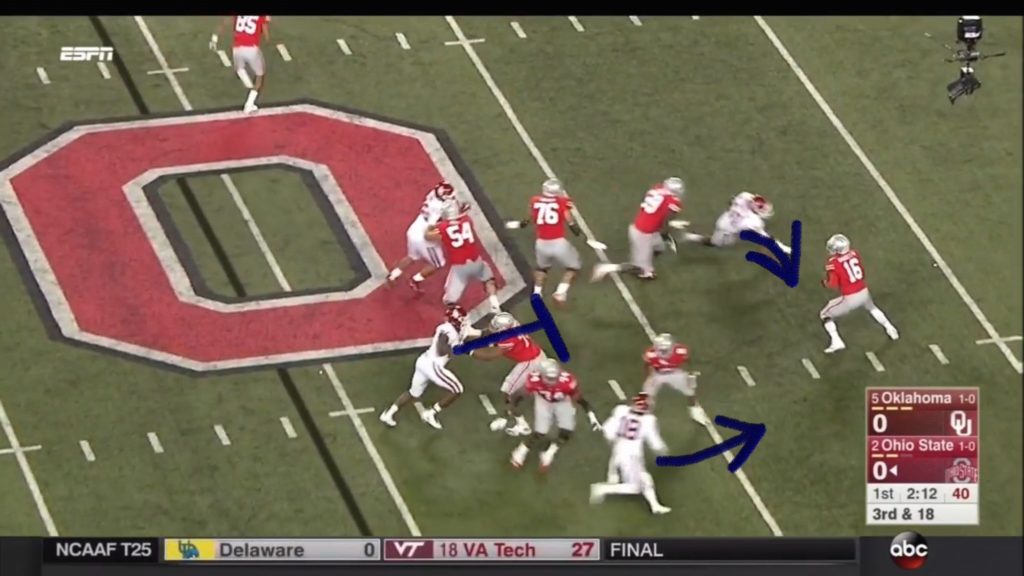 This is just an other wordly play by Obo.  JT Barrett is thinking score here, and against most defenders he does.  As he tucks the ball and heads for the endzone pylon, Obo has his outside shoulder free.  At the bottom right of the screen we see the defender running with the tight end.  This is where Barrett wanted to go with the ball.  Right on Barrett's heels is backside pressure which causes him to tuck it.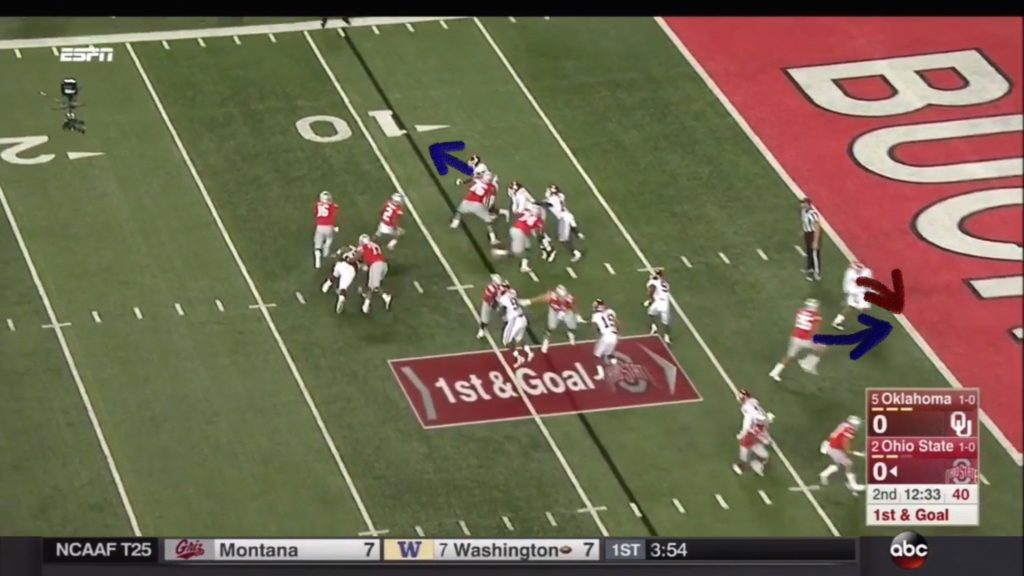 …and what Barrett thought was going to be a score for them, turned into a tackle for loss for the Sooners.  The pursuit is flying outside, and the effort and fundamental technique of "don't let em outside of you" was solid all night long.  The Sooners never allowed Barrett to be comfortable back there all night.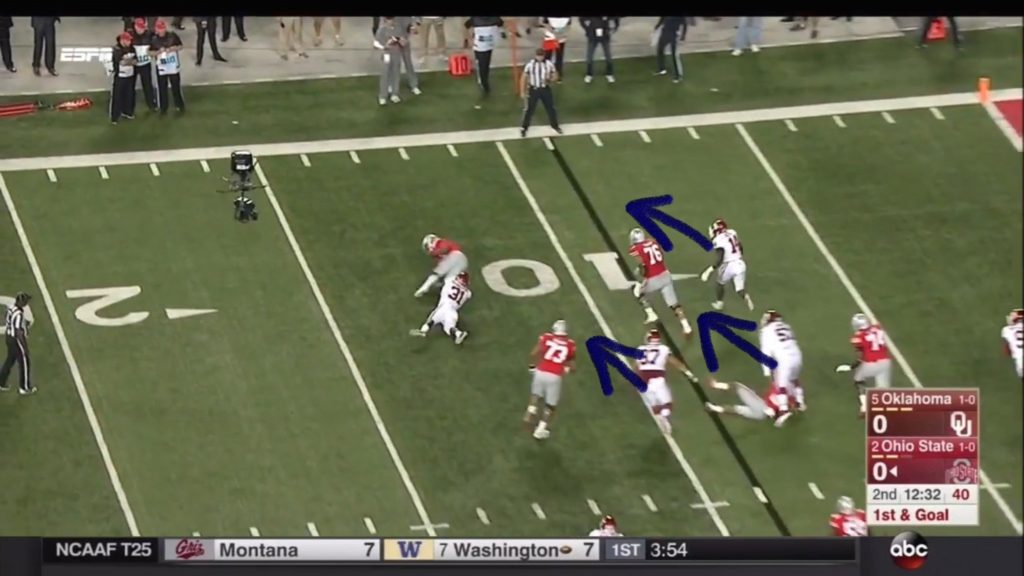 As I type this, it's turning into the Obo show and rightfully so.  The guy was all over the field.  The decision to stay in a 3 man front while letting Obo and Kelly run free was a great decision.  The angle that Obo takes here to shut down another screen is impeccable.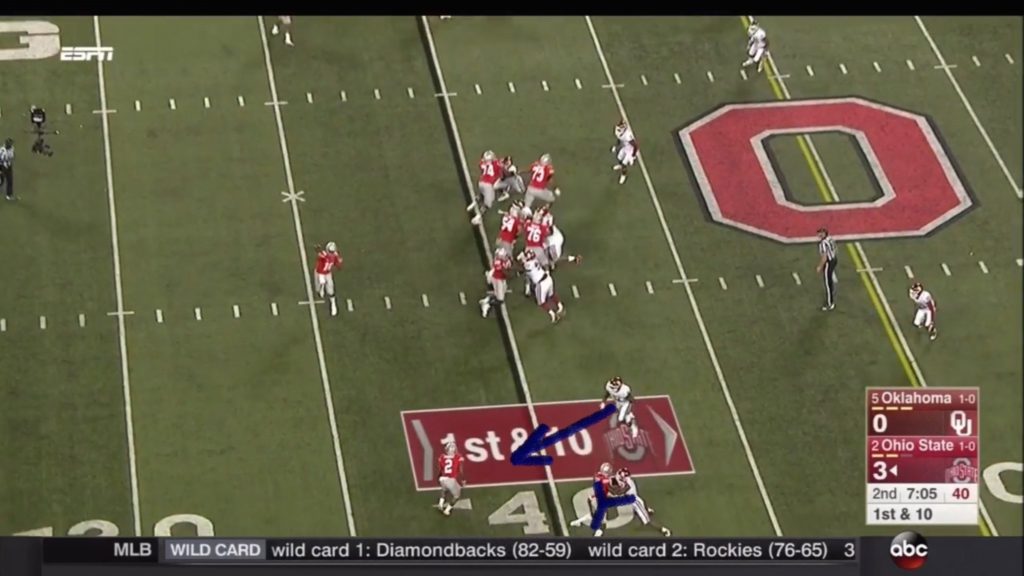 Parnell Motley also had a whale of a game, and blew this play up.  Simply put, Oklahoma was just more physical Saturday night.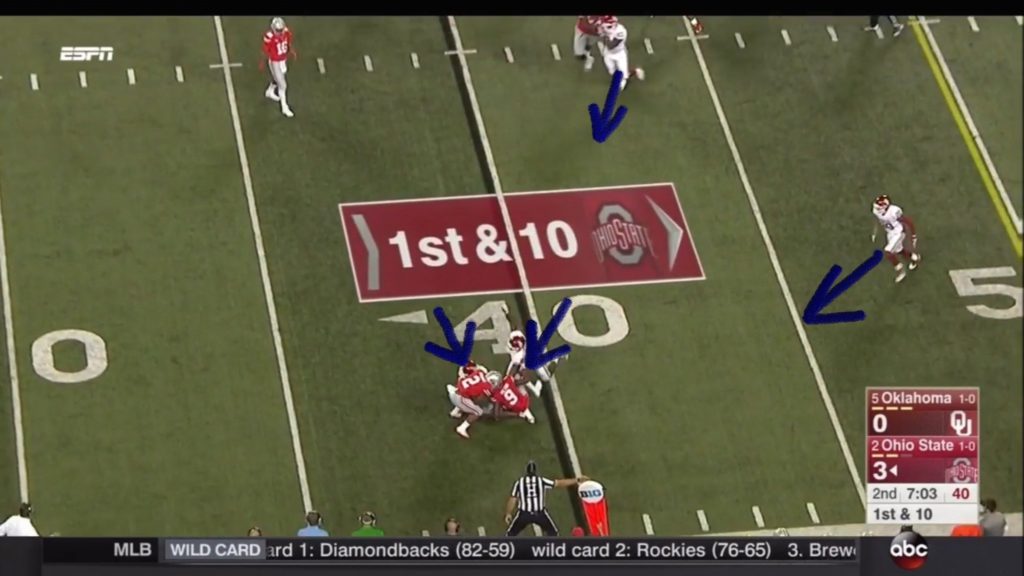 Here we see Obo, circled getting ready to take on one of those "NFL tackles" he no doubt heard about all week long leading up to this one.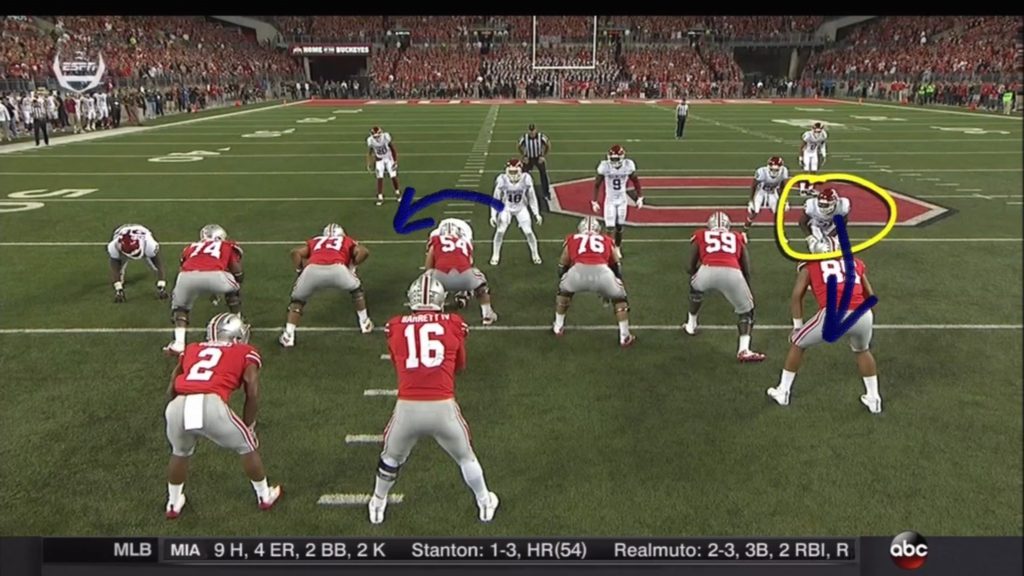 Look at how much deeper he is than anyone else rushing.  He's going to "run the hoop" on that tackle.  D-Line coaches will have their guys run around a big hoop that's laid out on the ground to teach them to dip that inside shoulder and rush with a tighter arc.  The great ones, like Striker have a natural shoulder lean that you really can't teach.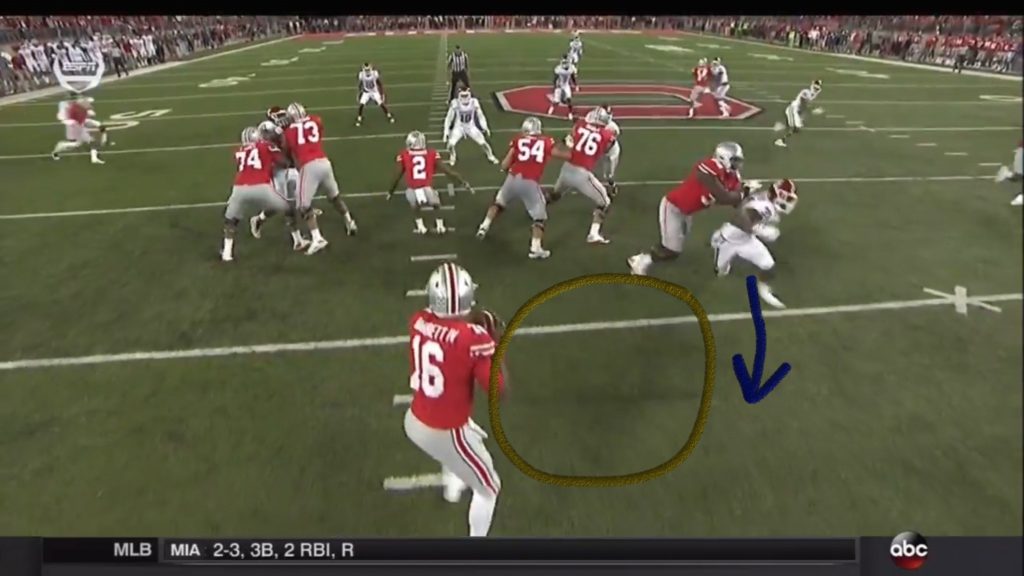 Here you can see Obo comin' round the mountain, and the two arrows represent the "double spy" look that Mike gave em on this play.  Even if Barrett felt the pressure and wanted to break out, the contain is there up top, with Barnes & Murray spying him.  This is just really solid team defense.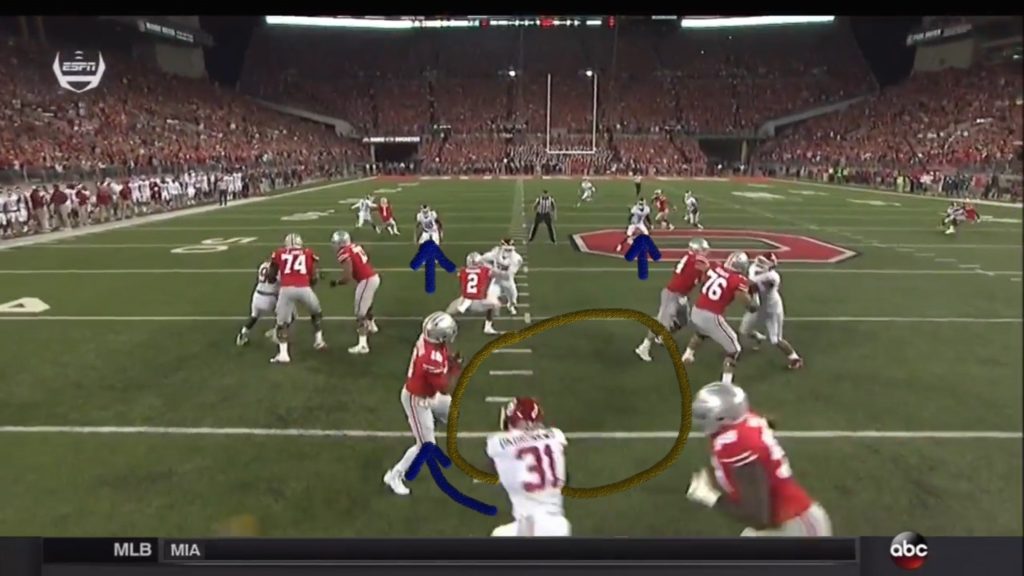 A sack is the end result, and as the game wore on, the Buckeye faithful got quieter and quieter.  Simply put, the Sooners just beat them.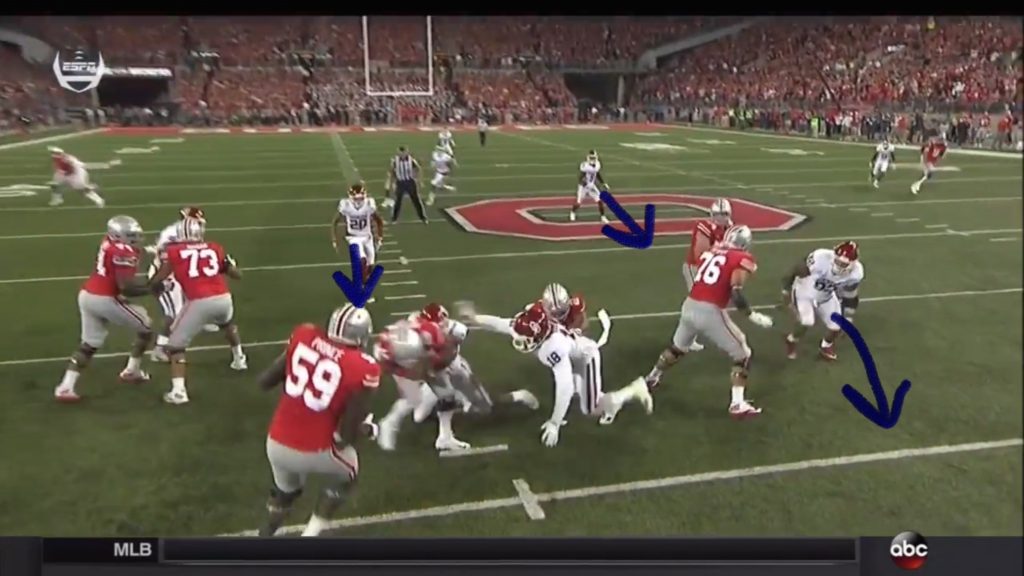 Once the Sooners tied it up, they really did a nice job shutting down the  Ohio state drive at the 5.  Here we see a really disciplined rush on Barrett, and Overton almost gets to em.  If you look right on the four, you see big Lampkin ready to drop the hammer on JT.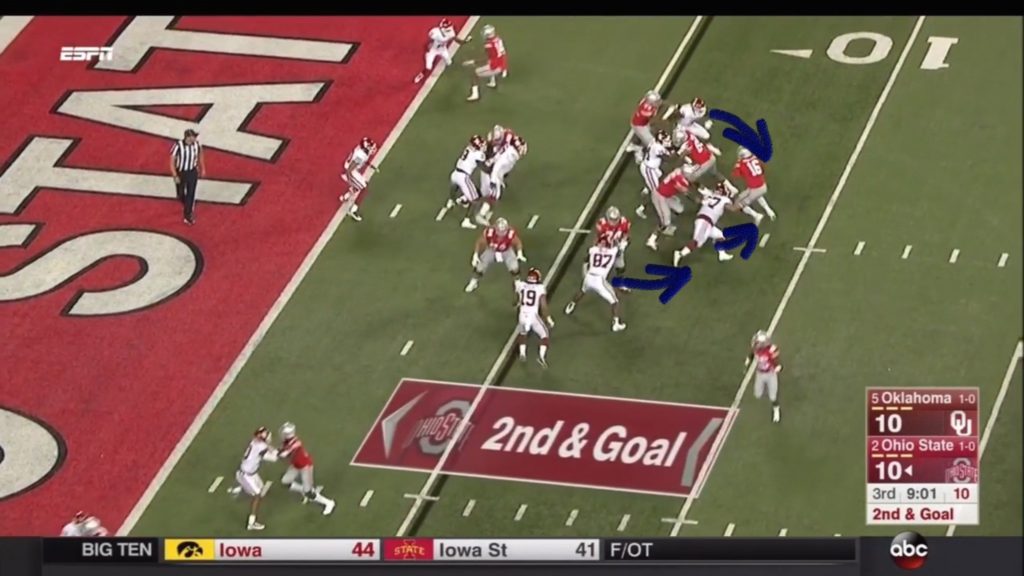 Hammer….Dropped.  Sometimes you're the hammer and sometimes you're the nail.  Lampkin let Barrett know which one he was.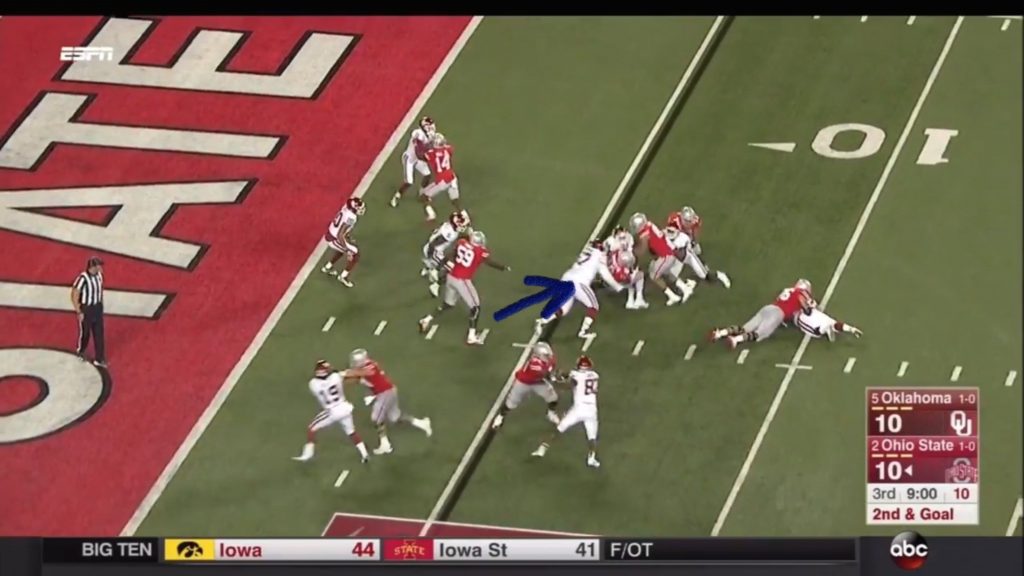 After a Sooner punt, DJ Ward, one of my unsung guys, is executing a technique called a slow play.  You have to be a pretty special athlete to be able to be effective at this.  He's reading Barrett and whether he gives the ball or not. If he gives the ball he's coming down to attack the back.  If Barrett pulls it, he's going with him.  Romar did a great job inside cutting off the lane and creating a stalemate off of the double team.  Kenneth Murray is on top of Dobbins before he can do much either.  Barrett gave Dobbins, the RB the ball here, and DJ came down on it to stop the play along with Murray for no gain.  Note Kelly is out there ready to fly up on Barrett as well.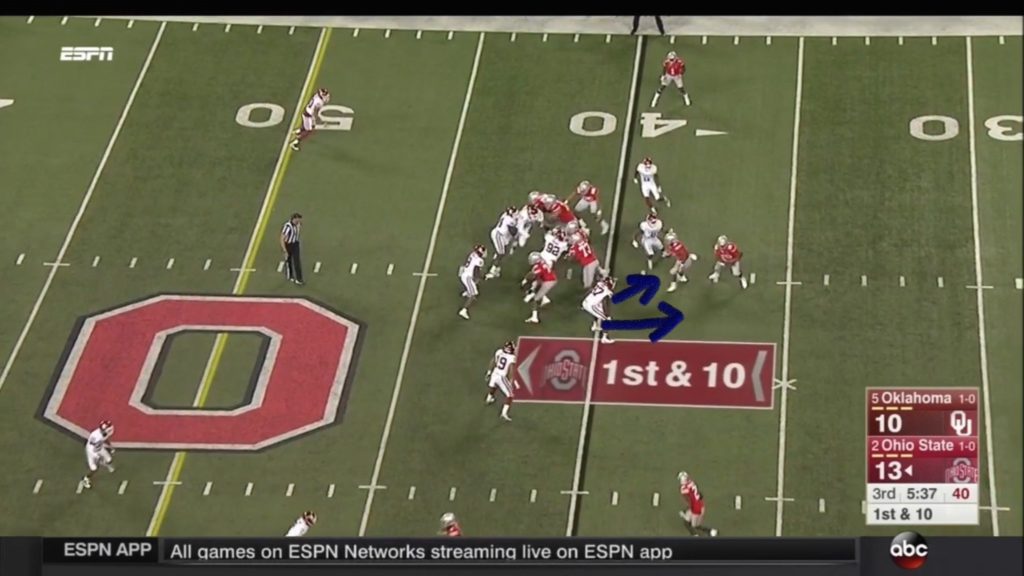 This is the very next play, and Barrett pulled it this time because he thought DJ was going to crash on Dobbins due to the slow play.  Ward really looked good Saturday night and showed crazy athleticism here getting back outside on JT, while Kelly keeps contain and allows Ward to jump on Barrett.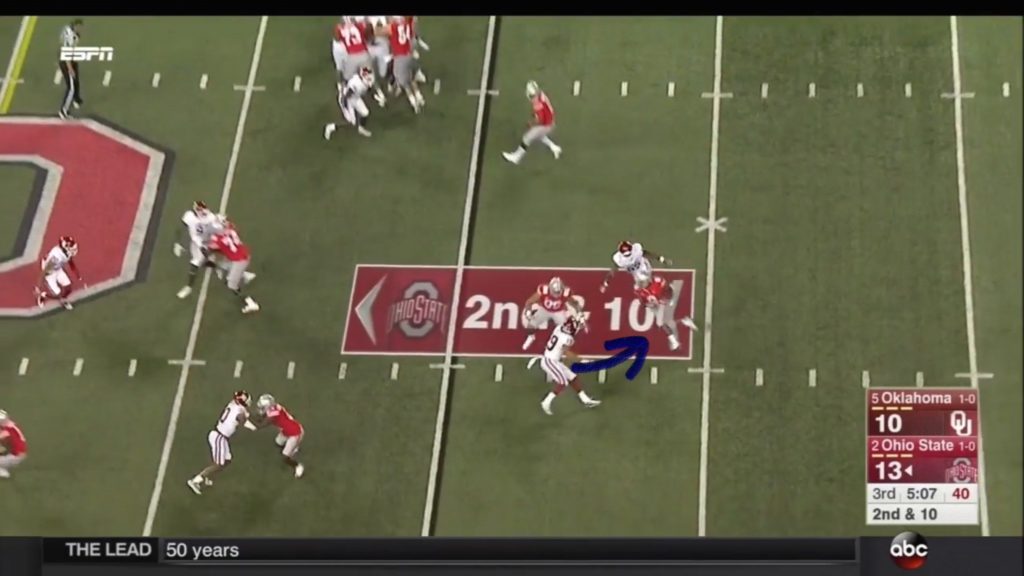 On the big 4th down stop, Kenneth Murray and the Sooners executed what appeared to be a delayed blitz.  Note again, late in the game the Sooners are still playing with good outside leverage, and Ward is fighting upfield to keep Barrett inside so Murray can get em.   If he gets collapsed down inside and doesn't have his outside (left) arm free, then Barrett can run away from Murray and run for the 1st down.  Again just great team Defense.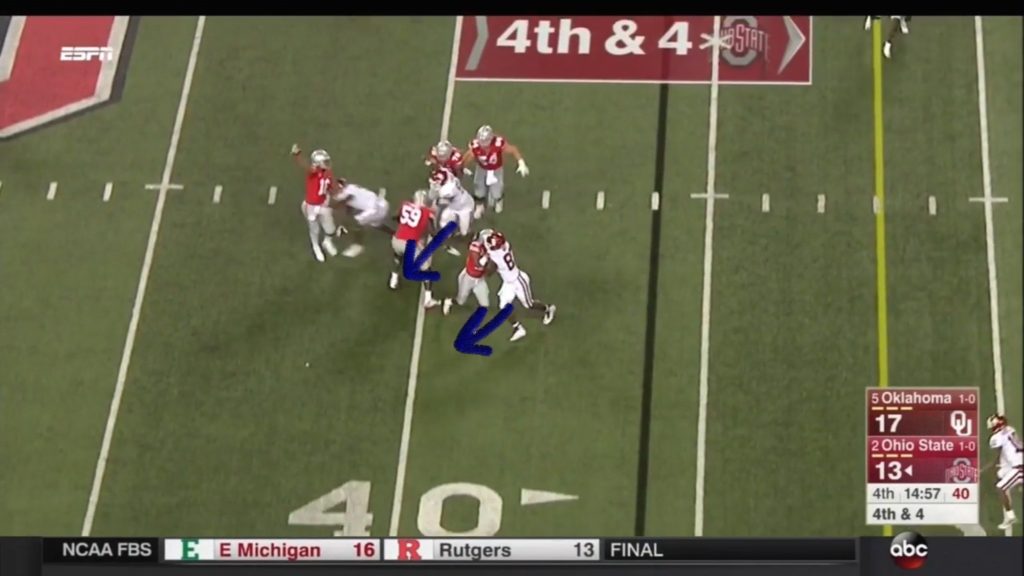 Here's another shot of the same play.  It's probably more of Murray being a spy than it is a delay blitz.  As he recognized the roll out, the gap open and he came flying through it.  This is big time trust with his teammate D.J. Ward, because if he doesn't trust that Ward will keep outside contain, he may hesitate here instead of attacking and blowing up the play.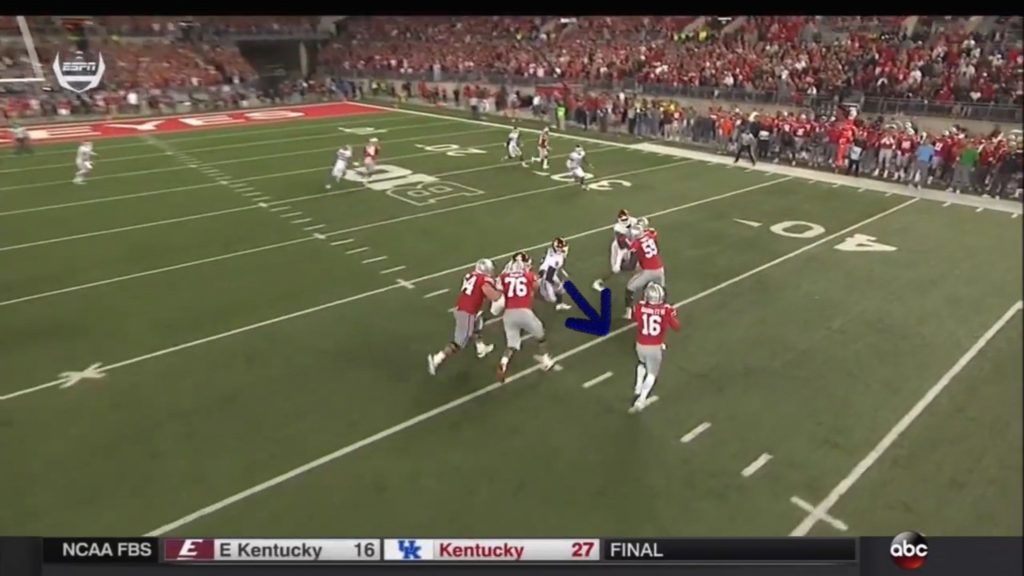 Looks like the same play…but it isn't.  Here, Neville Gallimore keeps his outside arm free, and Murray at this point knows Barrett's mama's name, his sister's name and the kids who grew up down the street since he's been spendin all that time with him.  Again, just great fundamentally sound defense.  Murray's speed doesn't hurt either.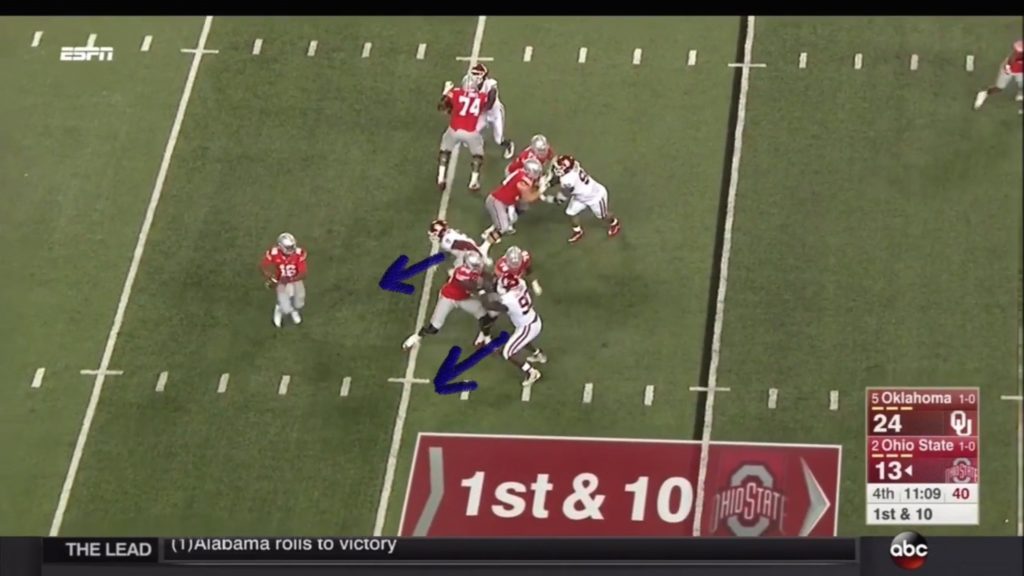 Here's a shot of the same play.  As an o lineman it's really frustrating (and I speak for #59 here), when your QB rolls into pressure, but Barrett has no choice.  Either #76 or #54 has to pick up Murray coming through that A gap, but they let him get through.  This causes the pressure that may have been the play of the night…up by the 31 Parnell Motley is starting his break to get inside of that receiver…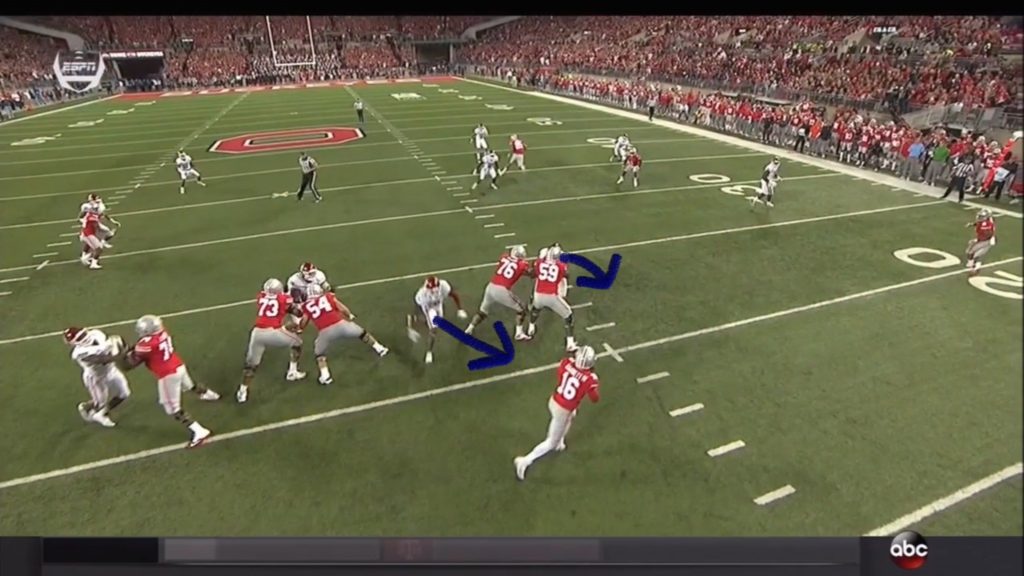 And this is the result.  Instead of coming back to the ball, the receiver stayed in the same spot.  This allowed Motley to anticipate the throw coming because Murray was on top of Barrett as outlined above.  He has no fear of the receiver taking off over the top even though he had deep responsibility on this.  The receiver was flat footed and sitting.  Just a great play, instincts and catch by the Washington D.C. native.  Parnell Motley announced his presence this week.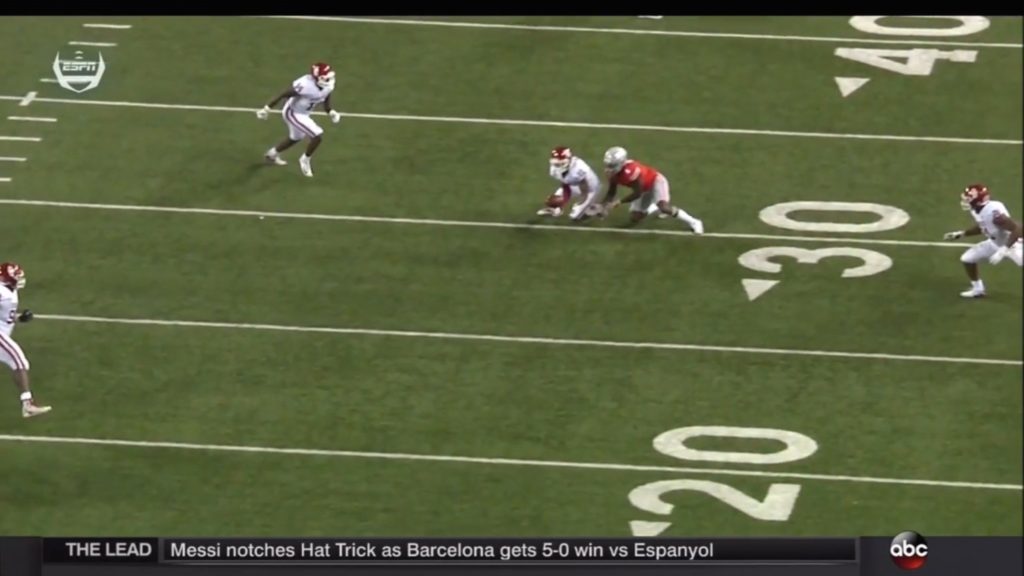 To finish it off, Mark Jackson gets a sack to end the game.  The next few weeks and the Big XII being down are going to help the Sooners down the stretch.  Guys like Jackson and many others will likely get much needed playing time and in game reps.  The Sooners will need that to make a playoff run, and get ready for next year.  Getting Jackson ready to accept the torch from Obo next year, and potentially give the Sooners a 1-2 rush presence this year will be huge.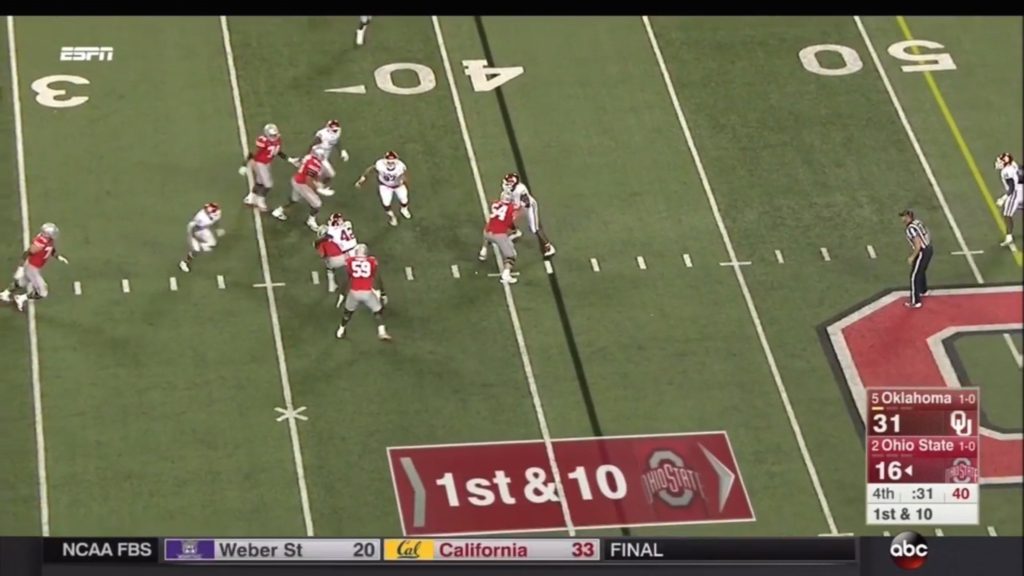 Finally want to go on record and say that this team has made me a believer.  I think that barring injury they can beat anyone they play this year.  Big Sooner Shoutout to King Leip and  USAF MSGT L.T. Cartwright.  Going back to the early 90's they've been my partners in crime as it pertains to Sooner football and a lot of other things.  It may be a special year boys!