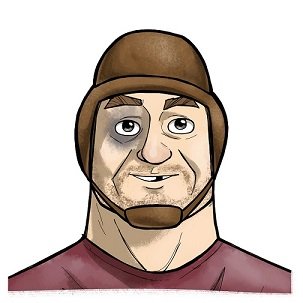 Trench Warfare| Oklahoma vs. Louisiana Tech. (4th Quarter)
Posted on: September 3, 2014
To start the 4th Quarter, here's the big kickoff return by Alex Ross.  Durron and Conner Knight are leading up into the hole.
This is the benefit to having a big guy returning kicks.  Like Justin Brown a few years ago, someone with good speed who can break tackles is far too underrated as a kick returner.  You can see the kicker dead ahead.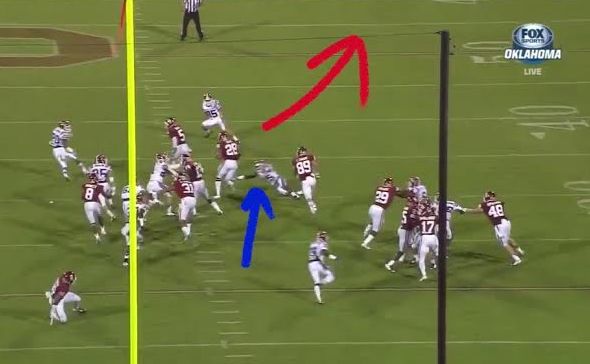 And right here you can see Alex getting ready to punk the kicker.  He just ran him over and at that point, I didn't think anyone would catch him.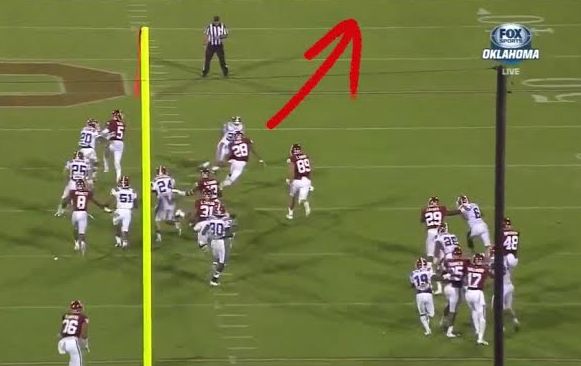 Here's a good shot of Alex up close, and I guarantee in special teams meetings this week, Boulware will be after the guys to look back at the pursuit to seal this thing off.  One guy had the angle on 'em, and he juked him but if we seal off the other pursuit he scores.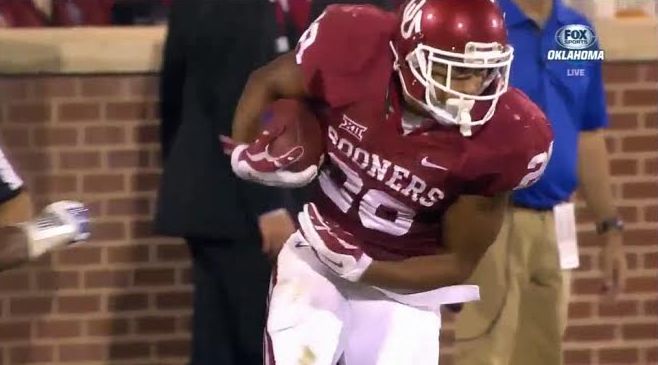 Right after the big return, Samaje got two carries and took it the rest of the way in.  Here's the second of the two, and he scored on this one.  Look at the nice lane up in there.  Josiah St. John is at the bottom in the foreground blocking #94.  I thought he played better than I'd seen him play in the past.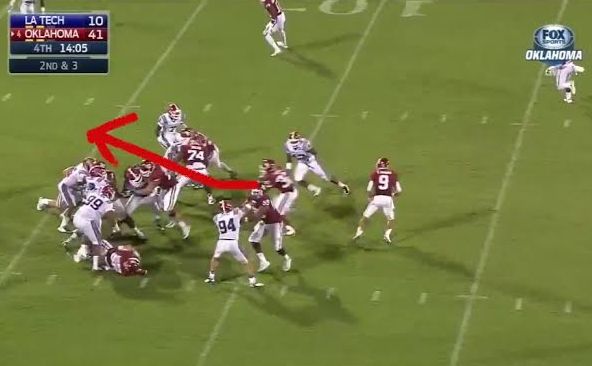 Note that Samaje contacts the defender at the four, and they both had runs at each other.  #11 for La Tech got worked all night but kept stickin' his nose in there.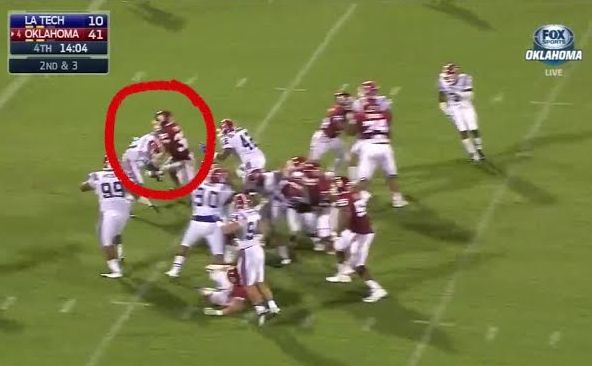 Do yourself a favor and watch this run if you get a chance.  Samaje didn't even slow down, and it was reminiscent of Jamar Toombs from A&M against us in 2000.  He just straight rolled that guy #11 and carried the other two into the end zone.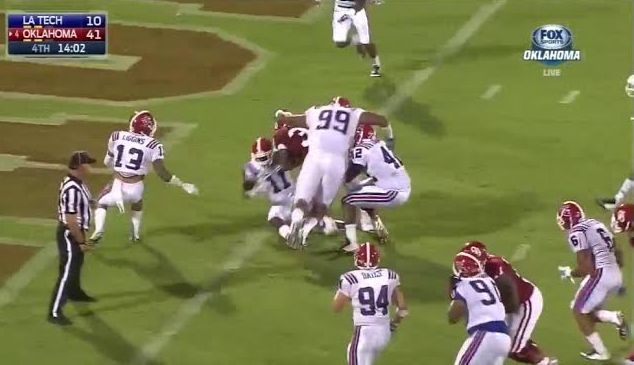 Here we got the edge sealed up pretty good for Samaje.  Notice the combo on the outside by the red curve.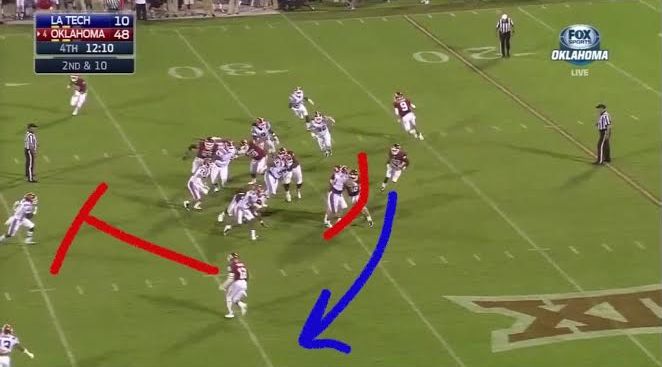 Samaje breaks a tackle again.  You can see #53, Tony Feo, on the left and Jonathan Alvarez got some clock as a true freshman.  Looks like he's getting time to be a backup center.  He must have quietly had a really good camp to earn Coach Bedenbaugh's trust.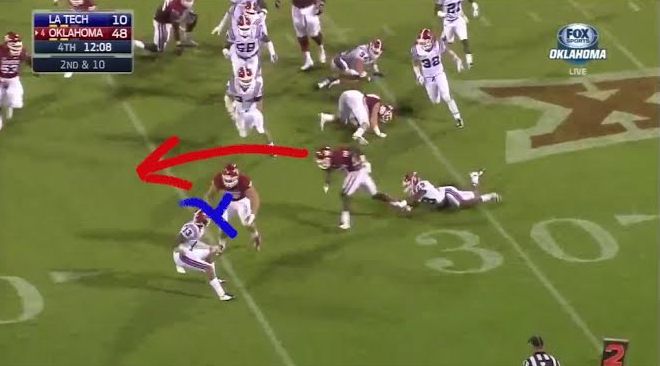 This here says it all.  There were only a couple of drives that La Tech had that yielded anything.  Zack Sanchez didn't wrap on a tackle that let 'em score and a secondary bust was the only things that let 'em in.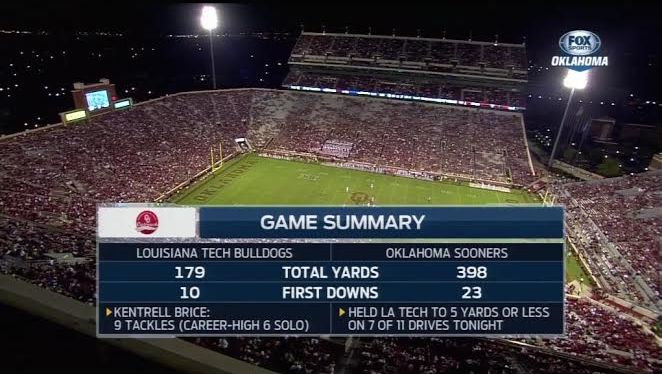 Check out Alvarez at the center spot locking the arms out and setting the pocket.  Really nice job by the true freshman and someone I knew was underrated coming out of h.s.  Check Dmitri Flowers circled in blue.  Another true freshman who will make a big impact this year.  He was lined up at TE on this play.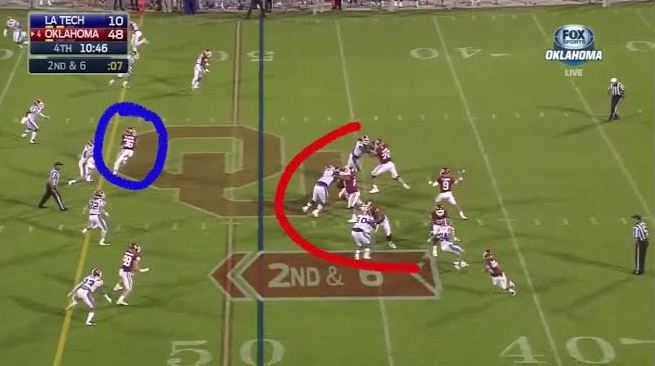 What I liked about this play is that Flowers got north and south as soon as he caught it.  He split those two tacklers and had he not tripped up he may have had a chance.  Really nice run after the catch.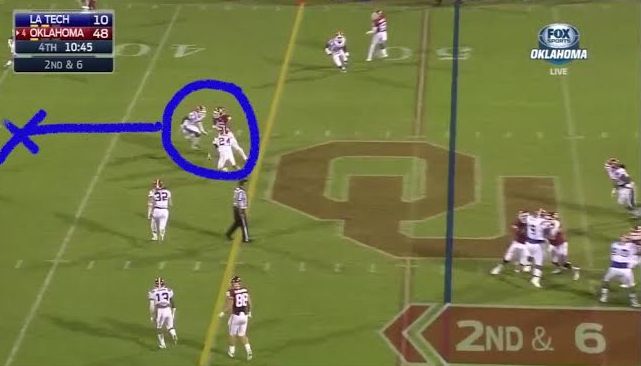 And on the last play of any significance, the pocket gets set really nicely.  Farniok and St. John both looked strong with Feo and Alvarez on the inside.  The coaches must really trust them, and with Cody hurt last week, Trevor was in there late in the game.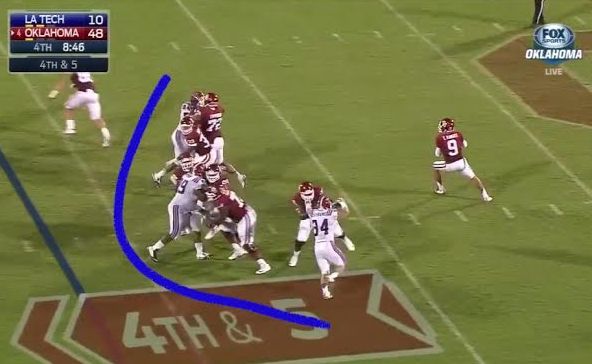 This was a really strong throw from the opposite hash.  KJ did a nice job on the catch, and it goes to show what kind of arm talent Trevor really has.  Overall it was a good solid offensive game.  If we clean up a couple of plays, it could have got in the 60's pretty easily.