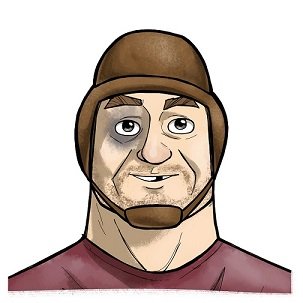 Trench Warfare| Oklahoma vs. Louisiana Tech (3rd Quarter)
Posted on: September 2, 2014
Love the innovation on this formation.  We were in the diamond and then after first sound, we shifted to 5 wide.  This is going to be especially lethal when we're gashing defenses with the run and forcing them to keep the big sets in.  From left to right or bottom to top, Ford, Flowers and Bell.  Teams will be forced to call a time out or live with the consequences.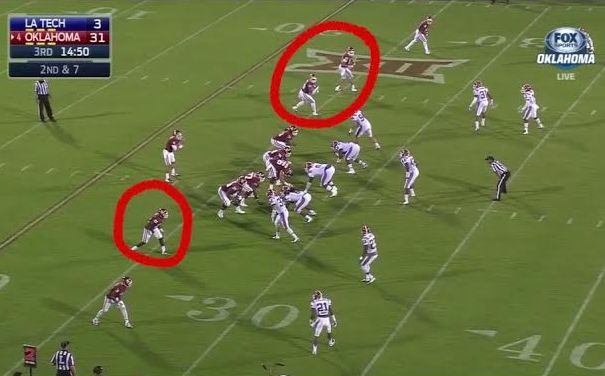 Immediately off the snap, Ford is uncovered.  Trevor hung him out to dry, but Keith made a heck of a play on the ball and held onto it after taking a big shot to the grill.  Trevor gets him the ball sooner, and he may be able to put a move on the safety or break a tackle.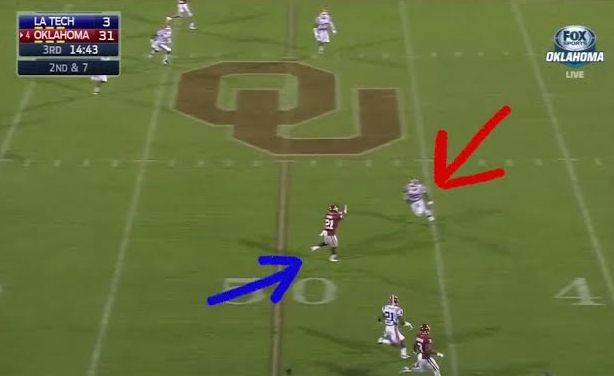 But it was a collision of some magnitude, and Keith shows his grit and toughness.  This is a small thing that we can clean up and polish.  Heck of a scheme and a big catch by Keith.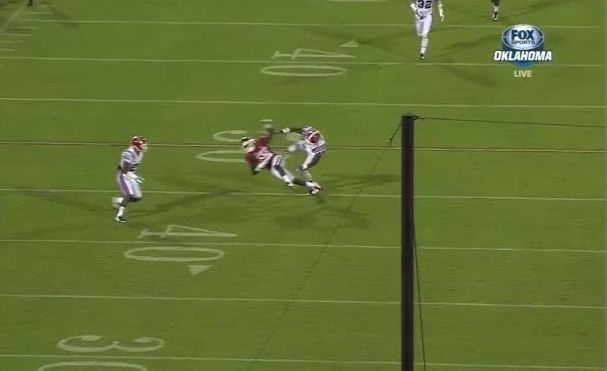 On the very next play, against 9 guys in the box, we deliver a squeaky clean pocket for Trevor to stand tall and look pretty.  Durron is streaking into that uncluttered secondary I've been talking about.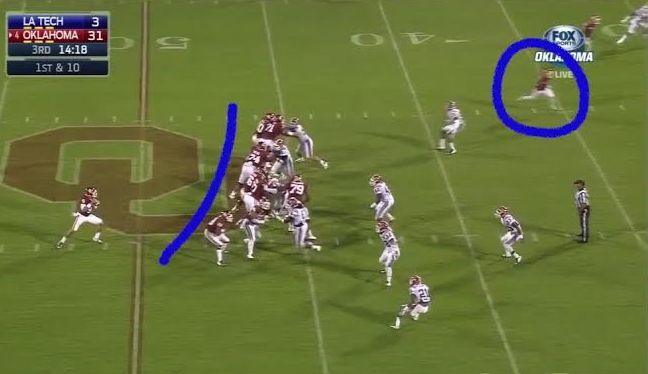 And it's a strike right on time.  Durron makes a tough catch and takes a hit on the play.  Guys are really competing and that's what depth will do for you.  I look for St. Louis' finest to have a big year in 2014.  Durron is a good one and will only get better.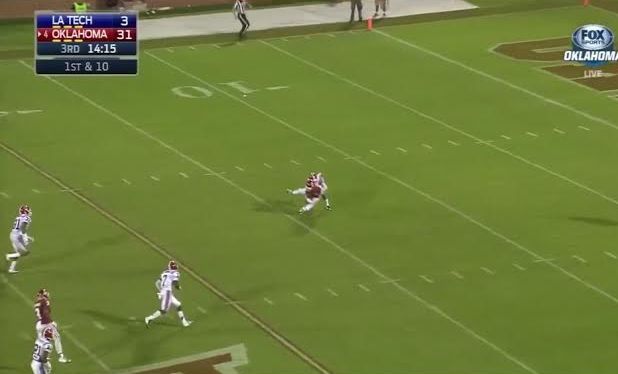 Here we see the Bedenbaugh Effect once again in the run game.  Walled off perfectly by Dionte (No. 77) and Daryl (No. 79).  Picture perfect technique by Bell I'll show you in the next frame, and the young frosh Flowers, making a great lead block.  Note the safety behind the ump.  He has to honor Durron outside on the left and that keeps him inside that hash.  Little things when you have balance make all the difference.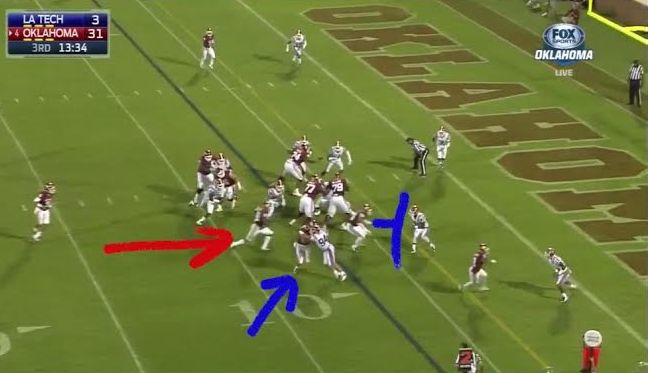 Here it is up close.  Look at Dionte and Daryl, great work staying with the combo and not releasing too soon like we've seen in the past.  Here again is the Bedenbaugh Effect.  Bell has his head on the inside shoulder of the defender and his left hand posted up strong, so that guy can't shuck him and get inside.  Dmitri is inside-out on the safety as well, and we are technically sound on our blocks.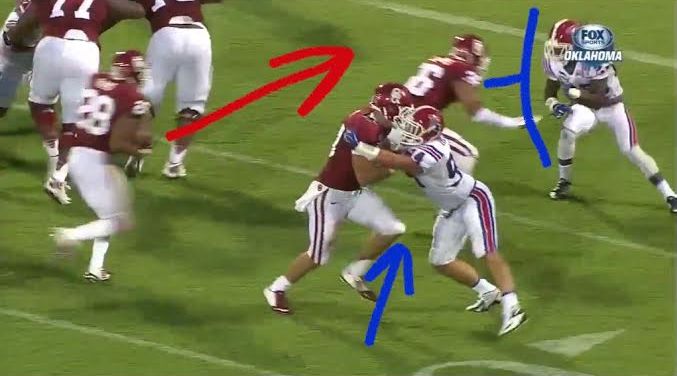 Here's what it looks like from another angle, and you see the expressway to pay dirt unfolding for Alex.  As Coach Scheible used to say…this is a good lookin' play, guys.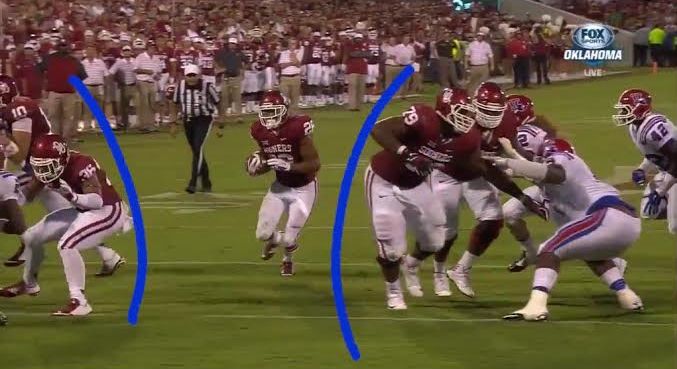 On the ensuing possession we whiffed on 3rd and 8, but then Tech had an illegal substitution penalty that put us at 4th and 3.  You know what Bob always says…"we don't need no stinking kicker!"  I drew the L here in blue to show how this play was set up perfectly, and how Heupel is feeling it in the play call adjustments from the sideline.  At the far right edge of the blue line, note that the safety and everyone else except the corner are inside the hash.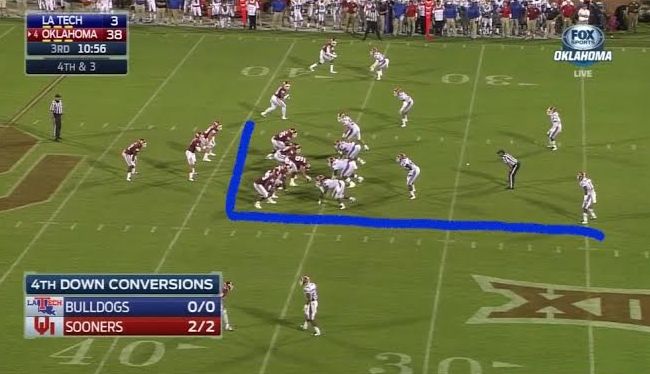 Since the safety has deep responsibility, Trevor has man coverage for Keith and the linebacker is still inside the hash.  The corner (blue circle) is turning and running with Sterling since he's in man, so the only guy who can make the play is the safety.  Sorry, most backers ain't catching Ford.  You can't see the safety here, but his shadow is about 4 o'clock high right above the XII emblem on the right.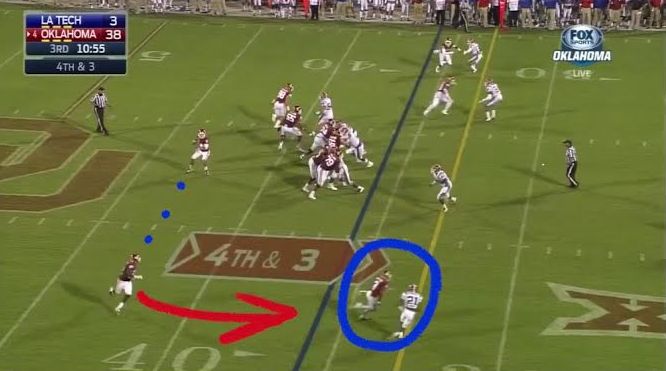 There's that Backer on the far right, and had the safety not made a great play on this thing then Ford houses it.  You hear the expression all the time that DBs, and defenders for that matter, need to use the sideline as a tool.  The safety only gives Keith one way to go and that's up the sideline.  I'd like to see Keith try to stiff arm this guy, but he thought he could outrun 'em.  Keith's using a dip in/dip out move on the DB, to stop his feet, and he almost got 'em.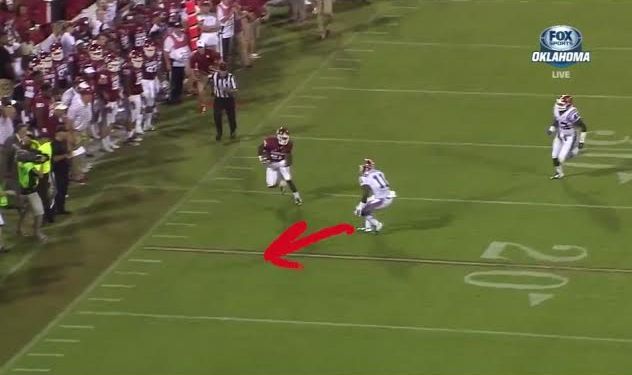 Right back at it on the ensuing play, we have it all sealed up to the inside.  Perine's coming off tackle and the edge could not be set more cleanly.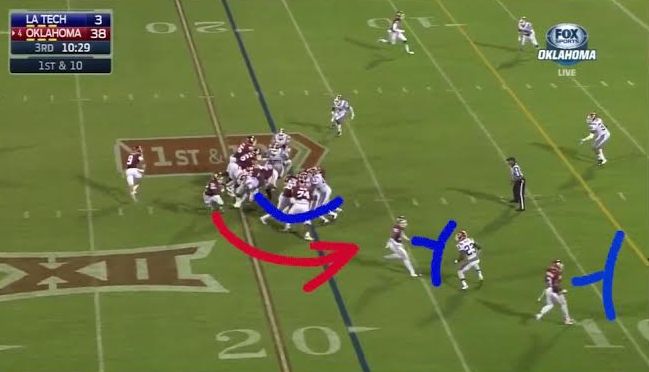 I'm tellin ya, Bronson left his Tortilla maker to Daryl this year (blue circle), and Samaje almost broke this one as well.
To finish off the 3rd quarter, I wanted to point out what could have been Bell's 1st touchdown, and no doubt something that Trevor will see in film study, and probably already has.  It was a long pass to Sterling on the bottom that was almost a score…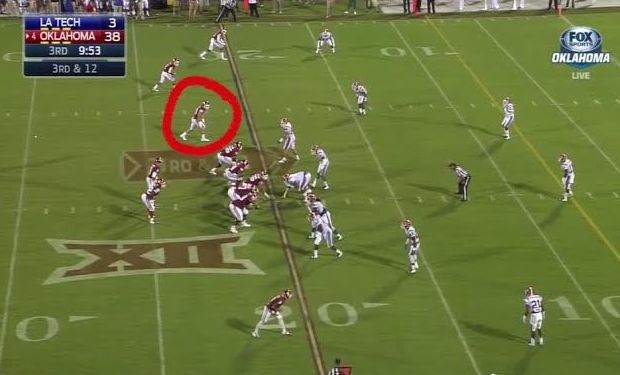 But in this frame, if Trevor pumps to the outside, and just puts the ball on Bell red circle, he's got 9 yards to pay dirt and nobody's tackling 'em one-on-one.  The drive stalled, but this is a play we just missed.  There's your third quarter folks.  4th Q coming up tomorrow!