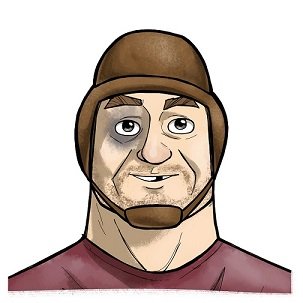 Trench Warfare| Oklahoma vs. Louisiana Tech (1st Half)
Posted on: September 1, 2014
Right off the bat, it's a swing pass to Alex Ross out of the backfield.  The receivers did a really nice job blocking this on the edge, and Alex is off to the races…literally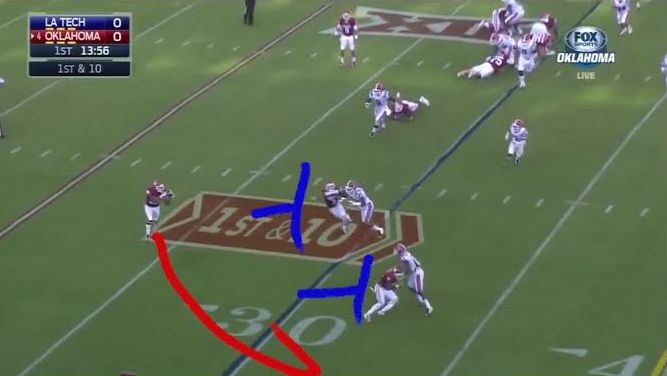 Before this game I had heard stories about how fast Alex was, but he caught this thing on the 25, and was out to the 50 in a blink of an eye.  He's got major league wheels.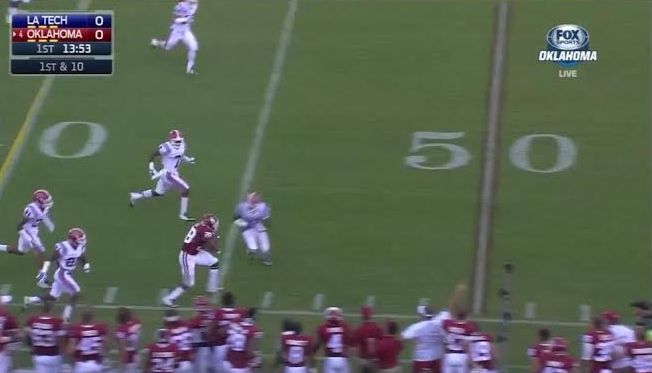 Here's the option back left.  Really good blocking up front and scheming to numbers forces the defender(red arrow) to slow play both Samaje and Trevor.  As his hips got turned like they did here, it made Trevor's read really easy.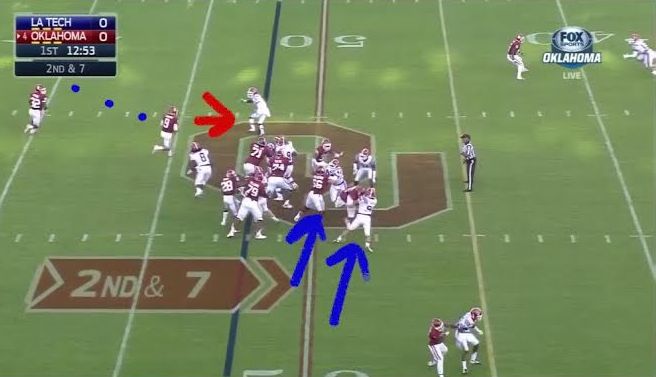 It was a really big gain, and a wrinkle you need to have since we run so much zone read, but you can tell that we don't want to get Trevor hurt.  He did a nice job getting down and avoiding contact and showed some maturity here.  I wanted to point out that Samaje and Alex were in the game at the same time, that'll be a wrinkle to look out for later on.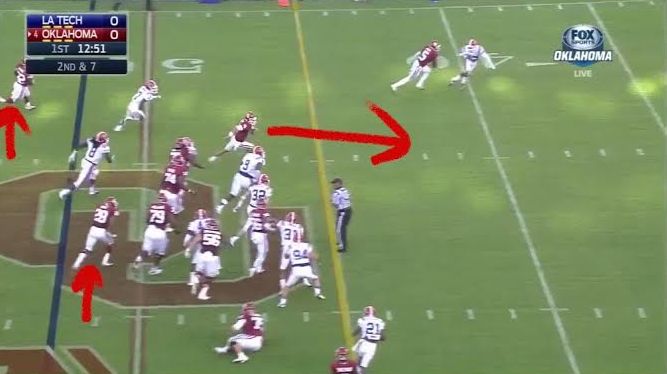 Not to give myself props or anything, but I said Tyler Evans was going to have a big year.  He was also one of my staff picks.  Here he has the key block that springs Keith down the sideline for the first score of the season.  Nice blocking on the backside as well to seal the lane.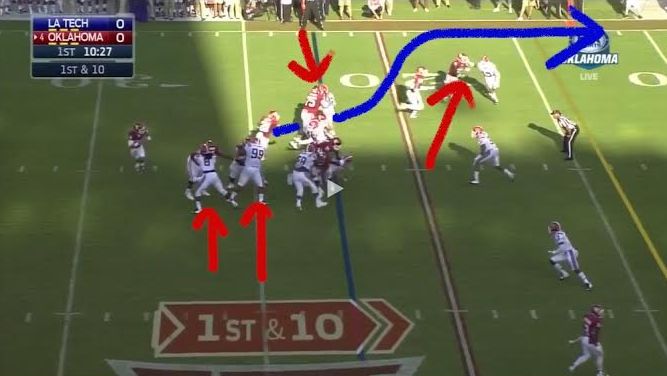 A split second later, the receivers are finishing off the corner, Bronson left Tyrus his tortilla maker from a year ago, and Keith made the safety miss in the hole.  He showed off some really nice speed getting down the sideline for the score.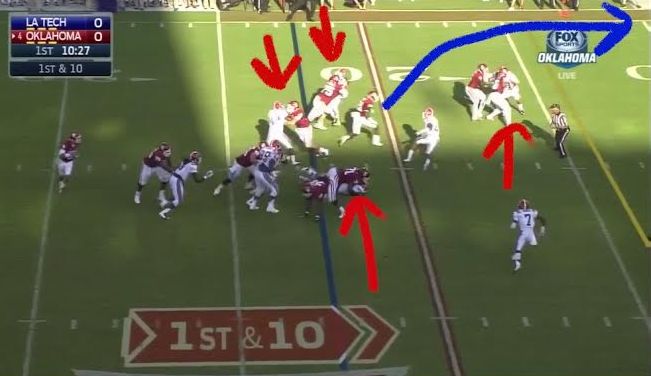 On the ensuing drive, it's exhibit B for great blocking by our receivers.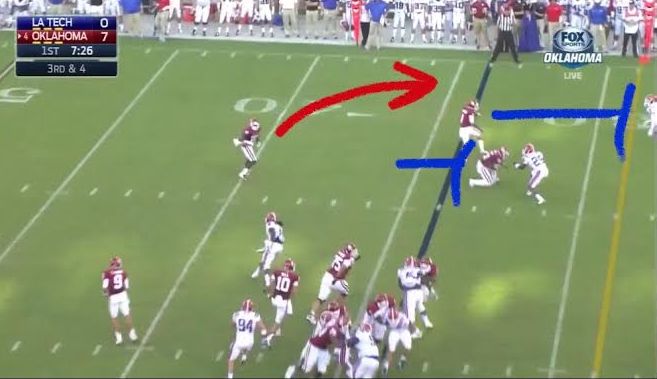 Here's a better look at it.  I was really impressed with how cleanly the receivers blocked out on the edge.  In an opener with a new receiving corps for the most part you'd expect it to be a little sloppier.  Coach Norvell had them boys ready though.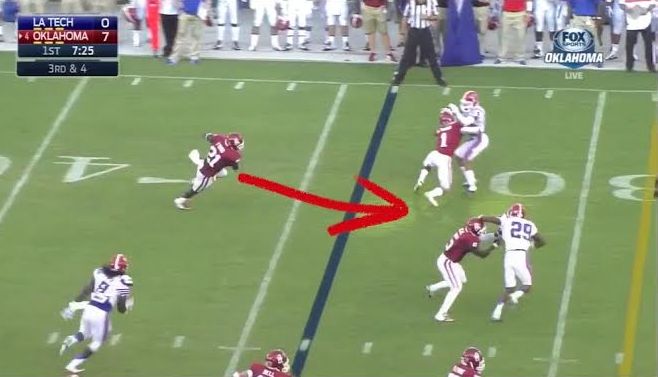 A couple of plays later, here's what Trevor saw on Sterling's TD.  The run game forces eight guys to commit to the run.  Keep in mind that the safety is almost 11 yards deep(I'll show you why later).  The corners are playing man.
This was just automatic, as Trevor rose up and threw the ball immediately.  Great footwork by Sterling at the end of it, and it just felt like this was a "me and you" call between Sterling and Trevor.  When we get this look, it may be automatic.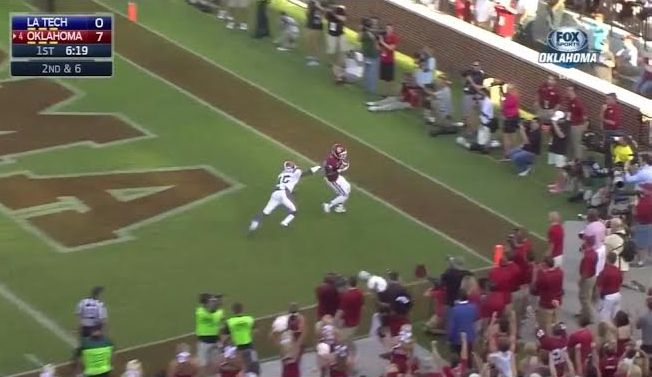 I really liked that we had 5 td's on the ground.  Alex had two, 'Maje had one, and here's Keith's second.  Before anyone goes chirping about how it was only La. Tech, how many times have we seen the run game struggle in games like this?  The red lines illustrate Tyrus(red arrow) and Dionte knocking it open.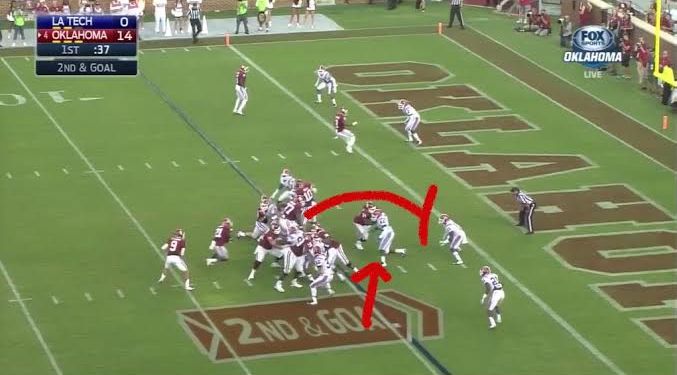 Here's another look at it.  As Keith gets the ball, Tyrus is down blocking on the backer(I used to love those earhole shots you could get on the linebackers), and Dionte is pulling around to block the first man who shows.  Look at Dionte's head, he's checking outside, and ultimately blocks #11.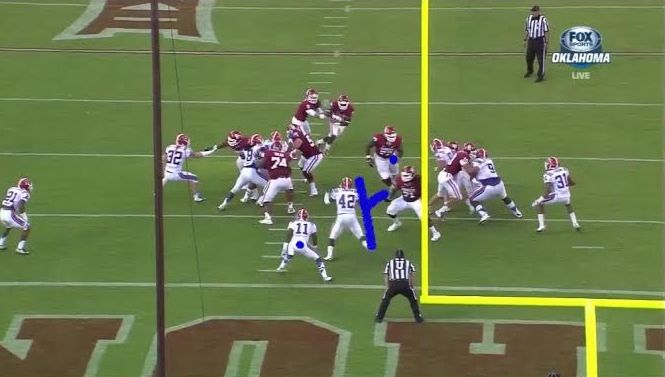 Then it's just Bam Bam time as Ford and Savage steamroll their way to the endzone.  Look at all of the white Jersey's going backwards.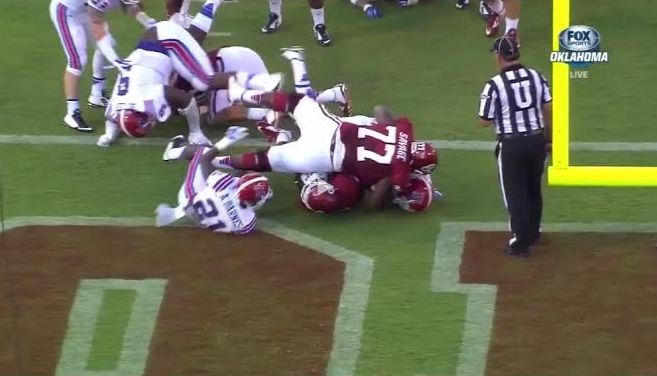 That's a FULL GROWN MAN right there!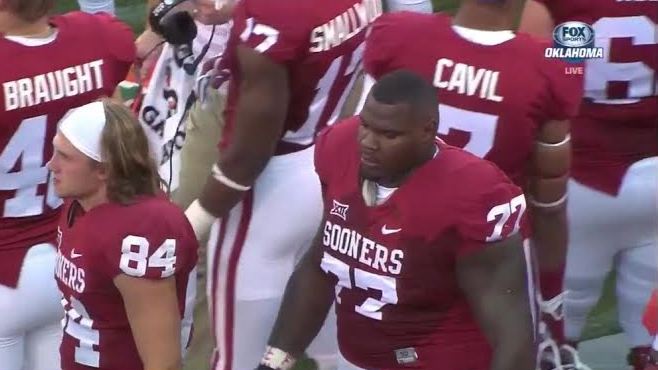 To start the 2nd quarter now, Alex is going to be a weapon in that swing pass game.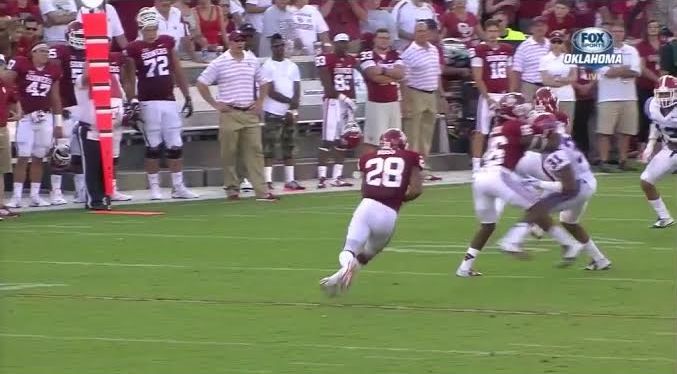 After getting around Quick's block, Durron got a good one too.  It was almost automatic for Alex to get 20 yards on the swing passes he got.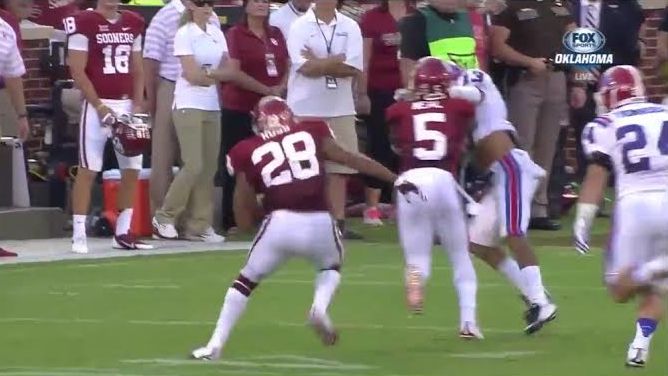 The drive sputtered out and Moneycutt came in for #63.  Can you say Groza award?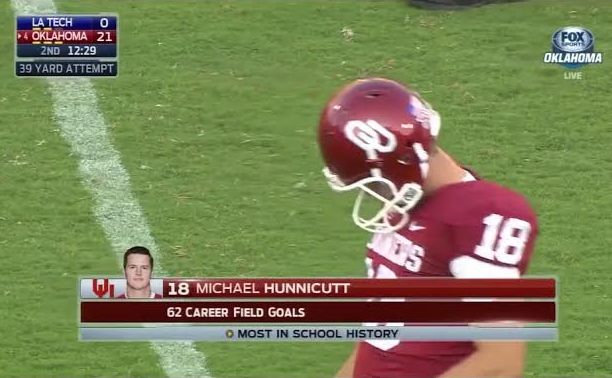 Unheralded receiver KJ Young made a heck of a catch to keep the drive alive.  In the far right of the frame look who's body slammin folks…yep Tyler Evans.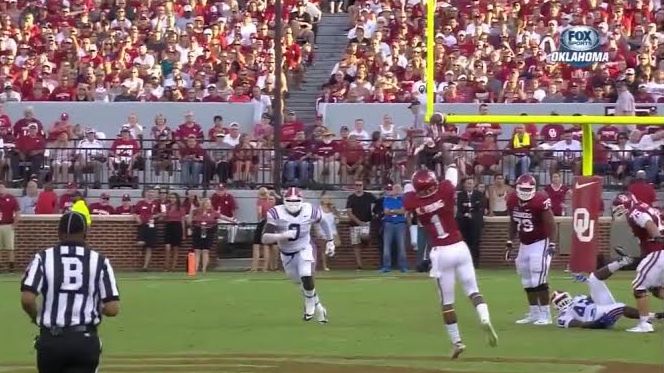 I know this is a lot of arrows and lines, but bare with me.  From left to right…Tyler executes a textbook combo block up to the backer.  See how his right shoulder is still in contact with the defender, yet his eyes are upfield in case he needs to come off quickly.  That's the Bedenbaugh Effect.  Tyrus is sealing the backside, and this is a lead triple option.  Rip's leading up on the backer.  It has to be a called give, because there's no one Trevor is reading.  If someone showed, he could keep or pitch to Durron.
And on 4th and two, the called give yields 4 yards.  Look at Daryl smashin folks(blue arrow)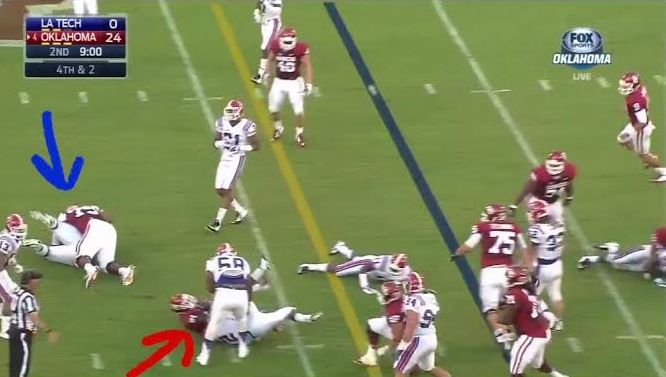 We got a good edge sealed for Samaje, and this was the first play we really saw his physicality.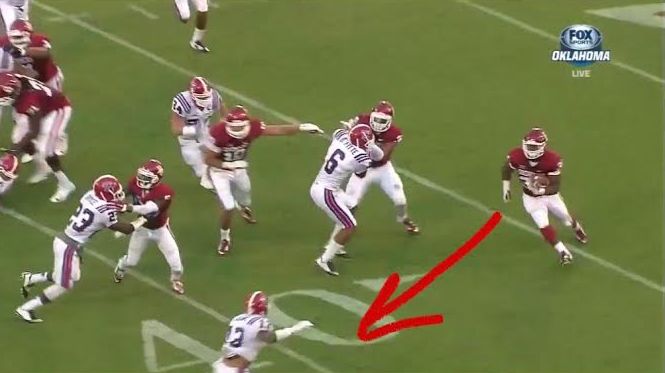 Kid just straight bucked two would be tacklers and stiff armed #23.  As the bumps and bruises of a season take their toll, defenses are not going to want to tackle him, or Ford or Ross for that matter.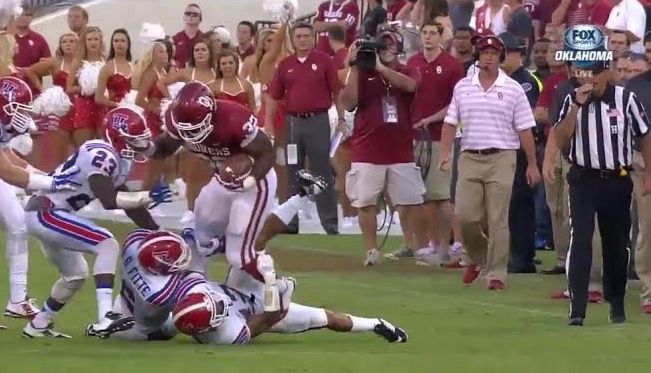 Here's why I pointed out the safety depth earlier.  Instead of 11 yards deep, the run game is forcing him to play up in the box.  Trevor knows it's man outside due to the safety depth and how far off of the outside receivers their corners are…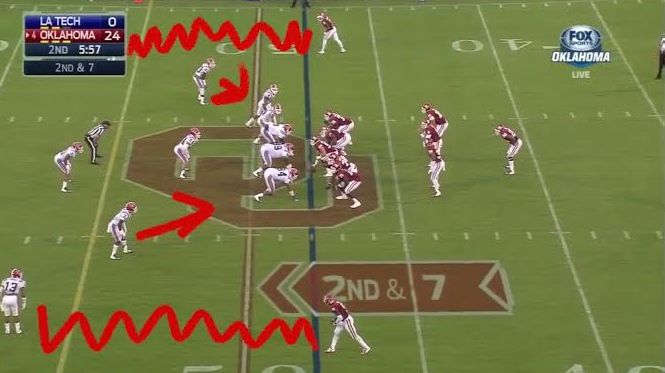 Then, because the run game dictated it, Durron has little to no traffic outside to pickup the first down.  If we stay healthy and just execute, this offense is going to be tough to stop.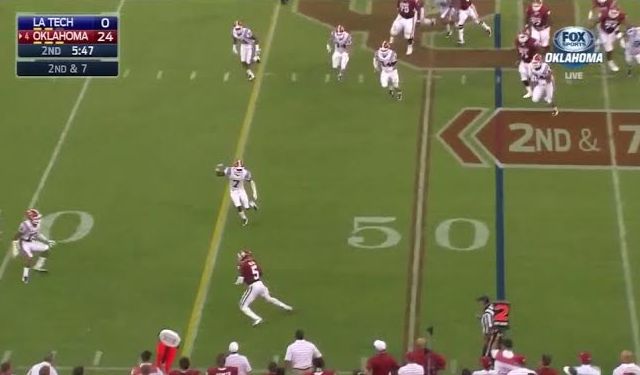 I thought this was significant as well.  9 guys in the box, but we got em outnumbered on the right.  Their alignment on the right gives us good angles for down blocks and combos.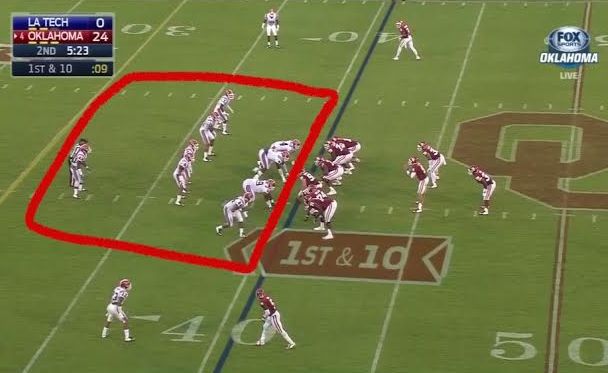 And in spite of the extra manpower I pointed out, we block it cleanly.  There's a nice crease for Samaje to get into.  Look at how big those thighs are…geez!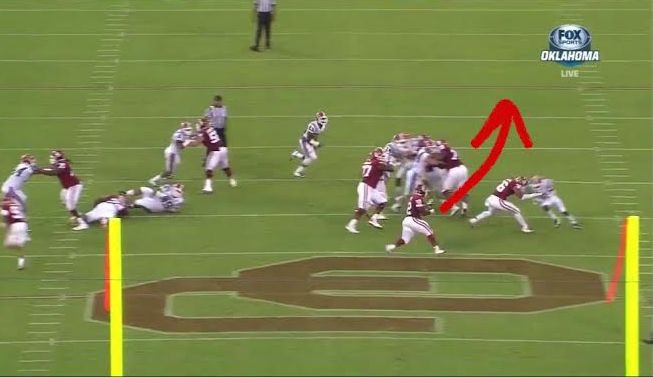 After a broken tackle in the hole, against a 9 man front, he pops off a really nice gain.  With more looks, these young backs are going to be lethal.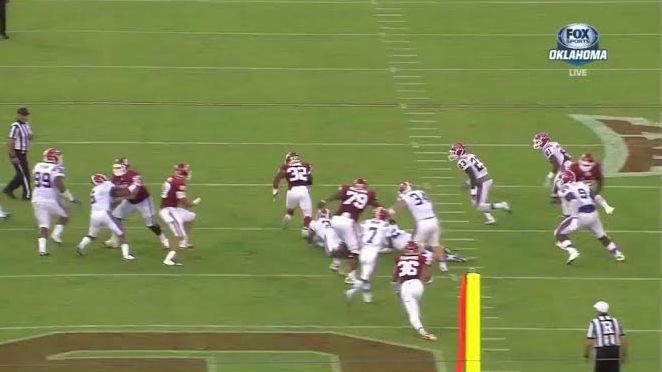 Right back at em again, look at the crease behind Shead 74, Ty 56 and Daryl 79.  Bell's throwing the cutblock in the foreground.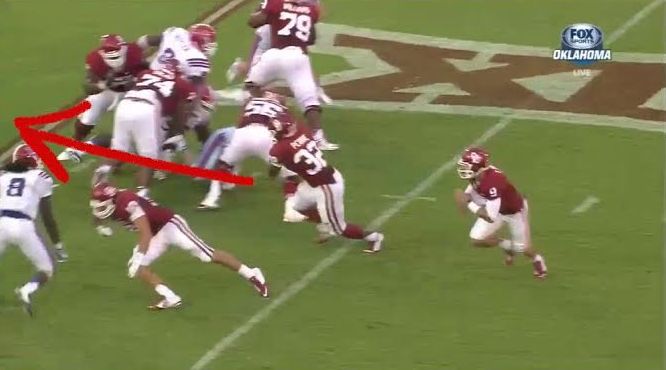 Then it takes 5 white shirts to get Samaje on the ground.  Kid's a BEAST.
Then to give Samaje a rest, Alex comes in and gets his first TD as a sooner.  You can see a little crease there for him to get into.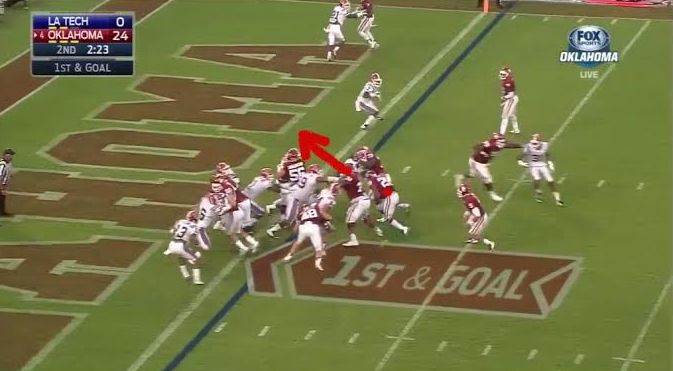 Here's what the end result was, and that's Dionte smashin the guy at the end on top of the pile.  Dionte played a really nice game.