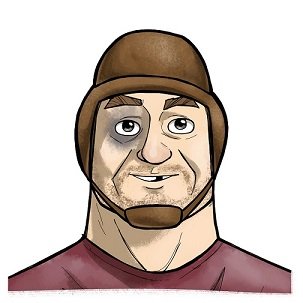 Trench Warfare | Oklahoma vs. Iowa State
Posted on: October 9, 2017
Well I gotta' admit that this was a painful one.  I go from three games ago telling my wife that this was the best I'd ever seen a Sooner team look fundamentally in Columbus to witnessing yesterday the Annual Cleveland County Egg Laying Festival.  Part of me says as a Sooner fan I should have known better.  I used to think it was me.  I was on hand for K-State 2003, USC 2004, & Boise State 2006.  After those monumental collapses, my diehard Sooner friends told me that I was banned from ever going to a Sooner game again.  Since then, I'm only allowed to make the hour trek west of Kansas City to Lawrence when Oklahoma comes calling.  For almost the last 20 years it seems that, for whatever reason, the Sooners have become front-runners.  Terms like Chokelahoma have become commonplace and, while it's true you have to be in big games to lose them, damn it would be nice not to have to defend it.  I dread going to work this week.  I keep an Oklahoma mini-helmet pen-holder on my desk and a desk calendar, and needless to say Monday is going to be a day where I wish my allegiances weren't known.  I guess I deserve it…one of the guys I work with is an ISU alumnus, and I've been running around calling them the "fighting bugles" and "nader(tornado) chikins".  Well yesterday, the "Nader Chikins" got that win.
It didn't start out that way.  The first play from scrimmage, Abdul Adams broke off a long run that he almost turned into a touchdown.  Before he left the game, he had 3 carries for 42 yards; to this point in the season, he has been Oklahoma's most effective back.  While Trey Sermon has received all the pub, Abdul has averaged 10.6 yards per carry and has the great vision to find holes that others can't.  After he went out, the offense stayed clicking early, and marched right down the field.
On this play, the Cyclones are in a two deep look, so play action is the optimal call here.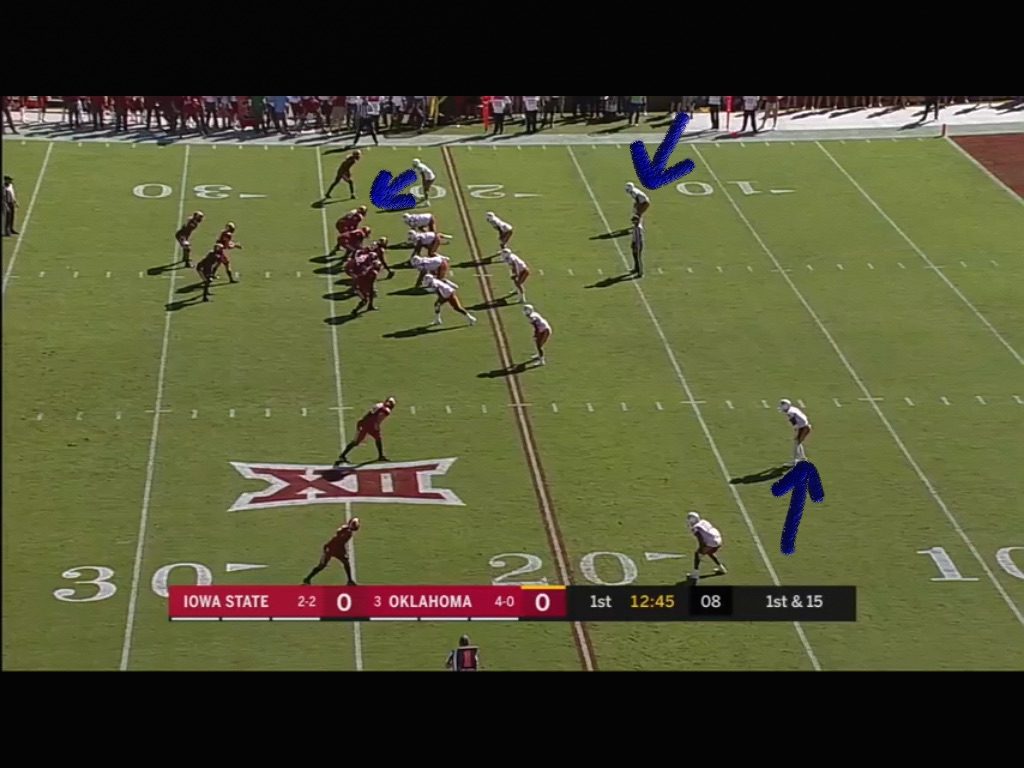 Orlando Brown did an outstanding job in play recognition on the corner blitz, and it gave Baker a clean pocket and time to step up and float a really nice touch pass over the top to Trey.  Early, it appeared that the Sooners had embraced the time off and done their homework.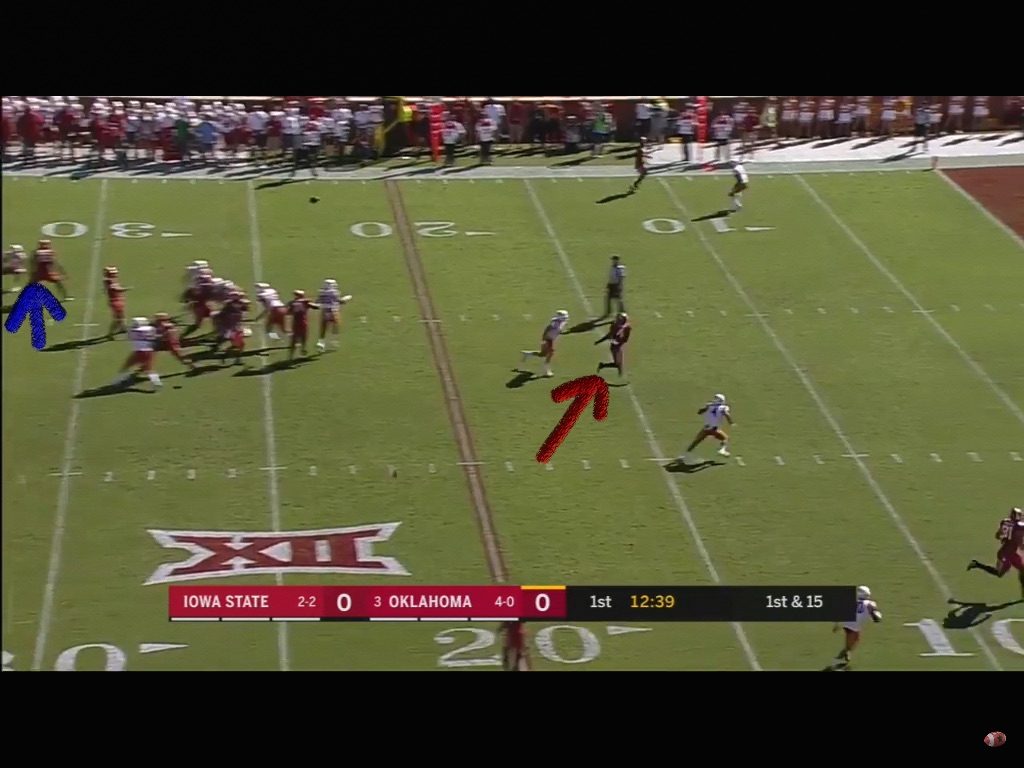 Here's a better shot of it, and you can see how well schooled Bedenbaugh has the troops up front.  In recent years, when a loss like this happened (Tech 07, etc), it was because the OL underperformed.  Yesterday, that was not the case.  While many position groups didn't play well, that couldn't be said about the O line.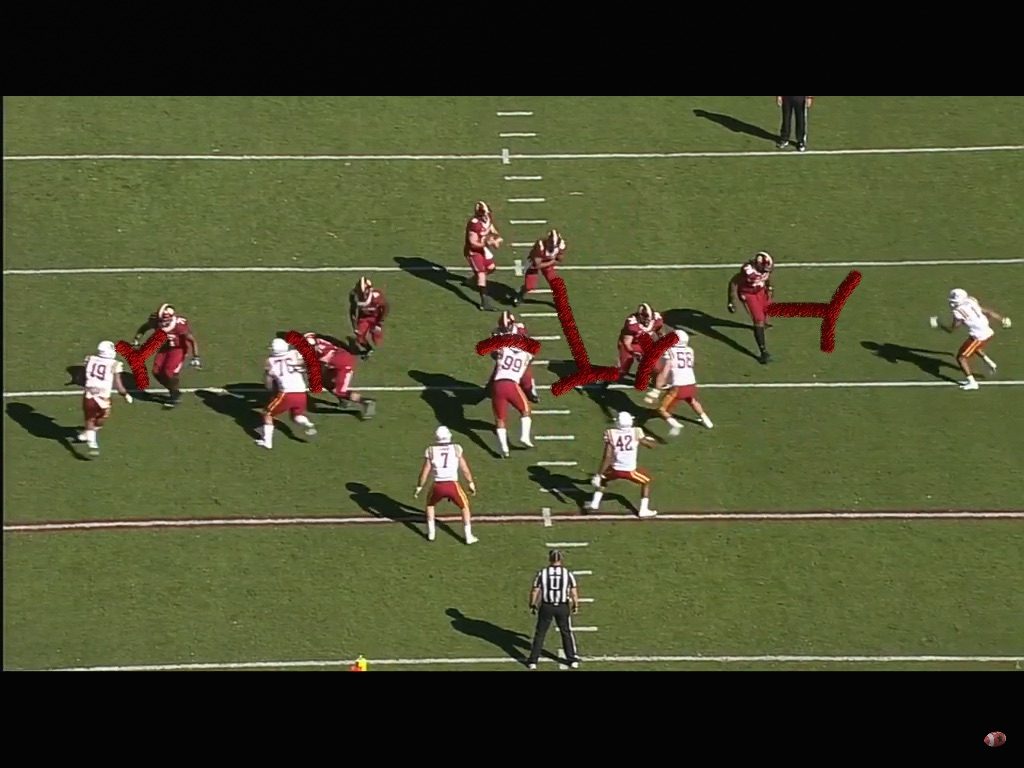 At this point in the game it was 14-3 and I was mostly concerned with how a close game would look in the polls.  In my wildest dreams, I didn't imagine that the Cyclones would win.  Below is a good reason why they did.  With the ball on the 2 yard line, there are only three down linemen.  D.J. Ward is considered one of those, but he only goes 260.  Where areLampkin, and Bledsoe?  Why wouldn't you have Gallimore, Lampkin, and Overton in there with Ward & Bledsoe flanking them?  Then, if you want to walk Caleb Kelly up there, you could, but you'd sure give more resistance than this.  This was just too easy, and I've given up screaming at the TV.  Man Cub was yelling with me, but he was saying "Daddy Win?"  It's hard enough to see it, but it's a whole 'nother story explaining it to a 3 year old.  I think he understood though… Mike Stoops not so much.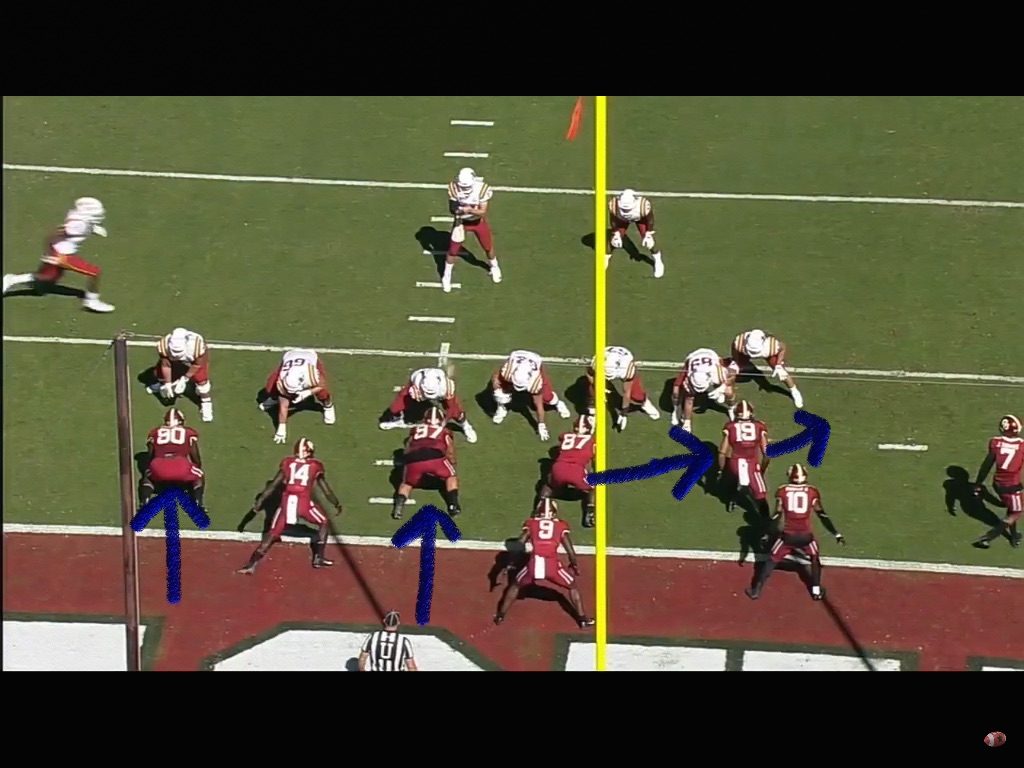 My friend Pete and I were texting yesterday during the game, and he called this run Baker's Heisman moment.  To this point in the game, I was in agreement.  Below, the blue lines were the routes the Old Baker would have taken and most likely gotten tackled for a loss.  I was excited to see his maturity and him step up into the pocket to take the ready made escape route in red.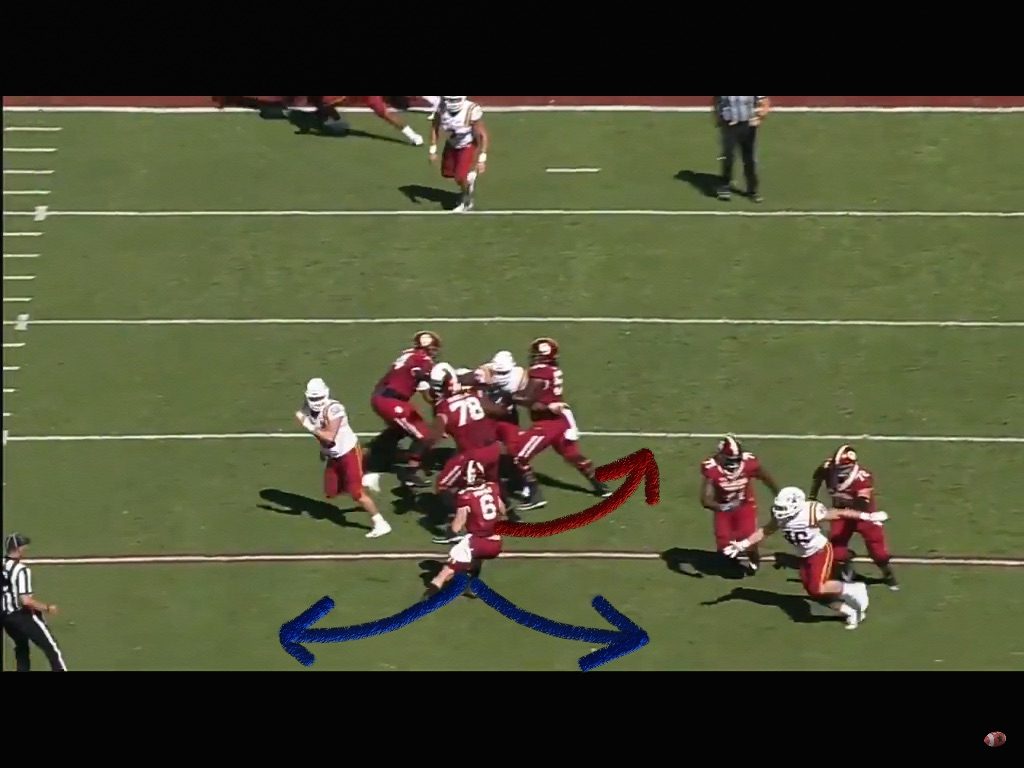 One of Baker's signature moves is a dip in-dip out move where he shoulder fakes inside to create more space to get outside.  He froze Lanning in his tracks, and it gave him time to get up around the corner.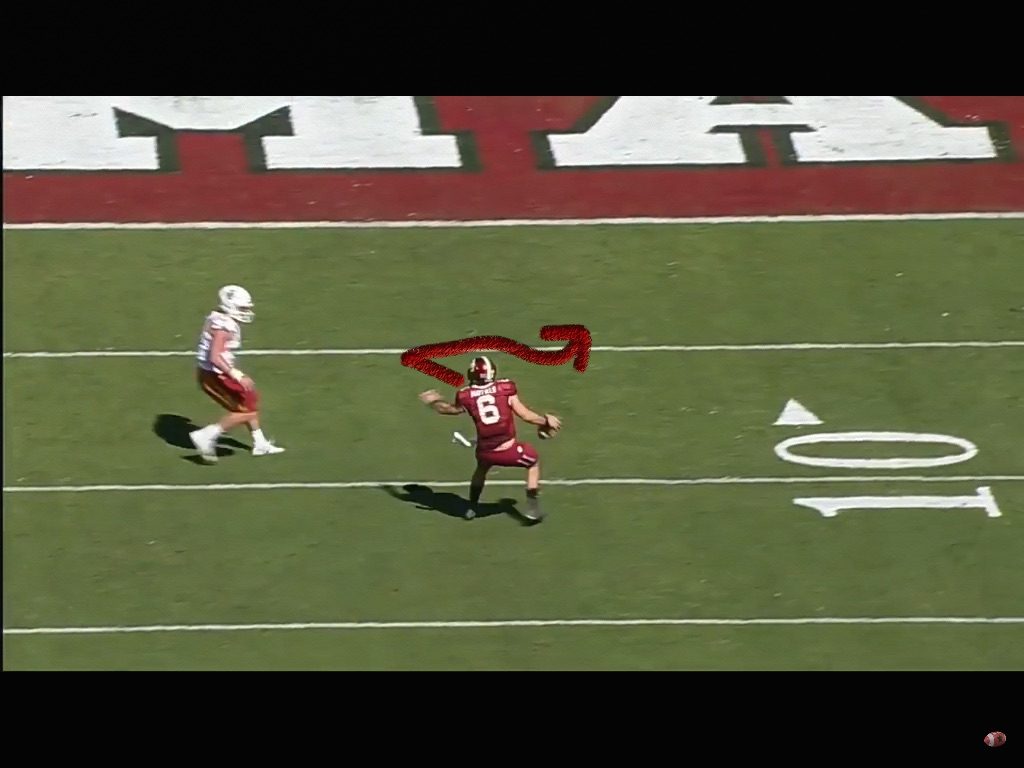 Good runners know how to set up blocks and, while the guy Andrews is blocking put on a heck of a show, it wasn't holding.  Mayfield set it up so well, that the guy being blocked also took Lanning out of the play and gave Baker a chance to show out.  Early on, it was securely in the Sooners hands… or so I thought.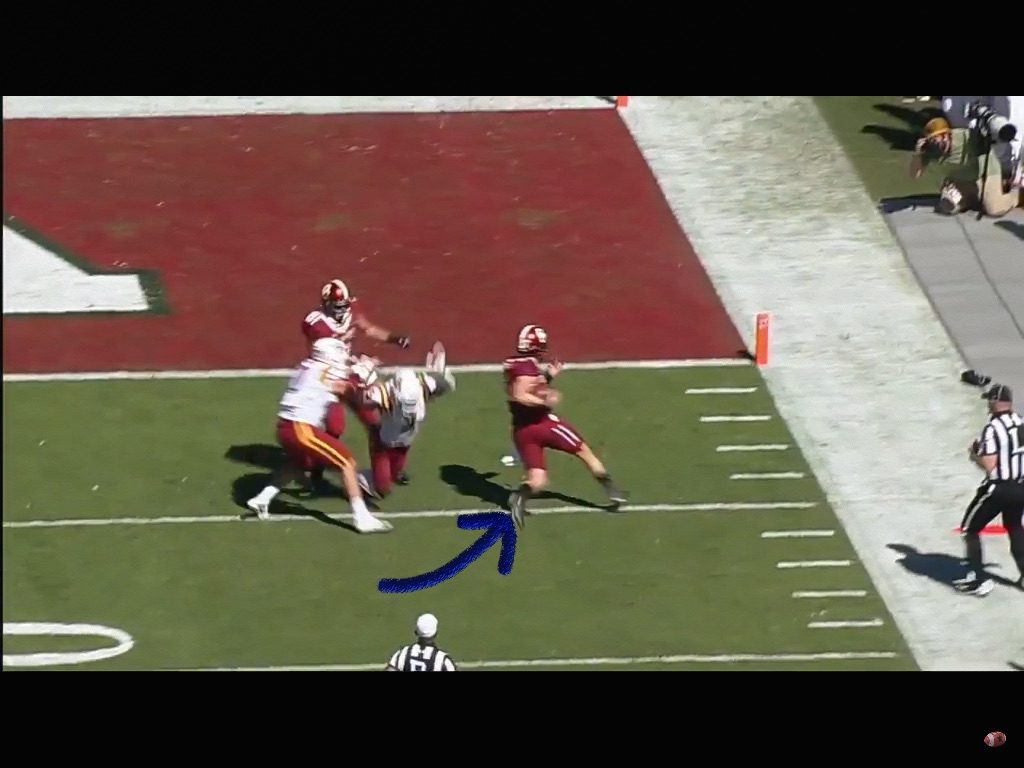 I've been one of the most vocal proponents of bringing pressure defensively.  The Sooners did just that on this play and it backfired.  A few things to point out here.  While the Sooners are overloading the right side of the offense, wherever you blitz from, you have to replace to remain gap sound.  The Sooners bring two to create a negative play, and I have to believe that this was a bust by Murray. You can see his body language (middle blue arrow) leaning towards the center of the line, when I believe he should be flying out to the hash to cover the back.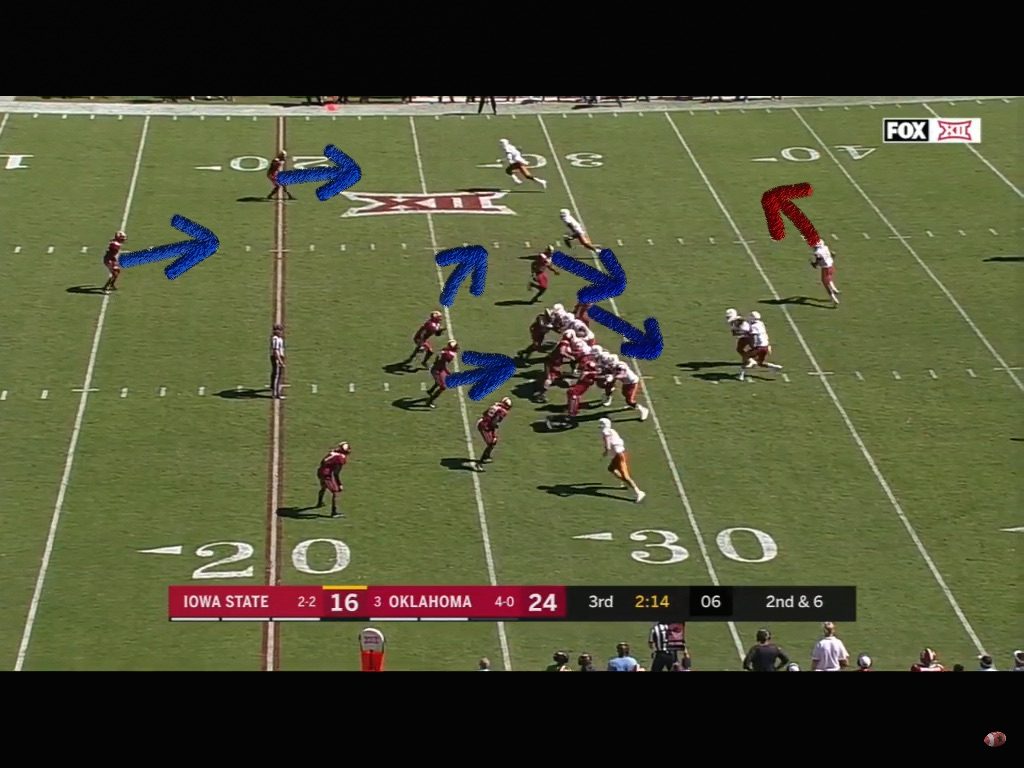 It's still 24-16 here, and Stoops was trying to create a negative play.  It was 2nd & 6, and the Sooners would have gotten home on this if it weren't the perfect call by Iowa state.  Still, Motley had fallen down at the top, and Will Johnson is flying up.  It's 2 blockers vs. 2 defenders, and I can't help but believe that Murray should be out on the 30 yard line ready to blow this thing up.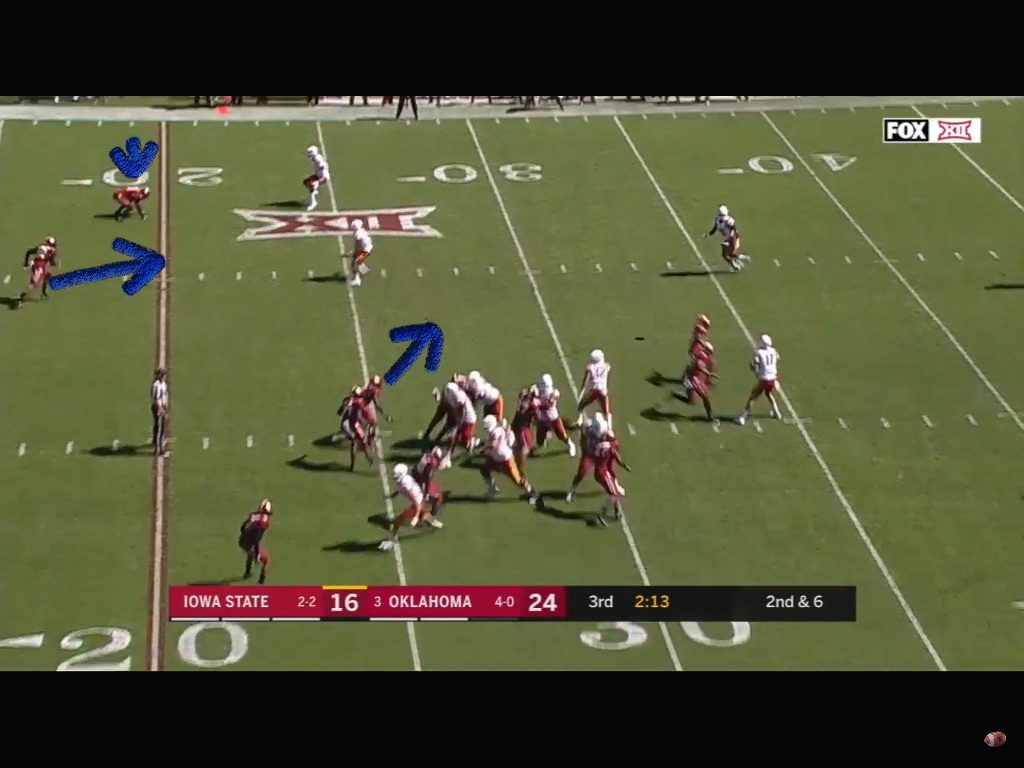 As Montgomery catches the pass, Murray should be out where the green X is.  Still, if I'm wrong, and it's an all out blitz with Mike leaving Motley & Johnson on the outside, those guys can't get blocked.  They damn sure can't get cut down.  While you expect Murray to make some Freshman mistakes, this was really awful timing.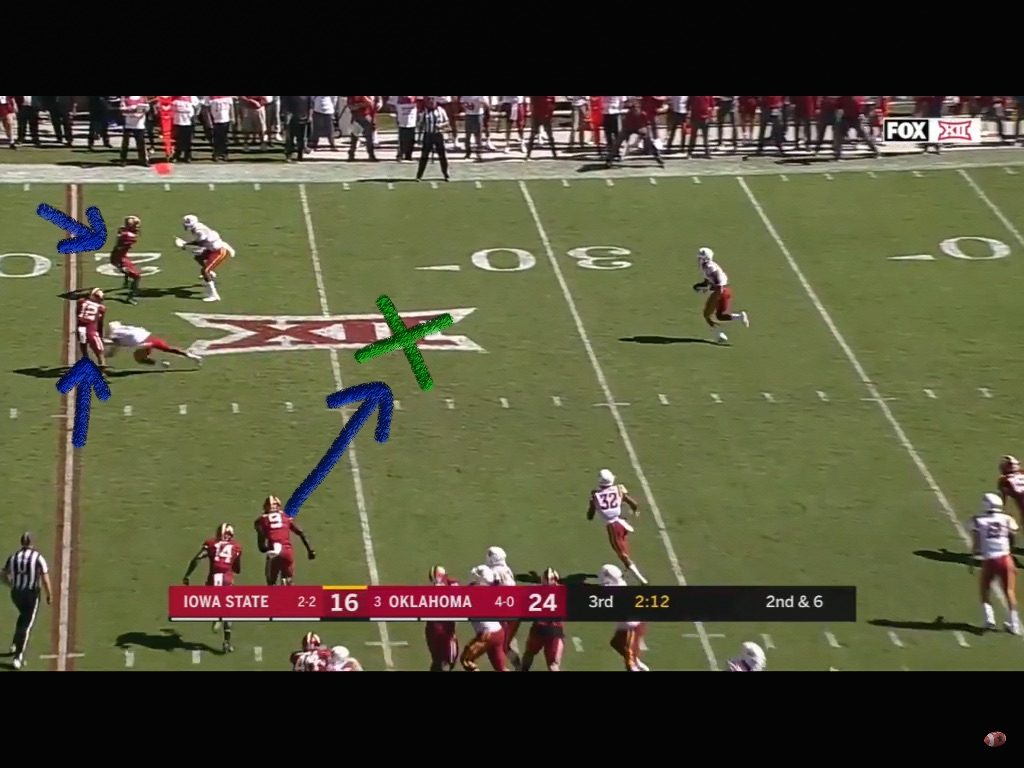 Body language means a lot in life and in Football.  As Will Johnson got cut down, I'm not sure if it was frustration or defeat.  Nevertheless, it was not the body language of attack.  Iowa State scored on this play, and tied it up after a successful 2 point conversion.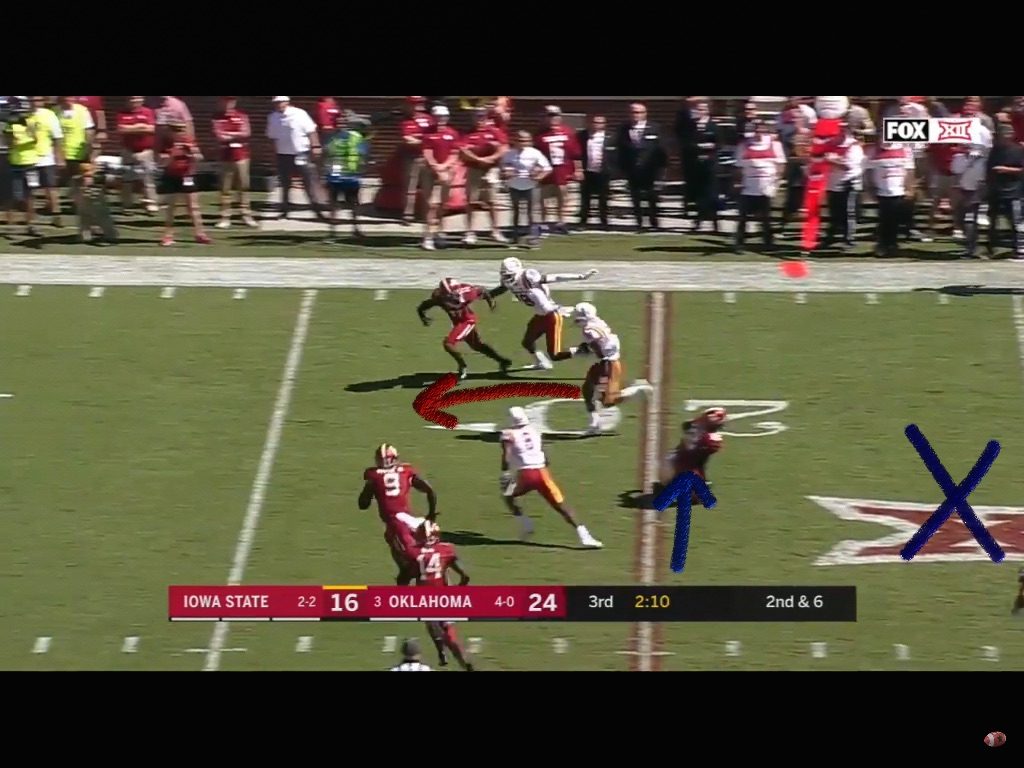 Against Ohio State, time after time, the Sooners blew these plays up.  The corner to the bottom has to be fighting to the outside to prevent a catch and run down the sideline. Sylvie (top blue arrow) has to be flying outside as well. He has help back to the inside, but he has to force the play back in there.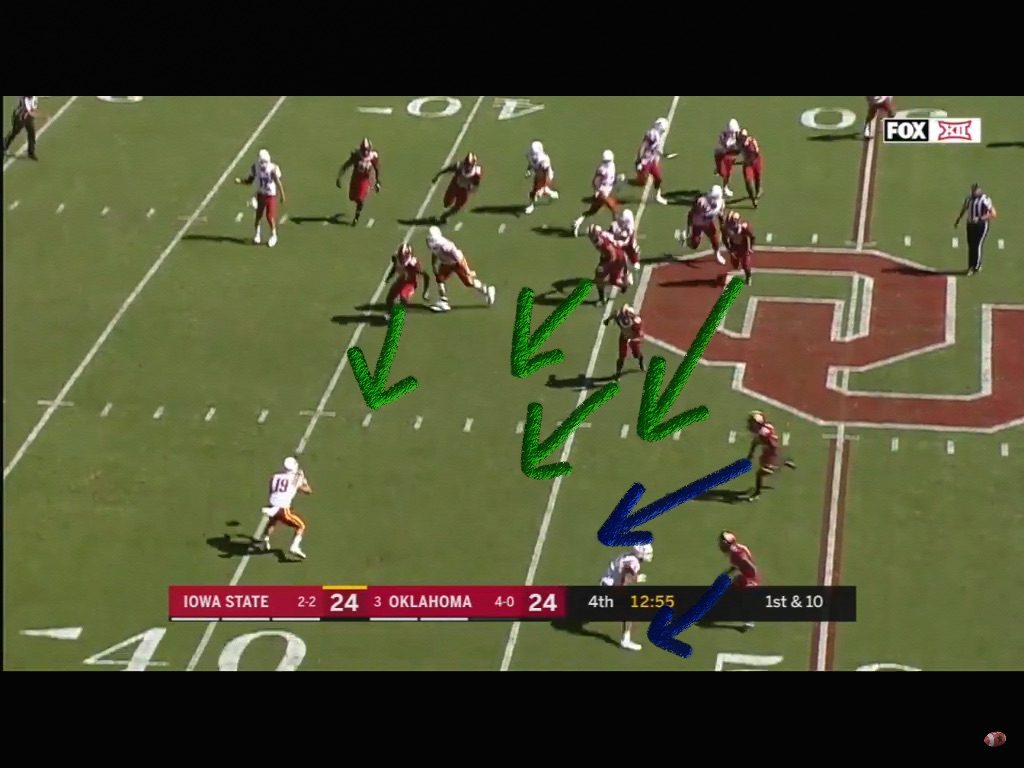 This is really piss poor effort by the corner, as there is no way he can allow himself to get hooked.  The cavalry's comin', and Sylvie should be where the red X is working to flatten this out & forcing the play back into Caleb Kelly who is flying down the 45.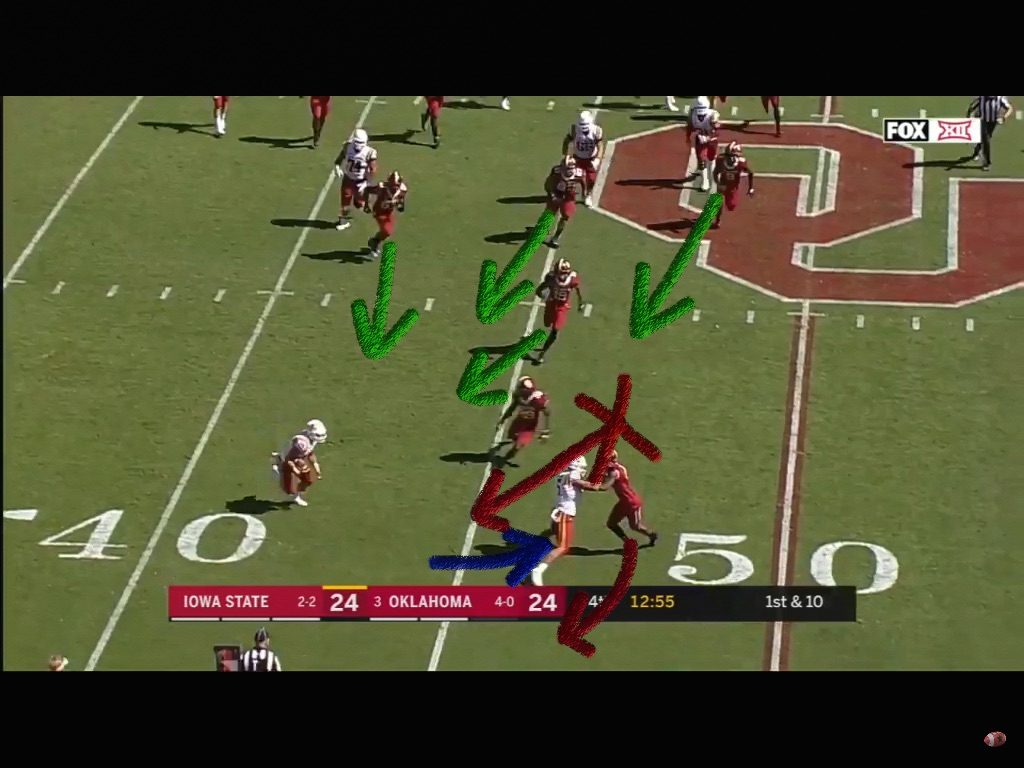 Lazard dominated the corner on this block, and a small thing in the grand scheme allowed the receiver to get outside.  Losing Steven Parker early hurt the Sooners in the long run along with Adams & Lamb.  You can't help but believe that Parker makes this play and others.  It was a perfect storm of key players getting hurt, depth players not being prepared, & finally starters not forcing the issue.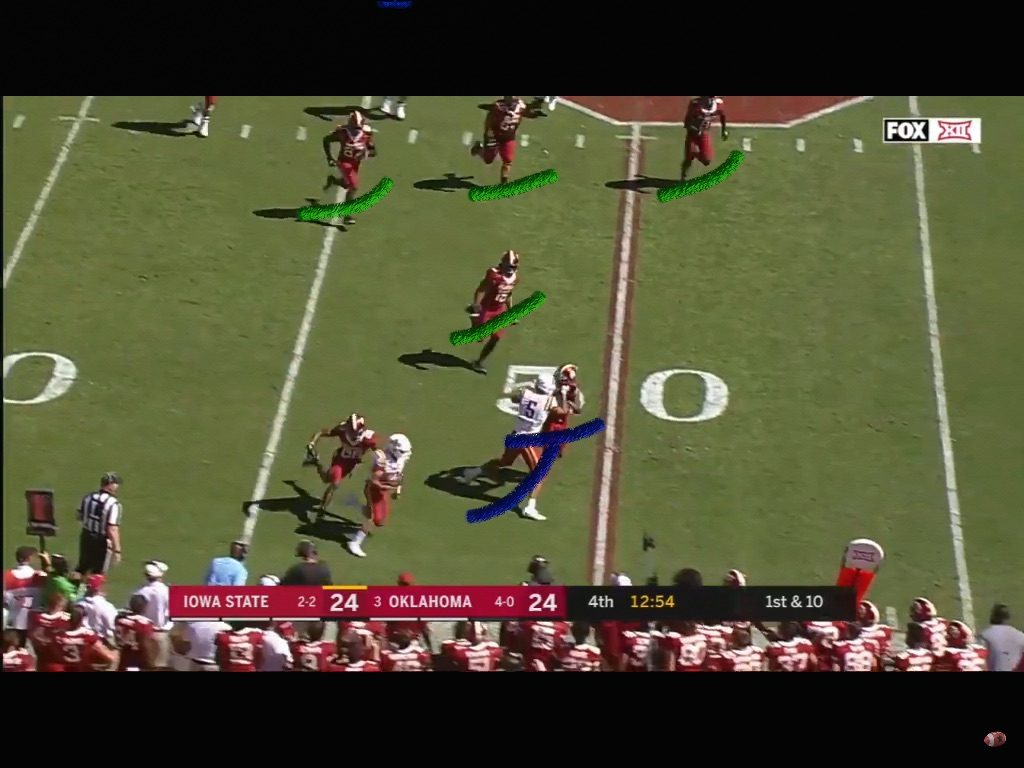 This one put Iowa State up for good; while they had backups all over the field, their backups were better than Oklahoma's.  All talent aside, no one can debate that the Cyclones came into this game to win it, and played with their hair on fire all afternoon.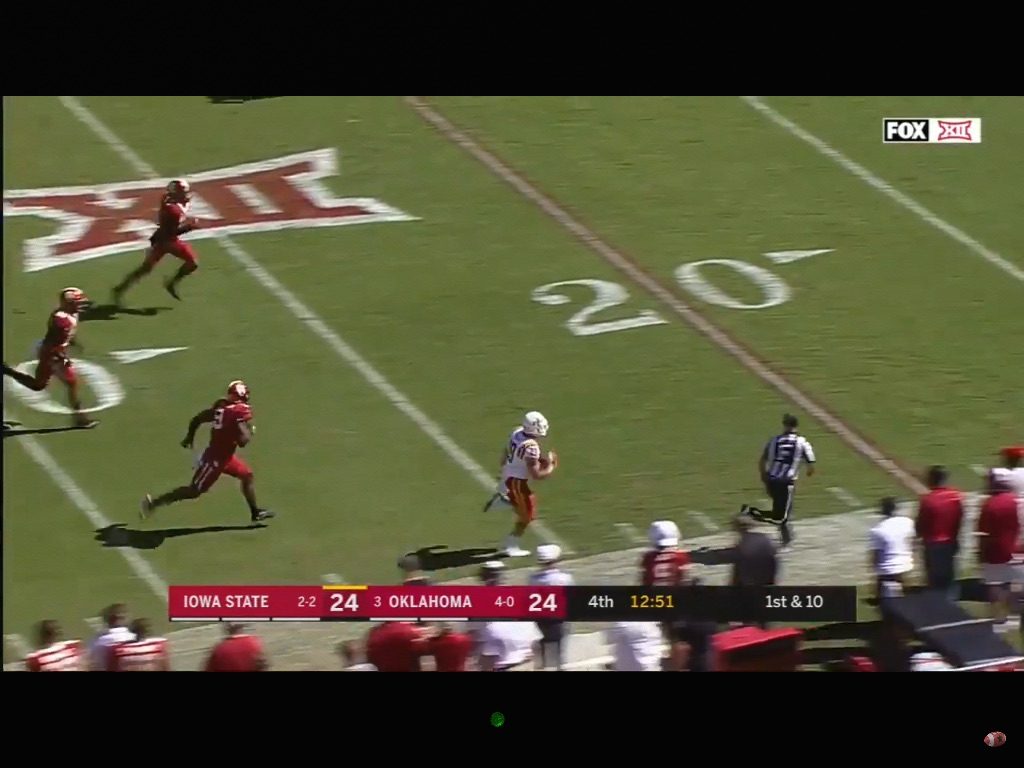 A few shots ago, I showed you the new Baker vs. the old Baker.  A few plays before this, Smallwood had caught a similar pass & carried half the team down the left sideline.  Smallwood is a manchild, and got the ball in a key spot against tOSU, so I'm not sure why he didn't get the ball out there quick.  If he throws it out here quick to Smallwood, I think that he scores.  The player a step inside the hash on the 14 is the only guy who can make the play.  Baker tried to do too much here, and it bit the Sooners.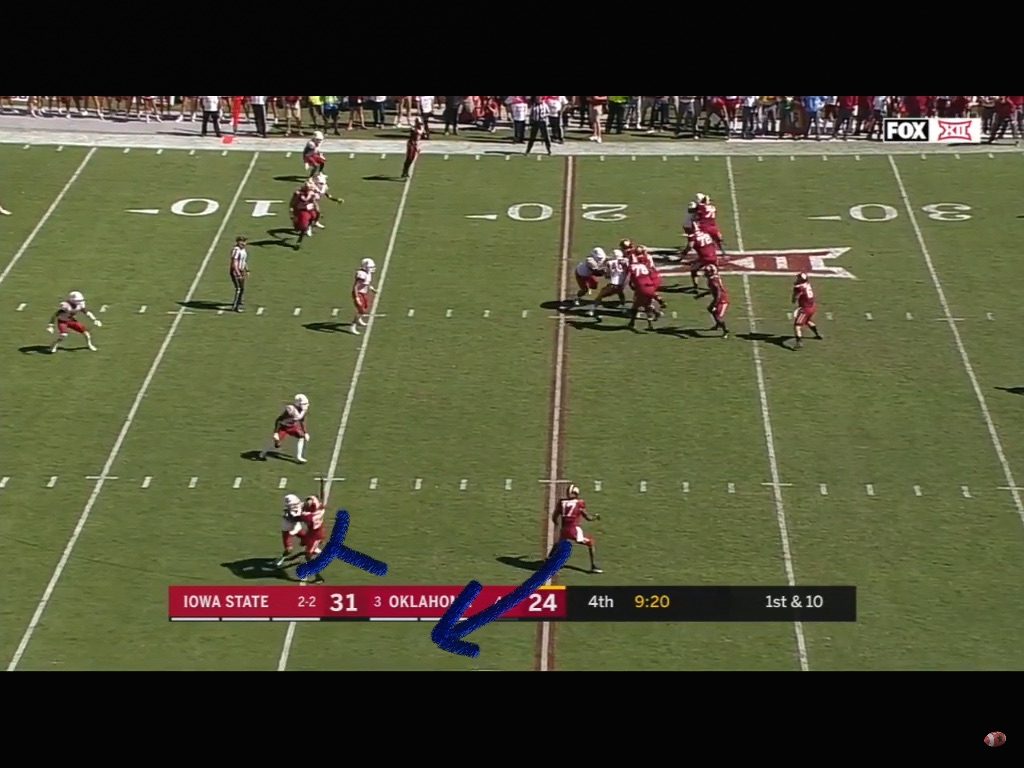 As Mayfield scrambled on this same play, he ended up holding the ball way too long and ultimately getting sacked.  Talking about Will Johnson's body language earlier, Lanning got juked and went down.  The difference is that he fought his butt off & got up and made the play.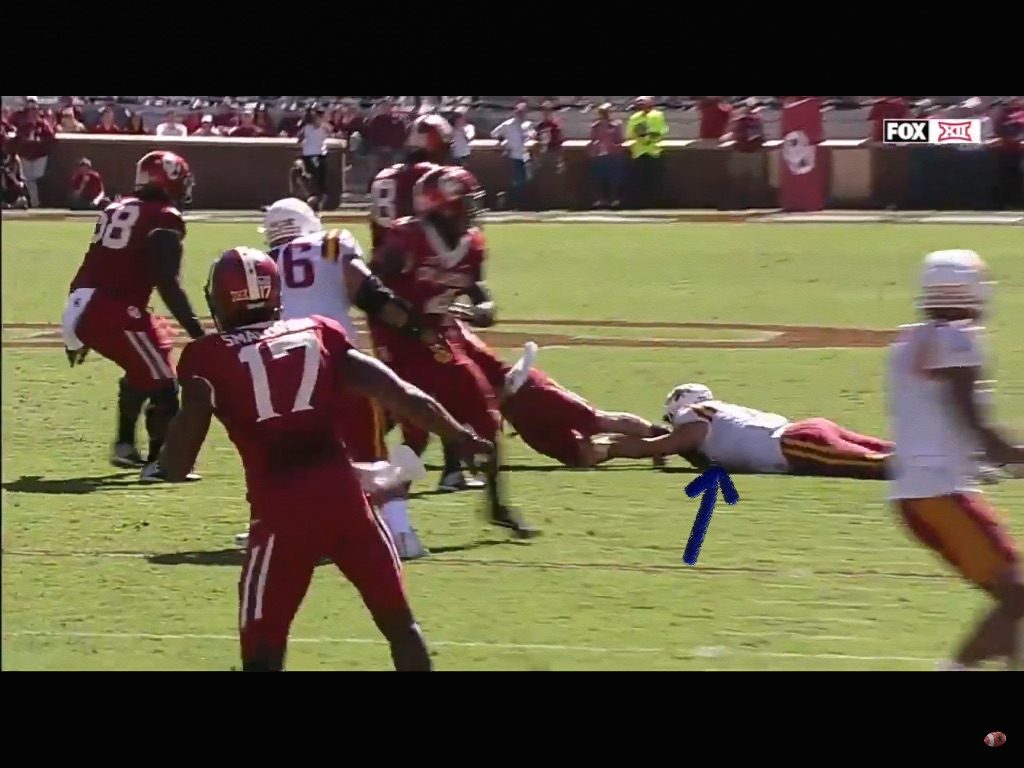 I'm hoping that Bedenbaugh can start coaching a little defense, because his guys were prepared and ready to play.  Iowa State has the left side of the offense overloaded with 5 players left vs. 3 right.  The formation is screaming for the Sooners to run back to the right.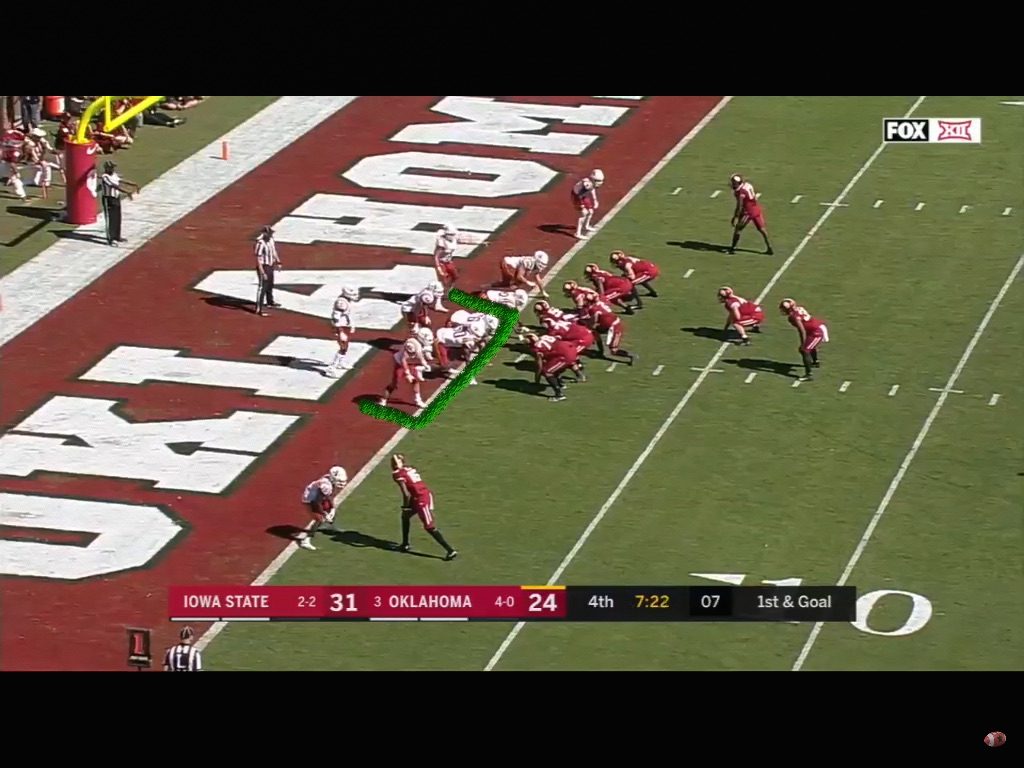 And that's exactly what they do.  This is a really cleanly blocked, well executed play to tie up the game.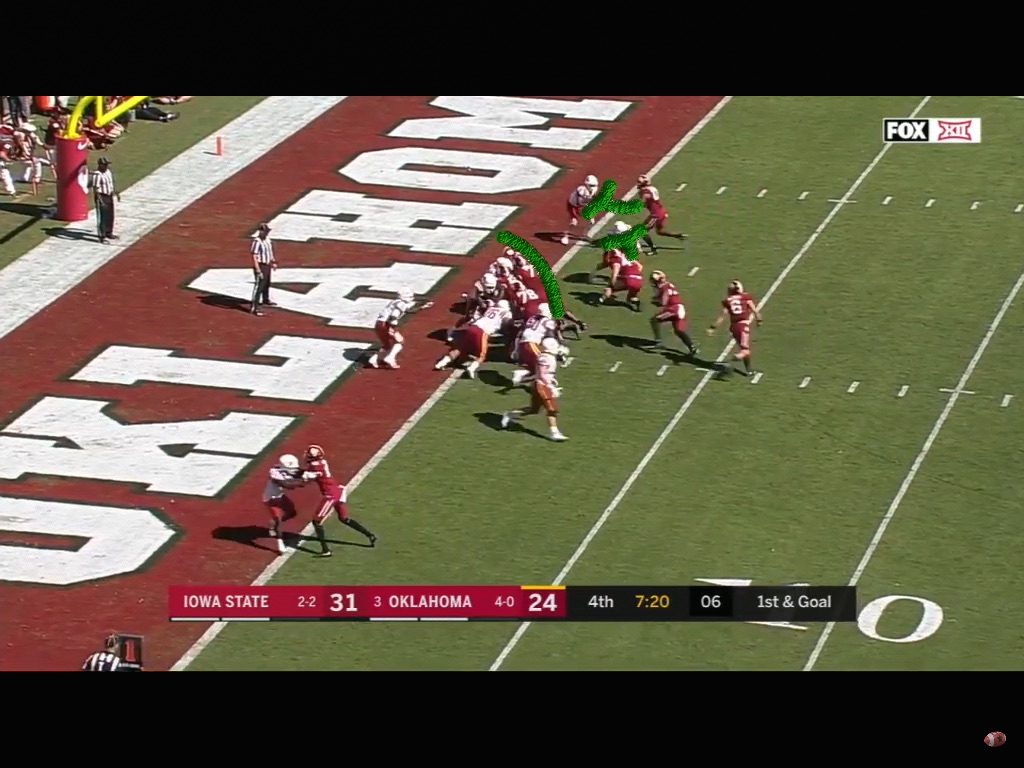 The Sooners really really missed Steven Parker to finish the game.  Sylvie gets caught with his eyes in the backfield, while Jordan Thomas thinks he's got inside help on the deep ball.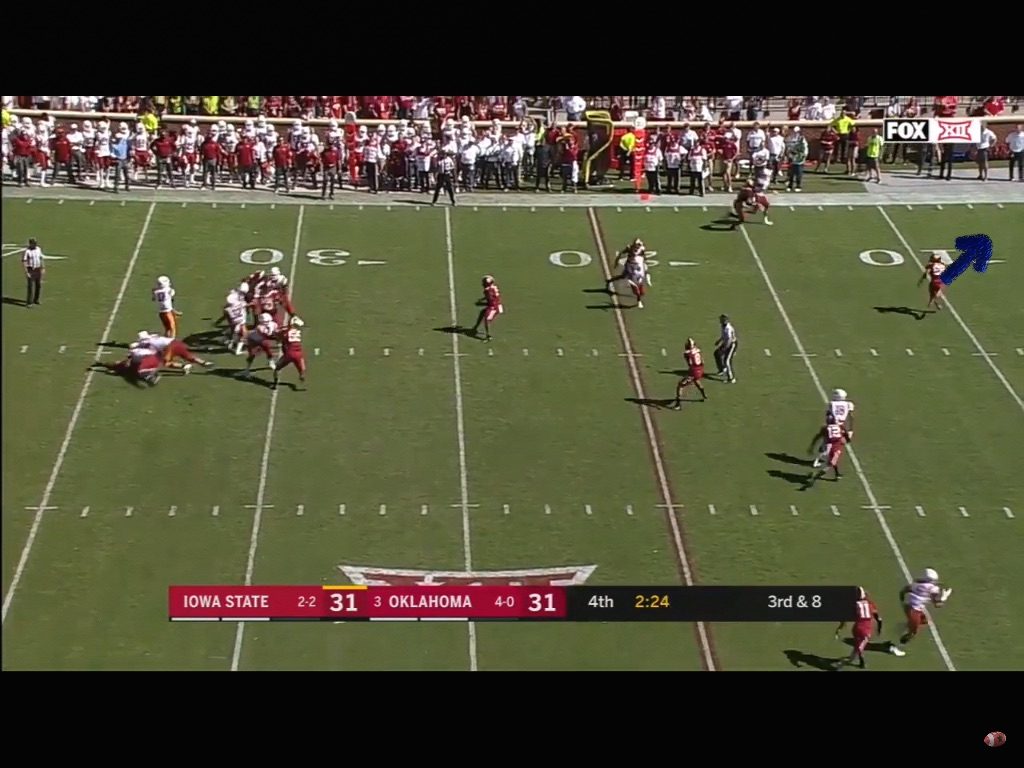 Chance should be coming over the top to pick this ball off, and in Thomas' defense he had really tight coverage on Lazard. It was a heck of a play made by the Cyclone wideout.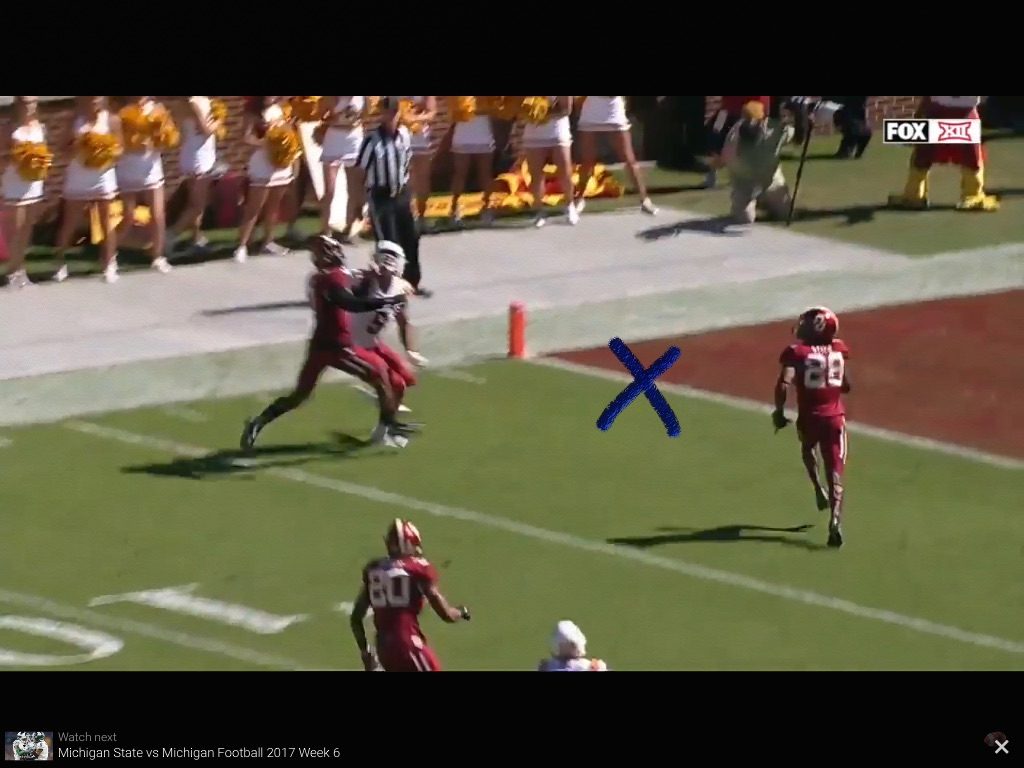 I watched the Texas vs. Kansas State game last night.  Texas is rounding into form. Although everyone has used the Longhorns as a punchline so far this year, the Sooners better get their stuff together and quick.  4-2 could be staring the Sooners in the face if they don't fix the defensive issues and more importantly the PREPARATION and EFFORT issues.  This is not the same team that went into the 'shoe and came away with a W.  That team is still in Norman, somewhere buried in the guts and the grit.  We'll see if the guys wanna go get dirty and find em.