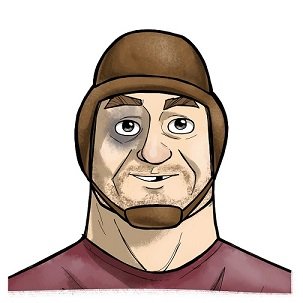 Trench Warfare | Offense | Oklahoma Vs. Tulane
Posted on: September 19, 2017
Much like the defense, the offense came out relatively flat.  Honestly, who among us wasn't?  I wasn't happy that it was a PPV, and the heart just doesn't get pumping for Tulane like it does for Ohio State.  Last week my wife watched me pace back and forth like we were expecting again, and asked me if I was ok a couple of times during the game against the Buckeyes.  Saturday, however, I must admit I was flat too.  Being on vacation all of this past week, I was able to rewatch the game a few times, and chased after every tidbit of info there was about the game.  I was still watching highlights until Saturday morning…and I'm 40.  What I'm getting at is that it's been going on 20 years since I've taken a snap.  I can only imagine what it's like to come off of a dominant win like that last week and not get caught up in it if you're a 17-22 year old.  The amount of emotion that goes into a game like that is unimaginable for most, and the thing that gets lost on most people is that the players and coaches are people too.  My prediction for the game was 63-3 when we were texting and, had there not been an early turnover and a few other mistakes, it would have gotten really out of hand.  Still, these guys aren't machines, and they're definitely not robots.  The good thing is that, even though Tulane came out with their hair on fire and hit Oklahoma right in the mouth, the Sooners responded.
After a couple of runs that got stuffed, Baker showed he was ready to play.  The pass protection was there, as you can see below, and Mayfield showed the kind of leadership early that gives me confidence in the direction of this team.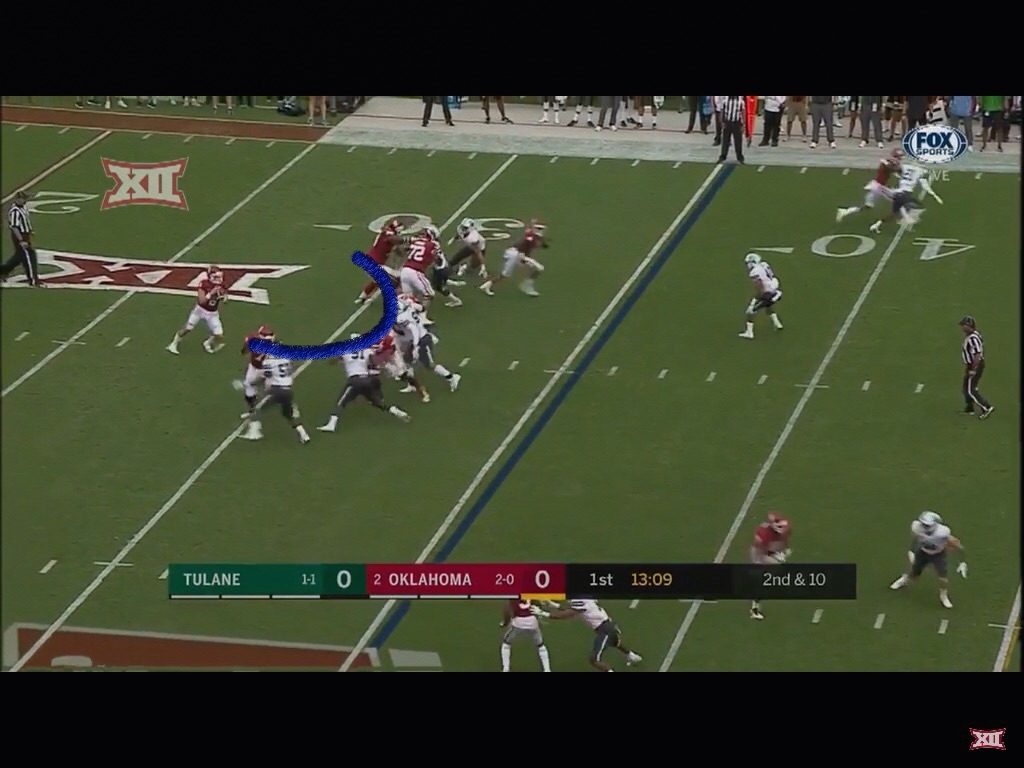 A previous pass to Mark Andrews was the forerunner to this one, which went for 29 yards.  Then, after spinning and trying to break a couple of tackles, a well-placed hand poked the ball out of there.  If you watch the replay on this one, you can see that Andrews was just holding it too loosely.  It was just an indicator of not being ready to go when the bell rung.  It happens.  Coaches talk about it.  Coaches preach about it.  Be ready to go when the ball is kicked; not a minute before, not a minute late.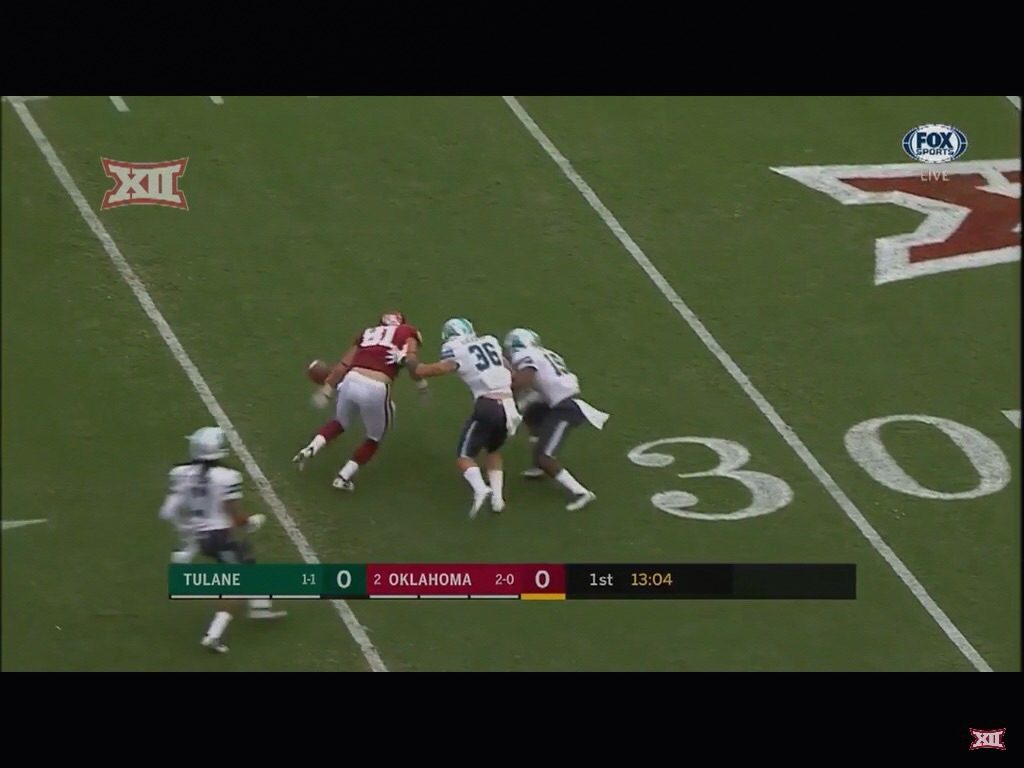 Baker again gave no indication that he was flat.  The guy legitimately loves the game.  One of the toughest things about defending this team is how many things you have to account for defensively.  First run, 2nd screen game, 3rd play action.  Then, take em, blend em all together, and try to defend elite athletes with a Heisman trophy candidate pulling the trigger and you've got a tall order.  Below, you can see the play action fake to the RB, which pulls all of the linebackers up as well as the corner.  The corner's getting out wide because the Sooners swing passed the Buckeyes to death last week.  At the top, you can see CeeDee Lamb sneaking out the back door.  The receiver on the hash is running right at the Safety to get him to commit.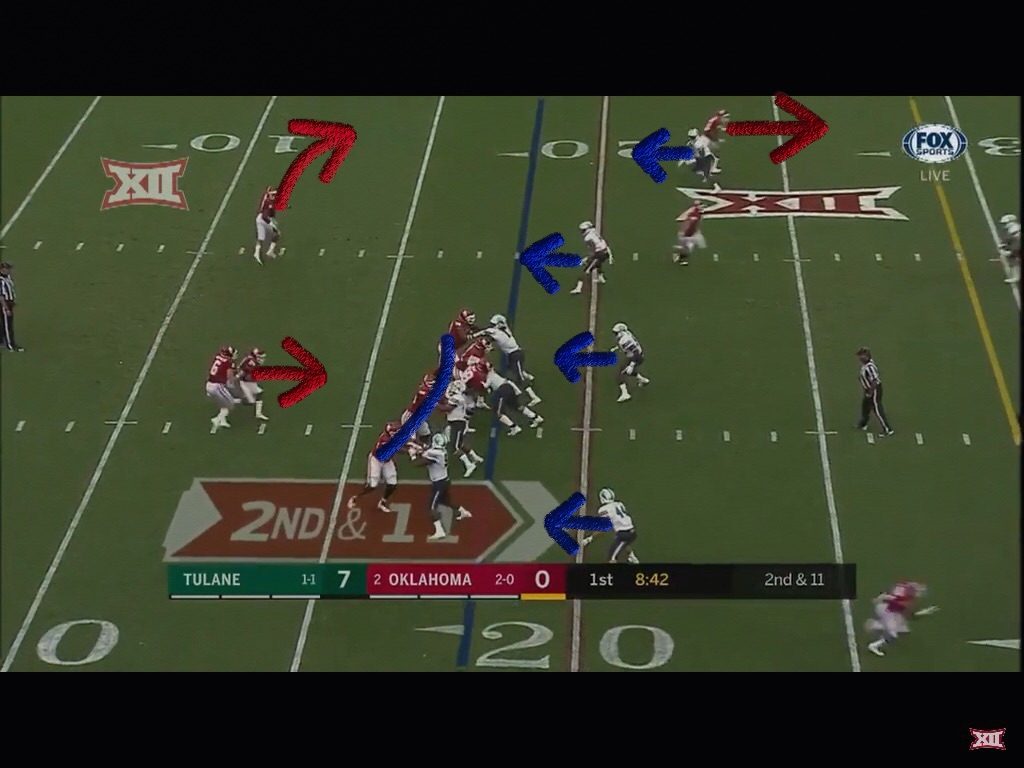 Now you've got an 82 yard bomb to the true Freshman receiver.  It's funny how play calls can help you recruit.  The Sooners had Trejan Bridges and Theo Wease on hand for yesterday's game.  Spencer Rattler was there as well, and there's no doubt that this play showed all that the Sooners are going to play young talent and aren't afraid to go downtown.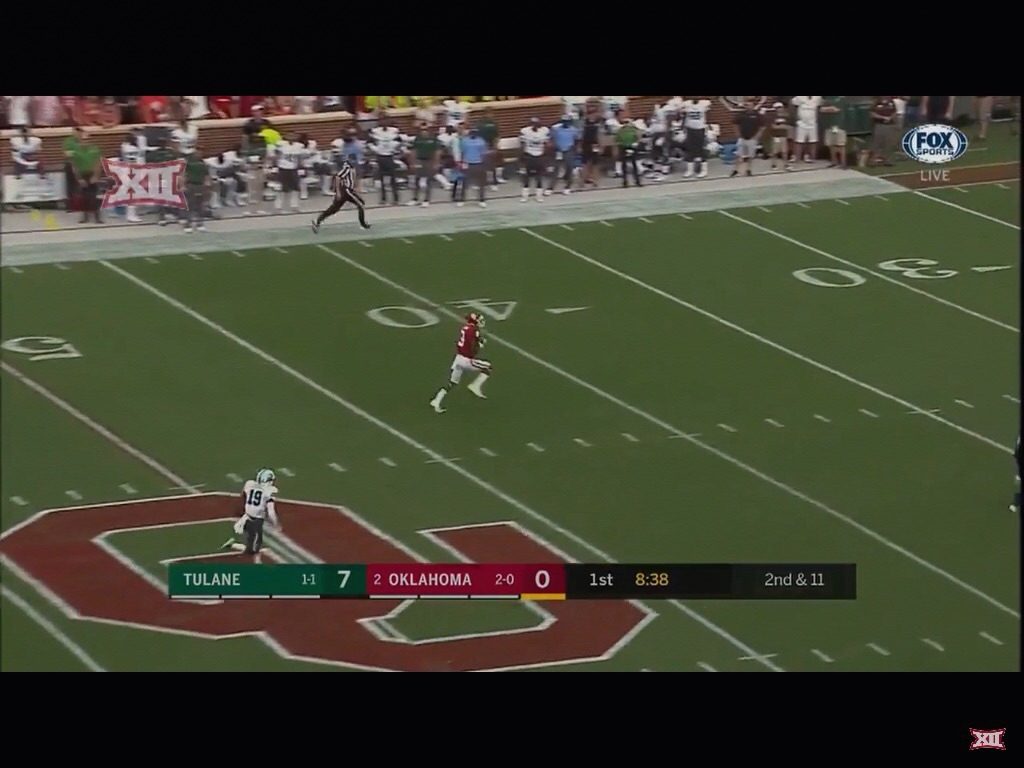 If you go man or zone, it's dang hard to defend.  We see man coverage to the top to the trips side, and the bottom left arrow, #44 for Tulane, is supposed to have Abdul Adams coming out of the backfield down the seam.  Like the other linebackers though, the defender has completely bitten on the play action fake.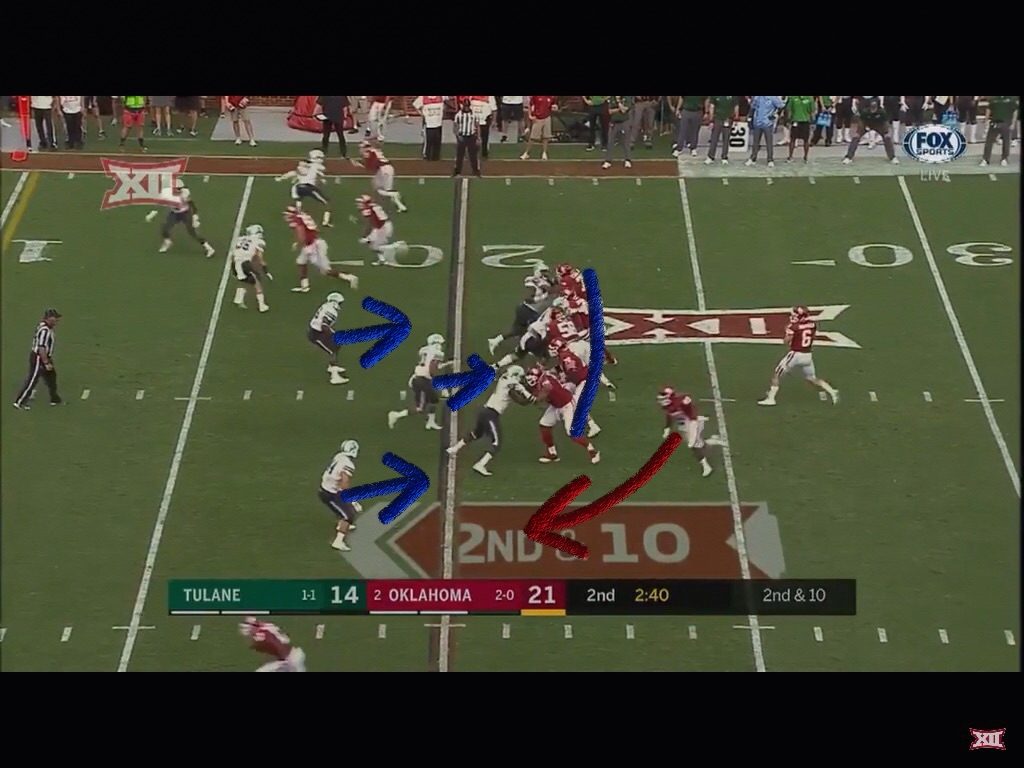 As Abdul Adams goes by him without a lot of issue, you can see the defender's body language is still leaning towards the line of scrimmage.  In a nutshell, this is what Joey Galloway has been talking about.  To a defense, you're damned if you do, and you're damned if you don't.  It creates a lot of wide open looks and, with Baker being in year three of Riley's system, he knows where all of the wide open guys should be.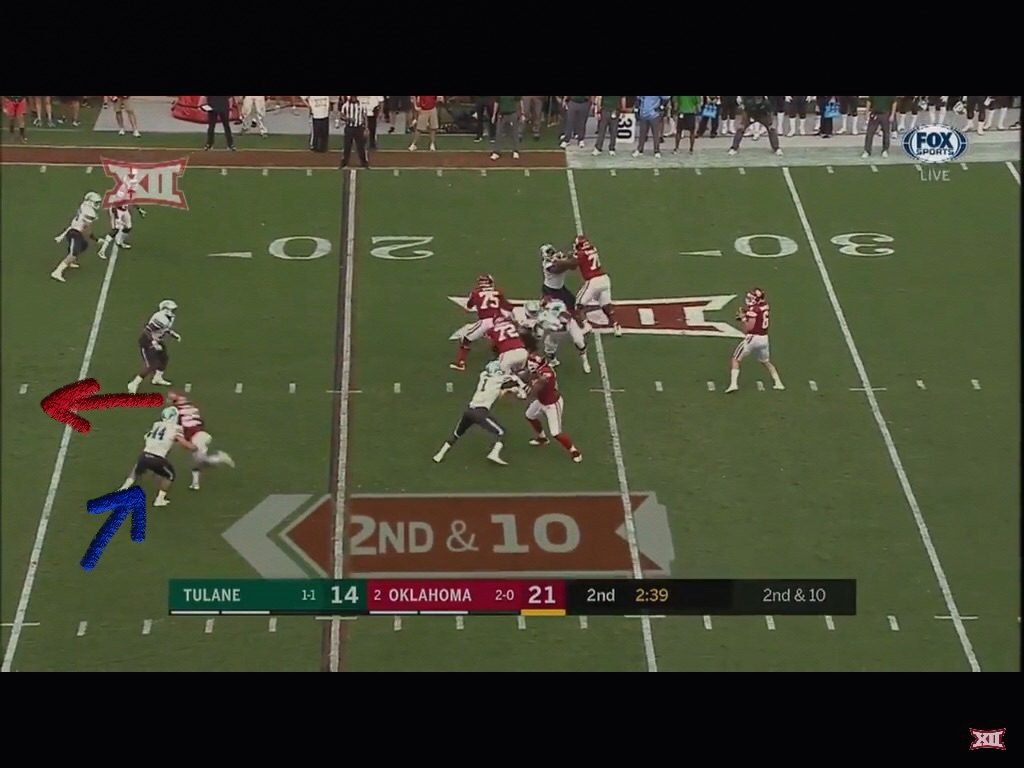 So again, the guy who's supposed to be covering Adams isn't within ten yards of him.  You aren't going to out-scheme this offense.  You're going to have to out-athlete it, and you're going to have to attack it and keep attacking it.  If you sit back and think your athletes will be able to process multiple reads, it's a defensive recipe for disaster.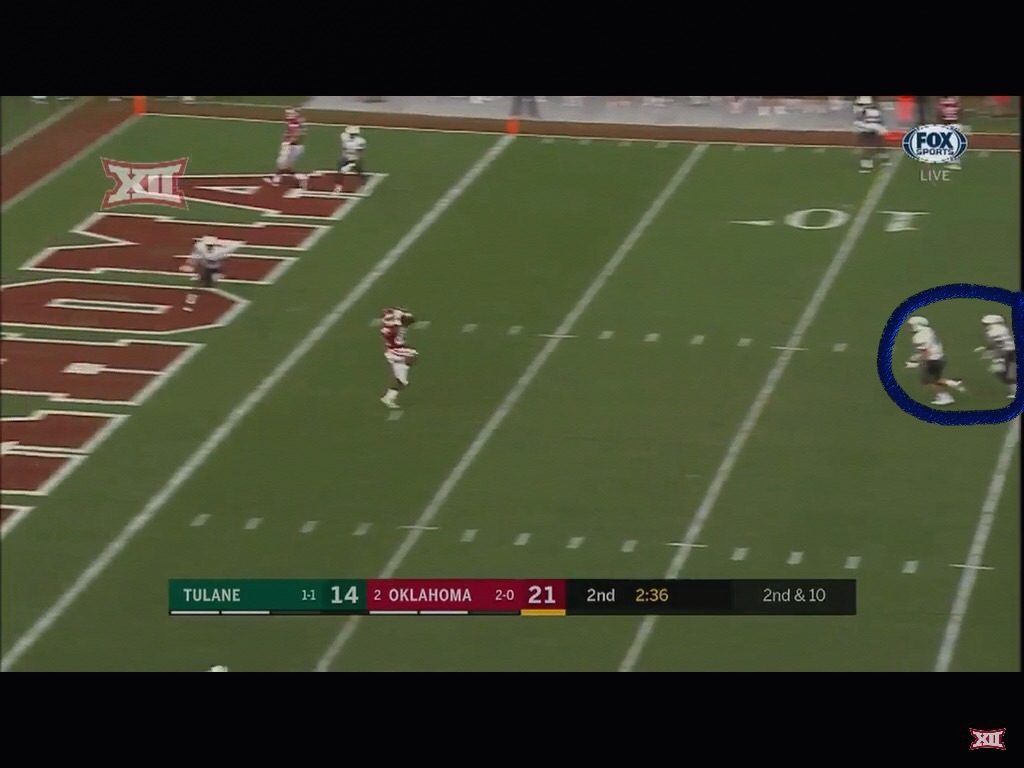 Last week, Abdul Adams fumbled early and we didn't hear from him again.  This week, he responded in a big way.  He showed again that he's probably the most polished back in this offense.  While Trey Sermon drew the start,  Adams came in and logged 8 carries for 93 yards at 11.6 yards a clip, and caught two balls for 32 yards and a score.  He needs the least room amongst all the backs it seems, and he hit this seam with ease.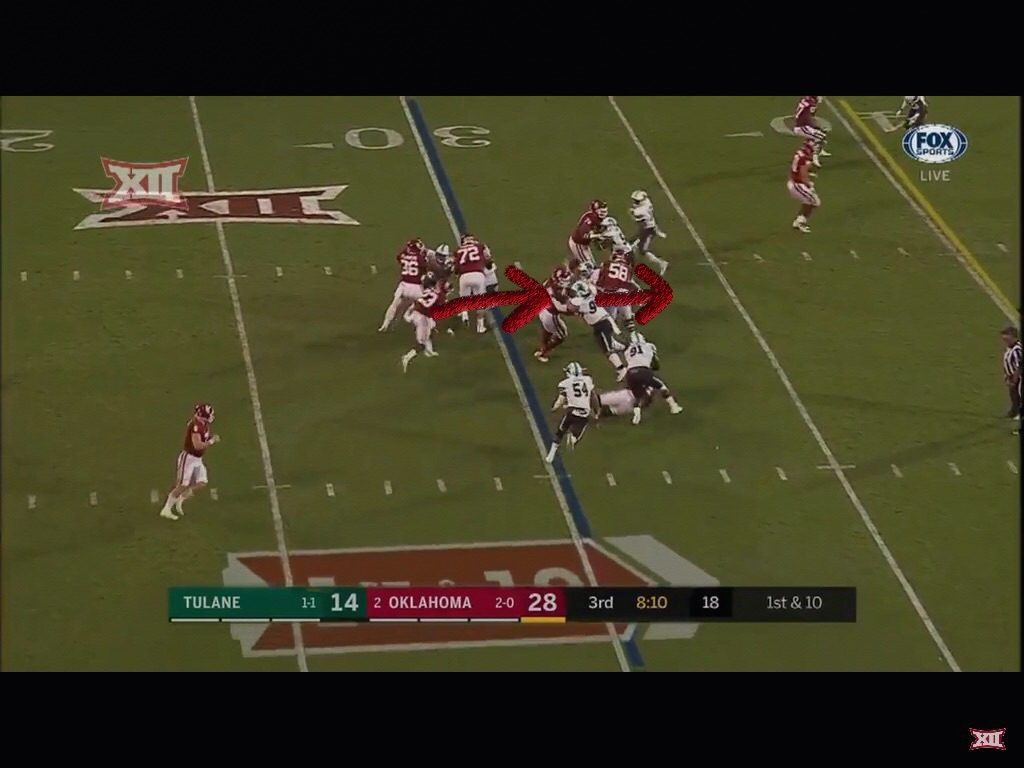 The Sooners have in my opinion more top end speed at the RB position this year top to bottom than in recent memory.  Adams, Sutton, and Anderson have top end breakaway speed, but Abdul and Marcelias only need a step to be at top speed.  After he shot right behind Wren's block, he was able to bust up in between Smallwood & Andrews blocks.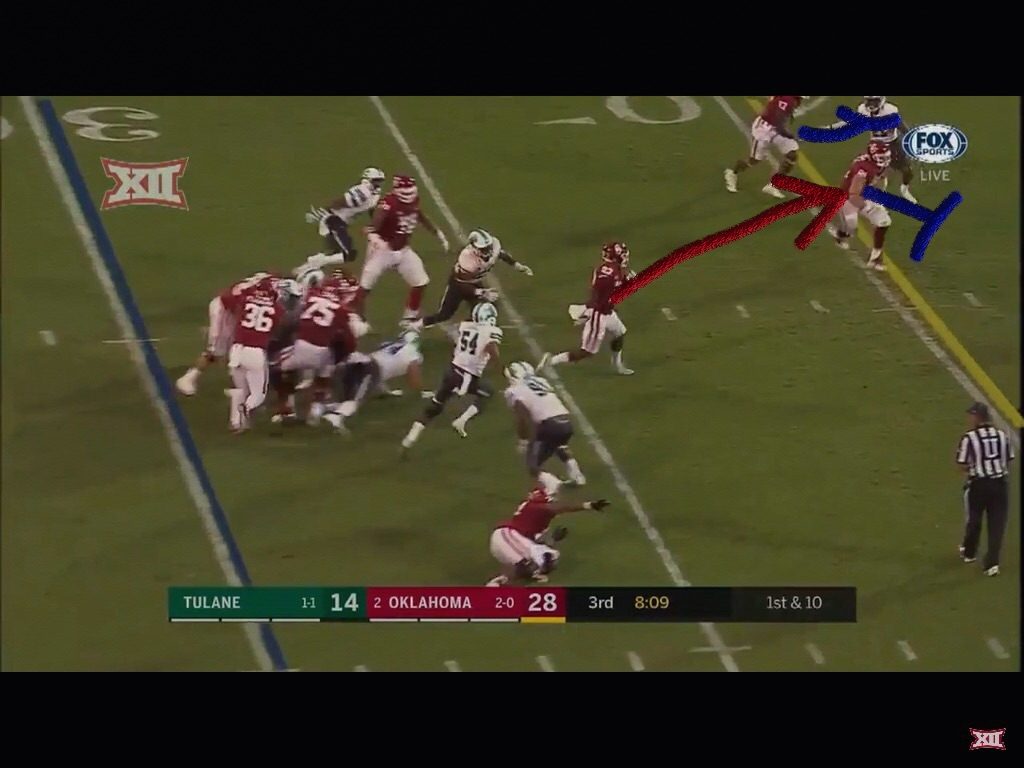 He turned a relatively small crease into a 49 yard gain.  So far this year, he's had 21 carries for 166 yards at 7.9 yards a pop, and leads the Sooners in total yards and yards per carry.  In my opinion, if you want to stop this offense, you must first gear up to stop the run.  While you're going to give up some big plays in the play action game, if this offense is to be slowed, you first must be able to shut down the run game.  Easier said than done…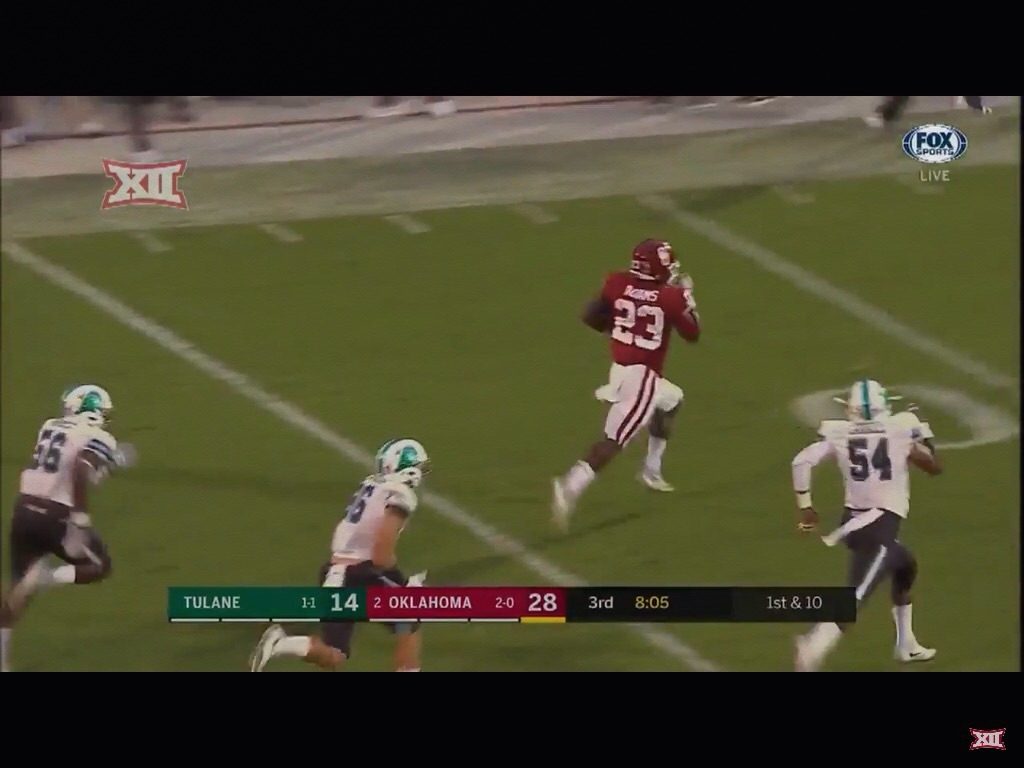 Another guy who has been a breath of fresh air is Marcelias Sutton.  He's barely behind Adams in terms of yards per carry at 7.7.  We can see Big Ben Powers and Big Orlando Brown coming around on the pull here with a lead blocker kicking out the outside backer.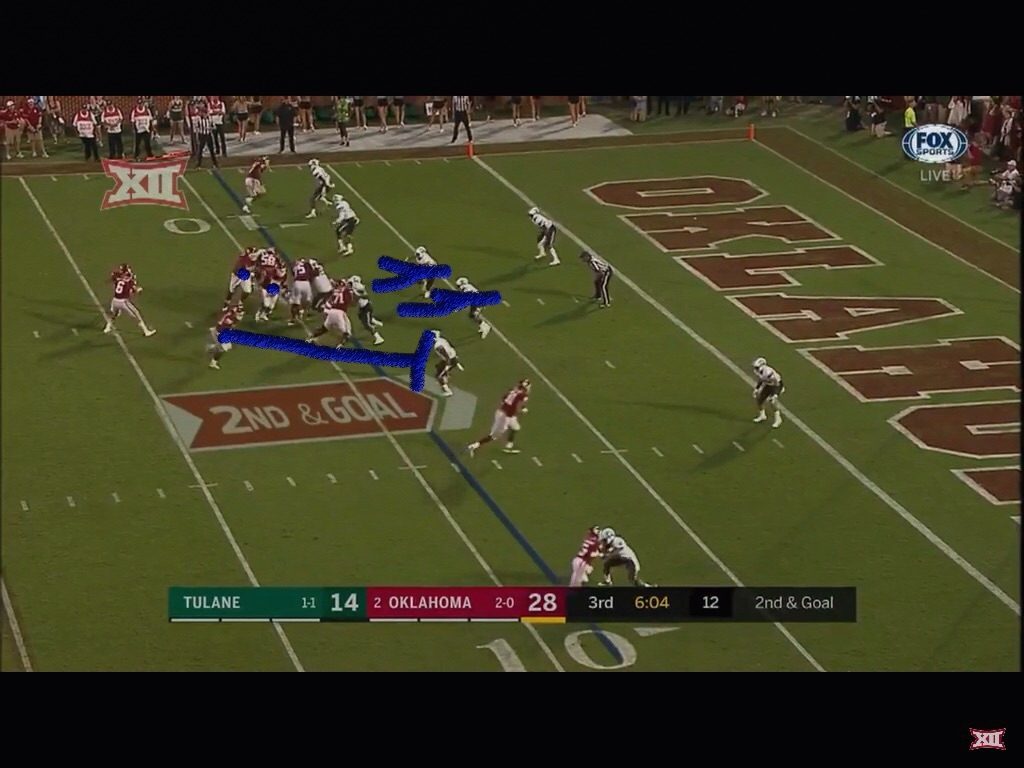 Sutton just exploded through this hole.  I can only imagine what the safety (top red arrow)  thought before and after this play.  He probably thought that he had a good shot at Sutton who is north and south with six on his mind…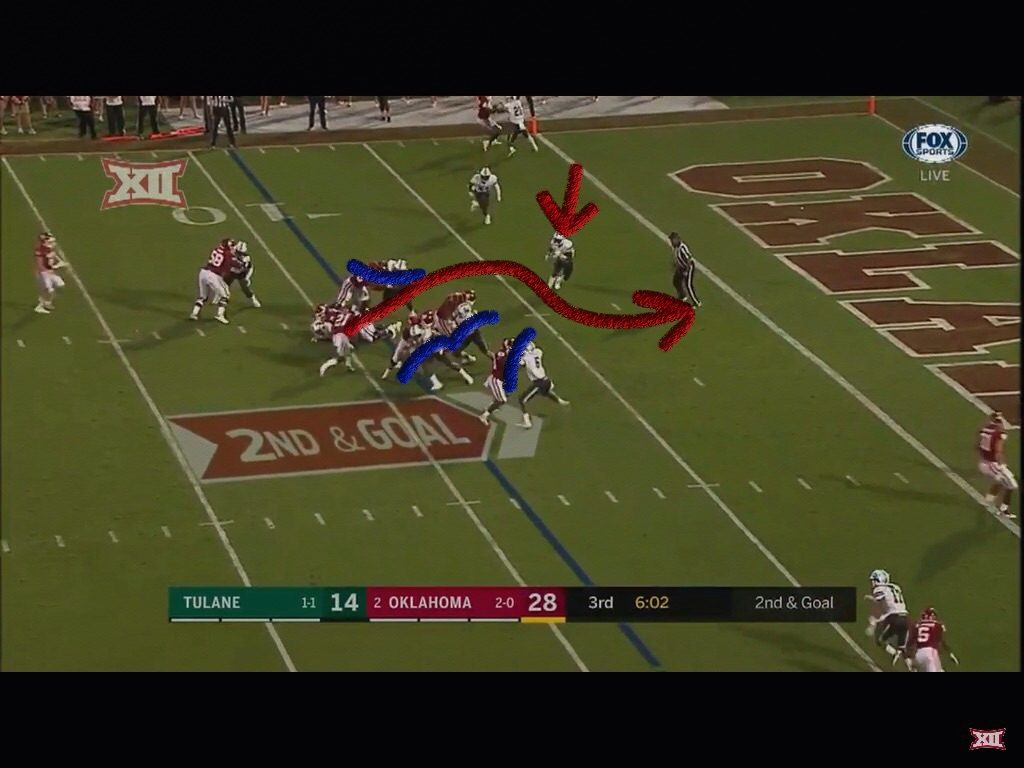 But Marcelias just outran him to the stripe.  Speed kills, and this play is no exception.  I said it last week too, but guys like Sutton, Adams, Jeff Badet, & Marquise Brown all have absolute high gear game-changing speed.  As the year unfolds, it'll be interesting to see how Riley uses all of them.  I know this safety probably was pretty shocked that Sutton did what he did here.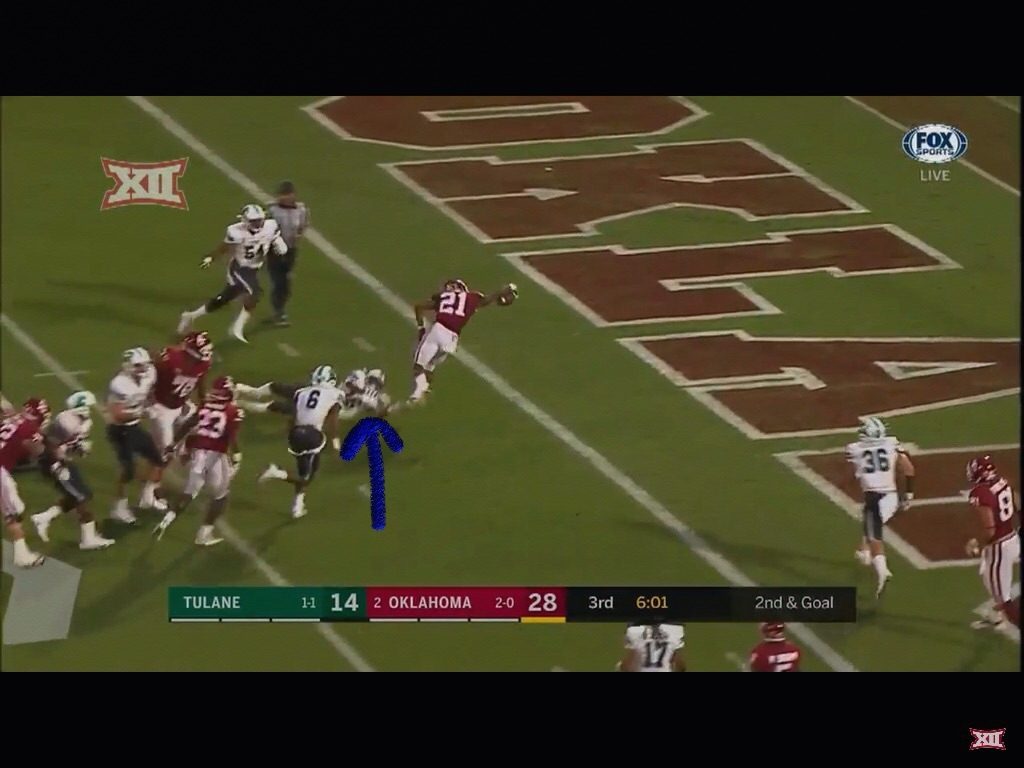 Speaking of speed…here's Marquise Brown now.  This is just a simple 5 yard drag route that he turned into an 25 yard gain.  Quietly, Brown had 6 catches for 155 yards if that's possible.  Every time he secures a catch, it's 21 yards on average.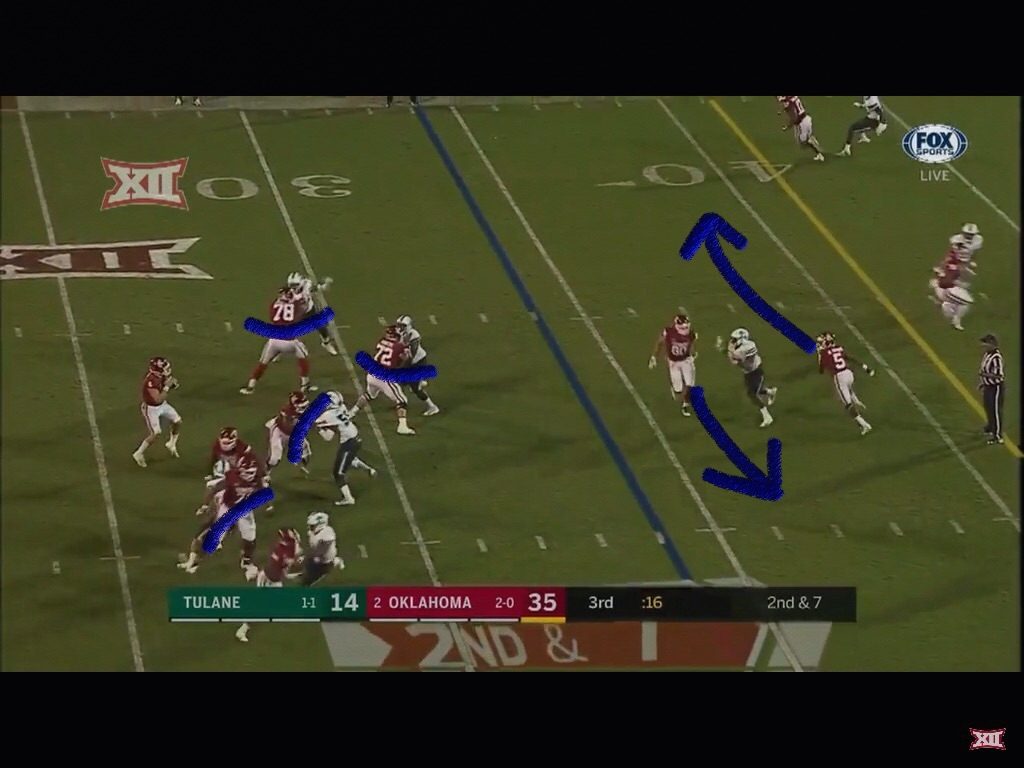 The defender has Brown dead to rights here, but he just gives him a little shoulder wiggle and is outside the numbers and down the stripe before you can blink.  Once he, Badet, & Lamb settle in, that's a whole lot of speed on the field for the good guys.  Top to bottom, it's the fastest team speed the Sooners have had in a looong time.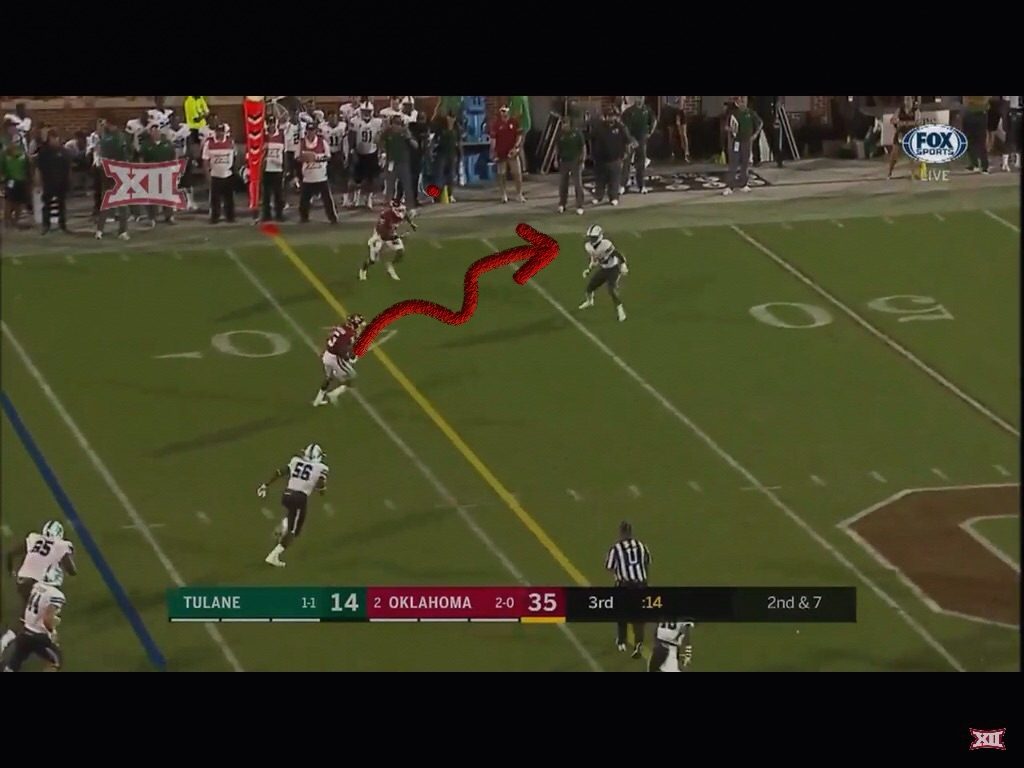 While Trey Sermon isn't the fastest of the bunch, he's plenty fast enough.  He's also fast becoming a fan favorite by my estimate.  Trey's best asset is his vision.  That may seem surprising for some, since his reputation is as a power back.  Still, his ability to find the cutback is very solid.  On zone plays & counters, he's a natural.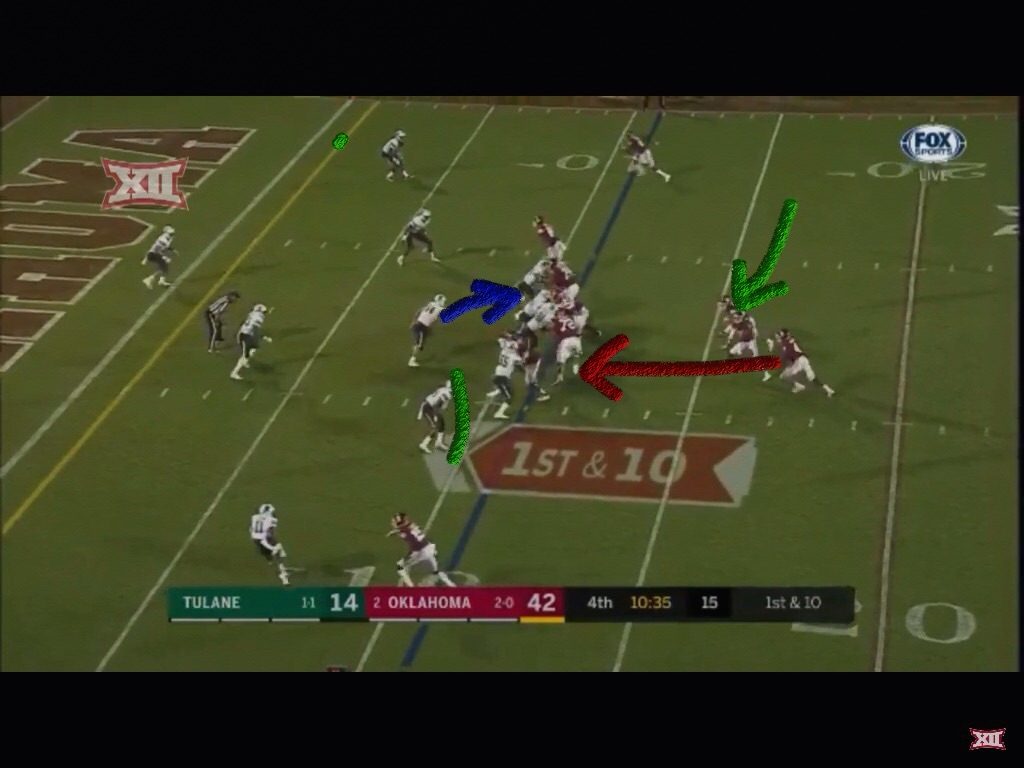 As Sermon sees the hole and gets into it, Lee Morris is setting a good block under the arrow marking Trey's path.  It's great that there is legitimate competition at every level of this offense.  As a defense, you have to prepare for four or five running backs, nine or ten receivers, and two quarterbacks… and all of em can play.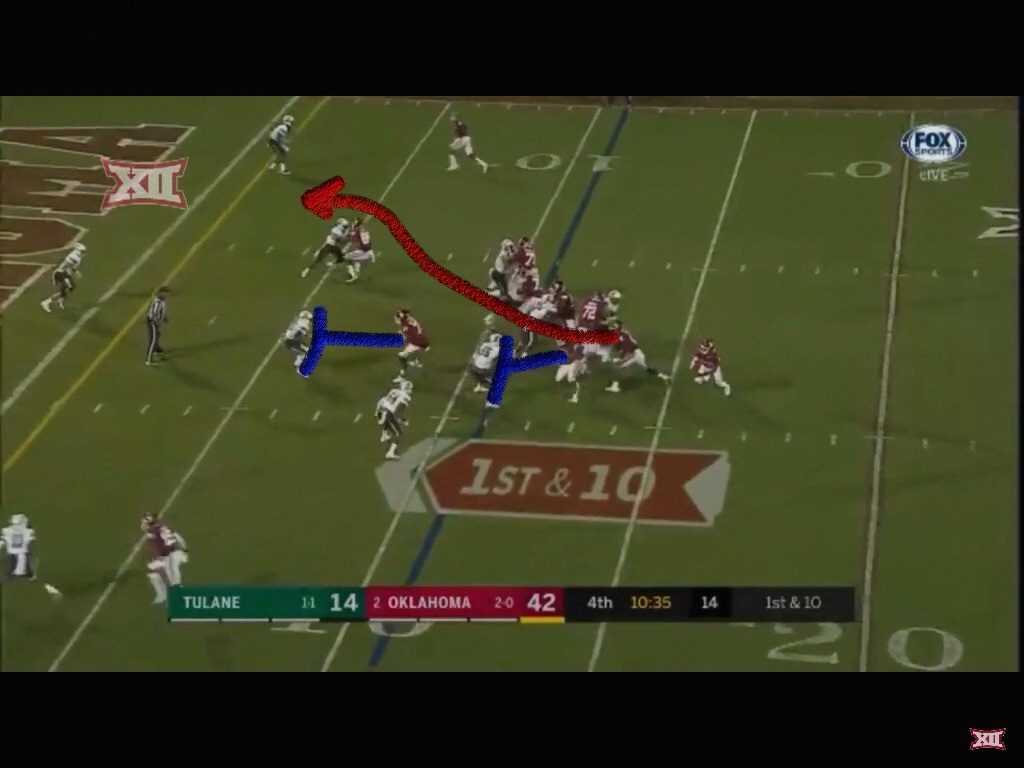 Speaking of two quarterbacks, here's another one now.  On the season, Kyler Murray is 13 of 14 completing 93% of his passes and boasting a 291.2 passer rating.  The guy is going to be a legitimate problem for defenses  this year.  I'm waiting for a reverse run/pass option with him and Baker on the field.  Even bringing him on the field as a decoy on a reverse and coming back the other way will be something I'm sure Coach Riley has in the toolbox.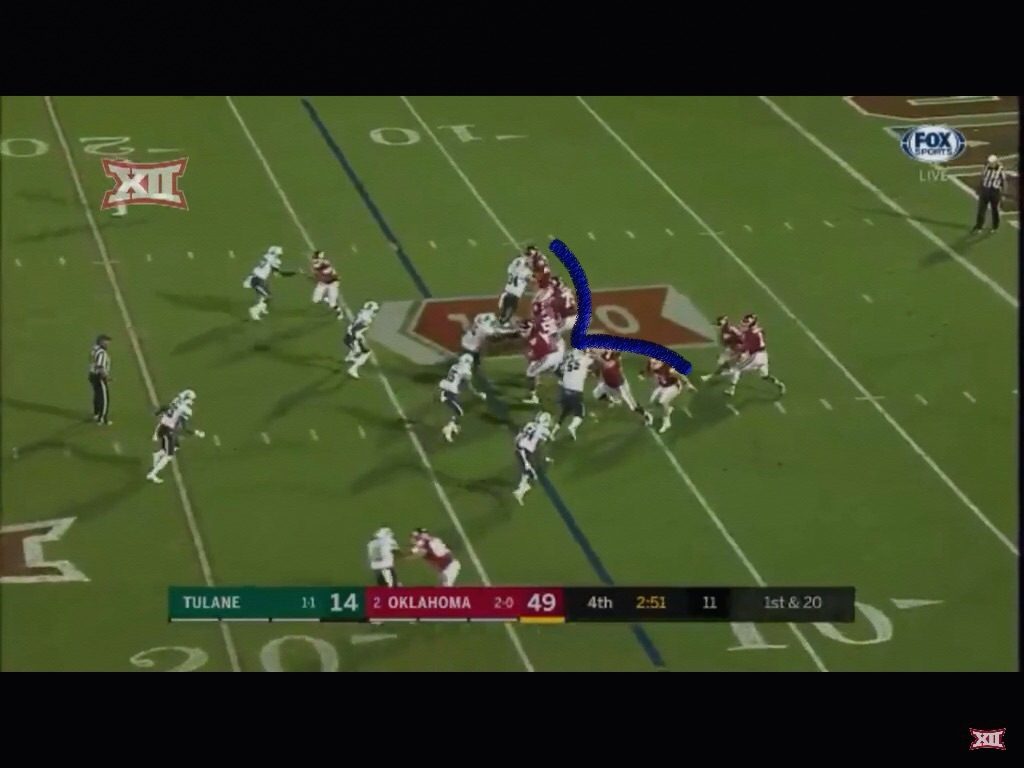 This one, however, is just straight up speed to bad bad Marquise Brown…fastest dude in the whole dang town.  Going back to my earlier point about recruiting with the premier receiver talent and RB talent on campus this weekend, Riley probably wanted to show who had next after Baker graduates this year.  Not too bad for sitting for 3.5 quarters and then coming in to drop an 87 yard dime like it ain't nothin.  Final:  Sooners 56-14.