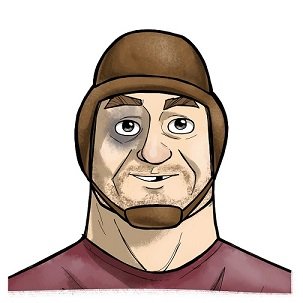 Trench Warfare | Offense – 2nd Half | Oklahoma vs. Ohio State
Posted on: September 12, 2017
After a quick score by the Buckeyes to start the 2nd half, the Sooners came right back down the field.  Being able to respond to adversity is a hallmark of championship teams.  On the road, as an underdog, down by 7, after all the mistakes of the 1st half, knowing that you need to answer takes guts, strong nerves, and belief in your teammates.  As good of an offensive line coach as Bill Bedenbaugh is, Lincoln Riley is his equal when it comes to designing plays, calling them, and knowing the right time to call them.
second half
The entire game up to this point was setting up for this call.   Up to this point, the Sooners had countered and read optioned the Buckeyes to death.  The Buckeye linebackers were trying to anticipate to shut down the Sooner offense.  As Flowers leads up to block the end, the linebacker is licking his chops thinking he has a free run at Sermon for a loss…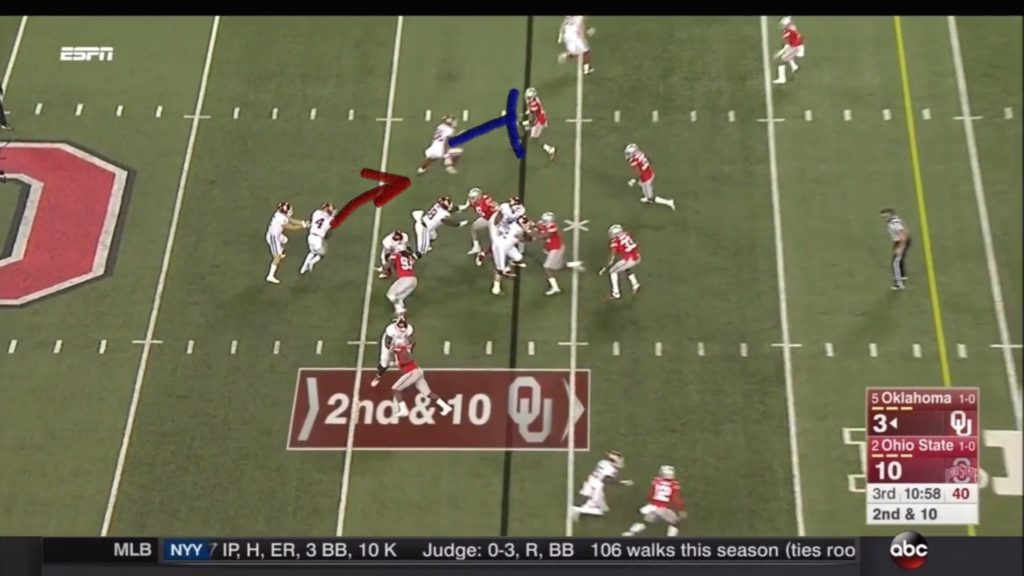 K tweeted during the game that, "Lincoln Riley has completely melted the Ohio State's LB's keys.  Read anything but the ball & you're wrong.  Read the ball & you're late."  K was spot on, and this play epitomizes it.  As both defenders fly up to shut down the potent Sooner run game, they abandon their man coverage responsibilities for Flowers.  He's wide open down the middle of the field.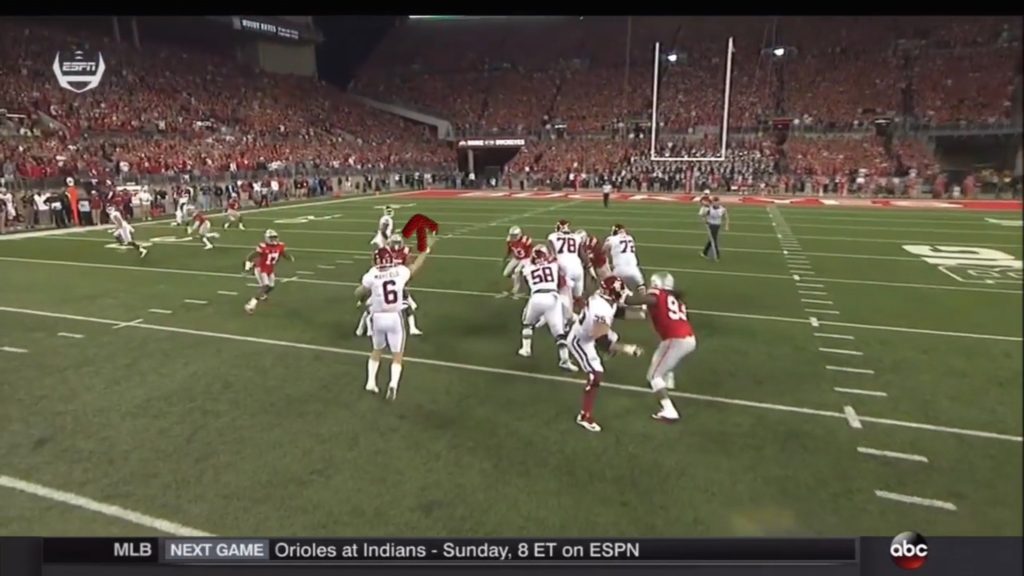 Going back to what I said about knowing when to call what play, Dmitri Flowers is 6'2″ and goes about 250.  Most of the time, he doesn't look that big, but the shot below shows how big he is in comparison to the Ohio State defensive back.  Again, timing of the call is key, as is field position.  This was a 36 yard pass catch and run for Flowers.  Can he outrun the defense if it's called from the 50?  Most likely no.  That's why the timing is so important.  Also, you can't run this play without establishing the run first.  By getting the linebackers to commit to the run and having so much success early, the space was there for Flowers to operate.  He made himself some money on Saturday by showing his versatility and athleticism.  Heck of a call and play to bring the Sooners even with a much needed answer.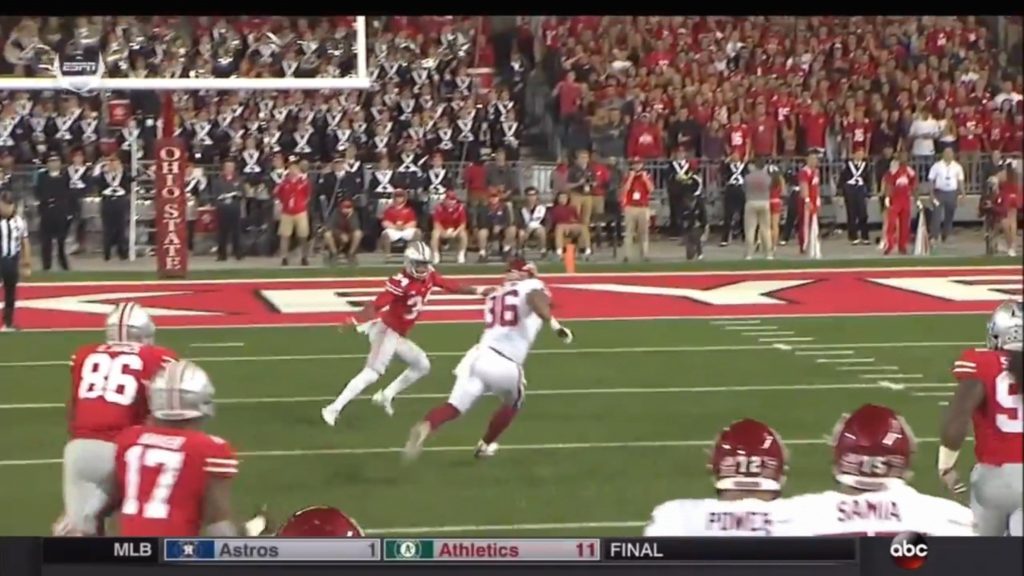 Something I haven't seen talked about that much this week was the block by Lee Morris on this play.  This is the long pass play to Mykel Jones that set up another Oklahoma TD.  Knowing that the Buckeyes were going to start keeping the D-Ends at home for bootleg calls, Riley accounted for that by having Morris there to chip Hubbard.  Morris did an outstanding job by getting just enough on Hubbard to give Mayfield time to make the throw.  Getting his head on the front of Hubbard and not getting called for a block in the back or clipping was critical here as well.  One heck of a job by Morris.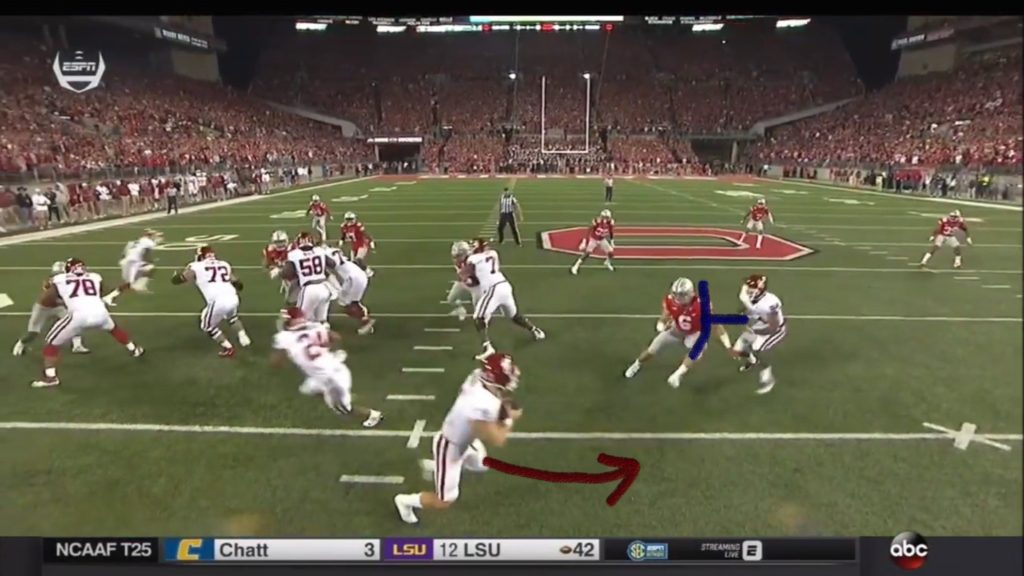 If you look deep, you can see Mykel Jones breaking towards the numbers.  Mayfield's too close for missiles and switches to guns here for a 30 yard strike.  Without that block from Morris, this play is dead in the water.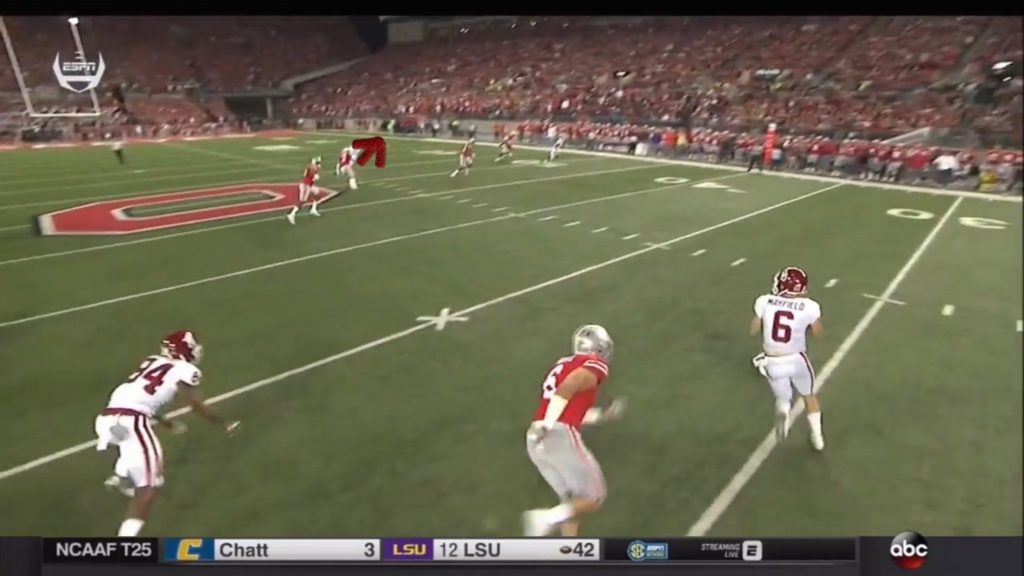 This is an absolute NFL throw by Mayfield.  On the move, under pressure, and with a defender sinking to fit it over.  You can see Mykel Jones and the defender going up after the ball.  This is like one of those YouTube videos where the QB throws an arched pass into the trash can down the field.  This is also one of those back breaking plays for the defense.  That corner is sinking off of his coverage to break up or intercept this pass.  That pressure forced Mayfield into bad decisions last year…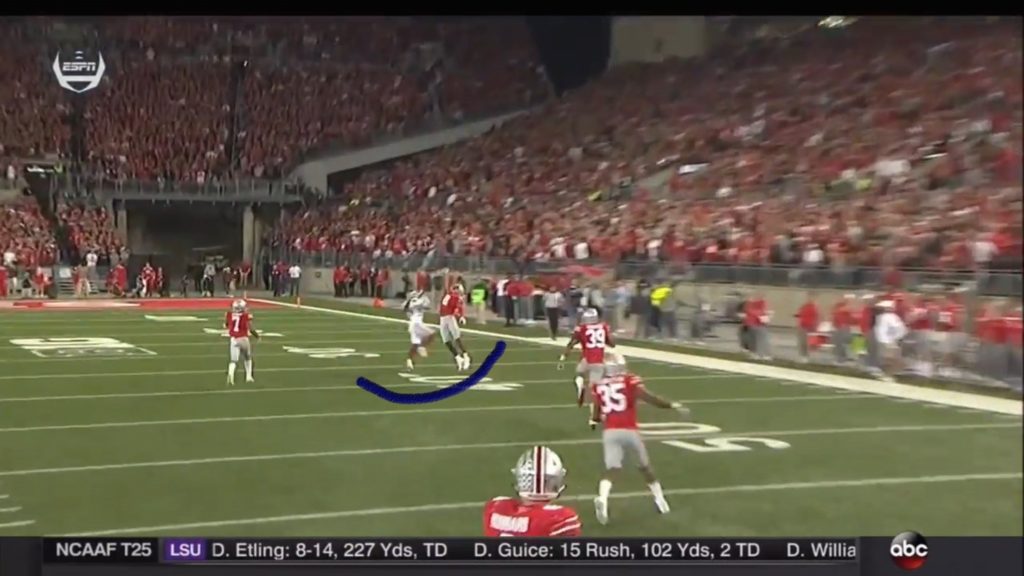 But this is this year.  And the 5 defenders on the same side of the field can't believe what just happened.  People aren't supposed to be able make these kind of plays.  There was a lot of that going on Saturday night where the Sooners just made great plays and tore the hearts out of the Buckeyes.  Speaking of just that, Mykel Jones made a heck of a catch.  Is it just me, or does that look a whole lot like Sterling Shepard?  I know it's his number, but the movement and all look really, really similar.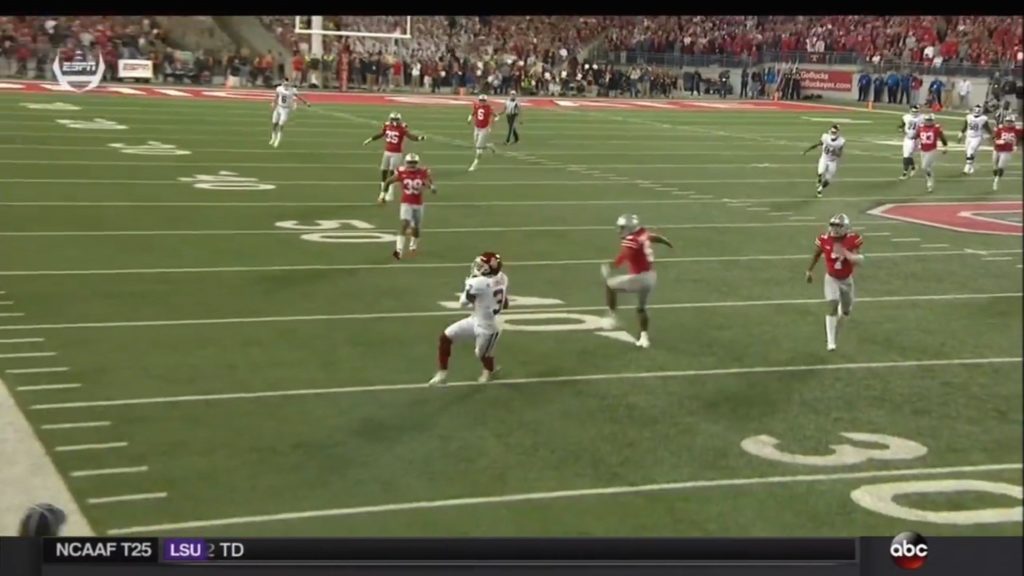 Now coming back to timing and setting up plays, the Sooners had also swing passed the Buckeyes to death with the backs.  By making them defend the flats and the field early, both defenders were flying outside to shut down what they thought was a screen.  Knowing whose number to call is also a knack that Riley has.  He had to see Morris get that block the play before and knew his head was in the game.  Morris caught a lot of TD's from Kyler Murray in high school at Allen, Texas, and won some State Championships too.  I know that's not near the stage of what a top five match-up on national TV provides, but the kid has the mentality you need.  This is a big spot here, and we can see the safety on the bottom hash behind the umpire is flat footed.  @BeastLee80 has his head around expecting the pass and, by design, Riley is going to him because he's earned his trust.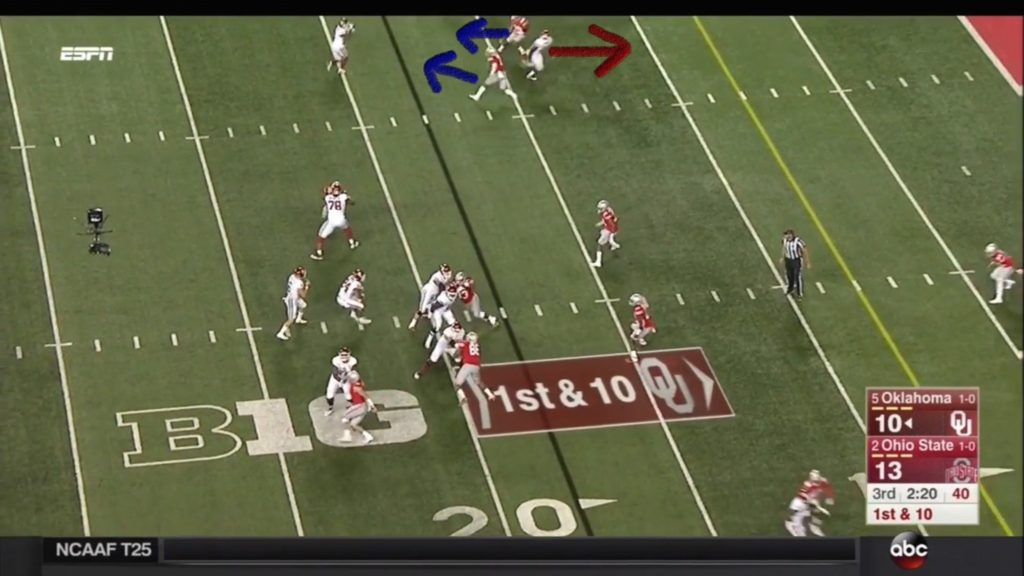 At 6'2″ 212, he is a beast.  Especially for a wide receiver.  He looked really strong and made a great catch with his hands.  When he came down, that safety was thinking he was gonna hit em and dislodge the ball.  Lee was too much of a beast for him though and barely budged as he put the Sooners up to stay.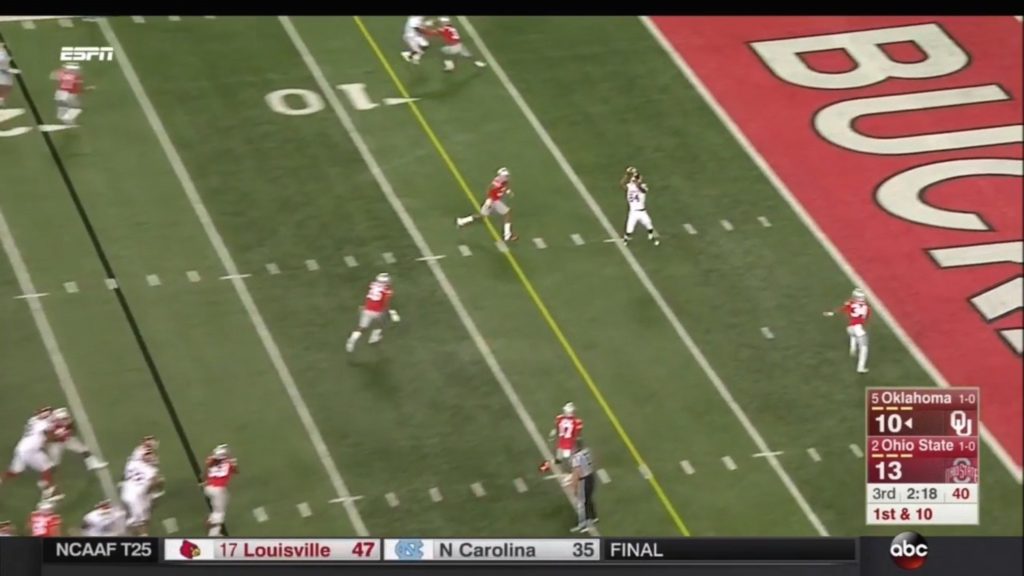 Oklahoma found a star in the making in Trey Sermon Saturday.  Like I said earlier, he and Abdul Adams will make an awesome 1-2 punch as the season wears on.  Rodney Anderson & Marcelias Sutton may have something to say about it, but the Sooners have an absolute stable full of capable backs.  Look at the movement the O-Line is getting to cave down the left side.  Nice lead block and off the direct snap, Sermon is gonna be untouched until he reaches the secondary.  Orlando Brown is blocking with his eyes and has missile lock on the linebacker to seal it off.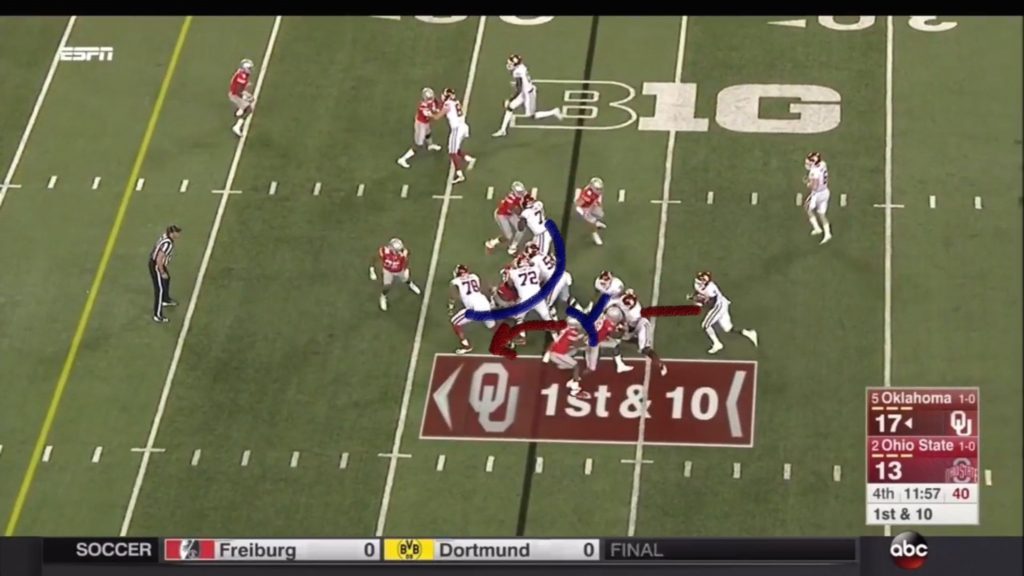 This play speaks volumes to the level of O line development the Sooners have seen since Bedenbaugh has been at the helm.  Needing to run the ball to put a heck of an opponent away, Sermon ripped off a 13 yard run down to the 10 yard line.   Oklahoma put the world on notice Saturday night.  This is a team to be reckoned with.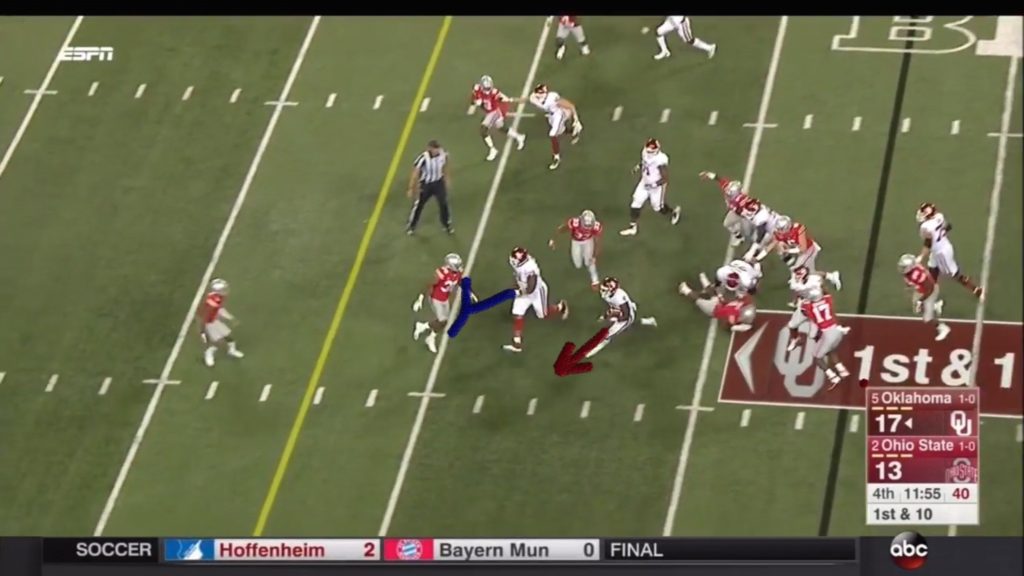 I don't know if pass protection can get much better than this.  Minimal push in the middle and flanked by two great blocks on the outside.  Baker is a master at buying just enough time to make things happen.  On 1st and goal, he thought about tucking it, but…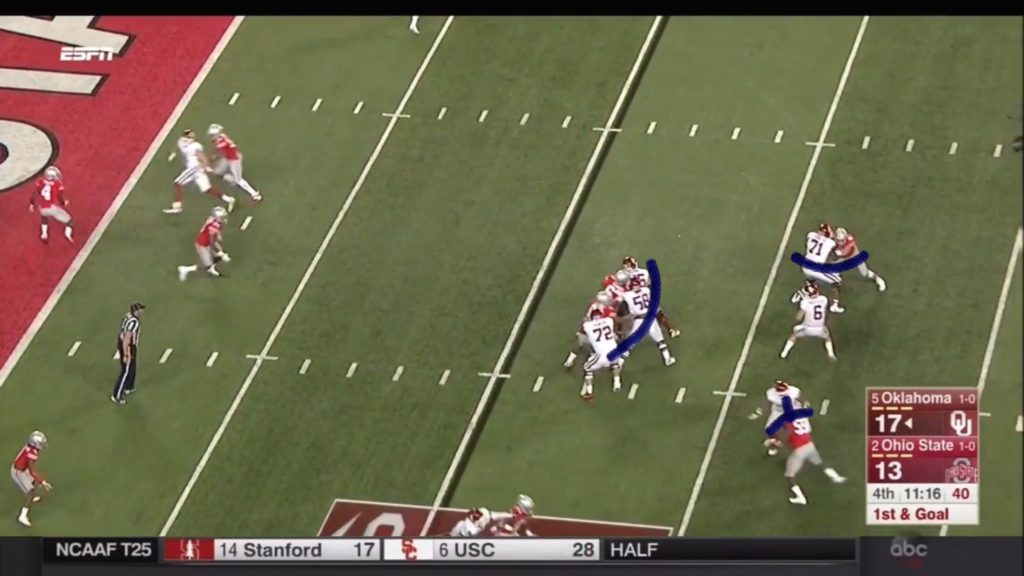 …At the last minute, and I don't know how, but out of the corner of his eye, Mayfield saw Sermon streaking for the endzone.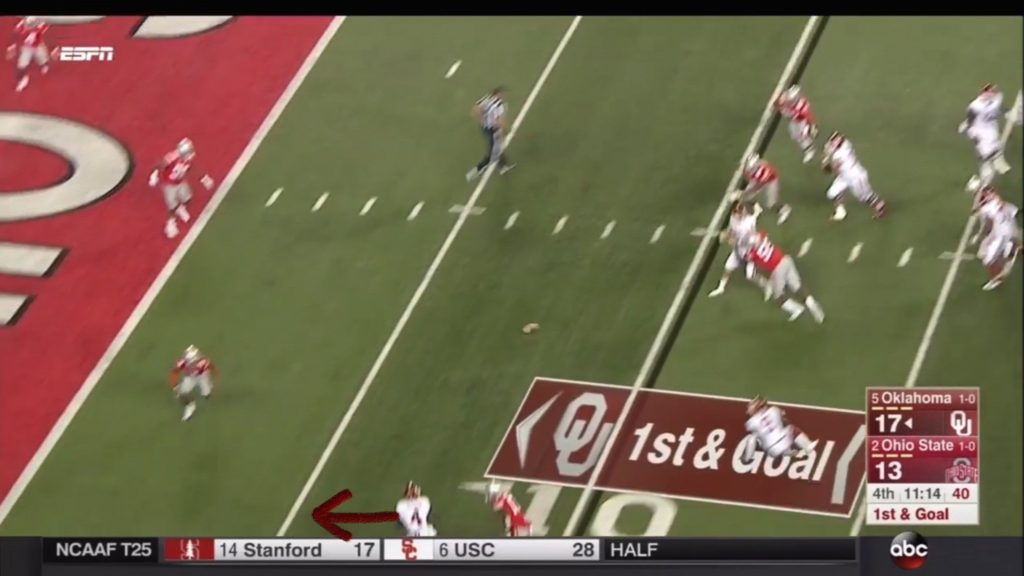 And the true freshman made a catch in traffic and then ran over two defenders to take it to 23-17.  If this wasn't the knockout punch, it was definitely enough to get a standing 8.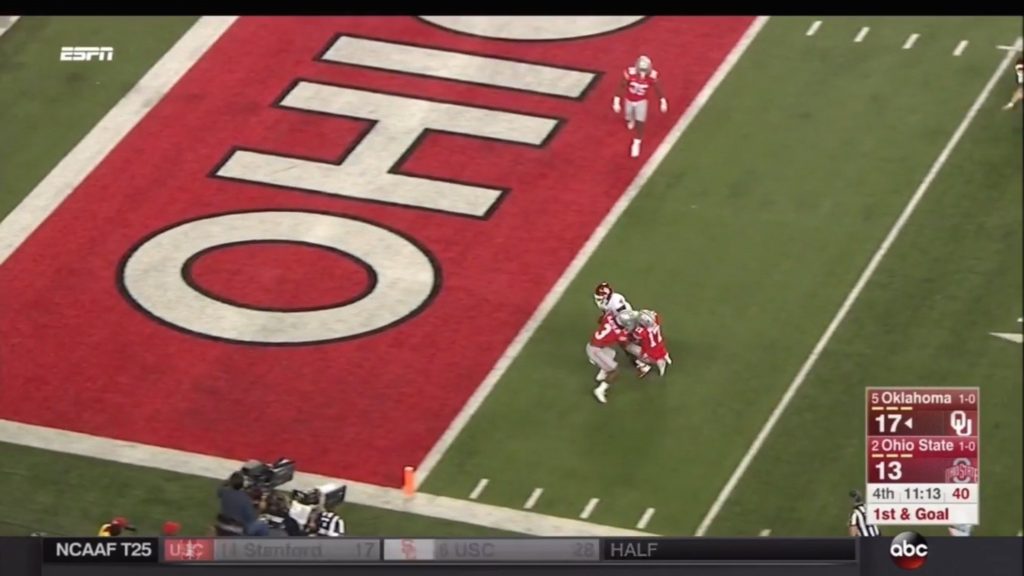 Hi.  My name is Orlando Brown, and I approve of this performance.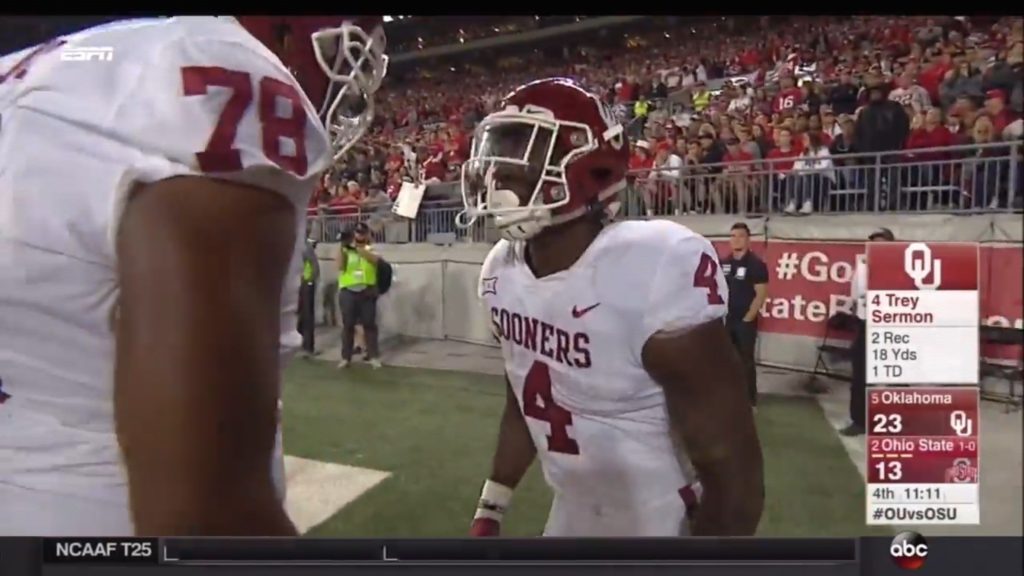 In the game last week against UTEP, and in games last year, the Sooners went away from the wingback.  In this case, Flowers is technically lined up in the slo, since the slot technically is off of the tackle.  So, knowing how the Sooners like to go away from that look, the Buckeyes have to be thinking the Sooners are gonna go back to the right.  If Flowers or a guard pulls around, the Sooners actually have a numbers advantage to the right.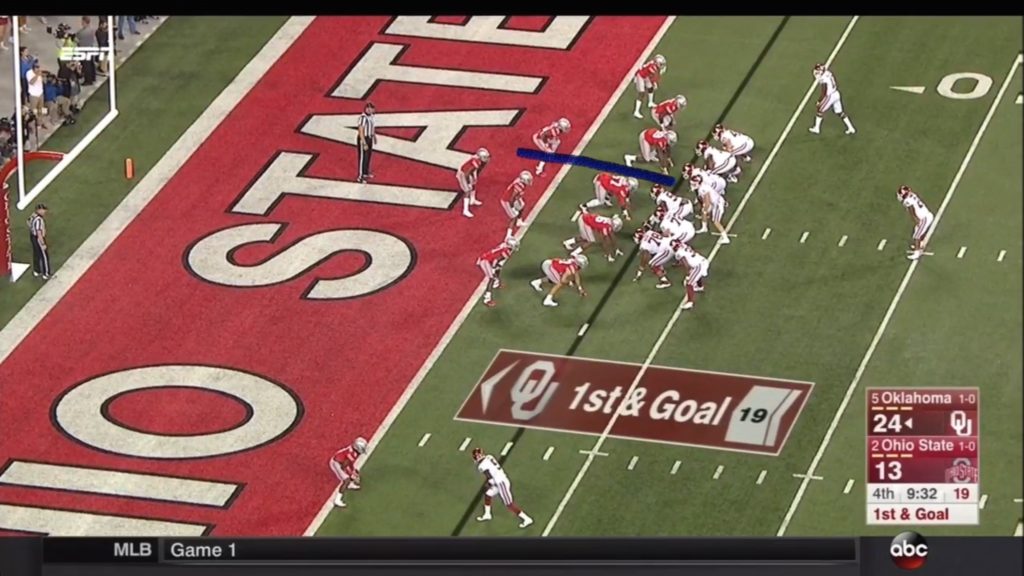 This play epitomizes the genius of Lincoln Riley.  If you've coached or played football, you have drilled or have been drilled on the term "Block down, Close down!!!!"  Look at Orlando Brown's back and his #78.  He starts to block down onto the linebacker. Nick Bosa (red arrow), the Ohio State defensive end, has been taught to Close down, or get up in behind Brown's down block.  So, he's reading his keys and, as K pointed out, they've been melted.  He's awaiting Smallwood to come around on a "wham block" which is a fancy word for a trap by an h back or tight end.  Jordan goes 6'2″ 225, so he's big and powerful enough to be a wham block type of guy.  Bosa again is trying to get his left shoulder as close to Brown as he can so he can dig that block out, and not get kicked out.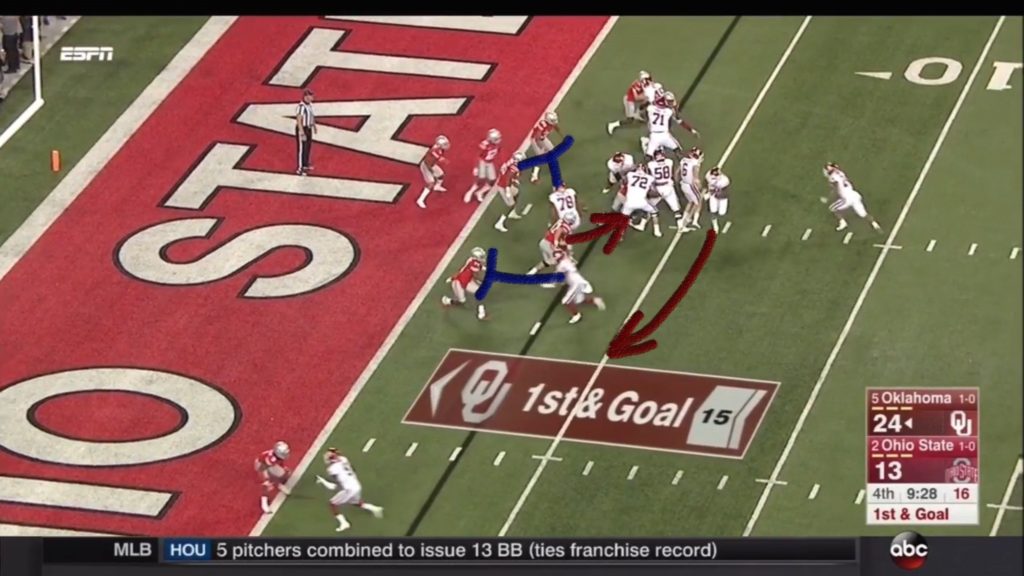 So in a split second, he goes from thinking he's playing with great leverage, "digging out" the wham block, to having that not-so-fresh feeling where he realizes the guy who he thinks is coming to block him actually has the ball.  The genius goes further as well.  By having Flowers lead outside, it speaks to the traditional play design of a hand-off to the tailback. If Flowers had blocked down, then his defender would have closed down as well.  This would have left Smallwood exposed.  But here, Smallwood (who again is a monster at 6'2″ 225) has a full head of steam and isn't going to be denied.  This one put the Sooners up by three scores, and it immediately made me think of Josh Norman against Nebraska in 2000.  This team has the coaching and the talent to be counted among teams like that one if they can stay healthy and humble.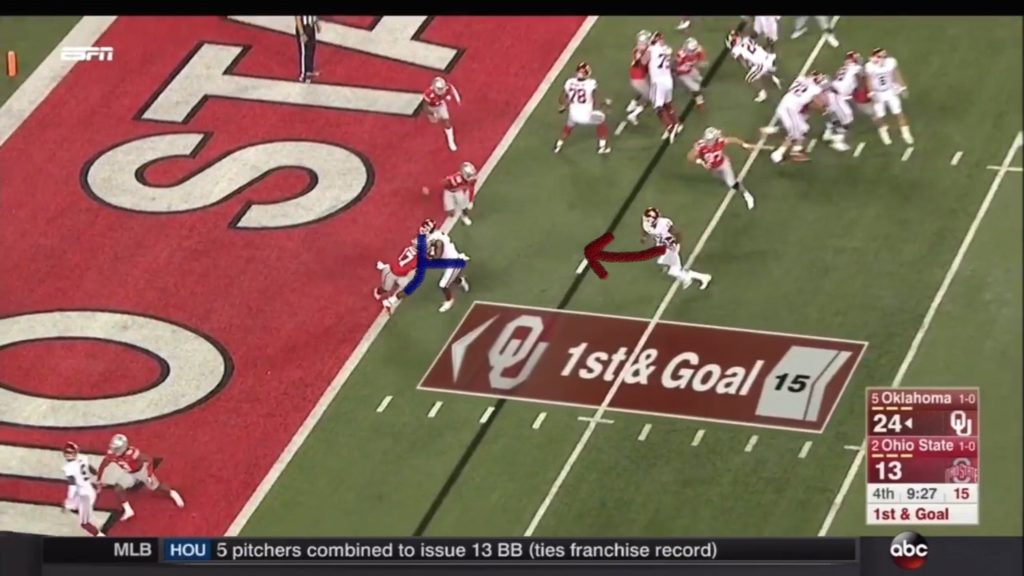 With all of the Buckeye timeouts cooked, and facing a 4th and 3 in no man's land, Riley put Flowers in motion to take one more defender out of the box.  The Buckeyes couldn't load the box because of how much they feared Mayfield's accuracy.  Also, the Sooners can go open set here because of how much they trust the guys up front.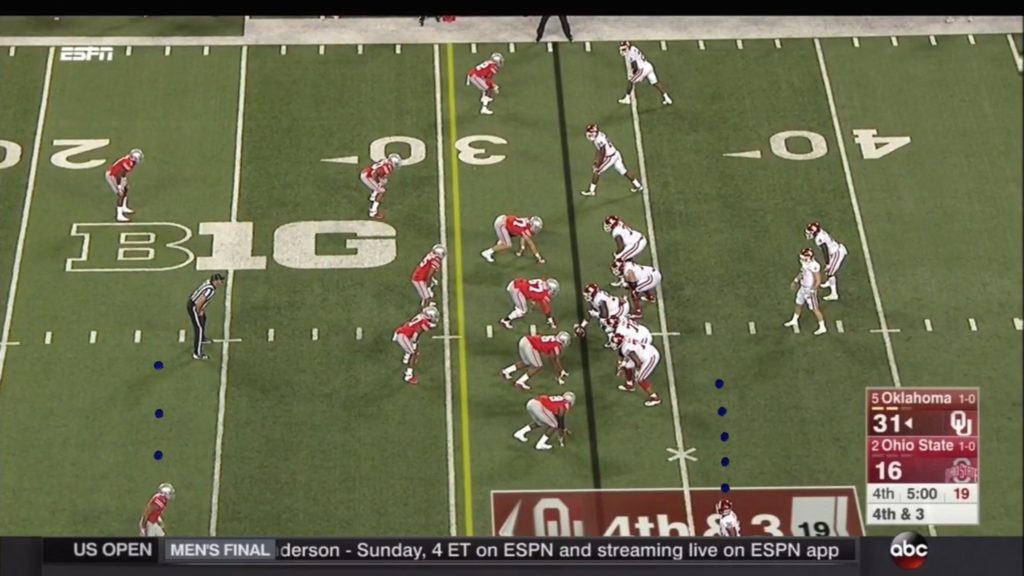 It's just a simple give and a big enough lane for Sermon to preach through…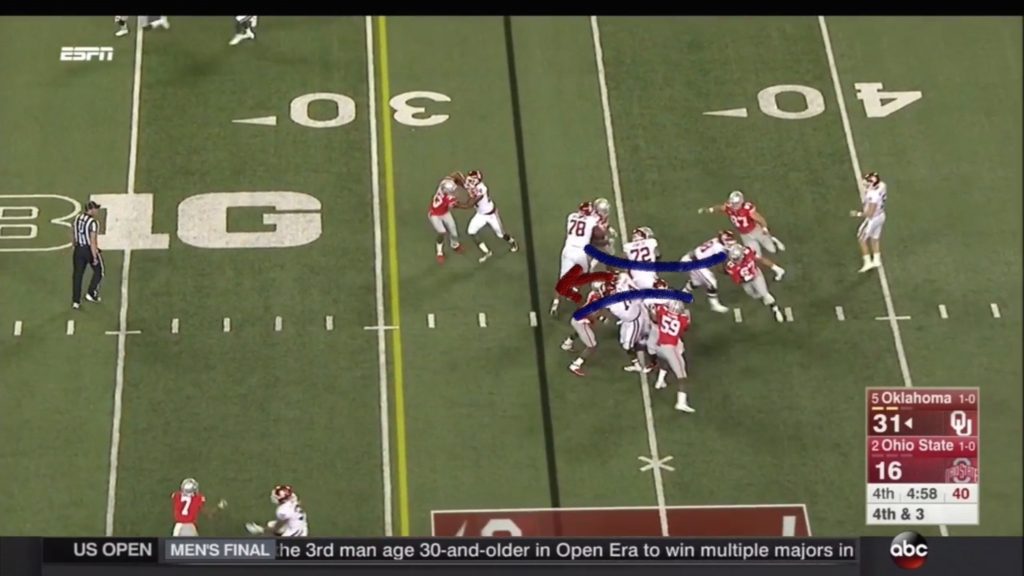 Chaach!  Ballgame.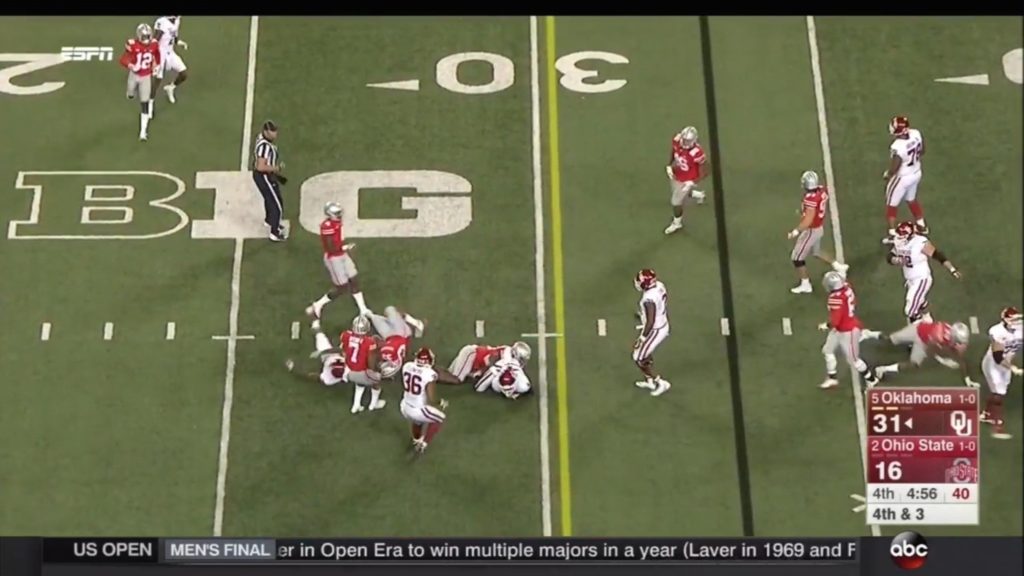 By the time Ohio State got the ball back, they only had about a minute left.  This is the most complete game I've seen a Sooner team play in my adult life.  Both offensively and defensively, they played a complete game.  The Sooners were clearly the better team last weekend.  It's gonna be a fun year ya'll.  Boomer!