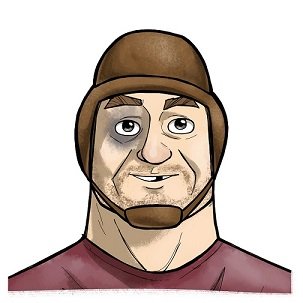 Trench Warfare | Offense – 1st Half | Oklahoma vs. Ohio State
Posted on: September 12, 2017
I decided to go full Beastmode this week and give you three Trench Warfare posts. This week brought the first defensive version ever and, to justify my belief that this team can beat anyone they play, I wanted to point out some of the small things I saw that make this football team dang hard to beat.  So in this post we'll do the 1st half, and there'll be another one for the 2nd half.  The guys and I thought one monster post would be too cumbersome to keep up with, so you poor souls will have to deal with 3 times what you normally get.  Doesn't hurt that I'm off work this week either right?
first half
So jumping right in, you all know what a fan I am of weakside runs.  If you look to the offensive right, there's four blockers there making it the "strong" side.  "Coming back weak," short for coming back to the weakside or the left, is the correct call here; there are less players to deal with to the left, and it's easier to get angles on them.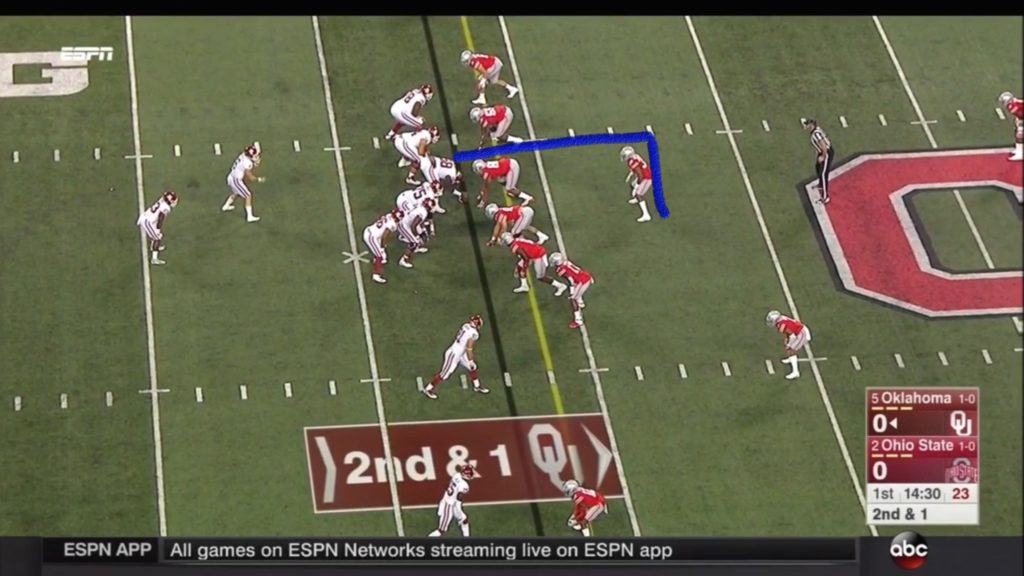 And that's exactly what the Sooners do here.  For the 1st run play, I was pleased with the call. In short yardage early, it's a good sign when you can get movement and open a hole like this against what a lot of people considered the best defensive front in college football.  I think Alabama might have something to say about that, but nevertheless, when you can do this against a squad like Ohio State, it speaks to the level of offensive line Oklahoma has.  Coach Bedenbaugh has created a monster.
Although the hole wasn't quite as big here, Flowers is leading up into the hole on the backer with Adams close behind.  These counters are very hard to stop with the talent the Sooners have up front and in the backfield.  Abdul Adams was having a nice game before the fumble.  He'll come back well I'm sure, as he's a high character kid, and give the Sooners a great 1-2 punch with Trey Sermon.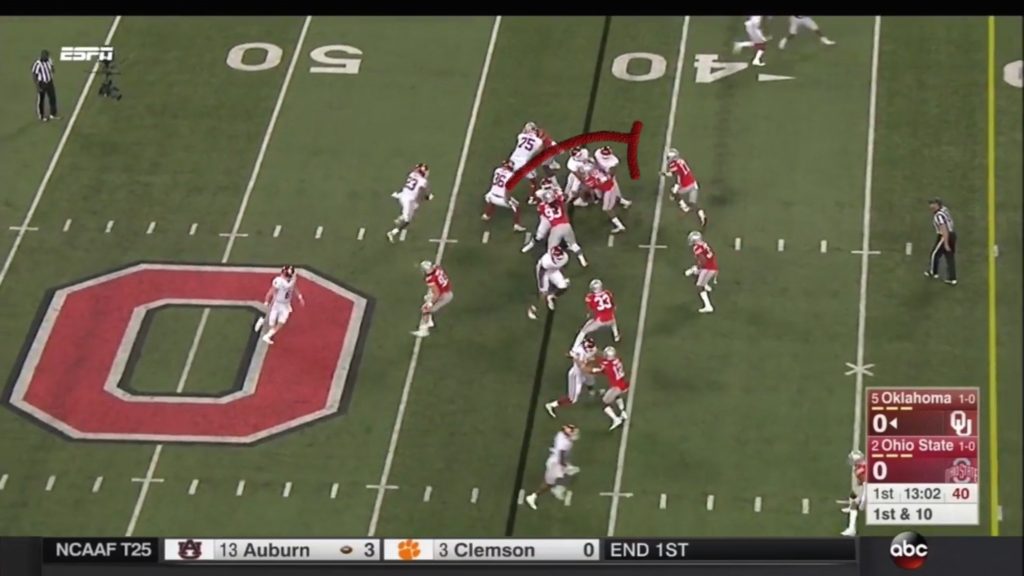 A tick later you can see Adams getting ready to squirt through there and the top blue line showing Flowers.  Big Orlando Brown is coming down on the Backer and giving Adams a nice lane to get through.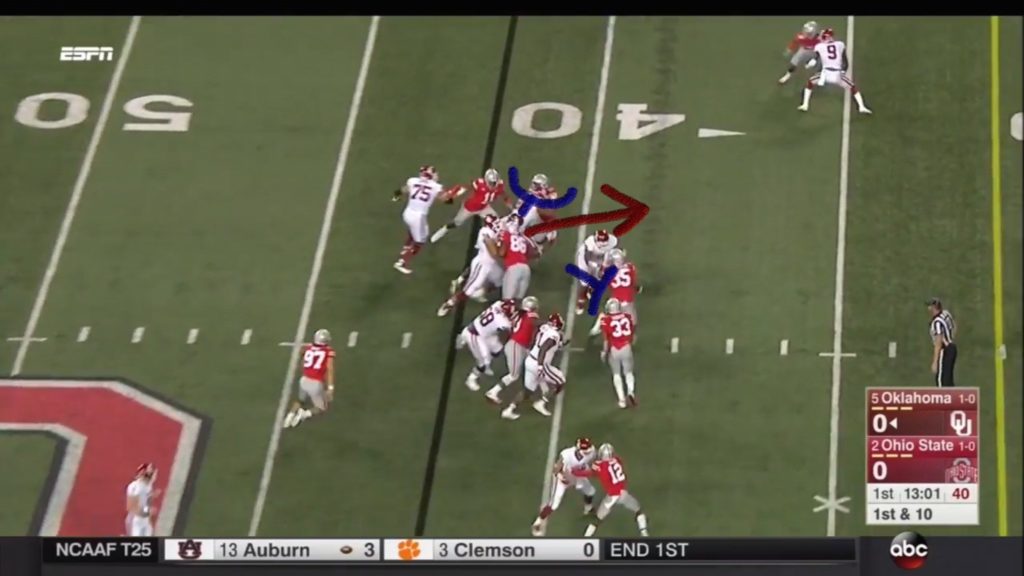 And get through it he does.  A gain of 9 on 1st down, and the Sooners were gashing the Buckeyes early.  This game could have gotten really ugly had the Sooners protected the ball early.  A dropped TD by Calcaterra, two turnovers, a turnover on downs, and a missed field goal made this game 3-3 at half.  Really, it should have been probably 21-3 or somewhere in between, but the Sooners' offensive line proved they were the better unit vs the Buckeye d-line.  This unit has a chance to be one of the best ever to play for the Sooners.  2008 is one of the legendary units the Sooners have had, but they didn't have a coach like Bedenbaugh.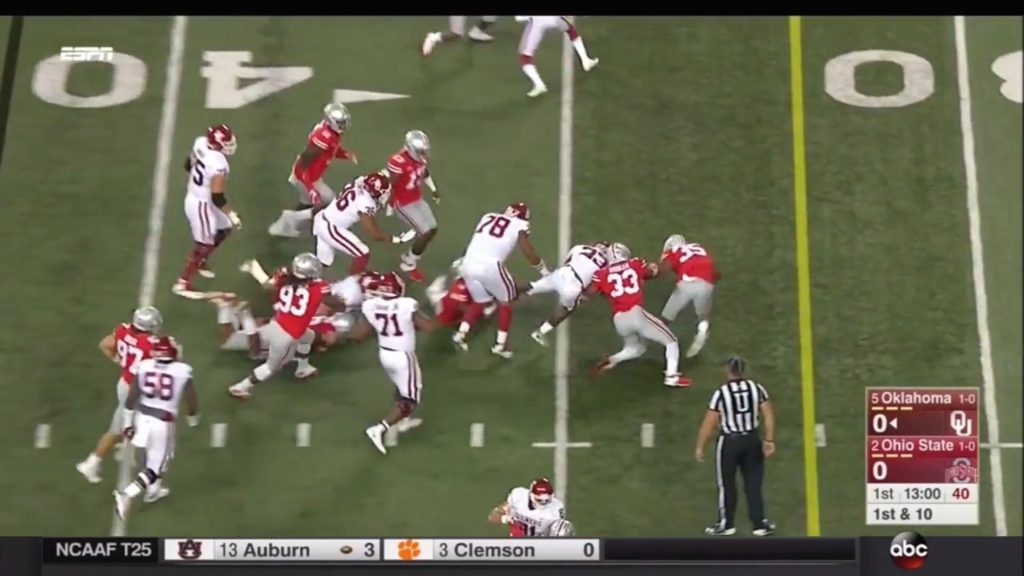 Someone who is going to be EXTREMELY hard to deal with for opposing defenses once he settles in is Jeff Badet.  The guy has next level speed that you can't teach.  He's got a convoy to jump in behind here.  Once the guy puts his foot in the ground and just has a crack, it's hard to shut him down.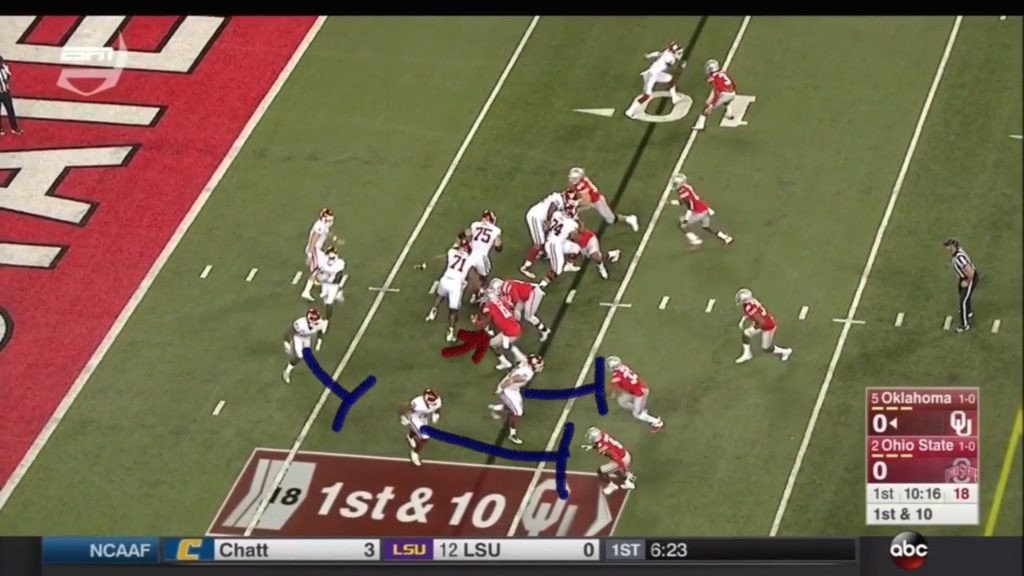 Moments later we can see it open up a bit.  Why speed is so important is that you still only have to get 10 yards to keep the sticks moving.  Getting to Badet before he gets almost all of that is tough if he has blockers.  Against Florida in 2008, and Clemson in 2015, it seemed like they had guys like this and the Sooners didn't.  With Lincoln Riley designing plays to get guys in position to make big plays,  he'll be a guy we get to know very well as the season unfolds.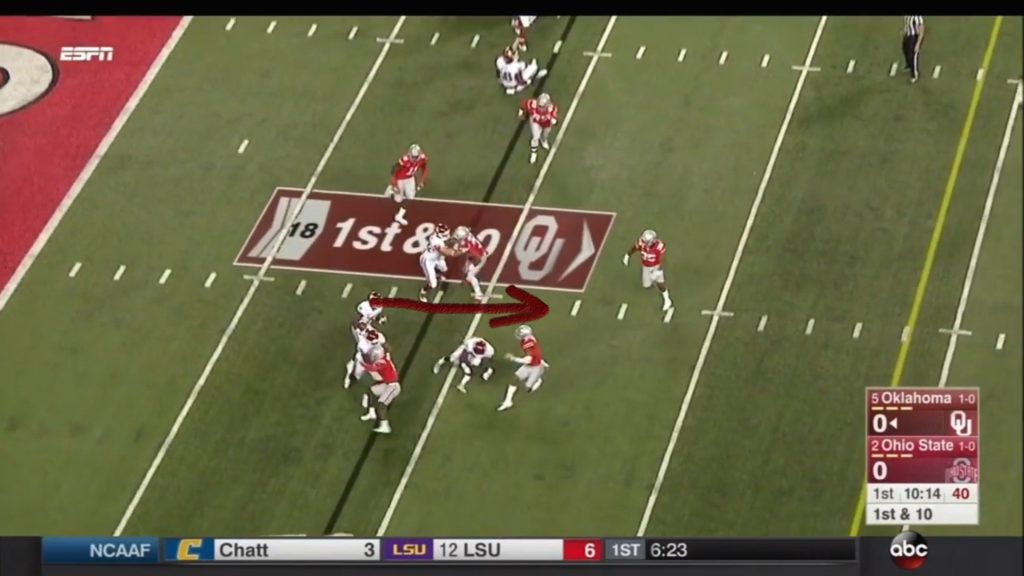 Like I said, you can't close the door fast enough with a guy this fast.  What's a four or five yard gain with most guys is almost a first down because of his explosiveness and his ability to stop and start.  The guy has what could be considered by some as "Ludicrous speed!"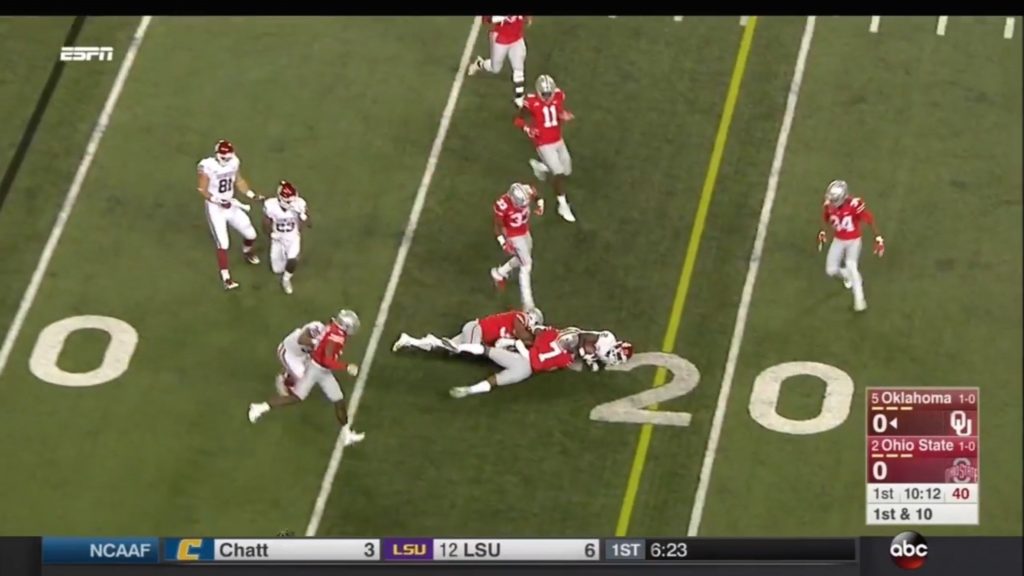 This is pure beauty here.  Look at Ford, Wren, Samia, and Evans from top to bottom on the right.  This has to give Baker Mayfield a ton of confidence back there.  Brown is over on the left giving Baker a great pocket to step up into and survey the field.   Just great protection here.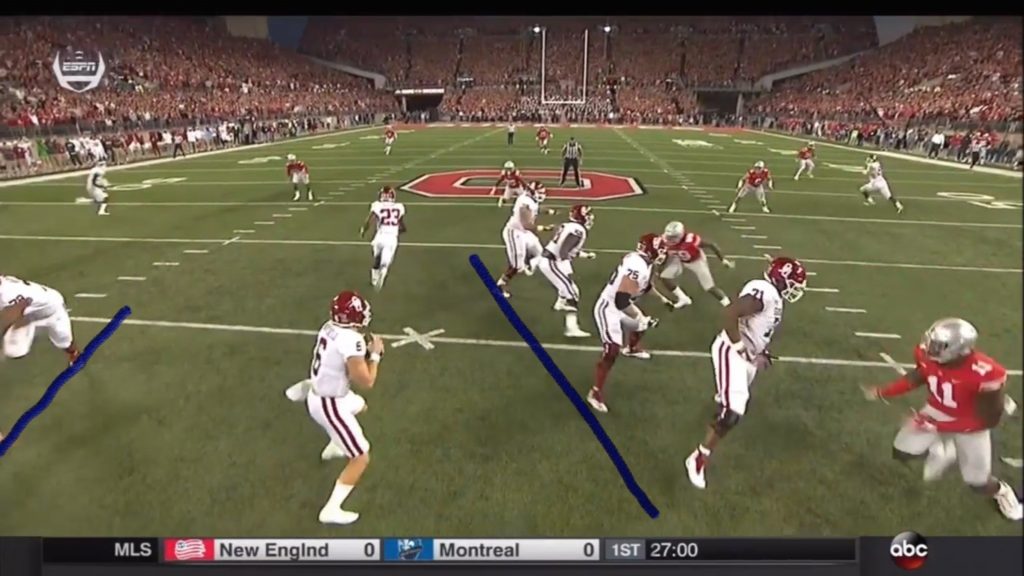 Screen plays work, when you know when to call them.  This came at a perfect time, and the Buckeyes were bringing a full on blitz.  Andrews took this out to midfield for another Sooner 1st down.  This was also the play that Mark got hurt on.  Timing may be on our side with Tulane, Baylor, and a bye week coming up.  It may give Andrews time to heal up and give Calcaterra some much needed reps.
There weren't any more backward passes after the one was ruled a fumble.  Riley goes back to Badet here, and in DB/WR speak, "if he's even, he's leavin'."  Badet has a step on the defender who's trying to keep him from turning the corner…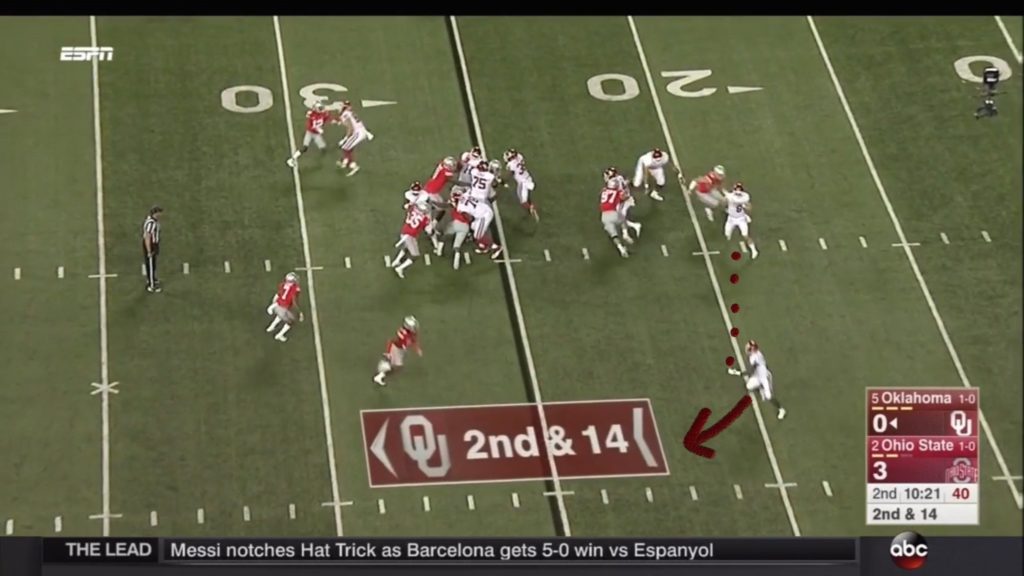 But Jeff is just too fast.  What was a 2nd and 14 turns into a 1st down off of a simple play design.  I'm not sure that there's anyone in America who can match up speed for speed with Badet unless Doc Brown and Marty McFly go grab Deion Sanders from back in the day.  The guy is just sick fast.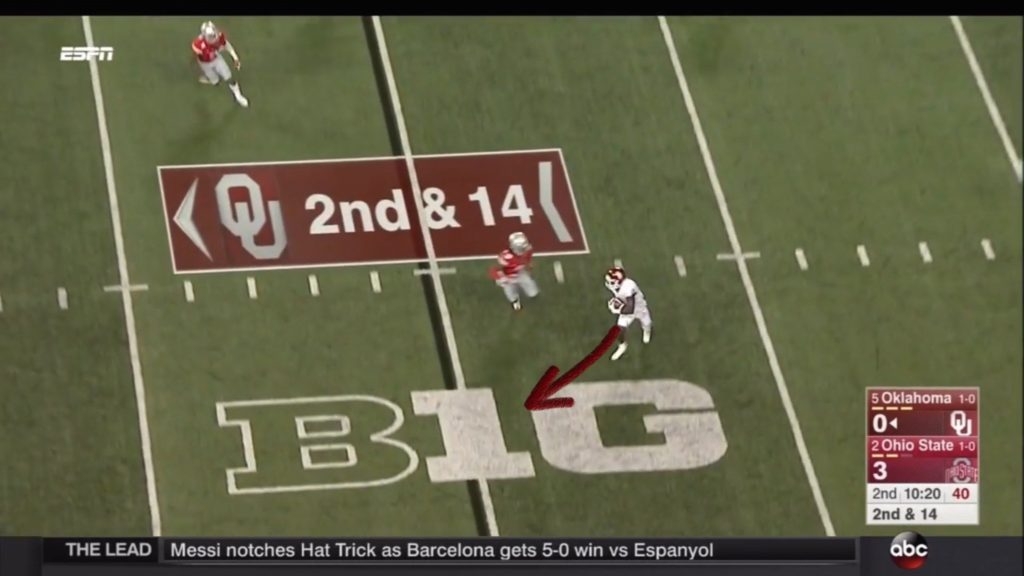 Look at how much separation he has.  He's flat out moving, and the Buckeyes didn't have an answer for him or the swing passes to the backs.  Most people in the country thought Ohio State would out-personnel and out-coach the Sooners Saturday night.  Nobody really expected it to be the other way around.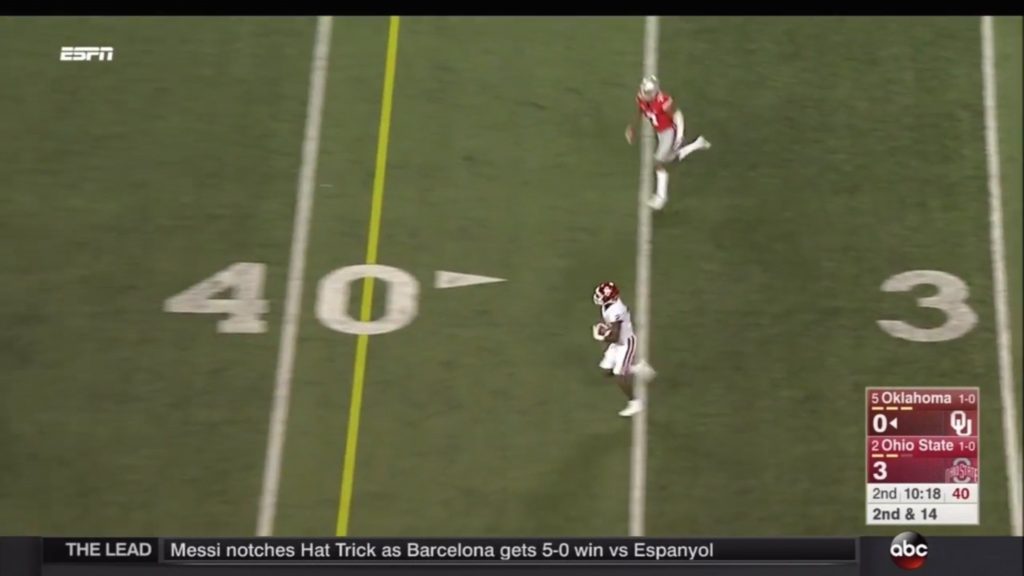 I married a Kansas City girl and, as is customary with any self-respecting girl from KC, she loves the Chiefs, and so does her family.  For sooo many years, they watched Peyton Manning stay a step ahead of the KC defense when he was with the Broncos by just getting the ball out quickly.  The Buckeyes brought the house here, but Mayfield went immediately to Flowers on the hot route.  This was the moment in the game, I knew the Sooners were going to win.  If Mayfield is rattled, he can't do this, but his poise and ability to execute with three guys bearing down on him showed me that he was a step ahead of them, along with his coach.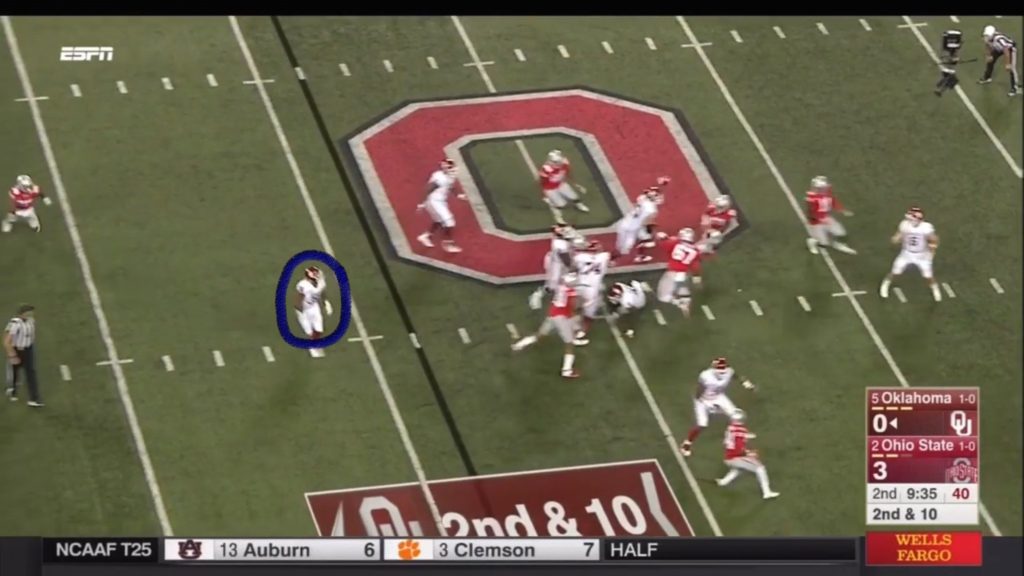 Here's another swing pass to the outside, and #6 in Scarlet, Hubbard, had to be getting frustrated.  Since the ball was thrown behind the line of scrimmage, the guys downfield can block as it's being thrown.  Just a ton of green grass outside and another great play design by Riley.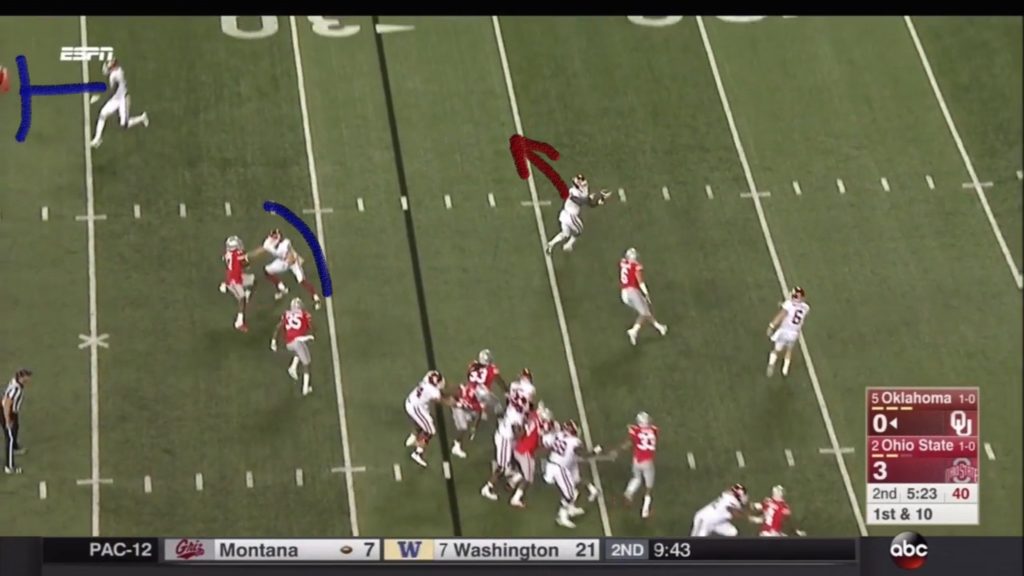 Here's a swing pass coming back to Rodney Anderson the other way.  Rodney is a guy who doesn't get credit for his speed either, but the guy can move.  At 4:52 in the 2nd quarter he catches the ball at the 30…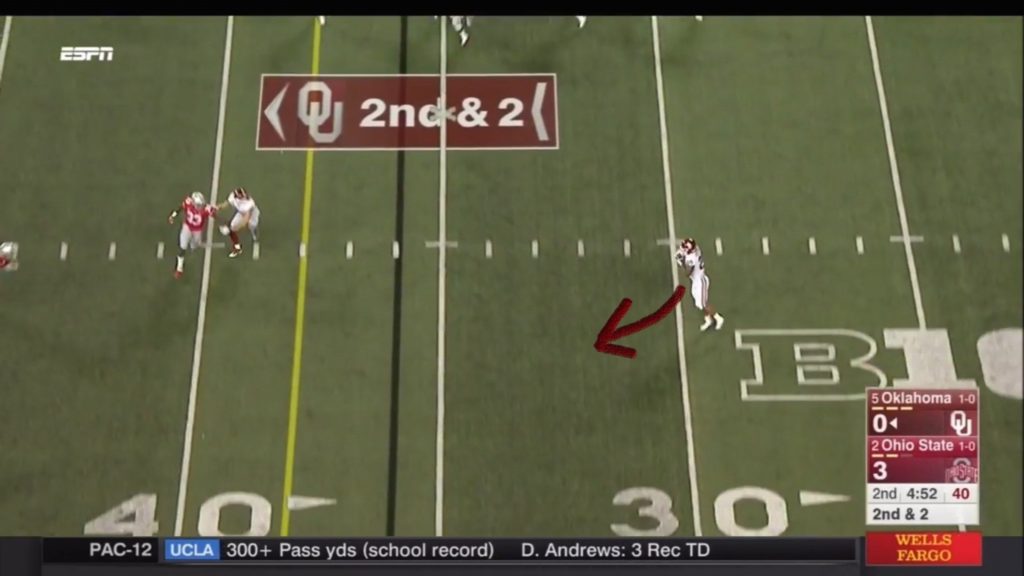 Makes a cut, and is up to midfield in just a couple of seconds.  The beauty of distributing the ball to a lot of different guys is that the defense can't watch just one guy.  "Defending the entire field" is a saying you hear a lot, but when you have a QB who can execute it, an O-line that can block it, and skill position players who are bought in and unselfish, it's nearly impossible to stop.
This was a play that was really really cool to watch.  Murray handed it back to Sermon, who then took off as an option QB.  It was a nice little wrinkle and Riley's way of just letting Urban Meyer know he had more in the tool box than he could possibly handle.   The play got 9 yards, but if Sermon can press that defender and force him to choose, it's a play that may have popped.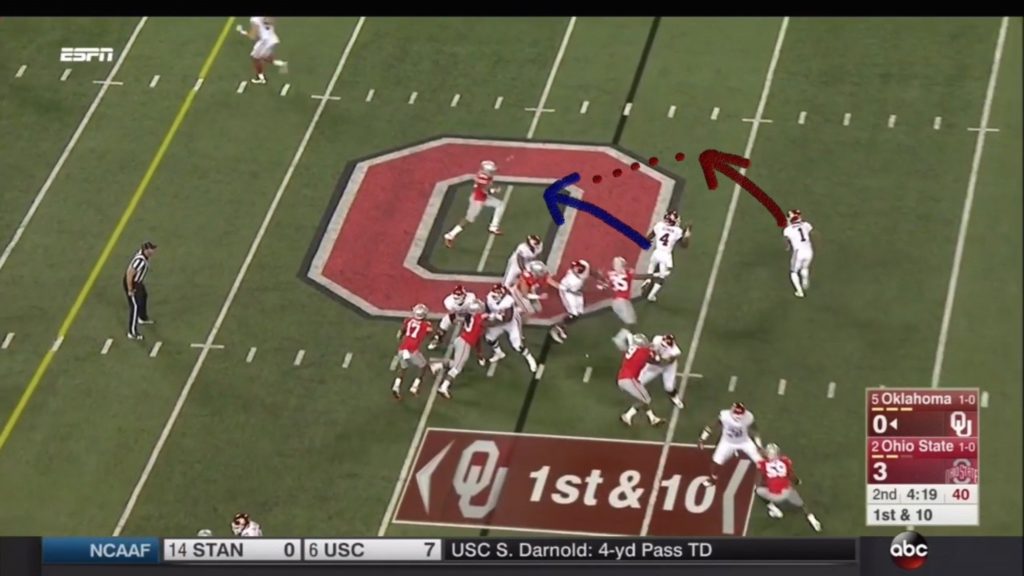 Speaking of choosing, Hubbard had to pick between Sermon and Mayfield right here.  That split second hesitation pays off…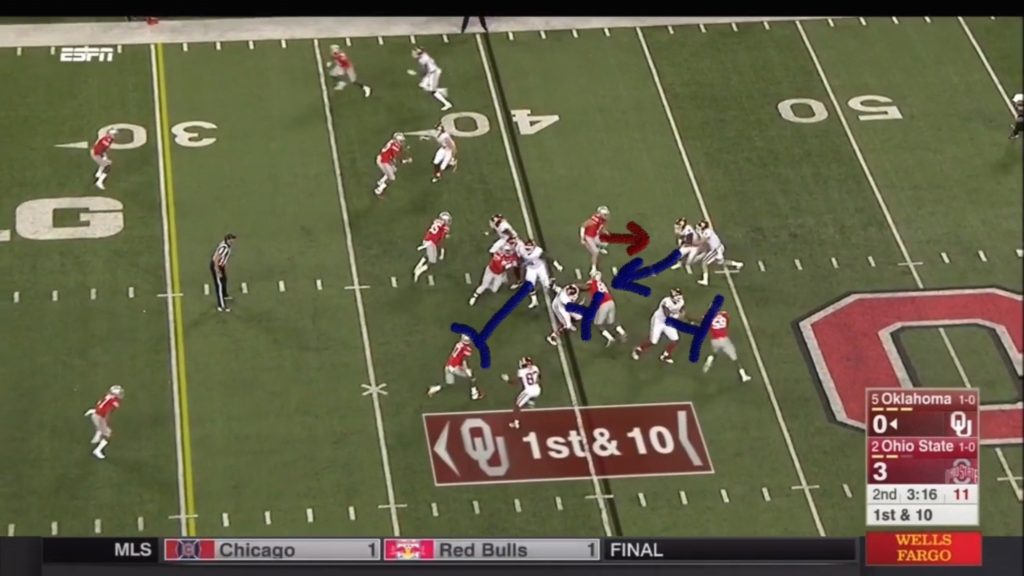 Because that step allows Sermon to just beat him through there(bottom blue arrow).  It's also an impeccable read by Mayfield.   Had Mayfield kept it, the defender comes out on him for a loss.  But up in there, it's a nice crease for Trey to get up into and make nice yardage.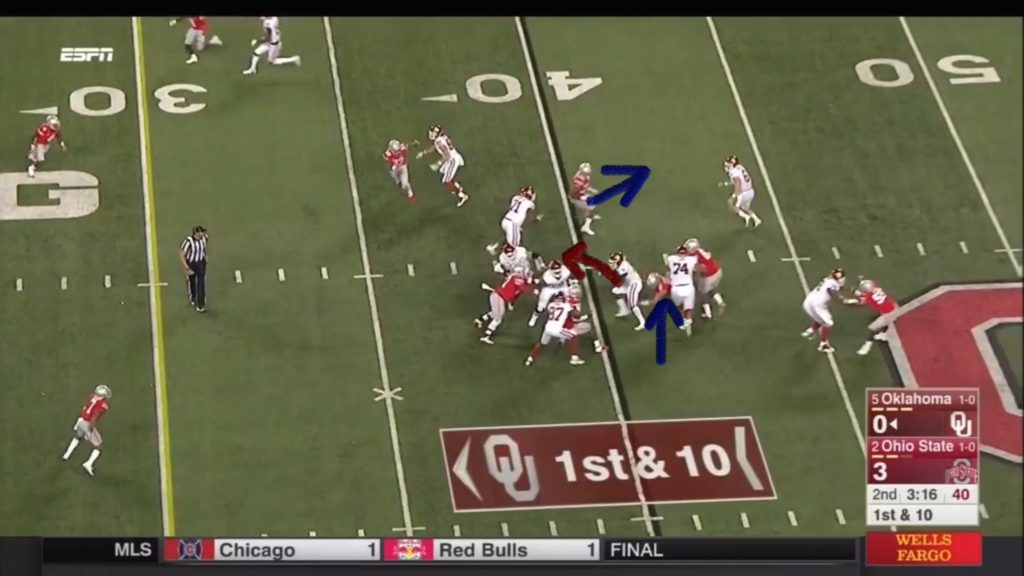 For a true freshman on a big stage, Sermon made a lot of people forget about the backs that the Sooners lost to the NFL last year (if that's possible).  We knew he had great power, but he showed surprising elusiveness and ball security.  The kid just made plays all night long.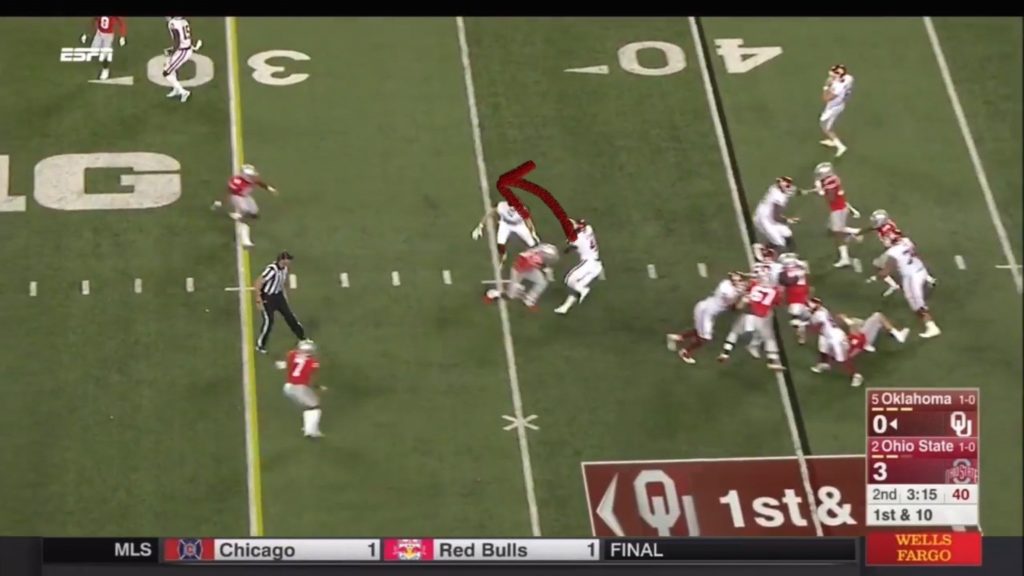 Now he's finishing the run against the safety.  One on one is where you want your backs to be with the safeties.  Unless it's Ronnie Lott or Sean Taylor, that's a good spot for a running back to be.  With guys like Tavion Thomas coming in, big power backs with ball skills in this offense will take the mantle that Perine has passed down to them.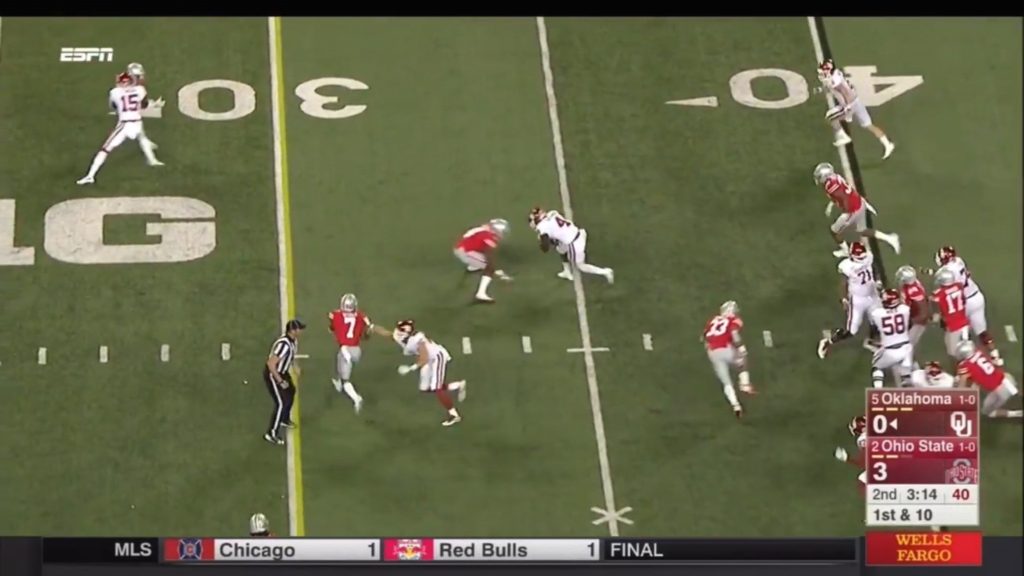 For the last play of the 1st half post, the Sooners O line was just knocking em off the ball.  Again in short yardage, getting close to the red zone, the big uglies came to play and it showed.  I was telling the guys as we texted at halftime that, if the mistakes got eliminated, the Sooners would win.  You can see the O-line looking like the tip of the spear.  Trey Sermon running behind them is a battering ram.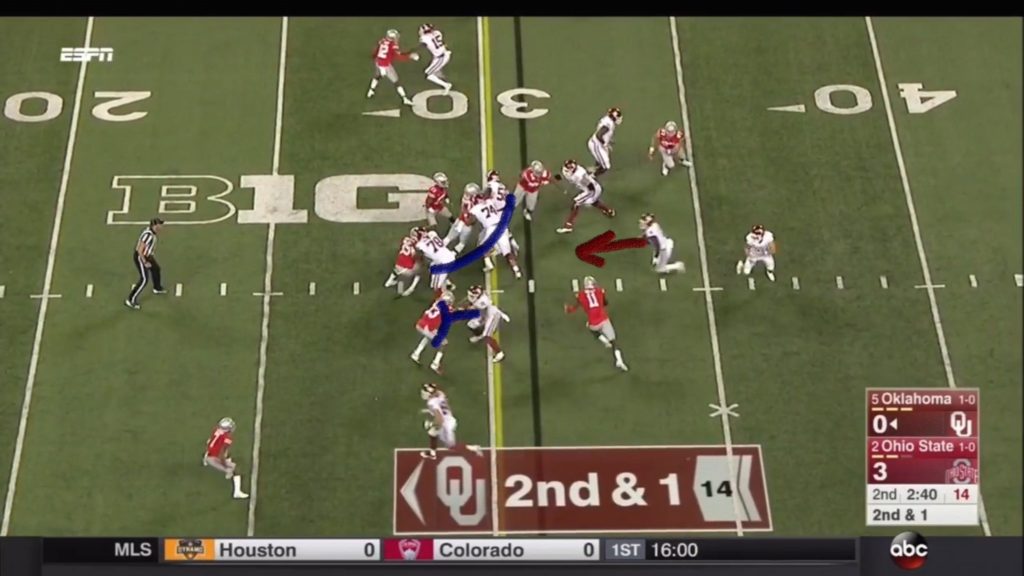 That wraps up the first half – the second half will be up for your reading pleasure this afternoon.