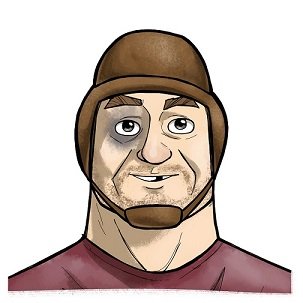 Trench Warfare…Georgia Vs. Notre Dame…Mini-Trench 2
Posted on: December 12, 2017
Picking back up where we left off yesterday, Georgia has a really good looking counter play going here.  It's a read option counter much like what the Sooners run a lot.  The similarities in the run game between the Sooners and Bulldogs are striking at times.  It looks like Nick Chubb is going to have a big run, because if his two linemen can make their blocks, nobody's home on the outside.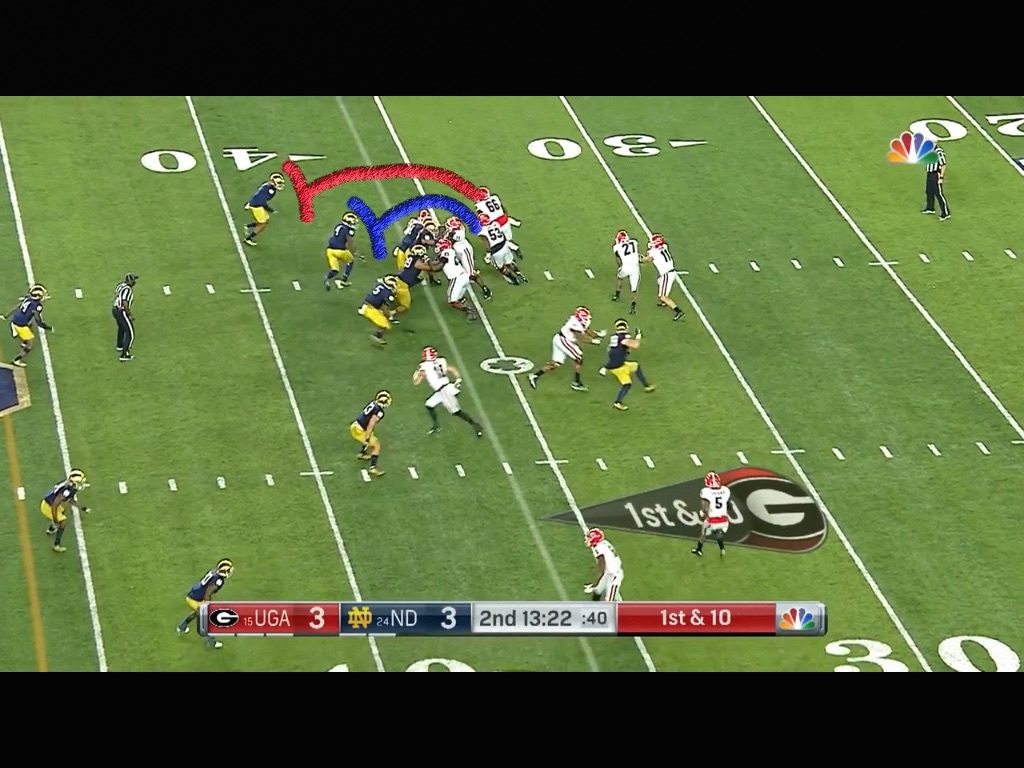 For whatever reason, either Nick saw the blocks setting up and pulled too hard, or Fromm didn't let go of it, but the Dawgs fumbled it at the mesh point and the Irish recovered.  I think some of this can be attributed to being the 2nd game of the year and being a true freshman qb on the road in one of the most storied venues in college football, because he has gotten a lot better as the season has worn on.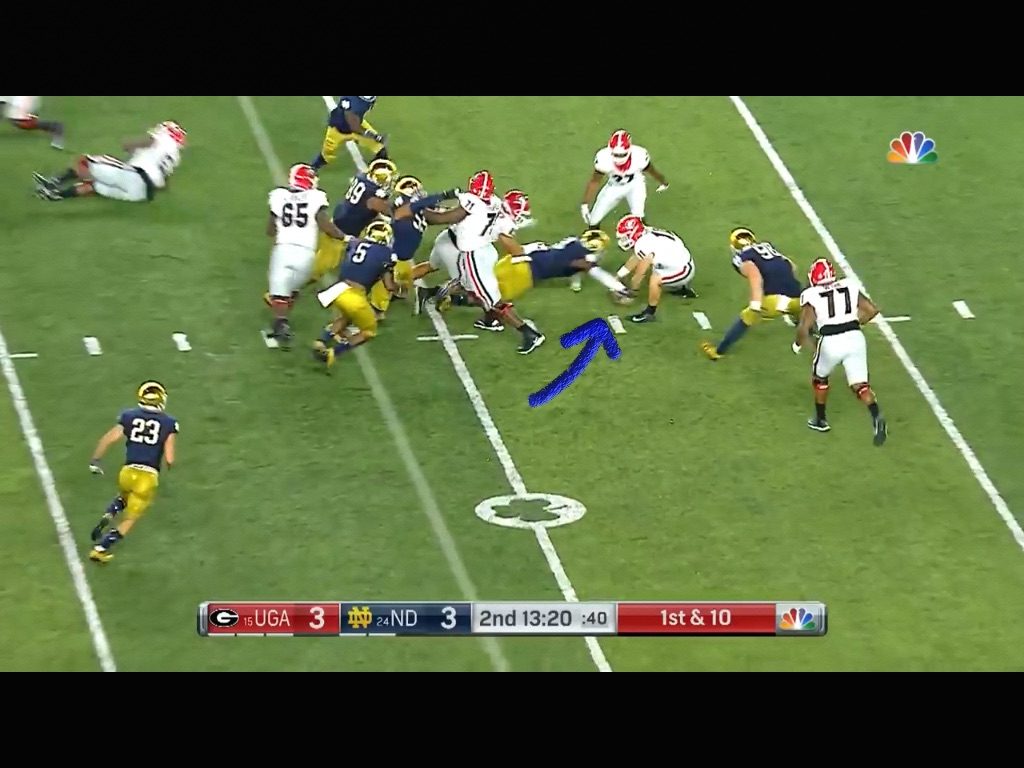 I think Georgia may be susceptible to the screen game.  Being such an aggressive defense I expect them to blitz and force Baker to make quick decisions.  I also expect Riley to try to get Baker into a rhythm early in the game with quick throws and easy reads.  I think the Sooners as a unit have a very similar offensive line to the Irish, and Notre Dame held their own against the Bulldogs.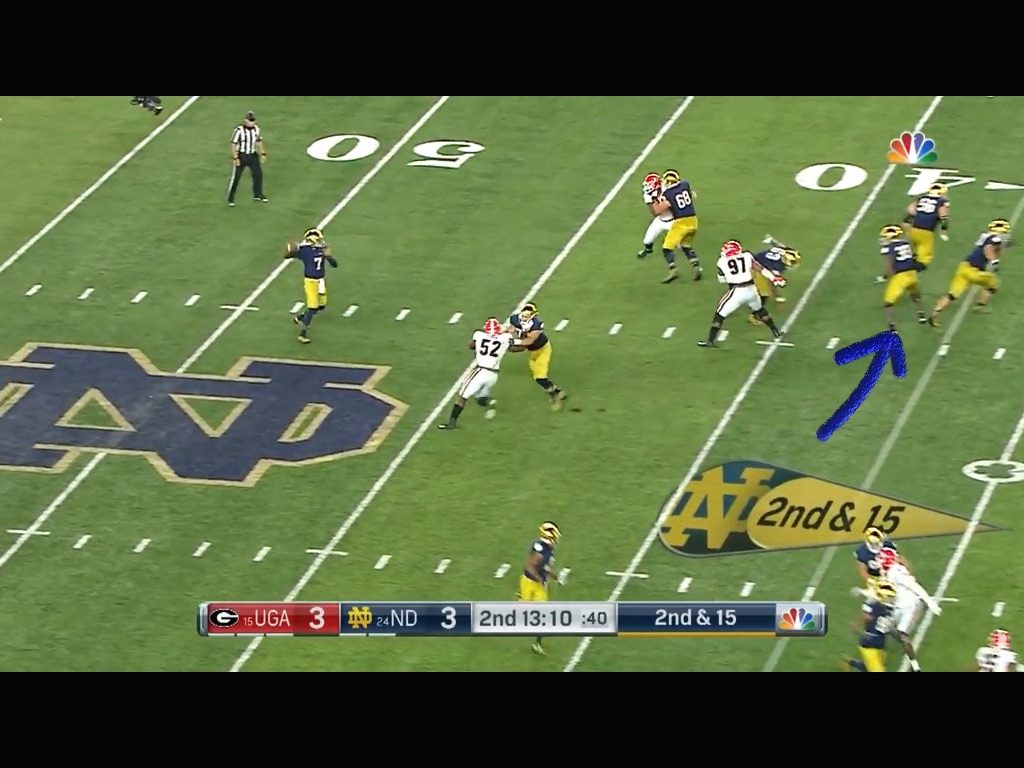 This is a great block by the lineman working inside out and cutting the linebacker.  Quenton Nelson is the guy getting ready to block #18.  He's a 1st team All-American alongside Orlando Brown.  He does a great job walling off 18 to give his back a good lane to get into.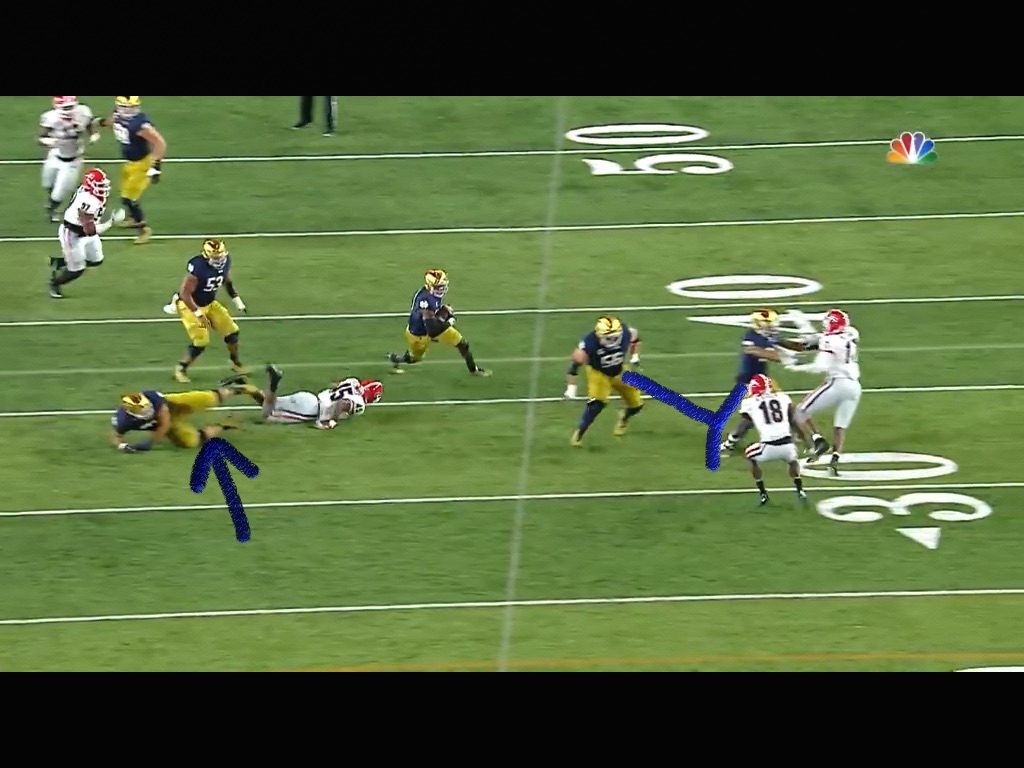 He gets all the way down to the 5 and gets a facemask penalty to take it inside the three.  It didn't appear that the Irish were overwhelmed by the SEC speed you hear so much about.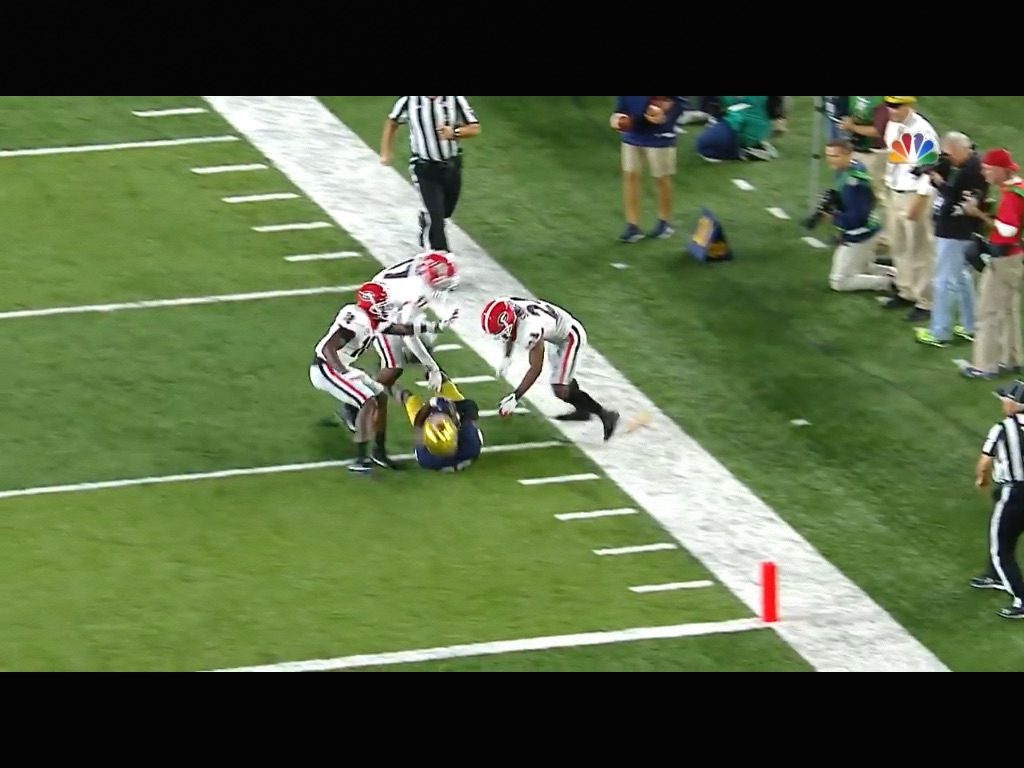 Speaking of that, Wimbush, the Irish QB comes out off of a bootleg look.  I will say that Georgia does a really good job covering tight ends in the play action game.  Hopefully Riley takes note of that and Baker doesn't try to force anything into Andrews.  Having multiple redzone targets will definitely help, but I'd expect the Dawgs to key on Andrews.  Take note of #20 for Georgia.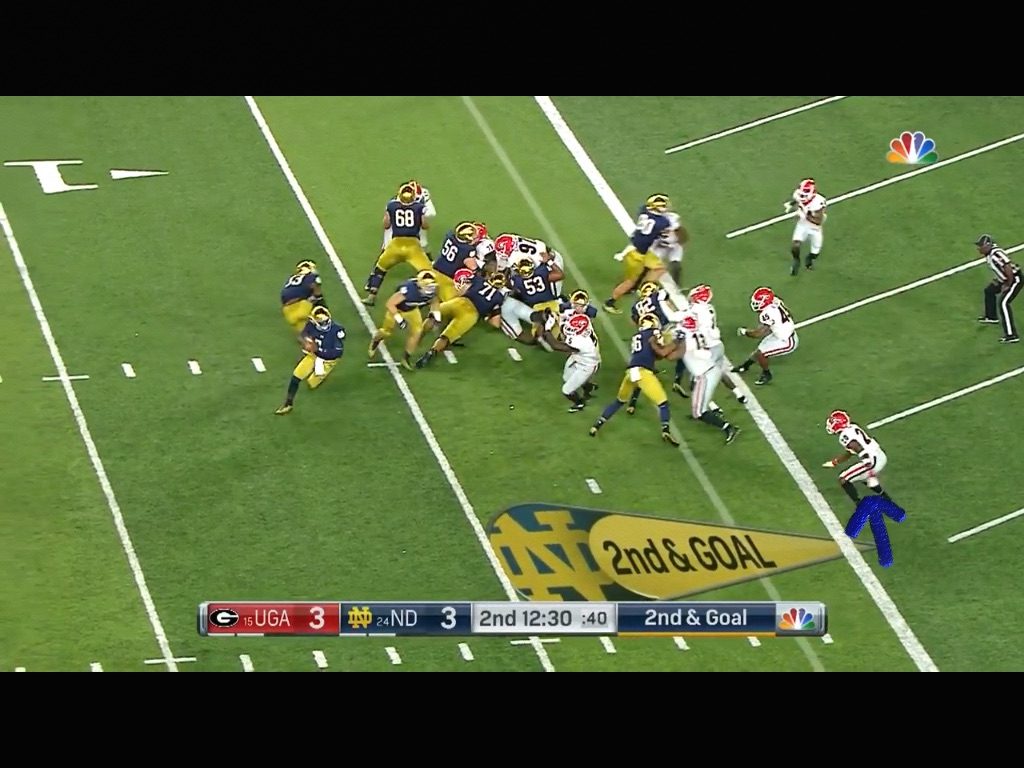 Not sure what he's thinking or looking at, but he lets Wimbush get outside of him and score.  At this point in watching the film, there's not an edge player for Georgia that just jumps out at me.  They've got good players, but I don't see an Obo or Caleb Kelly on the outside.  On the interior, Roquan Smith is a grown ass man.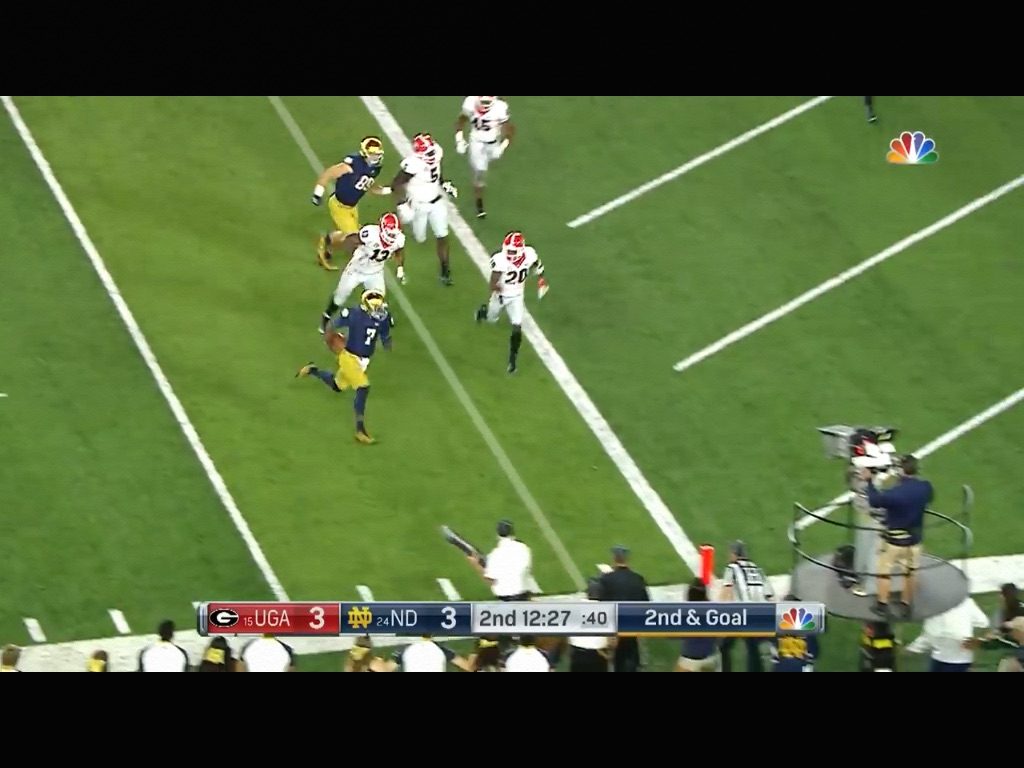 Speaking of Grown ass men…I'm a Terry Godwin fan.  I know some readers challenged me about how they thought Oklahoma State's receivers are better than Georgia's.  I disagree.  If these guys were in that style of offense, or even played for the Sooners, their numbers would be absolutely prolific.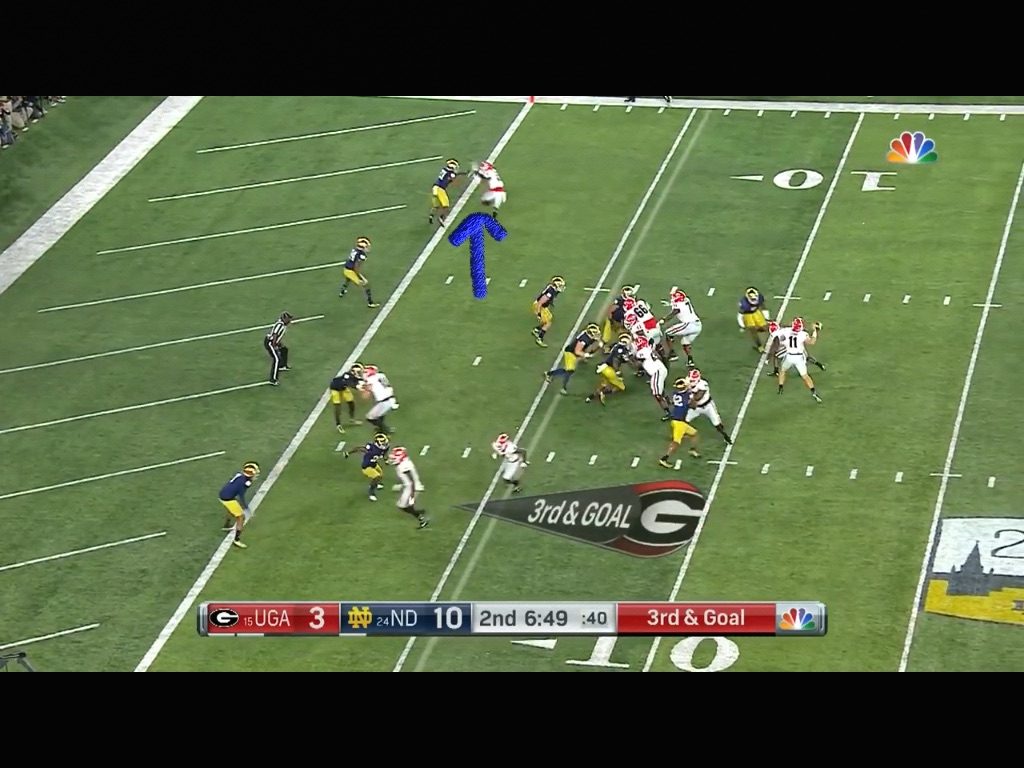 This is an unbelievable catch by the Georgia receiver.  He comes down with it to score a TD.  Norwood, Motley, Brown & Thomas are going to have to have really really good games because Georgia is going to test the Sooners downfield.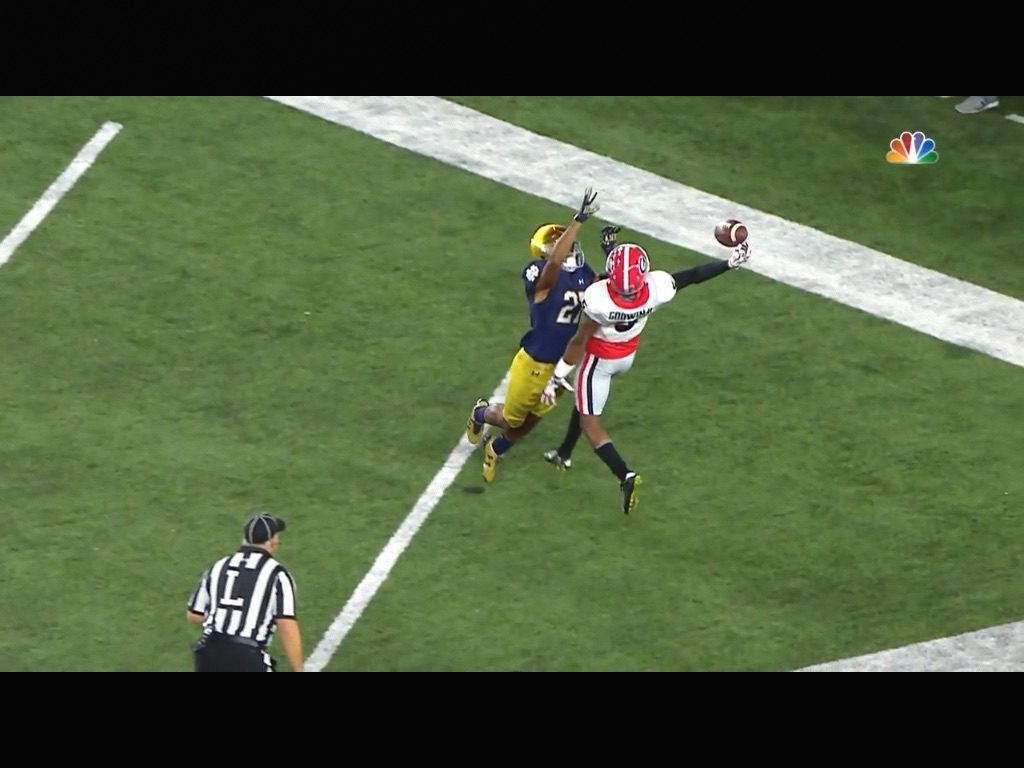 Early in the year, Fromm was really focused on throwing the ball on time and going with pre-snap reads.  I'll have to see if he progresses as I go through the film.  He's got a good pocket and time to see that this is really good coverage by the Irish linebacker.  Beal, Johnson & Murray need to have good days covering the tight ends as well.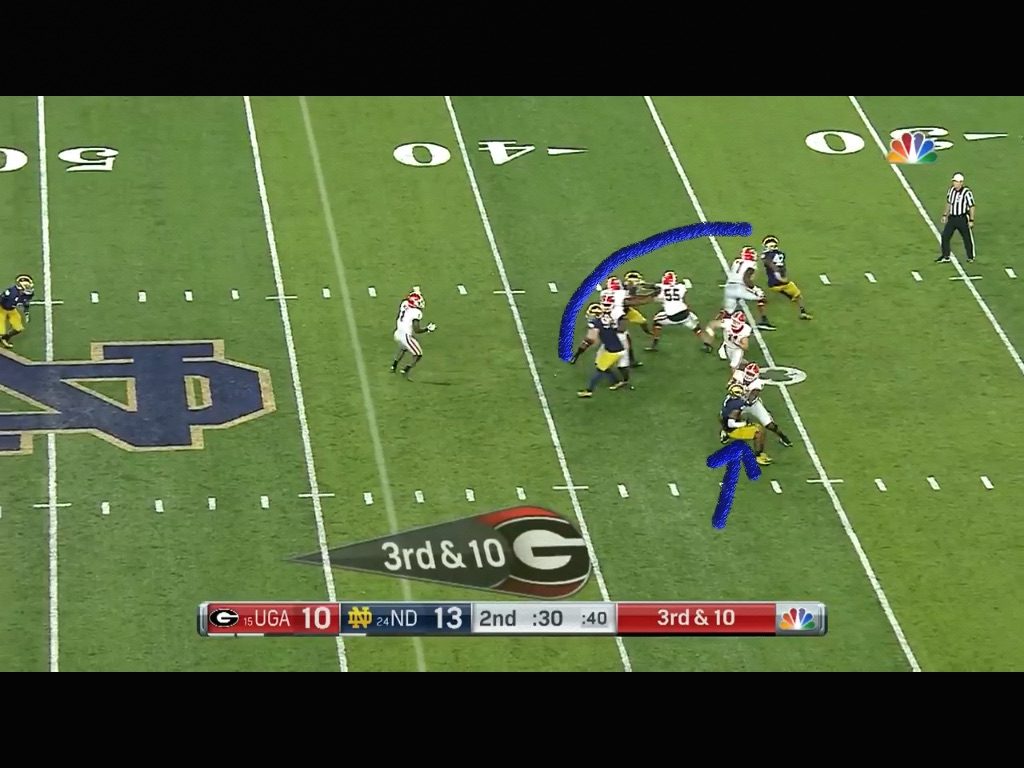 Drue Tranquill did a really good job doing his homework.  He completely jumped the route here by the Nauta, the talented Bulldog tight end.  This was in a big spot with 28 seconds to go before half.  At midfield with a timeout, you gotta think that this would be a situation the Sooners could exploit.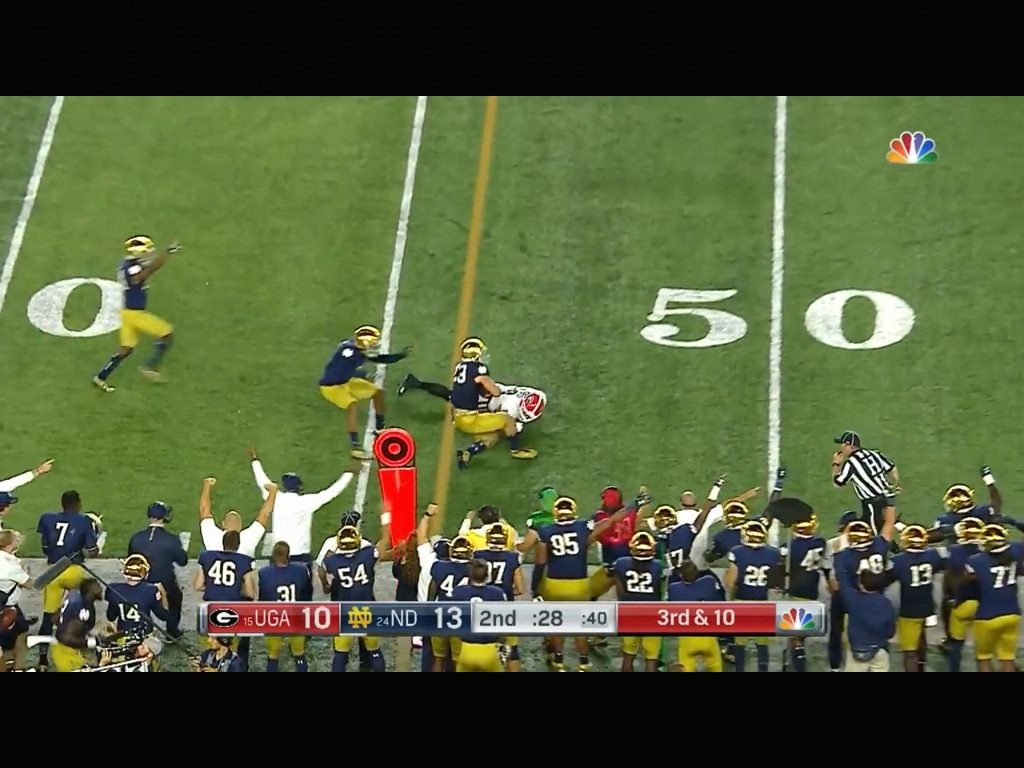 This is a complete homework play.  Hopefully the guys are really studying film and preparing cerebrally for what Georgia is gonna throw at em.  The preparation over the next three weeks will be vital to their success.