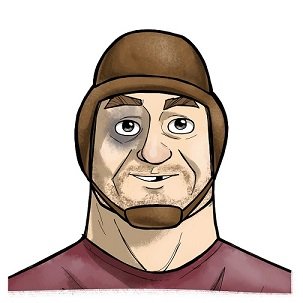 Trench Warfare | Defense | Oklahoma Vs. Tulane
Posted on: September 18, 2017
Entering yesterday's matchup, I wanted to see how the Sooners would respond to winning what has been perhaps the biggest game of the year so far in College Football.  Historically, playing any of the service academies – Army, Air Force, or Navy – gives teams fits.  Watching Ohio State take on Army's triple option attack yesterday, along with Michigan squaring off with Air Force, I didn't have a great feeling as kickoff neared for our guys.  Like the service academies, Georgia Tech and Tulane both employ a triple option offense.  For all of us old guys, the triple option was all we saw and played against growing up.  For these young guys, though, it's as foreign as Mandarin Chinese.
One of the principles of playing against the triple option is that you have to attack it.  You have to blow up the QB on every play.  The more you hit 'em, the more he starts thinking about giving it too early or pitching it too quick.  Either way it forces a quick decision.  Early in the game, it seemed like Mike wanted to attack Tulane, but the guys weren't sharp.  It was more of going through the motions and there wasn't a lot of emotion.  The Green Wave came out ready to play yesterday, and it showed.  Our guys…not so much.  The Tulane RB jukes Parnell Motley out of his shorts here off of the corner blitz and hits the corner for a big gain.
Another principle when playing against an option offense is that your interior can't get moved.  Here, Gallimore (top blue arrow) gets driven down, and that allows the tackle to get up on #9, MLB Kenneth Murray.  Motley should have had this guy in the backfield for a 2 yard loss, but still, early on the guys weren't playing good assignment football and they seemed to be sleepwalking.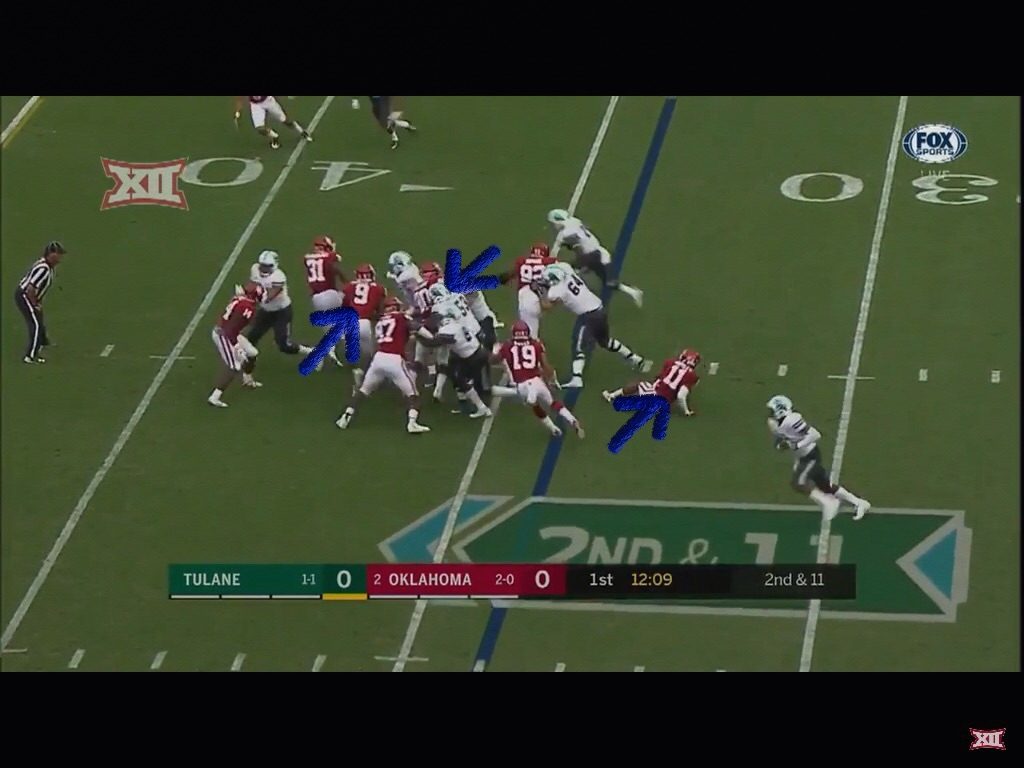 Speaking of attacking, here the D-Line gets a stalemate up front, and Steven Parker, bottom blue arrow along with Obo, top blue arrow are in good shape assignment wise.  Parker hesitates a tick instead of attacking the dive back.  He has to trust that Obo will handle the QB on the keep.  He hesitates and the Green Wave goes up for the first score of the day.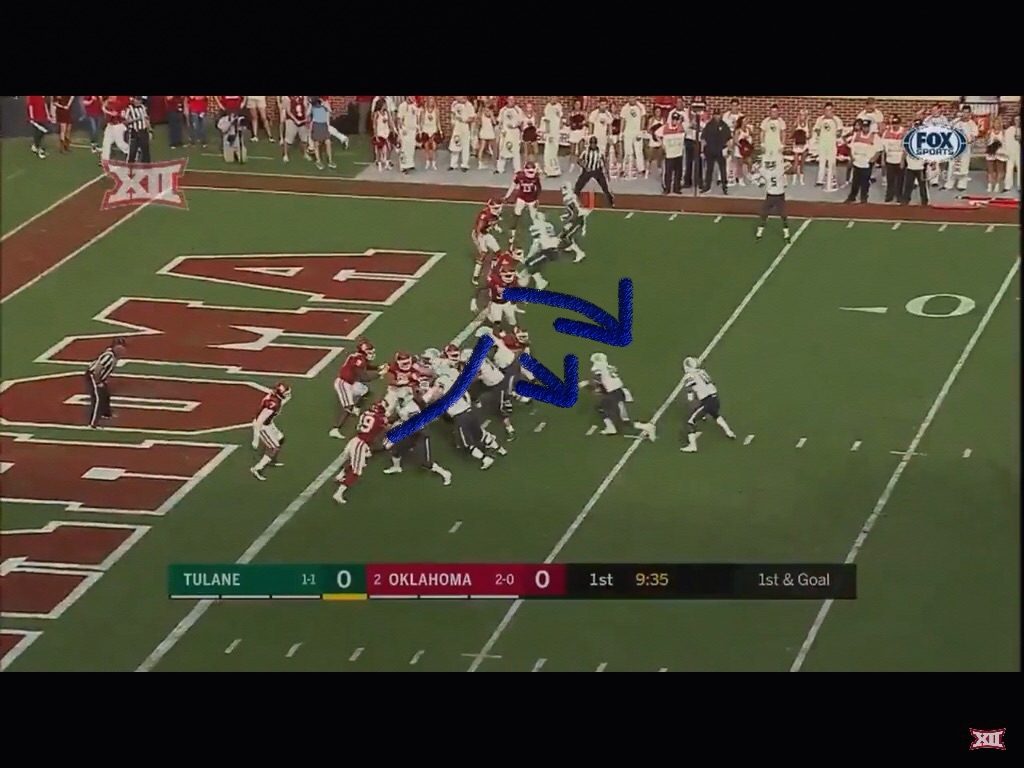 Here, Obo's doing what's called a "slow play."  If you have a great edge athlete like him, you can pull this technique off.  It's where the edge defender, Obo, takes both the dive and the keep.  It's a bang, bang play that I don't really like.  I'm an aggressive guy by nature and I want to force the issue.  I'm telling my interior you have the dive no matter what, and I'm telling Obo to decapitate the QB every play.  Before long, if they want to have a QB the rest of the season they'll stop running it.  Kahlil Haughton is the top Blue arrow and he'll be "running the alley".  This means he's coming downhill to attack whatever shows between the numbers (on the grass) and the hash.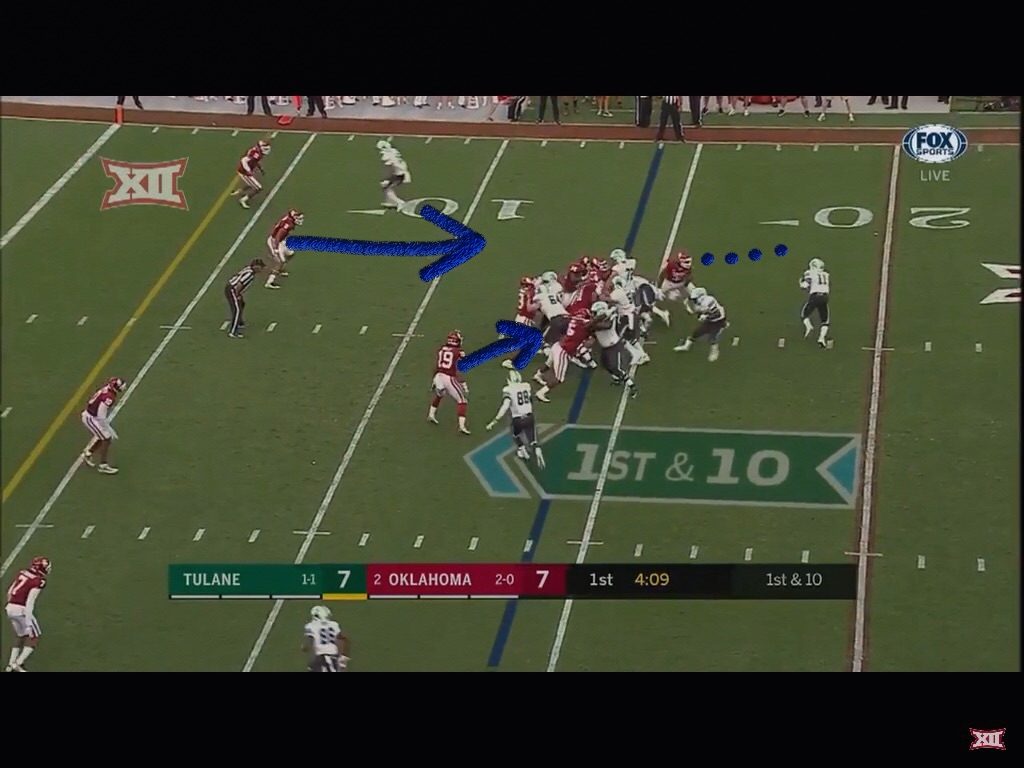 But… Haughton completely whiffs and Obo can't get back out there in time.  The Tulane QB puts his foot in the ground and gets north and south in a hurry for the Green Wave Score.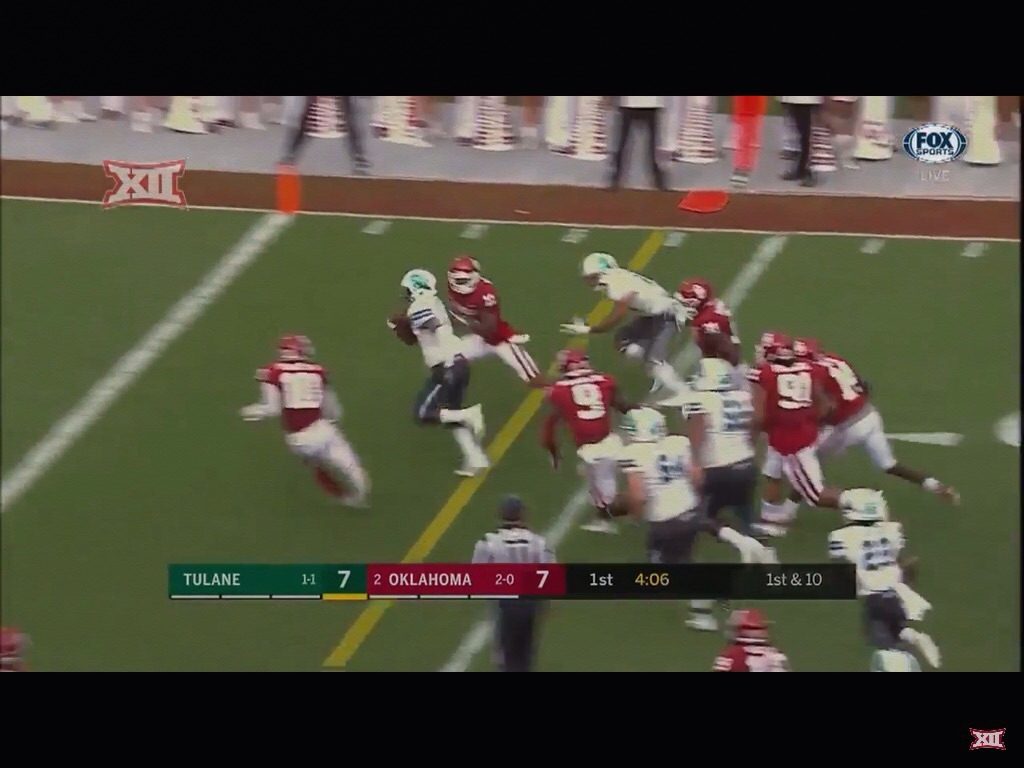 Up to this point in the game, the Oklahoma defense had nary a clue about how to shut down what was turning into a Green Tidal Wave.  Some players though seem to come up big in big spots.  This play was the turning point in the game defensively.  After Pee-Mot (Parnell Motley) jumped this route to cut in front of the Tulane receiver, the Sooners took off and never looked back.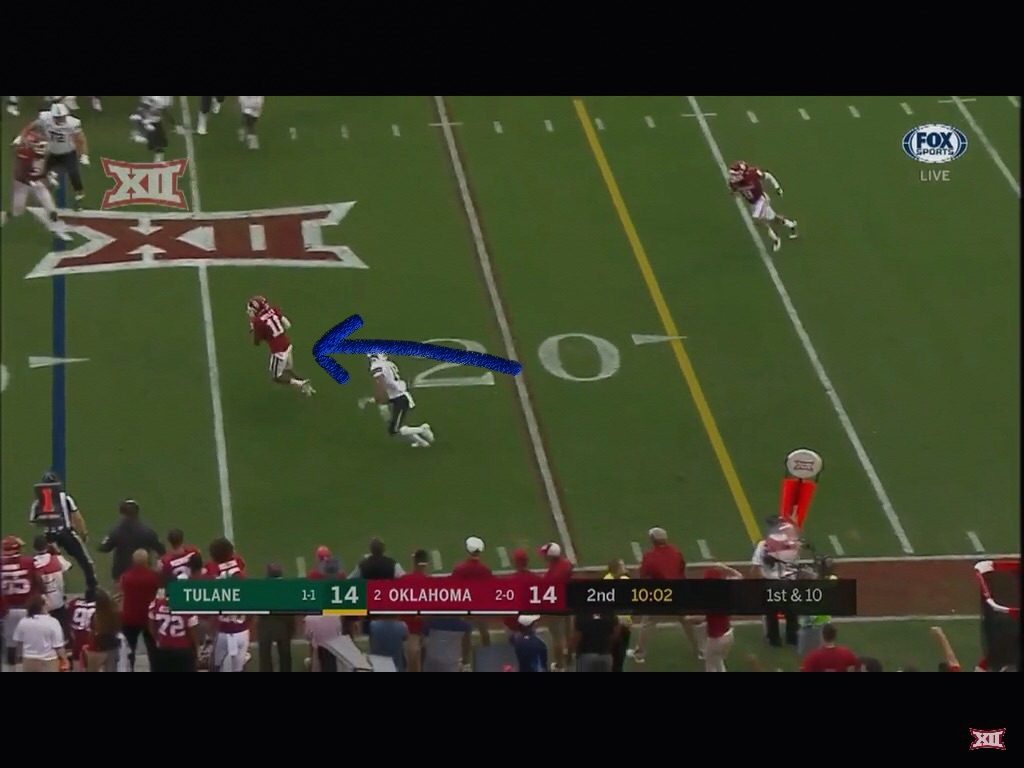 This turned into 6 points for the good guys. To this point in the year, I'd say that Motley and Obo would be the defensive MVP's for the Sooners.  Having a guy like Motley who played both offense and defense as a high-schooler, came in handy here.  He bent it back towards the numbers to pick up the block from Jordan Thomas.  Look at Caleb Kelly flying downfield to pick up a block as well.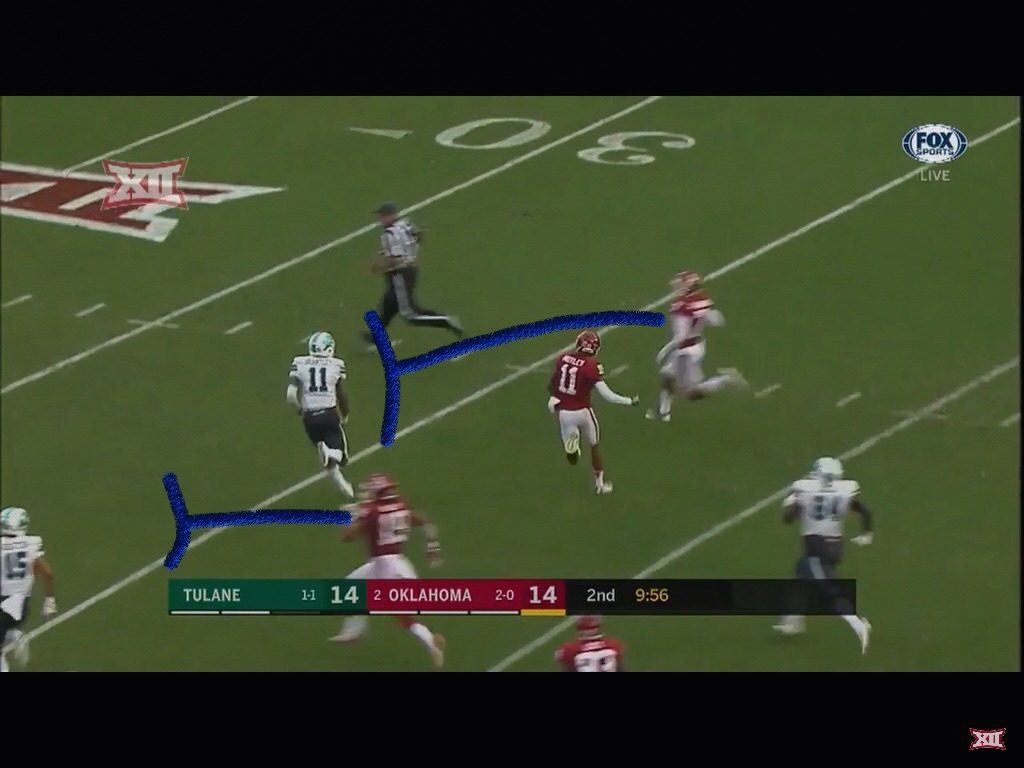 Another principle against an option attack is that you can't really blitz it.  If you run twists or stunts, you can catch yourself out of position and get gashed for a big play.  Once the Sooners got up on Tulane, they knew they'd have to throw it more to catch up.  That made them able to run a twist here and get Obo (green arrow) on a free run straight at the QB.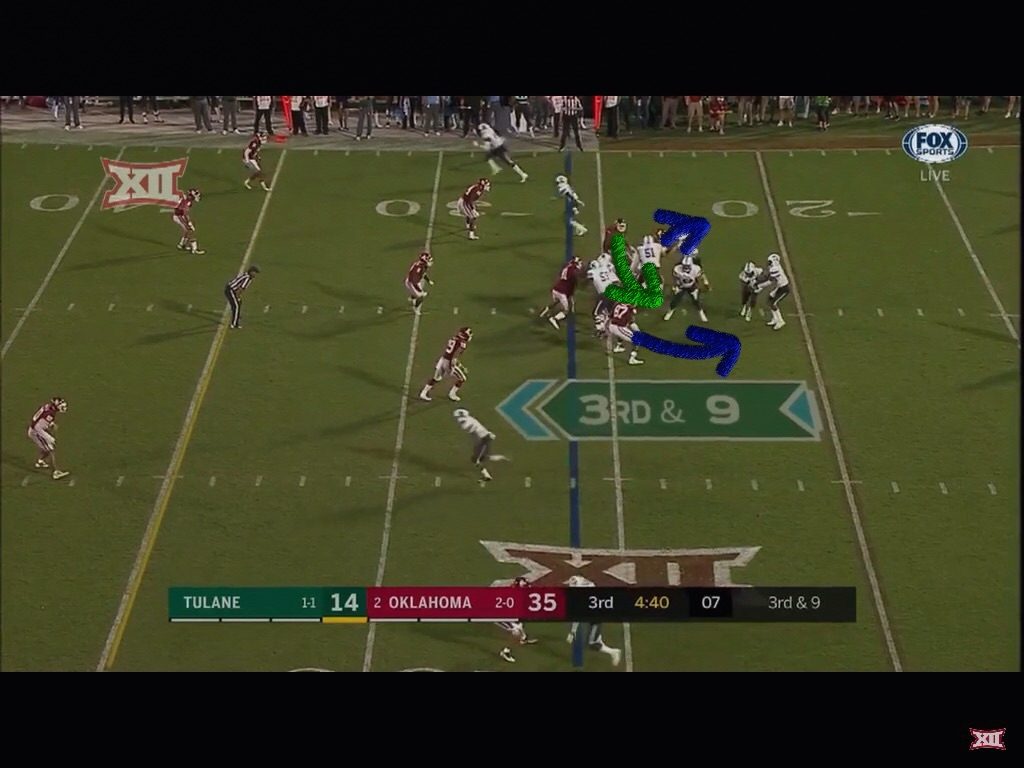 While Obo got the sack, I'd like to see the middle of the pocket pushed back a couple of  yards.  It would close the door to either escape route (green arrows).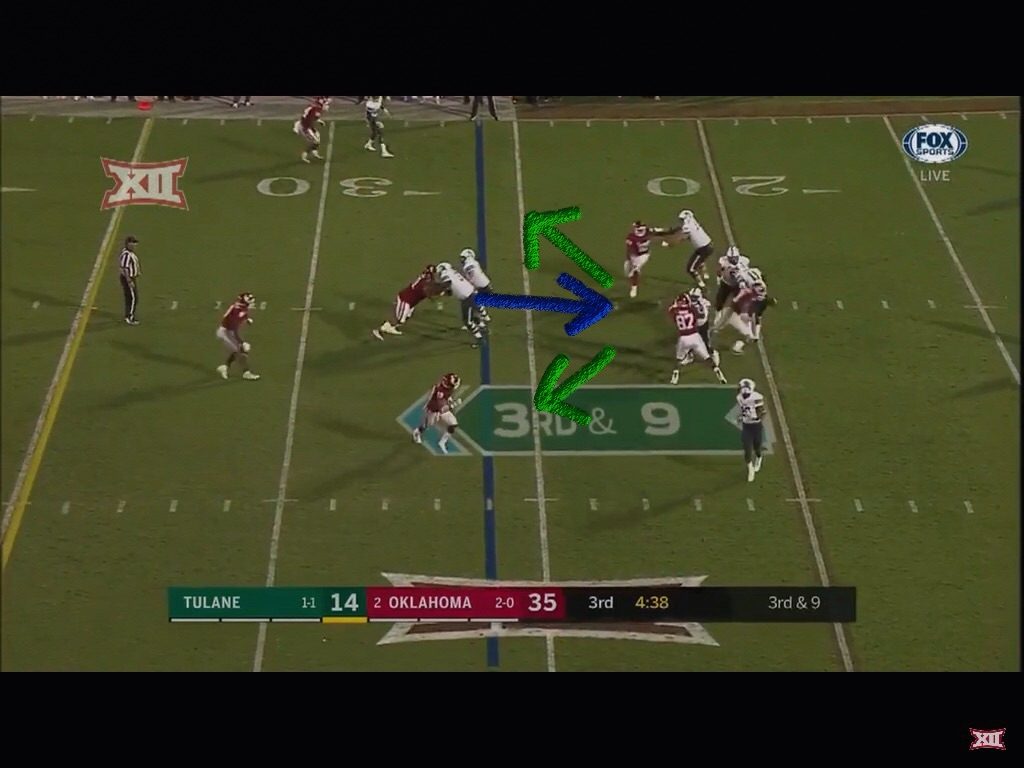 Here, we have a similar look with Gallimore (top green arrow) twisting around along with Ward keeping outside contain to the bottom.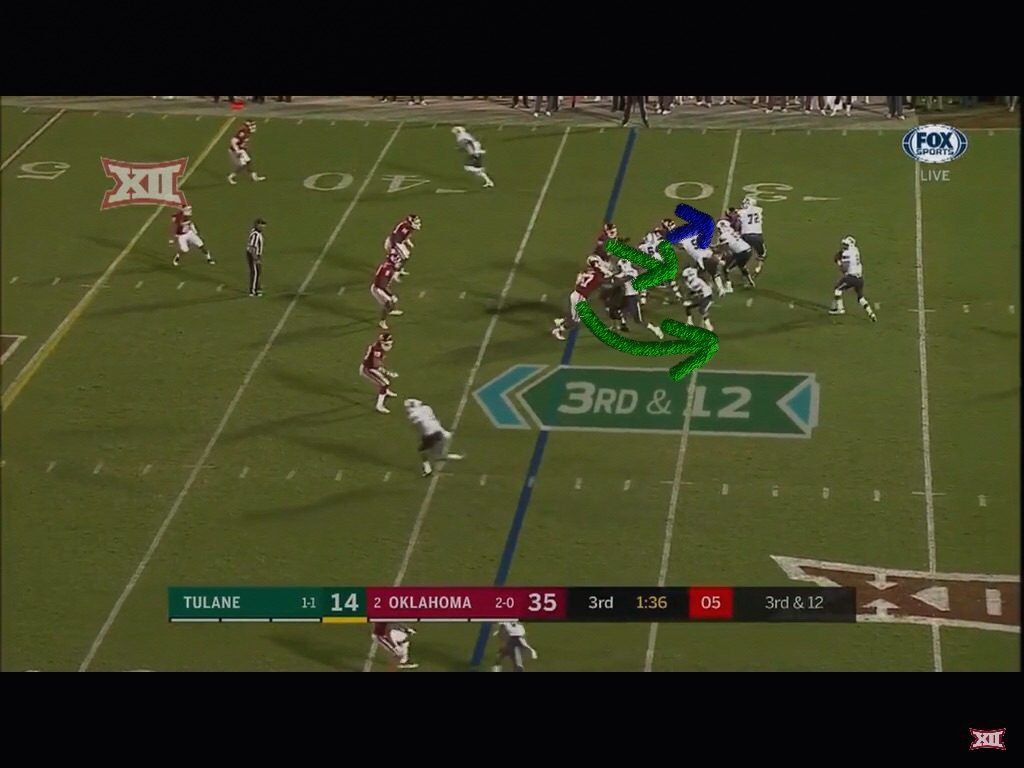 Both of 'em get home on this play and it was another sack in a big spot.  This team is well equipped for playing with a lead and rushing the passer.  As they get Amani Bledsoe back in a couple of weeks, it'll no doubt help bolster the interior.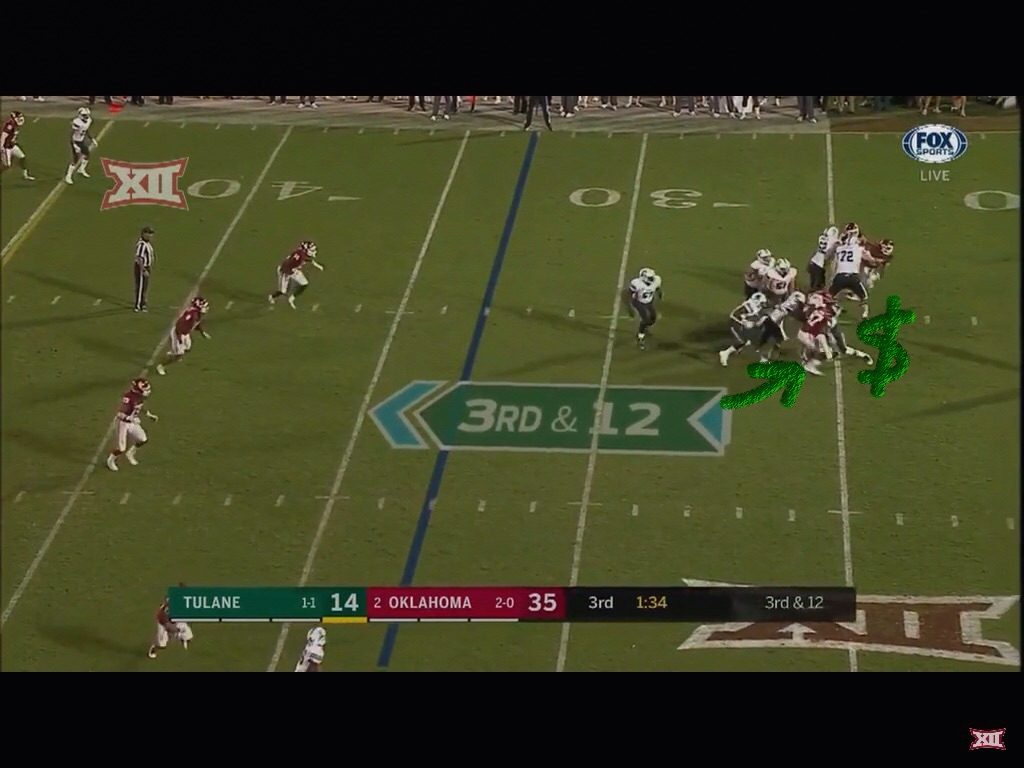 Kenneth Murray (top blue) and Mark Jackson (bottom blue) both looked great on this play.  Murray has the QB, while Mark is responsible for the pitch man.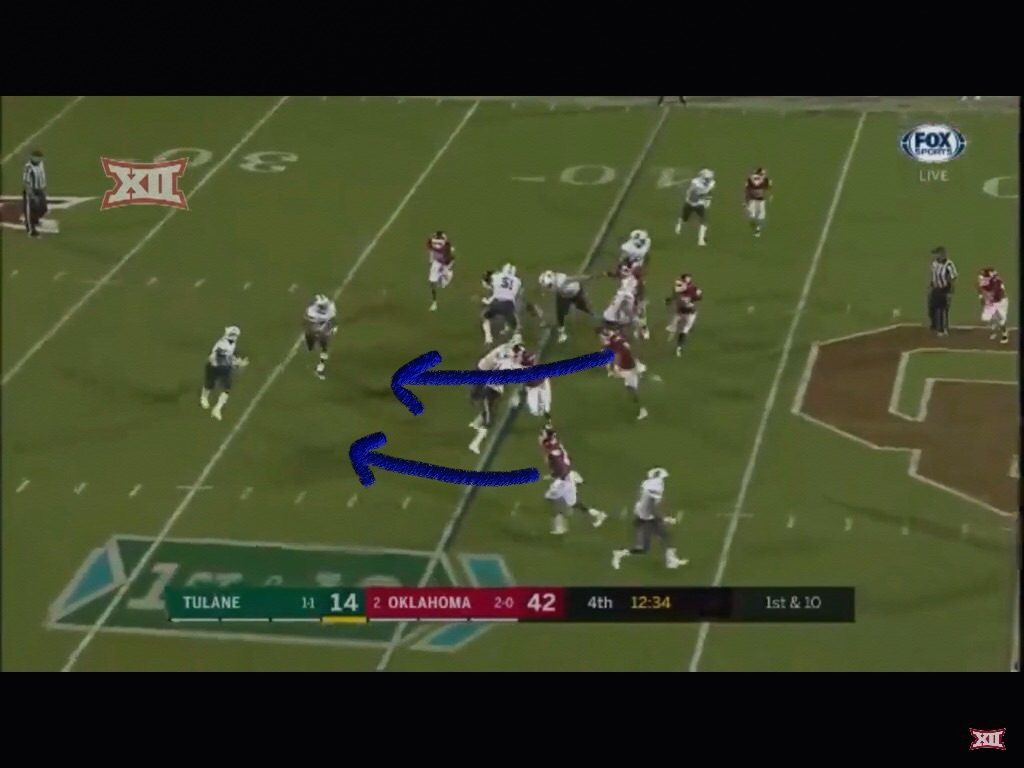 Murray is on top of the QB before he knew what hit em, and still has the athleticism to stay on his feet, and scramble to help on the pitch.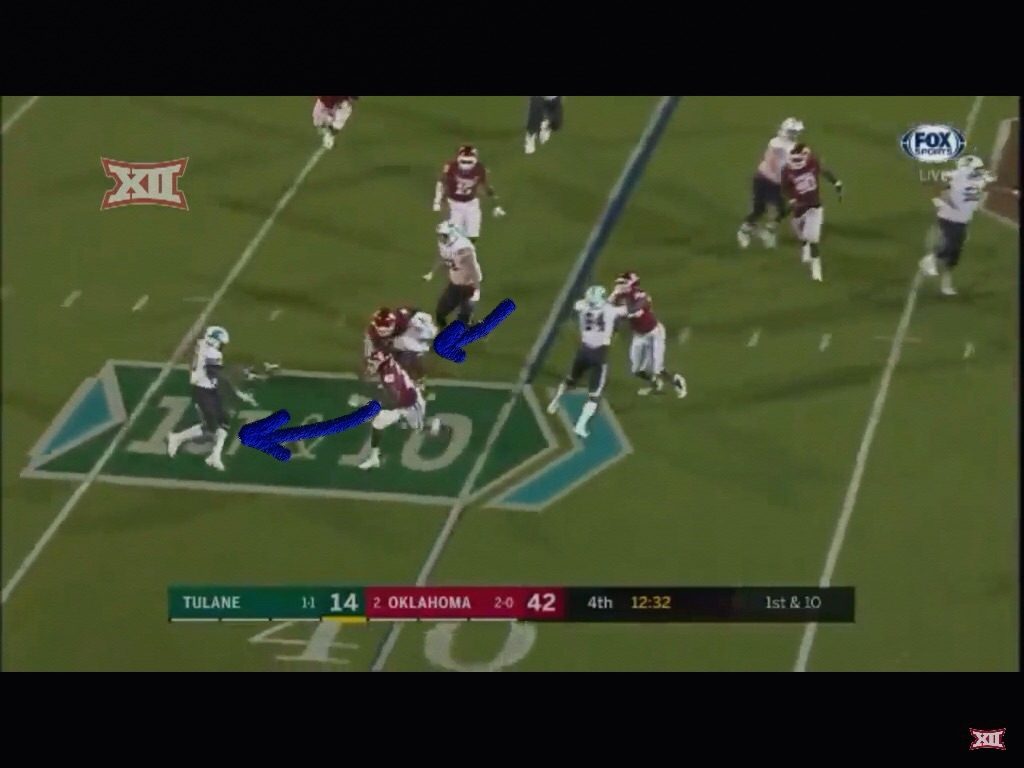 And his effort pays off as he's able to recover the Green Wave fumble.  Much like against UTEP and tOSU, the Sooners needed a couple of series defensively to settle in and then became dominant.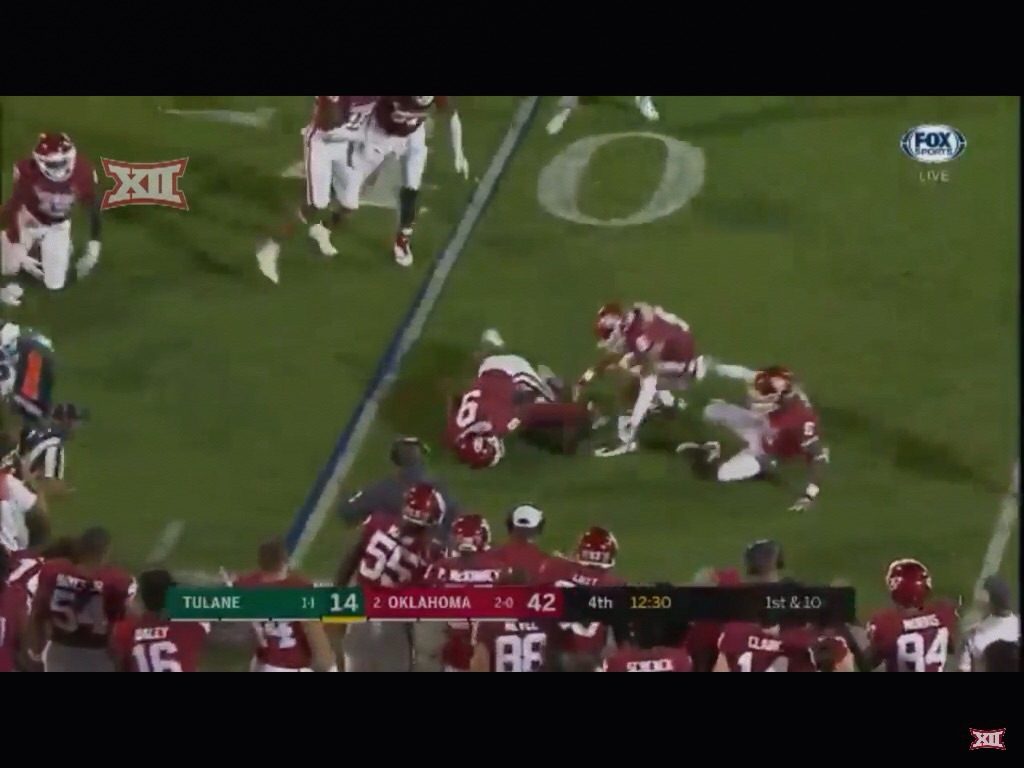 I'll have more comments in the Offensive version of t-dub this week; while I'd hoped to see a more dominant performance, everyone who faced the triple option this week, Ohio State, Michigan, and Oklahoma, all struggled defending it.  It was good to see an Oklahoma team come out relatively flat and still win going away by 42 points for a final of 56-14.  While it started off badly for the defense, the last 11 Tulane drives yielded, Pick 6, 39, 3, -4, 16, 8, -6, -10, 30, 2 & 11 yards respectively.  It'll be interesting to see how the Sooners prepare going into 0-3 Baylor this week.