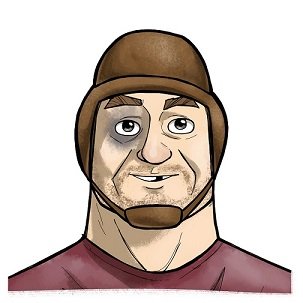 Trench Warfare | Defense | Oklahoma vs. Baylor
Posted on: September 25, 2017
I'm an eternal optimist by nature.  If you follow me on twitter @Jybraniac, you would have noticed, like many of you, I was pretty disgusted by what I was seeing from our defense Saturday night.  Not by our players as much as what position we were putting our players IN.  Just like my optimism overflows, so does my aggressiveness.  I'm a firm believer in dictating terms to the opposition.  Nick Saban said it best this weekend…"There's a difference between winning and defeating your opponent."
We have the athletes defensively to attack like we haven't seen a Sooners defense do in a long time.  Fortunately, the run defense is very, very stout.  Baylor ran 35 times for 60 yards.  That's 1.7 yards a clip.  Part of the reason for that is the Sooners clog up the middle and do a great job cutting off cutback lanes.  DuVonta Lampkin is on the 45 next to Obo at the bottom.  He did a very, very good job stringing this out and forcing it back into the waiting arms of D.J. Ward.  Obo also did a great job of preventing the back from getting outside.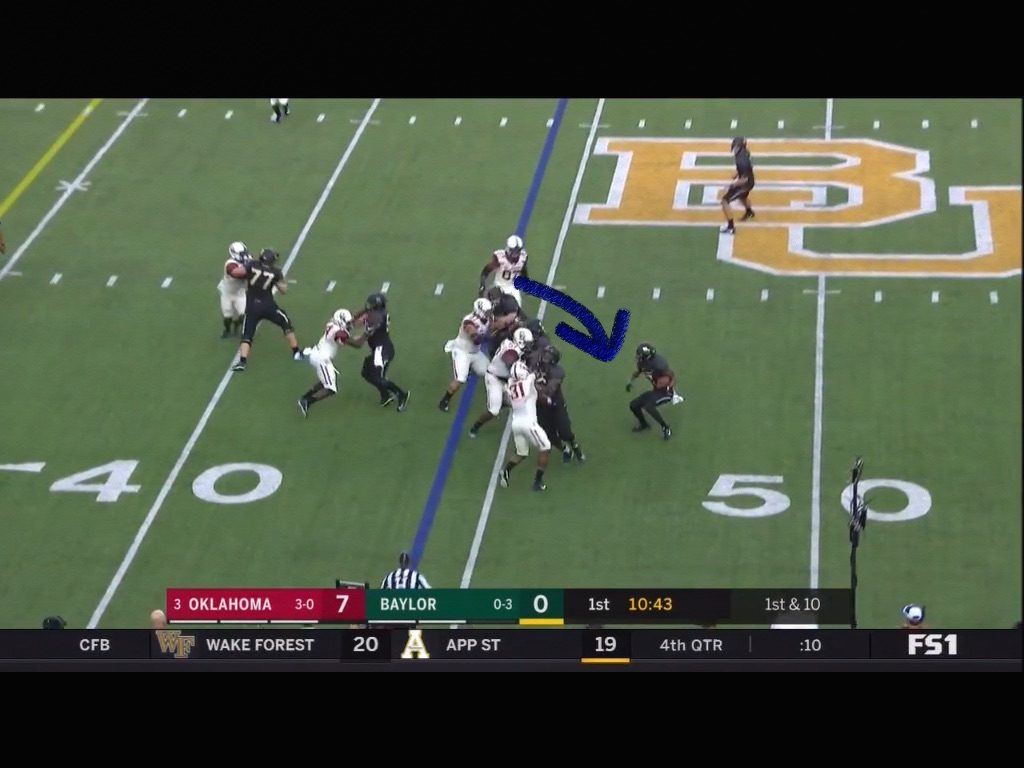 Like most of you, I was sure screaming for Mike to let these guys play up closer to the line of scrimmage on the outside.  Jordan Thomas did a great job blowing up this play, and I truly believe that this defense has the personnel to not let an offense piss a drop.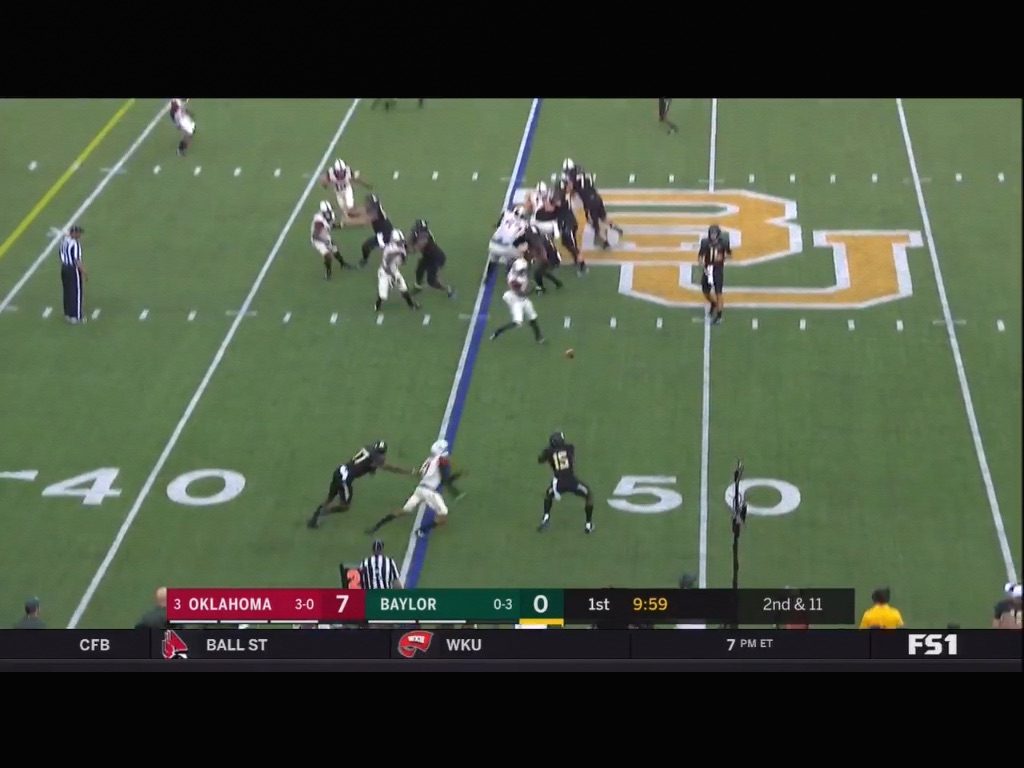 One of the more headscratching things so far this year has been that the Sooners haven't let Caleb Kelly attack as much as I'd like to see.  The guy is big, fast, and a heck of a player to boot.  Here, when playing him up by the line of scrimmage, he gets a big 3rd down stop and tackle for loss in a big spot.  It was early, but I'm not sure why Mike didn't pin the ears back early…Baylor for sure couldn't handle it.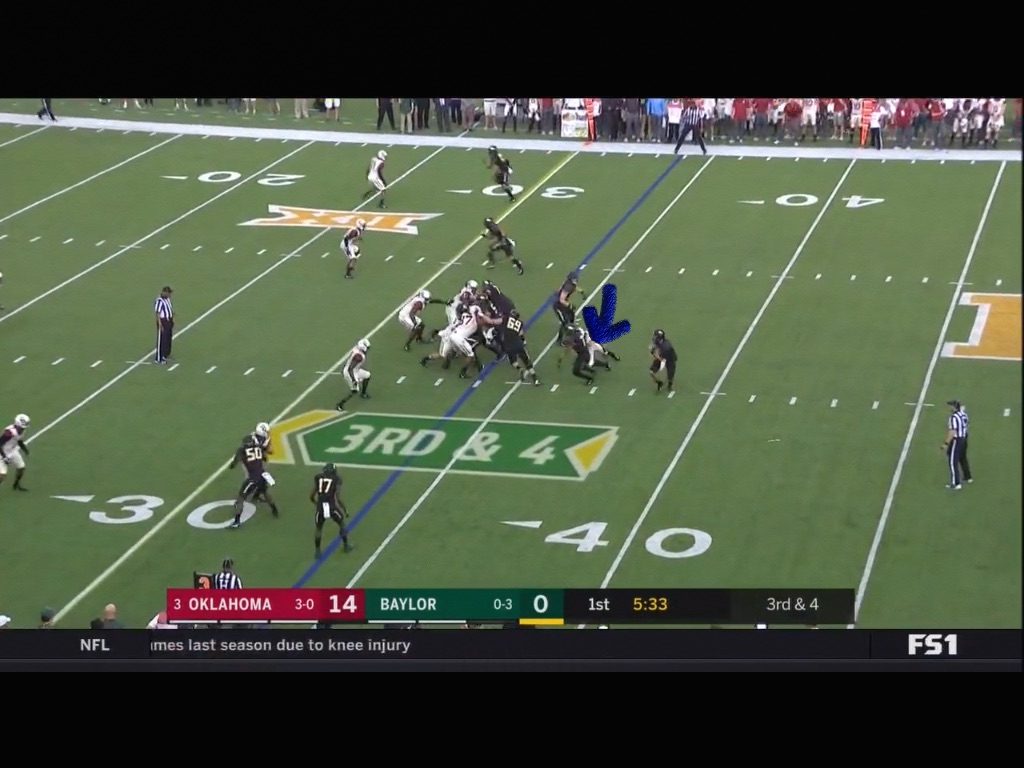 Parnell Motley is quickly becoming one of my favorite players.  Here, he jukes the snot out of the receiver trying to block em on the screen… completely buckles the guy.  I bet the guy has a mean crossover on the basketball court, because he completely crossed this guy up..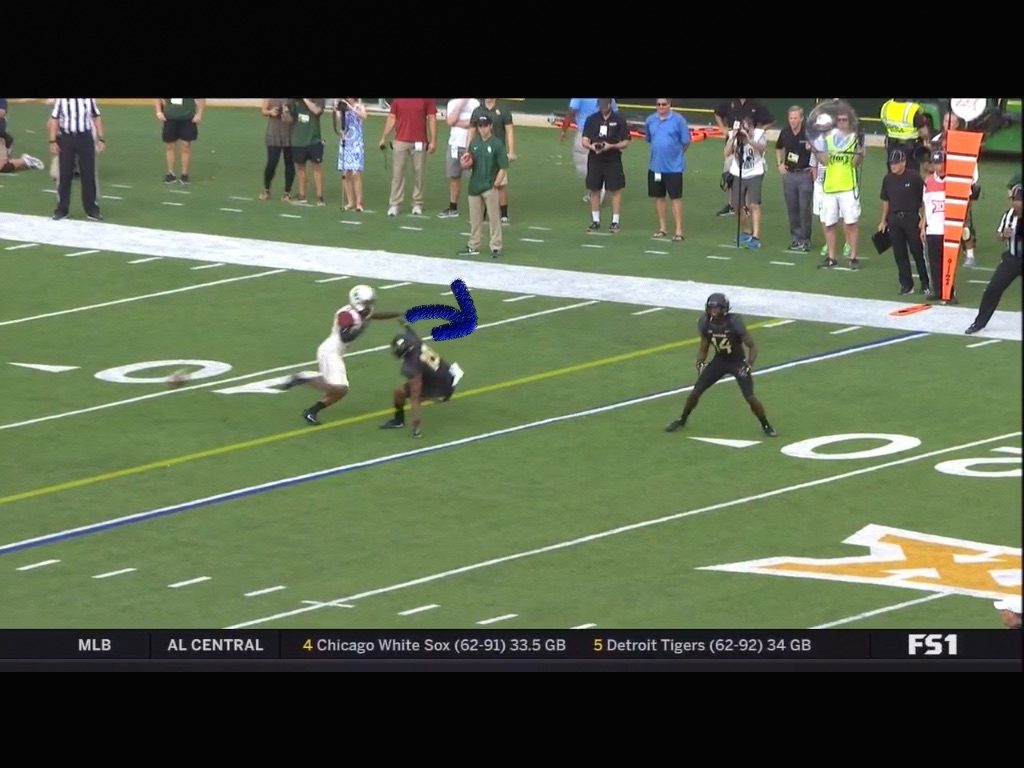 And then finished it with a PERFECT form tackle on the outside.  The guys were playing with confidence early, and I'm not sure why Stoops wanted to play it so safe.  He is from the Bill Snyder school which says they'll make a mistake as they go down the field, but these offenses are too good to sit back nowadays.  You have to attack em!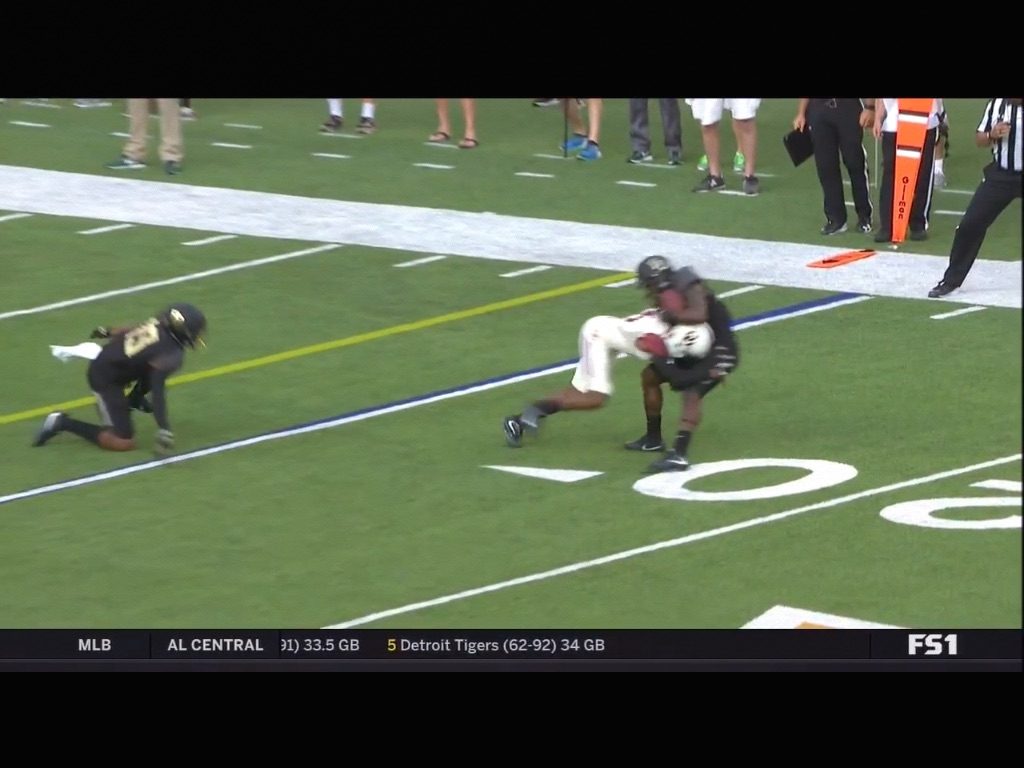 Also something that stood out early was that the Baylor QB, Smith, is NOT good when under pressure.  While Baker thrives on it, this guy threw it away or almost got it picked…EVERY DANG TIME!  So, as the staff saw that, why didn't they bring more heat?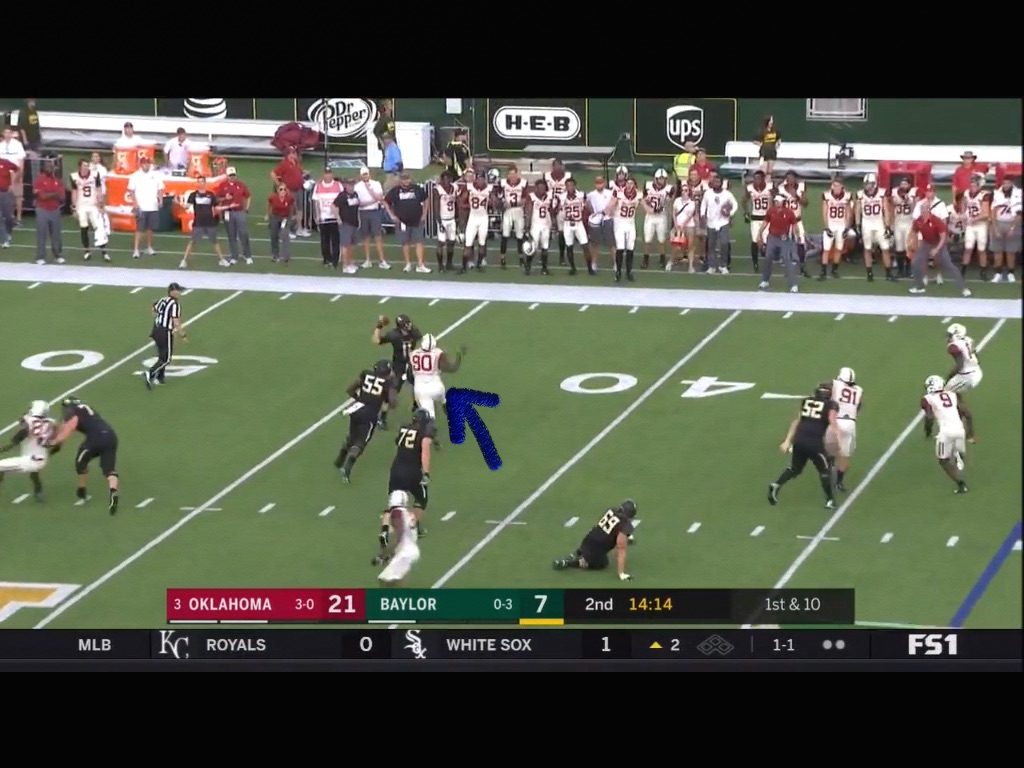 Off of Gallimore's pressure, JT almost had a pick here on the sideline.  Again, dictating terms to an offense is a way to make em make quick, bad decisions.  Later in the game, the Sooners were getting ate up by playing off.  Why wouldn't you want to force the tempo when you have the ballhawks on the back end that OU does?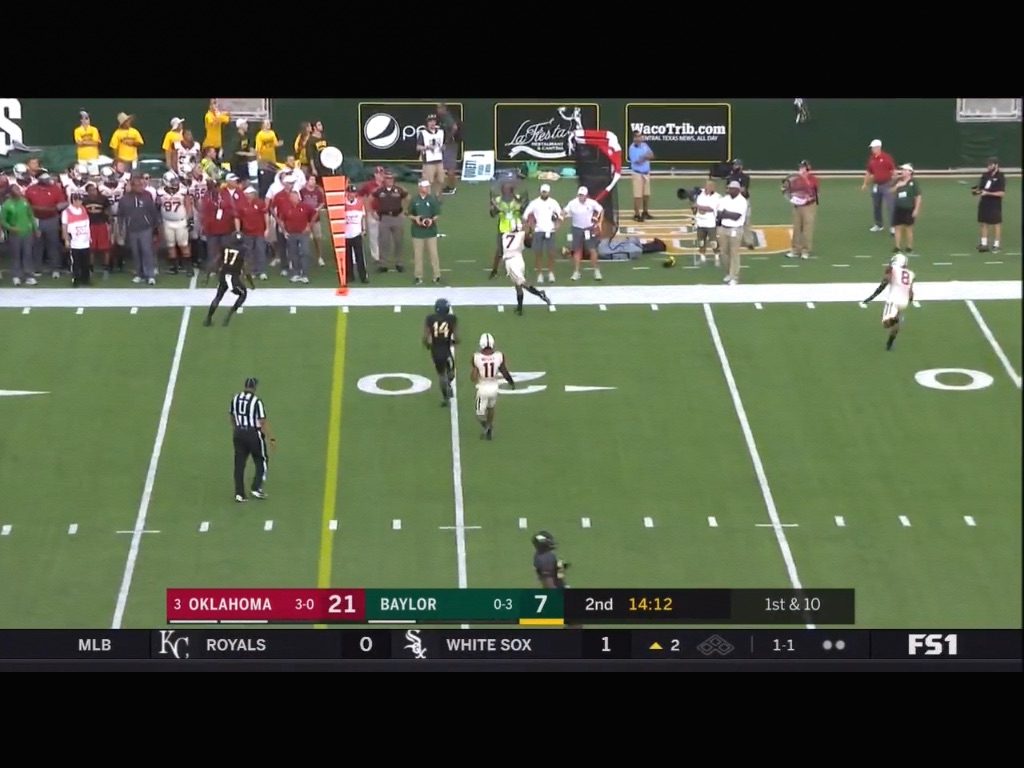 It seemed like Baylor wanted to fast forward to 3rd down, because the Sooners would stone them and did most of the night to a 3rd and long.  Tackles in the backfield were common when the guys were turned loose and allowed to get upfield.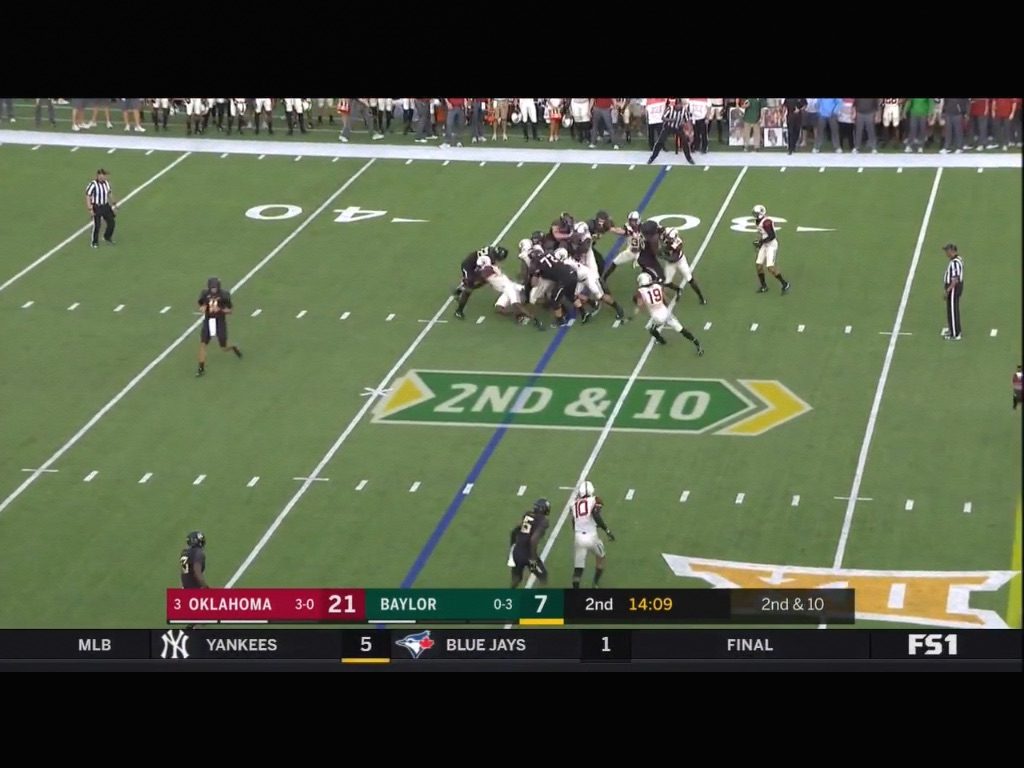 Off of this look, the guys are only bringing a 4 man rush, but even with four they generated some good pressure.  Kenneth Mann is coming off of the left edge here on a twist.  Gallimore is coming in from the right side here to make a QB Smith sammich.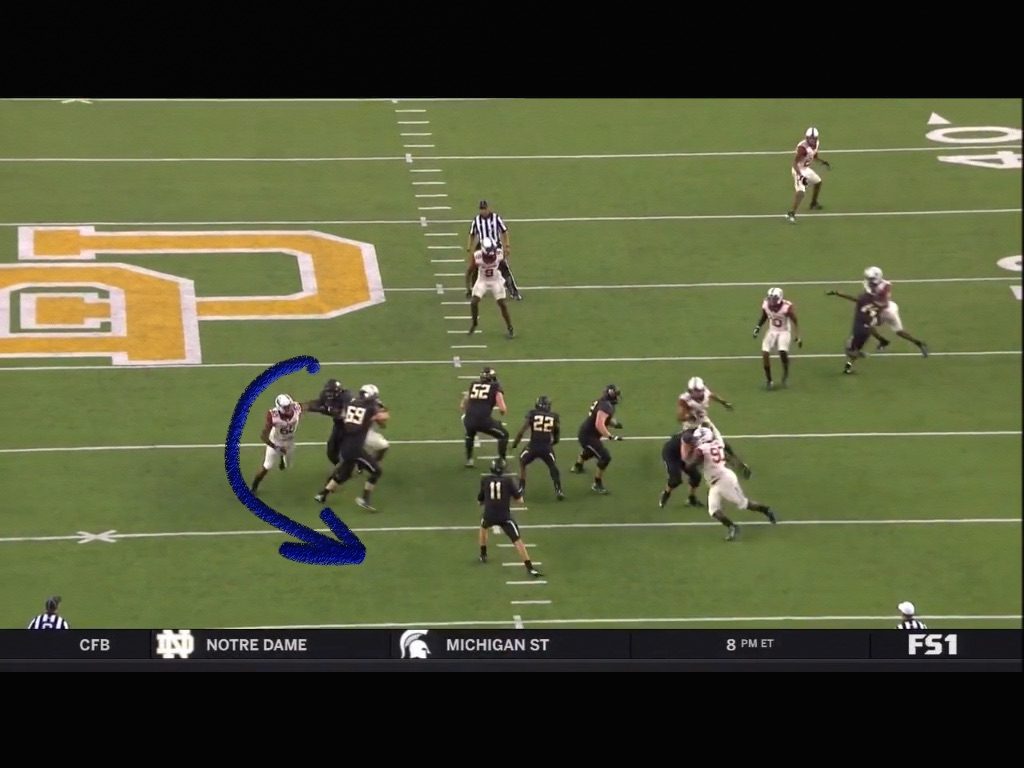 As Mann took em to the ground, I was hopeful that we'd start seeing some 5 man rushes.  It was clear that Baylor couldn't block the Sooners one on one.  And yet, it was baffling why most of the night we saw 3 man rushes in spite of Smith's inability to deal with the pressure when it came.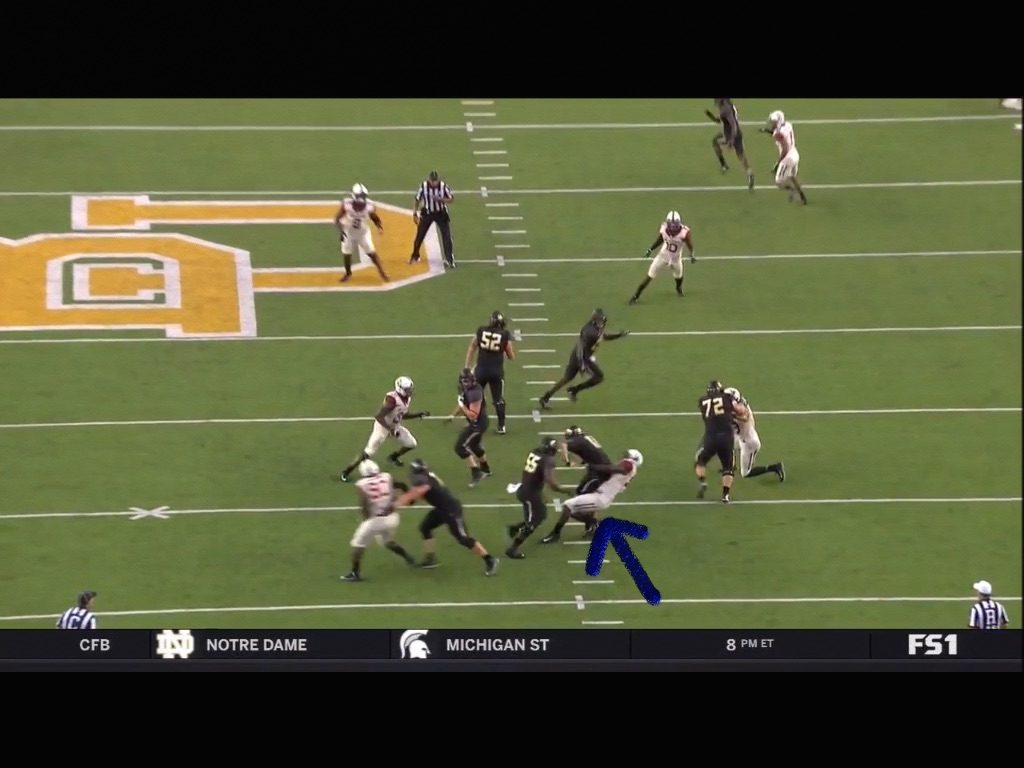 Something that is really evident is how fast this defense is.  This is a Jet sweep to one of the fastest players in the Big XII.  Beal & Kelly are flying outside while Obo does a really nice job staying at home on the backside to deal with any bootleg action.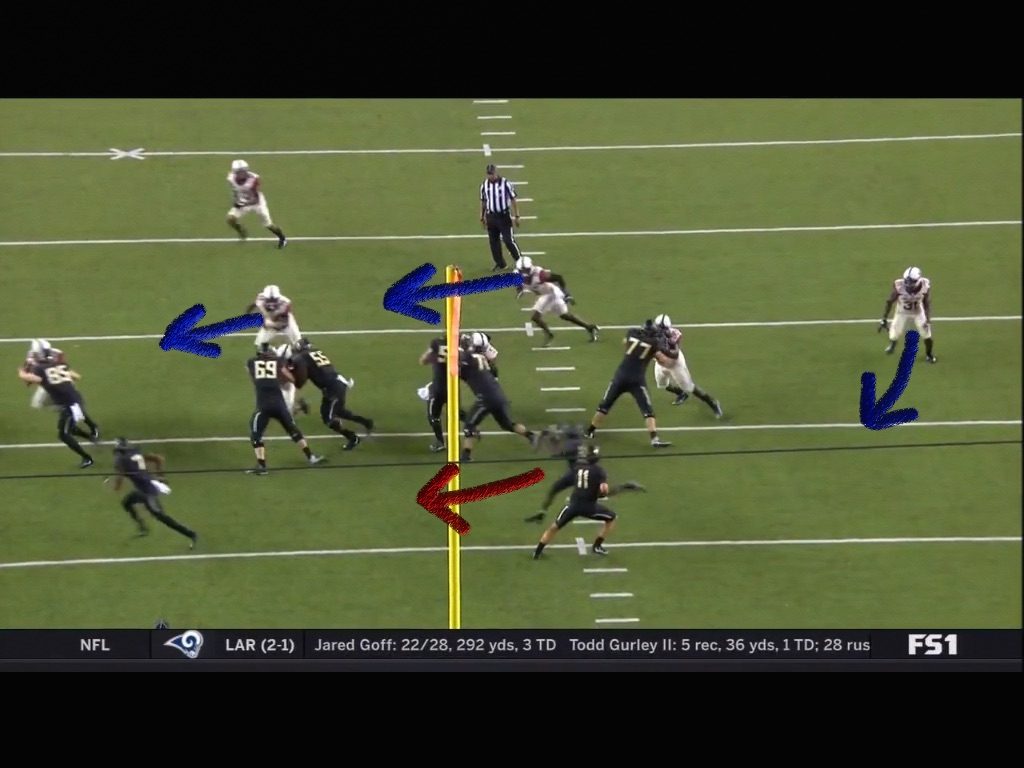 On the outside, the Sooners did an outstanding job forcing this back in.  It allowed Beal to catch up as #14 turned it up through there.  Fast guys are shocked when they get caught, and often demoralized.  Caleb Kelly did a great job working over the top and stopping this play for no gain.  I won't get on my soap box too much, but when you have guys who can run like this, why in the world wouldn't you let em attack vertically instead of sitting back and dying a death of a thousand cuts?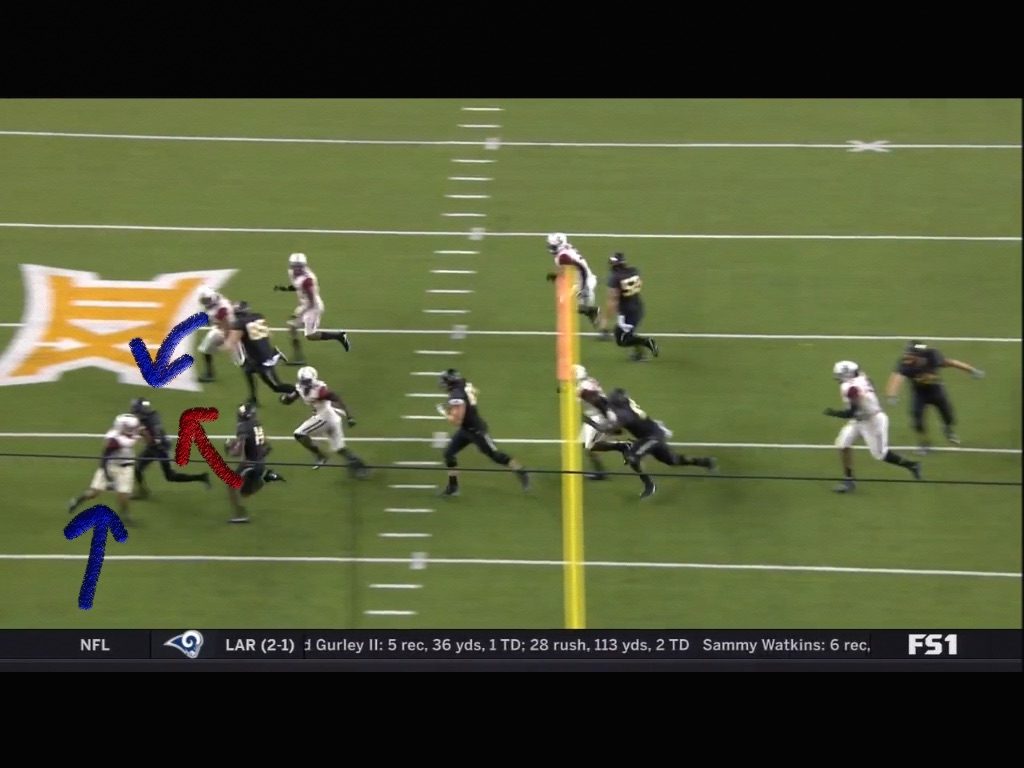 So here to end the game, the Sooners – finally – bring 5 guys when the chips were down.  I'm not sure if Riley got on the headset and MADE Stoops bring it, but with Obo, Mann, Ward, Beal, and Kelly all coming, that's a lot of speed, athleticism and nasty to deal with one on one for those linemen.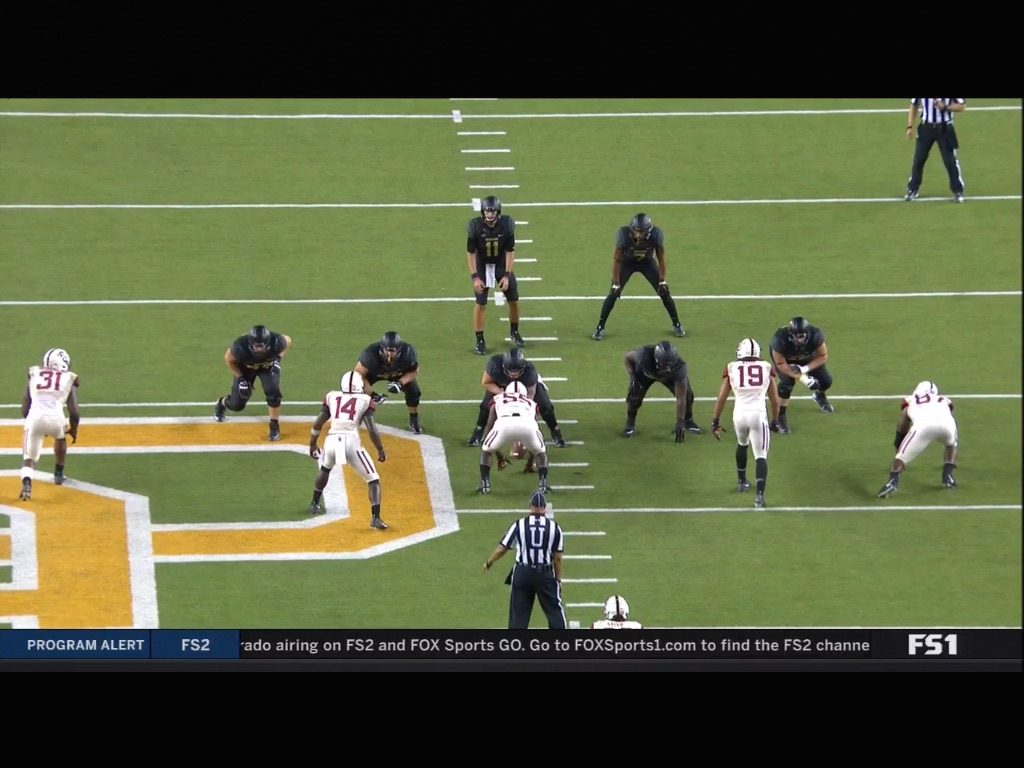 And literally within a two count, Obo was on top of em.  This was a twist with Mann working outside to be the contain and Beal spying either way.  Kelly is sneaking through there on the right side as well to get ready to lower the boom.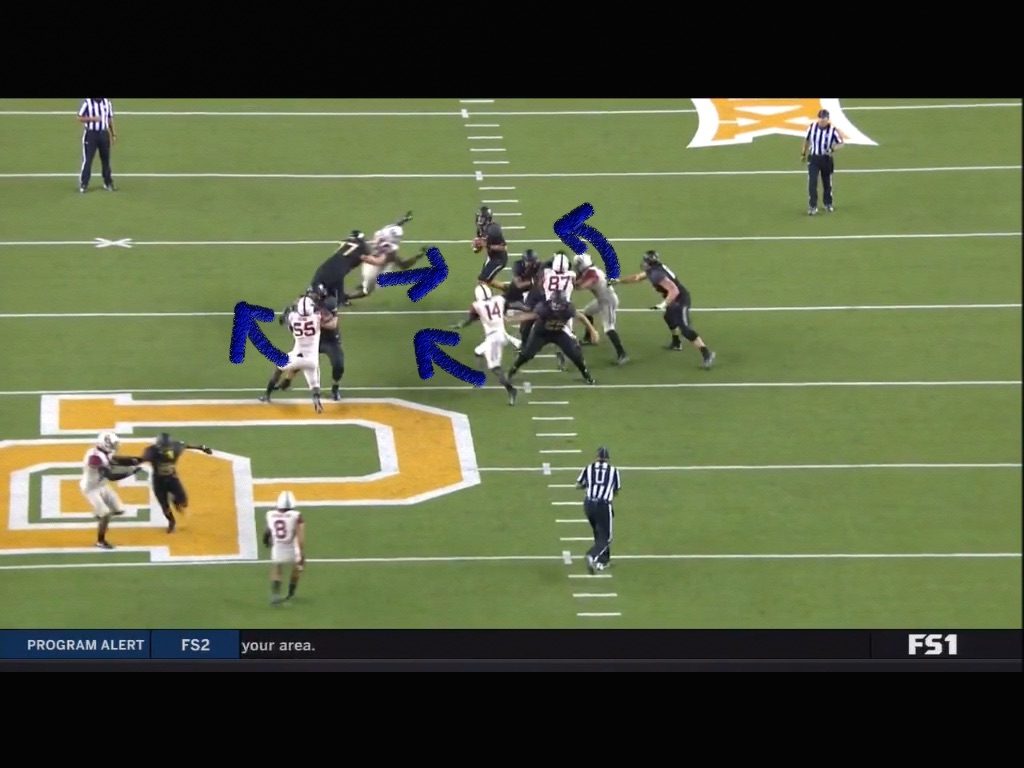 Here's a better shot of Obo comin round the mountain, and you can see that the QB is barely into his drop.  The point of all of this is that you don't have to be great in coverage when you have guys who can do this.  This is only a five man rush.  It isn't an all out 8 man rush or something like that.  So that still leaves you with six in coverage.  When you can generate heat like this, you can create a lot of problems and turnovers for a team.  With the offense that the Sooners have, if the defense can score as well and create short fields, that's all the more reason to attack.  If Mike changes his approach this team could be damn near unbeatable if they start attacking.  They have more pass rushers than I can remember and top to bottom more team speed defensively than I've seen in a long, long time.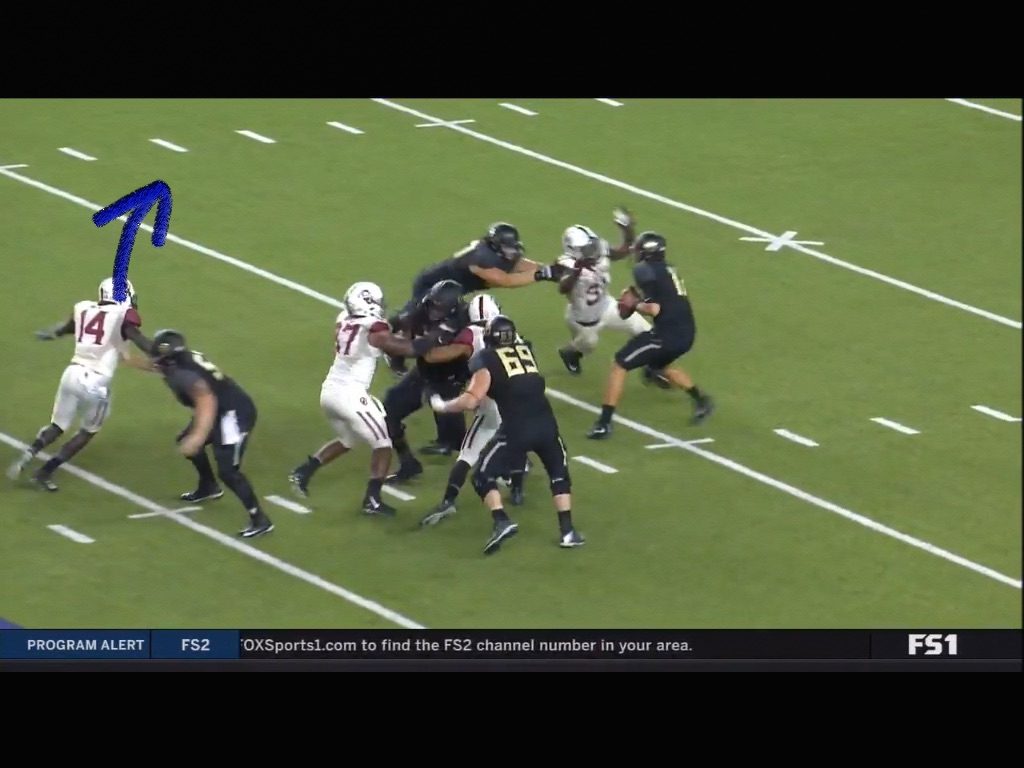 Do you see?!?!  Do you see what happens when you let us attack Coach????   Are you not entertained????