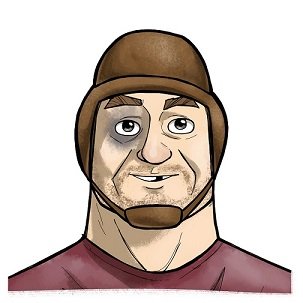 Trench Warfare…Big XII Championship Edition…Trench Trifecta Part 2
Posted on: December 5, 2017
So many things go into making this play almost impossible to defend.  The Sooners have Jordan Smallwood going into the jet sweep.  Since Ohio State, teams have to account for that.  Oklahoma showed it again on Senior day, so if you don't account for it and assign someone to it, you'll be sorry. Take note of the three red arrows up top…First from right to left, the Safety has to flow with Flowers going outside and the initial read is run.  The inside linebacker has to go with Smallwood, and the backside linebacker #42, has to stay at home in case Mayfield gives it to Anderson.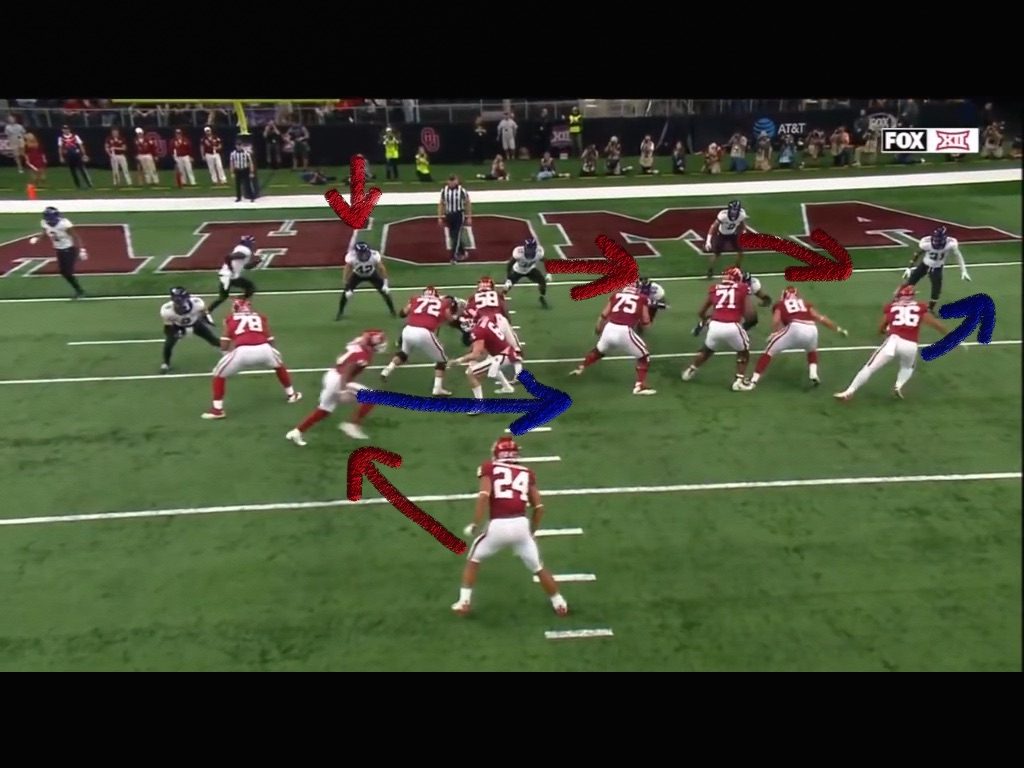 This clears it up a bit as you can see that center Erick Wren combo's up to the playside inside linebacker.  The safety is flying out with Smallwood, while #42 has come up hard to pick up Anderson because he's not only a run threat, he's a play action threat after TCU game 1 as well.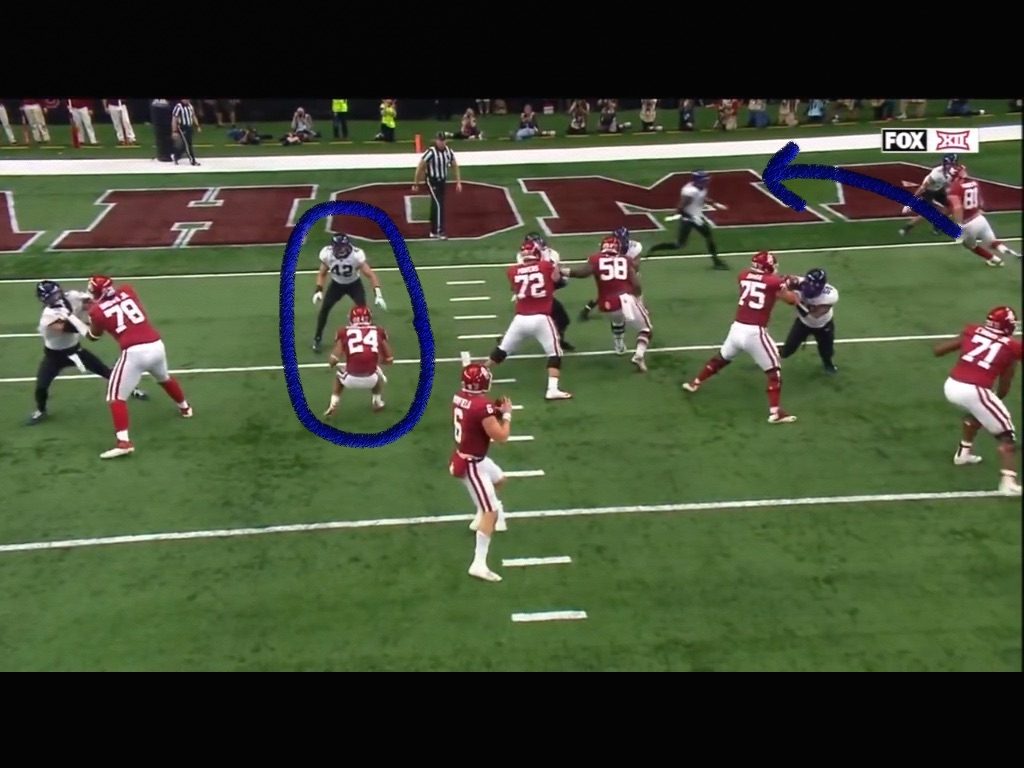 The frame before, you could see Andrews starting to cut inside.  All of the previous action created the space for Mark to operate in, as well as giving a clear throwing lane to Baker off of Powers left shoulder.  K said early in the year that this offense melts defensive keys, and this play is a prime reason why it does just that.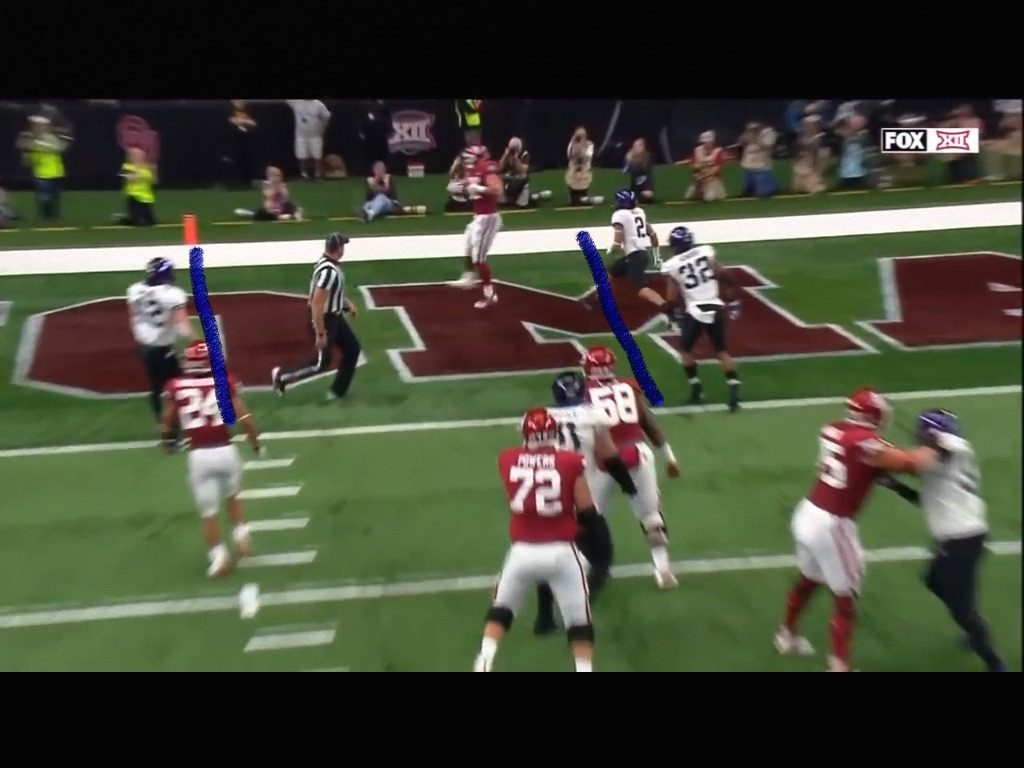 Against a more conventional offense like what TCU and some teams we'll see in the playoffs, it allows to keep Kelly and/or Obo up around the line of scrimmage rushing the passer.  This is why we saw Kelly have such a big game against Auburn in the Sugar bowl, but against some teams this year, he and/or Obo dropped into coverage a lot.  Early on in Bob Stoops' tenure, they were trying to have a defense that allowed them to both defend the spread passing attacks of the Big XII while being able to match up physically in the playoffs.  That's what the 3-4 or 4-2-5 does.  Kelly forces Kenny Hill up into the waiting arms of Amani Bledsoe.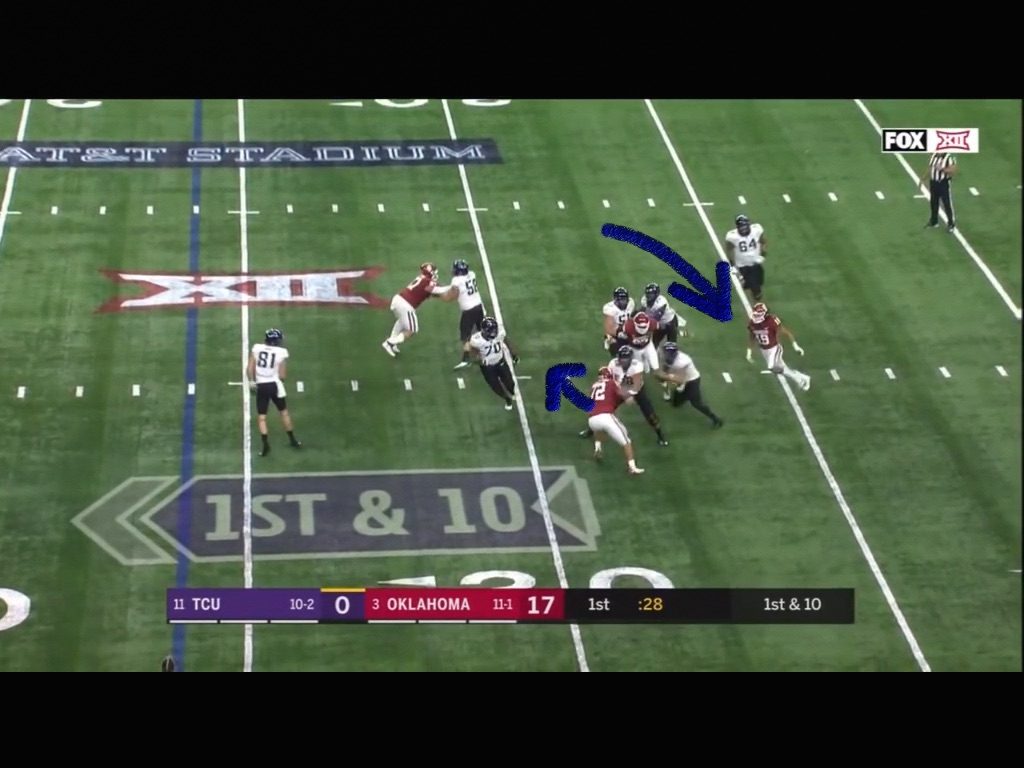 Just wanted to point out the hustle and effort on this quick screen to White.  To drop him for a loss off of a quick screen like this speaks to the preparation and effort this defense is playing with.  They're coming around at just the right time.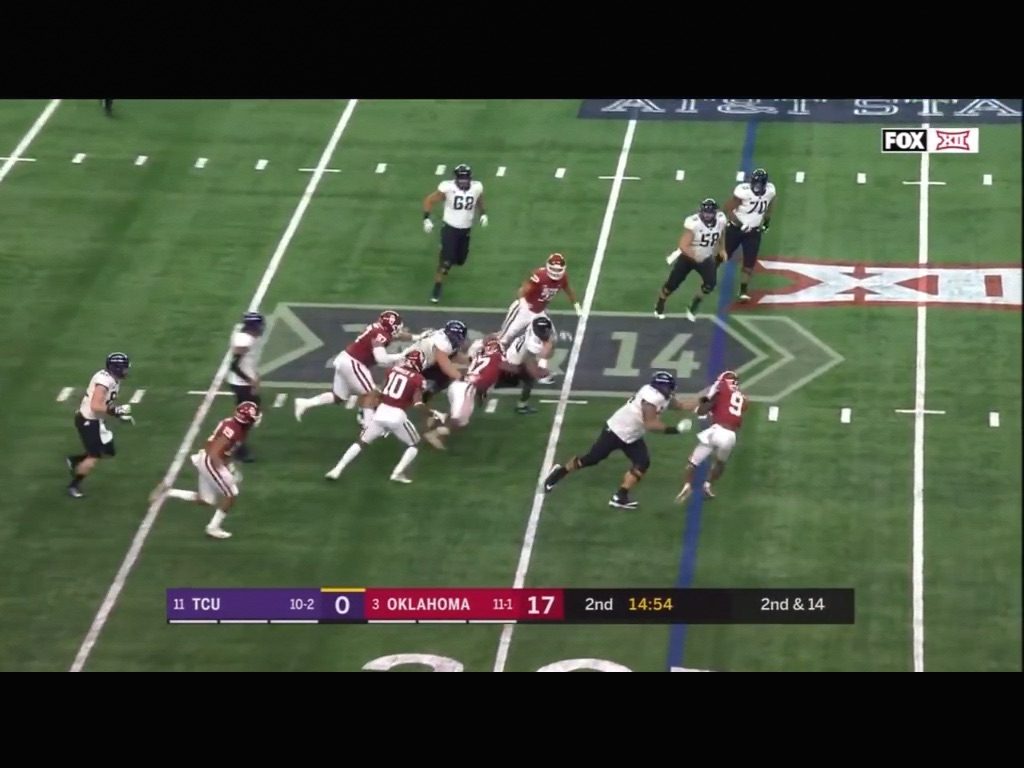 After running two early screens to Hollywood Brown earlier, that's exactly what TCU reads here.  Wren is coming out while Anderson is just under the 2nd red defensive arrow.  So naturally, since Brown had been eating their breakfast, both linebackers flow over to account for him.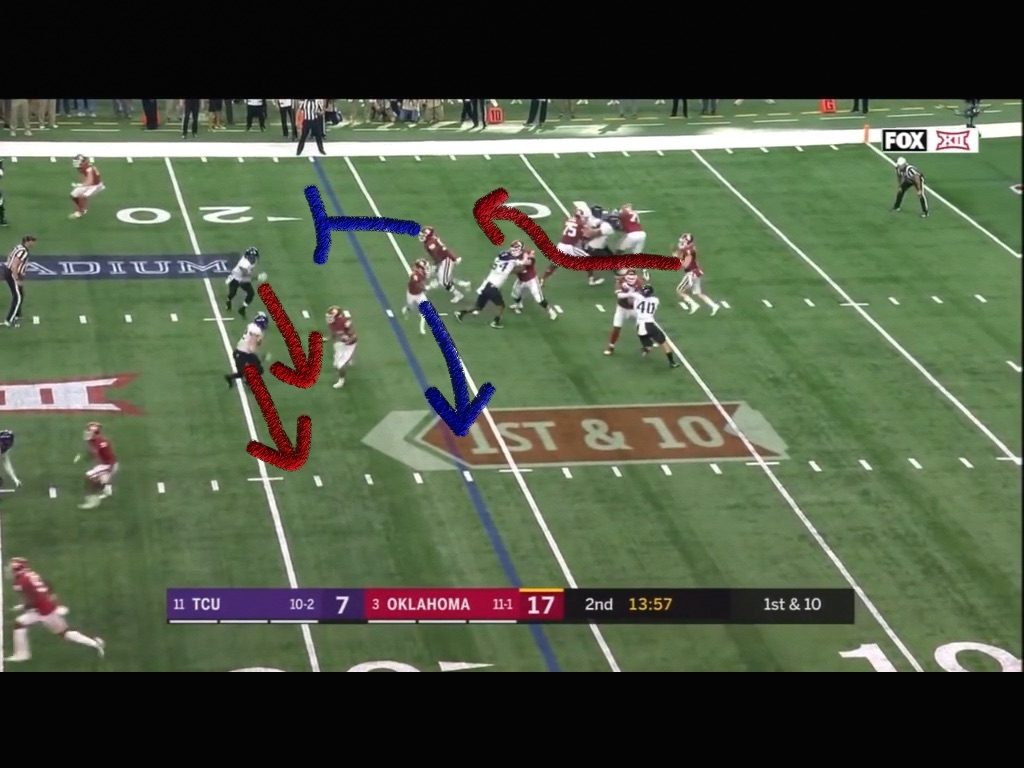 By doing what they're supposed to, the Frogs dug their own grave.  When they flowed away with Brown due to earlier setup plays, it created a lot of space for Baker to run to.  A lot of coaches design plays like this but they don't know how to set them up.  Riley is a master at setting up plays.  Look at Big Erick get out in front of Baker and downfield.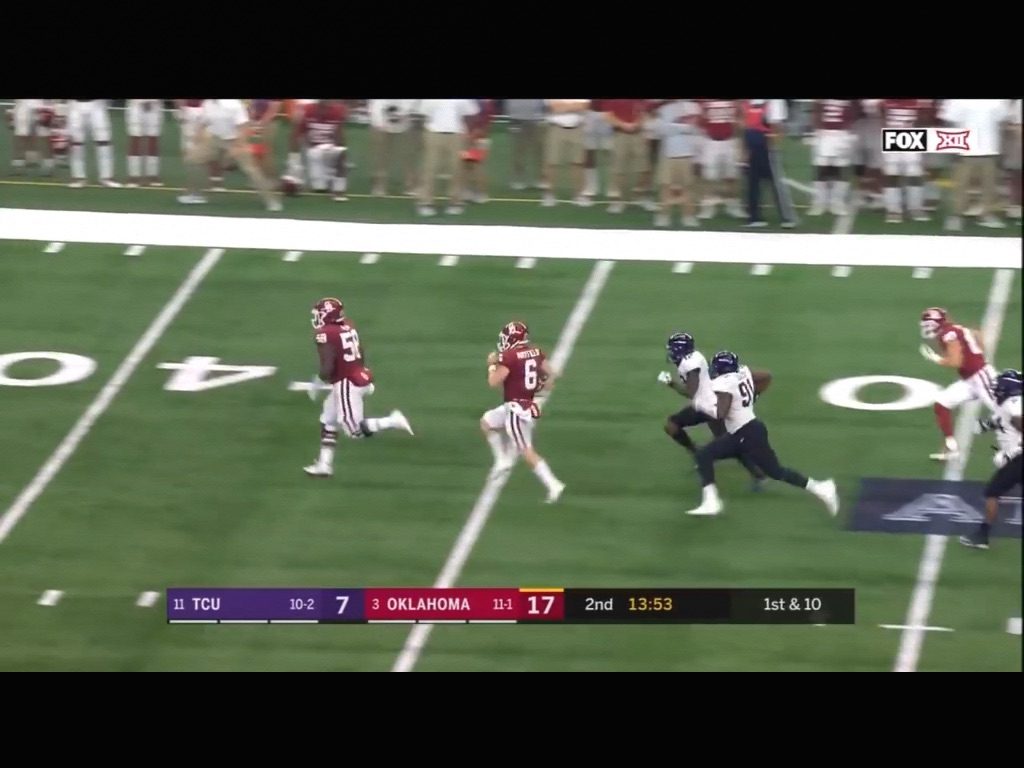 Not too many Qb's have the skillset to hurt you both throwing and running.  If Baker is going to have any length of time throughout this playoff or in the NFL, he's going to have to learn how to get out of bounds or slide.  He runs straight up and down, and he's not Eddie George.  For him to stay healthy he'll need to add this to his game.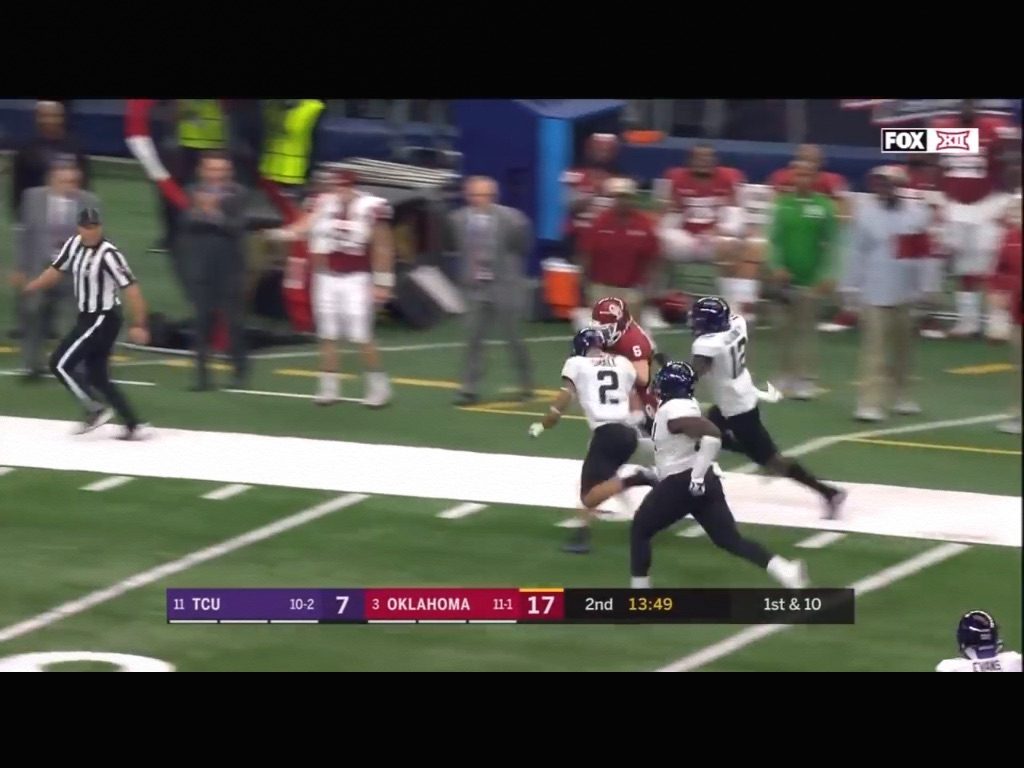 Sooner tailbacks went for 156 yards on 34 carries.  That's just shy of 5 yards per.  The Sooners were able to run when they had to.  Much has been said that the Sooners haven't seen a power offense like Georgia this year.  In a game they're absolutely right, but what a lot of people outside of the Big XII and Ohio don't realize is that the Sooners see it every day in practice.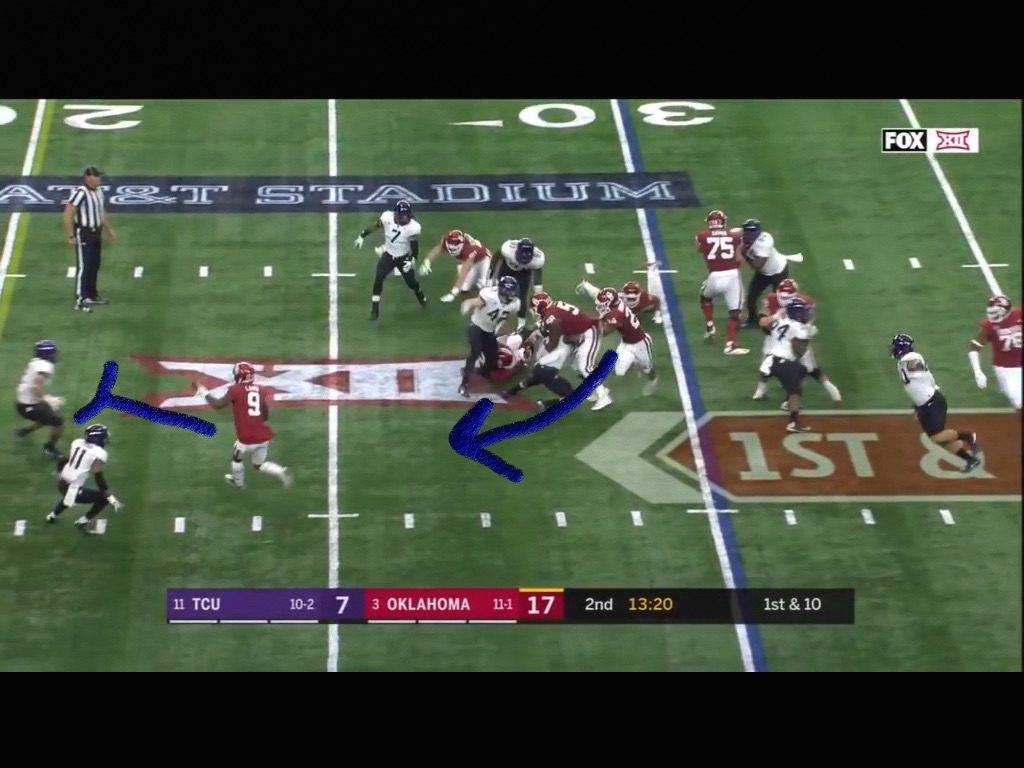 Rodney had 24 carries for 93 yards.  He had one of those workhorse type days. Although the final numbers weren't prolific, he had a heck of a game and was as effective as the Sooners needed him to be.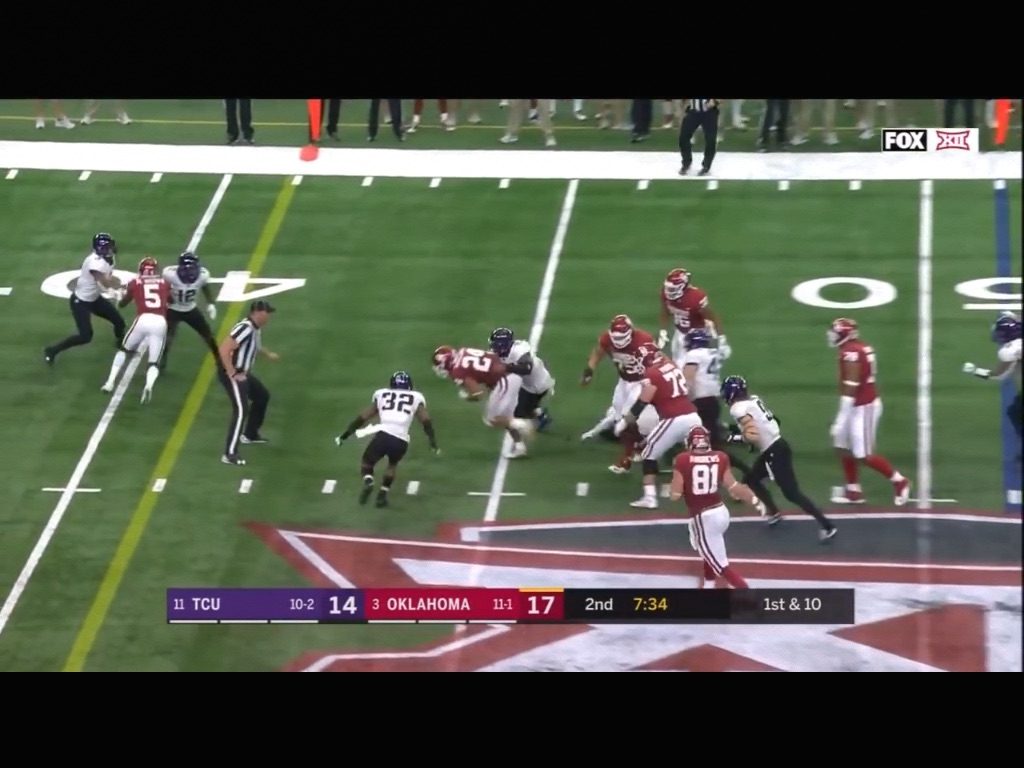 Look at how much bigger Orlando is than Bobby Evans.  That's a grown arss man.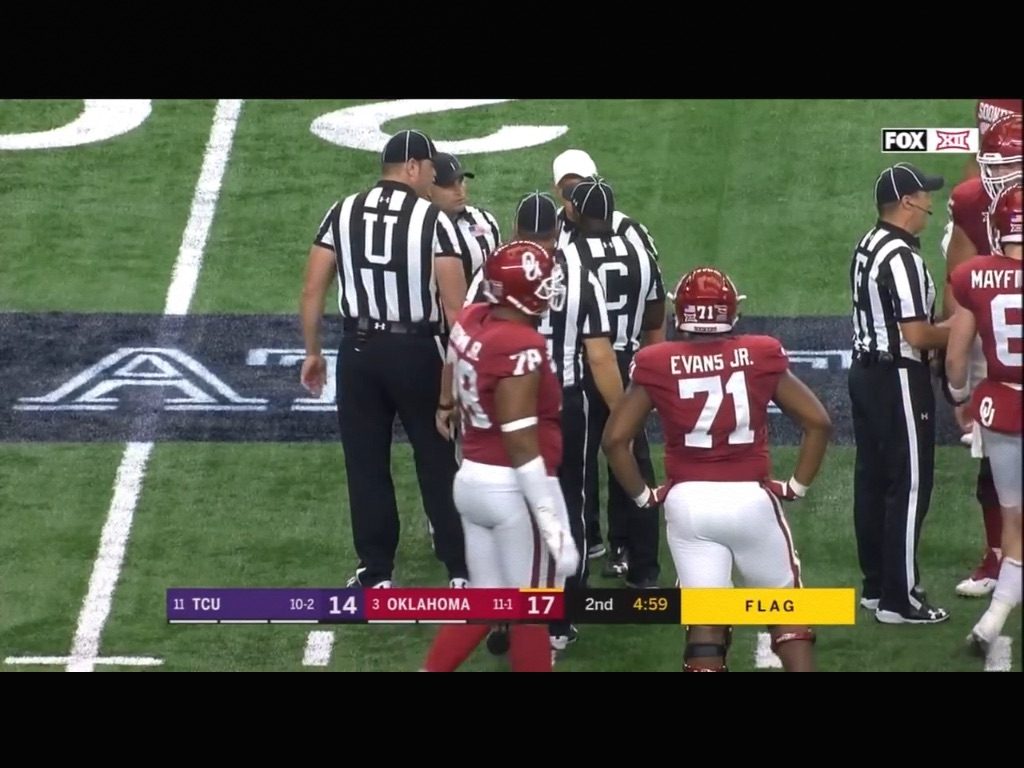 Another piece of Baker's game that needs to improve is getting into the hole.  The play is designed to get up the middle, and with the blocking he has, he may have well scored if Andrews can pick up the safety.  For whatever reason he jumped outside and got 6 or 7, but on this play and earlier on 3rd and short, Baker completely missed the hole.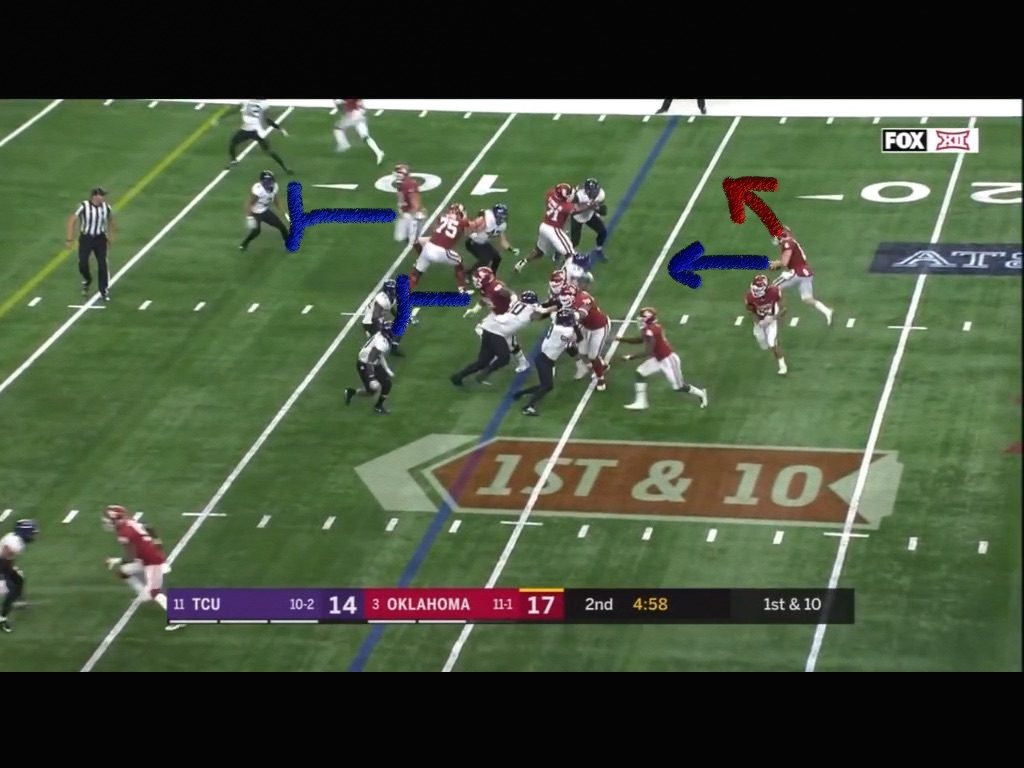 It's a game of inches.  Baker threw it to the open space leading Andrews to the score.  You hear all the time that a QB throws it where only his guy can get it.  That's exactly what baker did here in between five TCU defenders.  Not many QB's can do this in college football.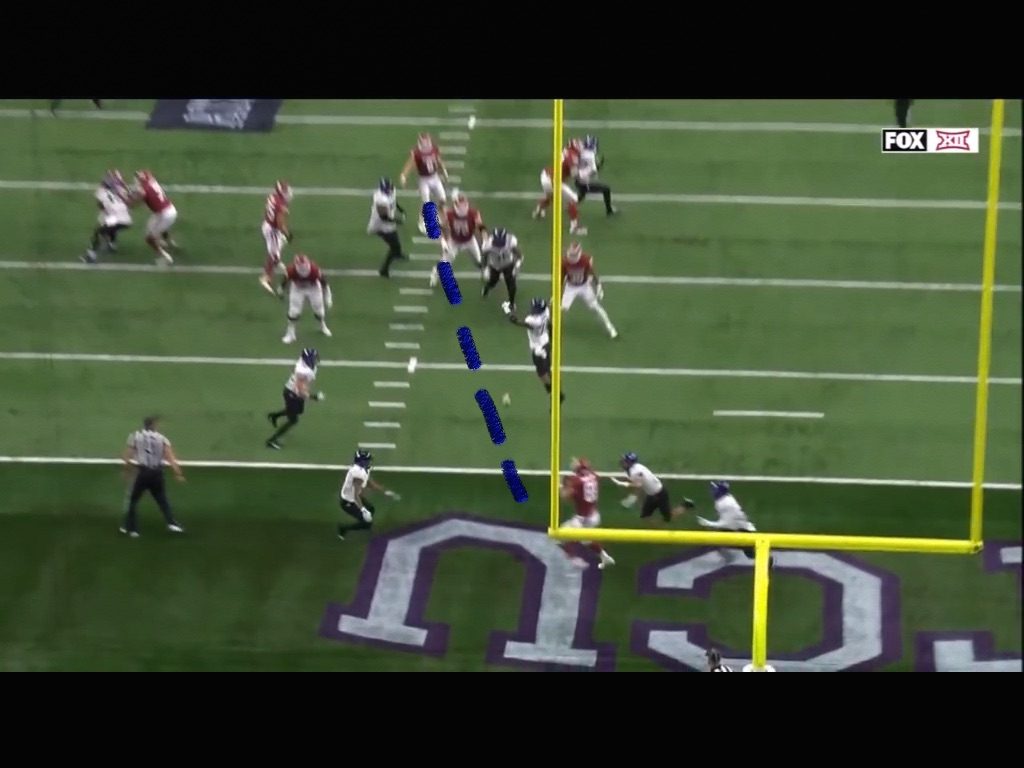 Parnell Motley played a whale of a game.  Probably his best game since Ohio State.  He flew up and made a great tackle in the open field for no gain.  Seems like the corners are coming around at the right time.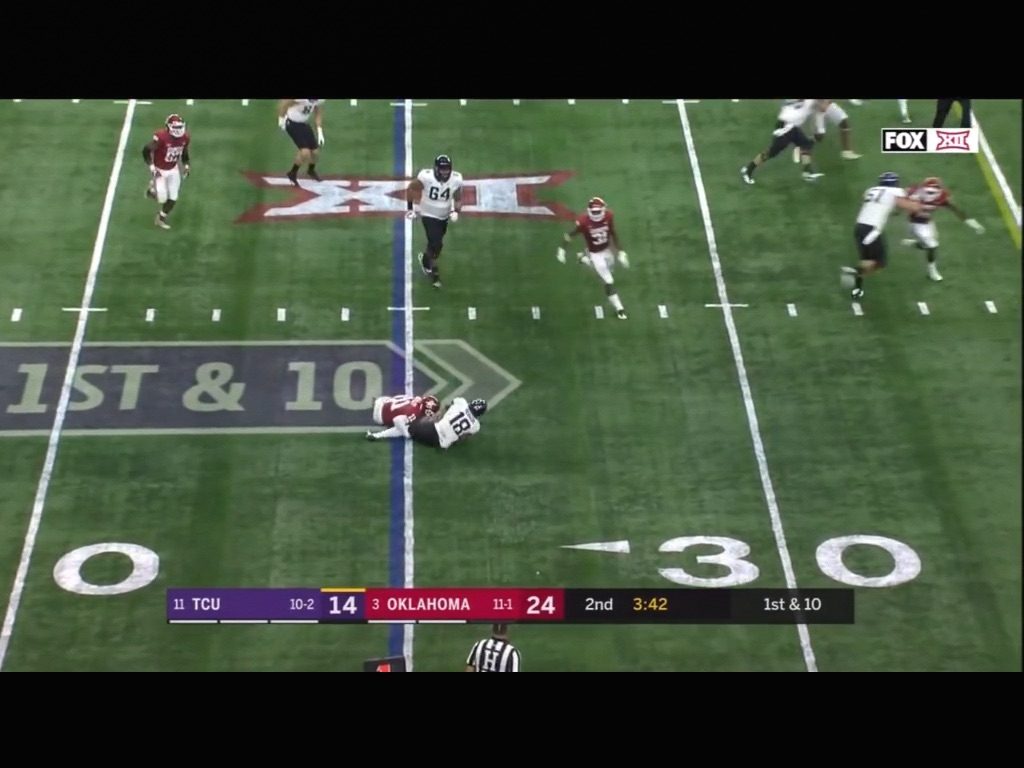 Great penetration by the D line.  Everybody's playing behind the line of scrimmage here .  Ward gets driven back a bit, but the rest of the guys do a good job playing on TCU's side of the ball.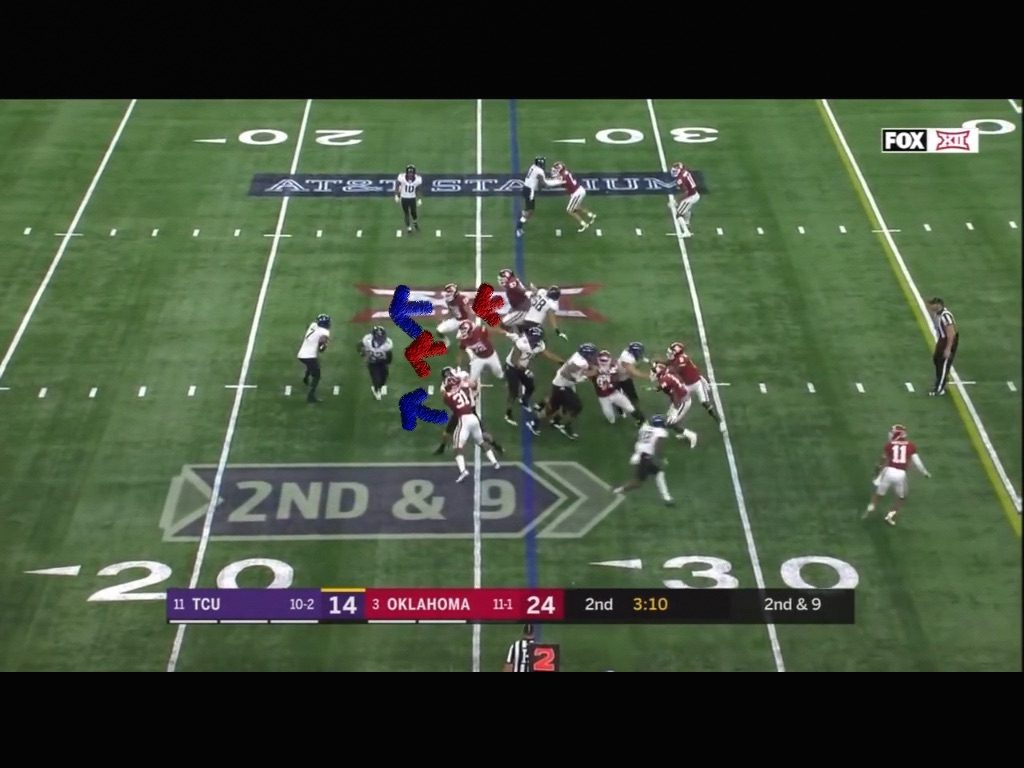 Du'Vonta Lampkin played a really good game Saturday as did Marquise Overton on the interior.  If the Sooners are going to get past Georgia, he needs to play at a really high level in on New Years night.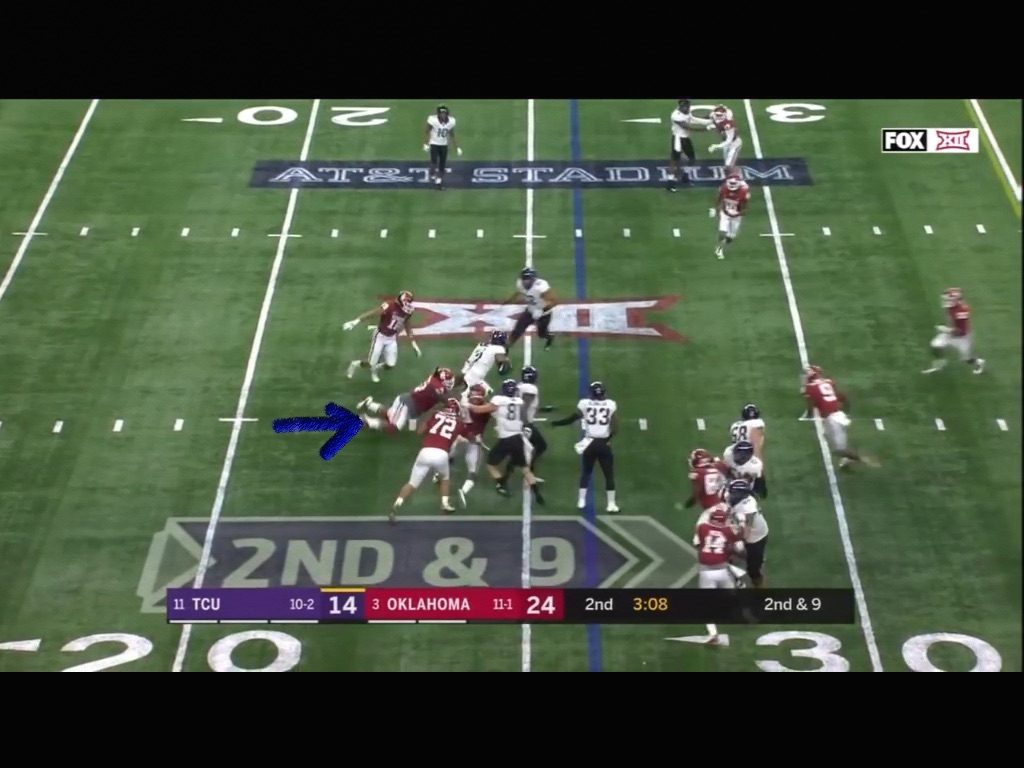 Motley doing another great job breaking up the pass.  Hill missed Reagor running free at the bottom, but nevertheless Parnell did a nice job making a play on the ball.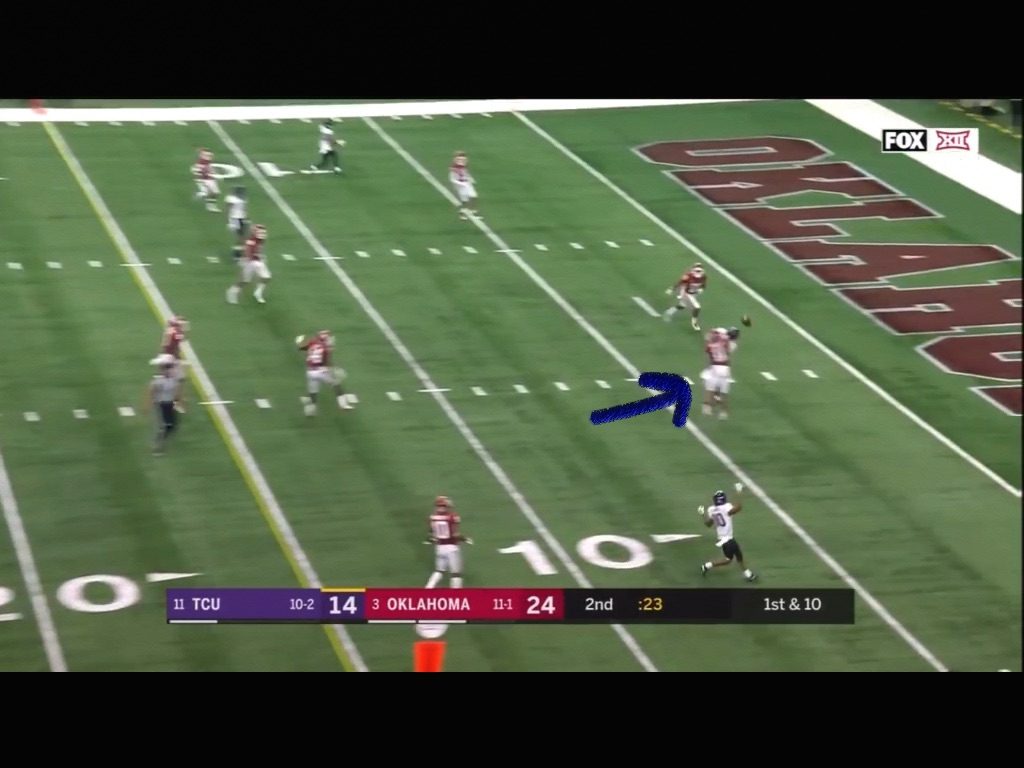 This was some of the stoutest run defense we've seen this year against a team that can run the football.  TCU carried 24 times for 83 yards Saturday.  Against a team with a mobile quarterback that's not too shabby.  Good to see Mark Jackson start getting some snaps with the 1's as well.  Keeping Obo fresh will be key into the playoffs.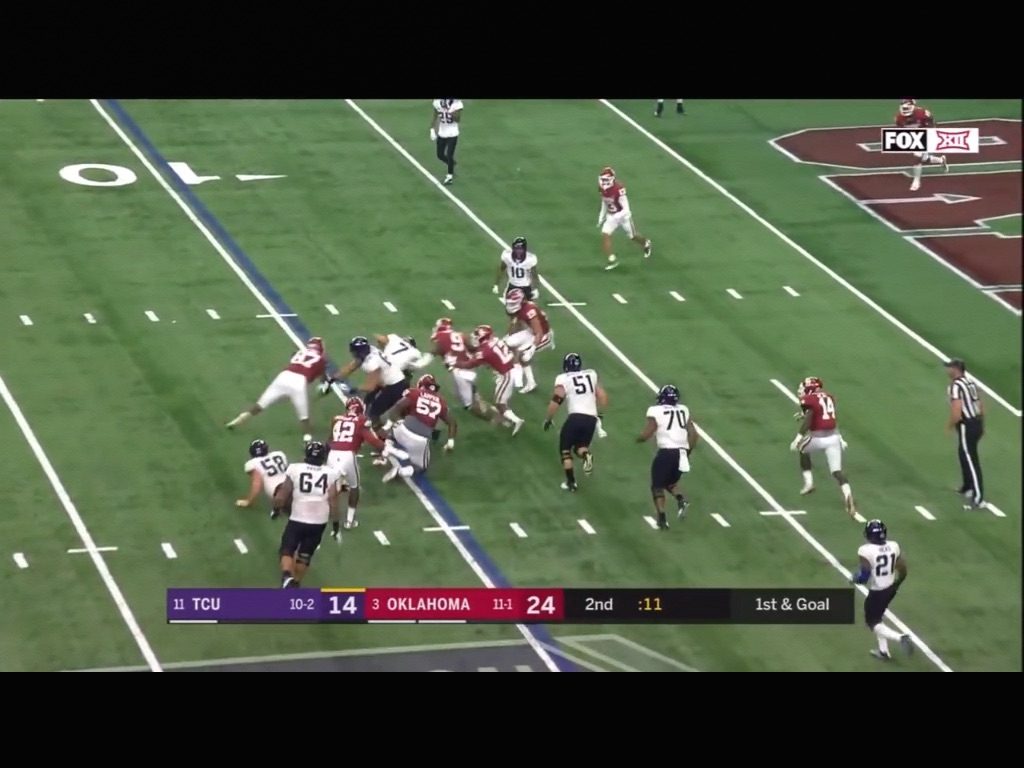 Parnell with another great play breaking up the long ball down the sideline.  These were the plays that hit early for the Frogs and all day long against Oklahoma State.  I expect Georgia to try to take some downfield shots to loosen up the run game, and the secondary will need to be ready.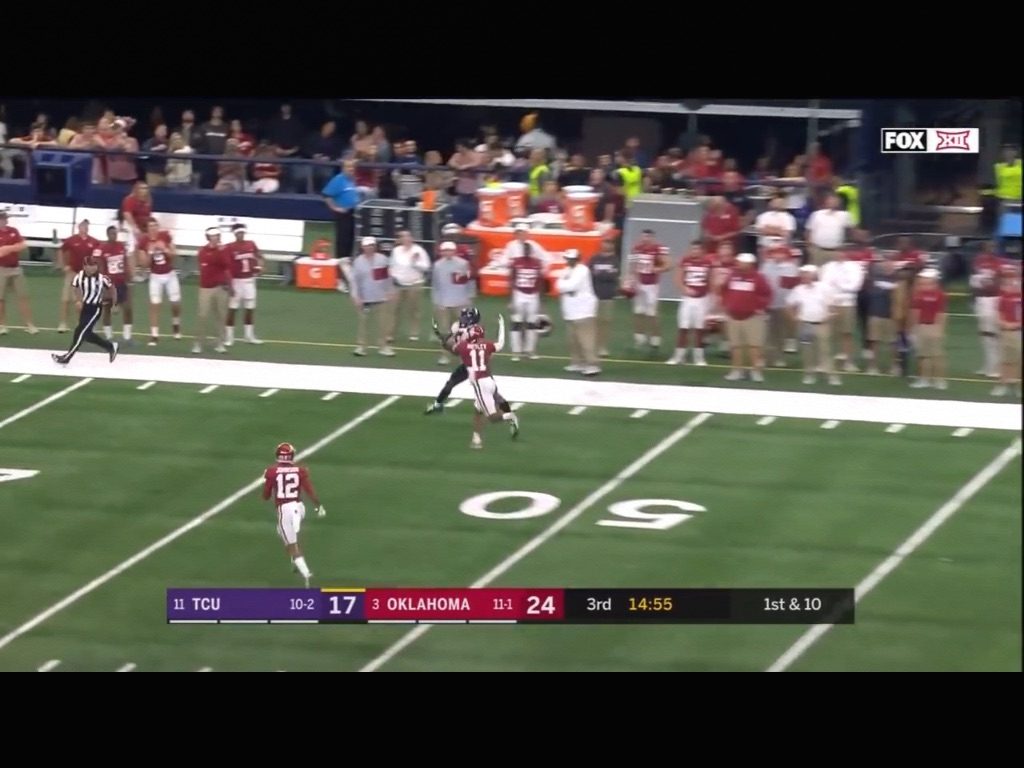 This was a little too high of a pass, but it's one that with looser coverage results in a catch or an easier throw.  Norwood has played really tight on the receivers and while he got beat on the highlight reel catch, you just have to tip your hat on a play like that.  He forces you to have to make plays like that to be successful.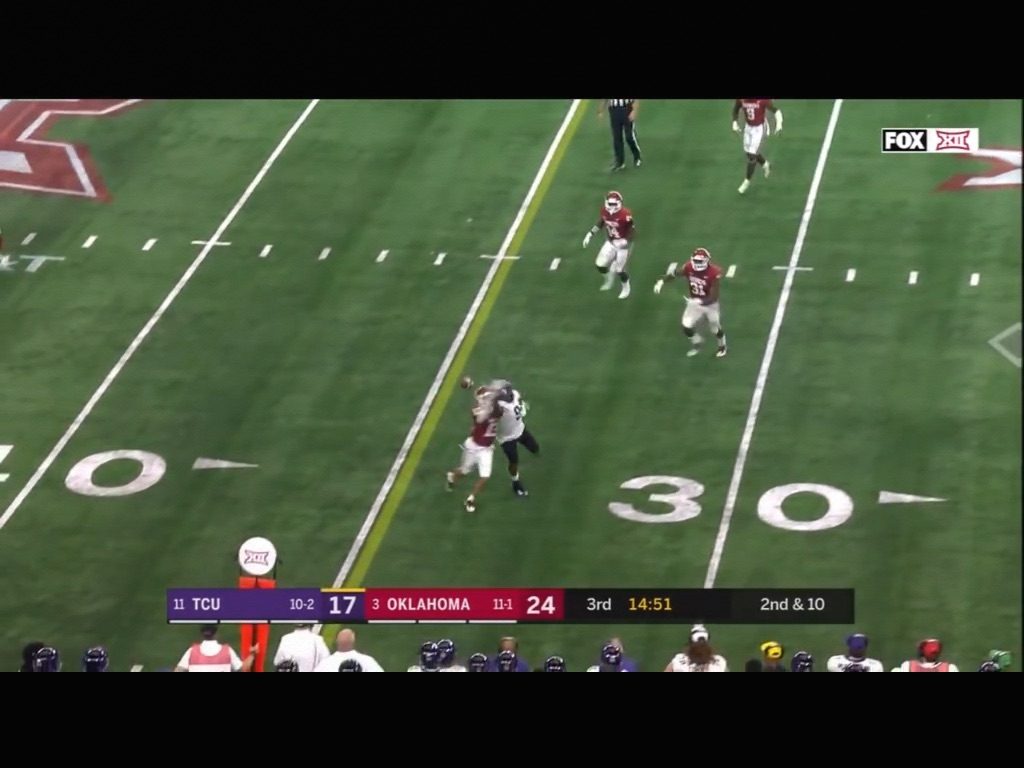 Going back to how parts of the play set up another, the homework says that Baker likes to throw to Lamb, and he does.  What it fails to notate is that when you give Baker time to throw he can recognize mismatches and make you pay.  The linebacker and safety double on CeeDee to take away the slant, while dropping Boesen into the flat.  Well Boesen is a nice player, but he's a defensive end.  He ain't covering Mykel Jones.  Myke drops back into the space that Lamb is vacating to give Baker room to operate.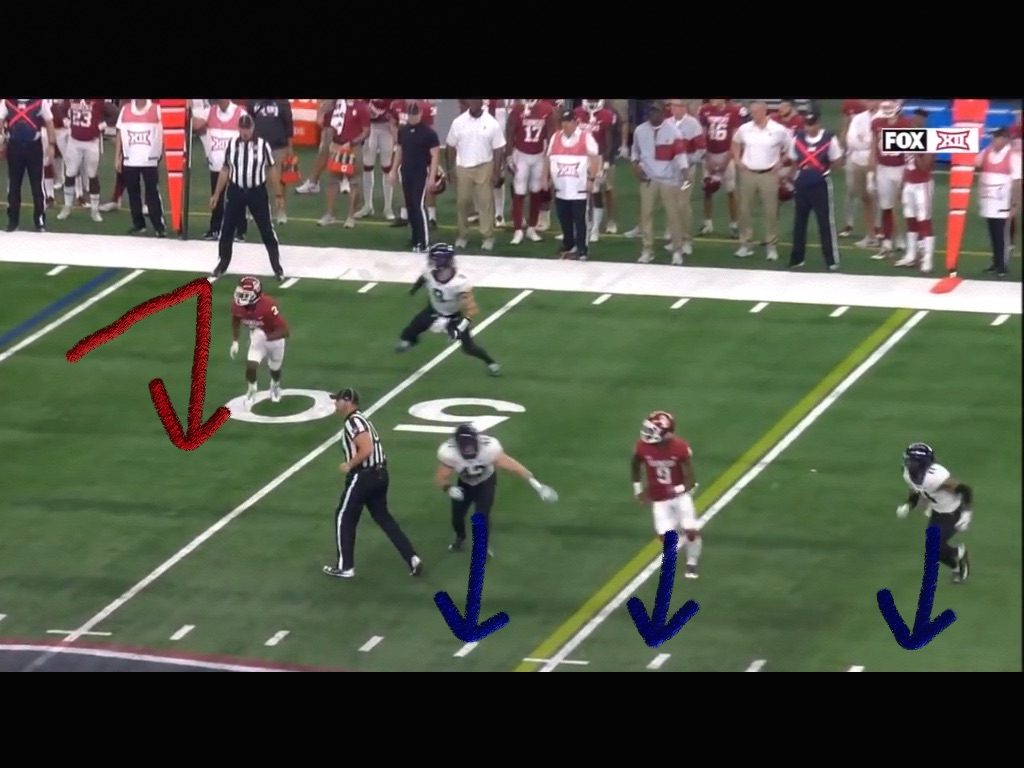 So here's the conundrum.  If you drop the safety, then you give up an easy pitch and catch to either, and if you put another DB out there it takes more players out of the box against the run game.  That's the difference in this year's team and say 2013 Oklahoma.  Notre Dame came in and controlled the line with three down linemen and dropped 8 into coverage.  Clemson was able to do it in 2015.  Now under Bedenbaugh's tutelage, not only is the physicality issue addressed, but it also allows you to still throw the football better for bigger plays due to having more time.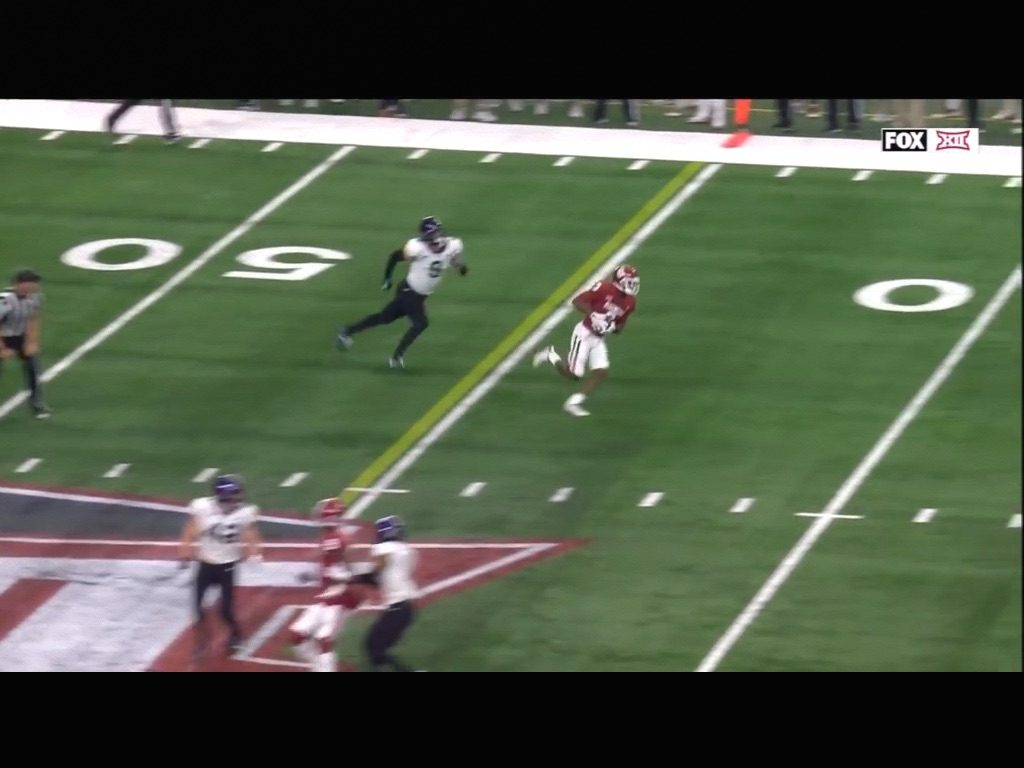 I expect Georgia to drop people into coverage and think their D Line and great LB corps will control the Sooners up front.  Answering the challenge and understanding whether they win the Rose Bowl and ultimately the National Title will fall directly on the shoulders of the Offensive line.