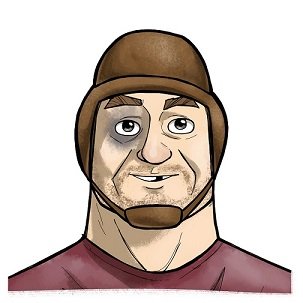 Trench Warfare…Big XII Championship Edition…Trench Trifecta Part 1
Posted on: December 4, 2017
47 Conference Championships.  11 Big XII Championships.  Heisman Trophy #6?  Maybe.  Rose Bowl #2?  Hopefully.  National Championship #8?  Sweet 8 pound 6 ounce baby Jesus I hope so!  What may be lost on a lot of folks is how good the Big XII is.  TCU is a really good team, especially defensively.  This Sooner team tore em smooth up twice in the same season.  We'll get more into breaking down Georgia next week, so for this week you'll have to make do with 3 trench warfare posts.
As we got to the 1st 4th down of the day, the Sooners ran what Brady Quinn called a "Freeze Option."  It's yet another wrinkle that Riley had in his bag of tricks for the Frogs.  Mayfield faked what appeared to be a read option look, and paused or froze to keep the linebackers inside.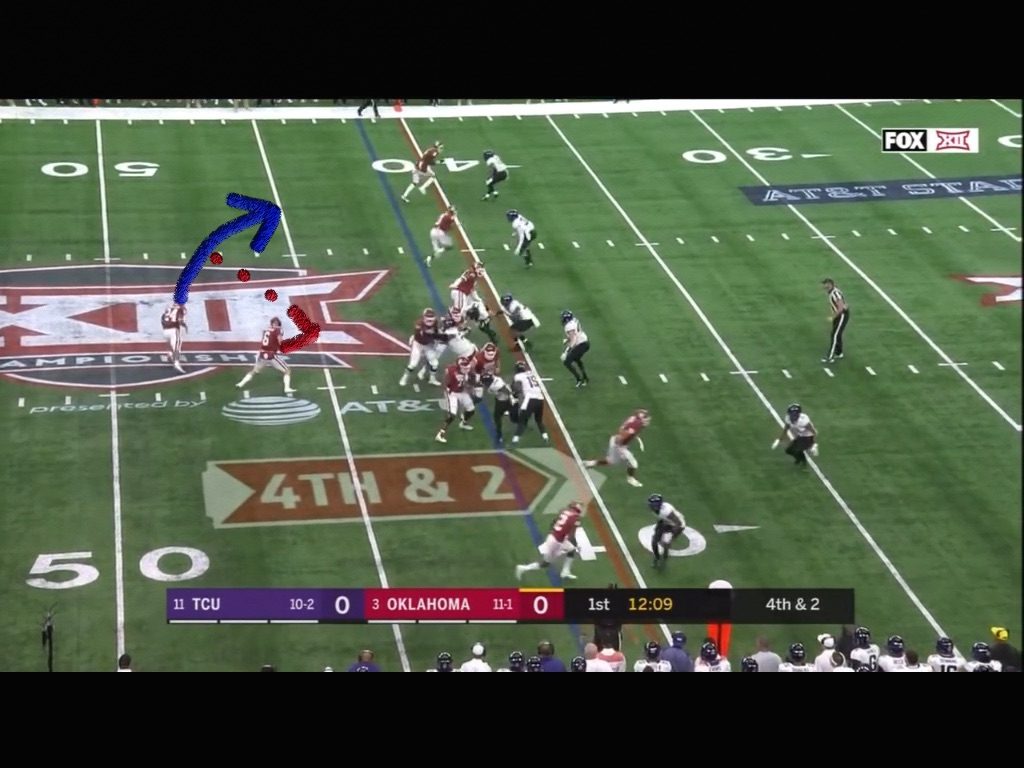 By doing that, the linebackers are forced to hold inside for just a split second.  Both receivers to the top are running go routes as well to clear out the space for Anderson to get into.  Having a QB who can read coverage pre-snap is big running a play like this.  Also, your tackle, in this case Brown, has to block the linebacker #32.  If he can't, he has to make him try to go underneath him.  If he gets beat over the top down the 40, then the lb has a chance to stop Rodney.  But since O made him go underneath him, it's a longer path to the ballcarrier and he has no play.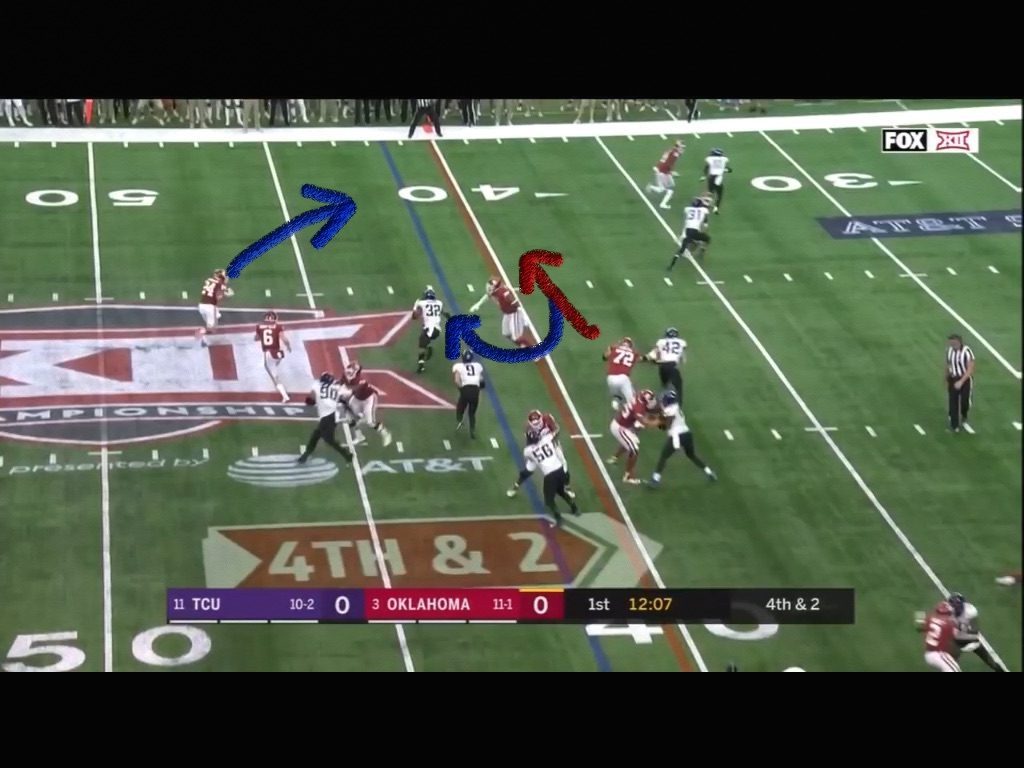 On this 2nd down play, Hollywood is running the jailbreak screen.  Look at Bobby Evans unloading on the DB.  Great use of hands and face simultaneously hitting the defender.  Hit what you see, see what you hit, and you won't miss.
As Marquise got to this point, I was hoping he'd get up in behind the official and just get the 1st down.  Far too often you see players try to hit the home run instead of getting a solid single.  How do you coach that though?  When you have a guy who has the speed an playmaking ability of Brown you definitely don't want to squelch that.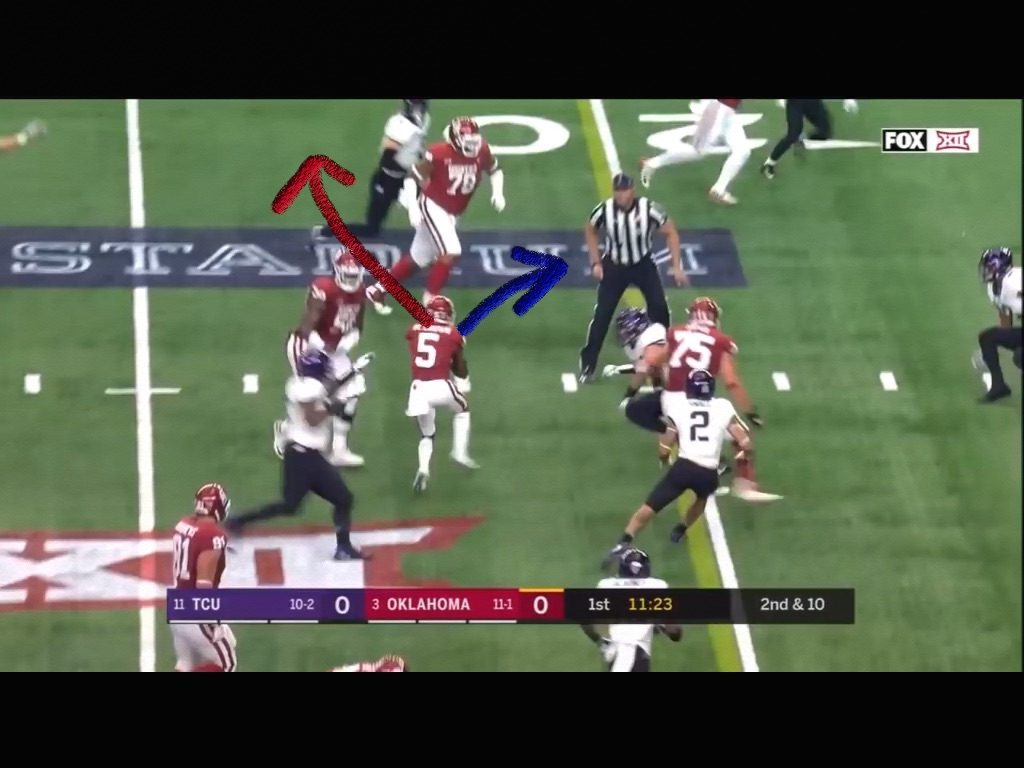 Marquise can see Carson Meier coming to block the defender on the 20.  So in his mind he can let Carson block, and then he's out on the corner with a convoy.  I get what he was trying to do, but he gets tackled after retreating to go to 3rd and 3.  It didn't help that Carson fell down either.  If he stays on his feet, this could have popped.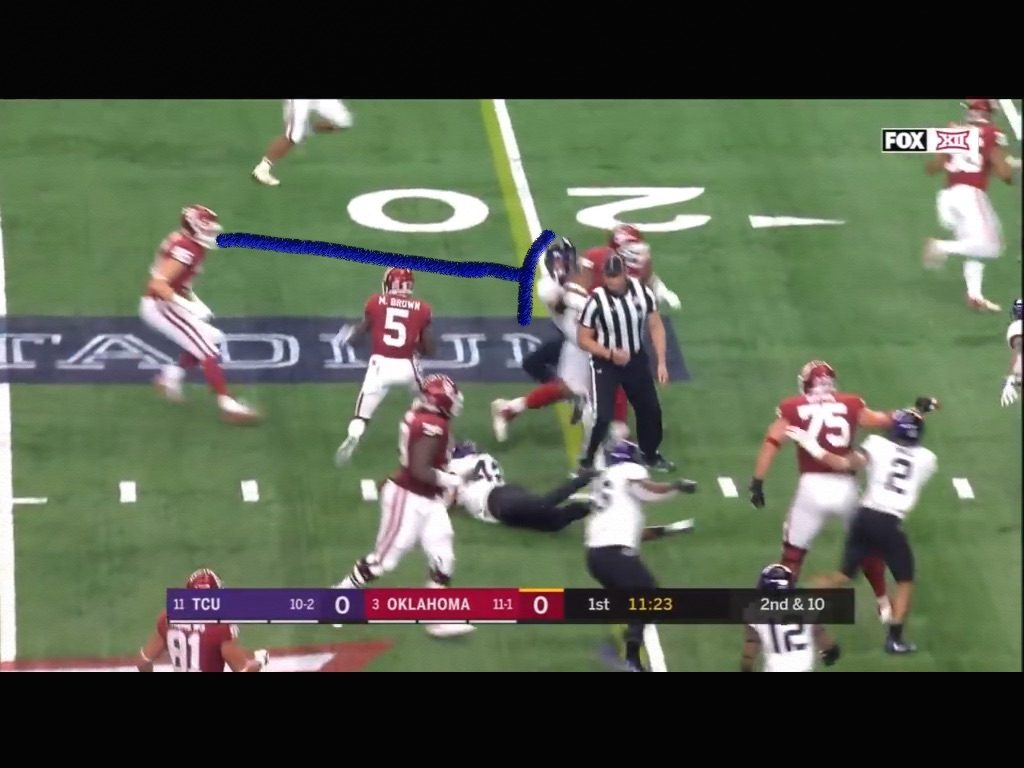 After the field goal, the Sooners went on defense for the 1st time.  I thought the guys played very well defensively Saturday.  If it wasn't their best performance, it was up there for the season.  This was just a zone stretch play to the short side, and the guys were way too fast.  All the gaps were covered, the edge was set, and no cutback was available.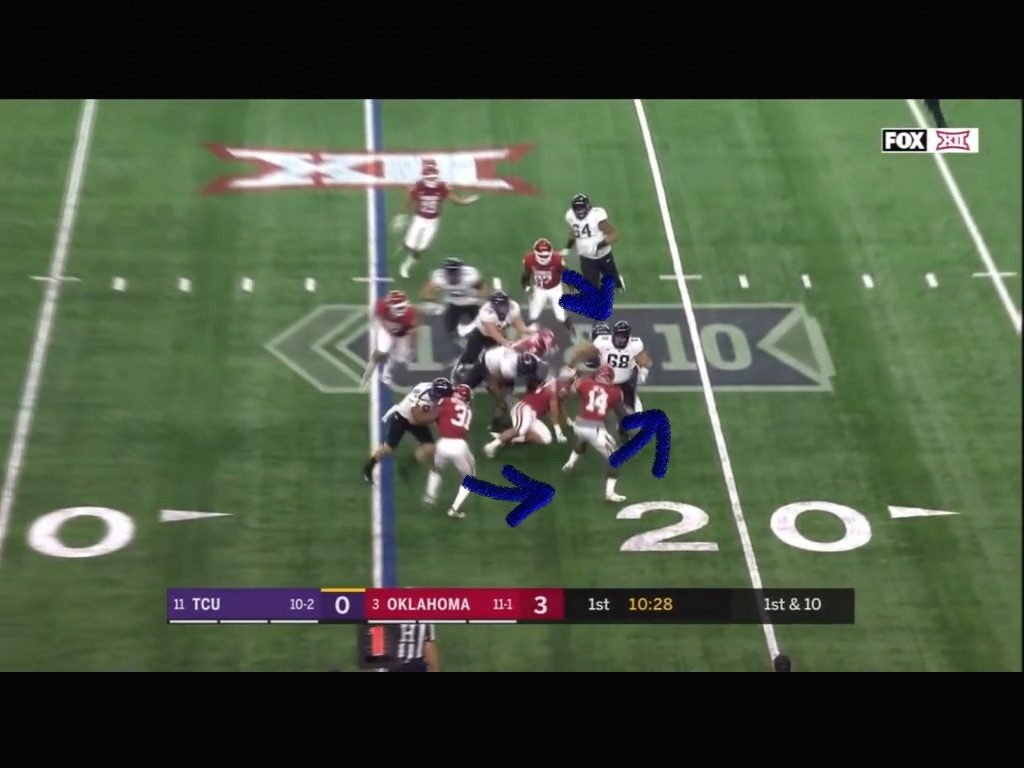 Kenneth Murray comes through and slaps the ball out of Hicks' hands at the last minute.  I put an arrow by Murray's hand.  As Hicks tries to stop and cut back, Amani Bledsoe does a nice job of making the tackle right at the time the ball pops out.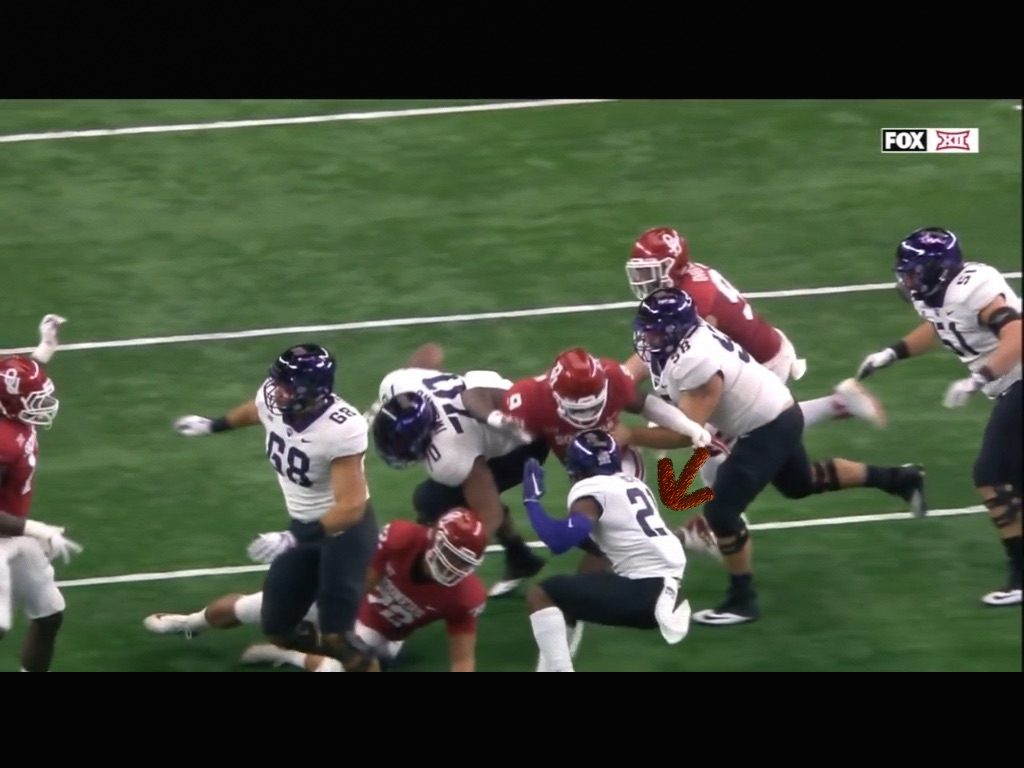 Kelly, who was the cutback trail player, did a really nice job with the scoop and score.  A small thing that made a huge difference was as Hicks tried to reach for the ball, Bledsoe grabbed his arms and pinned him down so he couldn't get to the loose ball.  That allowed Caleb to scoop it up and take it to the house.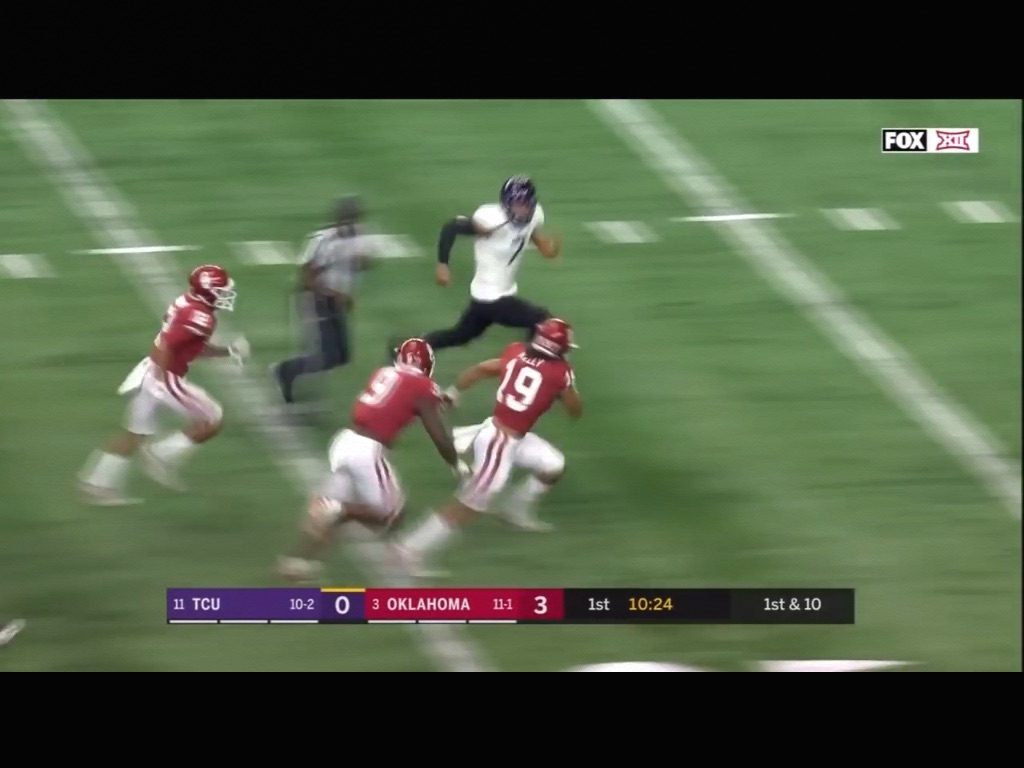 This was great to see.  The whole defense is celebrating together, like they all scored.  What can't be understated is the effort and togetherness this team is playing with.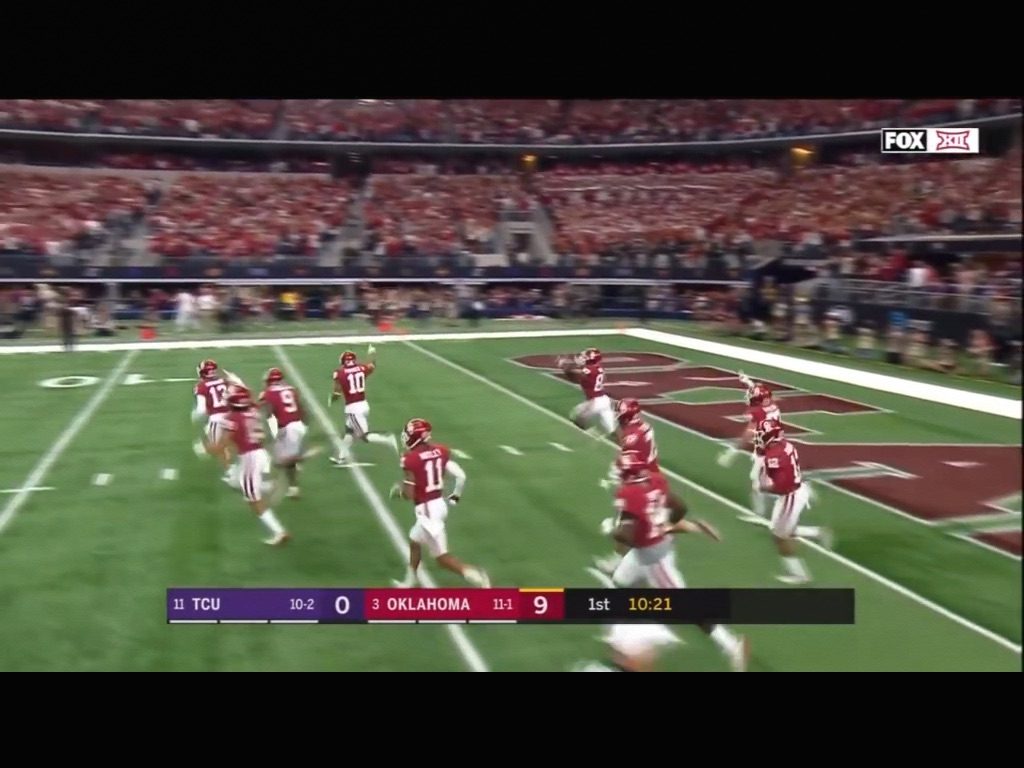 What's even better is the whole team is running out to meet them and congratulate them.  I've seen teams over the years who could and would point fingers at another unit if things weren't going well.  This team is not that way, they're coming together and peaking at just the right time.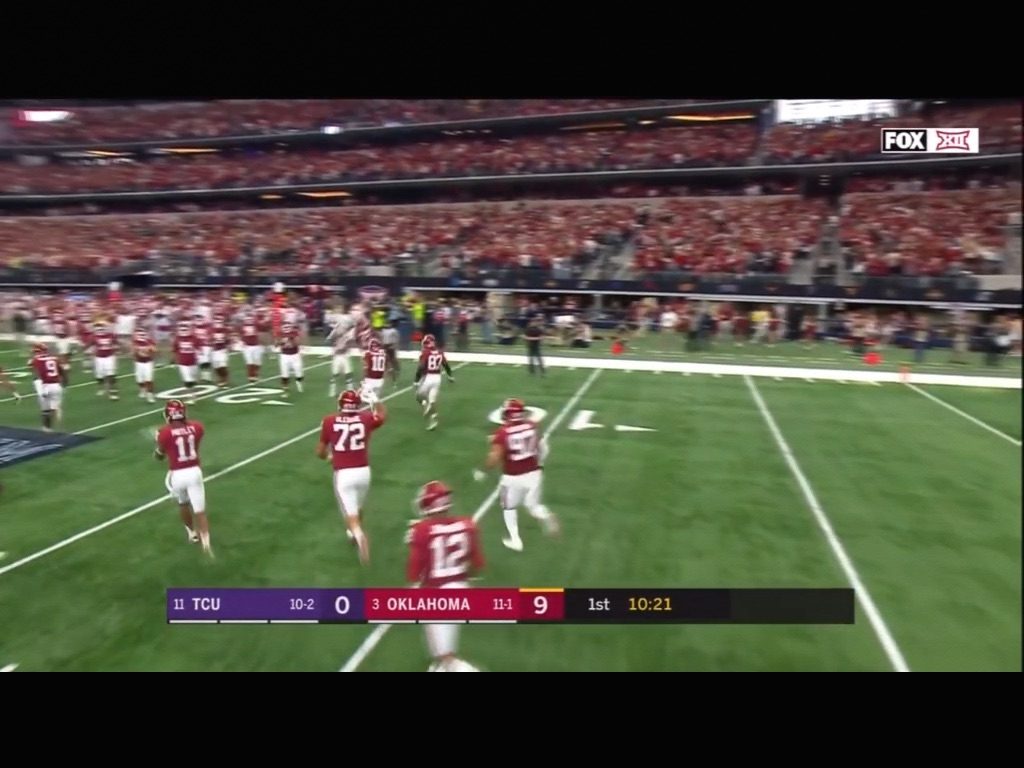 Right after the kickoff, Obo's heatin up Kenny's seat.  This is 4 man pressure with Murray as a spy, and I'd expect to see more of this in the playoff.  We won't see wide open attacks like we have in the Big XII, so I'd think we'd see more blitz and more players in the box defensively.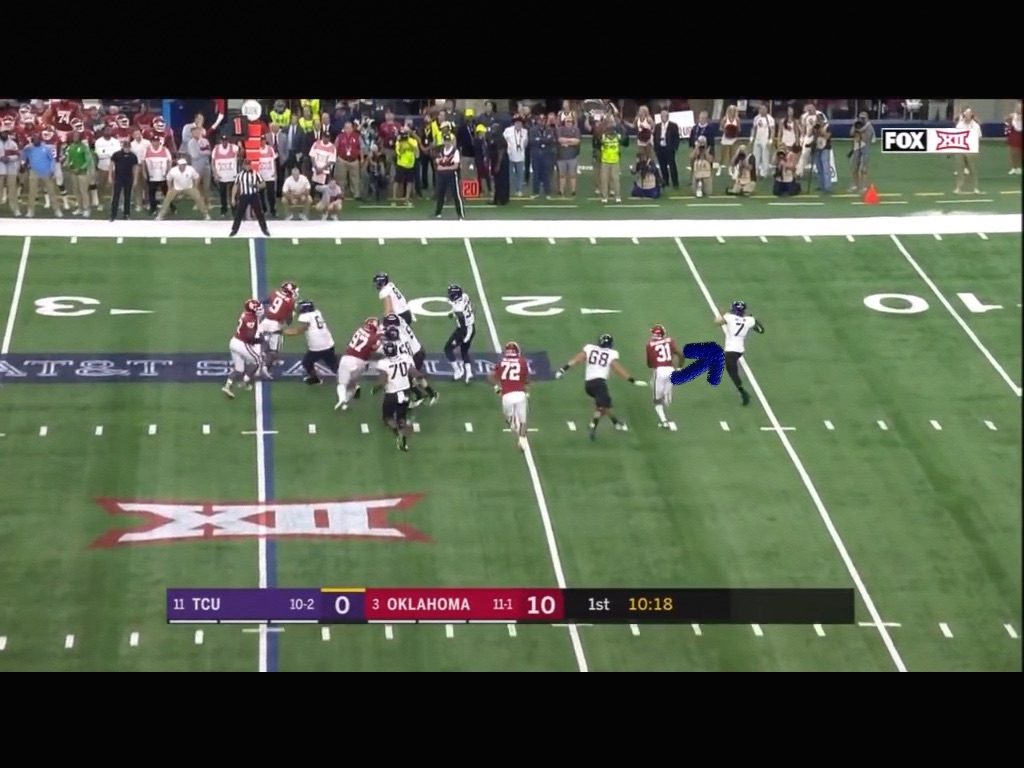 Steven Parker almost made a great catch.  He undercut Reagor's route, and got a foot down by a centimeter in bounds.  He almost made a circus catch on a great play that would have tore the guts out of the Frogs early.  Even still, the Sooners were looking strong defensively early on.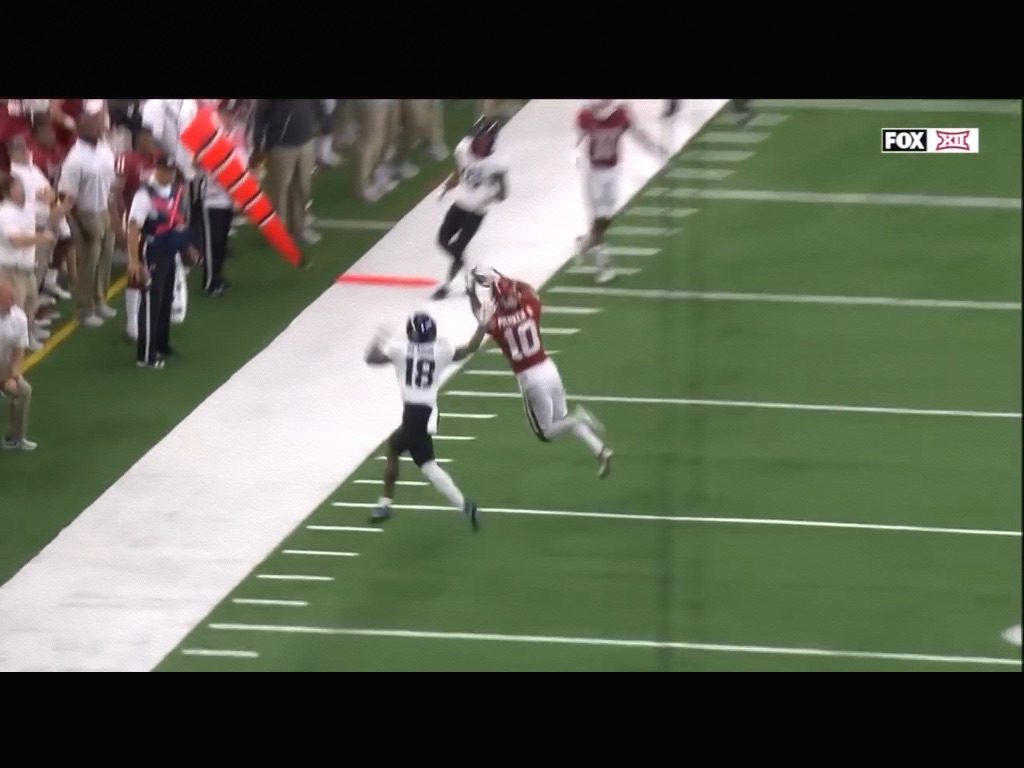 Mama!, it's that man again!  Obo heatin em up again, and this time it's 4 man pressure.  4 man fronts create 3 one on one's and a double team.  I really prefer them to 3 man fronts even in obvious passing situations.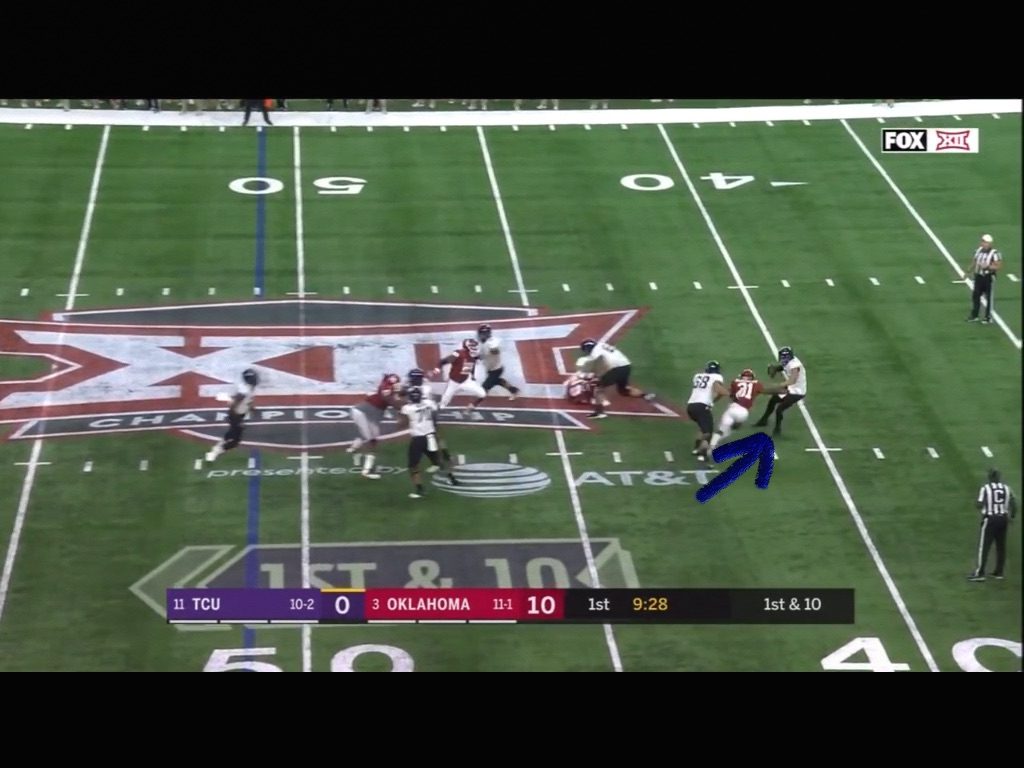 Is there a faster linebacker out there?  Beal was all over the place Saturday.  Big Lampkin was showing great effort all day running sideline to sideline and downfield on the big screen that was called back.  Great effort and a nice job tackling by Beal in the open field for no gain.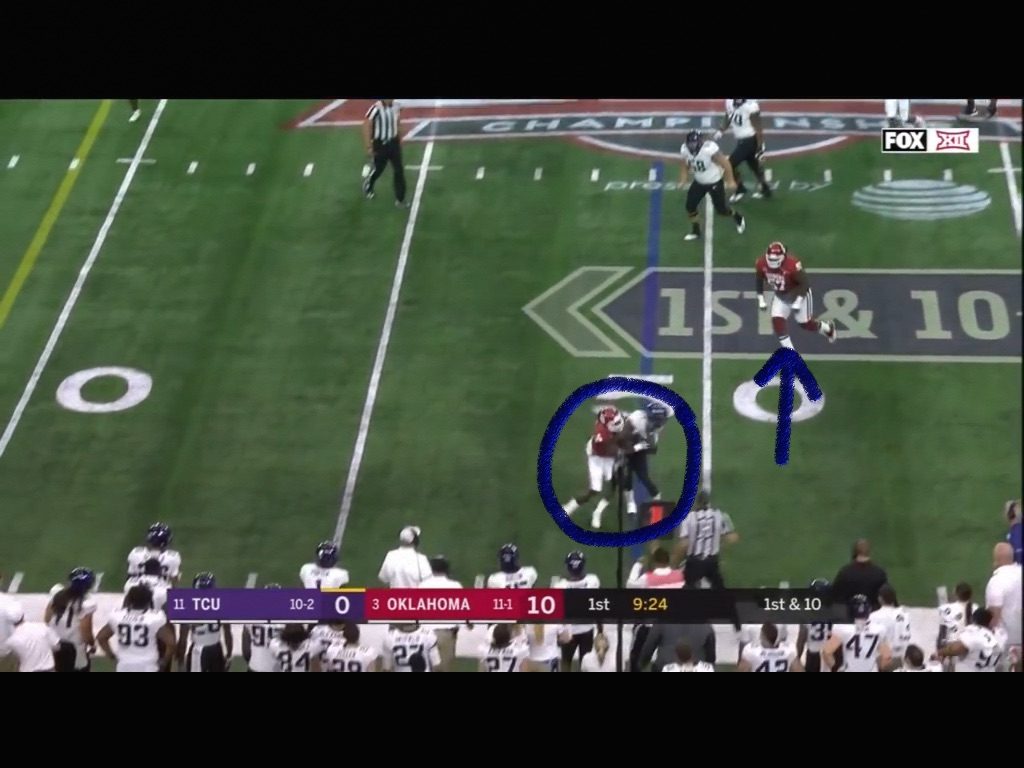 "That's what speed do."  That's what the KC Royals said in the clubhouse during their world series run a couple of years ago.  There's no answer for speed, and opposed to teams in 2003, 2004 and 2008, the Sooners have legitimate speed threats no one can match up with.  Hollywood Brown again here.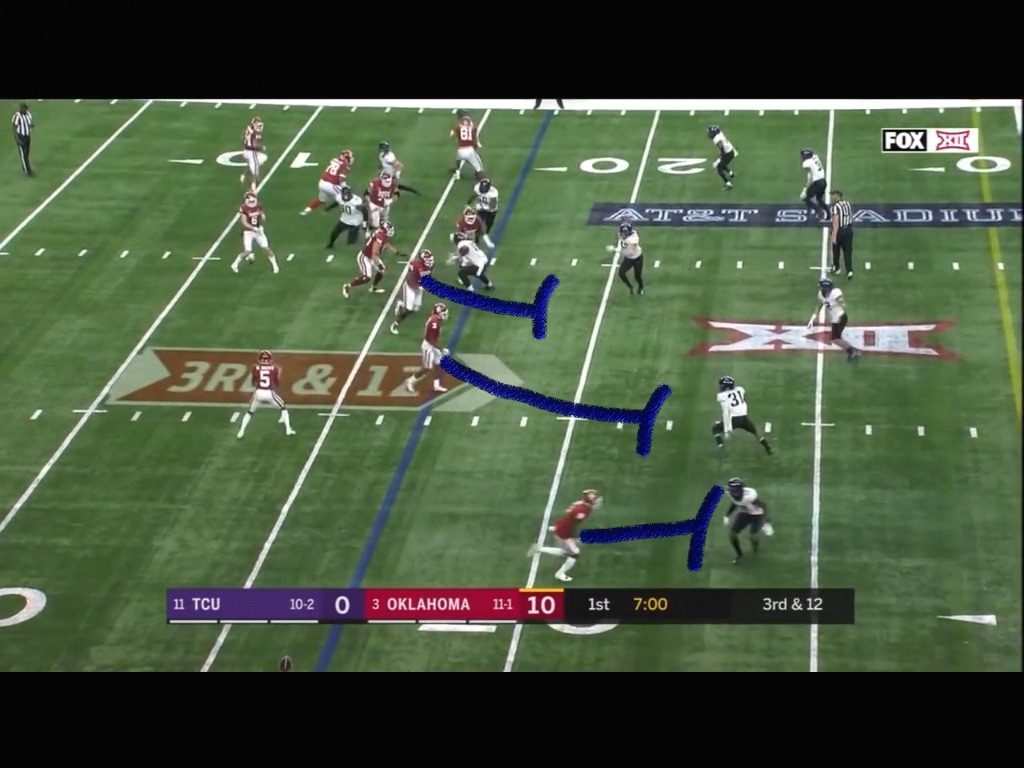 After not getting the 1st down earlier, I bet somebody got in his ear a little bit and told him to get north and south quicker.  It looked like he was dead to rights, and in most cases #42 makes the play, but that half a step is just enough to make em miss.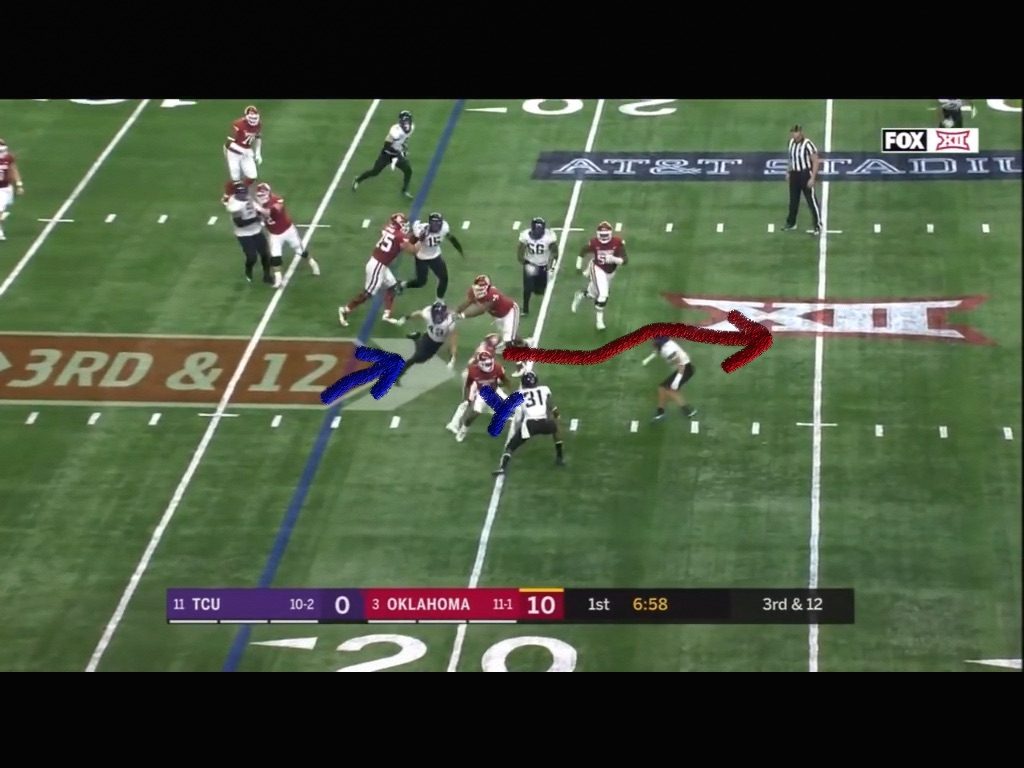 Give credit to Patterson's team, they give great effort.  If #56 isn't hustling here this is a TD.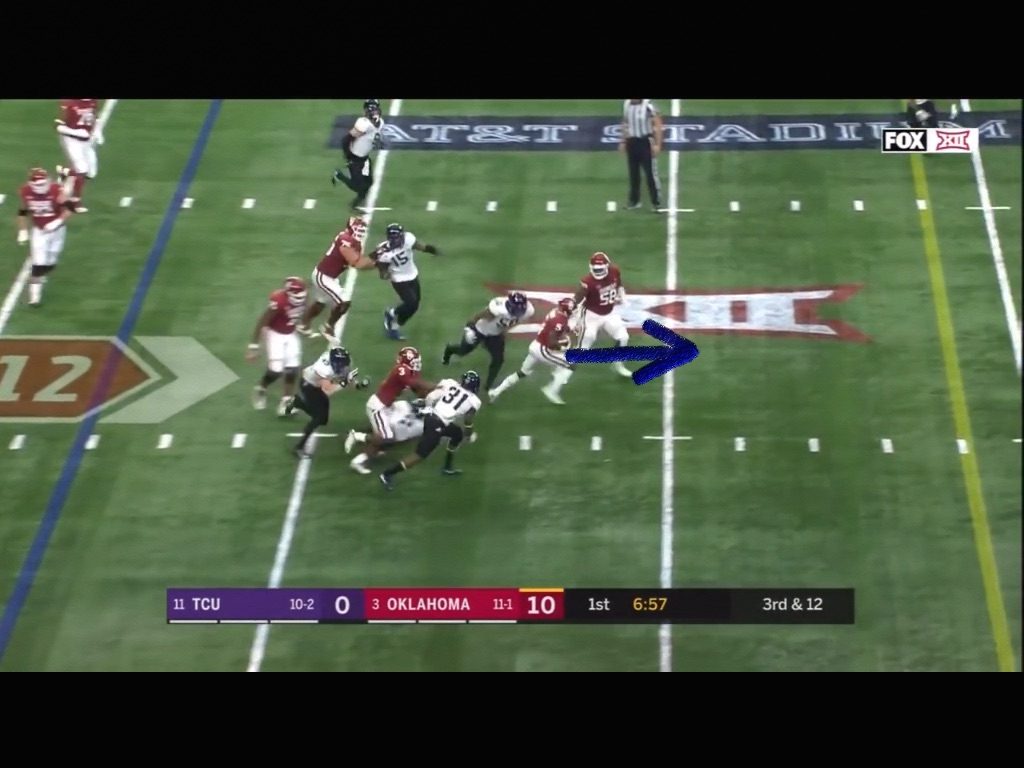 But Marquise outruns him too and gets the 1st down.  Just as I'm exhaling a bit from relief and keeping the drive alive, Brown breaks out and takes it out to the 50 in the blink of an eye.  This wasn't exceptionally well blocked, this was just blazing fast speed that made the play.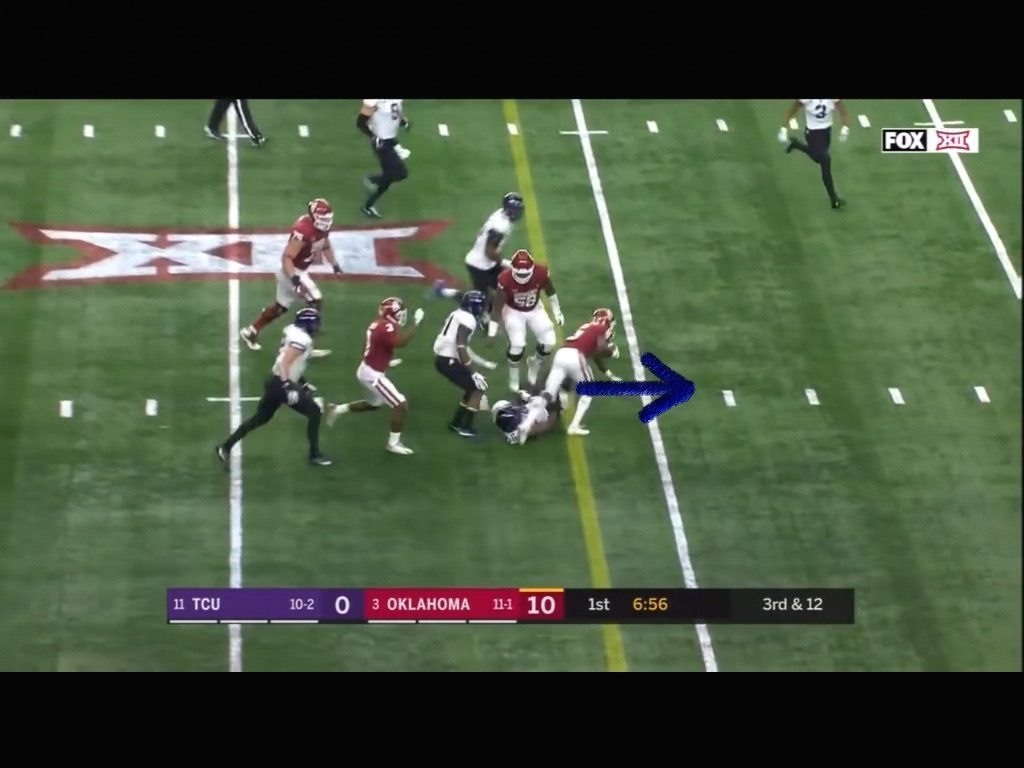 This is what Baker does better than any QB in college football and some in the NFL.  He moves well within the pocket.  In 2015, he'd take off, but as he's matured, he's learned to keep his eyes downfield and move within the pocket.  He understands coverage, and his receivers know when to break off routes.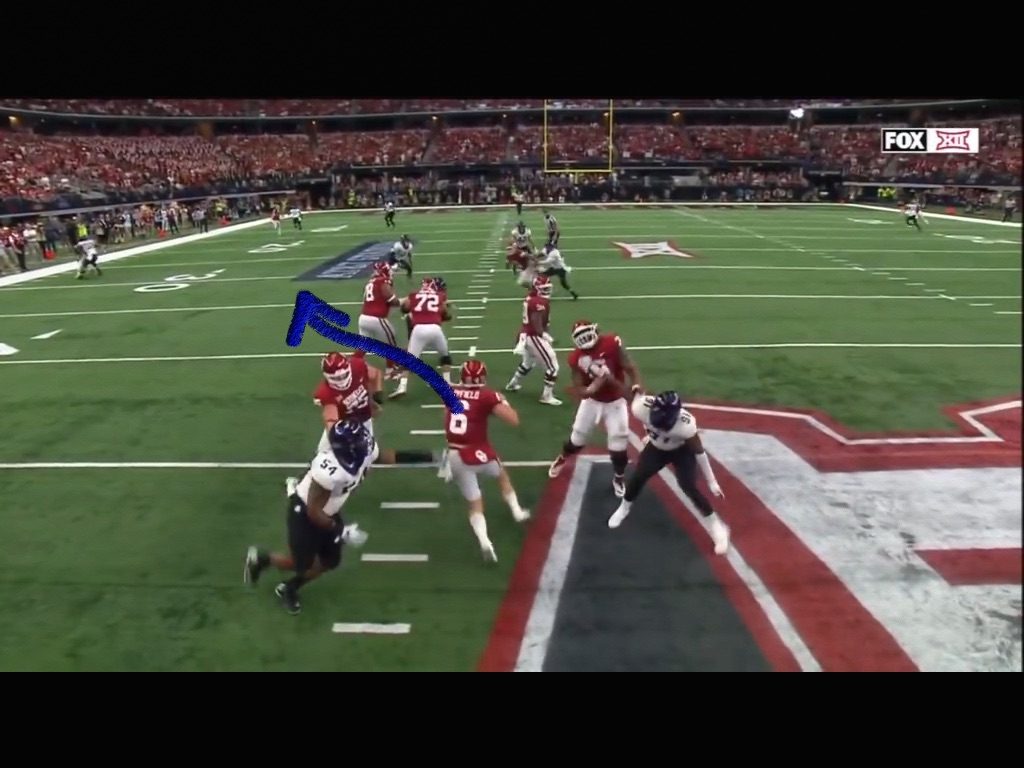 This was the only catch that Flowers made all day, but it was a big one.   Baker and his guys make difficult plays look routine.  Watching the Miami QB, Auburn QB and Wisconsin QB Saturday, none of them can make this play.  Unless something's wide open, it ain't happening.  The M-O used to be that if you made Oklahoma QB's throw into tight windows you could beat them.  This year that's not the case.  They have the personnel and scheme to beat man coverage and hurt you in the run game if you drop too many.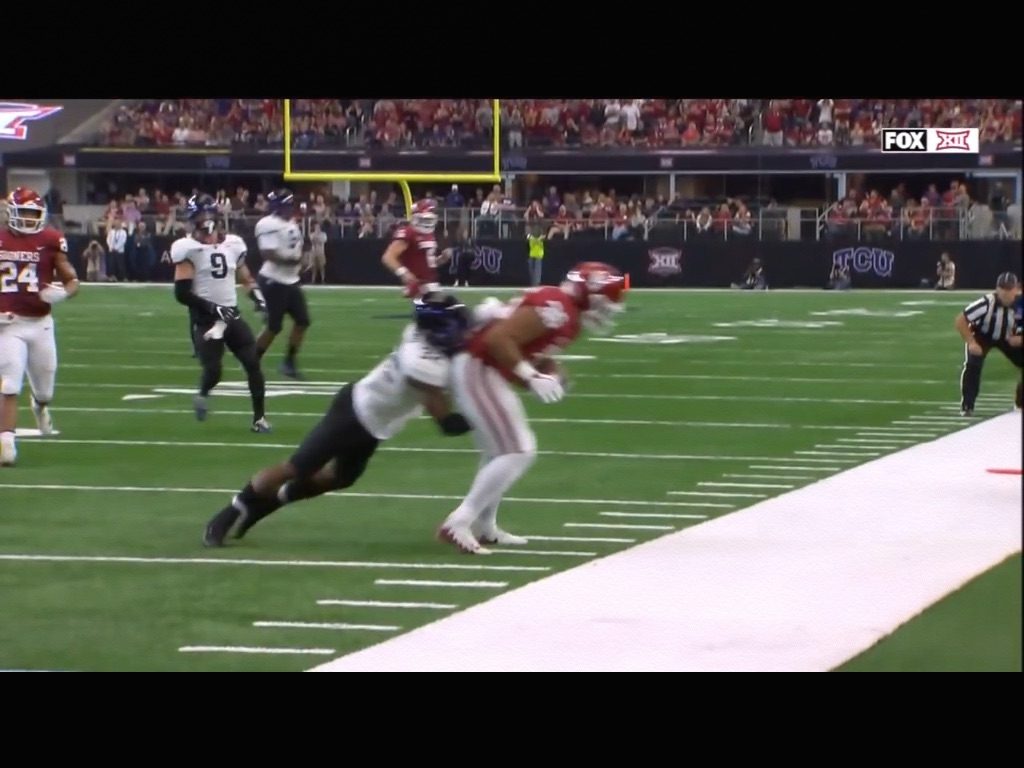 Sermon played a big role, and it's nice to see all three Backs be fresh and ready to go at the end of the year.  For a true freshman, Trey doesn't look or act like it.  I'll bet he looks like the terminator after an offseason in Norman.  That's it for part 1.  Parts 2 and 3 coming up tomorrow and later in the week!