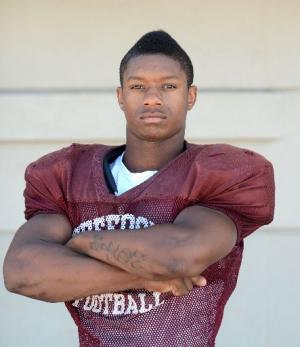 Thoughts on the Joe Mixon Committment (Updated Sunday|12:40 am)
Posted on: January 4, 2014
Image from Bay Area News Group (Photographer: Doug Duran)
A lot of teams won bowl games but the team that made the biggest splash with a victory in the bowl game was Oklahoma. A lot of other schools received more commitments at the Army All-American game, but the school that made the biggest splash with its lone commitment today was Oklahoma.
Joe is a very talented athlete. I do not believe that Joe Mixon or anyone else will make or break our program. But the fact is Oklahoma landing on the front page of Rivals.com or any other popular website is good for our program so long as our program ultimately remains committed to being a hard-nosed, bring your lunch pale, blue collar type program. Some of you may have noticed I am always very sensitive about our program losing team chemistry or having locker room issues or lacking toughness, etc. I am that way because I know a lot of players and I know that off the field locker room issues bleed onto the field.
What made this years teams special wasn't just talent or athleticism…it was coachability, attitude and toughness. In fact one of the things Steven Parker's father told me was that Steven felt the Oklahoma locker room chemistry was incredible.
Joe has loved Oklahoma for a long time and he has loved Adrian Peterson for a long time but what people forget is AD isn't just the most athletic player…he is the hardest working player as well. When Oklahoma football is at it's best, it is a reflection of the people of our state – tough, resilient, and united. Tough enough to overcome. Resilient enough to outlast. And united enough to say "there is only one Oklahoma" and mean it.
I welcome Joe Mixon and I'm glad he chose to be part of our program. But I also congratulate Joe Mixon for being given the honor to wear the Crimson and Cream.
UPDATE: Per a readers request I asked my buddy that knows Mixon what kind of kid he is and he said "he's a hard worker for sure". I asked him if he's the kind of kid that would be a good locker room guy and he said yes. Also, Steven Parker's father and I were chatting yesterday and he told me that Steven likes Joe. Lastly, had a coach from SEC territory that also played college ball down there hit me up after the Army All-American game and said "dang that Mixon kid can play! Congrats on getting him." And you should know that SEC football folks don't care much for California talent in general. So it was high praise coming from this coach.