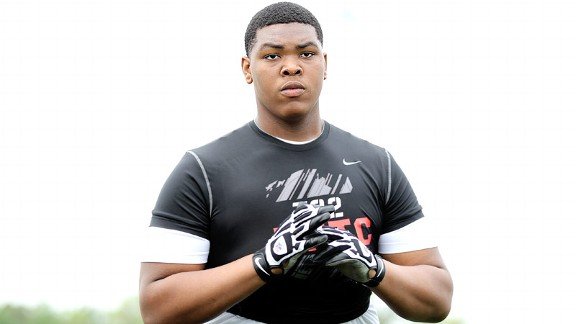 Thoughts on Orlando Brown Jr.
Posted on: February 5, 2014
Image from ESPN.com
Every year leading up to junior days, and sometimes even before that we start to hear about who the next year's offers are going to be.  Who we offer first sometimes tends to be a good indicator of who the coaches like the most.  If I remember correctly one of the earliest offers that Coach Bedenbaugh made last spring was to one young Mr. Brown.  Since Duke Robinson came out of Georgia a few years ago, we haven't really pulled a lot of players out of the peach state.  As you all know, Georgia is in the heart of SEC country and it's no small order getting kids to come out of the area to a place most feel is a long way away in Oklahoma.  K and I were talking about this the other day.  Kids from Louisiana and even Arkansas, Missisippi and Western Tennessee think that it's closer to go play in Florida or South Carolina than it is to come to Norman.  What's funny is that Jackson, Missisippi is actually closer to Norman, than it is to Columbia, SC, much less all of Louisiana, Arkansas and western Tennessee.  All geography lessons aside, whenever I see offers go out to kids in the southeast, I usually don't get my hopes up.  I used to go try and get my hands on the film of any new offer that went out, naively thinking that since Oklahoma was my dream school, that kids would just flock to us.  As I've grown older, I've come to understand that a lot of kids don't have a dream school and if they do, a lot of times it isn't us.  Couple that with the fact that you rarely steal kids out of the southeast, and you can see why if you're a recruiting junkie and film nut like I am, you can get a bit disenamored at times.  You get your hopes up, and get all excited only to see em go play at some SEC school.
So who is this guy who shook off the shackles of everyone's favorite conference?  Who is this 12th hour pickup we got today that very few knew about?  Last year when the offer went out to Orlando Jr., I was unable to quell my curiosity.  I knew that the name from when his dad was playing for Cleveland and Baltimore.  His dad was a giant who had a 12 year NFL career, so naturally I gotta see the son of a guy who was 6'7″ and 360.  Orlando Sr., was a monster who played with attitude.  He was one of those guys you wanted with you in a dark alley.  He started playing in the league in 1993 right before I graduated high school.  The heaviest I ever played at was about 295, so, it was easy to become a fan of this guy who was two to three inches taller than me and nearly seventy pounds north of what I had.
Fast forward 20 years, and here's his son with an Oklahoma offer.  Deep down I knew we probably weren't going to get him, but I had to see what he was about.  I just couldn't stand it.  When I began watching his film I saw a guy who was 6'8″ and 365.  In reading articles about him I was hearing that he knew he had a lot of bad weight to lose, and that he wanted to cut 35 pounds before his senior season.  He sounded like a good kid who had listened to what his dad had tried to teach him before his life was ended so prematurely.  I saw a kid who was huge obviously, but flashed quickness and power.  After losing the weight between seasons, and watching his film from his senior year, I saw a kid who had went through quite a physical transformation. The tape showed me a guy who again was a giant of a man, but played with the ferocity that's normally synonymous with a lot of smaller guys.  He plays like he has something to prove. Think Phil Loadholt with Torrance Marshall's attitude.   While the technique wasn't great, it wasn't bad either.  He's just so big and powerful that he swallows guys up.  Pad level is always a struggle for guys who are as tall as he is, so it's normal to see someone his size playing too high.  What I do like is that the guy is big, powerful, can move like a much smaller player, and is very, very physical.  He's a right tackle to me, and will be a great compliment to Frison who will play on the left.
 Everyone loved playing with Jammal Brown(no relation), because he played with the attitude of a defensive player.  Very rarely do you see young offensive linemen playing with the nastiness this kid has.  He'll need to reel it in a bit, since he lets the person he's crushed hear about it after the play, but I'd rather have to rein someone in than prod them.   With the physicality of Dalton, Alvarez, Paul and Curtis on the inside, you can't help but love the direction this offensive line is taking.  Big, nasty and for lack of a better term, just plain mean.  I gotta admit that I'm more excited about Brown than I've been about a recruit in a long time.  I know what kind of strength program we have, and coupled with the nutrition he'll be getting here, if he buys in and works, he could develop into a first round pick for us.  You can't teach size and nasty, and he has both in droves.