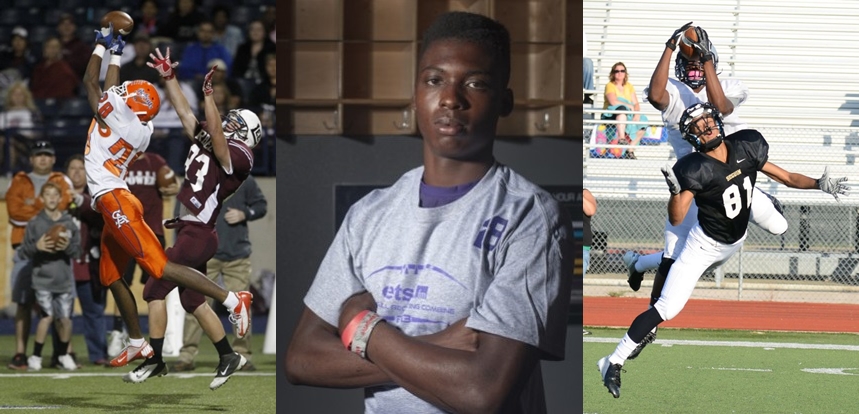 The Big Texas Three!
Posted on: February 26, 2014
Jaylon Lane Image from GoSanAngelo.com (Patrick Dove), Roney Elam Jr. Image from ETSN.fm (Christopher R. Vinn), PJ Mbanasor Image from Statesmen.com
I obviously haven't seen every CB in the state of Texas, but I wanted to highlight three who I believe have potential to be great college and maybe even NFL CBs. All three would be priorities to me if I were an Oklahoma coach. All three are, or at least were, under the radar, in my opinion. And all three are BIG corners that can move.
PJ Mbanasor (Pflugerville, TX) | VIDEO – He is someone we've talked about for a while. We came across him last recruiting cycle when Oklahoma was recruiting Trai Mosley and fell in love with his ability. In the past month, he's finally started getting the recognition he deserves and has picked up a number of offers. He's one of the biggest CBs I've seen both in terms of length and size. He has deceptive speed and is very difficult to beat deep. Mbanasor will be at Oklahoma's jr. day this weekend.
Roney Elam Jr. (Newton, TX) | VIDEO – This kid is unreal. I came across him recently and in the past week, he's picked up offers from Miss. State, LSU, and Baylor. The fact that LSU offered him when he really didn't have much of an offer list to speak of prior tells you how good he is. Normally a big school like that will not be the first to offer a DB, especially a school like LSU that can pick off DBs at will. If I'm Oklahoma, I forget about every safety I'm recruiting and go after this kid. He may very well end up playing corner – and he'd be a very big one – but he has that true "heaviness" to play safety. Elam is quickly becoming my favorite 2015 DB. He's someone I hope to get out and see in person.
Jaylon Lane (San Angelo, TX) | VIDEO – Lane just picked up his first offer Tuesday from Louisiana Tech. On film, Lane looks like a kid that can play anywhere. The thing that stands out about him is how quickly he can close space when he drives on the ball. Big corners often give receivers a little more cushion because they usually cannot move in multiple directions or change direction as quickly. But even when Lane gives that cushion, he can close the gap really quickly with a great drive on the ball. He closes space with his t-step and drive as well as any of the better corners I've seen this year. And like Elam Jr, Lane also has great ball skills.
Perhaps I'll ask one of or former CB friends to do a "Blind Tape Test" on these three CBs. But for now I wanted to highlight these big and talented Texas cornerbacks.