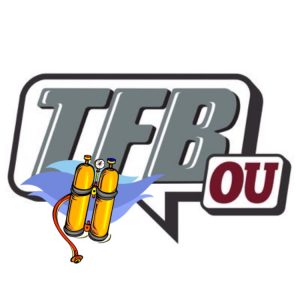 TFB Deep Dive | Heisman Week Preview
Posted on: December 6, 2018
And then there were three. Monday, it was announced that the finalists for the 2018 Heisman Trophy are Alabama's Tua Tagovailoa, Ohio State's Dwayne Haskins, and Oklahoma's Kyler Murray. All season long, it has looked like Tua may run away with the race. However, impressive performances week after week by Murray have made this a very tight race. Below are a selection of comparisons through 13 games.
Oklahoma Sooners Quarterback Comparison
Murray is having a great season, but how does it compare to previous OU great quarterback seasons? Below is a comparison of Murray against impressive Oklahoma quarterback seasons over the past 20 years.
Kyler has the highest YPC, YPA, passer rating, and every rushing statistic. His overall skill set is allowing him to do things never before seen at OU.
Speaking of OU great quarterbacks, their success in the Heisman race can't be ignored. Look at how successful the past 15 years of quarterbacks have been.
The #Sooners have had 8 different opening day starting QB's since 2003 (White, Bomar, Thompson, Bradford, Jones, Knight, Mayfield & Kyler).

If Murray wins Saturday, exactly half of them will have won the Heisman Trophy.

Unreal.

— Cayden McFarland (@caydenmc) December 4, 2018
That's an incredible stat to see. Additionally, if Kyler wins the Heisman this season, OU would have had more Heisman winning quarterbacks in the past 15 years (4 total) than every school except Notre Dame (4) has has in its history. Oklahoma offenses over the past 15 years have been something to behold.
2018 Heisman Race Comparison
This season, Tua, Haskins, and Kyler are the three finalists. A comparison of their season stats is below.
2018 Trophy QB Comp - Game 13.V1

Murray's accuracy is superb, his speed allows him to make big plays in the run game, and his total yards and touchdowns per game are striking. Additionally, he has taken over in the passer rating category.
Tagovailoa's low interception total stands out, as does his high passer rating.
Haskins is in the race due to an obscene volume of throws. He has 45% more throws than Murray and 69% more than Tua.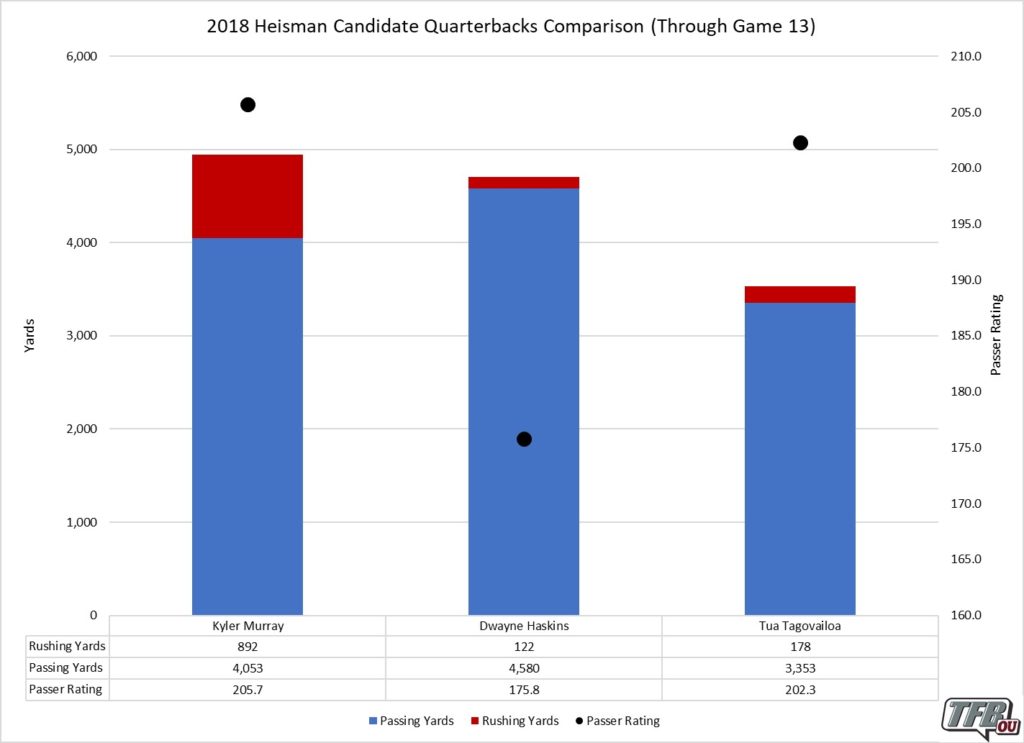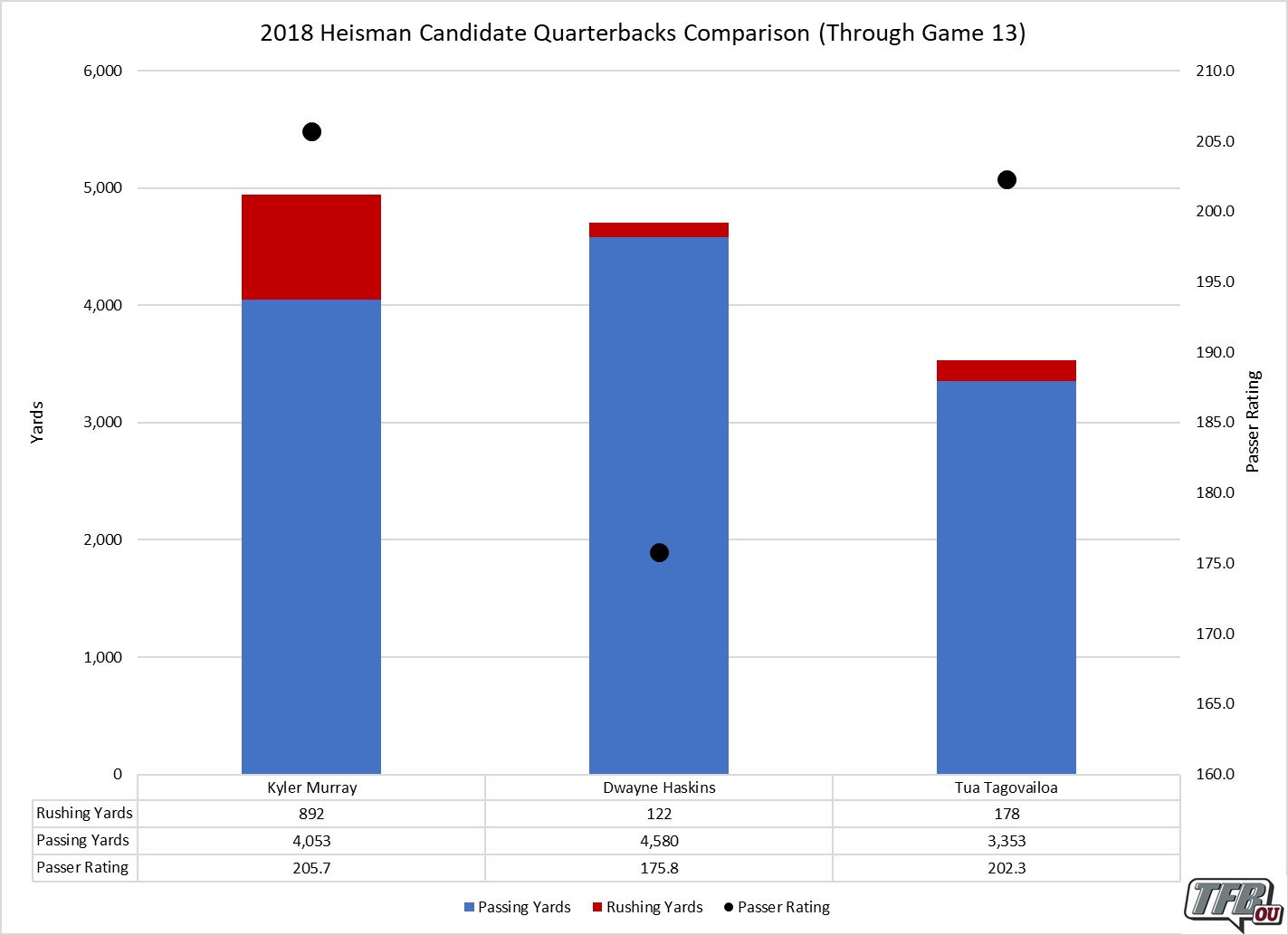 Yards are shown as columns and read on the left axis, while passer rating is shown as a dot and shown on the right axis.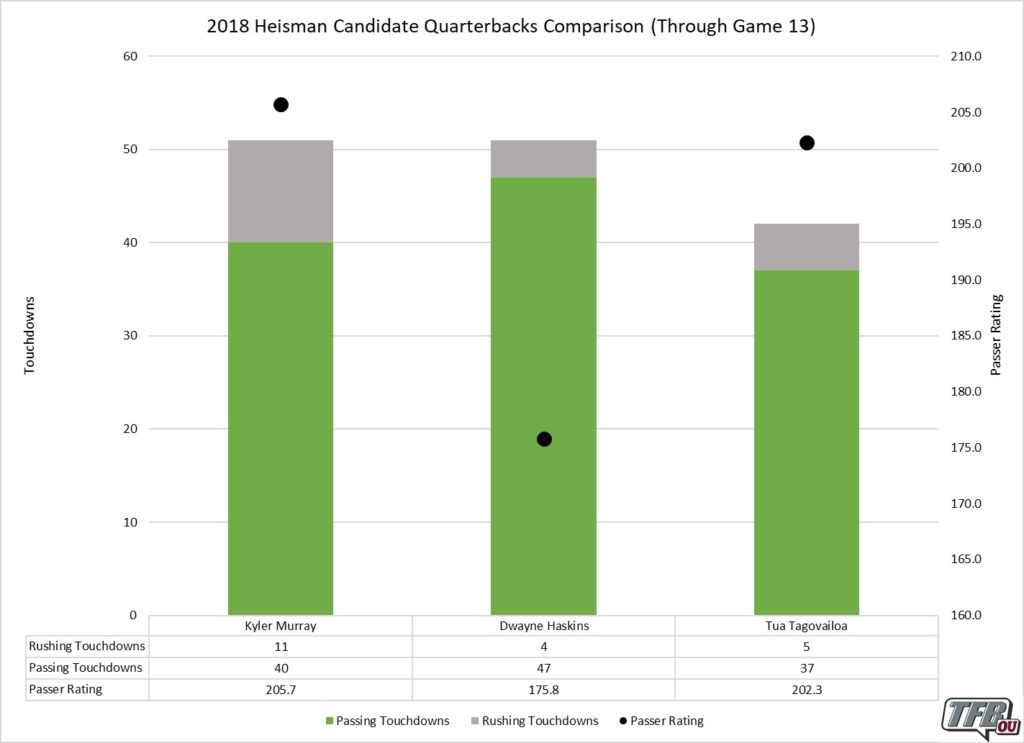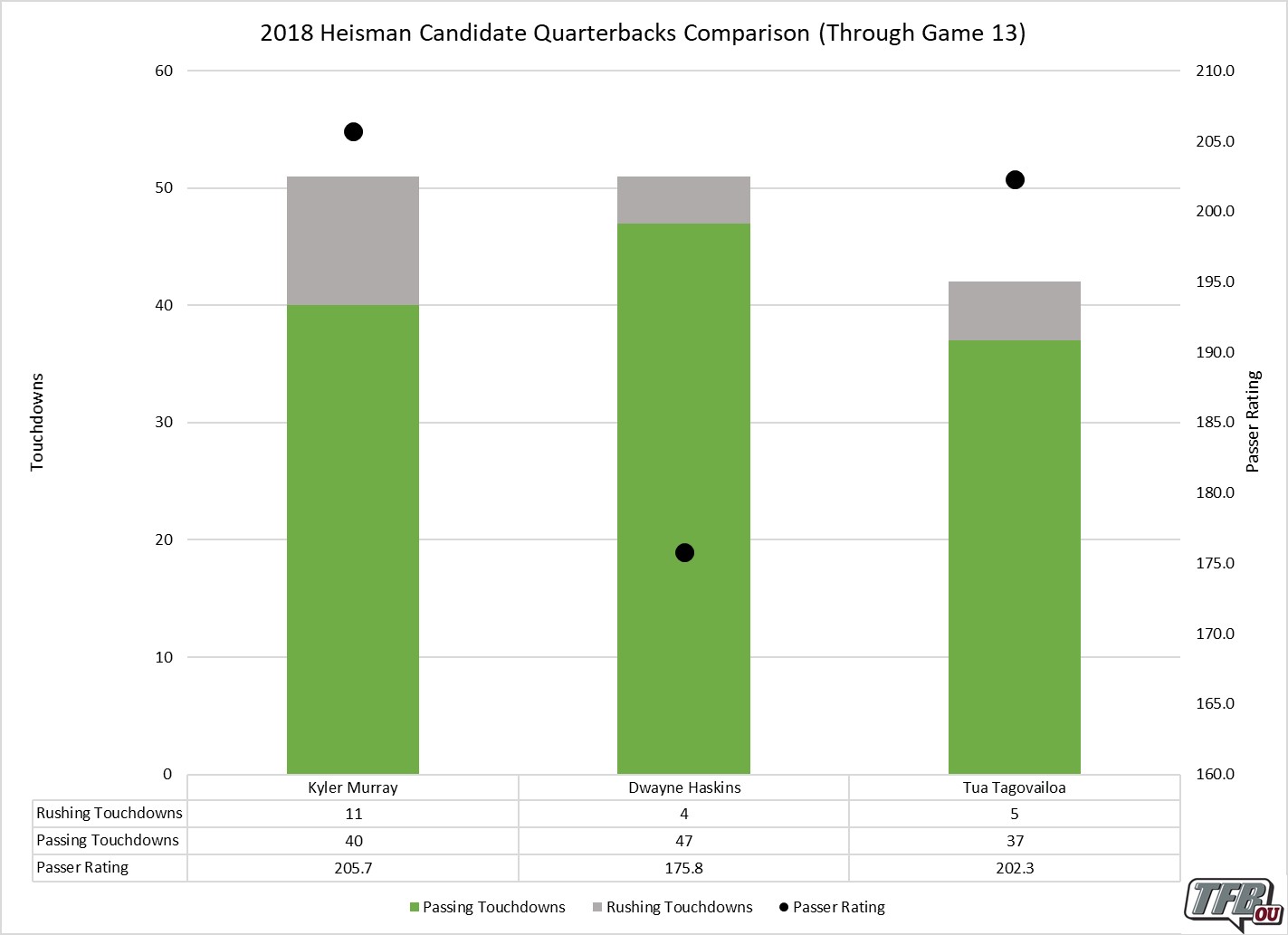 Touchdowns are shown as columns and read on the left axis, while passer rating is shown as a dot and shown on the right axis.
Historical Heisman Comparison
Tagovailoa and Murray stack up well against quarterbacks of any caliber. Stats for Heisman trophy-winning quarterbacks from the past 15 seasons are shown below, alongside those of the three finalists.
Hist Trophy QB Comp - Game 13.V1

Murray's YPA and passer rating, along with his rushing YPA, lead the entire group.
Tagovailoa's YPC leads the pack of Heisman winning quarterbacks.
Haskins' passing yards are the most of any Heisman-winning quarterback, but again, look at those attempts. Haskins has 32% more passing attempts this season than the average Heisman-winning quarterback, yet only 24% more yards than the average Heisman-winning quarterback.
Historical Records
Last year, Baker Mayfield shattered two specific records: yards per attempt and passer rating. See below how Tua and Kyler compare to the top ten of all time in each of those categories.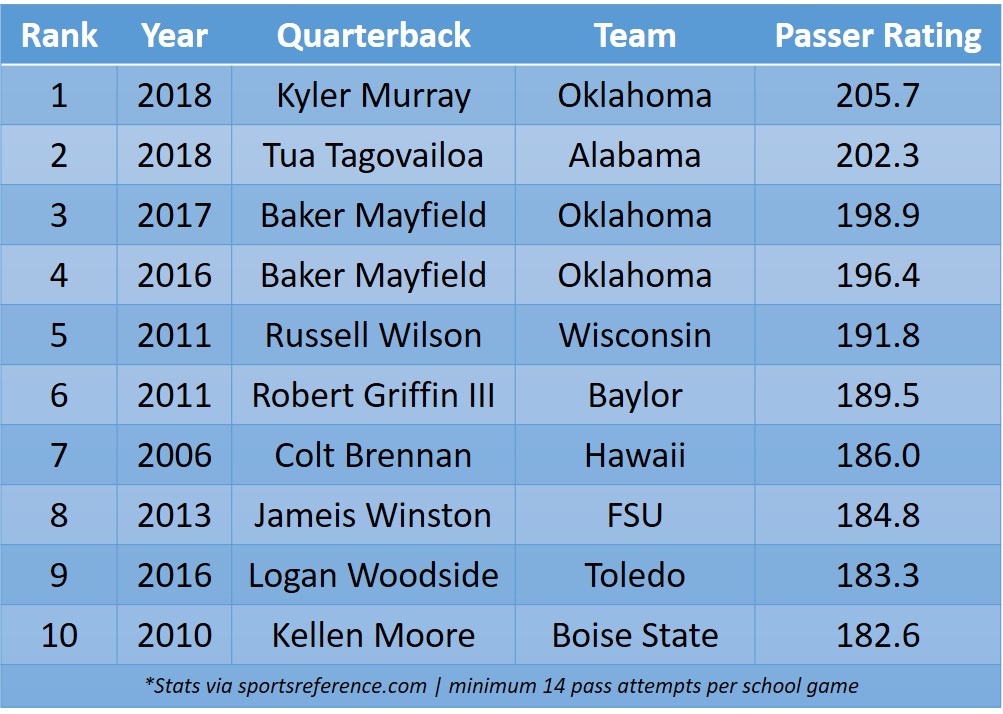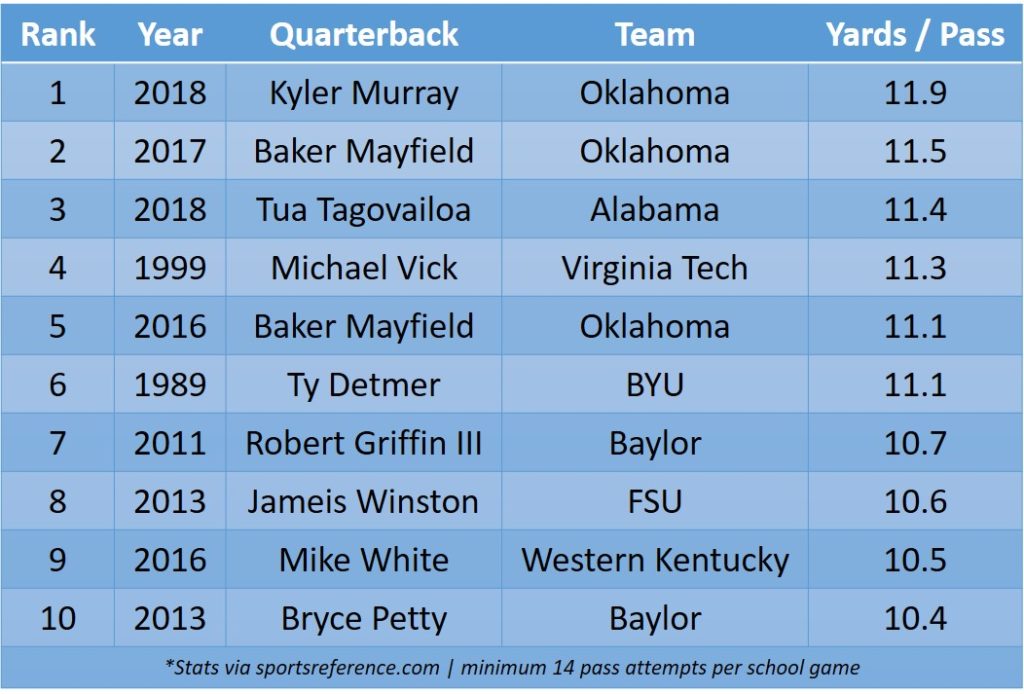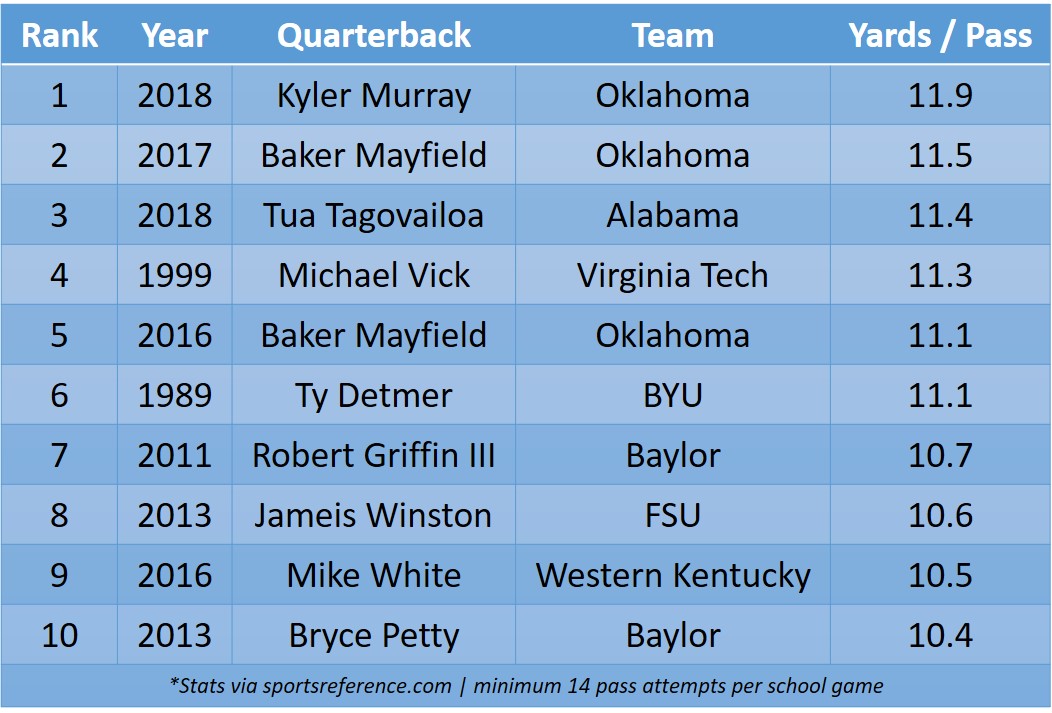 These stats go back through 1956; that's over 60 years of quarterbacks, with Tua and Kyler leading the pack. Again, the two are doing things at the same time that have never been done before.
Another record that Kyler Murray is chasing is being only the second quarterback ever to achieve a 4,000 yard passing and 1,000 yard rushing season. Clemson's DeShaun Watson achieved that in 2015. Murray hit 4,000 yards passing in the Big 12 Championship and currently stands at 892 rushing yards. While 108 yards in the next game would be a tall order, it's certainly not out of the question; Kyler has averaged 84 rushing ypg over the past five games, with a season high of 114. The obvious way to make it easier to accomplish is to win the next game and give Kyler 15 games to hit 1,000 yards rushing.
Heisman Race
While many were ready to give Tua the trophy around September, Kyler has steadily gained ground in the race over the past month. One of the biggest arguments for Alabama's quarterback has been that, due to the Tide's dominance, he doesn't play in the fourth quarter. I'll just leave this right here if you don't mind.
Tua (Full Season):
Passing yards: 3,353
Rushing yards: 178
Total yards: 3,531
Total touchdowns: 42
Kyler (No 4th quarter):
Passing yards: 3,578
Rushing yards: 639
Total yards: 4,217
Total touchdowns: 41
[h/t to Blinkin for the stats from last week – I just added on the Conference Championship games]
Statistically, it's really not logical to argue that Tua is having a better season than Kyler. And, in importance to team, it's impossible to state that Tua is more important to Alabama than Kyler is to Oklahoma. Just this past Saturday, Alabama plugged in Jalen Hurts for Tua to come back against Georgia. With all due respect to Austin Kendall, Murray transforms the Sooners into something pretty special that nobody can replace.
While many have had Tua in the lead all season (most by a landslide), almost every site is now predicting Kyler to win it after the Conference Championship games. The winner will be announced Saturday night; however the vote goes, Kyler Murray has given Sooner fans a season to remember.