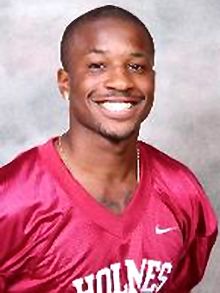 Tee Shepard Notes
Posted on: January 7, 2014
Image from Scout.com
Last week I had heard that Tee Shepard might be visiting on the 17th but couldn't get confirmation. Yesterday Rob Cassidy from Rivals confirmed it when he tweeted out the following:
Holmes (Miss.) Community College CB Tee Shepard, the No. 8 JUCO player in America, will visit Oklahoma on Jan. 17 http://t.co/ls4U4mki8K

— Rob Cassidy (@Cassidy_Rob) January 6, 2014
As I've said before, the 17th is looking like a big time recruiting weekend.
I will tell y'all that I talked to a source (I only have one source on this but he's usually right when it comes to recruiting stuff) and I asked him where OU stands with Shepard and he said "OU is going to get Shepard". I said "how do you know?" He just repeated…"OU is going to get Shepard."
So take it for what ever you feel it's worth.
I personally hope we do get Shepard. He is an incredible player. Amazing footwork, moves effortlessly and unlike most big kids he's actually flexible. He's also physical and plays well in open space. There is a confidence about Tee that makes everything he does look easy. He isn't in a hurry. That typically comes from a lot of preparation and a mastery of technique.
Tee might even be a great cover safety. In Oklahoma's scheme there isn't a huge difference between the FS and SS position. You have to be able to play the deep middle on either side because of way Oklahoma disguises and rotates the coverage. You have to be able to play man. You have to be able to come down and tackle. And you have to be able to play robber. It doesn't matter what side you play on, you have to be able to do all those things. In my estimation Tee could do all those things. Some might say, "why would you take an elite corner and turn him into a safety?" Well,
1) I'm not saying I would do that. I'm just saying they COULD do that and there is a premium on finding safeties that do what they are required to do in our scheme. I'll wait till we see the players in the spring but I'm not convinced yet that all of the safeties we have on campus can do everything they're required to do in order to give Coach Mike the flexibility he wants. There is no such thing as an "in the box" safety in Coach Mike's scheme. If you're stiff…you better start lifting because the only way you're going to see the field on a consistent basis is as an LB.
2) We have quite a few players who I think can more than handle the corner spot. We don't have as many people that can handle all the rigors of the safety spot. In fact Oklahoma is so dead set on getting Steven Parker because Parker actually plays corner some times. They know they'd have an elite cover safety with size and if you're going to stop the run in the big 12 you're not going to be able to protect your corners all the time and you're also going to force your safeties to basically become unprotected corners. Also, you need guys that can break on the ball and tackle in space.
Anyhow, Tee Shepard would be at the top of my DB board. Juwan Dowels would be second. I'll make my case for Juwan over the other HS DBs we are recruiting in another post.
Thanks for reading! 🙂