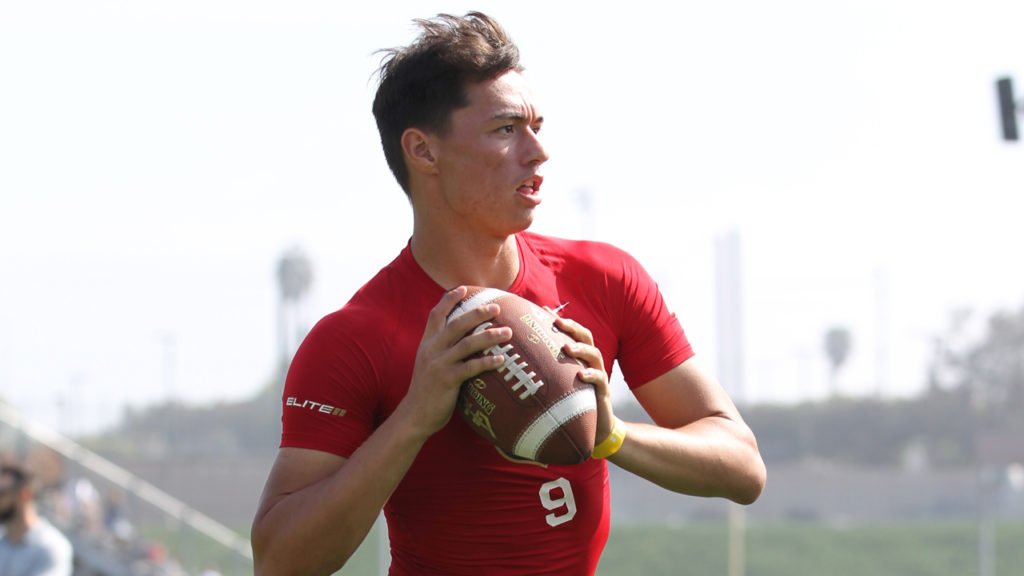 Spotlight: Cameron Rising and Casey Thompson
Posted on: August 7, 2016
Image via scout.com
Today the Sooners received a commitment from 2018 quarterback, Cameron Rising. Earlier this summer the Sooners offered 2018 in-state quarterback and OU legacy, Casey Thompson and many expected him to be the 2018 quarterback in this class. If Rising remains in the fold, that will not be the case. We asked McKinzie to offer some thoughts on both players.
About the Contributor: Seth McKinzie played quarterback at Missouri Southern State University before transferring and playing at Northeastern State University. McKinzie was a scholarship player at both schools. He completed a BA in Journalism at NSU and later received a MSE from Arkansas State. After college, he was a member of a 4A high school football staff in Arkansas and later coached 5A ball in Texas. McKinzie currently resides in Arkansas with his wife and two children.
Cameron Rising – Newbury Park HS – Newbury Park, California – 6'1" 195
Pocket Accuracy — Rising displays excellent accuracy when going through the mechanics of a short snap (pistol/shotgun) drop. He delivers accurate throws at all levels of the field.
Rollout Accuracy — This is where Rising is phenomenal. When a right handed quarterback rolls to his strong-arm side, he has to take into account the rotation of the ball plus the directional momentum of his body. This simply means, there has to be close to perfect mechanics when rolling this direction because the ball can carry out and away from the intended target and end up out of reach or out of bounds. If you view Rising's film you will witness multiple designed rollout passes delivered in perfect stride to the receiver, both for large gains and for touchdowns.
Rising's ability to accurately deliver passes while rolling to his weak side, left, is something that separates him from other quarterbacks his age (keeping in mind he was a sophomore in 2015). As when rolling to the right, Rising's footwork has as close to perfect as possible when going the opposite direction. The difference now is a right handed quarterback rolling left must get his left shoulder turned in the direction of intended targets, and begin to come "downhill", meaning toward the area which the ball will need to be delivered. This is what separates good high school quarterbacks from great ones. Rising does all of this and does it easily. His footwork is exceptional when rolling to his left, along with his hips and shoulders. He also has a very quick release rolling to his left and that is an added bonus.
Flushed Accuracy — This category could be called "scramble ability" but a quarterback can scramble all day long and not generate positive yardage. Rising has the "Baker Mayfield Factor". The pocket breaks down around him and he runs lateral to the line of scrimmage while always keeping his eyes downfield as his receivers can settle into zones or run past defenders going deep. Rising is a guy who does exactly this. Not only does he escape from a collapsing pocket, but once he is out and finds a target he delivers passes with ease.
Escapability — Rising's film shows a high ability to evade rushers. His tendency is to escape to his strong side and deliver a pass, rather than pull the ball down and run. Rising also displays a surprisingly superb start and stop ability when he does decide to run with the football.
Open Speed — Rising is listed as having a 4.7 40-yard-dash. This may be true but Rising's "game speed" is definitely faster. Several plays on his film exhibit his ability to take away the pursuit angles of defenders and gallop for long gains and scores.
Arm Strength — This may be Rising's weakest area, with "weak" being used loosely. Rising has good arm strength but there are a few deep balls you will see that are just a bit behind the receiver or take the receiver back to the inside of fade routes. Taking fade routes back to the inside is a big "no no" due to the fact it allows the inside-out secondary pursuit to possibly make a play on the football.
Release — Rising never drops the football below his shoulder. This is key to a quick release. He gets the football from snap to shoulder/ear very quickly.
Touch — Rising's skill in this area is next level good. There are multiple throws on his film that show him "pulling the string" on passes 20-25 yards downfield that float just over the heads of defenders into the hands of his intended targets. Rising seems to have a firm grasp on when to put zip on the ball and when to ease it into the hands of the target.
Overall — Rising's film is very impressive. It is even more so when you recall he was just a sophomore in 2015 and has the potential to grow several inches, gain muscle, strength, and fine tune his already full quiver of skills. My prediction is he will eventually be a five-star prospect. He is already the type of player that could commit to a school and be cornerstone of the recruiting class.
Casey Thompson — Southmoore HS – Moore, Oklahoma – 6'1" 185
Pocket Accuracy — Thompson shows very good precision on deep, intermediate, and short passes when given time to set his feet and throw in the pocket.
Rollout Accuracy — Thompson has a unique ability to get outside of the tackle box very quickly, which is beneficial as it actually can sometimes allow him to plant his feet and deliver the football as opposed to throwing on the move. There are several plays on his film that show his ability to throw back across his body while rolling to his right and hitting a crossing receiver.
Like Rising, Thompson demonstrates good mechanics in his rolls to his weak side. If there is a negative, I feel Thompson sometimes relies too much on his superior athleticism and sometimes sacrifices mechanics. Doing this can cause the ball to "float" and miss the intended target or be intercepted. This is not too much of a criticism since he was also only a sophomore in 2015.
Flushed Accuracy — Thompson does not like to stay behind the line of scrimmage when the pocket begins to collapse (more on this below). Unlike Rising, he tends to tuck the ball and make plays with his feet. The instances where Thompson did escape the pocket and find open targets his passes were crisp and accurate. Going again to his athleticism, Thompson's ability to throw without his feet properly set is greatly beneficial to him for this particular rating.
Escapability — As I mentioned above, Thompson prefers to take to the ground when the pass play breaks down around him. He is excellent at planting his front foot into the ground and escaping to his strong side and shows tremendous ability to reverse out of the pocket to backside pressure and roll to his left. His shiftiness is at a higher level than Rising's and Thompson likes to use it.
Open Speed — Thompson's 40-yard-dash time is listed at 4.55. His straight line speed is exceptional as there are several clips showing him running away from defenders who have an angle.
Arm Strength — At times, the ball seems to explode out of his hands on deep balls. On shorter, sideline patterns, he gets the ball from hash to sideline very quickly, which keeps closing defenders away while the receiver secures the catch.
Release — Much like Rising, Thompson's short release is great. The ball rarely drops below the lettering above his jersey numbers. A few times, it does look like he "cocks his arm" to deliver the deep ball, but just like my criticism of Rising, this is probably nitpicking.
Touch — Thompson places the ball where it needs to be. There are a few instances on his film where it appears he is throwing the ball into a crowd only to see it go over the defenders to his receiver. Like Rising, tight coverage versus a Thompson throw is often futile. Thompson's one area to work on here would be knowing when to deliver a 90 mile-per-hour fastball and when to put some finesse on the ball.
Overall — There is a reason he has offers from all over the country. He can beat you with his arm and feet. His athleticism will catch the eyes of any recruiter and coach. Like Rising, he has two more seasons of high school football to improve on the small areas he has deficiencies.