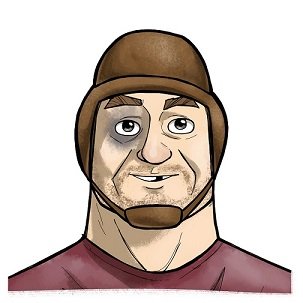 Spitballin…Oklahoma Vs. TCU Round 2…Big XII Championship Edition
Posted on: December 1, 2017
First off, happy Friday!  It's been a heck of a week.  Don't know if I went soft after having the long weekend or what, but man it's been rough this week.  I hope you all are doing well.
How do you feel about the game this week?  It seemed like the Sooners hit on all cylinders the first time they played the Frogs.  I have a feeling it may not be so easy this time around…
Then again, i hear Lee Corso in the back of my mind saying "Not so fast my friend."  Several things are shaping up to work in the Sooners favor this week going into this game.
First, the Sooners are as healthy as they've been all year.  That's exciting, and going into a game where you have a chance to get into the College Football Playoff, that's good news.
Second, the o line is going to be ticked off for a couple of reasons.  1. They didn't make the finalists of the Joe Moore Award which selects the top O line in college football.  2nd, Bobby Evans wasn't recognized as all Big XII.  If anything this O line responds to challenges, and they have a great deal of ability.  I expect them to come out and play with a lot of emotion and try to make a statement.
Also, Will Johnson who didn't play in the 1st half of game 1 will be ready to go for this one.  I'd expect the Sooners to load the box and try to shut down the run game.  With the confidence the staff is starting to have in the young corners, I'd expect them to sell out to stop the run.
I think that Mike kept it pretty vanilla last week against West Virginia.  I think he chose to give up the run game and limit big pass plays.  While the Mountaineers ran for a ton of yards, it didn't turn into a ton of points, and ultimately that's what matters.  This week I don't think you get threatened by the pass like you did against WVA, Tech & Okie Lite.
Who has the biggest game?  I expect the Sooners to try to run the football, but I also think that Flowers, Andrews and Calcaterra, the H-Back/Tight End group to have big games.  If they sell out to cover the backs and limit the run game, the play action game will be big.  I don't think TCU can cover the Sooners pass catching targets if Baker has protection, and I believe he will.
I also expect Lamb & Brown to have big games.  The play action will be there, because I really don't think Patterson will give up the run game two games in a row.
I don't expect this to be easy.  Don't be shocked if it's a low scoring affair or even if TCU is ahead early in this game.  Bottom line is that football is an emotional game, and TCU got embarrassed in Norman.  I would bet on them coming out playing hard, fast and physical.
I think the Sooners win.  I don't think that TCU can match up across the board with the Sooners offensively.  I think the Defense matches up well with them, especially with everyone they have hurt and suspended.  If TCU makes a mistake or two and the Sooners can play clean, this will go the way much like the first one did.
Try as they may, I don't think that they'll be able to stop the Sooners run game or Baker Mayfield.  I think Baker's leadership is too strong and while TCU will be ready to play, so will our Sooners.
Final score I think is somewhere around 38-17, while Alex said like 42-20.  I hope it's in that range.  If the Sooners win this, I think they'll have a good shot as they've had in recent memory to go make noise in the post season.
As far as who wins the other games…I'm going with Wisconsin over Ohio State.  I think Clemson beats Miami, but it'll be closer than you think.  Finally I think Georgia may give Auburn a run for their money.  I don't think that stamping a ticket before a game is played is ever a good idea.  Wisconsin, Georgia and Miami will come out ticked off.  It may shake some things up.  Boomer!