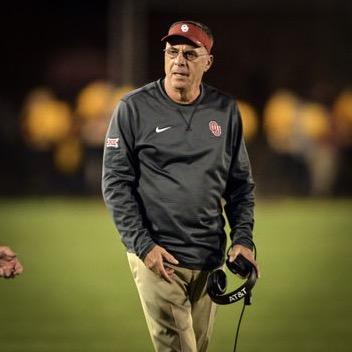 Sooners Linebacker Coach Tim Kish Retires
Posted on: January 5, 2019
As we mentioned earlier in the week, Tim Kish, the Oklahoma Sooners Linebacker Coach, is retiring.
With his retirement, Kish has finished up a coaching career that spanned more than 40 years.
His career took him from coast to coast and he has been in Norman since 2012.
1976–1977 Mariemont HS (assistant)
1978 Bowling Green (GA)
1979–1981 Purdue (assistant DB)
1982 Ball State (QB)
1983 Ball State (DL)
1984–1991 Army (DE/OLB)
1992–1996 Northwestern (DE/LB)
1997–2000 Illinois (DC/LB)
2001 Ohio (DC/LB)
2002–2003 Indiana (DC/LB)
2004–2006 Arizona (LB)
2007–2009 Arizona (assistant/LB)
2010 Arizona (co-DC/LB)
2011 Arizona (interim HC/DC/LB)
2012–present Oklahoma (ILB)
Kish was widely loved by recruits and his list of notable pupils at Oklahoma includes:
• Jordan Evans (Oklahoma); All-Big 12 First Team
• Dominique Alexander (Oklahoma), Browns; All-Big 12 First Team, Big 12 Freshman Defensive POY; Freshman All-American
• Eric Striker (Oklahoma); All-America Third Team; All-Big 12 First Team
• Corey Nelson (Oklahoma), Broncos; 2016 Super Bowl champion
With Kish's retirement, and the Sooners defensive coordinator announcement, this obviously opens up the possibility for another new staff member to be added.