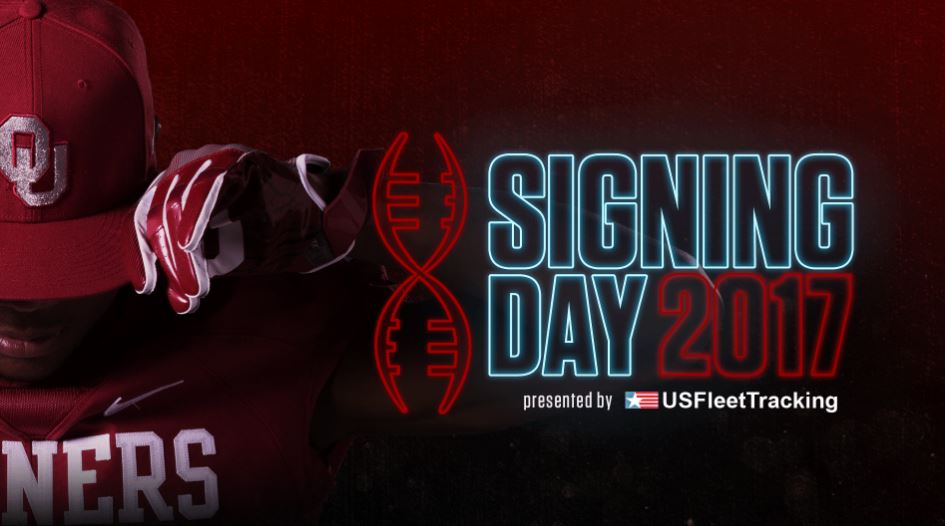 Sooner Squad 17 – Season Review
Posted on: January 15, 2018
Image via SoonerSports.com
Sooner Squad 17 (SS17) was a very hyped class for the Sooners. It featured some good talent and a lot of promise. It will be exciting to see the development of these players during their time at OU. SS17 started out with 27 players. Although one is no longer on the team, the late additions of Dillon Faamatu and, for the purposes of this post, Jeff Badet made it 28. (Yes, I know Badet is not technically in the recruiting class).
It is fair to say that they performed at an even greater rate than expected, and had a big impact on the field.
ss17 – Played during the season
– Jeff Badet
– Robert Barnes
– Marquise Brown
– Tre Brown
– Grant Calcaterra
– Dillon Faamatau
– Addison Gumbs
– CeeDee Lamb
– Tyreece Lott
– Kenneth Murray
– Tre Norwood
– Trey Sermon
– Marcelias Sutton
13 players saw the field from SS17 at various times. The season average per game was just over 11, meaning that most of those who saw playing time saw it frequently.
Throughout the season, Kenneth Murray and CeeDee Lamb were starters. They weren't the only ones to see starting minutes, however; Jeff Badet, Robert Barnes, Marquise Brown, Tre Brown, Tre Norwood, and Trey Sermon all started at some point. That makes 8 different members of SS17 that started at some point in the season. Many have noticed a heightened focus on recruiting the past few years; it's paying off on the field.
SS17 – Season Stats
– Jeff Badet:
6 carries, 41 yards, 6.8 YPC
26 receptions, 400 yards, 15.4 YPC, 3 TDs
269 KR yards, 769 APY
– Robert Barnes:
7 UA tackles, 3 A tackles
1 interception
– Marquise Brown:
1 carry, 0 yards
57 receptions, 1,095 yards, 19.2 YPC, 7 TDs
– Tre Brown:
10 UA Tackles, 2 A tackles, 1 TFL, 2 PBU
– Grant Calcaterra:
10 receptions, 162 yards, 16.2 YPC, 3 TDs
– Dillon Faamatau:
6 UA tackles, 4 A tackles, 2 TFL
– Addison Gumbs:
4 UA tackles, 3 A tackles, 1 TFL, 1 PBU
– CeeDee Lamb:
1/1 passing, 2 yards, 1 TD (446.8 rating)
46 receptions, 807 yards, 17.5 YPC, 7 TDs
74 PR yards, 815 APY
– Tyreece Lott:
2 UA tackles, 3 A tackles
– Kenneth Murray:
38 UA tackles, 34 A tackles, 6 TFL, 1 sack
1 FF, 1 FR
– Tre Norwood:
24 UA tackles, 6 A tackle, 7 PBU
– Trey Sermon:
1/1 passing, 42 yards (452.8 rating)
121 carries, 744 yards, 6.1 YPC, 5 TDs
16 receptions, 139 yards, 8.7 ypc, 2 TDs
925 APY
– Marcelias Sutton:
22 carries, 130 yards, 5.9 YPC, 2 TDs
3 receptions, 32 yards, 10.7 YPC
400 KR yards, 562 APY
SS17 – Season Stat Contributions
Those contributions accounted for:
– 27% of the carries
– 30% of the rushing yards
– 20% of the rushing touchdowns
– 49% of the receptions
– 51% of the receiving yards
– 48% of the receiving touchdowns
– 94% of the kick return yards
– 66% of the punt return yards
– 48% of the all purpose yards
– 18% of the total tackles
– 12% of the tackles for loss
– 27% of the passes broken up
– 14% of the forced fumbles
– 17% of the fumble recoveries
– 14% of the interceptions
Observations
There's no other way to say it: SS17 has gone above and beyond expectations this season.
Offensively, there were a lot of very positive contributions. Jeff Badet was used all over the field throughout the season. Marquise Brown developed into a deep threat with enough speed to break away with just an inch of space. Grant Calcaterra really came on late in the season, and will be a huge force in the future. Trey Sermon was punishing both on the ground and receiving. Marcelias Sutton was dependable when called on and speedy on kick returns. All of that brings us to my 2017 Offensive MVP of the SS17 class, CeeDee Lamb.
Lamb has been fantastic this season. He's reliable, both to get open and to make the catch. He fights for the tough catches. His down-field blocking has sprung a handful of touchdowns and big plays. Lamb had an excellent season. This should really show what he's done this season:
Lamb in OU Freshmen Receiving History
Receptions: 46 – tied for 2nd with Ryan Broyles and Mark Clayton – Stills has the record
Yards: 807 – 1st – Kenny Stills has the second most with 786
Receiving Touchdowns: 7 – tied for 1st with Mark Andrews – Ryan Broyles has the second most with 6
Lamb may well have been the number one target on a team that fielded a Mackey Award winner in Andrews and a burner in Brown.
Defensively, the season started out with a bang: Kenneth Murray was the first freshman to start at linebacker for OU in decades. Things quieted down for a while, with several other freshmen having occasional contributions. Dillon Faamatau played throughout the season, while Addison Gumbs and Tyreece Lott played sparingly. Then, Bedlam happened. Robert Barnes, Tre Norwood, and Tre Brown all had their first big chance to shine, and they did not disappoint. The next game, OU started four freshmen on defense. After that, Norwood started every game, while Brown and Barnes both contributed very heavily. The two Tre's have a total of 9 PBU – OU has 37 on the year. That means that, in very limited playing time when you look at the entire season, those two have a pretty high chunk of the PBU. That's quite impressive. All of that leads to my 2017 Defensive MVP of the SS17 class, Tre Norwood.
It's crazy to not give that recognition to a guy who started every game at middle linebacker in Murray. Norwood, however, can't be denied. He came in and took the job from a four year starter. He's aggressive on the ball, stays close to the receiver, and makes plays. It's impossible to overlook the fact that the defensive turnover following the Bedlam game coincided perfectly with him starting.
It will be very enjoyable to see the trajectories of their careers; not to be forgotten, there are 15 members of SS17 who did not play this year. This looks to be a class that will be a huge part of the Sooners' future.